Details

Written by

Gordon Prentice
York Regional Council will decide its formal response to the Ford Government's Regional Review next Thursday (16 May 2019).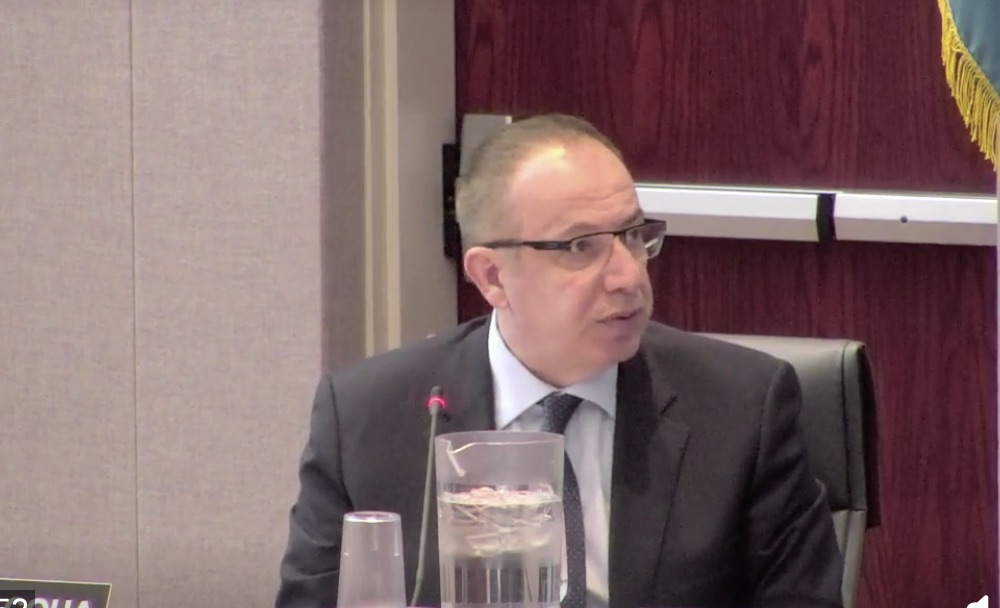 If last week's debate at the Region's Committee of the Whole is any guide Ford will be told everything is just fine in York Region. There is no need to rock the boat.
Vaughan's Mayor, Maurizio Bevilacqua, says they should stick with the status quo. He says the Premier spends a lot of time in York Region and is
"fully aware of how effective we are"
He says that if Newmarket Mayor John Taylor wants to make recommendations they can be worded in a way that hits home:
"but I think they have to be consistent with strengthening our position on the status quo".
The loquatious Jack Heath from Markham tells us our municipalities are doing a very good job.
"It was a disgrace what happened last summer in the City of Toronto and I certainly don't expect to see anything like that here or in any of our nine municipalities."
Mayor Steve Pellegrini from King gushes:
"we are proud of our municipalities and we are proud of York Region and we work well"
The Big Love-in
Richmond Hill's Mayor, David Barrow, joins the love-in. We've gotta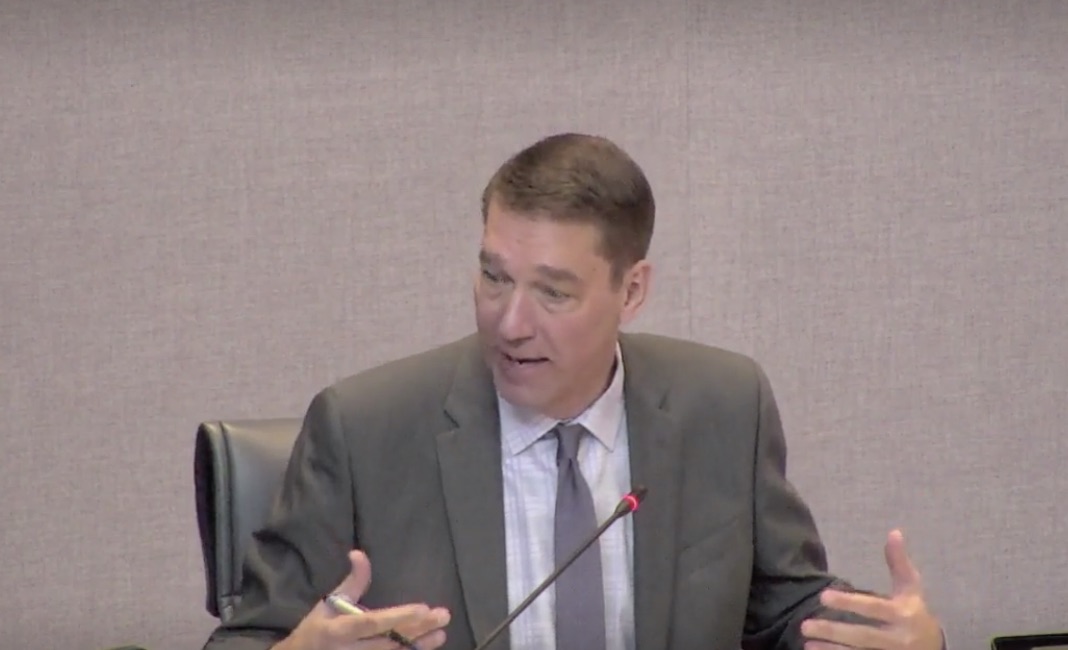 "just make sure that everyone understands we are a strong, strong region and these nine municipalities work wonderfully together."
Joe Li from Markham hits a discordant note. He is always complaining about being ignored by York Region's senior staff. He tells Bruce McGregor:
"We don't want to see someone come out swinging critically against what the CAO is putting forward… So if you can try to accommodate all of our views that would be much appreciated."
Shambles
It seems to me the whole exercise of putting together a coherent response to Ford's regional review has been a complete shambles.
Newmarket's John Taylor thinks the regional review taskforce (comprising the nine Mayors) should have made "more definitive" recommendations. What they got from Chief Administrative Officer Bruce McGregor didn't quite cut it.
Vaughan regional councillor, Gino Rosati, underlines the dilemma facing elected members when he says quixotically:
"we want to keep the status quo (but) we don't want to be saying no to everything that changes."
The Province clearly did not give municipalities enough time to take soundings and to consult the people and organisations that might be affected by a wholesale reorganisation of municipal government. That's a statement of the obvious.
The Regional Chair, Wayne Emmerson, candidly admits the Region doesn't know which way the lower tier municipalities will jump.
"We don't know how you all feel on regional government."
Why not ask?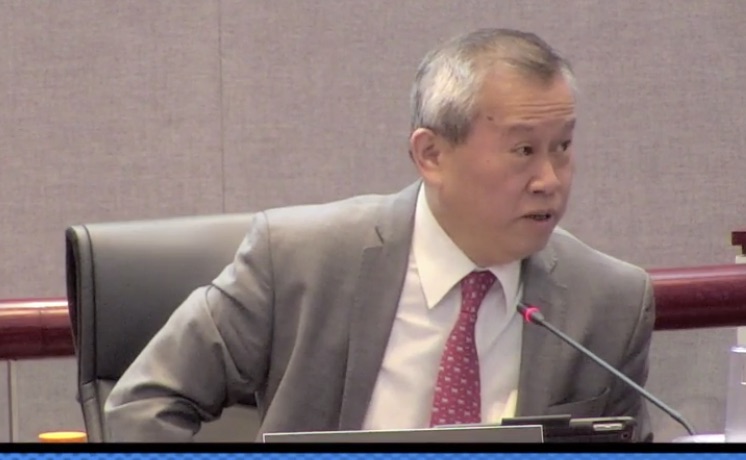 Just answer the questions
It seems to me the Region and the lower tier municipalities should, at the very least, have had a stab at answering all the questions posed by the regional advisers.
But no. The Regional Council couldn't even bring itself to consider whether a directly elected chair would, at some point in the future, be a good thing. That would mean courting unpleasantness and possibly offending Emmerson.
So, in the search for a consensus, they end up patting each other on the back, congratulating themselves and saying how marvellous they all are. Vaughan's Mayor Maurizio Bevilacqua sees the regional review as a great opportunity to highlight what "our cities and towns are doing and what the Region is doing".
Existential Threat
As if Doug Ford is remotely interested in anything other than delivering cheaper municipal government. Mayor Bevilacqua seems not to realise that he and his colleagues are facing an existential threat.
Emmerson tells his colleagues:
"The unfortunate problem is we really don't know what the Province is going to do."
So why not call for a second round of consultations once the special advisers have submitted their recommendations to the Minister but before the Bill is introduced?
And why not ask for all the submissions to the Regional Review to be published?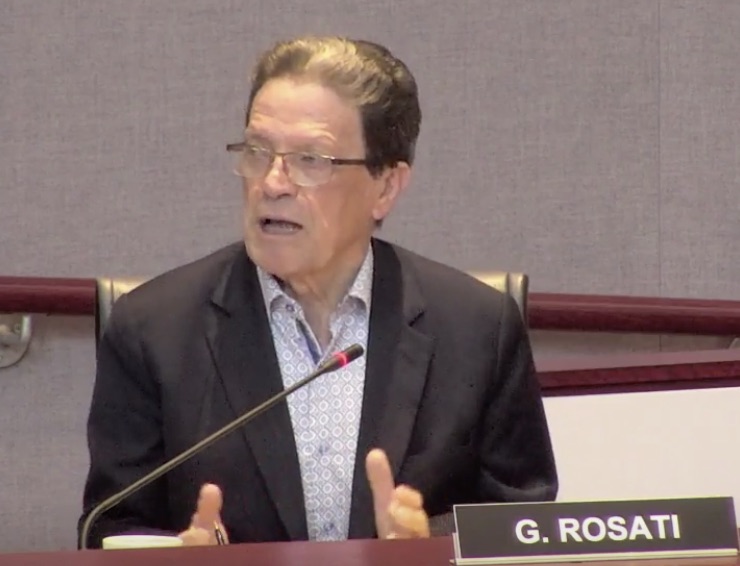 Chaos
Wouldn't that throw a spanner into the works?
Probably.
But why not? What have they got to lose?
Ford may not know much about good government.
But he understands chaos.
This email address is being protected from spambots. You need JavaScript enabled to view it.
Minutes of the Committee of the Whole on 9 May 2019 contain the Regional Governance reports. See F.1.2 Governance Task Force - Formal Response to Province on Regional Government Review Report and Agenda Items F.2.8. and F.2.9
Members of the public and organizations have until May 21, to submit their views. 500 words of less, please!
Recommendations from the advisory body will focus on the following questions:
Questions on municipal governance and decision-making;
Is the decision-making (mechanisms and priorities) of upper- and lower-tier municipalities efficiently aligned?
Does the existing model support the capacity of the municipalities to make decisions efficiently?
Are two-tier structures appropriate for all of these municipalities?
Does the distribution of councillors represent the residents well?
Do the ways that regional councillors/heads of council get elected/appointed to serve on regional council help to align lower- and upper-tier priorities?
Questions on municipal service delivery;
Is there opportunity for more efficient allocation of various service responsibilities?
Is there duplication of activities?
Are there opportunities for cost savings?
Are there barriers to making effective and responsive infrastructure and service delivery decisions?
Update on 16 May 2019: This draft response from the Region's Chief Administrative Officer, Bruce McGregor, was carried today by the Regional Council, amended with a reference to the Region's population growth.
Details

Written by

Gordon Prentice
It is Wednesday 8 May 2019 and I take myself down to Brampton for the big debate on whether Mississauga should leave Peel Region. In Ford's Regional Review this is one of the hottest of the hot potatoes and I want to see how Michael Fenn and Ken Seiling - the two "independent advisers" - deal with the issues.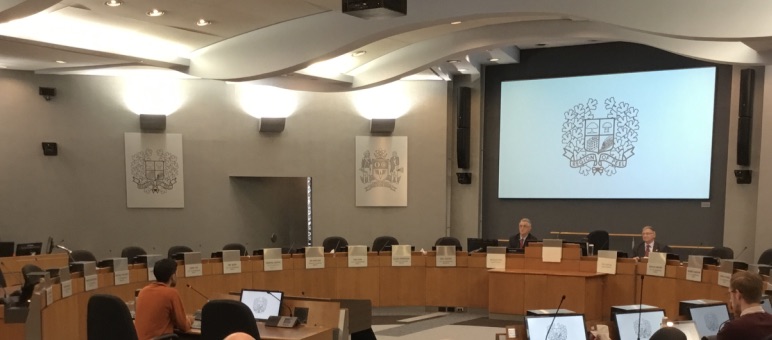 The questions Fenn and Seiling put to those presenting, both for and against, give us an insight into the advisers' thinking. They are struggling with the agenda Ford gave them, just like the rest of us.
I arrive at 10am just as the show is getting on the road.
First up is Rehal Mehta who is a star turn. (Photo right. At the microphone) Young, bright and articulate. A man who doesn't take prisoners. He is against the secession of Mississauga from Peel Region and slams the absence of information. He is asking questions but cannot get the answers. People have not been given the costs and benefits of all the options. What would a breakaway stand-alone City of Mississauga mean for the rest of Peel Region? What about the other permutations? The implications have not been examined. There has only been one Town Hall in Mississauga on secession.
Process flawed
He condemns the process as flawed. The meeting is during the day, excluding working people. Where are the young people? What about the demographics of this? Where are the people of colour? I look around and the overwhelming majority of those in the Regional Chamber are white.
Next up is Ian Sinclair from Caledon who wants the status quo. But if push comes to shove Caledon should join Dufferin.
Now we are hearing from David Wojcik, the President of the Mississauga Board of Trade. Predictably he complains of too much red tape. He wants efficient, effective and streamlined municipal government, a single tier Mississauga. It upsets him that the City "subsidises" Brampton and Caledon to the tune of $85M annually.
Ken Seiling perceptively asks if he is saying that no municipality should pay out more than it gets back. Wojcik side steps and says it is more about the weight that should be given to population size. The complaint is that Caledon has a bigger say than its population would warrant. Seiling wonders who would get the $40M from Pearson airport (I learn it doesn't all go into Federal coffers).
Now we are hearing from a Bay Street finance person (and unsuccessful council candidate) Joe Horneck who argues the case for an independent Mississauga. It would save money.
"Our hearts are in alignment with our calculators."
He claims there is a $342 per house subsidy from Mississauga to the Region of Peel. The problem, he says, is the very lop-sided composition of the Region with Mississauga - the 3rdbiggest city in Ontario and the 6thbiggest in Canada – having to dance to the tune of little old Caledon.
Getting the right answers
He worries loftily about public input and getting the "right answers" from people. He fears
"a majority of the population could be led into an unwise decision."
He means, presumably, they might be content with the status quo. Separation, he says, is a reasonable avenue to take. But he wants to share services such as police, waste and wastewater.
Seiling observes that it is not just about what each component municipality pays in but what they get out of it. For example, some may pay 31% of the total cost but get 37% of the services. Seiling wants to know if the creation of special purpose bodies to handle shared services may erode accountability.
Fenn asks what would happen to Caledon if Mississauga and Brampton went their own ways. Horneck concedes it "would have to find a home".
Now we have a stream of people who complain about the review's modalities. The Province has not given enough information or time to examine all the issues.
Fenn is thinking aloud. Surely we should be thinking about what we are going to be facing in the next decade or two.
"What a regional perspective should look like given the challenges we are facing?"
Now the Lakeview Ratepayer Association of Mississauga gives a long list of questions its members have been asking – without getting answers. How would independence work? Is Mississauga in a position to go it alone? They too complain about the short time to do the review and the absence of information. They look forward to the independent report commissioned by the Region of Peel from Ernst & Young. But it will be delivered after 21 May – the advisers' deadline for submissions.
Sharing facilities
Next up is a polymath who appears to know a lot about a lot of things. He wants improved delivery with lower costs. The answer, he says, is shared facilities straddling municipal boundaries. Seiling, who used to serve on a hydro board, again asks about political accountability if services are shunted into special service boards.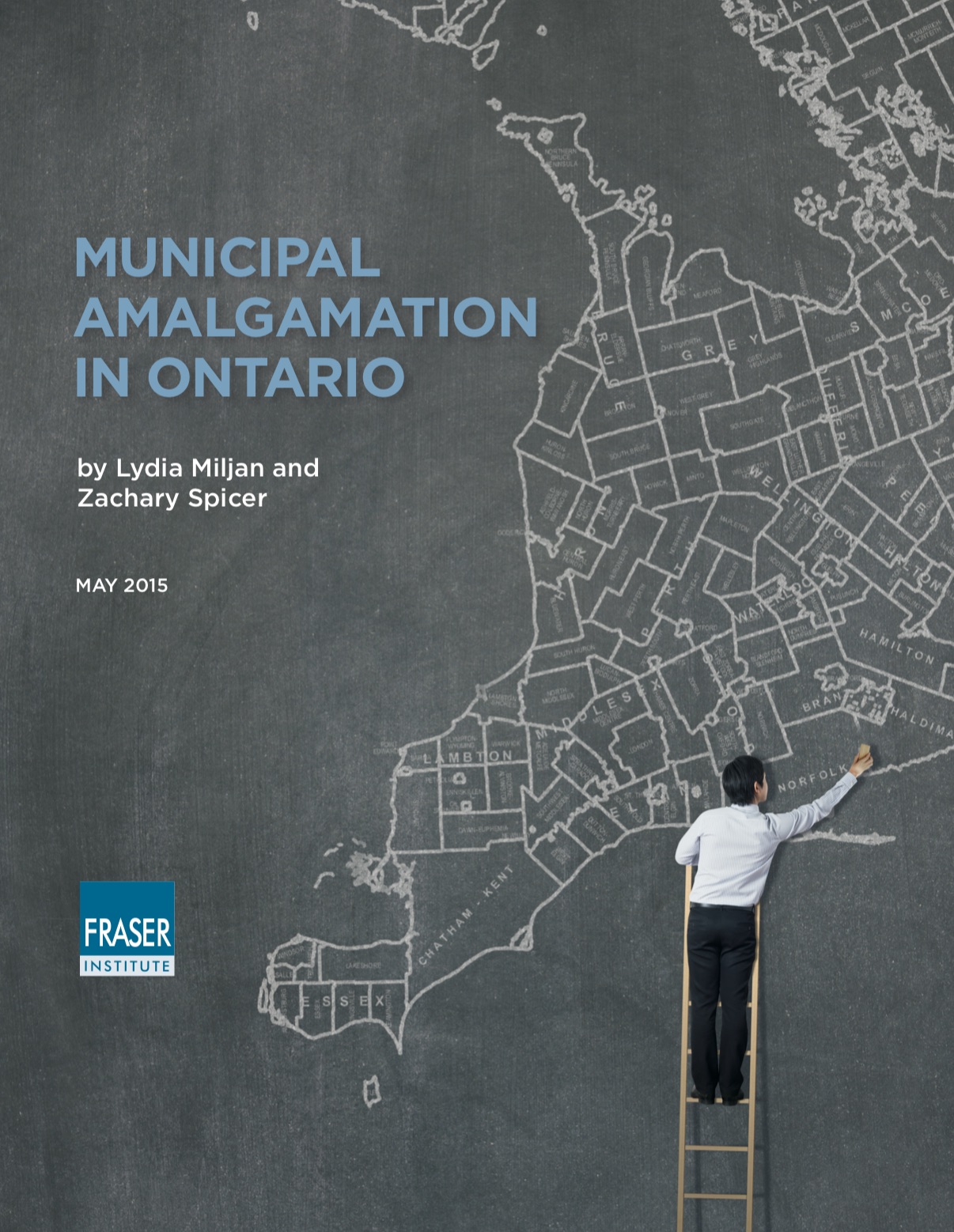 "Once these boards are created they take on a life of their own."
Now we hear a terrific fiery contribution from physician, Dr Kulvinder Gill who practises in Brampton. She indignantly dismisses the process which allows Bonnie Crombie to claim to speak for Mississauga where there has been no referendum and no electoral mandate for secession. She says it is appalling that Bonnie Crombie had a "pre-set" position on secession. There are no details of how the unilateral plan to secede from Peel would impact on residents. She calls for an independent costed analysis of all the options.
Now we are on to more residents' associations who echo the Crombie line. Andrew Gassmann, a financial analyst by trade and a council candidate in last year's election in Mississauga. He tells us he was the runner-up as if this may give more weight to his views. Vital issues concerning Mississauga should not be decided by Brampton and Caledon members. He believes Mississauga should not be "subsidising" other municipalities. Seiling skewers Gassmann by asking him to give examples of things Mississauga wants to do but is prevented from doing by the Brampton and Caledon contingents. Gassmann struggles to come up with concrete examples.
Now Fenn is telling us that a lot of people who have been in touch concentrate on representation issues. He says it may be more productive to look at service delivery improvements and cost reductions. Perhaps. But the consultation's format with arguments to be delivered in bite sized 3-5 minute pieces militates against this.
Dorothy Tomiuk from the Port Credit District Residents Association throws the timer out of the window. She has plainly thought long and hard about the Regional Review and is gonna take as long as she wants to get her points across. She concludes that Mississauga should not have affirmed support for separation.
A costly divorce
Sue Shanley from Mississauga's Clarkeson Village residents hits out at the review's methodology and the lack of information, making it impossible to take a thoughtful, educated decision. She tells us you cannot change something unless you know what is and what is not working. She fears the consequences of a divorce:
"how will the assets and liabilities be divided up?"
She says most people seem to be satisfied with the status quo. She cites the 2015 Fraser Institute report on Municipal Amalgamation in Ontario as evidence that these amalgamations can promise more than they deliver.
She describes the review process as
"very short and very chaotic."
Now a presentation from CUPE 966 on the work members do for those who are amongst the most vulnerable in society. He does not want either to be casualties of the regional review.
Fenn wants to know how the delivery of services could or should change in the years ahead with new challenges, changing demographics and new technology. CUPE is silent on that.
6,000 submissions
And that's it. I don't know what the special advisers will take away from the three and a half hour session. Peel is the area where the debate on municipal reconfiguration is supposedly raging with greatest intensity.
Those presenting were, by definition, self-selecting with their own world view. Few claimed to be talking for anyone but themselves.
But they all – to a greater or lesser extent – acknowledged that more information was needed to make sense of the regional review and where it was headed.
As we close Michael Fenn announces they've had 6,000 submissions so far. Should we be impressed?
Until we see those submissions and evaluate them, I don't think so.
This email address is being protected from spambots. You need JavaScript enabled to view it.
Details

Written by

Gordon Prentice
This afternoon I wander down to the York Region Administrative HQ where I have been given the opportunity to address the two special advisers, Ken Seiling and Michael Fenn, who were appointed in January to review regional government in Ontario and to come up with recommendations. (Photo: the advisers in the centre of the hemicycle waiting for the kick-off.)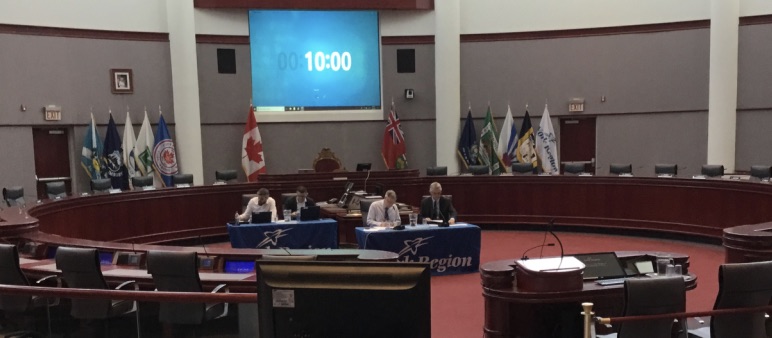 Astonishingly, there are only five of us down to speak. There's CUPE, the Ontario Library Association, a delegation from the Unionville Residents' Association in Markham, the Director of Markham Museums and me, a member of the public.
We are seeing consultation by stealth. No full page ads in the press. No email blasts. And only a few days to get your request in to speak. You blink an eyelid and you've missed it. Hmmm. Too bad!
3-5 minutes
In an email beforehand from the advisers' back-up team I am told I have been given 3 – 5 minutes to make my case.
"When preparing your remarks to the advisers, please keep in mind that the advisers want to hear your views on the way your elected municipal representatives make their decisions and represent your community. The advisers also want your thoughts and observations on the efficiency, effectiveness and cost of the various municipal services that your municipalities provide. In particular, the advisors are looking for your feedback on regional governance; decision-making and service delivery."
That's a lot of ground to cover in three minutes.
As the CUPE person is standing at the lectern Michael Fenn says that because there are so few of us we now have ten minutes.
Zero information
I decide to concentrate my fire on three targets.
First, there has been next to no background information provided by the Province. I tell the advisers I have no sense of where they are coming from. Will the review recommend amalgamations?
The review asks if two tier structures are appropriate for all municipalities. But we have zero information on the costs of moving to a single tier. These are likely to be very substantial. I rely on reports from Mississauga (which wishes to secede from the Region of Peel):
"Studies done by various researchers and academics have concluded that amalgamations in Ontario and in other provinces have resulted in cost increases, not cost savings or service efficiencies."
We have no evidence on the costs of previous amalgamations and their impact on service delivery.
Local means local
Second. I believe local government should be as local as possible. And I take it as axiomatic that citizen involvement is a good thing. So getting rid of the lower tier and uploading everything to the regional level wouldn't be desirable. And it wouldn't work. York is not a city region. It covers a huge area. I mention efficiencies arising from co-operation between the lower tier authorities.
Third. I move swiftly on to governance issues. Three years ago I gave evidence to the Bill Committee at Queen's Park and argued for the direct election of the York Regional Chair. I was disappointed the Ford Government cancelled the 2018 election at the same time it was cutting Toronto City Council by half. I remind the advisers the then PC Opposition voted with the Liberal Government to have York Regional Chair elected by the voters at large.
Now I hear myself quoting from a chunk of my Queen's Park speech. Why can Durham have an elected Chair but not York? (Photo right: Durham Regional Chairs debate 2018).
York has a population bigger than PEI, Newfoundland, Labrador, New Brunswick, Nova Scotia and Saskatchewan – and is closing on Manitoba. Yet the Chair is indirectly elected by 20 people.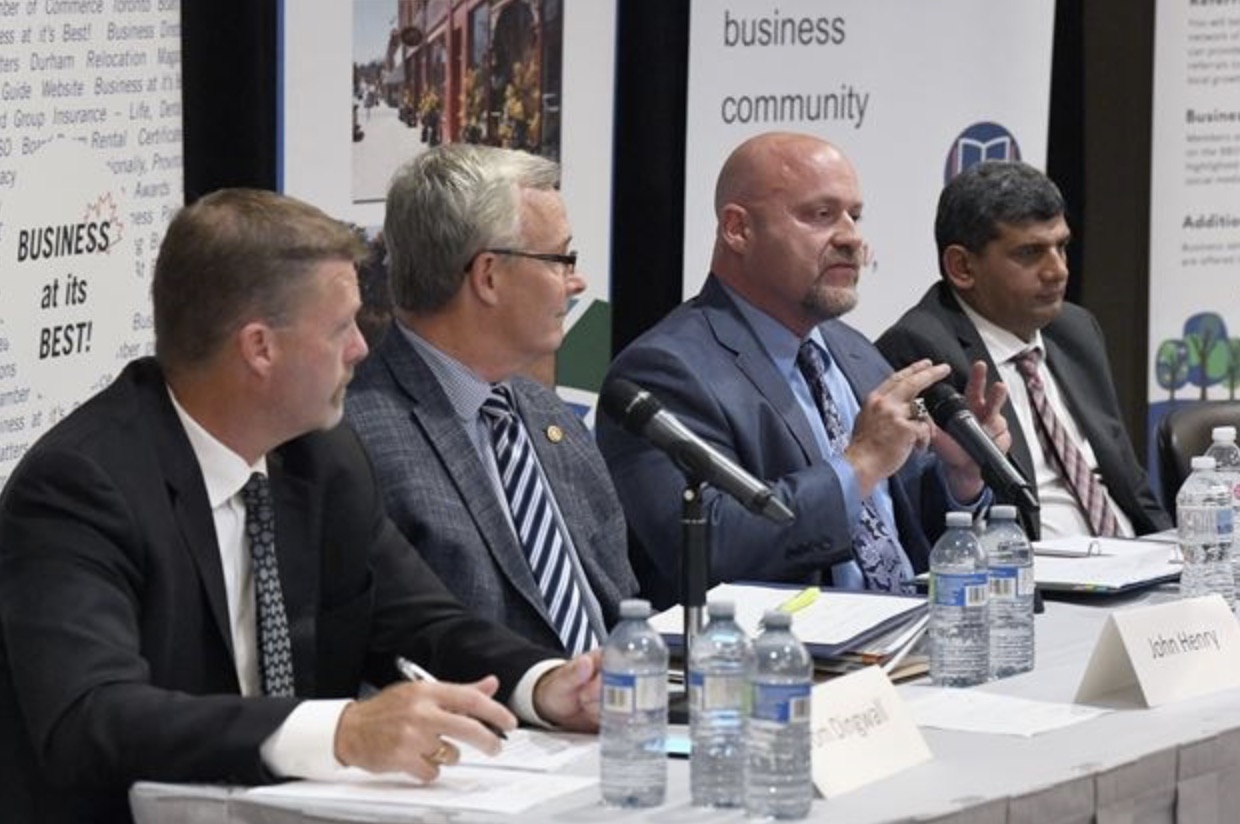 The invisible man
I tell the advisers I would be surprised if one in 1,000 people could name the regional chair, Wayne Emmerson. He is totally invisible to the general public.
Now I am well into my stride. I am on top of my soapbox talking about the importance of elections. They are about competing visions of the future and about deciding priorities. In the absence of elections these debates happen but in a muted way inside this hermetically sealed Chamber. Now I am galloping along.
There is no citizen involvement to speak of. And the method of election to York Region is also part of the problem. The system used is "Double Direct" and it doesn't work. The review team has given the public no explanation of what it is and possible alternatives. (There is one election for double direct with Mayors and Regional Councillors sitting on two bodies – the lower tier municipality and the Region.)
Academics say that with double direct the upper tier is less accountable to the community and there are conflicts of interest with members trying simultaneously to represent the views and policy positions of the upper and lower tiers which may be different. I agree with that.
Mayors not pulling their weight
I tell the advisers I have spent years observing members of York Regional Council and many of them make next to no contribution at all. Mayors are passported on to the Region, picking up their $55,000 "stipend". Some are disinclined to make any effort at all, focussing solely on their own patch. And regional report-backs to the lower tier can be very perfunctory.
Maybe that will change now that we have live streaming from the Regional Council Chamber, a recent innovation.
The solution is to take the Mayors out of the regional tier and have Regional Councillors focussed exclusively on regional priorities.
The advisers want to know how big my regional council will be. Answer: as big or as small as you want it to be.
I have 1:45 seconds left and decide to get something off my chest that has been bugging me for years. In Newmarket planning approvals for major developments were given to landowners ten and even twenty years ago but nothing has been built. We see a patch of dirt where the condo should be. We need sunset clauses to revoke planning approvals if they are not acted upon after, say, five years. I concede this is off-point but it chimes perfectly with the Ford Government's announcement last week to get more housing built in shorter timeframes.
And that's it. Time's up. My suggestions will no doubt be filed away and be forgotten while Ford redraws the municipal map.
York Region will decide its response to the Regional Review on Thursday 9 May 2019 following the advice of a working group consisting solely of the Mayors of the nine constituent municipalities.
This email address is being protected from spambots. You need JavaScript enabled to view it.
Members of the public have until May 21, to submit their views. 500 words of less, please!
Recommendations from the advisory body will focus on the following questions:
Questions on municipal governance and decision-making;
Is the decision-making (mechanisms and priorities) of upper- and lower-tier municipalities efficiently aligned?
Does the existing model support the capacity of the municipalities to make decisions efficiently?
Are two-tier structures appropriate for all of these municipalities?
Does the distribution of councillors represent the residents well?
Do the ways that regional councillors/heads of council get elected/appointed to serve on regional council help to align lower- and upper-tier priorities?
Questions on municipal service delivery;
Is there opportunity for more efficient allocation of various service responsibilities?
Is there duplication of activities?
Are there opportunities for cost savings?
Are there barriers to making effective and responsive infrastructure and service delivery decisions?
Update on 14 May 2019: And this is how Newmarket Today covered the story.
Details

Written by

Gordon Prentice
The Superior Court in Newmarket has ordered Aurora businessman and PC activist Anthony Pullano to pay a whopping $174,400 in costs to Magna's Steve Hinder on top of the $50,000 awarded by the jury last December in general damages for defamation.
Brock Weir quotes the trial judge in his recent piece in the Auroran.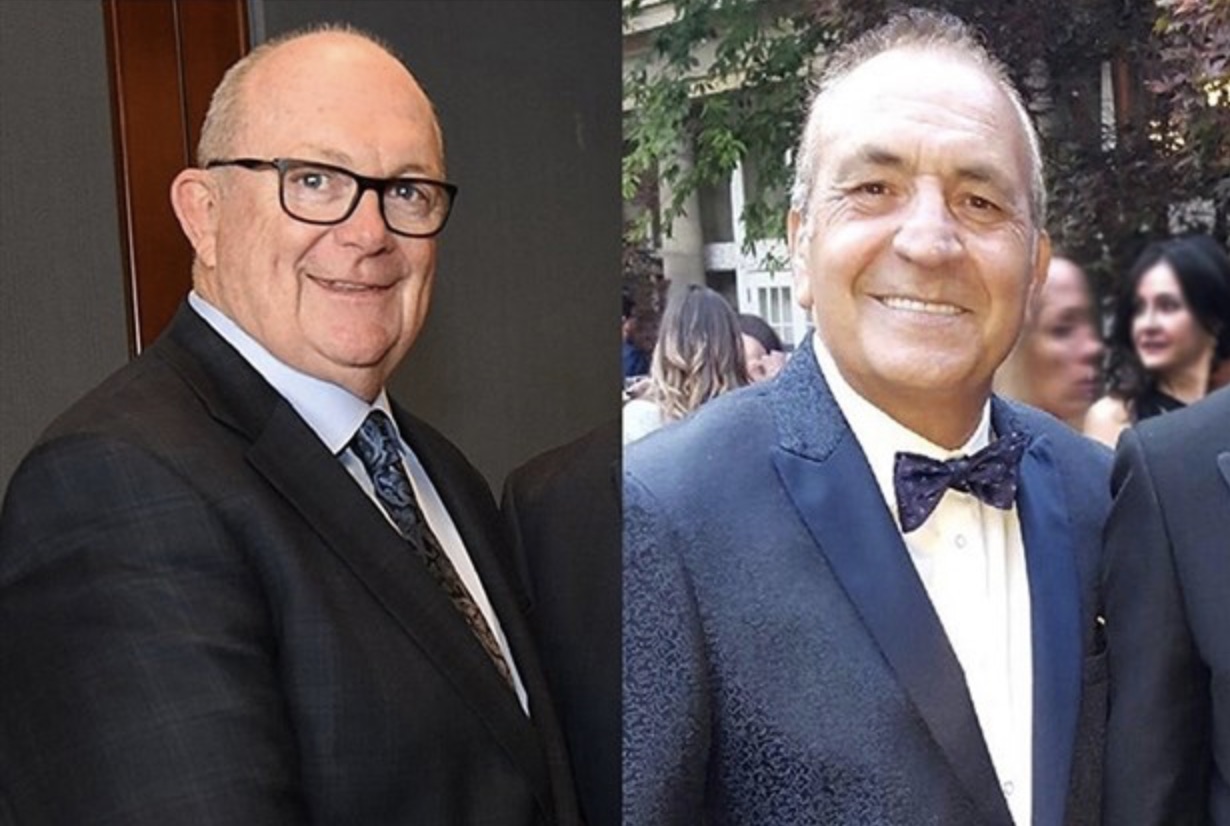 I sat through the trial and I found the judge to be, at times, impatient and irascible. He was often exasperated – and let it show.
Pullano his own worst enemy
And not without some cause. Anthony Pullano was his own worst enemy. He couldn't answer a straight question. He was meandering and long-winded and very often off-point. But he had a story to tell and the jury delivered its verdict on the facts after being instructed on the law by Mr Justice McCarthy.
I am not a lawyer or a pretend lawyer. I am Joe Public. But the judge's reasoning raises a few red flags for me. (Photo: Hinder of the left, Pullano on the right)
The judge said:
"The plaintiff was entirely unsuccessful at trial. The finding by the jury that he had been punched by Hinder, in all circumstances, cannot be viewed as constituting any measurable level of success. The jury dismissed the notion that Pullano sustained any physical, emotional or psychological injury. The jury rejected the suggestion that the punch had caused the infection of his [cardiac] implantation site. There was no basis for an award of general damages. I have found that an award of nominal charges is unwarranted."
But Mr Justice McCarthy chose not to instruct the jury on the law of battery despite being asked to do so by Pullano's sterling lawyer, William Reid. In fact, the judge sought and received the consent of counsel from both sides to abandon the charge of assault and substitute battery. In law, these have different meanings. The jury was left in the dark about the elements of the tort of battery. At the time I thought this was a big deal. I was asking myself how I would approach the issue had I been on the jury. The judge also misdirected the jury on the law on damages.
The judge goes on:
"The jury found no conduct on the part of Hinder deserving of aggravated or punitive damages. Conversely, the jury found multiple instances of defamation of Hinder by Pullano; implicit in its verdict is that it accepted Hinder's evidence that he had suffered emotional upset and embarrassment as a result of Pullano's defamatory comments being disseminated via social media to the broader community."
The damning evidence of Fred Rankel
I heard things at the trial that the jury did not. If there was legal argument about the admissibility of evidence the jury was asked to leave but members of the public were allowed to stay and hear the exchanges.
The judge excluded important evidence from Fred Rankel, a successful Auroran businessman of many years standing who knew Hinder and Pullano but was beholden to neither. He told the Court under oath how Hinder described the former Mayor of Aurora, Phyllis Morris, in an uncouth and deeply offensive manner.
The judge stopped Reid's line of questioning in its tracks and asked Fred Rankel and the jury to leave the Court while this was dealt with.
Reid said Hinder's counter-claim for defamation meant his (Hinder's) previous statements about people should be put before the jury to give them a rounded picture of the type of man that Steve Hinder is.
Reid told the Judge that on 10 June 2014 Hinder said to the former Mayor of Aurora, Tim Jones, in the presence of Mr Rankel:
"If these WOPs get elected we will have to roll up our tents and leave town."
Pullano's lawyer told the judge these and other similar statements by Hinder were crucial to the defence and to rebutting the counter-claim on defamation. The judge disagreed and ruled such statements would be severely prejudicial to Hinder and he would not allow them to be put before the jury.
We are told Anthony Pullano has until 15 May to decide on an appeal. I do not envy William Reid who must advise his client on whether or not to go down that perilous road.
Pullano has already been taken to the cleaners financially and the thought of him forking out even more money for what may be a lost cause makes me shudder.
This email address is being protected from spambots. You need JavaScript enabled to view it.
You can read Mr Justice McCarthy's decision on costs here.
Update on 10 May 2019: Anthony Pullano has confirmed his lawyer has filed a Notice of Appeal
Details

Written by

Gordon Prentice
The constituency office of Newmarket-Aurora's MPP, Christine Elliott, was today picketed by a good-natured rainbow coalition of protesters, all concerned about Doug Ford's latest cuts.
The group says they are independent and not party political.
I see familiar smiley faces. Not one of them looks threatening.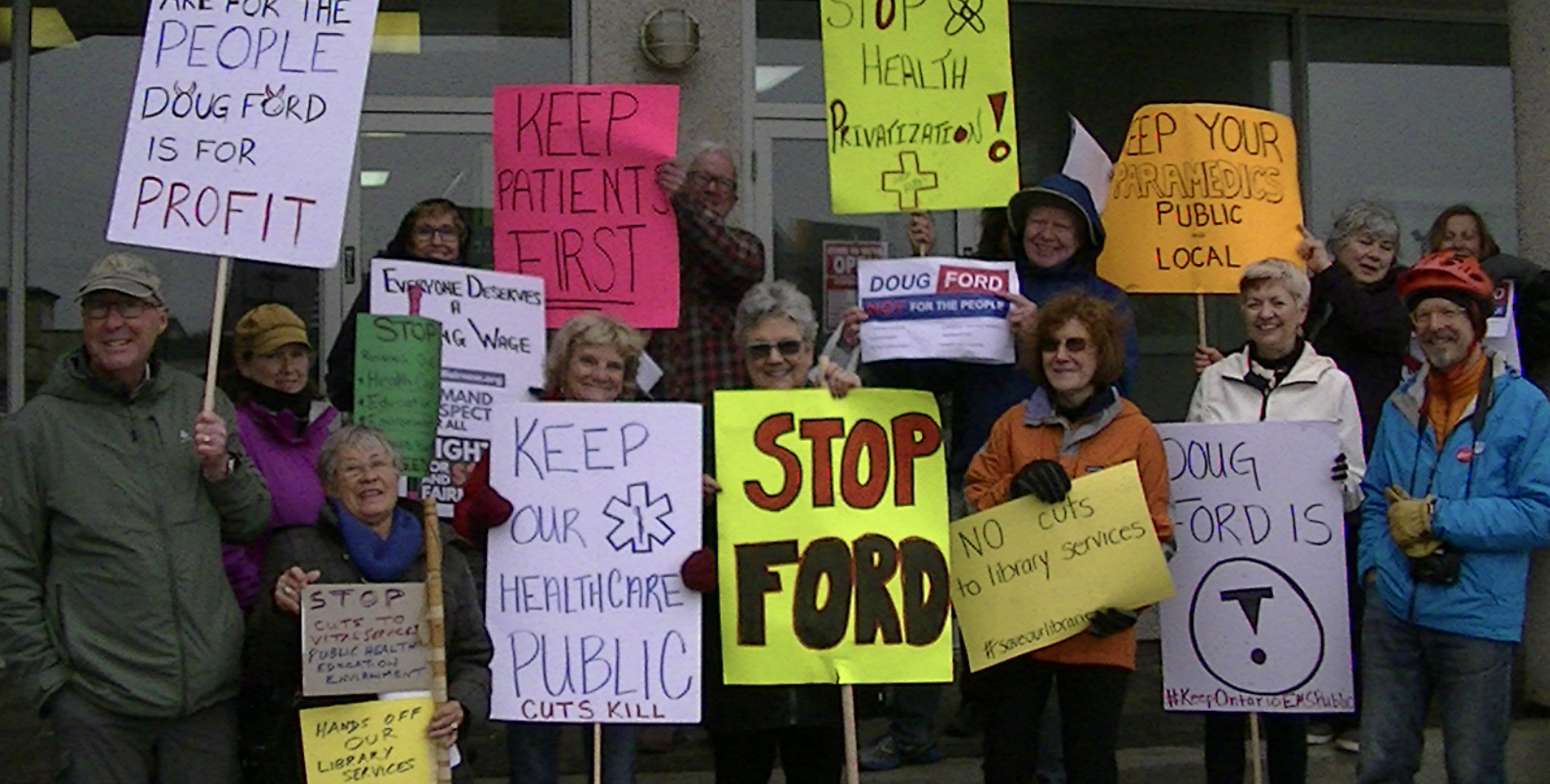 Jackie Playter is in the thick of it, holding a placard aloft which shouts:
"Keep our Healthcare Public. Cuts Kill."
Jackie, Newmarket's Honorary Citizen of 2017 and the Town's champion hugger, vows to be back outside Elliott's office next Wednesday from 12 noon to 1pm doing the same thing.
Protesting. Gently.
Elliott's staff lock the front door, keeping the protesters at bay, while insisting:
"There are no cuts."
Elliott is, of course, Minister of Health besides being Ford's Deputy Leader - even though she can't stand him.
In its review of the 2019 Ontario Budget, the Conference Board of Canada, says
"The province plans to restrict growth in health care spending to 1.8 per cent over the next five years. This will be a remarkable feat if achieved, as the province has seen health care spending grow at an average annual rate of 3.7 per cent over the last decade."
This means reining back health spending significantly while Elliott and Ford place their faith in "efficiencies".
The Toronto Star's Robert Benzie tells us:
"Queen's Park is slashing its share of public health funding with municipalities from 75 per cent to 50 per cent, and eliminating thousands of teachers' positions across the province."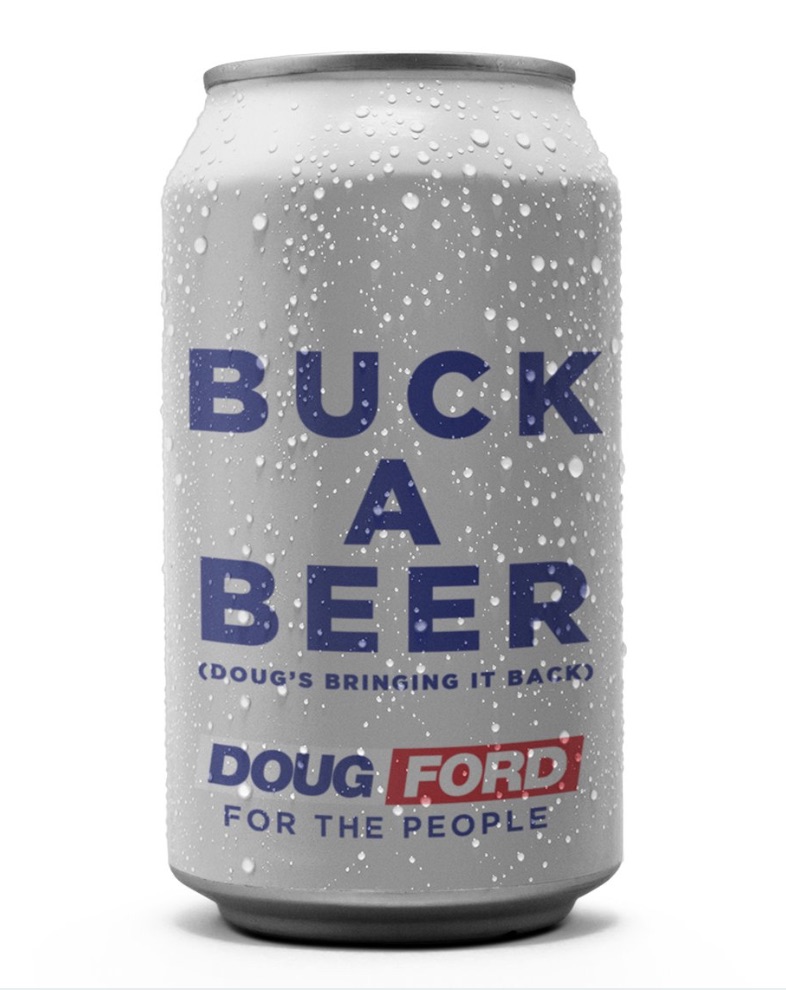 We are told spending cuts extend from trees to libraries.
Ford likes cutting programs by half
At a time of unprecedented flooding Ford is cutting in half the provincial funding to Ontario's 36 conservation authorities.
The Ontario library service is losing half of their provincial funding, axing inter-library loans which will be a hammer blow to more isolated communities.
But, funnily enough, there always seems to be enough money to pay inflated salaries to Ford's cronies who land plum patronage jobs in and around government.
Here is the Toronto Star's list of winners and losers in Ford's first budget.
If you need an alcoholic drink at 9am then Doug Ford is your man.
This email address is being protected from spambots. You need JavaScript enabled to view it.
Background: Elliott was parachuted into the riding after Charity McGrath was blocked by Ford from standing as PC candidate for election irregularities. Elliott hates Ford but conceals her animus towards him as the price of remaining PC Deputy Leader and Minister of Health. Elliott chooses not live in the riding.
Update on 9 May 2019: This is how Newmarket Today covered the story as it developed.