Details

Written by

Gordon Prentice
Since the announcement on 4 November 2022 by the Minister of Municipal Affairs and Housing, Steve Clark, that certain lands were to be removed from the Greenbelt there has been press comment, asserting as fact, that hospitals can be built on the Greenbelt.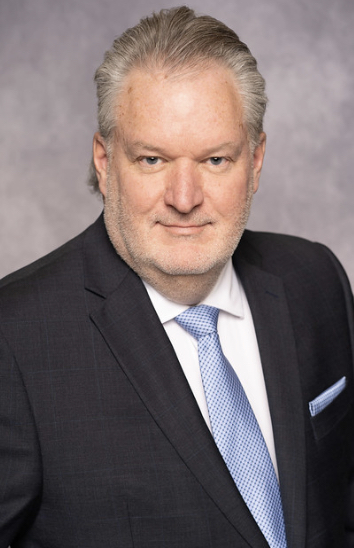 This CBC report from 2 December 2022 is typical:
"The land in King is located on a vast expanse of farmland across from a Newmarket subdivision. It includes areas designated as "protected countryside" and "natural heritage system," two of the highest levels of greenbelt protection."
"Under current provincial regulations, building a hospital on such land would be permitted and not require rezoning."
But is this correct? If so, a hospital could be built on prime agricultural land in, say, the Holland Marsh or on the Oak Ridges Moraine outside of a settlement area.
Mayor Pellegrini: a fool or a knave?
The four-term Mayor of King, Steve Pellegrini, insists that the Greenbelt could accommodate a new hospital. He says he has been scouring his municipality since 2019 looking for a site. He told Global News on 1 February 2023 that a new hospital could be built on the Greenbelt under Provincial regulations.
He is wrong.
If a hospital could be built absolutely anywhere in the Greenbelt it could, as I say, be plonked in the middle of the Holland Marsh – one of the most fertile and productive prime agricultural areas in the entire country. That would be a nonsense.
Did no-one in King's planning staff tell Pellegrini that, yes, a hospital could be located in a "settlement area" (or designated built up area) in the Greenbelt but otherwise the Greenbelt was out-of-bounds?
Hospitals should be located in settlement areas
The Chief Planner of York Region, the hugely experienced Paul Freeman, appears to agree that hospitals should be located in settlement areas in the Greenbelt, not on prime agricultural land. (Photo right)
I asked him the simple, straightforward question: can a hospital be built on the Greenbelt?
And this is what he told me earlier today:
"The planning system in Ontario is based on a conformity hierarchy, meaning to be permitted in a zoning by-law a land use must conform to the local official plan, which must conform to the Regional official plan (in this case prime agricultural designation), which must conform to Provincial Plans (Greenbelt Plan or Oak Ridges Moraine Conservation Plan (ORMCP), and Growth Plan). Only the Province can change Provincial Plans.
In our interpretation, a hospital would be considered institutional and directed to settlement areas given the agricultural designation on the subject lands. As I've indicated above, only after the use is permitted in the Greenbelt Plan or ORMCP can official plans and zoning bylaws be amended to be consistent with and permit the use at the local level.
Now that the lands have been removed from the Greenbelt, presumably natural heritage features will still be protected and the official plan and zoning by-law will be amended to reflect the Province's direction. This is necessary to enable development applications and building permits. I would anticipate the Province will be issuing a Minister's Zoning Order to further define how development on these lands is to proceed."
So there we have it. Prior to Clark's announcement on 4 November 2022 to open up certain parts of the Greenbelt to development, a hospital would not have been permitted on the lands in King south of Miller's Side Road, east of Dufferin and west of Bathurst as these did not include a settlement area. The formal decision on 21 December 2022 to remove these lands from the Greenbelt and to redesignate a portion of the Oak Ridges Moraine as a settlement area (see plan below) has changed all that.
Impossible
At the in-person meeting on 1 November 2022 involving Mayor Pellegrini, Michael Rice and representatives from Southlake there was talk of putting a hospital on the Rice lands. But that was impossible given the regulations applying on that date.
Clearly, someone somewhere was tipped off that three days later, on 4 November 2022, things were going to change.
This email address is being protected from spambots. You need JavaScript enabled to view it.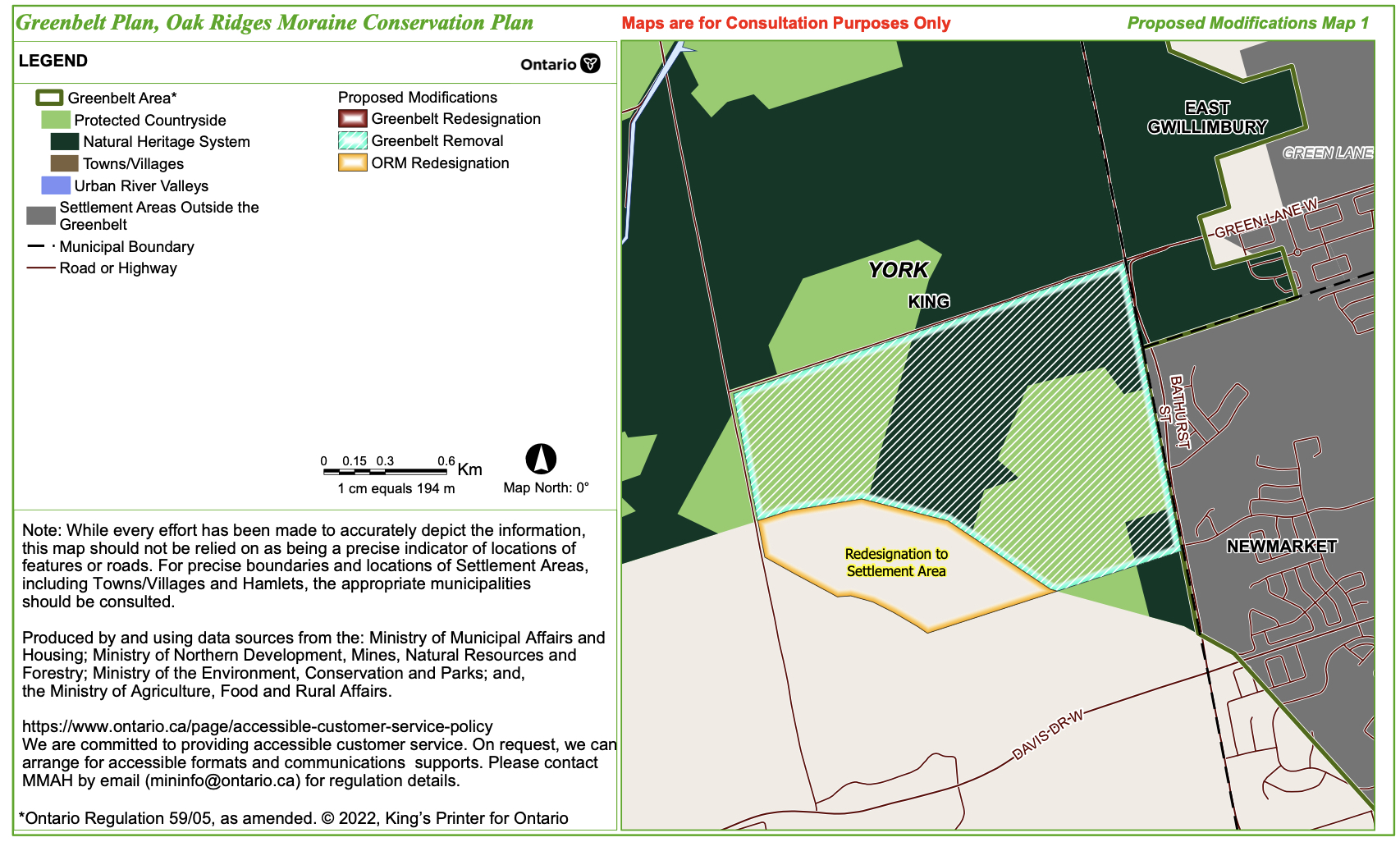 Details

Written by

Gordon Prentice
It came as a terrible shock to learn that Dave Kerwin died earlier today. He had been playing tennis and died in hospital. He was 84.
Dave Kerwin was a fixture in municipal politics for decades. He was likeable and engaging. I thought he was a terrific guy. When he stood down from Newmarket Council in 2018 he was the longest serving councillor in Canada.
At the time he said:
"Newmarket is tattooed on my soul."
This is Dave with his wife Erika.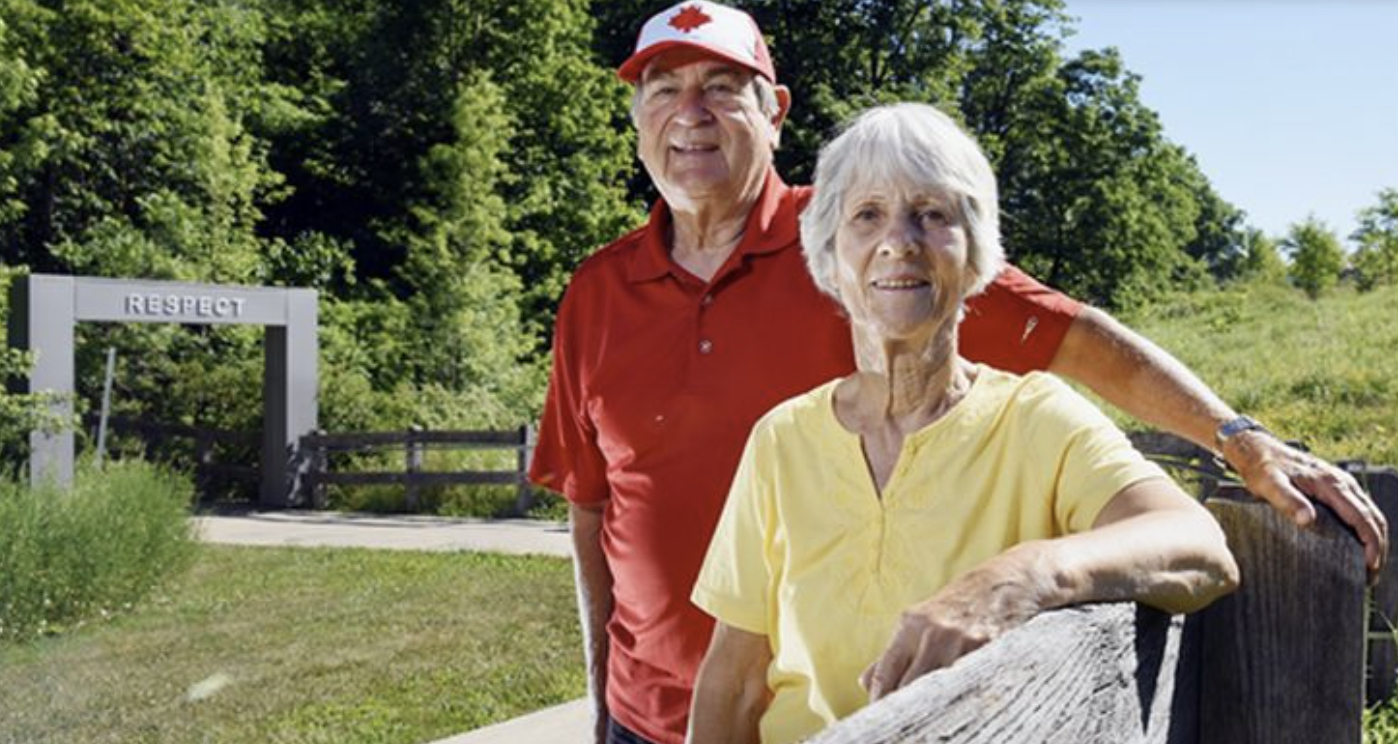 Details

Written by

Gordon Prentice
Newmarket-Aurora's Progressive Conservative MPP, Dawn Gallagher Murphy, cruised to victory in last June's Provincial Election in a campaign that steamrolled her rivals.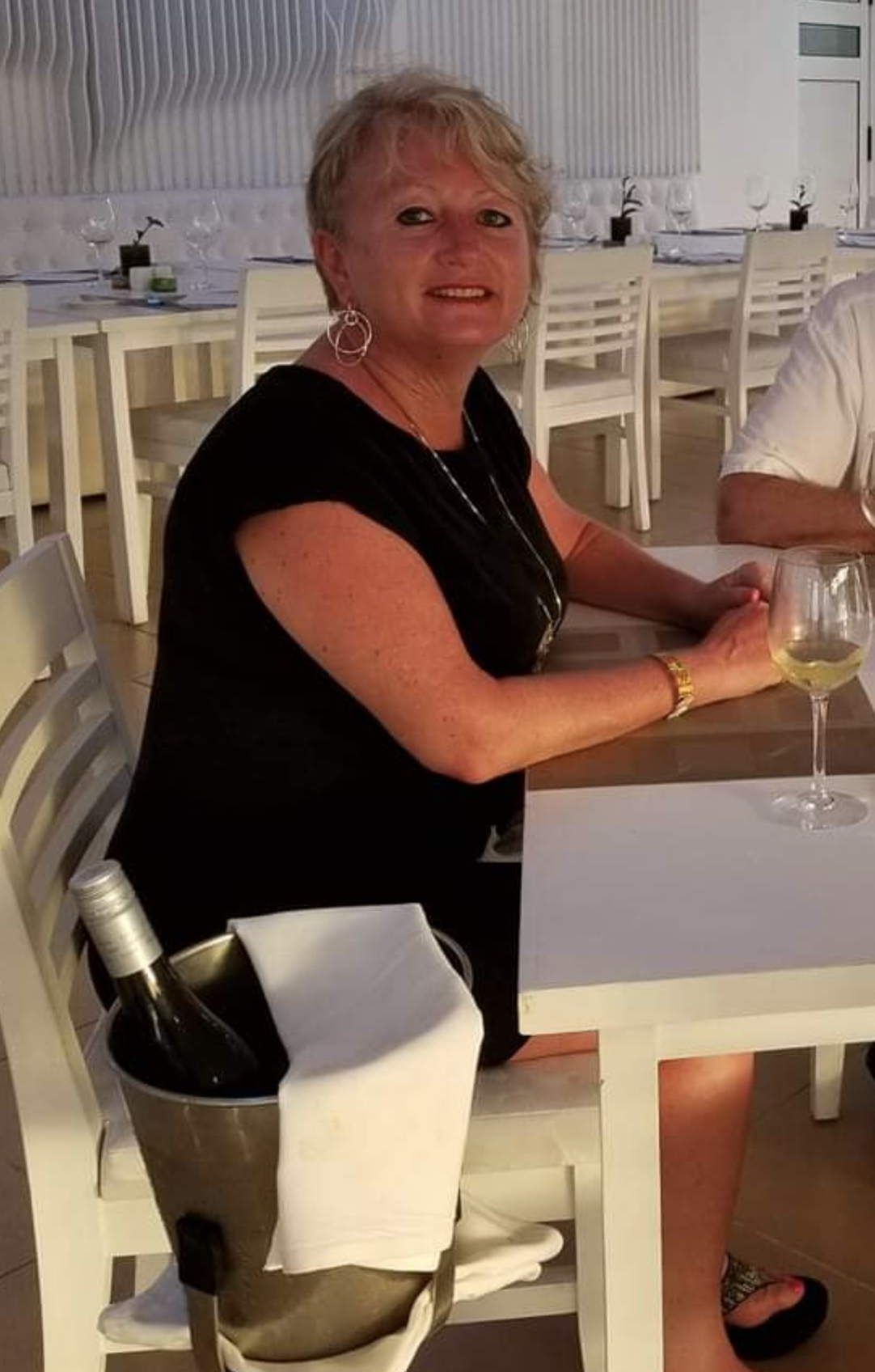 Newmarket Today's Joseph Quigley reports:
The Conservative wracked up $122,025 in campaign expenses as she garnered 44.9 per cent of the vote and 18,649 votes total, more than 5,000 votes clear of Liberal Sylvain Roy, who got 31.4 per cent.
In comparison, Roy's campaign had $24,363 in expenses, less than 20 per cent of what Gallagher Murphy's campaign spent. NDP's Denis Heng, who came in third with 12.7 per cent of the vote, had his campaign spend $47,395.
No-show
Gallagher Murphy, the former MPP's Office Manager, was a no-show at all election debates. But she compensated for this invisibility by splurging $43,565 on campaign advertising and $21,326 on brochures. She was everywhere.
She spent an eye-watering $5,228 on hosting meetings. I spent a modest $25 booking the Newmarket Public Library for a candidates' debate at last October's municipal election – even though my opponent disappointingly didn't turn up. He too was elected, very handsomely.
Call me old fashioned but, personally, I prefer the old ways where candidates debate face-to-face on a public platform, taking the questions as they come.
Frank Klees and Michael Rice
Gallagher Murphy's list of doners includes former MPP and now professional lobbyist Frank Klees (who donated $500) and Michael Rice ($2,000).
I do not immediately know if this is the same Michael Rice who bought the Greenbelt lands in King on 15 September 2022 for $80M. Someone should ask her.
I was surprised to see Gallagher Murphy spend $5,802 on her Victory Party which looked quite a gentle affair.
The guidelines Gallagher Murphy would have followed when completing her election return are set out here.
This email address is being protected from spambots. You need JavaScript enabled to view it.
See also on (municipal) campaign finance: From the Toronto Star: Do you want to check how much money your councillor spent on the last campaign? Good luck.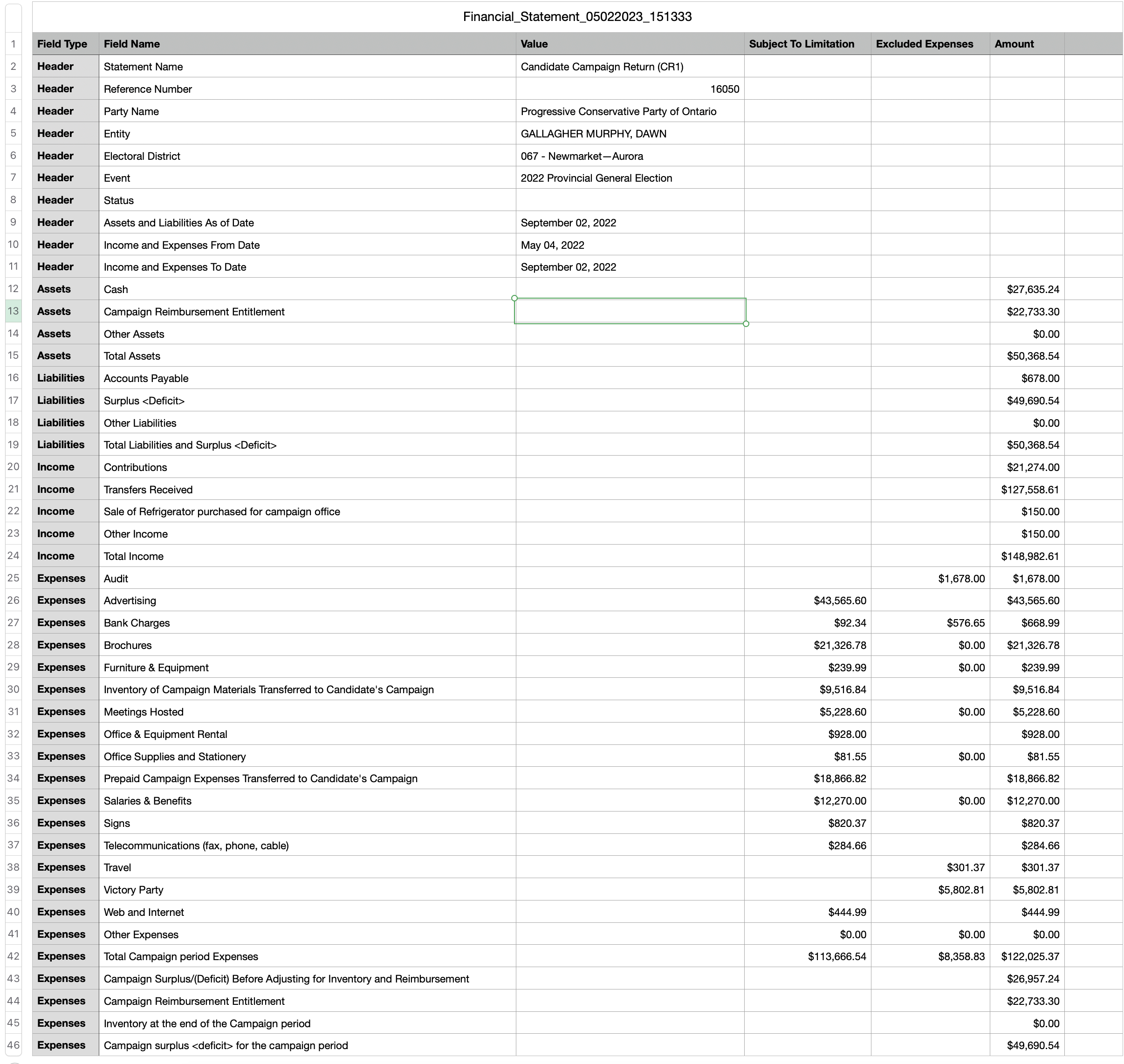 Donors to Gallagher Murphy's campaign: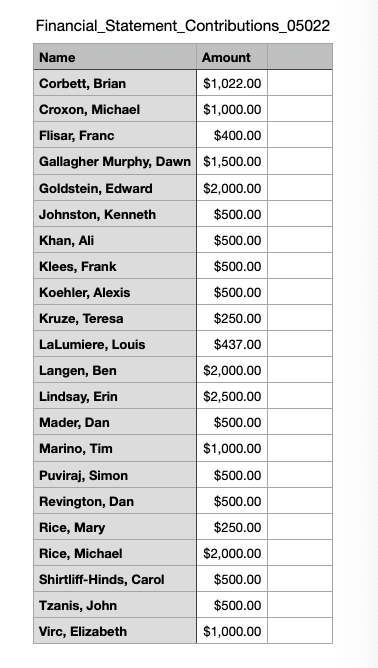 Details

Written by

Gordon Prentice
Doug Ford's PC administration makes policy on the hoof.

Bills are rushed through the legislature and enacted even before the end of the consultation period. The blanks are filled in later through Regulations – on which no-one is consulted.
This is Ford Nation's approach to policy making and both York Region and Newmarket, as they present their draft budgets, are left to guess what's coming next.
Our MPP, the Ford appointee, Dawn "Corn Roast" Gallagher Murphy, just parrots the Party line, offering no insights or explanations on how the legislation she votes for will impact her constituents.
Off-the-hook
As a gesture to Ford's friends, the More Homes Built Faster Act 2022 (Bill 23) exempts developers from millions of dollars of development charges (DCs). These are fees paid by the developer to the municipality to offset the costs of servicing new developments such as roads, water hook-ups and so on. That burden will now fall on the taxpayer.
It was always a fiction that growth fully paid for growth but with the gap getting wider it is there for all to see.
Define Affordable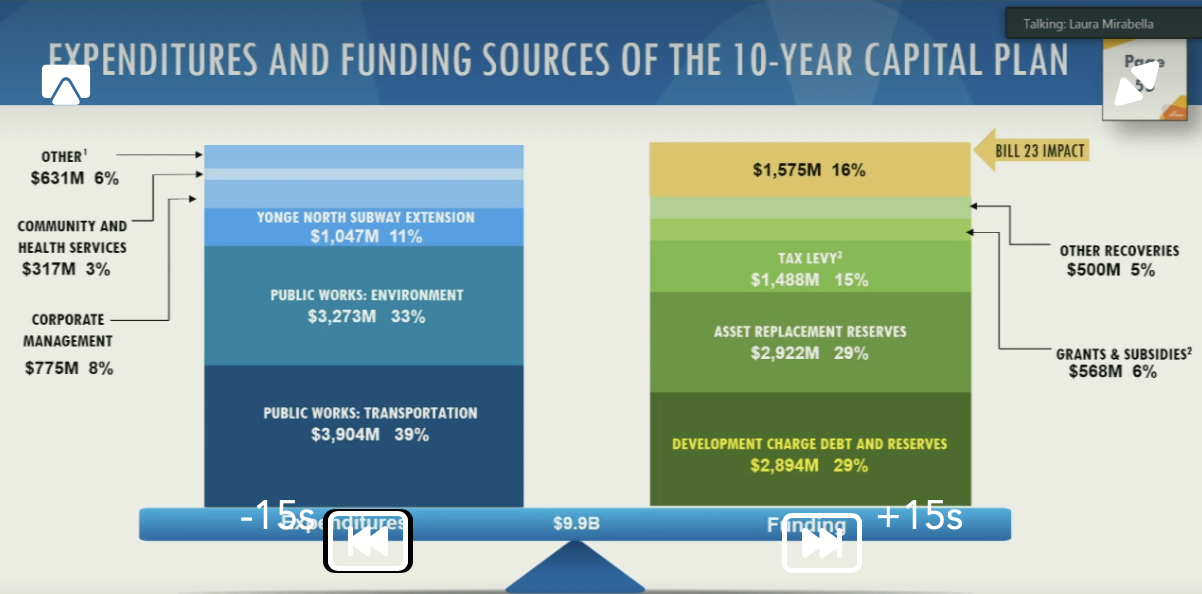 Wide ranging exemptions from DCs will cover "affordable" residential units and "attainable" residential units and some other categories of housing. But the Province still hasn't defined what it means by "affordable" or how the homes are to remain affordable over 25 years, the stated intention.
Regional Treasurer, the excellent Laura Mirabella, says the Region's DC collections could be 15 to 20% lower in 2023 because of the way the phasing provisions work:
"We collect 80% in year 1; 85% in year 2; 90% in year 3; 95% in year 4 and only 100% of the charge in year 5 and beyond."
The Province originally said the phasing would only apply to DC by-laws passed after June 1 2022 – which would have excluded York Region. But then Ford had second thoughts and backdated the new rules to January 2022.
$500M lost revenue
62% of York Region's capital plan is related to growth but only 45% of the overall plan will be funded from development charges. The Treasurer forecast DC collections would be reduced by about 10% on average - nearly $500 million – which represents about 5% of the Region's capital spending. But it could soar to 16% depending on which way Ford jumps. (see graphic right)
If there is no extra funding from the Province to cover the shortfall, a 10% reduction in DCs over the next 10 years would require an additional one time tax levy increase of 2.3% and an additional 5% increase on water and wastewater rates.
Newmarket Mayor, John Taylor, makes the point that the projected one-off tax levy of 2.3% on the $497M does not take into account the DC exemptions for attainable and affordable housing.
"I don't want the public or the provincial government thinking the impact is 2.3% because it is clearly higher. We just don't know how much higher."
Laura Mirabella agrees:
"That's correct… Really simple math. A $500 million gap is 2.3% on tax and 5% on water rate. Triple that amount and you might triple those percentages."
Taylor says:
"We've got to assume the numbers are far closer to the triple version than the version that doesn't account for some of those huge categories."
Wastewater servicing: back to the drawing board
At the York Region meeting on Thursday (2 February 2023) Public Works Commissioner, the impressive Erin Mahoney, tells members the capital investment for wastewater servicing in Aurora, East Gwillimbury and Newmarket was based on the former North York Sewage Solutions project which was scrapped by the Province in the run up to last year's Provincial election.
"This 2023 plan… defers wastewater servicing for Aurora, East Gwillimbury, Newmarket by two years due to the implications of Bill 23 requiring us to pivot and implement a new southern solution to service these communities by expanding and enlarging the York Durham Sewage System. And once we define the new capital requirements for this infrastructure solution we will quickly re-calibrate our capital plan."
So critically important wastewater servicing in our area has been put back two years.
At yet, at the same time, Ford wants to see a major new development on the former Greenbelt lands next door to us in King. And this too will have to be serviced.
And then there's the additional 11,000 homes which Ford expects to see here in Newmarket by 2031.
How is this going to happen?
The details, as always with Ford, come later.
This email address is being protected from spambots. You need JavaScript enabled to view it.
Update on 9 February 2023: Note presented to York regional Council from York Regional Treasurer, dated 3 February 2023, on the financial impact of Bill 23
Read more: Ford slashes Developers' fees and transfers cost to Taxpayers
Details

Written by

Gordon Prentice
King Mayor Steve Pellegrini no doubt has many fine qualities but consistency is not one of them. His explanations of what happened when he met the developer Michael Rice are full of contradictions.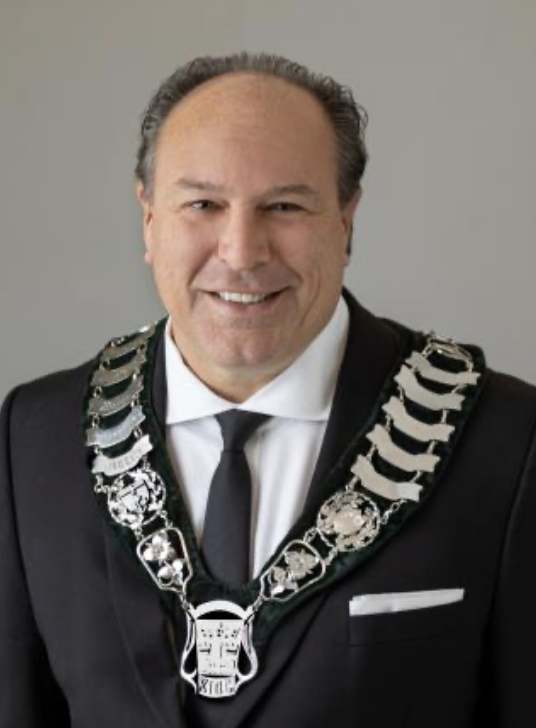 Did Pellegrini meet Michael Rice or one of his representatives "over the summer"? Apparently so.
The ERA newspaper reports on 3 February 2023:
"When the Rice Group closed on the sale of the land in August, Pellegrini approached them about his idea."
Yet the Globe and Mail reported on 1 February 2023 that at the meeting on 1 November 2022 Pellegrini asked Mike Rice if he would donate land to the hospital.
"That's the only time I talked to him."
Pellegrini's meeting with the Rice Group was "at their request". Pellegrini says they just wanted to introduce themselves. Pellegrini says that at no stage did they discuss a housing development on the Greenbelt land. And it was Pellegrini who pushed "unprompted" for land to be made available for a new hospital.
What did the representatives from Southlake say during this 1 November 2022 meeting. Did Rice bring them along with him? Who were these representatives? Was Pellegrini told beforehand that the 1 November 2022 meeting would also involve representatives from Southlake?
Mayor Pellegrini should take time to develop a coherent narrative and one that stands scrutiny. Southlake should also be ready with its own detailed narrative of what happened when.
This email address is being protected from spambots. You need JavaScript enabled to view it.
"When Rice bought the King Greenbelt lands in the summer, Pellegrini said they met to talk about it. He said there was no indication at that time the Greenbelt land would be opened for housing development, and Rice did not indicate anything like that."
Newmarket Today 1 February 2023
"Pellegrini said he met with representatives of the Rice Group at their request and discussed the possibility of them donating the land for a hospital… At no time did they discuss further development of the Greenbelt land, Pellegrini added."
CTV News Toronto 1 February 2023
"In an interview, Pellegrini said members of the Rice Group, who made an $80M land purchase, wanted to introduced themselves and that meetings with developers who own Greenbelt land were common practice.
Pellegrini said he used the opportunity, unprompted, to push for land to develop new hospital infrastructure which, he said, could be allowed under provincial regulations"
Global News 1 February 2023
"The mayor says it (the meeting on 1 November 2022) was a routine meeting with a developer who had recently purchased land in his municipality, adding that he understood Mr Rice had made the deal months before it closed. Mr Pellegrini also says it was him, not Mr Rice, who suggested the site as a possible location for a new branch of Southlake Regional Health Centre…
"I asked Mike Rice, this is the whole thing, I asked him, would you donate land if we could get a hospital? And he said yes… That's the only time I talked to him."
Globe and Mail 1 February 2023: King Township Mayor says he wasn't aware of Greenbelt plans in advance.­­
"When the Rice Group closed on the sale of the land in August, Pellegrini approached them about his idea."
ERA 3 February 2023
The Rice lands were removed from the Greenbelt on 21 December 2022.