Details

Written by

Gordon Prentice
30 July at 5.30pm.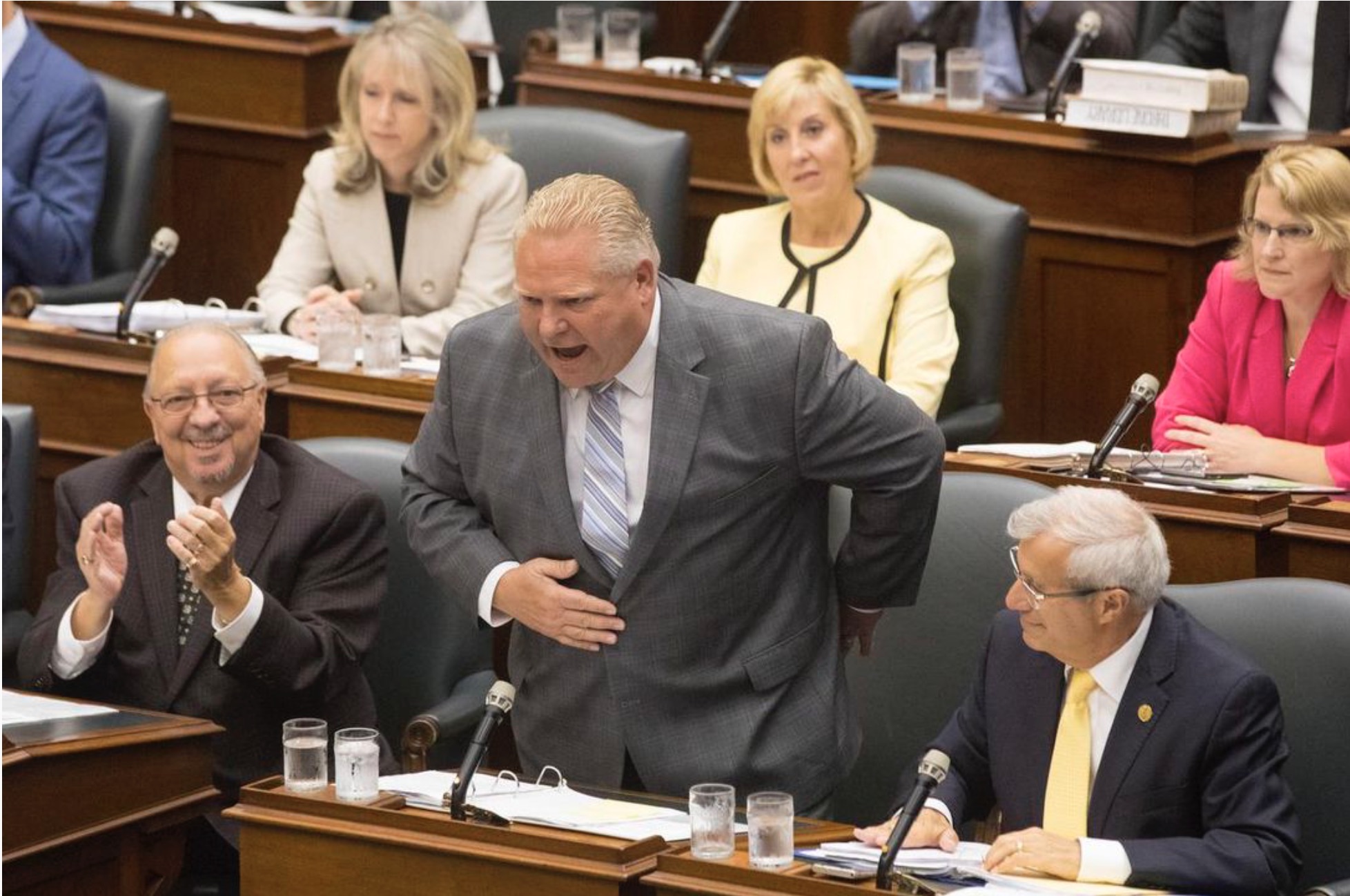 Andrea Horwath was not on her best form today.
Instead of a scalpel, forensically dissecting Ford's policies - on Toronto Council and the abolition of direct election for Regional Chairs - she used a mallet to whack him over the head. It was never going to work.
Horwath yelled he was a bully. Ford lapped it up, laughing.
The Leader of the Opposition has got to raise her game. Staged indignation doesn't cut it anymore. We need laser-like, focussed questions. Not vaudeville.
She had the material.
Horwath could have asked Ford why the Minister bringing in the legislation to abolish direct elections for Regional Chairs (Steve Clark) previously supported them.
She could have pointed to Ernie Hardeman, the Minister of Agriculture, Food and Rural Affair, who likewise was "100% in support" of direct elections for the Chair of York Regional Council. Has he had a change of heart? And if so, what prompted him to turn turtle?
A foot in both camps: Christine Elliott
The Better Local Government Act was given its first reading on a division in the Ontario Legislature today. And as I tap this out I am wondering if my own MPP, PC Deputy Leader Christine Elliott, had the gall to vote to abolish the direct election of chair of York Region – which includes her new riding Newmarket-Aurora. (I haven't seen the division list.)
In Durham, where she comes from and still lives, they have elected their Regional chair since 2014.
If Ford's legislation goes through there is nothing in the Better Local Government Act, published today, that would stop Regions - after the 2018 election - from seeking to change the way they elect their Regional Chair.
It can be done but it is not easy. Members of Regional Councils have got to support the change when many of them have a vested interest in the status quo.
Following a referendum in the municipal election of 2010, Durham Region asked the Minister of Municipal Affairs to enact a regulation authorising it to change the method of selecting the Regional Chair. And the Province complied.
In Waterloo Region the Regional Chair has been elected by Region-wide vote since 1997. And in Halton Region Council since 2000.
48 years
By contrast, York Region has now been saddled with an appointed Regional Chair for 48 years. And once they are in place they are almost impossible to shift.
If we had a direct election for Regional Chair in York it would involve 750,000 voters making it the fourth largest municipal election in Canada.
I'd like Christine Elliott (who happens to be my own MPP in Newmarket-Aurora) to explain why Durham with a population of 672,000 can have a directly elected Regional Chair but York Region, with a population of 1,109,000 is, apparently, too "immature" to have one.
This email address is being protected from spambots. You need JavaScript enabled to view it.
Update on 31 July 2018: Deputy Leader Christine Elliott, Ernie Hardeman and, of course, Steve Clark, voted yesterday to abolish the planned elections for Regional Chairs in York, Peel, Niagara and Muskoka. Here is the full Division List for the Ayes:
Anand, Deepak; Baber, Roman; Babikian, Aris; Bailey, Robert; Barrett, Toby; Bouma, Will; Clark, Steve; Coe, Lorne; Crawford, Stephen; Cuzzetto, Rudy; Downey, Doug; Dunlop, Jill; Elliott, Christine; Fedeli, Victor; Fee, Amy; Fullerton, Merrilee; Ghamari, Goldie; Gill, Parm; Hardeman, Ernie; Harris, Mike; Hogarth, Christine; Jones, Sylvia; Karahalios, Belinda; Ke, Vincent; Khanjin, Andrea; Kramp, Daryl; Kusendova, Natalia; Lecce, Stephen; MacLeod, Lisa; Martin, Robin; Martow, Gila; McDonell, Jim; McKenna, Jane; McNaughton, Monte; Miller, Norman; Mulroney, Caroline; Nicholls, Rick; Oosterhoff, Sam; Pang, Billy; Park, Lindsey; Parsa, Michael; Pettapiece, Randy; Phillips, Rod; Rasheed, Kaleed; Rickford, Greg; Roberts, Jeremy; Romano, Ross; Sabawy, Sheref; Sandhu, Amarjot; Simard, Amanda; Smith, Dave; Smith, Todd; Tangri, Nina; Thanigasalam, Vijay; Triantafilopoulos, Effie J.; Wai, Daisy; Walker, Bill; Wilson, Jim; Yakabuski, John; Yurek, Jeff;
(MPPs Doug Downey and Mike Harris Jr were amongst those PC candidates personally appointed by Doug Ford to run as PC candidates in the June 7 election.)
Details

Written by

Gordon Prentice
Sunday 11.30am
Paul Calandra's views on direct elections for chair of York Region is fake news.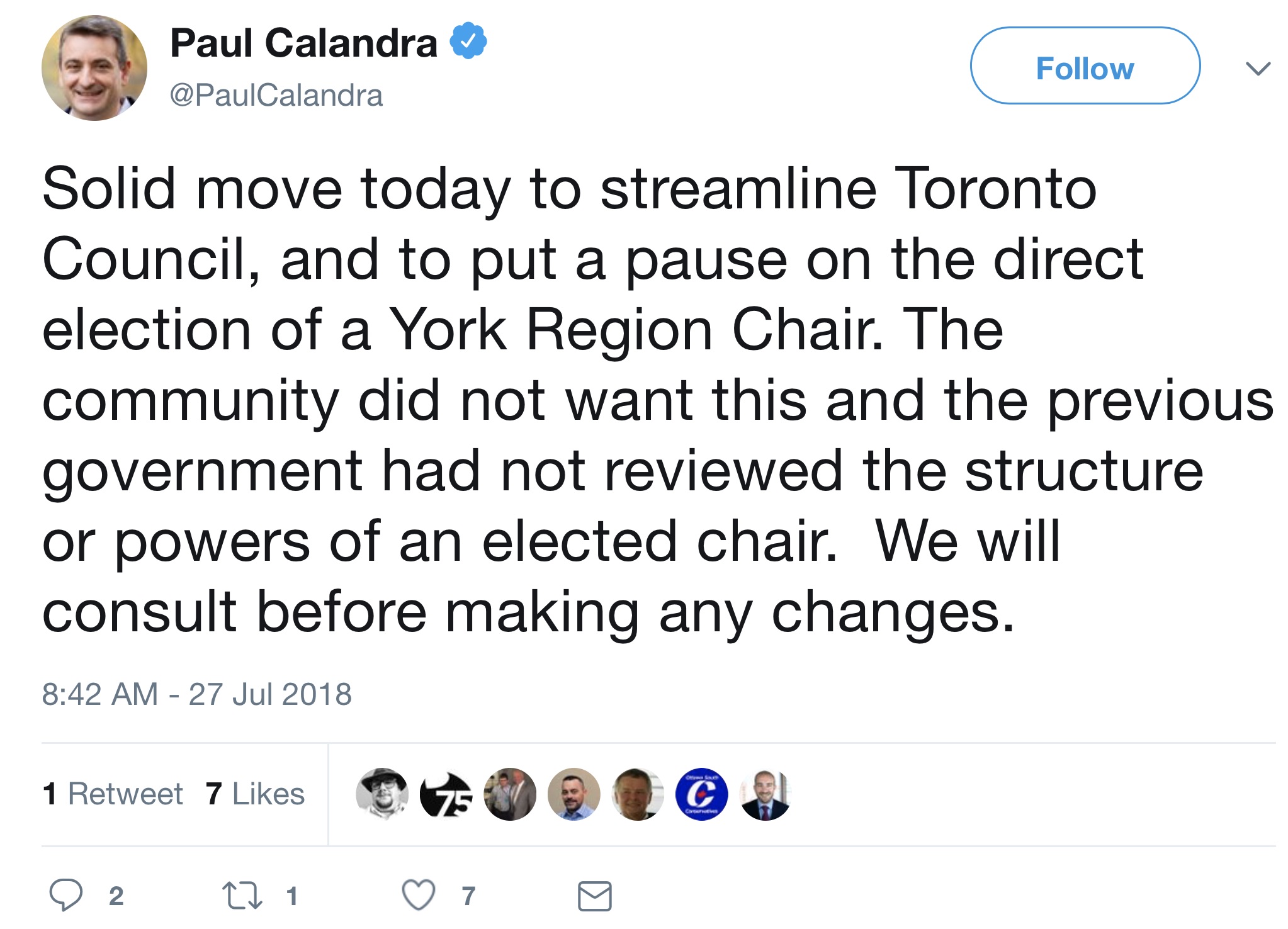 The Progressive Conservative MPP for Markham-Stouffville says it was a solid move to streamline Toronto Council and put a pause on the direct election of a York Region Chair.
He says wants to consult on the latter but not on the former. He claims:
"the community did not want this."
Where is the evidence for this assertion?
This is straight out of 1984.
Ford should appoint Calandra to run a new Ministry of Truth. He would be at home there.
The former Liberal MPP for Newmarket-Aurora, Chris Ballard, insists support for the direct election of York Region Chair came from across the political spectrum:
"(My Private Members' Bill 42) received unanimous support by all Parties before being sent to an all-party committee for consideration. At committee, residents of all political stripes came forward to testify in support of my Bill.
Previous versions of my Bill 42 had been introduced by York Region MPPs Reza Moridi and Helena Jaczek. They, too, had received all-party support, including from my predecessor, Frank Klees, a Progressive Conservative. Julia Munro, Progressive Conservative MPP for Simcoe North spoke in support of my Bill in the Legislature, as did MPP Gila Martow, Progressive Conservative, representing Thornhill."
The PC MPP leading for the then Opposition, Ernie Hardeman, (now Minister of Agriculture, Food and Rural Affairs) said in Committee on 24 February 2016:
"I support the bill 100%, and I do hope that we can get it through as quickly as possible."
and on 2 March 2016:
"… we all have to accept that there's a cost to democracy. To talk about what's the best way to elect a regional chair, to put it on the cost of doing it, doesn't make a lot of sense to me. Obviously, if we really believe that, then why don't we just have eight-year terms instead of having four-year terms? You could save half the money by doing that. It doesn't make any sense."
Hardeman – the PC's wise old owl - shouldn't give Ford any ideas.
This email address is being protected from spambots. You need JavaScript enabled to view it.
Details

Written by

Gordon Prentice
Ford's chaos descends into farce.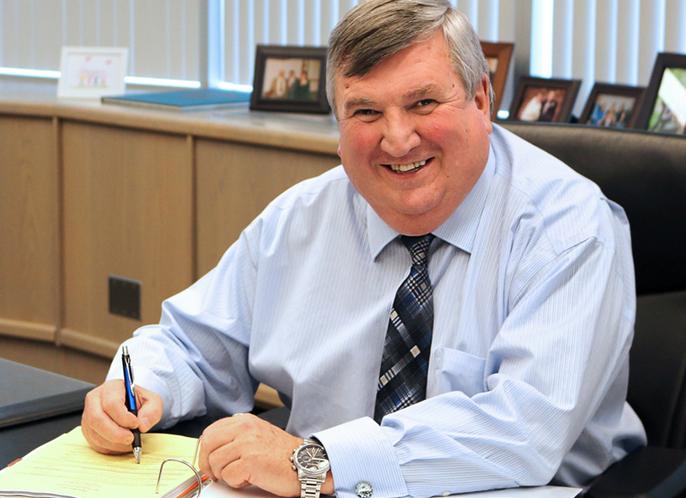 Yesterday the current (indirectly elected) Chair of York Region, Wayne Emmerson, told us he would be withdrawing from the first direct election for chair:
"I have made this decision with the full support of my family. It is a difficult decision, but it is the right decision for me and those close to me."
Today, an ecstatic Emmerson tells the press:
"I love the job and I want to be able to do what I can for the region of York and the residents of the region of York. I've been thinking about it more and I'm going to go back in. I've changed my mind and I'm going to run for regional chair (appointment)."
Has the man no shame?
Self Serving
The self-serving Emmerson (with a pay and benefits package of $273,000 a year) supports Ford's move to scrap the elections for Regional Chairs in York, Peel, Niagara and Muskoka.
Newmarket's retiring Mayor, Tony Van Trappist, will also be delighted. Even though Newmarket Council voted in favour of direct election of York Regional Chair Van Trappist disregarded the views of his own municipality and cast his vote for the status quo when the Region voted on the issue.
Bisanz and Broome acclaimed
At the close of nominations in Newmarket, the incumbents in Ward 6 (Kelly Broome) and in Ward 7 (Christina Bisanz) do not face any challengers and will be acclaimed. Kelly Broome must rank as one of the weakest councillors I've ever come across, regularly sitting through meetings without uttering a single word.
Jane Twinney in Ward 3 will face off against Jack Zangari and Ward 5 councillor Bob Kwapis will face a challenge from Ron Eibel who campaigned so vigorously – and successfully - against Forrest's Clock Tower development.
This email address is being protected from spambots. You need JavaScript enabled to view it.
update 30 July: Barrie CTV reports on the York Region controversy. Emmerson and Mario Racco give their views. Steven Del Duca declines to comment.
Details

Written by

Gordon Prentice
Friday 27 July 2018 at 11.35am.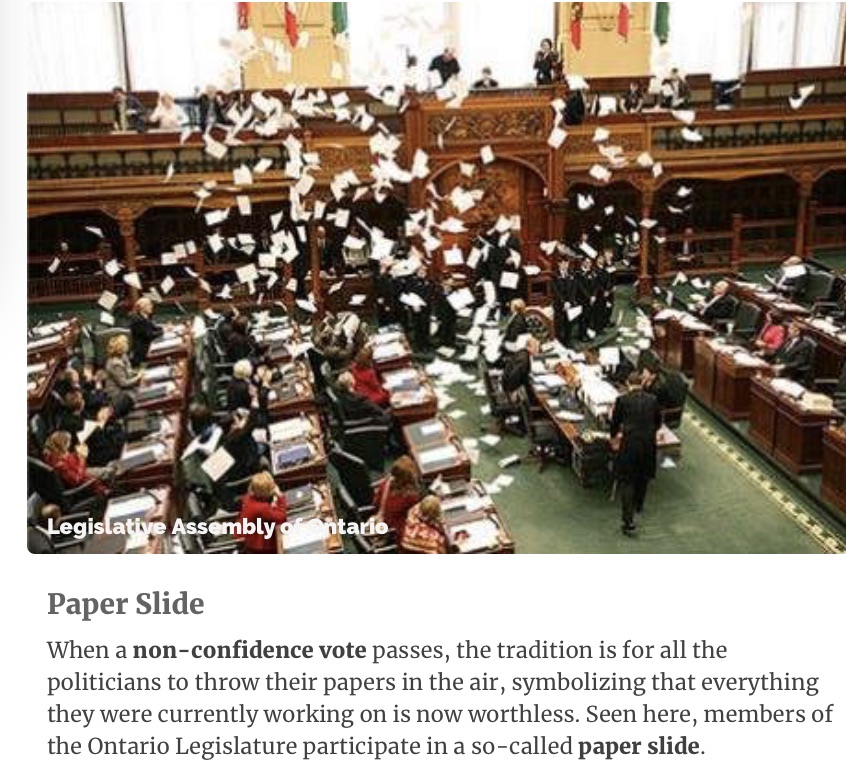 Ford's decision to abolish elections already in play is Government by fiat.
If he is allowed to get away with this then where does it stop?
Ford claimed this morning there was no consultation on changes to municipal law which allowed for the direct election of Regional Chairs.
This is untrue.
The previous Liberal Government published a consultation paper "Municipal Legislation Review: Public Consultation Discussion Guide" in June 2015.
It specifically addressed the issue of Regional Chairs.
The former Newmarket-Aurora MPP Chris Ballard introduced his own Private Members' Bill (Bill 42) calling for the direct election of the Chair of York Region when he was a backbencher. Along with others, I gave evidence to the Bill Committee in 2016.
When Ballard was promoted into Government his Bill died on the Order Paper but the Government took up the wider issue in its own legislation, making direct election of all Regional Chairs mandatory.
Ford silent on proposal during election
During the election campaign Ford made no specific reference to cutting the size of Toronto City Council nor of abolishing the direct election of Regional Chairs. There were glancing references to cutting the size of Government and that's about it.
When he was in Opposition, Ford's Minister of Municipal Affairs and Housing, Steve Clark, supported Ballard's Private Members' Bill 42.
Today he did a complete U turn.
Before a Bill from the Ontario Legislature becomes law it must receive Royal Assent. This is given by the Lieutenant Governor whose constitutional role is, quite properly, very limited. In extremis, she acts as a constitutional longstop.
Her website tells us the Lieutenant Governor:
Ensures that Ontario always has a Premier who is able to command the confidence of the Legislative Assembly
Grants Royal Assent, the final step of the legislative process, to bills passed by the Legislative Assembly
The Lieutenant Governor remains strictly nonpartisan in carrying out her constitutional duties. In doing so, the Lieutenant Governor ensures that the democratic will of Ontarians and their elected representatives is upheld and that the constitutional conventions of responsible government are respected.
Of course, the Province can legislate to change the shape of the municipal map and to allocate and redistribute the powers exercised by municipalities. But constitutional convention does not allow for elections already under way to be abolished or otherwise tampered with by the Government of the day in the absence of an emergency and when no reference was made to this in the Party's election platform.
No confidence motion
If I were Leader of the Official Opposition I would be tabling a motion of no confidence or "want of confidence" (in the terminology of the Ontario Legislature) which must be debated on the floor of the Chamber for up to a whole sitting day. This would shine a spotlight on the Ford proposals, their genesis and rationale.
It would also force MPPs – such as Newmarket-Aurora's Christine Elliott – to take a view and nail her colours to the mast.
What Ford is proposing is an outrage which cannot be allowed to stand.
It is nothing other than constitutional vandalism.
This email address is being protected from spambots. You need JavaScript enabled to view it.
Details

Written by

Gordon Prentice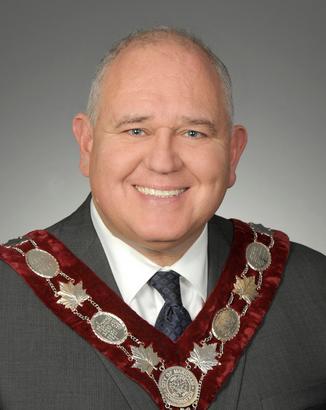 This morning, Wayne Emmerson bowed to the inevitable and withdrew from the race to become the first directly elected Chair of York Region.
He was indirectly elected by members of the Regional Council in 2014.
This leaves former MPP, Mario Racco, and former Liberal Cabinet Minister, Steven Del Duca, facing off against each other.
The highest paid Mayor in Ontario, Frank Scarpitti - who had been touted as a possible runner - stays on as Mayor of Markham.
Given the astronomical costs of campaigning for Regional Chair, Scarpitti probably figured a bird in the hand in Markham was worth two in the Regional bush.
Scarpitti has been known to tease before.
He also believes streaming of York Regional Council meetings is unnecessary and that audio is good enough.
As I tap this out - and with less than 24 hours to go before the deadline - Vaughan's Mayor, Maurizio Bevilacqua, has yet to lodge his nomination papers.
But he, too, is expected to stay in his safe berth at Vaughan.
This email address is being protected from spambots. You need JavaScript enabled to view it.
update at 4.45pm Maurizio Bevilacqua has filed his nomination papers for Mayor of Vaughan
update at 10.40pm the Toronto Star reports tonight that Ford will announce plans tomorrow (Friday) that the direct elections for Regional Chair in Peel and York are to be scrapped. Legal challenges are anticipated.
update Friday 27 July at 12.05pm: Two unknowns, Rajasri Sriskandarajah and Judith Tenenbaum have joined the race for the post which is to be abolished.
update Friday 27 July at 3.15pm: A fifth candidate, Chevaunne Stewart, has filed her papers.
Subcategories