Details

Written by

Gordon Prentice
Yesterday, another old tree bites the dust in Beechwood Crescent.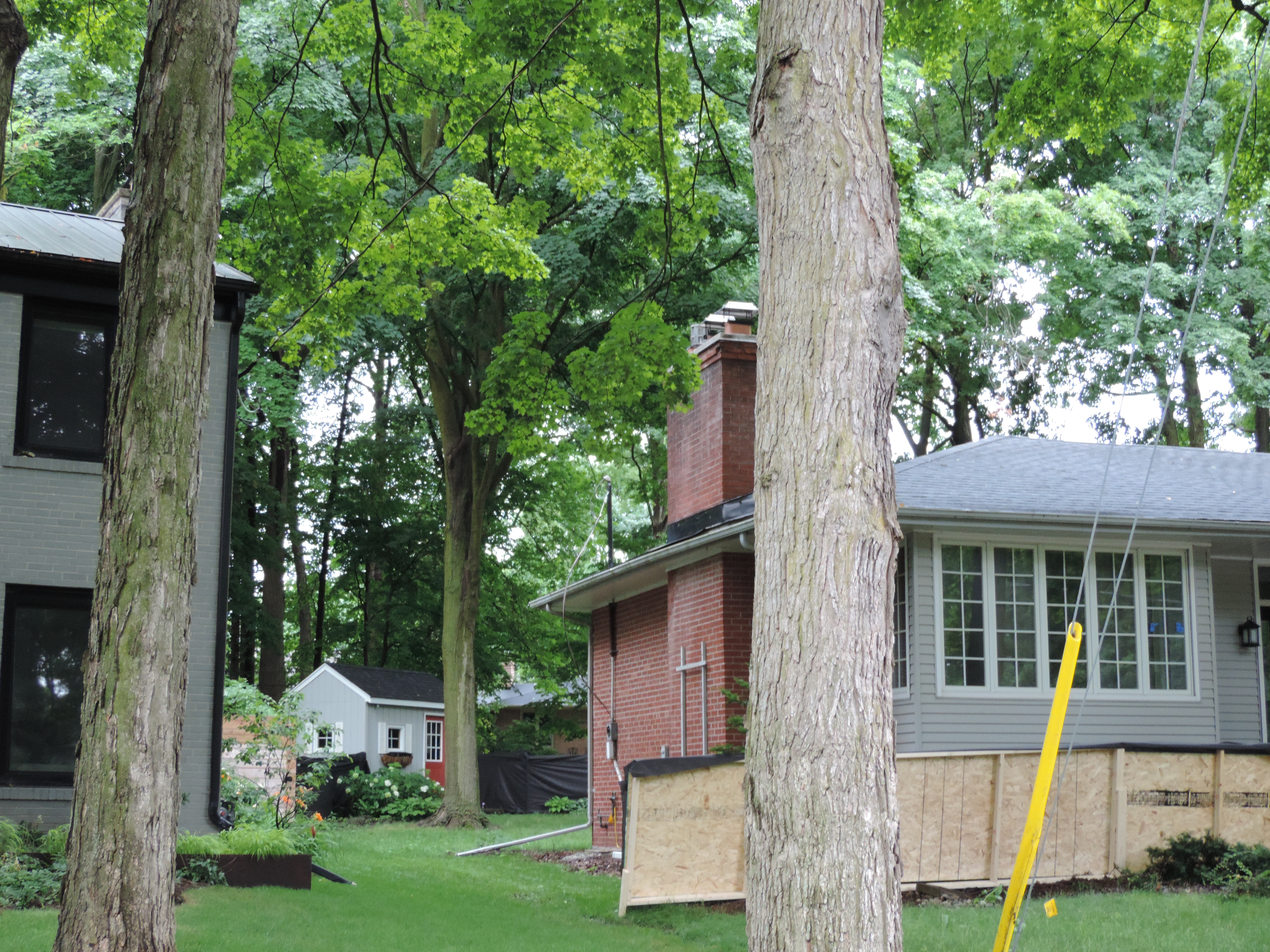 This time it is a Sugar Maple somewhere between 100-125 years old.
A few weeks ago I wander along Beechwood Crescent and learn the extensive tree canopy produces its own wonderful micro climate. One resident tells me his air conditioning goes on for a handful of days every year. For the rest of the time, the trees provide natural air conditioning.
So it is very sad news that such a majestic and healthy old tree with its huge green leafy canopy should fall to the chainsaw.
An application to redevelop the lot and build a new house has been approved by the Town but residents resisted the application because century old trees would be affected. I am told by people who know about these things that the proposed new house could have been slightly realigned, allowing the trees to remain undisturbed. But that didn't happen. Probably too much hassle.
The photos show the tree (in front of the white wooden outhouse with the red door) in July and the empty space today where it once lived and breathed, minding its own business.
As it happens, the Town of Newmarket is now asking us what we think of trees and what we should be doing to protect trees on private property. The Town's website tells us:
"Trees are a valuable asset to us as individuals but also to the whole community at large. As Newmarket grows it is important to help keep as many trees as possible. We would especially like to keep mature trees since they provide the most benefits and have the most value. Please join this discussion on the value mature trees and how a tree on your property contributes benefits to all of Newmarket. Feel free to share your opinions on the value of trees in Newmarket and how trees can best serve the Newmarket community.
We want to know: What is the best way to protect trees on private property?"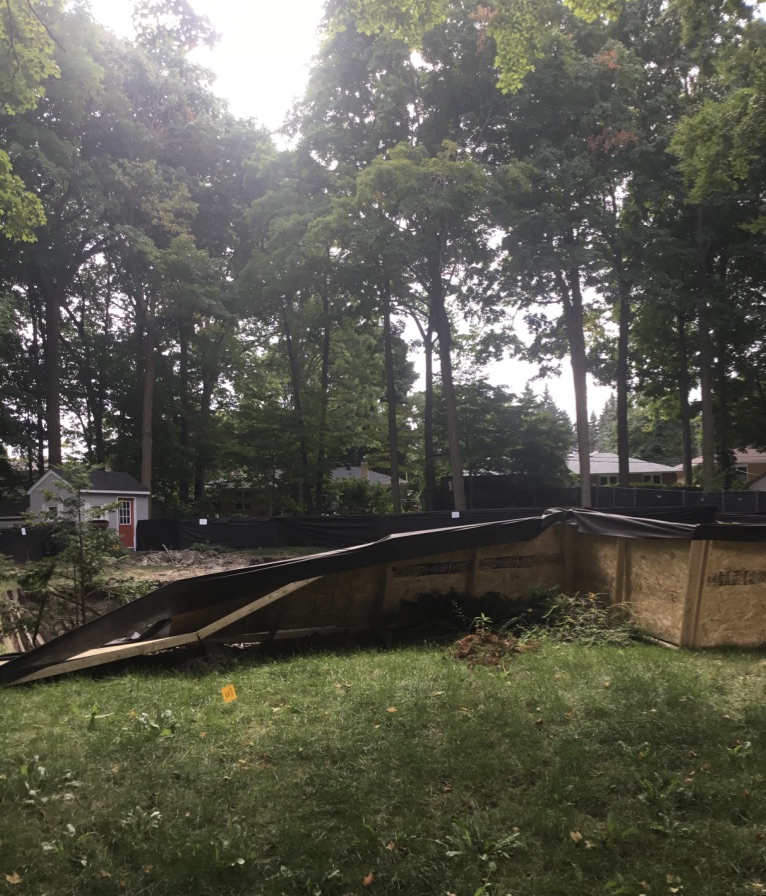 I am tempted to say:
"If you want to protect trees it is probably not a good idea to chop them down."
But perhaps that's too glib.
Seems to me that if a tree is mature and healthy we should bend over backwards to keep it. If it is significant (definition to follow) it should be protected.
Of course, many builders and developers feel threatened by trees. They can get in the way of plans to redevelop.
If so they've gotta go. Just ask Norm "Chainsaw" Stapley who left his own unique and indelible mark on Beechwood Crescent.
The very feature that makes Beechwood Crescent so visually and environmentally attractive is being casually destroyed.
In any event the deed is now done.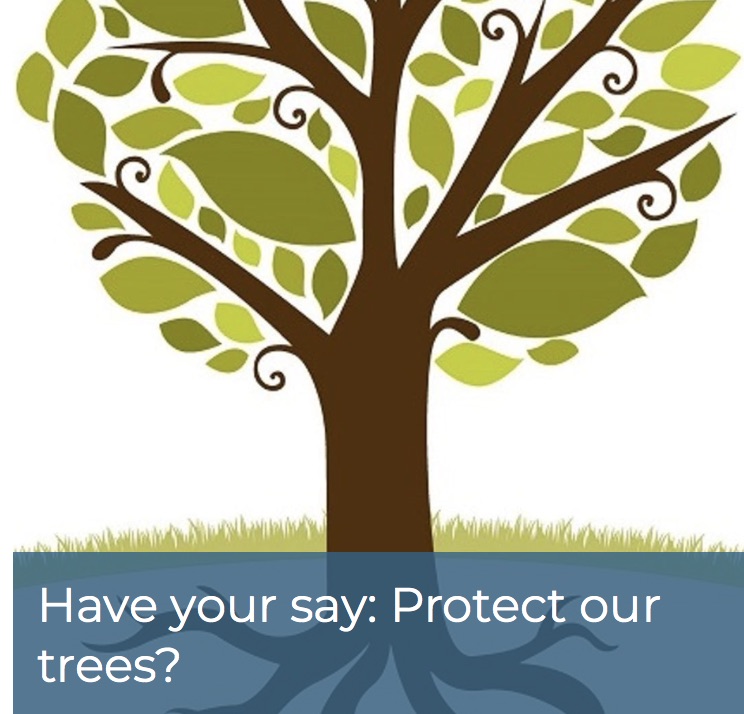 And, in the way of these things, the Town is now consulting the public on how best to save trees on private property. An Information Report presented to councillors on 22 August 2018 tells them:
Tree Cutting By-law – Council have directed staff to prepare a by-law regulating and protecting significant trees on private property. Consultation for the project is currently underway. Feedback is being garnered from residents through the HeyNewmarket website. In the late fall/early winter staff will undertake a phone survey similar to that which was done for the recreational vehicle parking zoning by-law amendment. In Q1 of 2019, staff will consolidate the feedback and report to Council providing options on how to protect trees on private property.
Will participating in this survey make a blind bit of difference?
Who knows?
But since trees can't answer phone surveys or fill in questionnaires we who can should do so on their behalf.
This email address is being protected from spambots. You need JavaScript enabled to view it.
Details

Written by

Gordon Prentice
Newmarket Mayoral candidate Talib Ansari has posted his election platform.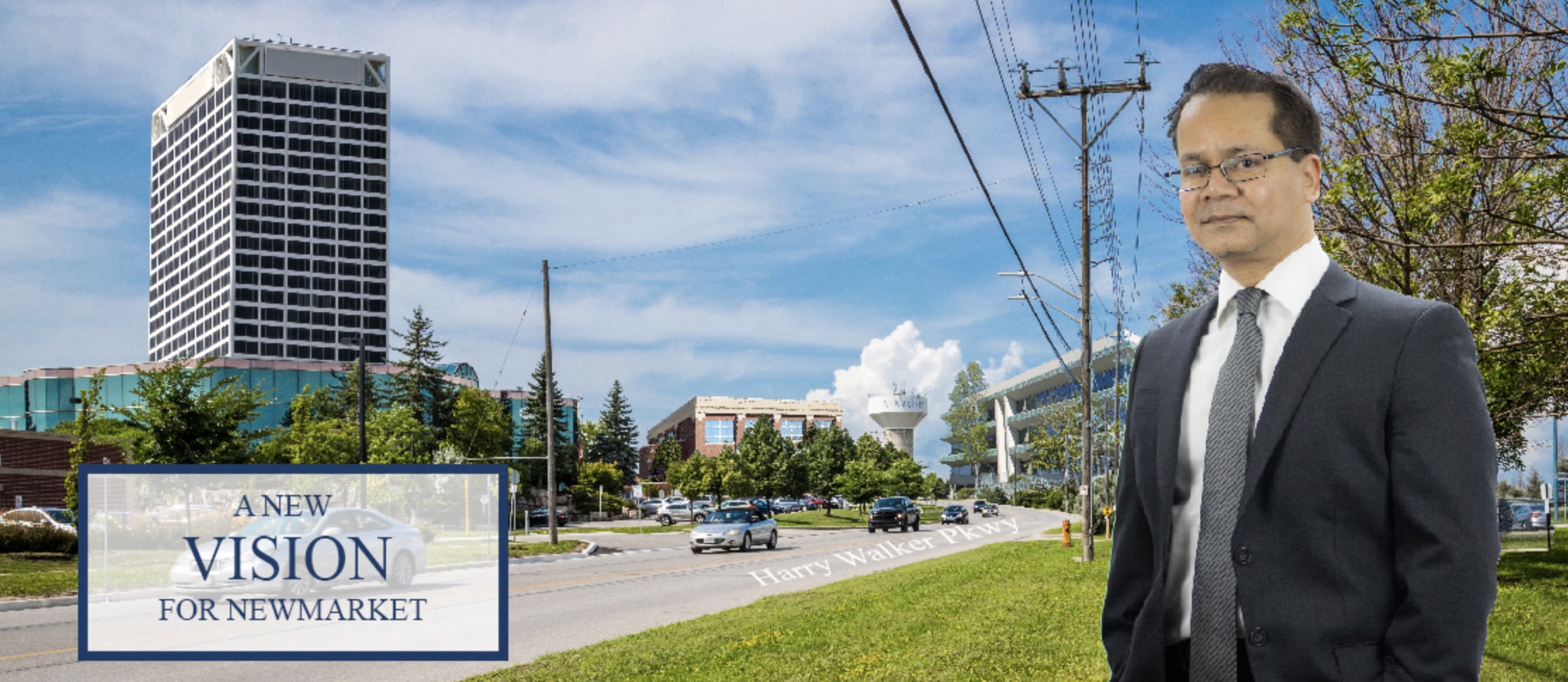 You can read it here.
Ansari, an accountant, is the new kid on the block. He is going for the top job having never run for elected office before.
NTAG (Newmarket Taxpayers Advocacy Group) is organising hustings for Mayoral candidates at Madsen's Greenhouses from 7pm-9pm on Wednesday 19 September 2018 for Joe Wamback and Talib Ansari and from 7pm-9pm on Wednesday 3 October 2018 for John Taylor.
The municipal election is on Monday 22 October 2018.
Advance voting by phone or internet is from 10am on 13 October to 8pm on 22 October 2018.
This email address is being protected from spambots. You need JavaScript enabled to view it.
Details

Written by

Gordon Prentice
It is Monday morning – 20 August – and I am up with the lark. Today I go down to Toronto City Hall for an historic meeting.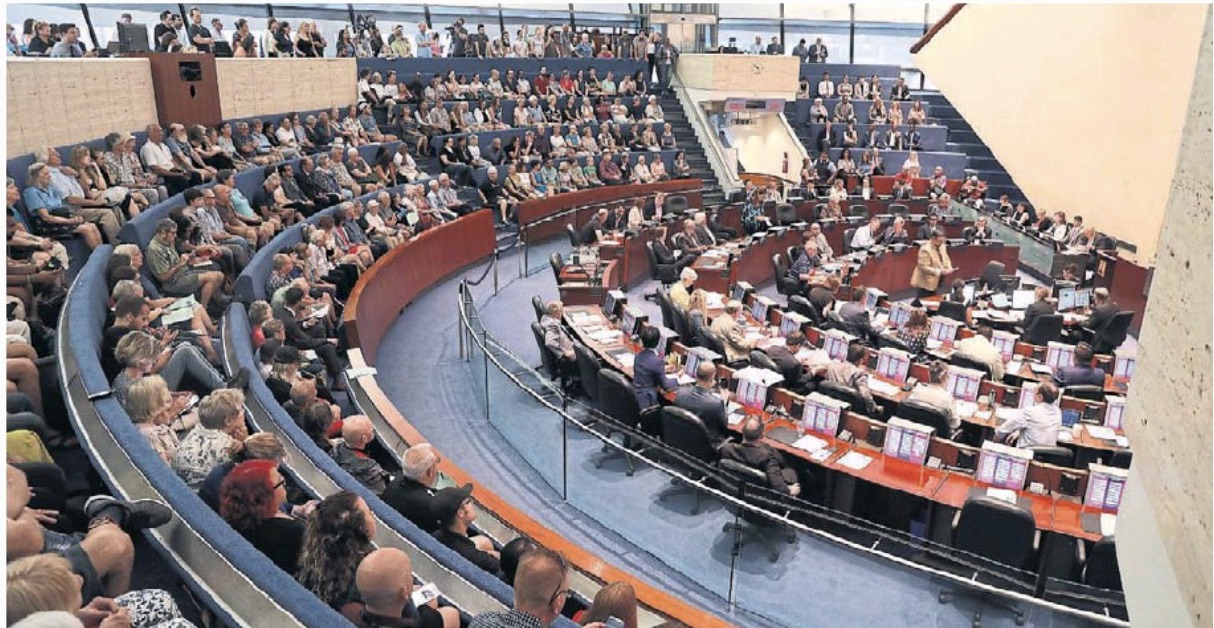 Toronto councillors are to decide whether or not to challenge Doug Ford's Bill 5 which slashes the number of councillors in half.
The Council Chamber is packed.
Now the show is on the road and I hear loud applause as former Chief Planner and Mayoral candidate, Jennifer Keesmaat, enters the Chamber. I hear the Speaker, Frances Nunziata, scolding the public. She insists there must be no clapping.
I close my eyes and for a brief moment I am back in Newmarket listening to the scowling old banker Tony Van Trappist warning the public that applause is not allowed. We must be respectful.
Jazz hands
Now Paula Fletcher, the veteran councillor for Toronto Danforth, is on her feet telling us that while we can't applaud we can do jazz hands. Terrific! This is completely new to me.
So, all through the meeting, in common with everyone else in the public gallery, I am fluttering my hands in front of me whenever I hear something I agree with. It's great fun.
In between the jazz handing I learn a lot.
The Council currently has 44 members plus the Mayor but was moving to a new 47 ward structure which was the product of five year's work. I learn the 47 member council met the "effective representation" test laid down by the Supreme Court of Canada in Carter v Saskatchewan.
All this was set aside by Doug Ford in a fortnight.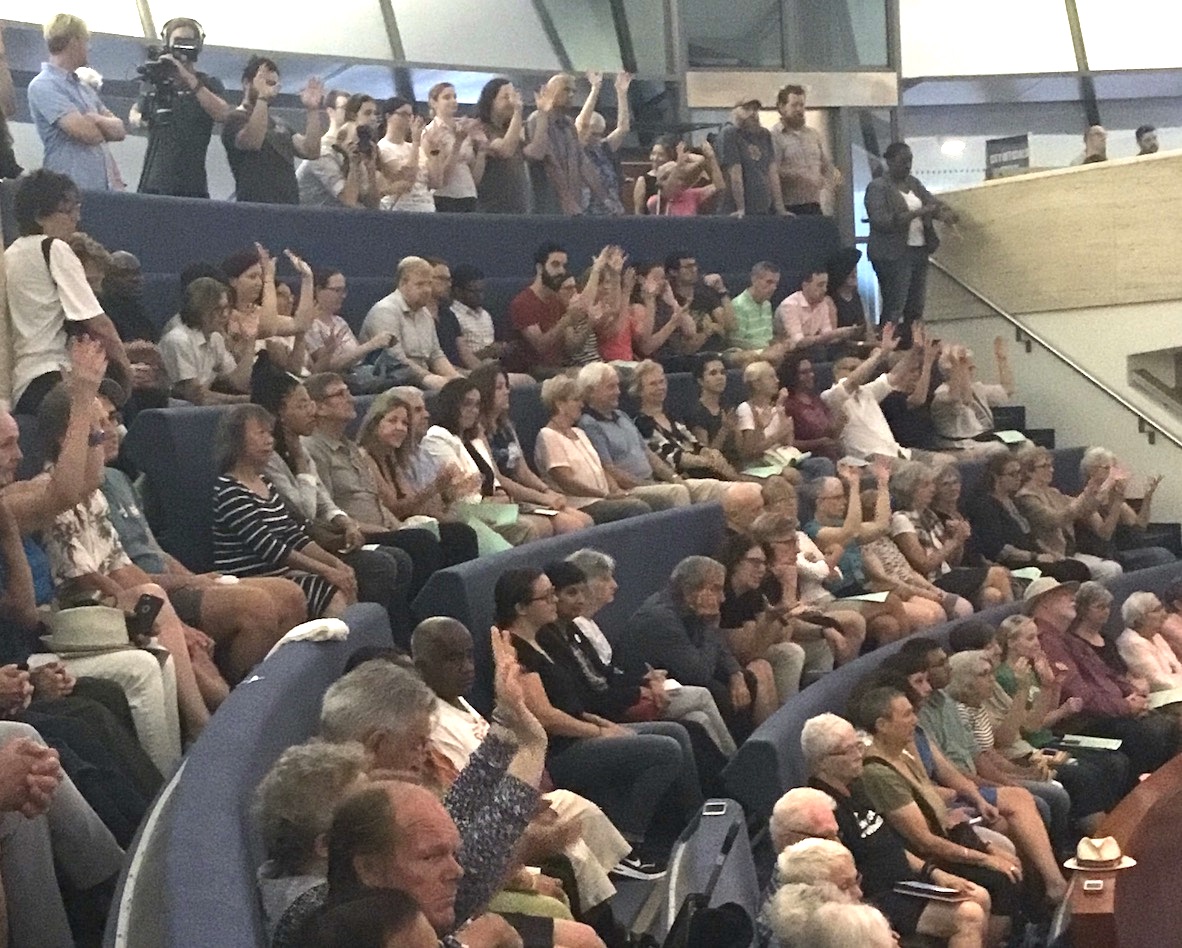 Ford's action in bulldozing Bill 5 (aka the Better Local Government Act 2018) through the Legislature in double-quick time broke any number of unwritten conventions. There was no mention of Bill 5 in the PC manifesto or platform that was put before the public in the election campaign. There was no public consultation on the details of the Bill and no Committee Stage where MPPs could examine the Bill line by line. Toronto City Council was not formally invited to give its views and senior staff such as the City Clerk were not consulted either.
Changing the rules in the middle of the game
For the first time in Canadian history the rules governing an election have been changed while that election is under way.
The City Council Clerk, Ulli Watkiss, clearly exasperated, tells us it is a race against time to organise an election by 22 October that would not be open to challenge. She tells councillors she is "extremely concerned about standards".
The City Clerk tells us the move to 25 wards will involve:
Identifying new voting locations
Reassigning and training thousands of election day staff
Ensuring production of the voting ballots is 100% accurate. Ballot production is a "complicated process" where there must be no errors or mistakes.
Re-jigging the IT systems – which are critical to the election – back from 47 wards to 25
Ensuring adequate notice is given to the public informing them where they will be able to vote in the advance polls which open on 6 October 2018.
Re-coding the on-line App, MyVote, to reflect all the changes.
Candidates will be given voters' lists only weeks before voting begins. The electorate in the new wards is huge. Candidates will have very little time to make contact with the voters.
The new wards will match the boundaries of the Federal and Provincial Ridings. If the number of Federal ridings goes up in the future then the City Council will follow suit.
Cost of election goes up by $2.5 million
I learn that the Council has already spent an extra $2.5 million as a result of the changes imposed by Queen's Park. There's staff overtime and new contracts with the people who test and validate the systems that are critical in delivering a fair and problem-free election.
The Mayor, John Tory, is in favour of a Court challenge. And a clear majority of councillors too.
Giorgio Mammoliti, a close ally of the Ford clan, passes round a plate of cheese sandwiches to his fellow councillors:
"Have some cheese to go with all the whining!"
I shake my head in disbelief. Is this the best he can do?
The Hearing has been set for 31 August 2018 when the City of Toronto will join other litigants determined to challenge the Province.
Given the election timetable the Court's decision is likely to be expedited.
This email address is being protected from spambots. You need JavaScript enabled to view it.
Update on 21 August 2018: Number of legal challengers growing.
Details

Written by

Gordon Prentice
Over three months ago, on 4 May 2018, Colleen Forrest told the media: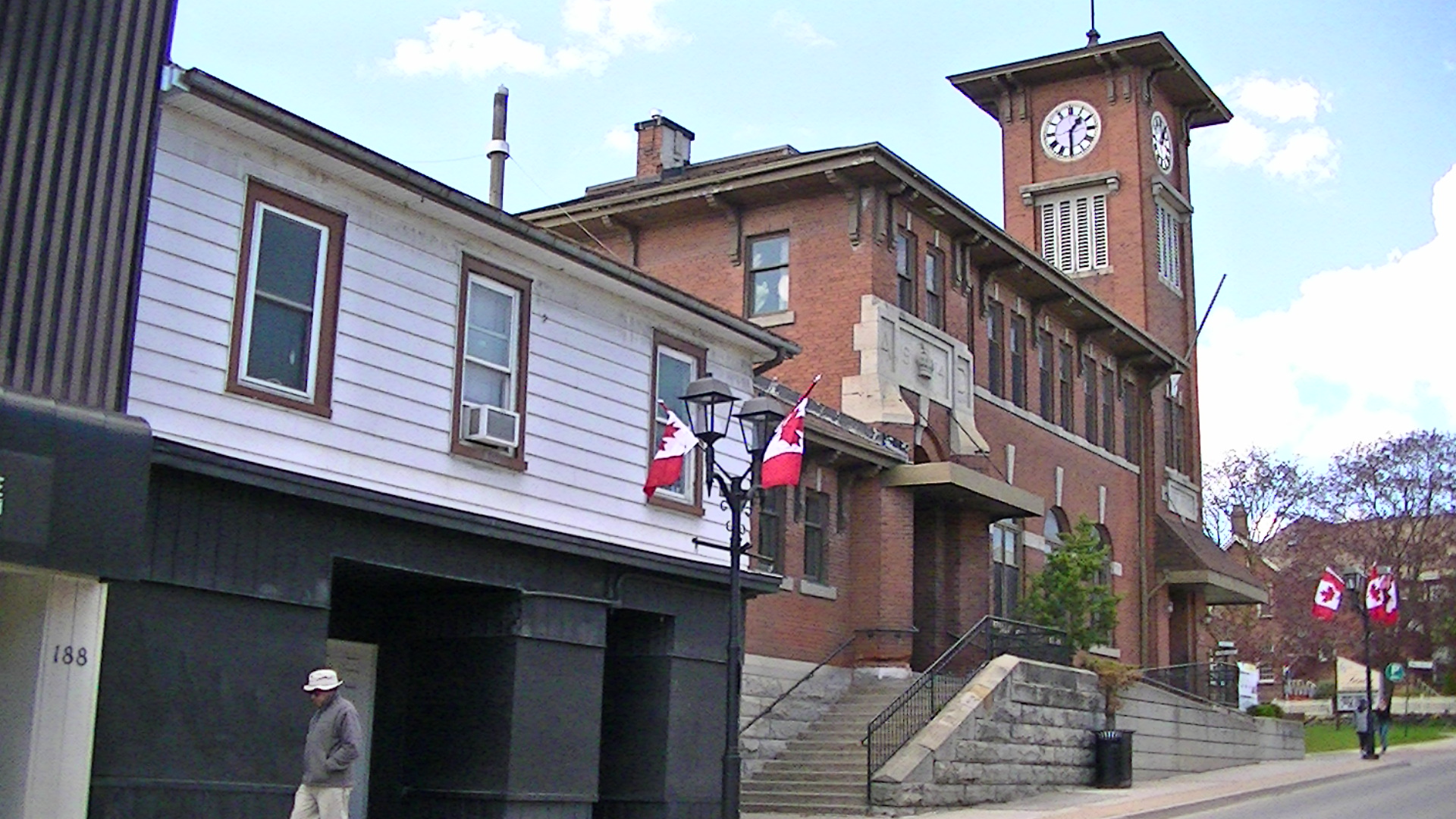 "Main Street Clock Inc looks forward to sharing in the near future, an exciting new concept for this beautiful heritage space, a concept which will bring economic stimulus to downtown Newmarket."
I am left wondering how far away is "the near future"?
And when can we get sight of the exciting New Development Concept?
The land exchanges have now been completed and, so far as I know, the titles registered. So the ball is in Forrest's court to come up with the New Development Concept which can then be considered in the usual way, lubricated by a grant from the Newmarket Downtown Development Committee's incentive program up to a limit of $100,000.
"The Town will make every effort to expedite consideration of applications for permits/ and/or approvals."
Timetable for construction
The Minutes of Settlement agreed between the Town and Bob Forrest's Main Street Clock Inc stipulate that construction must start by 15 December 2019 – in planning terms that's just around the corner.
But the Minutes of Settlement are silent on when the New Development Concept should be presented to the Town. The Minutes simply reference the various approvals that have to be granted by the Town for the development to proceed as envisaged.
Hooking up any new development to the sewers continues to pose problems but these are not, I suspect, insurmountable. The Town's Chief Administrative Officer, Bob Shelton, says servicing allocations may not become available until 2026/7. However, he dangles the possibility of something happening before then once work on a second big wastewater pipe through the Town is completed in the next few years:
"Servicing allocation may be available earlier once the force main twinning works are complete and functioning but such allocation would have to be subject to consideration of all other development priorities and the reporting process."
The blighting of Newmarket's historic downtown
Forrest's seven storey Clock Tower development application was, of course, finally rejected by the Town on 5 December 2016 but the prospect of a redevelopment of the Clock Tower has been with the Town in some shape or form since 2011. Senior Town staff have been intimately involved in discussions with Forrest over very many years.
For as long as I can remember they have both been economical with the actualité. But now the Town of Newmarket and Bob Forrest's Main Street Clock Inc vow to be open and transparent.
This being the case, it would help if the public had sight of the New Development Concept in the near future.
In my book this means before the municipal elections on 22 October 2018.
This email address is being protected from spambots. You need JavaScript enabled to view it.
Details

Written by

Gordon Prentice
The Toronto Star tells me this morning that the new Chair of Metrolinx is Donald Wright, a former chair of Via Rail. He takes over from Rob Prichard who resigned in July following the change in Government.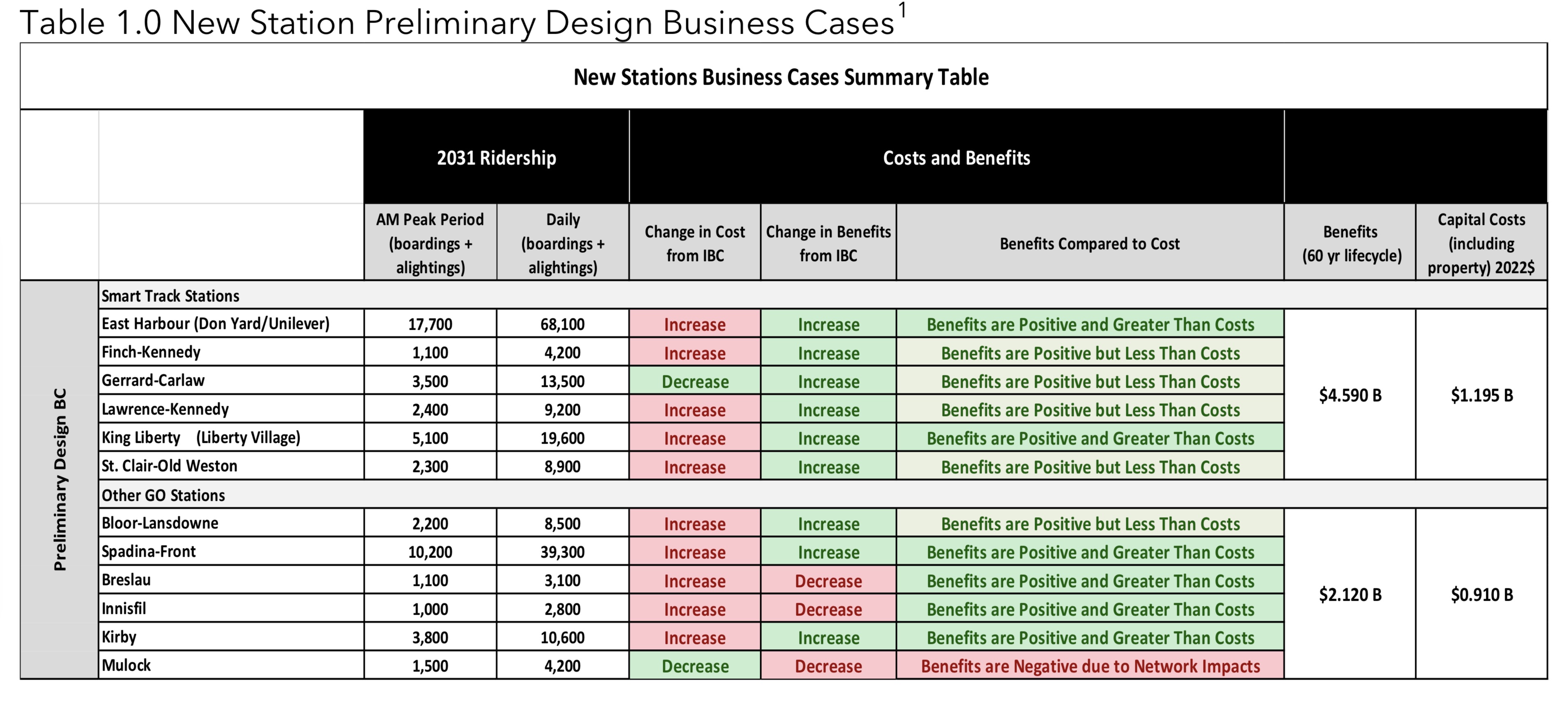 At the next Metrolinx Board meeting on Friday 14 September 2018 I hope he will find some time to consider the impact of level crossings on the Regional Express Rail program. Level crossings are inimical to fast and frequent GO trains. But the alternative - grade separation - is hugely expensive.
This is a big issue here in Newmarket where the busiest road in Town – Mulock Drive – is to keep its level crossing.
I wrote to the previous Chair of Metrolinx about this on 3 March 2018 (see below) and I expected my comments to be circulated to Board members prior to the Board meeting on 8 March 2018 – in line with Metrolinx Board policy.
"All comments received at least (12) hours before the scheduled Board meeting will be provided to the Board for consideration at its meeting, and subsequently posted online with the related meeting materials."
I thought the issue was important enough for there to be a short discussion so I take myself down to Toronto and sit in the front row within touching distance of the Board table. I don't want to miss anything. No-one mentions level crossings. The moment passes and the Chair moves on to the next item on the agenda.
I turn to the guy sitting next to me to express my frustration and I discover I am talking to the Director of Stakeholder Relations, Rajesh Khetarpal. He says gently that I am sitting in a seat reserved for staff. Hmmm.
I apologise and then explain the issue, giving him the main bullet points. He promises to look into it for me but, alas, there is radio silence for a couple of months. He gets back to me on 15 May 2018:
"I am following up with our project teams and will circle back with you shortly."
I haven't heard anything since. Clearly, Rajesh is still circling.
Town spends $250,000 on Plan to support the case for a new Station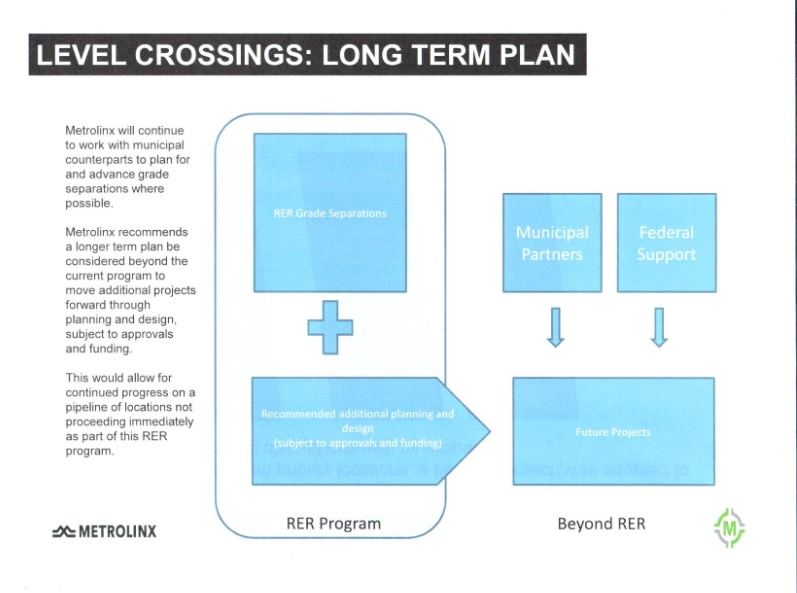 Meanwhile the issue hasn't gone away. The Town has committed $250,000 to develop a Secondary Plan for the Mulock Station area in the expectation the proposed station will be given the go-ahead. The new study, now underway, aims to show the GO Rail station at Mulock will have a catchment area that will generate train ridership.
The Metrolinx Board is scheduled to decide the final list of new GO rail stations on the Barrie line at its meeting in October. But, as it stands, Metrolinx calculates that the costs of Mulock Station outweigh the benefits.
Who knows how Premier Ford would react to this? (I think I know.)
For the moment I am assuming the Regional Express Rail program is not abandoned but is severely pruned. Ford will be looking for cost savings and I am pretty sure he won't be shelling out millions of dollars for grade separations even when, objectively, it can be shown they are required.
Which brings me back to my original question.
How does Metrolinx propose to deal with grade separations and level crossings?
I am still waiting to hear from the Director of Stakeholder Relations.
But Donald Wright may have a view.
This email address is being protected from spambots. You need JavaScript enabled to view it.
The email exchanges:
To Rob Prichard, Chair of Metrolinx, on 3 March 2018:
I have written to you before about developments on the Barrie line and appreciate the time you have taken to respond to my concerns.
I am concerned that Metrolinx may be about to abandon grade separation at Mulock Drive in Newmarket which is to be home to the proposed new Mulock GO Rail Station.
Mulock Drive is the busiest road in Town.
At your Board meeting next week you will have before you the New Stations Business Cases Technical Report 9 which says:
"The grade separation will not be developed as part of this project, but will not be precluded from future consideration."
The aim is to
"identify a design solution that does not require the grade separation. The design does not preclude a future grade separation at Mulock Drive, which will be considered separately as part of a system-wide rail crossing analysis."
An earlier report to the Metrolinx Board in July 2016 which set out the initial business case said
"Mulock not feasible without grade separation."
What is now making it feasible?
Technical report 9 talks of "deliverability and operational challenges with grade separation":
"The model shows that the performance of Mulock station is impacted by its proximity to Aurora station. Aurora station, which is immediately downstream, is the proposed terminus end point for more frequent electrified service on the Barrie corridor. Significant ridership growth is expected at upstream stations, including Newmarket and East Gwillimbury stations; therefore Mulock station would delay additional riders that travel through the station to points further south.
Travel time savings are expected to be limited for users of Mulock station, since many users would save wait time by driving to Aurora station. Exploration of possible alternate GO Expansion RER service pattern (e.g., extension of 15-minute service further north) is underway and would impact Mulock station's performance. Corridor-level changes are being examined as part of a broader study of the service patterns on the Barrie corridor."
The answer is to extend the 15 minute service (which terminates in Aurora) north to Mulock.
If Metrolinx decides against grade separation at Mulock and at Davis Drive (both areas slated for growth) I hope the land required for any future grade separation will be identified and passed to the Municipality to ensure it is properly safeguarded and not developed.
Yours sincerely….
To Rajesh Khetarpal on 8 March 2018:
I sat next to you at the Board meeting this morning.
Thank you so much for agreeing to get some information to me on the level crossing study and when it is likely to be completed. I am specifically interested in the Barrie Corridor but I think the study is network wide.
The proposed new Mulock station is now to proceed without grade separation. The initial business case told us that grade separation was needed and without it Mulock was not viable.
I emailed the Chair, Rob Prichard, a few days ago outlining my concerns and half expected the grade separation issue to be raised today.
As I understand it the final business case for the proposed new stations will go before the Board in October 2018 followed by the procurement exercise.
Am I correct in thinking the Municipality has six months in which to persuade Metrolinx to reinstate grade separation at Mulock Drive?
To Rajesh Khetarpal on 28 March 2018:
I was sitting next to you at the last Board meeting and chatted briefly.
I wonder if you have any information to give me on the level crossing study - its timeline and what it will look at. Specifically, when is it due to report to the Board?
I should be grateful for any update.
To Rajesh Khetarpal on 15 May 2018:
I wonder if you have now had an opportunity to consider the email I sent you on 28 March 2018 which, for ease of reference, I have pasted below.
From Rajesh Khetarpal to me on 15 May 2018:
My sincere apologies for the delayed response... I am following up with our project teams and will circle back with you shortly.
Subcategories