Details

Written by

Gordon Prentice
Job creation in Aurora has again outstripped Newmarket according to figures from the latest employment survey from York Region.
Aurora saw an 8% growth in jobs from 2017-18 with Newmarket posting a 3% increase.
From 2008-2018 Aurora saw an average annual employment growth of 7%. Newmarket lagged with a 0.7% increase over the same period.
Since 1998 the number of jobs in Newmarket has grown by over 11,100.
But Aurora has seen 8,000 new jobs since 2008.
Swept under the carpet
All this can be difficult to explain to the general public. So the politicians have decided to sweep it under the carpet rather than do the difficult job of explaining the differences.
In 2015 there was a tremendous kerfuffle when we were told that Newmarket generated 100 new jobs between 2009 and 2014 when Aurora got over 5,000. The figures were subsequently revised upwards but only marginally.
The annual survey of employment in each of the Region's nine constituent municipalities is concealed from the general public to avoid embarrassing municipalities whose jobs record is less than perfect.
In 2016 York Regional Council ruled that the employment figures from each of the nine municipalities should in future be removed from the annual presentation of the Region's Employment Survey to the Regional Council. York Region's number-cruncher in chief, the excellent Paul Bottomley, was ordered to confine his comments to what was happening Region wide with absolutely no comparisons between municipalities.
Under the table
Instead, the nine factsheets are given to members of the Regional Council "under the table" with no opportunity for comment in the Council Chamber by individual elected members. The wider public is kept in the dark.
It is a very silly way of doing things.
Any comparisons between municipalities should of course carry a health warning. Growth rates in some developing municipalities can easily power ahead of older, bigger and more mature local economies. In the same way, newly developing countries regularly post growth rates that leave developed economies looking dead in the water. But that doesn't mean they are wealthier. So it is important to compare apples with apples.
East Gwillimbury, starting with a much smaller economic base than Newmarket, saw a 4.3% growth in jobs in 2017-18. But this amounted to 233 new jobs. Newmarket's employment growth lagged as a percentage (3%) but generated 1,245 new jobs.
York Region as a whole is an economic powerhouse. It is a top destination for business. The latest review tells us:
"At 2.4%, employment growth in York Region outpaced national and provincial employed labour force growth between mid-year 2017 and mid-year 2018, of 1.1% and 2% respectively. Over the past five years York Region has grown at an average annual rate of 2.6%, outperforming average growth rates in the national (1%), provincial (1.2%) and GTA (1.6%) economies."
The data contains some fascinating stats. I learn the real estate sector was the fastest growing sector with an average annual increase of 7.4%, increasing by 10,850 jobs. The educational sector doubled the number of jobs, adding over 19,700 jobs at an average annual increase of 7.3%. Finance and insurance and healthcare and social services added 11,000 and 17,000 new jobs respectively.
This email address is being protected from spambots. You need JavaScript enabled to view it.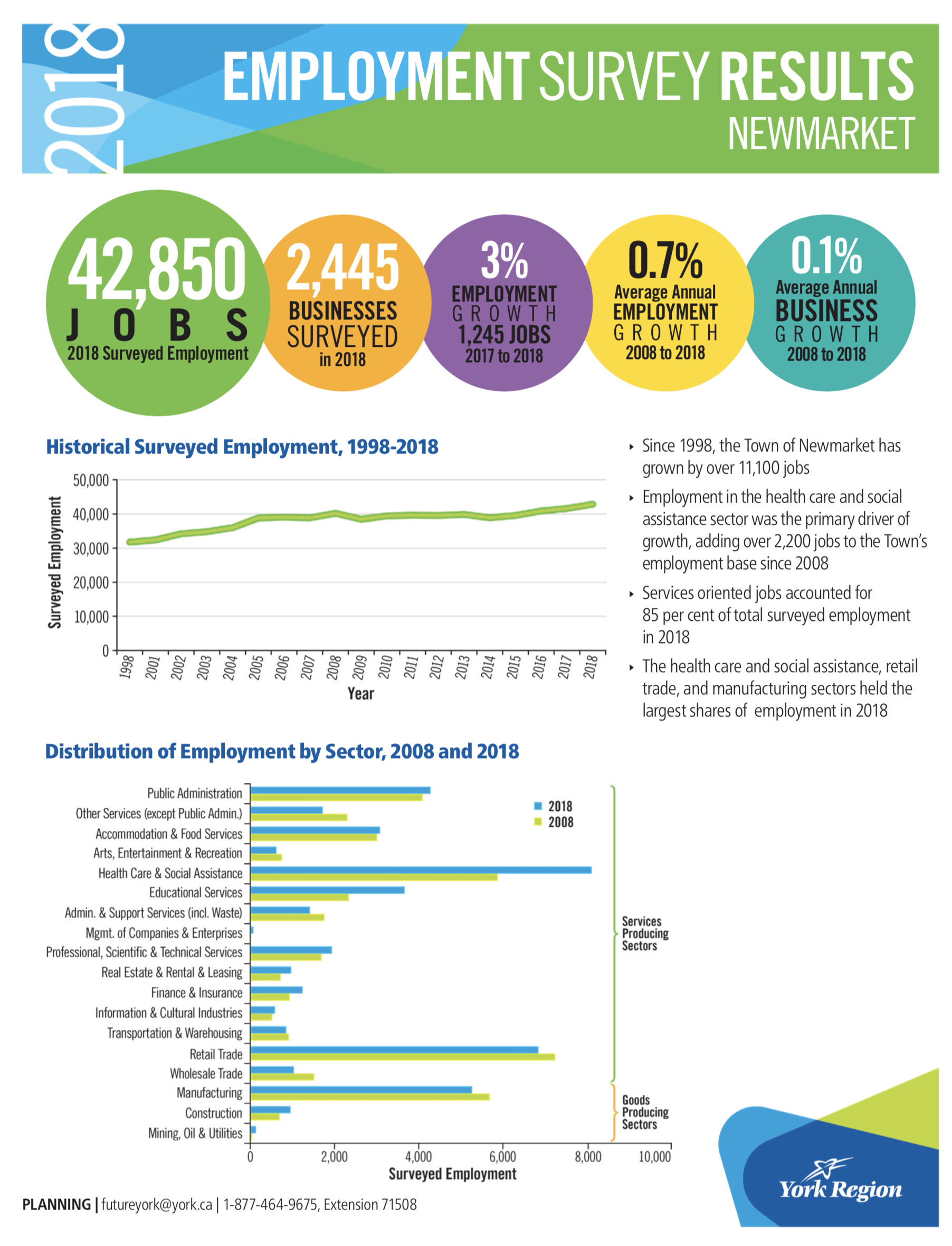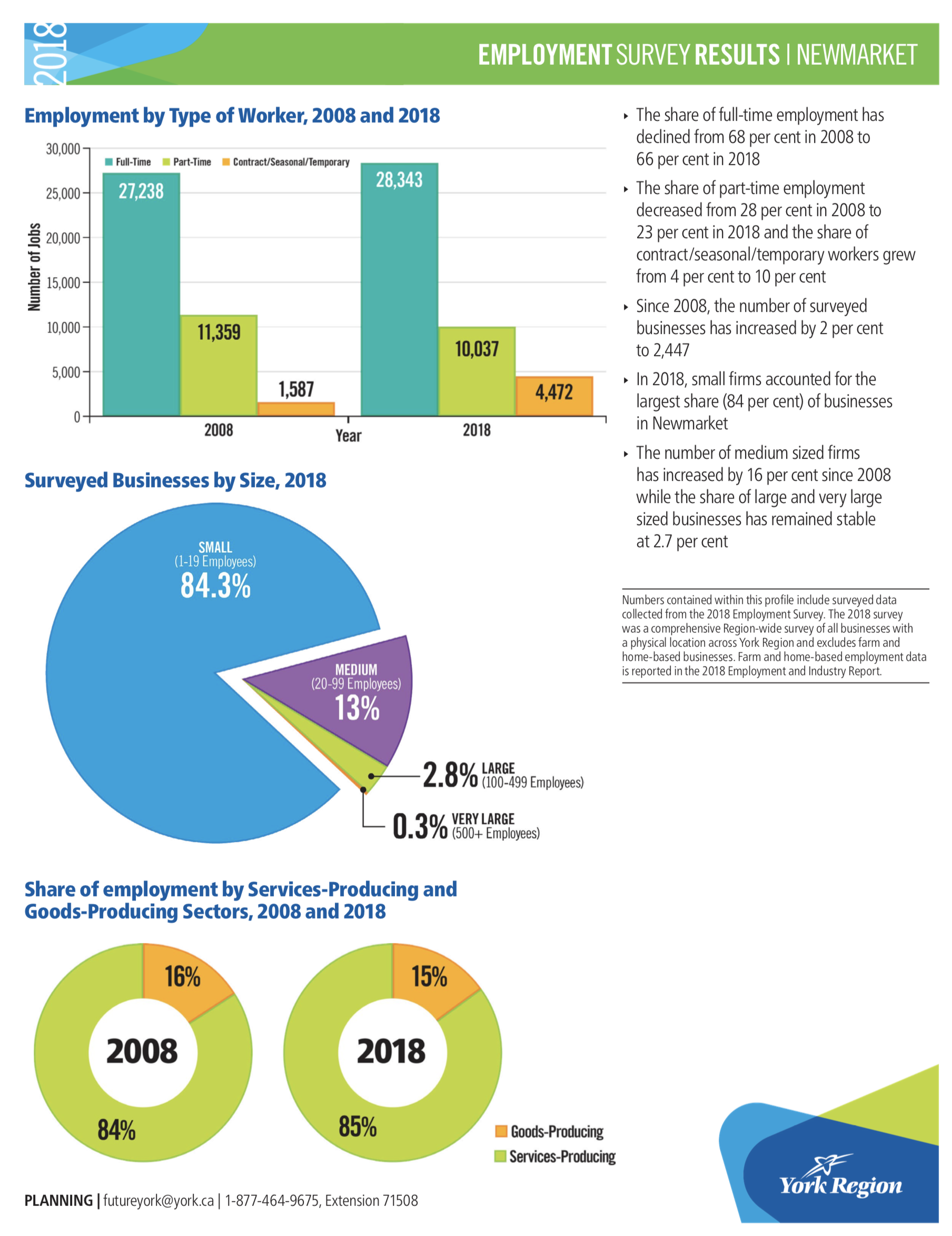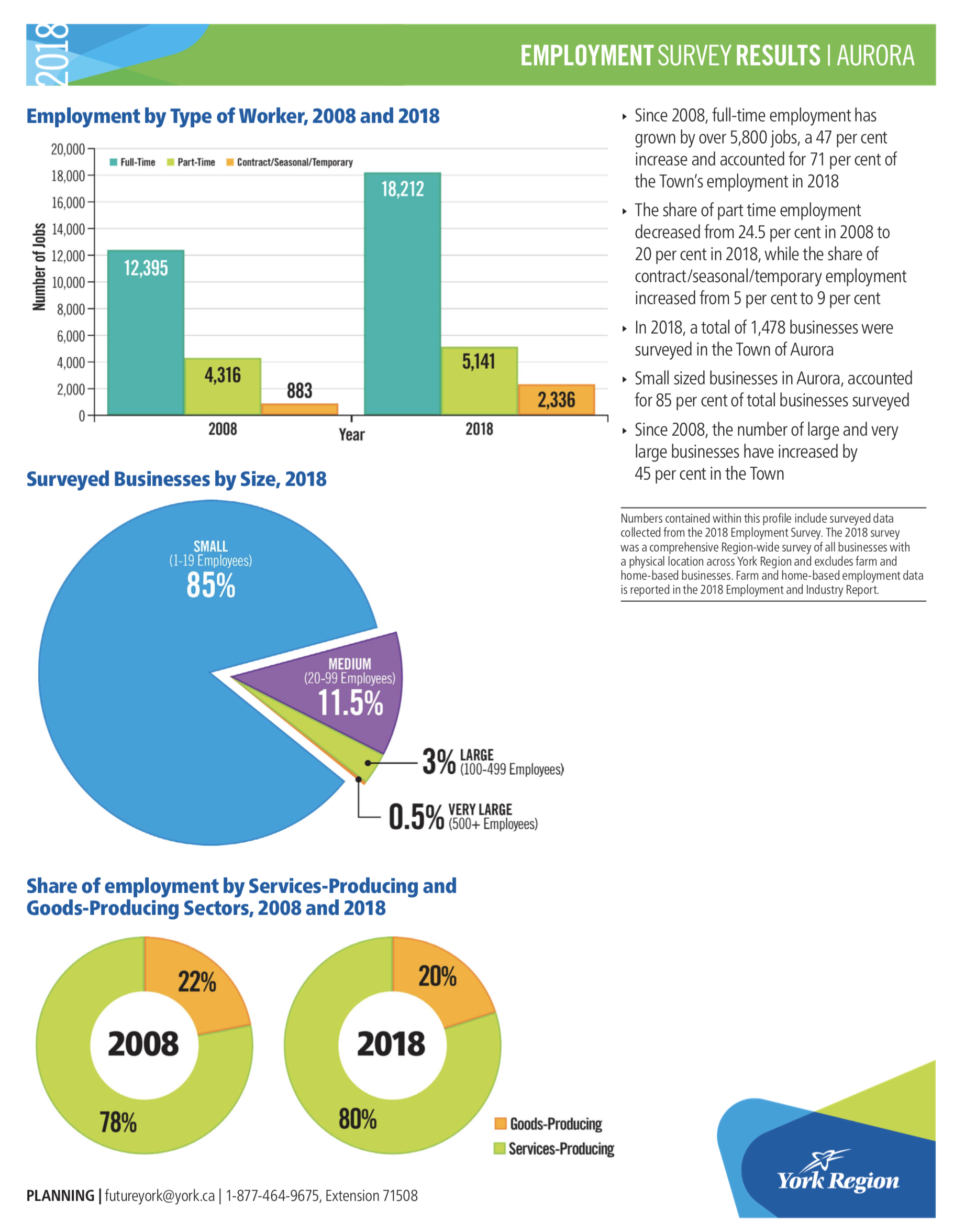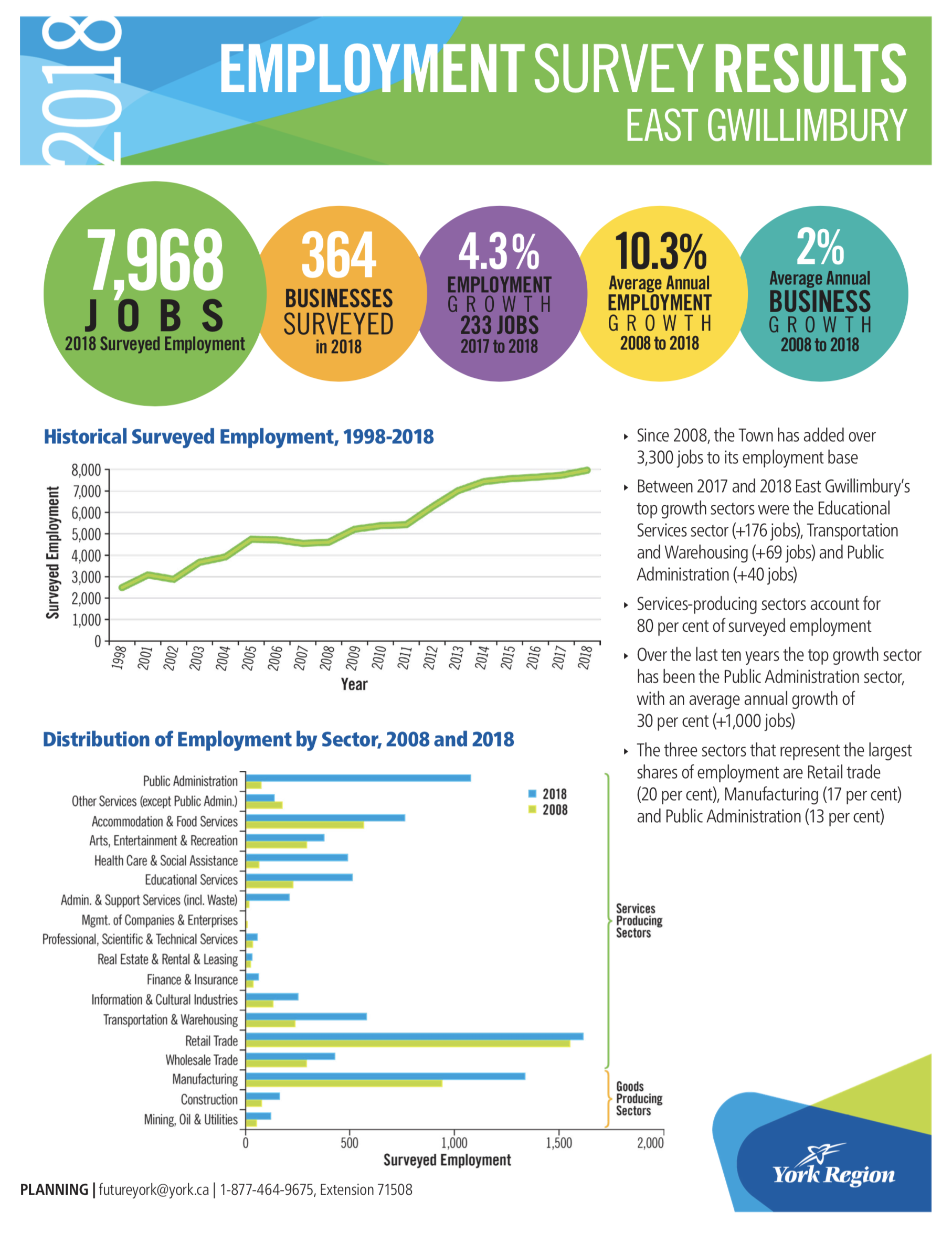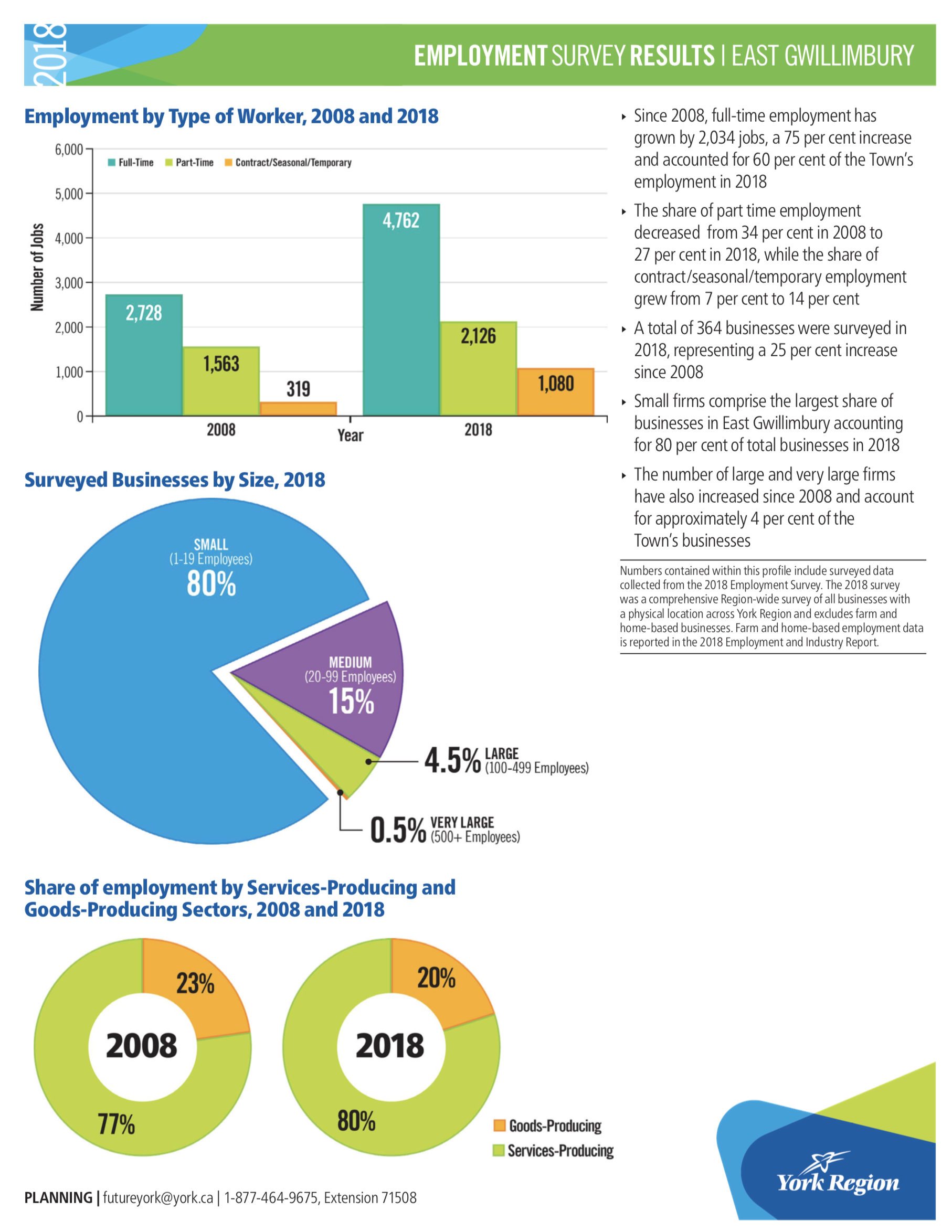 Details

Written by

Gordon Prentice
The York Catholic District School Board (YCDSB) may be very good at educating children but it is a is a very bad neighbour.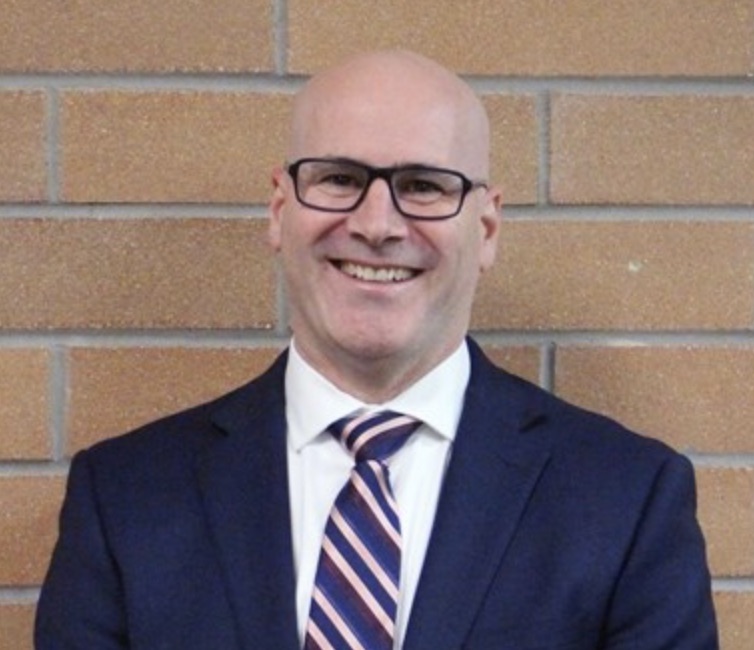 Back story: Last summer, a contractor (Joe Peluso of Peltar) was commissioned by the YCDSB to reconstruct the car park and playground at the Canadian Martyrs Catholic Elementary School in London Road, Newmarket. Without any prior warning, the contractor started compacting the ground with heavy machinery sending massive shock waves into neighbouring properties on Harrison Drive where I live.
One neighbour saw pots and pans dancing about on her stove. In my house cups and saucers rattled violently. My next-door neighbour was concerned about the structural integrity of her swimming pool – containing 35,000 gallons of water - which sits three or four yards from the school property line. Another neighbour was so alarmed she called the police.
Properties were damaged. Cracks appeared in garage walls. But we still have no idea of the extent of any damage not visible to the naked eye.
The School Board was quick to wash its hands of the matter saying it was something for their contractor and our insurance companies. We were told to claim against our own insurance (assuming we all had appropriate cover) who would, in turn, claim against Peltar's insurers. (The Director of Education, Ab Falconi, is shown left)
And this is where things currently stand.
It is not easy or straightforward to make a claim for damage caused by vibration. Causation becomes the issue.
The York Catholic District School Board is a huge organisation spanning nine municipalities in York Region. It employs 10,000 staff who are responsible for 54,000 students. There are 87 elementary schools and 16 secondary schools so, in any given year, construction activity of some sort is likely to be undertaken.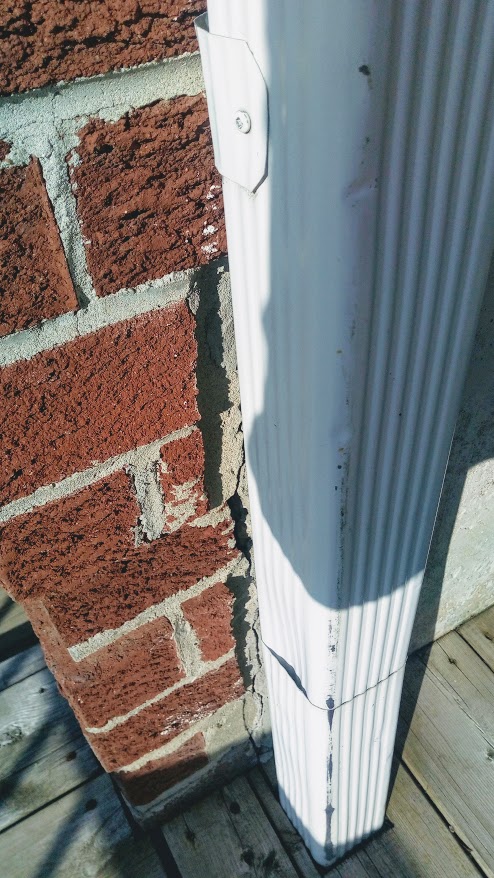 The Director of Education, Ab Falconi, appointed last year is on a base salary range of $224,000 - $277,000 reflecting the nature of his responsibilities.
Before and after photos
Vibration from construction has caused problems elsewhere in Town previously and next week (Monday 18 March 2019) councillors will debate what can be done about it. (See "Construction Vibration Issues Staff Report", page 123) One possibility would be a new By-law, obliging developers and contractors to carry out pre-construction surveys of properties that could reasonably be expected to be impacted by construction vibration. To its credit, the Town already does this when roads are being dug up. In 2014 when the roadway at Harrison Drive was reconstructed we were asked if we wanted a survey of our properties done beforehand at no cost to residents.
It would then be a simple matter of comparing before and after photos. If a previously smooth wall shows cracks it was likely caused by the construction work.
Unfortunately, the Town's staff report appears to focus on new-build development when all sorts of other construction activity can generate damaging vibration.
I have spent almost six months trying to persuade the York Catholic District School Board to do the right thing. So far without success.
The YCDSB's contract with Peltar suggests the Board will keep an eye on things during construction. The tender document makes it clear records are kept on contractors' performance. How else should we interpret the statement that a contractor will be disqualified "whose previous experience with the Board has been unsatisfactory to the Board"?
In reality, the Director of Education, Ab Falconi has shuffled responsibility on to the contractor who refuses to get involved saying it is a matter for the insurance companies. Mr Falconi has shown absolutely no leadership on this issue – and this in an organisation where the Director of Education largely calls the shots.
Falsifying the record
I took a deputation to the full Board on 30 October 2018 to ask it to commission jointly with the residents a structural survey of properties where the owners/occupiers feared damage. The YCDSB would pay the lion's share and the blameless residents a peppercorn.
I was listened to with politeness. My new Ward Councillor Trevor Morrison was present as were other residents of Harrison Drive.
Despite this, the Board minute – the official record of the meeting - is incorrect. It asserts I requested a course of action that I didn't. But despite formal requests to Mr Falconi and to the then Board Chair, Ms Elizabeth Crowe, and to the trustee Theresa McNichol the record remains uncorrected, a glaring misrepresentation.
Is this ever OK? I don't think so.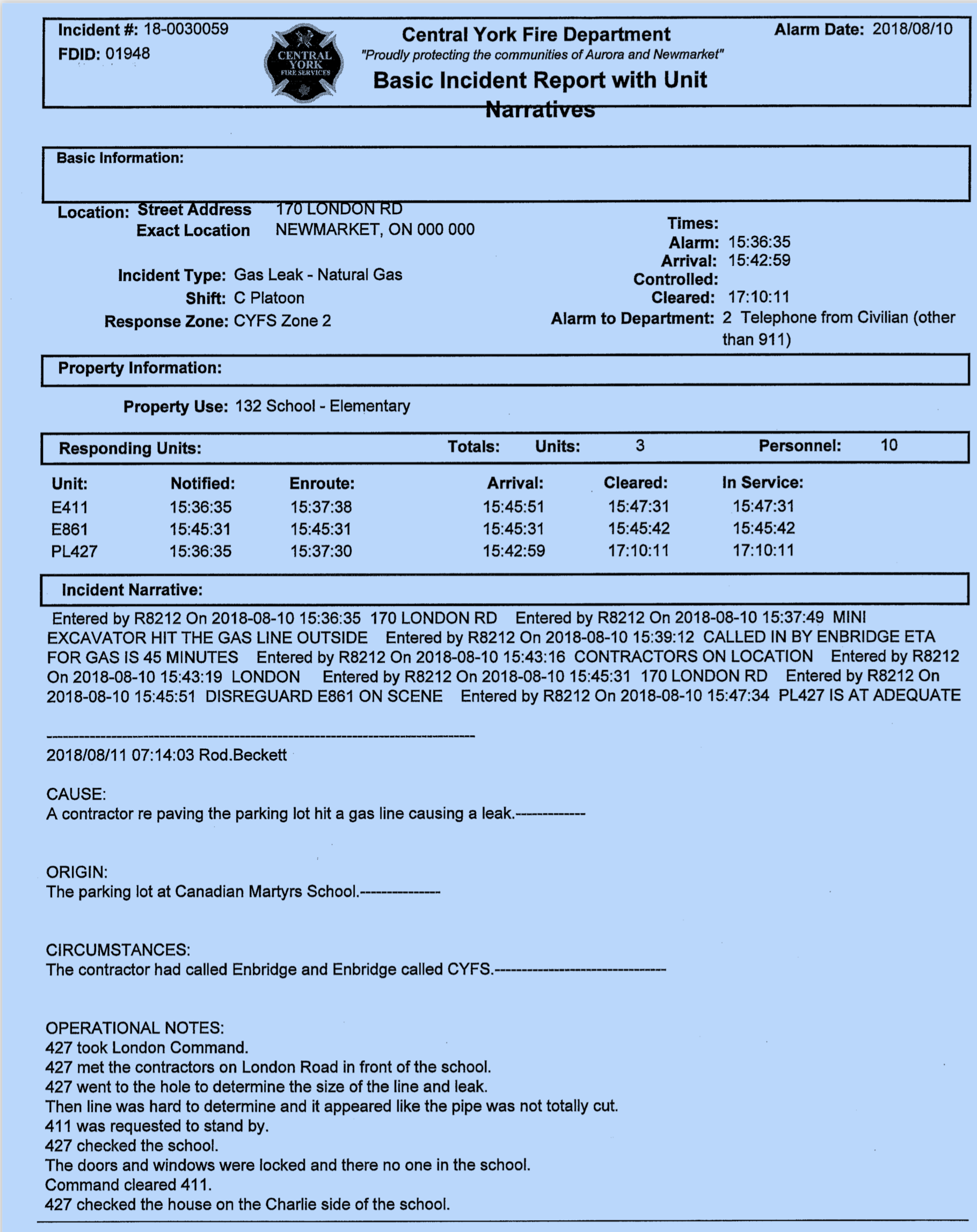 No record of gas leak
On 10 August 2018, during the course of the work on the car park, a stone's throw from my back yard, the contractor punctured a gas line. To me, this was evidence of his negligence. I was sitting on my deck at the time and could smell gas. Shortly afterwards a fire truck arrived and two firefighters knocked on my front door, advising me to close doors and windows.
The Fire Incident Report from the Central York Fire Service tells me
"A contractor paving the parking lot hit a gas line causing a leak."
Yet, on 18 December 2018, a senior member of the School Board's staff, the Manager of Employee Relations and Privacy, Cheryl Kennedy, told me categorically there had been no gas leak. Ms Kennedy is responsible for all Freedom of Information and Privacy matters at the YCDSB. Someone must have told her there was no leak. Who was that?
I knew then that I was dealing with a seriously dysfunctional organisation with employees willing to dissemble and at least one timorous trustee – Theresa McNichol - prepared to look the other way.
On 12 October 2018 I lodged five Freedom of Information requests with the Board which has, by statute, thirty days to answer. I wanted information about the gas leak and about the Board's policies and procedures for consulting people when construction works are planned. I wanted details of any complaints about construction works going back to 2008. After all, the YCDSB operates a huge estate of more than 100 schools. And I also wanted sight of notes, emails and records relating to the work at the Canadian Martyrs.
"There are no records"
Over three months later, on 28 January 2019, after chasing them up for an answer I was told no records existed.
When I asked for sight of the Board's Records and Information Management Manual which sets out the file classifications and the records which must be retained – and for how long – I was told this was under review and therefore
"not currently available…"
When I asked if I could consult the Records and Information Management Manual at the Board's Office in Bloomington Road, Aurora, I was ignored.
In these remarkable circumstances, I turned for help to the Provincial Information and Privacy Commissioner (IPC). I want to know which files Ms Kennedy consulted before telling me with such certainty that records did not exist. How on earth is it possible for a sophisticated organisation such as a school board to operate by word of mouth, without written records? The IPC asked me to give reasons why I believe the information I requested must exist. One example…
I am told there is no record of a gas leak at the school on 10 August 2018 because the Board maintains there was in fact no gas leak. Yet I have conclusive proof there was such a leak.
The Fire Service Incident Log tells me that unit 472:
"stood by until the Enbridge supervisors and the ground crew arrived and pinched the line stopping the leak. Once the leak was stopped Enbridge cleared 427. Command terminated and 427 cleared."
Director of Education should appear before councillors
I have asked the Director of Education, Mr Falconi, to come along to the Town's Committee of the Whole meeting on 18 March 2019 or send a representative.
On Saturday (9 March 2019) by email he conceded for the first time that the Board may be prepared to undertake pre-condition (or pre-construction) surveys but only on a "case-by-case" basis.
This is not good enough.
What criteria would he use to decide who would – or would not be - getting a survey? What if the criteria used is capricious? What if, as is likely, no record is kept of how the decisions were made?
Who would have believed it possible that a responsible organisation such as the York Catholic District School Board would walk away from the property damage caused, bending the truth into a pretzel in the process?
The YCDSB is not a law unto itself.
If the School Board won't do the right thing then the Town has no option but to bring in a by-law without delay to prevent this happening to others.
This email address is being protected from spambots. You need JavaScript enabled to view it.
Update on 19 March 2019. You can watch the Committee of the Whole debate on Construction Vibration on 18 March 2019 here starting at 1-06 in.
Update on 25 March 2019. And this is how Newmarket Today covered the story.
Update on 5 April 2019: Coverage on the situation in Glenway
Details

Written by

Gordon Prentice
On 25 February 2019 Regional Councillor Tom Vegh felt fit enough to tell his Facebook readers that for the first time since his knee surgery he was able to spend time at the office. This is excellent news.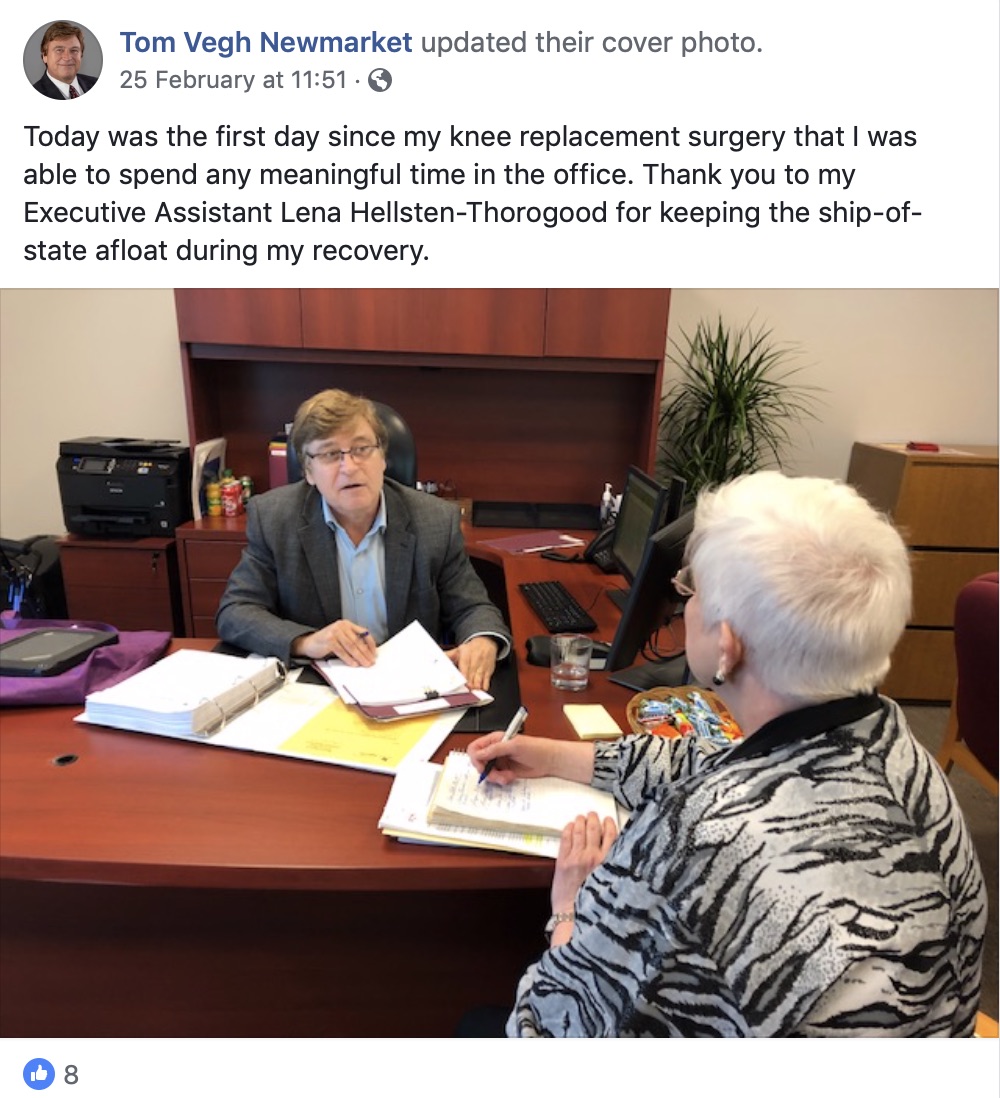 Unfortunately he wasn't at the crucially important meeting of York Regional Council on 28 February 2019 when the Budget was up for debate. But this trifling detail didn't stop him from formally reporting back to Newmarket Council meeting last night (4 March 2019) on what happened at the Regional meeting he didn't attend.
As it happens, I wrote to Tom last December to ask how he intended to deliver on his promise of a new library and seniors' centre on the Hollingsworth site:
I thought your election pledges of a new library and seniors' centre were among the boldest on offer and I am keen to follow their progress through the coming Council term.

Can you let me know what initiatives you are planning and when?
Tom tells me he is diligently working on it.
Characteristically, he is playing his cards close to his chest.
I think it's probably time for Tom to let us into his thinking.
As the old song goes... If not now then when?
The Town is currently in the middle of a three-month long exercise to set its key strategic priorities for the 2018-2022 council term and the Library, once again, looks like it's being left out.
In the 2014-2018 Council term the Library didn't even rate a mention. The endless cascade of Information Reports and plans show the Council purports to take its strategic priorities seriously – once they are decided. How they get to be selected in the first place seems to be a much more hit and miss affair.
The next workshop to consider strategic priorities is pencilled in for Tuesday 26 March 2019 which doesn't leave Tom much time to get his ducks in a row.
Last June, the Council in closed session asked the developer to work up two options for developing the land at Davis and Patterson. One option would restrict development to the land already owned by the developer. The second option would include the Town-owned land at Hollingsworth Arena where Tom wants to build his new Library and Seniors' Centre.
If Tom is even remotely serious he needs to get his ambitious plans for a new Library and Seniors' Centre into the Town's Strategic Priorities document for 2018-2022. Otherwise he is a busted flush, politically.
But he must know that.
This email address is being protected from spambots. You need JavaScript enabled to view it.
Details

Written by

Gordon Prentice
The story so far: Last week (Thursday 28 February) York Regional Council agreed a Budget for 2019 that raises taxes by 2.96% excluding an additional 1% tax levy specifically dedicated to speeding up the program of road construction giving a total increase of 3.96%.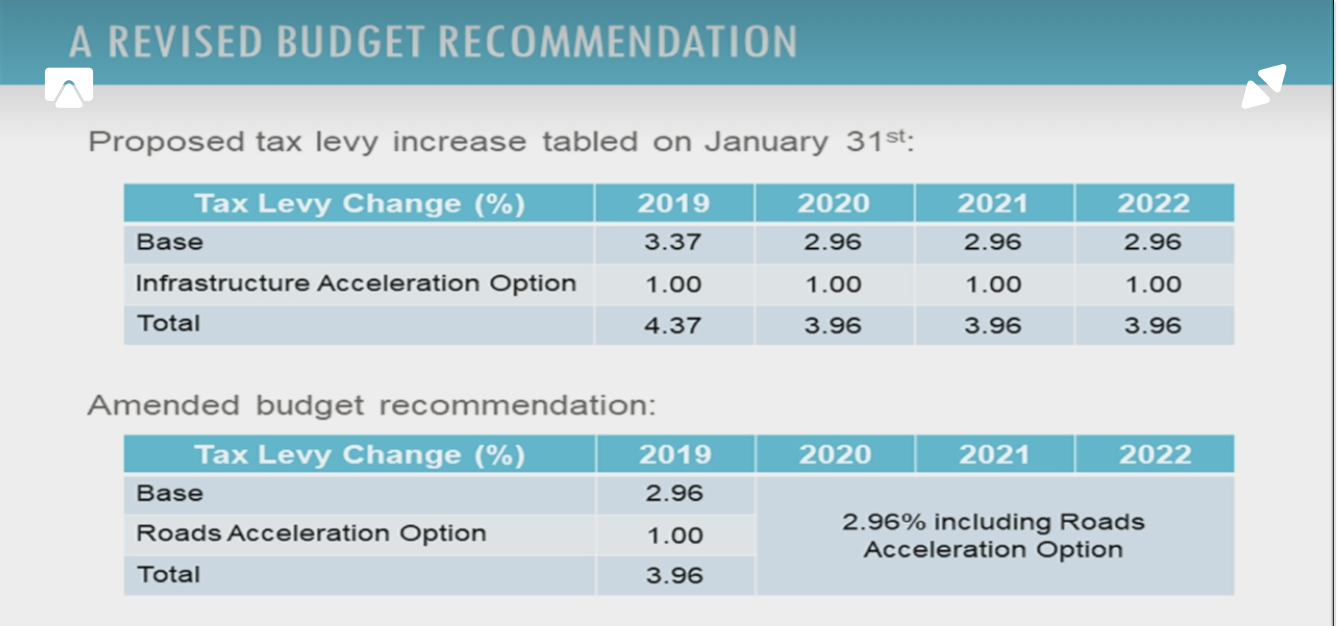 This year's Budget is "multi-year" in that it looks over the horizon to the end of the Council term. For 2020 through to 2022 the Council endorsed a tax levy increase of 2.96% which incorporates a projected 1% annual tax increase for the so-called "roads acceleration".
The Budget increase for all other services excluding roads would therefore be capped at 1.96%. This is likely to be far below the prevailing rate of inflation. Here in Newmarket the base budget assumed a 2.95% inflationary increase (the 2.7% October 2018 annual increase in the Toronto CPI and another 0.25% to reflect costs which bear on municipalities.)
Is this 1.9% increase feasible without taking the axe to a swath of York Region services and those provided by other organisations that the Region funds?
And how did the Regional Council get there?
Getting roads built faster
At the Committee of the Whole on 21 February 2019 the members have a report in front of them from the Regional Treasurer (who comes to York Region from the City of Vaughan) explaining how the "Infrastructure Acceleration Reserve Option" might work.
The highest paid Mayor in Ontario, Markham's bald baritone, Frank Scarpitti, wants to approve an additional 1% tax levy in 2019 earmarked for roads.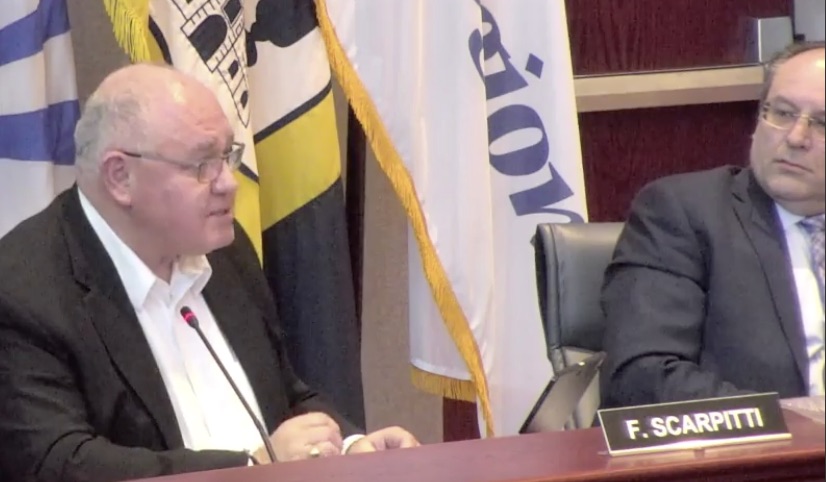 Newmarket's John Taylor says there is another way of doing this without landing people with a big, unnecessary tax hike. He wants the money taken from the Region's Asset Replacement Fund for 2019 and repaid in due course from development charges as they roll in. His amendment would have a workshop look at all the options for the following years
Georgina's Robert Grossi likes the idea of looking at the options in a workshop. He can't support the full 1%. He tells Frank he could do half a per cent.
Emmerson sounds exasperated. He is wondering why they are tying themselves in knots.
"None of this (the new roads) is gonna happen for four years!"
"Absolutely nuts!"
King's Mayor, the rotund Steve Pellegrini, says he wants the 1% "baked in to the 3.37% tax levy". Pellegrini is a man of few words, preferring to suck candies and listen. He usually appears as a backdrop to Scarpitti who talks a lot. Pellegrini, now finding himself centre stage, says his proposal would mean a 2.37% increase for everything else. He wants staff to come back and show them how to find that 1% in either operating or capital efficiencies.
Incredulous, Vaughan's Mayor and former Liberal MP, Maurizio Bevilacqua, doubts Pellegrini's sanity:
"The motion is crazy! It's absolutely nuts… I can't believe we are doing budgeting (in this way). What priorities are you going to get rid of? From a governance point of view this is a spectacle. There is no seriousness here. Absolutely zero."
"I am unimpressed. I'll be honest with you. To just say that you want to bake in 1%... You understand the impact of that? What is the impact?
Steve Pellegrini protests saying he is only trying to align the Budget within a respectful increase.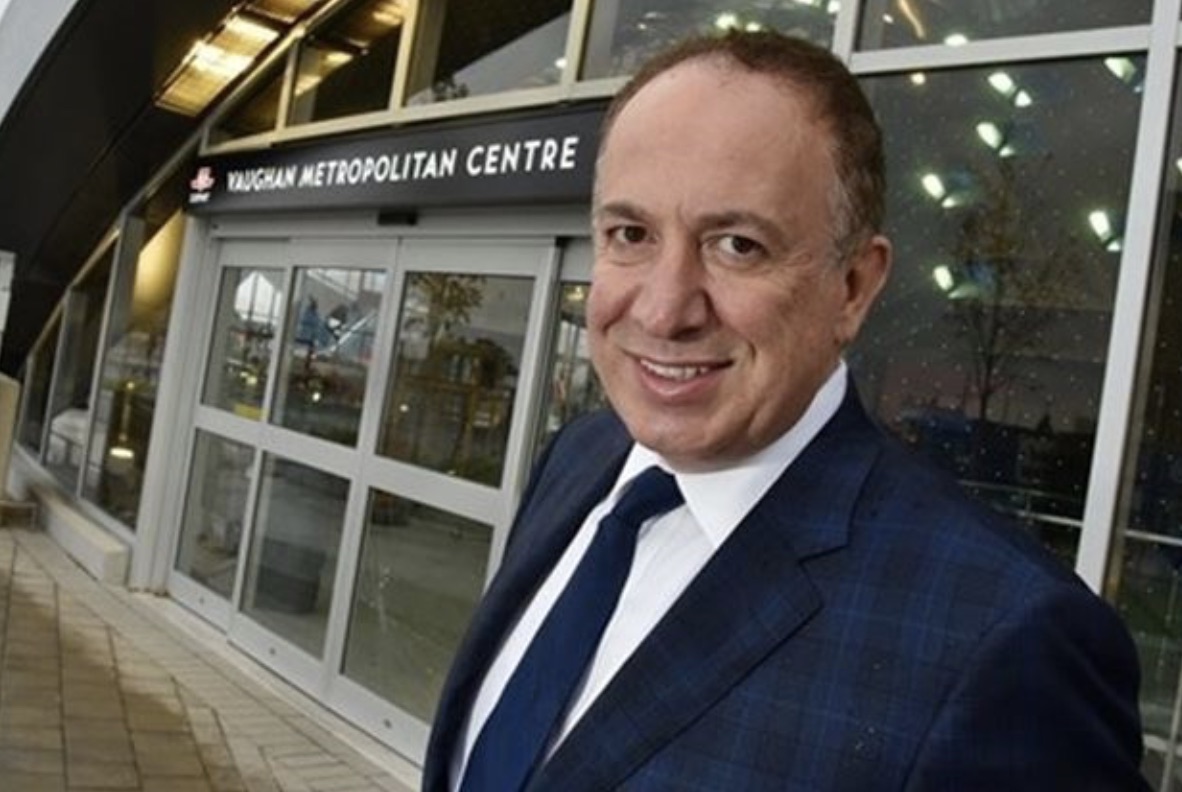 "I've heard loud and clear the priorities – we've all heard the priorities – it's transportation. I am trying to align the budget within a respectful increase to acknowledge that we need to increase transportation and move people in this Region… I am asking staff to come back with a list – how they can find a 1% reduction.
Scarpitti's Lapdog
Bevilacqua is now getting into his stride. He suggests Pellegrini is Scarpitti's lapdog:
"The point I am making is this. You have to accept this. You would not have moved that motion had Mayor Scarpitti not moved his. You did not come here today with (the idea of) baking anything inside anything… I know that for a fact. It is a reaction to the Scarpitti motion (interruption)
"This is serious, right? If you (the Regional Chair Wayne Emmerson) are not going to say it then I am going to say it. The reality is this. You cannot proceed and make budgets in the manner in which you are doing it now. It is laughable. It just doesn't make any sense… This is absolutely crazy…How can we say we can make a decision on the 1% on the spot? That's serious."
Now Markham's new Regional Councillor, Don Hamilton, a man always on the hunt for efficiencies, tells us Bevilacqua wants members to rubber stamp whatever the staff comes up with.
John Taylor, a stickler for procedure, says members can of course reduce the Budget but it has to be done through a reasonable process. He says they should not be reducing the Budget by one per cent in one week.
Richmond Hill's Carmine Perrelli agrees it is too late in the day for a change of this magnitude. Markham's Joe Li is wringing his hands. His Markham colleague Jim Jones backs Pellegrini.
Now Pellegrini says he wants to extend the Budget process by one month. He concedes a 3.37% increase is "hefty". Now, unusually, the centre of attention, he affects indignation.
"I take great offence about what was said about my sanity!"
Cuts to come from across the board
Emmerson says that 1% would have to come from across the organisation.
Scarpitti says a tax increase cannot be avoided and that if the Region is going to find this money then all the external bodies (that get cash from the Region) will have to be part of the solution.
Taylor says:
"I'm not opposed to looking at (a lower tax rate). But if we want to do it let's aim for next Budget. Let's look at all the options for bringing it down to 2%-2.5%. Make sure we make wise decisions informed by public input."
He says he wants a report and a workshop for achieving the 1% and, importantly, a proper process - that will take months - for the next Budget. The workshop is agreed. But when the Minutes of the meeting go up to Council on 28 February 2019 there is no mention of any workshop. It has been airbrushed out of the record.
Fast Forward to Thursday 28 February 2019. The Regional Council agrees the Budget.
Taylor, visibly exasperated, demands to know what has happened to his workshop. It has disappeared into the ether.
The Region's Chief Administrative Officer, the smooth, unflappable Bruce McGregor says:
"We bring back what we think are your expectations."
Taylor says the recommendations in front of Council do not reflect what they talked about and agreed last week.
Emmerson says he thought there was an appetite to put something in the roads budget. Taylor insists the motion that was agreed was to take options to a workshop.
Markham's Jim Jones tells McGregor he did exactly what they were expecting. Richmond Hill's Joe Di Paola agrees. Markham's Jack Heath compliments the staff and the Chair for coming up with something they can all agree on.
Now Steve Pellegrini gives a "huge, heartfelt thank you to staff" for accommodating his revised budget.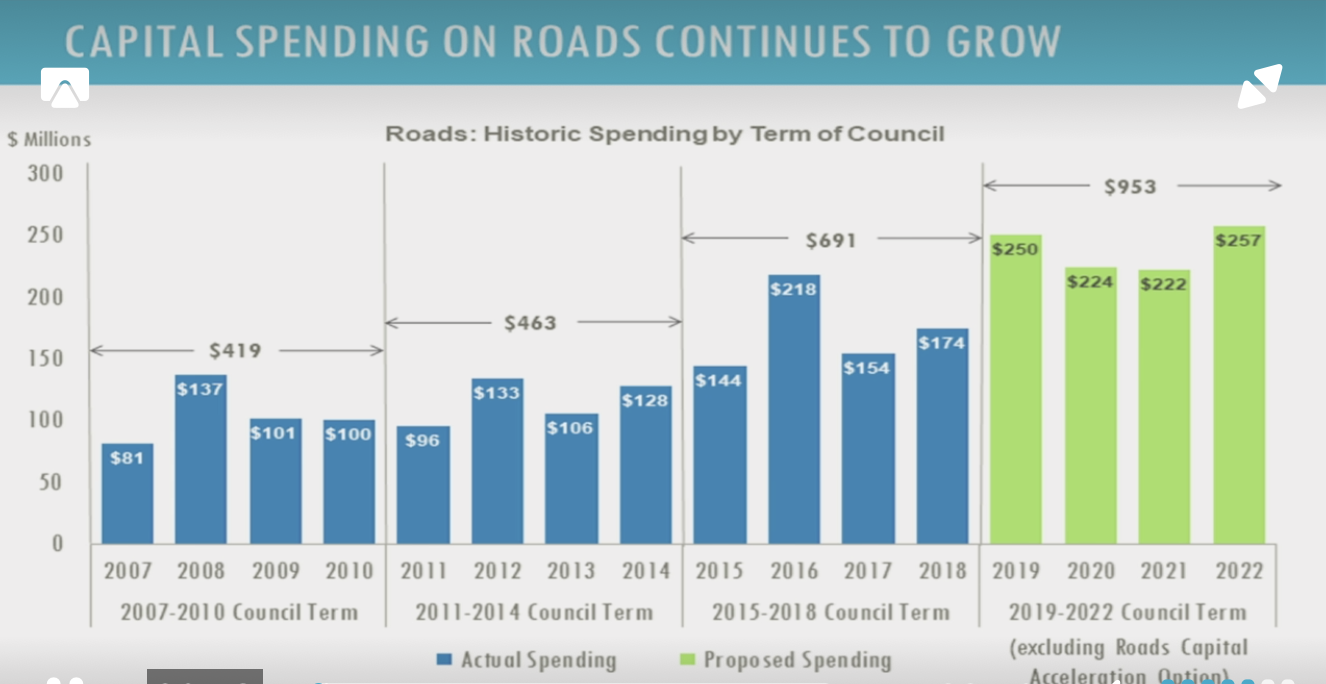 Inscrutable
McGregor can be inscrutable when the occasion demands. He isn't asked to comment on the shape of the likely service reductions implied by Pellegrini's 1.96%
Scarpitti thanks staff and Pellegrini. Everyone is now thanking and congratulating everyone else.
Georgina's Roberto Grossi slaps Emmerson on the back for the leadership he has shown. East Gwillimbury's Virginia Hackson agrees with Scarpitti and Pellegrini and says she is pleased the increase is below 3%.
Aurora's Tom Mrakas says it's a great job keeping the increase below 3%. He supports 2.96%. But he agrees with Taylor that clear direction to staff comes with a motion.
Markham's Don Hamilton says he can't support 2.96% - it's far too much. But he will support 2.5%. The increase should stay "within" the rate of inflation.
Markham's Joe Li agrees that 2.96% is still too high. He complains that no-one takes any notice of his opinion and, for that reason, he will vote against the Budget.
Richmond Hill's Carmine Perrelli and Vaughan's Gino Rosati say they will support the Budget. As does Georgina's Mayor, Margaret Quirk who smacks down Joe Li for threatening to vote against the Budget. She says he should put forward something that is more to his liking.
Don Hamilton says it is not a "solid" budget. For him, there's always more fat to be trimmed:
"In a week we've found some efficiencies."
John Taylor supports the 2.96%. Taylor tells Markham's Joe Li it is not irresponsible to vote against the Budget if he is unhappy with it.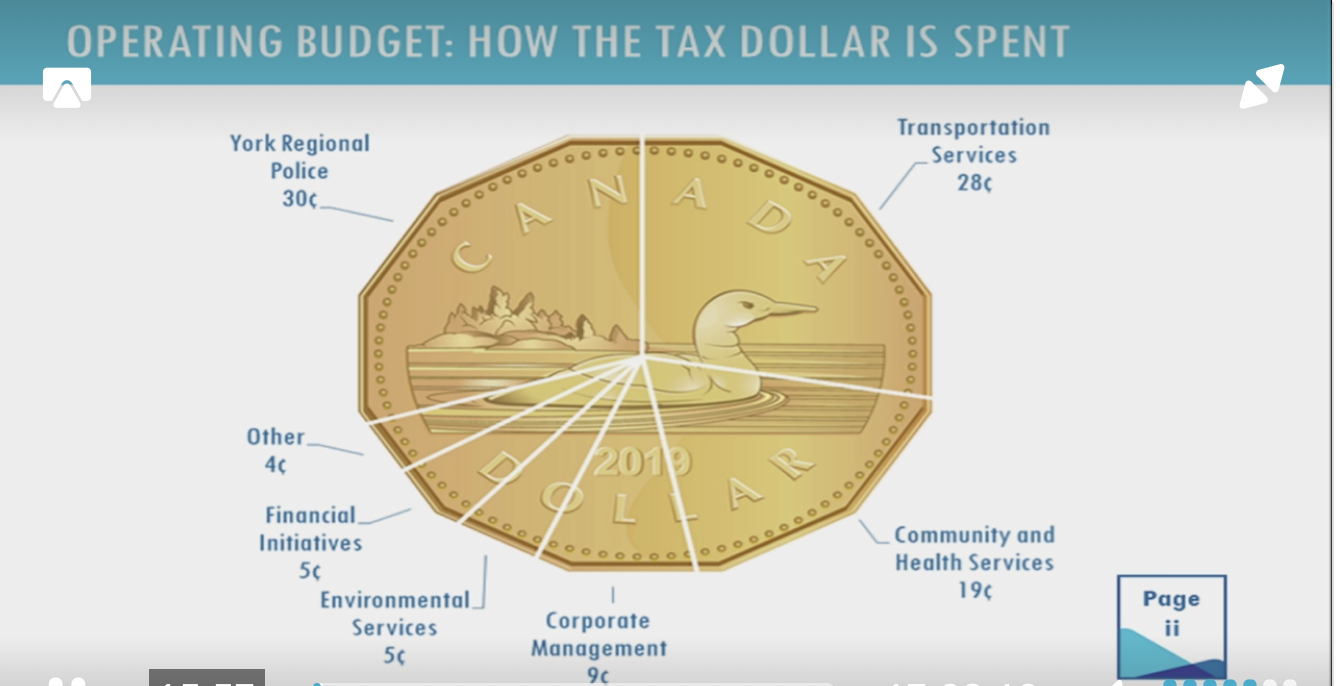 Disgusted!
Now the pressure cooker that is Joe Li explodes. At Markham we learn he can sit down with senior staff who will listen and try to accommodate his concerns. But here at York Region he complains no senior staff person has called him in 8 years! He says he is disgusted! (But why doesn't he just call them? He isn't a wallflower. He doesn't need to sit by his phone, waiting for a call.)
Jack Heath says there is no need for an additional 1% tax levy right now, in the first year. He says there is no urgency and would prefer an "incremental approach".
Emmerson says now is not the time to nickel and dime. You go for the 1% or not. Emmerson likes to give members two clear alternatives. That way no one gets confused. He is black and white with no shades ofd grey.
Now the Regional Clerk tells us staff upstairs have been checking the tapes of last week's meeting (on 21 February) and confirms what Taylor said. There was a decision to hold a workshop on non-tax levy options for raising the 1% but this is not reflected in the minutes - nor in McGregor's presentation.
Now Gino Rosati is calling for more road building and road widening oblivious to the fact his roads will fill up as soon as they are finished. Pellegrini's 1% is not enough for him. He wants it to be topped up with other revenues and transfers.
Taylor warns: The public won't support this
Taylor reminds his colleagues about the burden they are about to impose on the taxpayer. He says a 4% (2.96% + 1%) tax increase won't wash. The public will not support it. He says they don't know what kind of service level reductions are implied by the proposed tax levy. He stresses again the way forward is to look at all the options in a workshop.
Frank Scarpitti is clearly upset having to listen to this.
"The public is frustrated as hell about our ability to accelerate the roads program. Transportation is a major issue in the southern municipalities. It far outpaces all other issues. It is mission critical the 1%."
Whitchurch-Stouffville's new Mayor, Iain Lovatt, backs the additional 1% tax levy as does Markham's Jim Jones, who is a rail enthusiast. He says it could be used for grade separations. East Gwillimbury's Virginia Hackson will support the 1% on the grounds that lots of people in her patch work in Markham and other areas down south.
Jack Heath says it is important to get the ball rolling even if he does think the 1% in 2019 is too much. Perrelli and Quirk will back the 1% as will the conflicted Joe Li with all his public agonising and hand-wringing. He wails:
"4% is a dilemma"
and then votes for it.
Mrakas backs Taylor
Aurora's Tom Mrakas is siding with Taylor. He wants to look at the options in a workshop setting and take the 1% from the Asset Management Reserve rather than impose an additional 1% tax levy.
Markham's Don Hamilton, always on the quest for efficiencies, says he cannot support a tax increase of 3.96%. The process they are all following is putting the cart before the horse. He is in Taylor's camp – three of 18 voting against the additional 1% tax levy.
Taylor explains for the nth time that the money can be drawn from the Asset Management Reserve and repaid in due course rather than take it from the taxpayers. He says we borrow it from ourselves and repay it from DCs (development charges) as they come in. (Taylor's Newmarket is of course billing its residents for the cost of the newly purchased Mulock Farm Park through a separate tax levy but that's another story.)
Now attention turns to future years – 2020 to 2022 – when the projected tax levy is capped at 2.96% which will include the 1% for roads. Is this even remotely realistic?
Scarpitti wants to leave it as is for the moment "and see what comes out of the workshop".
I learn it is to be held on 25 April 2019.
But I don't know if that will show up in the minutes.
Probably not.
And the discussion on the Council's proposed Code of Conduct is put off until next time.
This email address is being protected from spambots. You need JavaScript enabled to view it.
Details

Written by

Gordon Prentice
11pm. With one third of the polls reporting in Burnaby South NDP leader Jasmeet Singh has a clear lead over his Liberal challenger.
In York-Simcoe the Conservatives, as expected, have held the seat, squashing Maxime Bernier's People's Party.
The Liberals have taken Outremont from the NDP.
Voter turnout is lamentable in all three ridings.
This email address is being protected from spambots. You need JavaScript enabled to view it.
Update on the by-election results (posted 26 February 2019)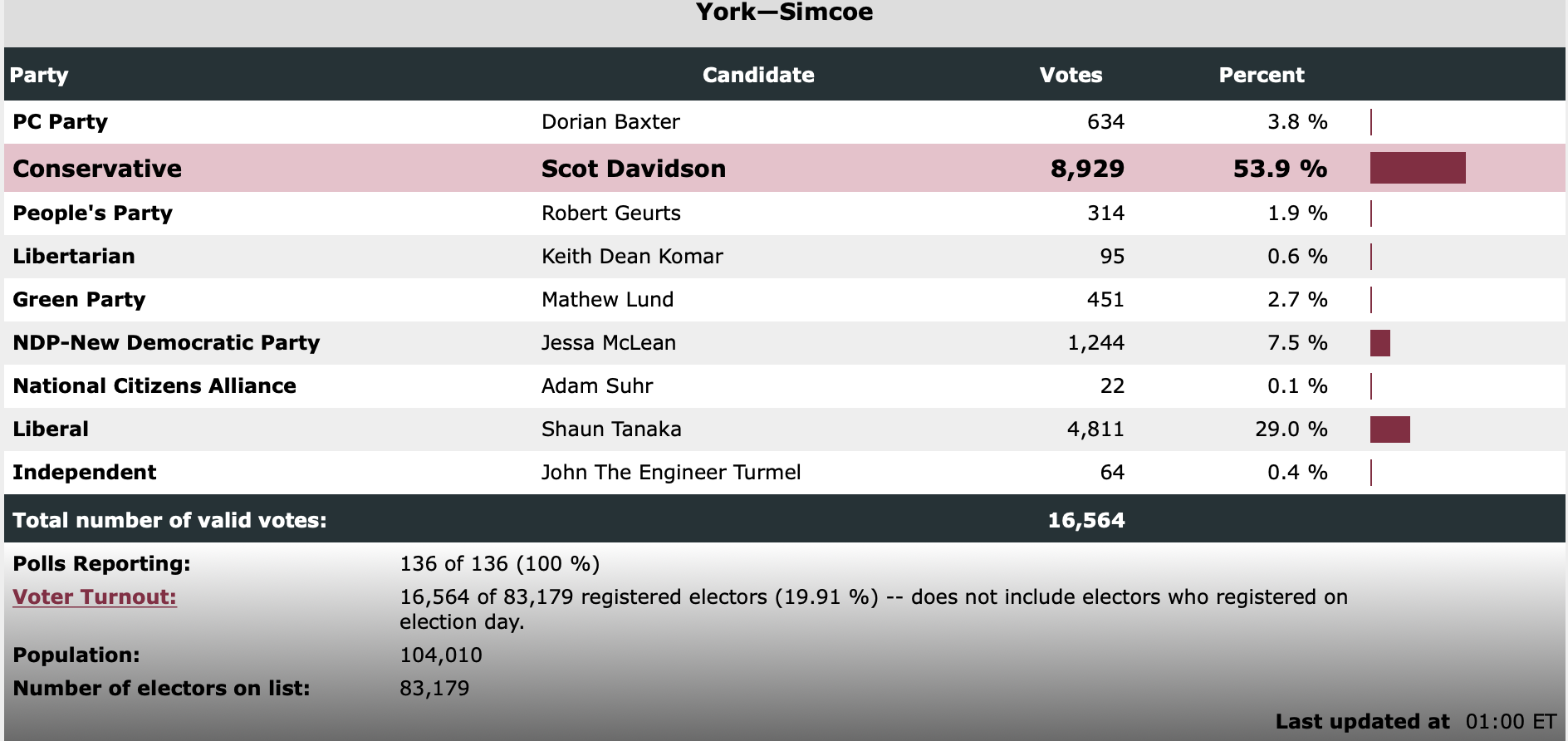 What can we learn from the results of yesterday's by-elections? Personally, I think we should be cautious in reading too much into the runes.
But the Globe and Mail's John Ibbotson takes a stab at it.
"Conservative Scot Davidson held the vote at 54 per cent, while the Liberal vote slumped from 38 per cent in 2015 to 29 per cent Monday night. Even more encouraging for Mr. Scheer, the People's Party sat at only 2 per cent, suggesting Mr. Bernier won't be a factor in the fight for the 905, the large belt of suburban ridings surrounding the city of Toronto, named after its area code. The 905 almost always votes for the party that forms the government…
For the NDP, the news is both bitter and sweet. Sweet: Mr. Singh will finally be in the House of Commons. He will arrive with Justin Trudeau's government staggering over the SNC-Lavalin affair, giving him a perfect opportunity to reboot his troubled leadership, only eight months before the next election.
Bitter: The New Democrats are no longer in the game in Quebec. The NDP appears destined to become again what it was before: a rump, a third place-place party in English Canada, and soon to be only a memory in Quebec."
Can Vote. Won't Vote
The majority of voters in the three by-elections didn't vote. Lots of factors could be in play. The weather, perhaps. Or maybe a sense the result was a foregone conclusion. That may have been the case with York-Simcoe but surely not in Outremont and Burnaby South?
Turnout in York-Simcoe was down from 63.66% in the general election in 2015 to a woeful 19.91% yesterday.
In Outrement, turnout collapsed from 62.42% to 21.38%.
In Burnaby South things were better. 60.78% in 2015 down to a still miserable 29.89%.
Turnout in elections is highly variable but the long-term trend points to falling participation rates. In the federal general election of 20 June 1882 a mere 32% of the electorate in Manitoba voted. The highest voter turnouts in a federal general election were in Yukon on 31 March 1958 and in PEI in 18 June 1962 when in both cases 90% of the electorate voted.
The highest voter turnout nationally in a federal general election was on 31 March 1958 when 79.4% of the electorate voted.
This email address is being protected from spambots. You need JavaScript enabled to view it.
And Chantal Hébert's take on the results in the Toronto Star (27 February 2019)