Details

Written by

Gordon Prentice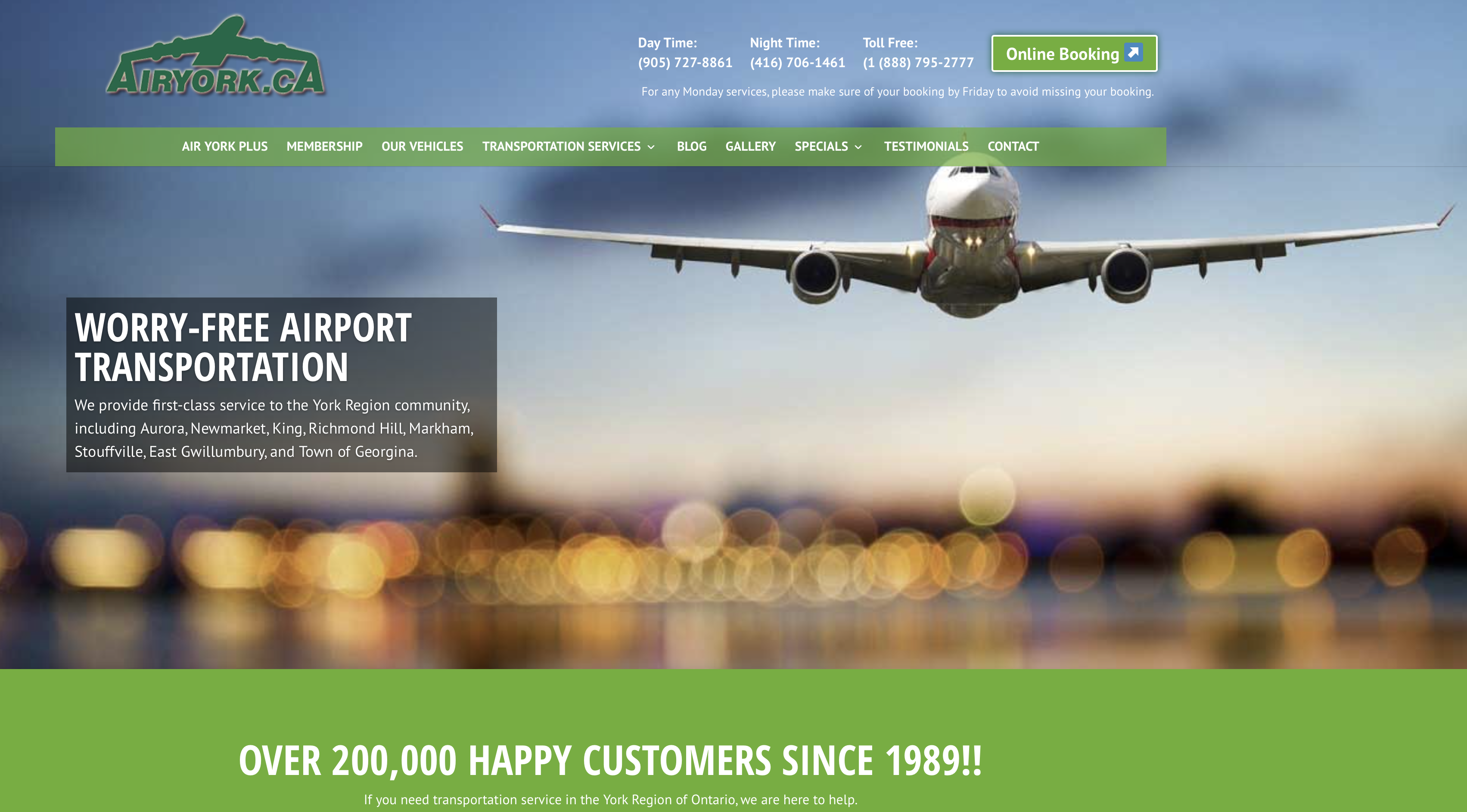 Two and a half years ago our winter vacation in Mexico went up in smoke when Air York Airport Transportation Inc failed to get us to Pearson in time for our flight. It cost us thousands of dollars.
At the time a remarkable Zen like calmness descended on me. Sitting in the back of the car, stuck in traffic, I vowed I would make Air York pay and expose their useless guarantee.
Yesterday a Judge at the Small Claims Court here in Newmarket found in our favour.
Covid knocked the Courts sideways and delay followed delay but we now have the judgement in our hands.
This has been a huge learning experience for me. I now know that Court forms have to be absolutely tickety-boo. Not a dot or comma out of place. I swallowed hard and served the claim personally on the defendant. I navigated my way through the dense legalese. But now we're there.
Well, not quite.
There is the small detail of actually collecting the money owed to us by "worry free" Air York Airport Transportation Inc.
That may be a challenge.
This email address is being protected from spambots. You need JavaScript enabled to view it.
Details

Written by

Gordon Prentice
For me, a memorable moment of last night's Chamber of Commerce "Meet and Greet" came right at the beginning as the doors were opening to the public.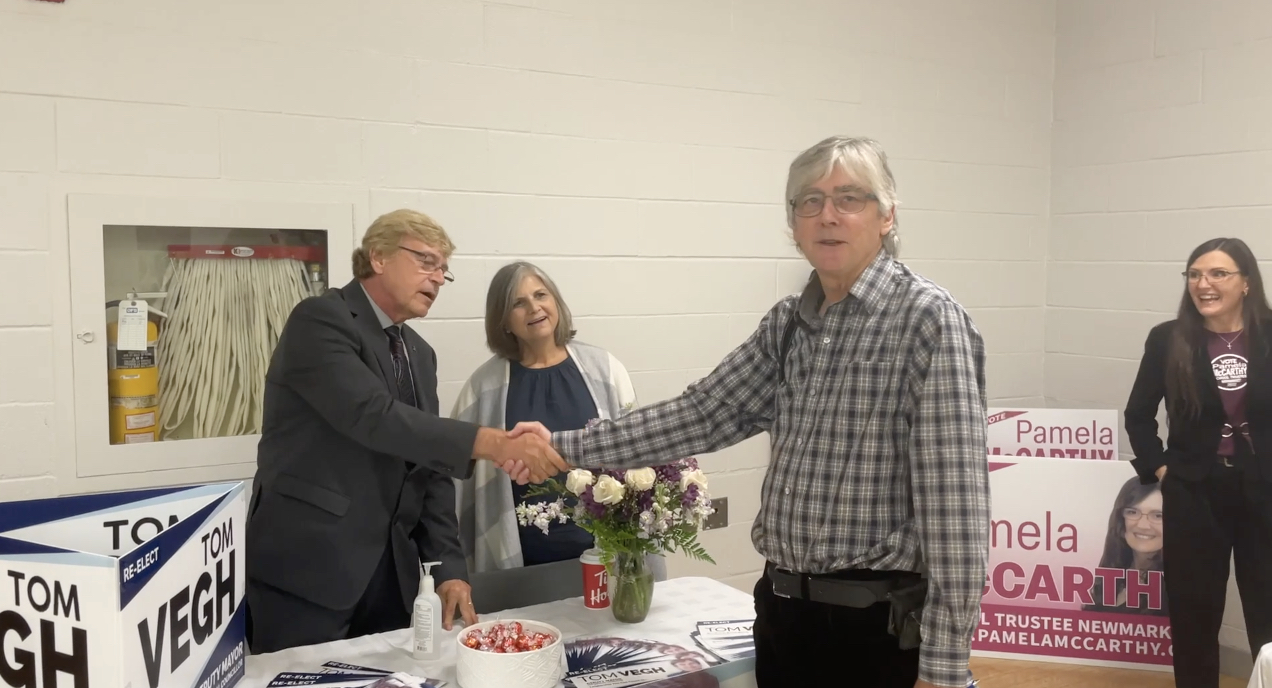 I wander across to Tom's table to shake his hand.
Me: "Tom, can I take a photograph of us shaking hands?"
Tom: "I'd rather not. I'd really rather not."
Me turning to the camera: "Did you capture that? I'd rather not"
Me: "I'll give you a second chance. Will you shake my hand?
(We shake hands)
Me to Tom: "That wasn't so bad, was it?"
As I walk away Tom sanitizes his hands.
Cowardly
In all my runs for public office I have never come across an opponent as cowardly as Tom Vegh.
Last night, when people asked him to participate in an election debate he said he would – but only if the Chamber of Commerce organised it. We know the Chamber will not do this. It has made its position clear. Vegh knows that.
But I have booked Newmarket Library on 6 and 11 October and it is still open to him to join me with a moderator (or Chair) of his own choosing. (I had to release the 4 October reservation when another Library user wanted the room and Vegh hadn't replied to me.)
Vegh is like a boxer who refuses to come out of his corner yet still expects to win. I've told him he can pick the referee. But I'd still like a contest.
Don't ask me. Read my flyer.
When asked if he is taking money from people in the development industry he refuses to give a direct answer. He waffles. Instead, he lets his new flyer speak for him.
"Deputy Mayor Vegh respects that residents would prefer that candidates not accept donations from anyone who may do business with the Town. His 2022 campaign will be self-financed and donations from anyone who may do business with the Town will not be accepted."
It looks like he is promising to cap his spend at $16,098 (the maximum he can spend using his own money) together with what he can coax from others who have no business with the Town.
In 2018 Vegh spent $8,590 on advertising; $25,358 on brochures and flyers and $11,472 on signs.
When he files his Financial Statement with the Town of Newmarket after the election he should know that I shall be going through it with a fine tooth comb.
I don't want to see any fancy dancing.
Voting at the Region
Vegh refuses to comment on his voting behaviour at York Regional Council which is where the big policy decisions are made. Vegh is not stupid.
He says his votes on development applications in Newmarket have all been:
"consistent with staff recommendations."
He cannot say the same thing about his votes on major planning policies at York Regional Council.
Vegh has­ voted contrary to staff recommendations.
And when the Town's Mayor, John Taylor, accused regional councillors of shooting from the hip, taking decisions without calling first for advice from the professional planning staff, Vegh sided with the pro-development lobby and against his own Mayor, opening up over 12 square miles of open countryside for development.
Vegh voted for the adoption of a flawed York Regional Plan. Taylor voted against.
Vegh dissembles. It's in his DNA.
You never get an honest answer to a simple question.
This email address is being protected from spambots. You need JavaScript enabled to view it.
Below: At my table talking to Kevin Moyle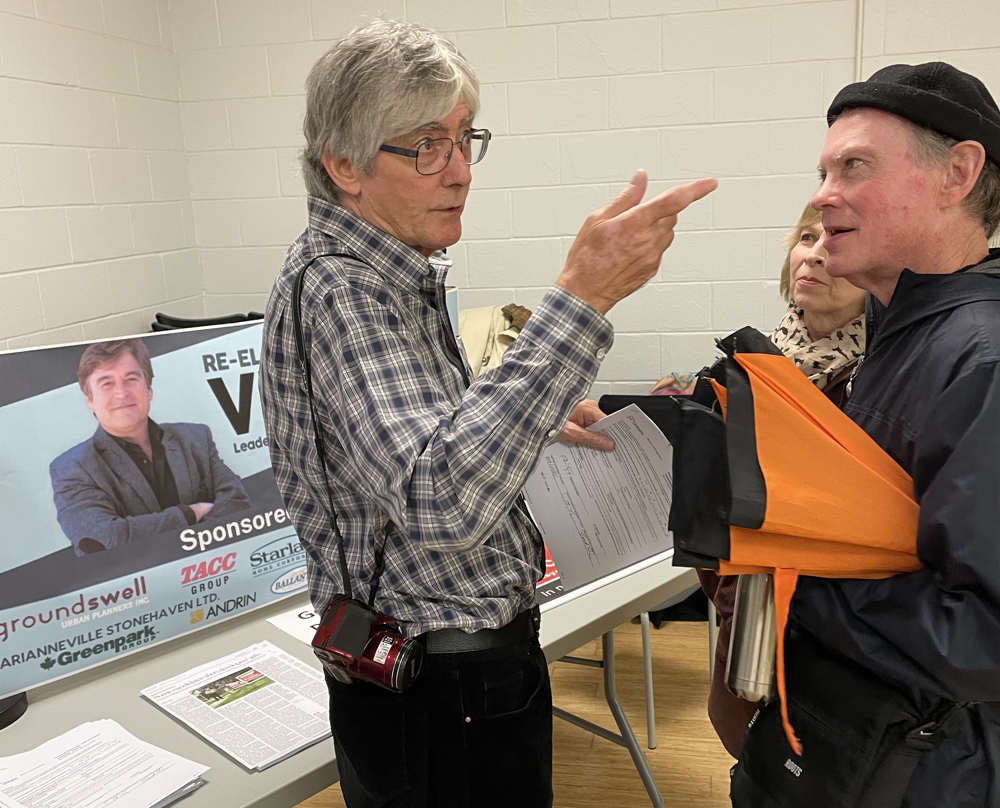 Details

Written by

Gordon Prentice
Tom Vegh now says that his election campaign will be self-financed and he will not be going cap in hand to developers as he did in 2018.
This is an important admission from the man who has for years obediently voted the way he is told.
Vegh also says donations from anyone who may do business with the Town will not be accepted.
How can he say these things with a clear conscience? He has been feeding at the trough for years.
His flyer below is deceitful and misleading. He talks about his votes on individual development applications at Newmarket. This is a red herring.
It is Vegh's usual artifice.
He studiously avoids talking about his voting record on York Regional Council where the big decisions are made. That's where he votes to open up land for development. That's where he does the damage.
Vegh should accept my invitation to debate. Just the two of us on a public platform, taking questions as they come.
But he won't do this. Because he is afraid of debating with me.
More to follow
This email address is being protected from spambots. You need JavaScript enabled to view it.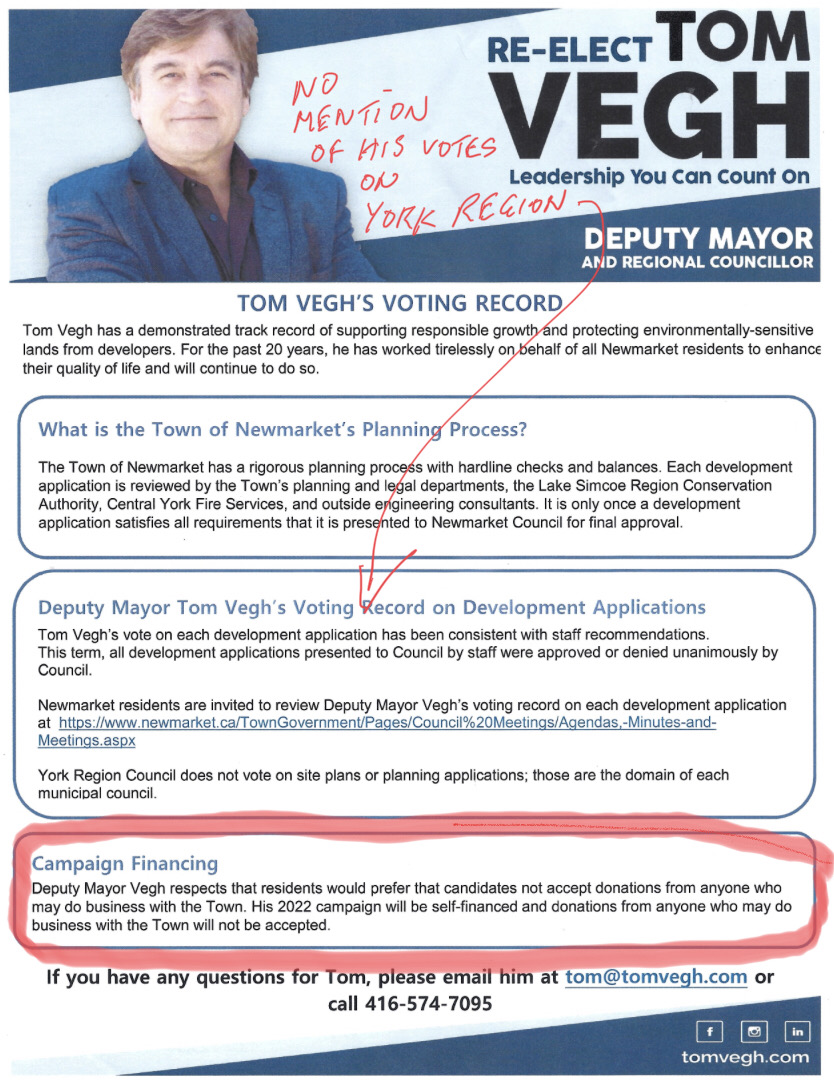 Details

Written by

Gordon Prentice
In 2009­­­ the UK was rocked by­­­­­ a gigantic scandal involving MPs' expense claims.
MPs from all Parties were caught up in it. Labour, Conservative, Liberal Democrat, Ulster Unionist, Sinn Fein, the Scottish National Party and others. Here is the full list from the BBC.
A number of people have asked about my Wikipedia entry which shows me repaying the House of Commons £2,620.
Back then, the House of Commons authorities made available an "Additional Costs Allowance" which was designed to offset the costs of having a second home. For most MPs this meant a place in London. But it was also possible to claim expenses for running a home in the riding – if that was the designated second home.

The rules were opaque and open to interpretation which explains why so many MPs were caught up in the scandal.
The Prime Minister at the time, Gordon Brown, who ordered the audit of expenses, repaid £12,888. A future Prime Minister, David Cameron, repaid £237. A former Leader of the Conservative Opposition, Michael Howard, repaid £7,039. Two Deputy Speakers of the House, Sir Alan Hazelhurst and Sir Michael Lord repaid £11,679 and £5,074 respectively. A future Commons Speaker, John Bercow, repaid £978.
Others who made claims passed the (then) rules of the House. The former Prime Minister, Tony Blair, claimed £6,990 for roof repairs to his constituency home.
The whole thing was a complete mess and when the press published details the entire country went into meltdown.
Those who made fraudulent claims were prosecuted and eight MPs and Peers were imprisoned.
It was at the time - and still is - a terrible blot on the reputation of the UK Parliament. But, since then, the rules have been clarified and made much more precise so there is no room for error.
Living through the expenses scandal obviously had an impact on me – and on the nation and the entire Parliamentary establishment.
As a result of its cauterising experience I am more than ever committed to total transparency - it benefits everyone. And for clear, detailed and precise rules when claiming public money.
Details

Written by

Gordon Prentice
The Chief Executive of the Newmarket Chamber of Commerce, Chris Emanuel, has confirmed that Tom Vegh will be at the "Meet and Greet" tomorrow so please come along with your questions.
Tom told the Toronto Star that only a handful of developers gave him money in 2018.
It is unlawful for Corporations to make donations to candidates running for municipal office but their top people can do so as individuals. Does Tom Vegh think this is OK?
His Financial Statement, submitted to the Town on 27 March 2019, shows he got money from Joanne Barnet (Glenway and 600 Stonehaven); from the Kerbels (who are everywhere); from Sam Reisman and Daniel Berholz from the Rose Corporation (the big rental building at 212 Davis Drive and the King George School on Park Avenue); from multiple people at the Urban Planning consultancy Groundswell including the wife of the Principal, Brad Rogers; from Paul Bailey of Basil Developments (Shining Hill in Newmarket); from Hashem Ghadaki and Saeid Aghaei of the Times Group; from Daniel Bell of Trinistar Corporation; from Michael Rice of the Rice Group; from Salvatore Balsamo and Gino Bellisario of Condor Properties; from Michael Galego, the Chief Executive of the Agricultural Division of the Stronach Group who is responsible for managing "agricultural assets". The list goes on.
I hope people will ask him to identify from his own Financial Statement (copies of which will be on my table) the developers who financed his 2018 campaign.
We also need a clear, definitive statement from Vegh on whether he is soliciting or accepting money in this campaign from people intimately connected with the development industry. And if not, why not?
I want to move on to other issues but Vegh has got to come clean first about who is bankrolling him.
Sign of the Times
Earlier today, I was putting up election signs across Town.
Just like 2018, the Tom Vegh signs are everwhere. Gorham was striking. There were Vegh signs stretching to the horizon – outside empty properties, outside houses being renovated. I decided to knock on doors to find out why people had Vegh signs on their property and it was a revelation. Some people had no recollection of ever being asked if a sign could go on their property. It just appeared.
In my own neck of the woods, Vegh signs are everywhere until I start to knock on doors and talk to people. Some ask me to take Vegh's sign down and replace it with my own. Others when asked say that Vegh never did anything for them but they agreed to put up one of his signs.
Every day for the rest of the campaign I shall make a point of knocking on the doors of people with Vegh signs and talk to them about the great man. What has he ever done for them? Why are they displaying his sign on their property? Today I found one person who spoke convincingly about Tom Vegh – he put up a sign because he had known him for years. Hardly a ringing endorsement.
I'd like Newmarket Today to come along with me as I knock on the doors of people supporting Tom Vegh. They could choose the neighbourhood.
I think it would be an education for them – as it was for me earlier today.
This email address is being protected from spambots. You need JavaScript enabled to view it.