Details

Written by

Gordon Prentice
This morning's Toronto Star paints a picture of Southlake Hospital in turmoil.
The report describes a "staffing crisis" where intensive care nurses plan to leave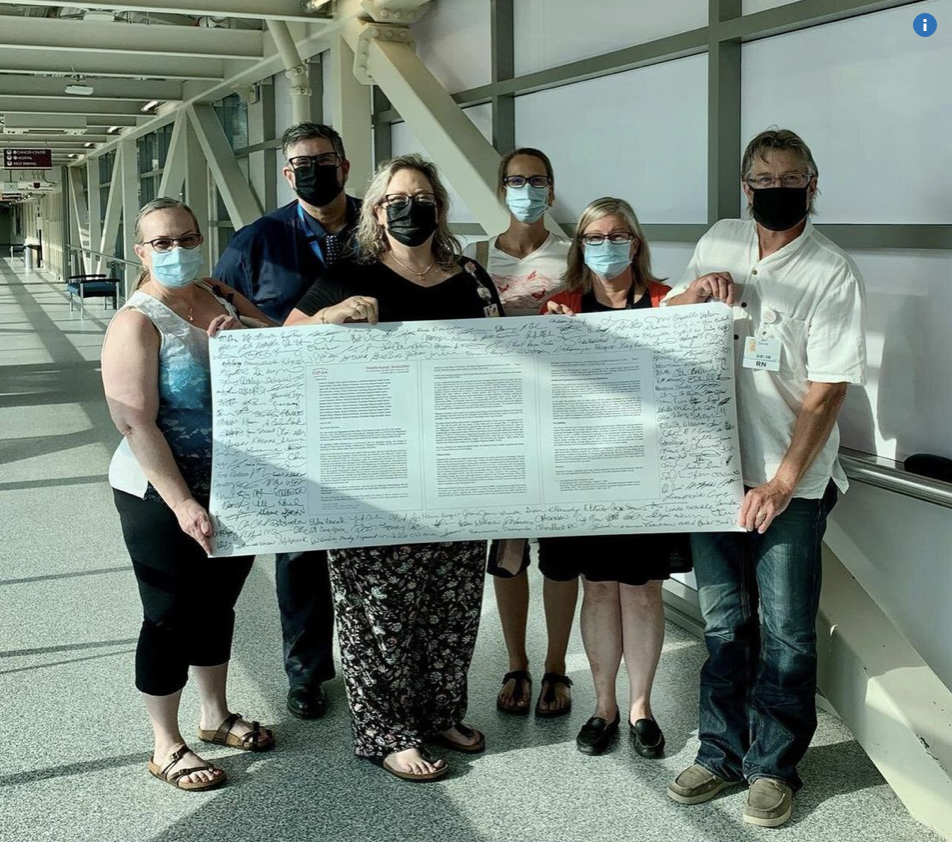 "if the hospital implements a team-based nursing model on a permanent basis".
The nurses say the team-based model is putting patients at risk. (Photo right: nurses with a copy of their letter of 12 July 2021 to the hospital board of directors)
Southlake Foundation's Annual Report, made available on-line yesterday, makes no mention of the staffing dispute triggered by the introduction of team-based nursing which
"involves partnering critical care nurses with non-critical care staff to treat critically ill patients."
Instead it says Southlake has redesigned processes and redeployed staff across the organisation.
The impression is given that Southlake is one big happy family. But, despite appearances, it looks to be a deeply divided organisation.
Some nurses may have refused to go along with the reorganisation. There have been nine involuntary lay-offs of Registered Nurses since September last year.
The Star's reporting tells us that Ontario went into the pandemic with the worst registered nurse-to-population ratio in the country. In Ontario in 2018 there were 669 registered nurses per 100,000 people. Across the rest of Canada there were 828 registered nurses per 100,000 people.
This email address is being protected from spambots. You need JavaScript enabled to view it.
From Southlake Foundation's 2020-21 Annual Report:

Update on 24 July 2020: From Newmarket Today: Shocked and Terrified
Details

Written by

Gordon Prentice
Figures released by Southlake Regional Medical Centre following a Freedom of Information request show nursing numbers falling alarmingly even as the hospital battled to contain the Covid pandemic.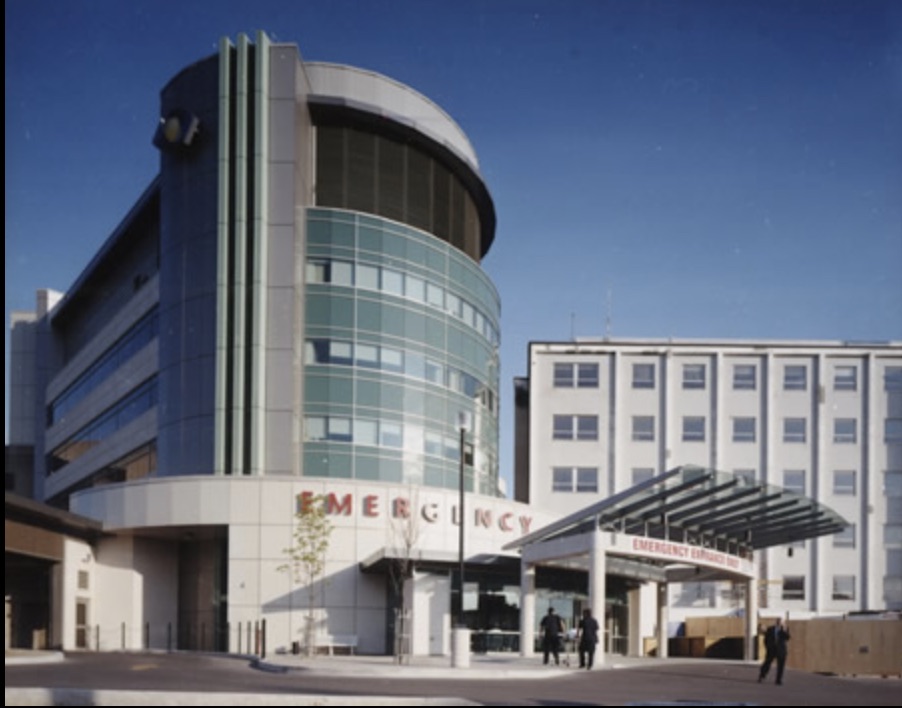 Last September Southlake said it would be eliminating 97 Registered Nurse positions because of "significant financial pressures". The hospital said it hoped to avoid "any frontline involuntary employment loss".
In fact, Southlake says nine Registered Nurses have received notices of termination of employment since 1 September 2020.
Nursing staff down 74
The new figures show that the number of Registered Nurses fell from 1,245 in September to 1,123 in May – a reduction of 122.
By contrast, the number of Registered Practical Nurses increased from 379 to 427 over the same period – up by 48.
Overall, the total number of nurses (Registered Nurses and Registered Practical Nurses) fell by 74 while the pandemic gripped the hospital's catchment area.
I am told the 1,123 Registered Nurses at Southlake on 1 May 2021 increased to 1,160 on 12 May 2021 suggesting 37 were recruited over that twelve-day period.
The New Southlake
Southlake is poised to launch a consultation on its Master Plan which includes proposals for a new hospital for acute patients on a new green field site. The consultation kicks off with an on-line Town Hall on 27 July in East Gwillimbury. Newmarket follows on 10 August.
The hospital has also launched a new website to make the case for a new hospital.
The Chief Executive, Arden Krystal, told Newmarket Today the website and the Town Halls will "enable people to learn about the Southlake Master Plan and to ask questions".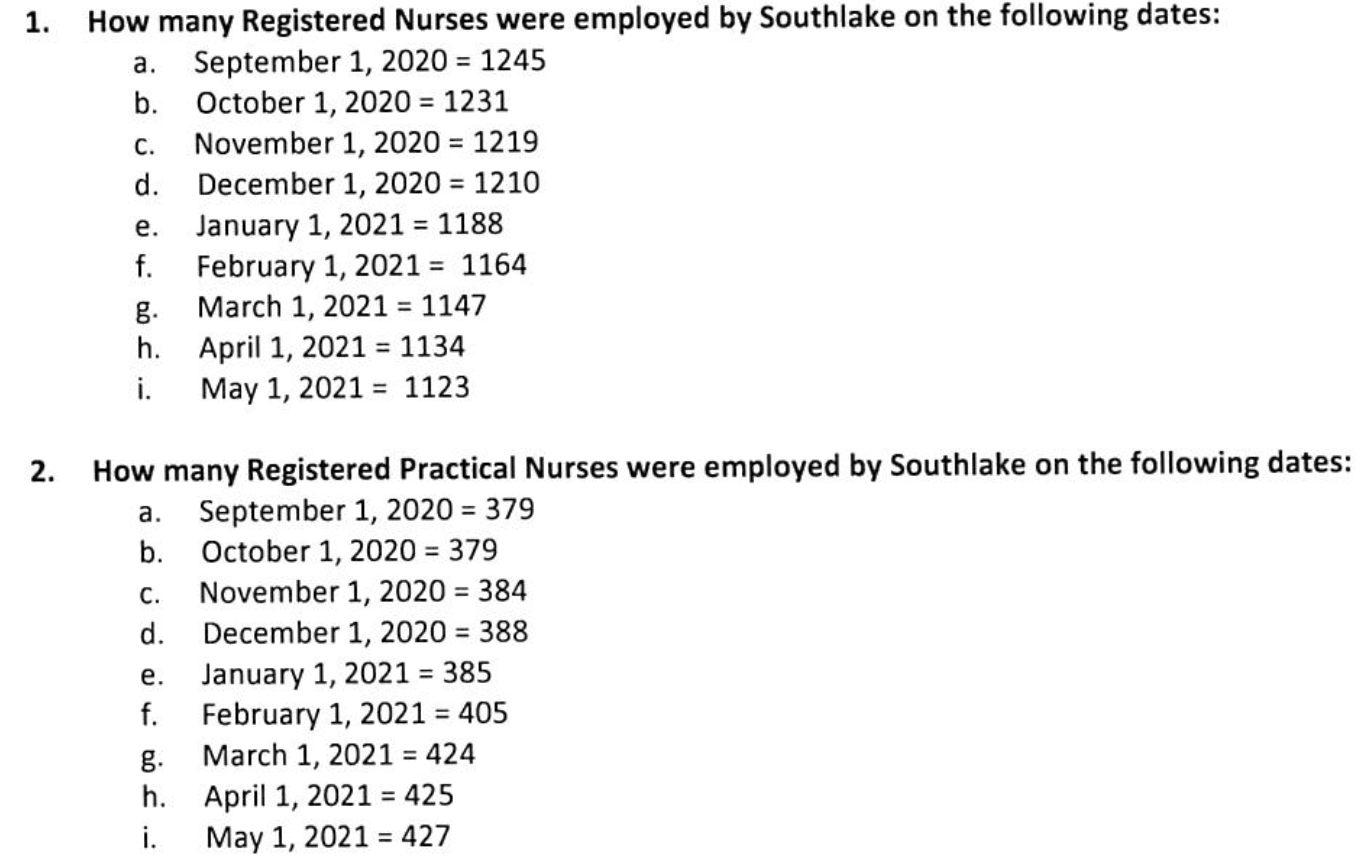 Unfortunately, what we have seen by way of background material is very, very thin, setting out aspirations but little in the way of detailed analysis.
Has Southlake identified a site for the proposed new hospital? This is the question on everyone's lips.
Pros and Cons
What are the pros and cons of splitting acute services from ambulatory care?
Are there examples where this has happened elsewhere? If so, what lessons can be learned?
Common sense tells me co-location of acute and non-acute services probably makes sense.
If it does, why not build an entirely new hospital elsewhere and sell-off the Davis Drive site?
We don't want to lose you
Personally, I would like to see Southlake stay in Newmarket. It is good for the Town to have a centre of medical excellence right here on our doorstep. And the Town has been encouraging (insofar as I know) the development of a cluster of medical and allied medical services around Southlake. I support that.
Southlake typically plays its cards very close to its chest. But on this one I hope they open up and let us into their thinking.
Southlake is in the Minister of Health's Newmarket-Aurora riding.
This email address is being protected from spambots. You need JavaScript enabled to view it.


Update on 23 July 2021: The Annual Report is now available to view.
What is the difference between a Registered Nurse and a Registered Practical Nurse?
Graphic below from the New Southlake website: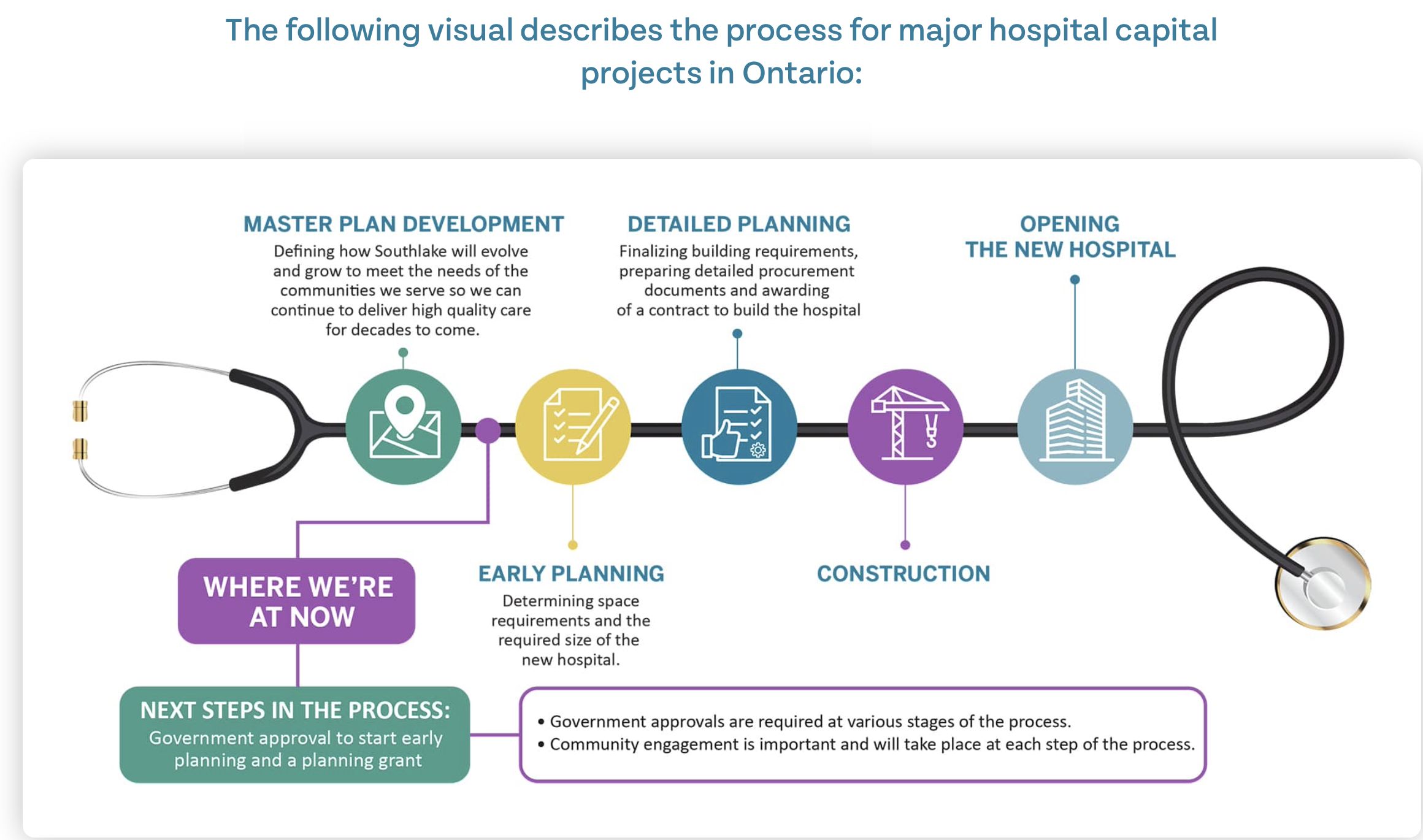 Details

Written by

Gordon Prentice
Background: Last September Southlake Hospital in Newmarket announced that it would be eliminating 97 Registered Nurse positions because of "significant financial pressures". The hospital said it hoped to avoid "any frontline involuntary employment loss".
So what happened?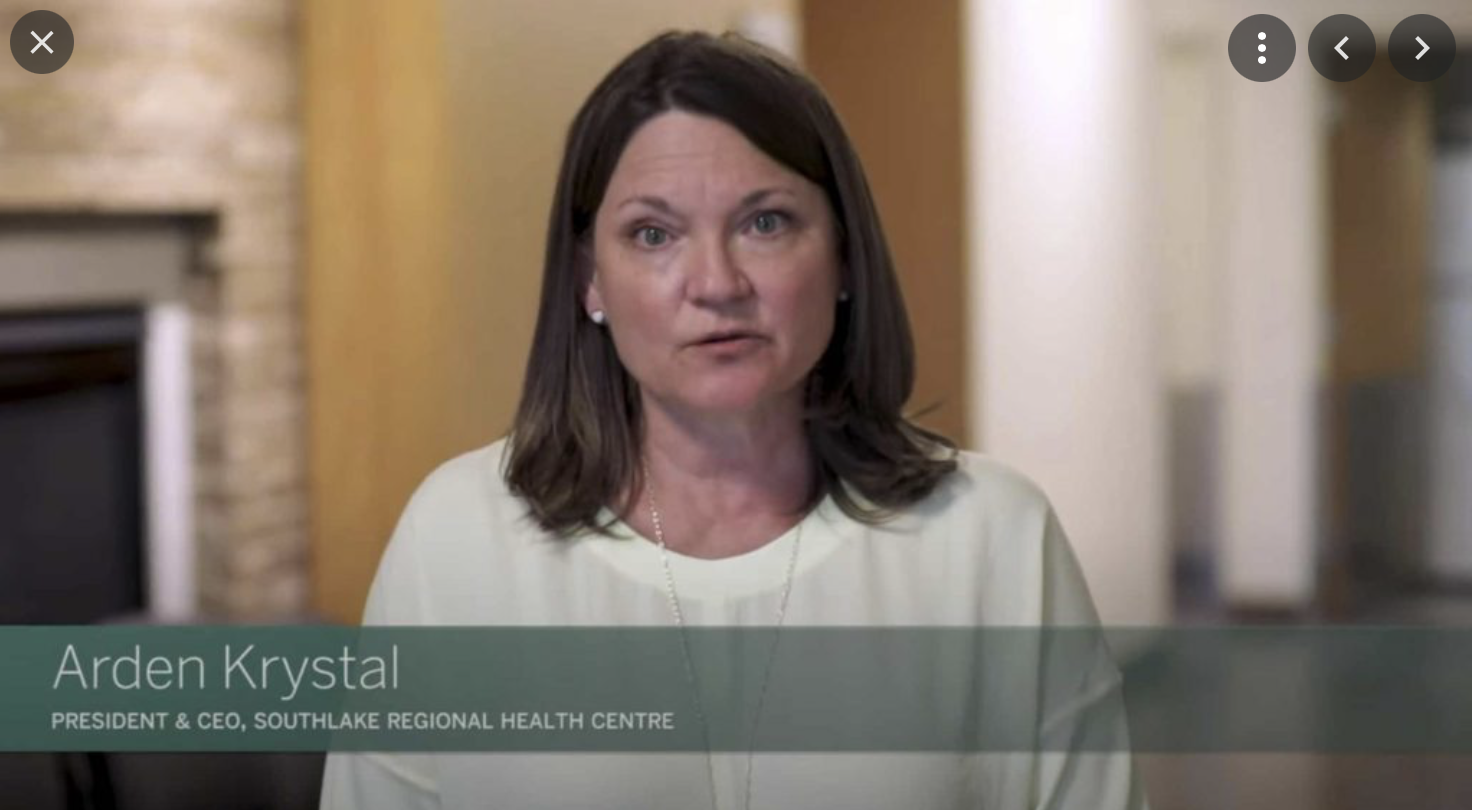 Southlake gets "one-off" bail out
Southlake Regional Medical Centre received an $18.5M one-off cash injection from the Province to help fund its day-to-day operations during 2020-21. The hospital has been in the front line, battling the Covid 19 pandemic.
Southlake's Annual General Meeting passed without fanfare on 23 June 2021when the Treasurer, Steve Hills, warned Board members that, despite the extra funding from the Ministry of Health, the hospital would be back in deficit next year.
Hills told Board members the Ministry funding was
"intended to help address working capital deficits accumulated in previous years. While this result is a positive step in addressing the structural financial challenges of the hospital, it was achieved largely off of one-time supports received in March 2021 and therefore does not represent a permanent solution. At this time, the Hospital is forecasting a deficit position for fiscal 2022."
"Not sustainable"
At last year's AGM on 17 June 2020 when he reported a deficit of $17,679,000 Hills said:
"The current financial position is not sustainable."
In his Treasurer's Report Hills says the Ministry of Health provided financial support throughout the pandemic.
"We were also fortunate to receive a combination of base and one-time operating funding and working capital support to assist with the ongoing financial challenges that pre-date and are unrelated to COVID."
"Team-based staffing"
The papers put before the Board last week make no mention of the cuts in the numbers of registered nurses other than the Treasurer's oblique reference to "team based staffing models".
Perhaps the hospital's Annual Report will shed some light on this but it has yet to be posted on their website.
While the hospital and its staff have worked heroically to protect us all from Covid, the pandemic has ensured things can never be quite the same. The hospital has to address increased wait-times arising from delays to treatments and postponed surgeries as well as dealing with
" expected challenges with health human resources as staff recover from an unprecedented year. These will be coupled with increased future demands for specialty staff as the health system tries to catch up for lost time.."
Burned out
Last year, Southlake's Chief Executive, Arden Krystal, told the House of Commons Health Committee that dealing with the pandemic meant cancelling operations.
Our hospital went down to 30% of our normal volume. We've modelled that for hip and knee replacements alone it could take us seven years to recoup the number of surgeries we would need to do if we don't work evenings, weekends and everything else. Of course, the problem with that is human resources. As one of my other colleagues mentioned, they are pretty burned out. To try to get them to work those extra hours, even if we were funded for it, would be very difficult…"
Which brings me back to where I started. What has happened to the plans to get rid of 97 Registered Nurse positions?
The Ontario Nurses Association tells me that 70 have received termination notices but none, as yet, has been laid off.
Newmarket-Aurora's MPP is the Minister of Health, Christine Elliott.
This email address is being protected from spambots. You need JavaScript enabled to view it.
Update on 3 July 2021: Below: Ontario Nurses' Association ad in this morning's Toronto Star and Globe and Mail: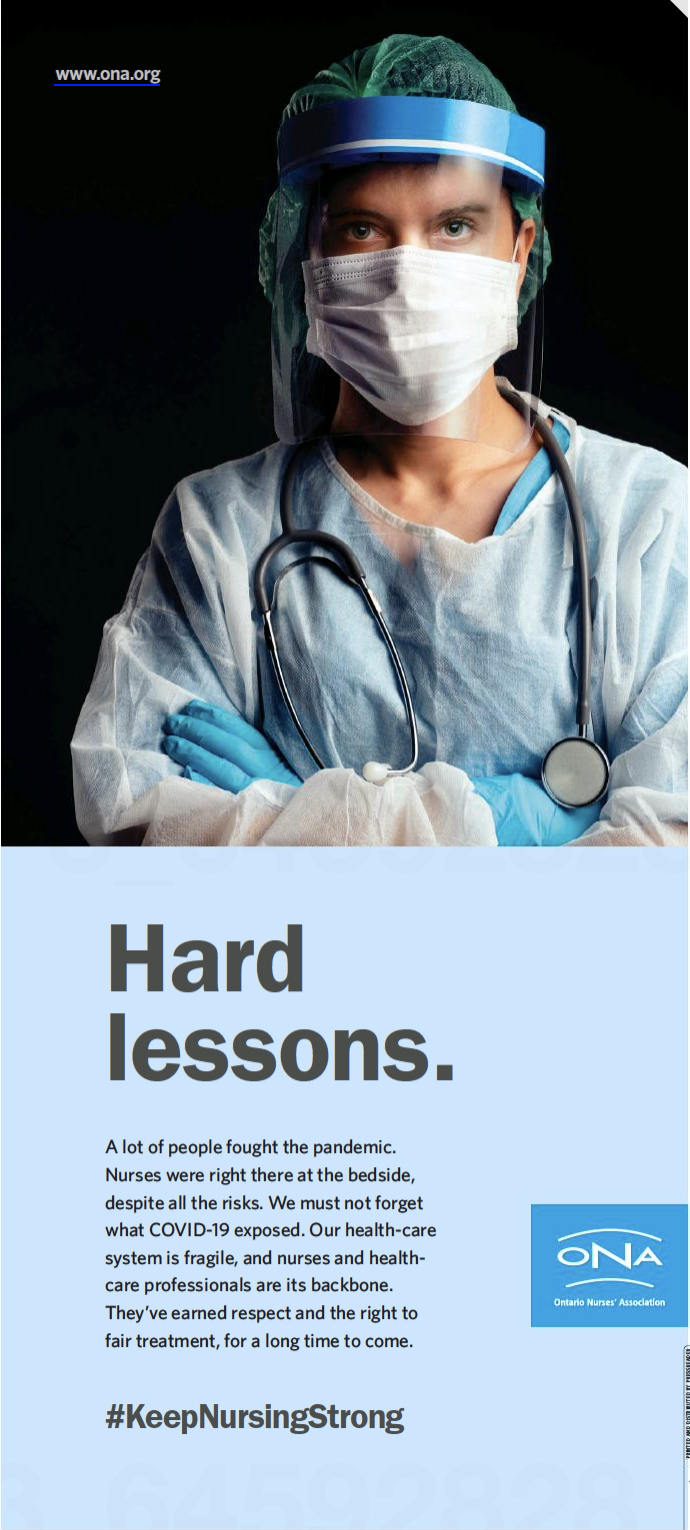 As a result of the pandemic, Southlake's Board suspended open board meetings from March 2020 and meets virtually. Last week's AGM – as with the year before - was also virtual with no public attendance. Click here to read the reports that went before the Board.

Details

Written by

Gordon Prentice
Toronto's Dundas Street is likely to be renamed.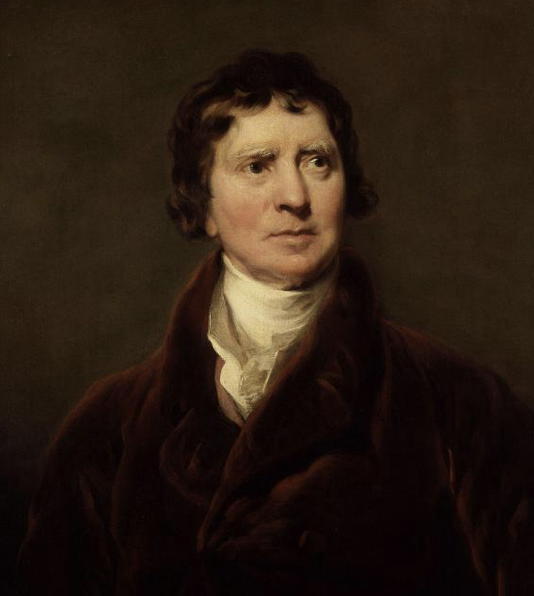 A staff report going up to the City Council's Executive Committee on 6 July is recommending a renaming of Dundas Street "and other civic assets" at a cost of $5.1M to $6.3M over two years.
This is absolutely the right thing to do.
A press release from the City Council explains:
"A petition calling for the renaming of Dundas Street was created in June 2020 following global discussions on racial injustices, inequality and anti-Black racism, which led the public to scrutinize the origins and history of monuments, street names, parks and buildings across Toronto. The petition objected to the street's namesake, Scottish politician Henry Dundas, who was involved in delaying the abolition of the Transatlantic Slave Trade, causing more than half a million Black people to be enslaved in the British Empire.
The recommendation to rename Dundas Street and other civic assets bearing the same name follows discovery sessions, extensive academic research and a review of over 400 global case studies, and furthers the City's commitment to anti-Black racism, Indigenous truth and reconciliation, as well as building a more inclusive and equitable Toronto."
We are told a transition plan would be developed to support Dundas Street residents and businesses to prepare for the name change.
Read background report here.
This email address is being protected from spambots. You need JavaScript enabled to view it.
Henry Dundas told the House of Commons on 2 April 1792 that it would be:
"impossible to emancipate the present slaves at once; nor would their immediate emancipation be of any immediate benefit to themselves; but this observation does not apply to any of their descendants if trained and educated in the manner I have suggested."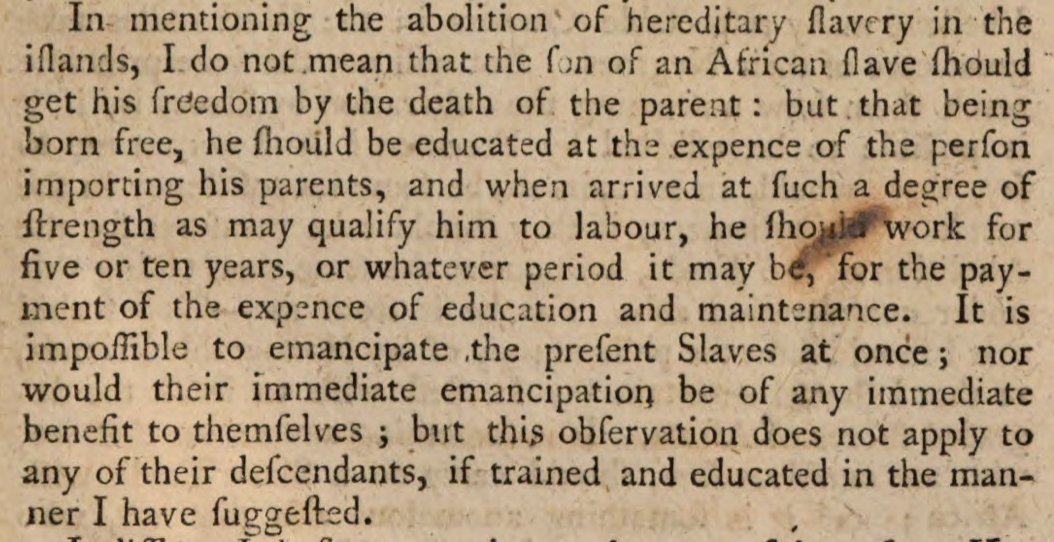 Update on 29 June 2021: from the Toronto Star: Will "Dundas" soon be history? And from the Globe and Mail: Toronto moves to rename Dundas Street over legacy of namesake
Update on 30 June 2021: Toronto Star Editorial: Farewell to Dundas Street
Update on 15 July 2021: from the Toronto Strar: Toronto Council votes to re-name Dundas Street
Details

Written by

Gordon Prentice
Did Dr Merillee Fullerton deserve to be re-shuffled out of her job as Ontario's Minister of Long-Term Care?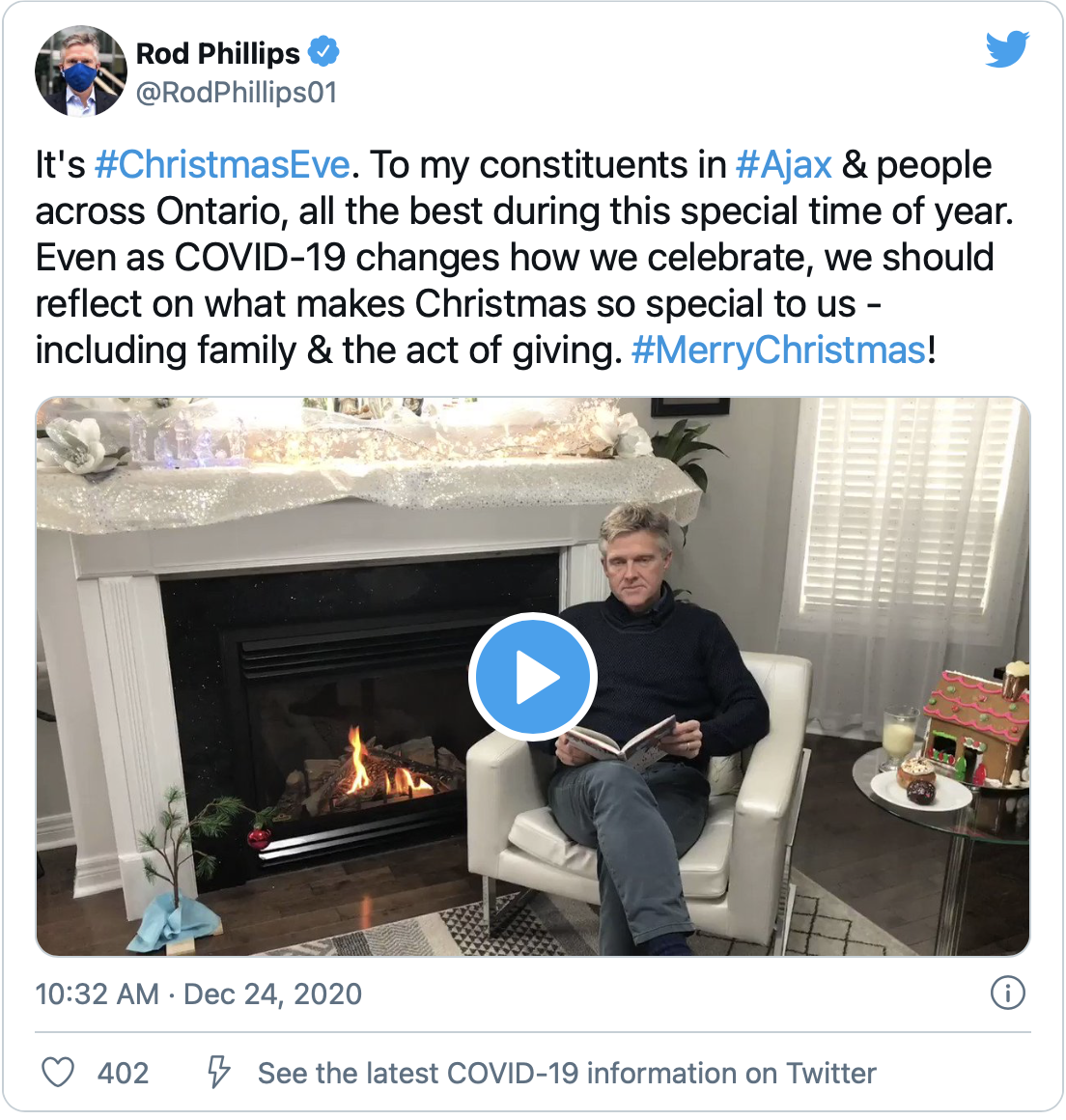 Covid was a catastrophe. But responsibility goes beyond the embattled Fullerton. She was dealt a bad hand.
(Photo right: Rod Phillips - the new Minister for Long Term Care)
By the end of April 2021 when the Covid 19 Long Term Care Commission reported, 11 staff and almost 4,000 residents in Ontario's long-term care homes had died.
The Commission's assessment is blunt:
"The Province's lack of pandemic preparedness and the poor state of the long-term care sector were apparent for many years to policymakers, advocates and anyone else who wished to see. Ontario's policy makers and leaders failed during those years to take sufficient action, despite repeated calls for reform…"
Fullerton inherited a new ministry spun out of the Ministry of Health in June 2019 just at the time when co-ordination and joined-up thinking was most needed.
Ford's Deputy Leader and Health Minister, the Teflon-coated Christine Elliott, couldn't wait to rid herself of responsibility for long term care. She wanted to concentrate on health restructuring where savings and efficiencies, real or imagined, could be made.
Distraction
Elliott's Newmarket-Aurora riding is in York Region whose retiring Medical Officer of Heath, Dr Karim Kurji, complained last year that the planned health reorganisation was a huge distraction at a time when the Region should have been focussing laser-like on the pandemic.
Fullerton gets the bad press but the person who should be carrying the can is Christine Elliott. Unlike Ford who, as Premier, is still learning on the job, Elliott has been steeped in health policy for decades.
Elliott spent years in opposition as the PC's Health Critic and when she left Queen's Park she accepted the offer from Kathleen Wynne of a well-paid job as Patient Ombudsman. But, reading the debates at Queen's Park, it is clear she was obsessed by inefficiencies (as she saw them) in the Health system.
Cuts in inspections
She figured there were savings to be made – such as the major reduction in the number of inspections in long term care homes. The regulatory assessment produced by the Ford Government viewed these inspections as red tape.
Elliott gave evidence to the Long Term Care Commission on 24 February this year confessing she was unaware that the World Health Organisation (WHO) had been warning in 2019 of a looming pandemic.
James Callaghan, Counsel for the Commission, told her public health experts around the world were forecasting that an influenza pandemic was statistically overdue and
"if the source is not the avian influenza virus currently circulating, which has the potential to evolve into a strain that could cause a pandemic in humans, it will be another as yet unknown virus".
He asks Elliott:
"I take it, as Minister of Health, you were aware that the World Health Organisation, for example, in 2019 was warning of the possibility of a pandemic and that governments weren't ready for it. Were you aware of that advice from the World Health Organisation?"
Elliott replies:
"No, I wasn't."
I shake my head.
Clueless
Elliott also didn't think about the masks and medical supplies that would be needed in care homes if and when a pandemic struck. Global supplies would tighten and it would be hard to get protective equipment.
"I wasn't aware of that issue to begin with, so I didn't think about the situation in Ontario."
Before June 2019 when long term care was hived-off, Elliott was Minister of both Health and Long Term Care. She was asked if she took any steps to ensure that the long-term care facilities under her control actually had the supplies that she, as the Minister responsible for emergency preparedness, would have expected. Elliott replies:
"That was not something that I looked into specifically."
Clearly, Elliott's focus was not on long term care. Her mind was on other things.
Duplicity comes naturally
So Fullerton is re-shuffled and her replacement is Rod Phillips – the ex-minister who was sacked by Ford for travelling to the luxury island of St Barts during the December holidays when we were all being told to stay at home and avoid unnecessary travel.
The duplicitous Phillips gives the impression he is here in Canada when he is actually relaxing on the beach in the Caribbean.
Welcome to Ontario's new Minister for Long Term Care.
This email address is being protected from spambots. You need JavaScript enabled to view it.
Ford's re-shuffle: the details
See also the Auditor General's Report on Long Term Care