Details

Written by

Gordon Prentice
The York Catholic District School Board simply doesn't learn.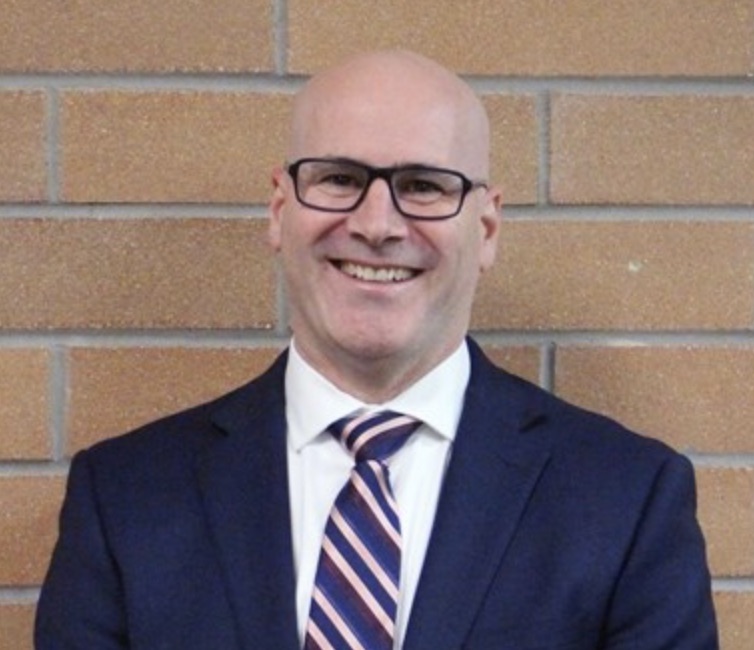 It keeps making the same mistakes over and over again.
More than a year ago, serious construction vibration from the Canadian Martyrs Elementary School in London Road, Newmarket caused damage to a number of adjacent properties (including my own) in Harrison Drive.
The Board decided it wasn't their problem and we ended up paying for the damage they caused.
On 30 October 2018 I took a deputation to the Board explaining what happened and what should be done. I recall standing at the lectern, addressing the Board, with a giant TV screen in my line of sight, counting down the seconds in the 10 minutes given to me to make my case. The Board listened politely, asked a few desultory questions and thought we would just go away.
There are no records
The Board tells me they have no records of the vibration incident. There are no records of a gas leak in the school car park. And they don't keep records of complaints.
This begs the question of how the Board - which is responsible for 85 elementary schools and 16 secondary schools employing more than 5,000 teachers serving 54,000 students – currently manages its records.
I wanted to see the Board's Records and Information Management Program Manual which sets out the criteria for file creation, retention and destruction. It provides guidance to the Board's staff.
Nine months ago I asked for sight of this Manual as it would help me make sense of the Board's statement that there are no records. Indeed, in a phone call from a senior member of staff I was told the gas leak had never occurred. And this was after I told her I talked to the firefighters and got the smell of gas.
Dysfunctional organisation
I knew then that I was dealing with a seriously dysfunctional organisation, unable and unwilling to do the right thing.
My Freedom of Information requests were subsequently ignored by the Board and I was forced to involve the Information and Privacy Commissioner of Ontario. The Board stirred itself.
The official Decision Letter of 8 October 2019 tells me:
"the Board's Records Management Manual has not been revised since 1997"
and that it is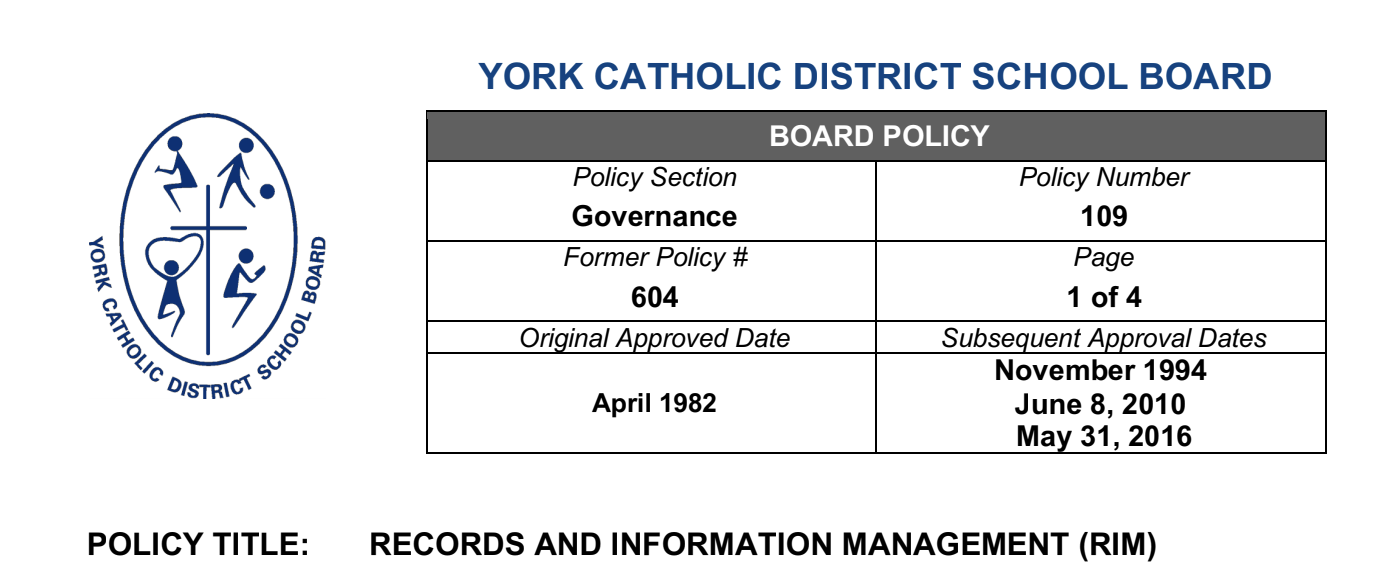 "obsolete"
Can this possibly be the case?
Wading through treacle
Dealing with the York Catholic District School Board is rather like wading through treacle. It takes a very, very long time to get anywhere.
On 14 October 2019 I wrote to the Director of Education, Ab Falconi, (above right) who, a year ago, advised the owners of the damaged properties to claim against their own insurers who would in turn claim against the contractor's insurer.
This proved to be a dead-end as insurance companies do not insure against the perils of earth movement.
I ask Mr Falconi:
"Has the Board amended and updated its policies and procedures to ensure this cannot happen in the future elsewhere on the YCDSB's very large estate? And if not, why not? Put simply, if property damage results from construction vibration who pays for the repair and reinstatement?"
I now ask about the Board's policy on records and information management. How does the Board organise and manage its records? In fact, the Board reviewed and approved its records and information management policy on 8 June 2010 and, most recently, on 31 May 2016. It says this:
"Records and Information, in electronic and paper formats, shall be maintained and retained in keeping with guidelines established by the Province of Ontario and as outlined in the Board's Records and Information Management Manual"
And that
"Staff shall be trained on their responsibilities as outlined in the Records and Information Management Manual."
I want to know how this is possible when the Manual was last revised in 1997 and is now deemed "obsolete".

The Records and Information Management Policy says this at paragraph 3.7:
"The Board's Records and Information Management Manual shall be updated in conjunction with any review of the Records and Information Management policy."
Obviously, this has not been done.
Getting nowhere
I don't know if or when I shall get a reply from Mr Falconi. I feel as though I could write to the Board for the next twelve months and get precisely nowhere. That is why I am involving the Ombudsman who investigates maladministration in public bodies.
Construction vibration is a big issue that impacts on a lot of people. That is why the Town of Newmarket recently brought in new procedures for vibration generated by new housing construction. But that's not enough. The Town will be considering before Christmas what, if anything, can be done to protect residents from other kinds of construction carried out by rogue organisations such as the York Catholic District School Board..
Clearly, a new by-law is needed.
This email address is being protected from spambots. You need JavaScript enabled to view it.
Details

Written by

Gordon Prentice
Newmarket-Aurora's new MP, Tony Van Bynen, has listed "preserving local heritage" as one of his priorities.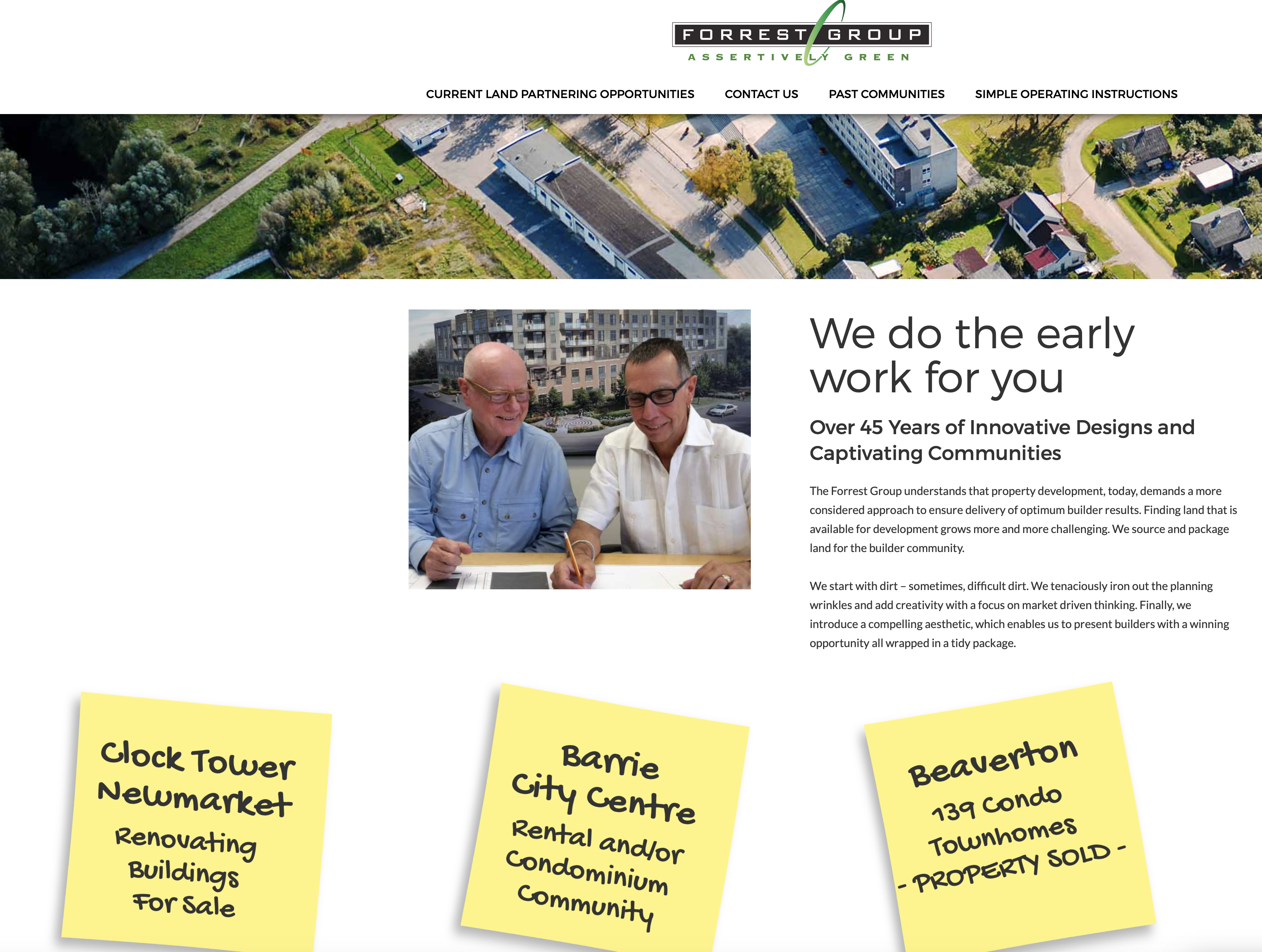 Under his watch as Mayor of Newmarket one of the Town's oldest properties dating from as early as 1811 was allowed to crumble and decay into a truly lamentable state. So it is reassuring to hear our new MP declare he is in favour of "preserving local heritage". This is a big deal.
In the spirit of the times and with the election now safely behind him I hope he will also share with us his views on the unlawful demolition of the protected heritage building at 184-186 Main Street South.
Prosecution
The President of the Newmarket Branch of the Architectural Conservancy of Ontario, Bill Wolske, yesterday told the Mayor and councillors that the ACO is
"strongly of the view that the owner, Main Street Clock Inc, should be prosecuted."
It is unclear if the Town has yet spoken to the developer, Bob Forrest, about the unauthorised demolition. Neither Forrest nor his Main Street Clock Inc. has made any kind of public statement about the unlawful destruction of a unique part of the Town's history.
There were signs early on that Forrest's preferred modus operandi was demolition by neglect.
Stop Work Orders stay in place
The Town has confirmed that Stop Work Orders remain in place on two of the buildings (184/186 and 188/190/192),
"as the Town continues its investigation".
This email address is being protected from spambots. You need JavaScript enabled to view it.
Details

Written by

Gordon Prentice
The 69 year old former Mayor of Newmarket, Tony Van Bynen, is our new MP.
It is an astonishing achievement for someone who was not even a member of the Liberal Party until a few months ago. It has been an amazing journey for Van Bynen who has eschewed partisan Party politics for his entire adult life - until now.
It will be fascinating to see how he makes his mark in Ottawa. And the issues he chooses to champion.
The Liberal share of the vote dropped from 45.2% in 2015 to 42.9% yesterday but it was enough.
The Conservative share of the vote collapsed from 42.6% in 2015 to 38.2% yesterday. Lois Brown never set the stage on fire. The Conservatives were the night's big losers, unable to reach out beyond their traditional supporters.
The percentage share for the NDP increased from 8.5% to 10.6%. And the Green share more than doubled from 2.4% to 5.7%. They both ran good, positive campaigns.
But, after this spectacular result, all eyes are now on Tony Van Bynen - Newmarket's new voice in Ottawa.
And we have a new minority Liberal Government with support from 33.1% of Canadian voters - the lowest share of the popular vote in modern Canadian history.
This email address is being protected from spambots. You need JavaScript enabled to view it.
This is how the national result was reported to Guardian readers in the UK. And here is the Toronto Star's ever perceptive Chantel Hebert.
Below, from Elections Canada, the result of the Federal election on 21 October 2019 and the previous one in 2015.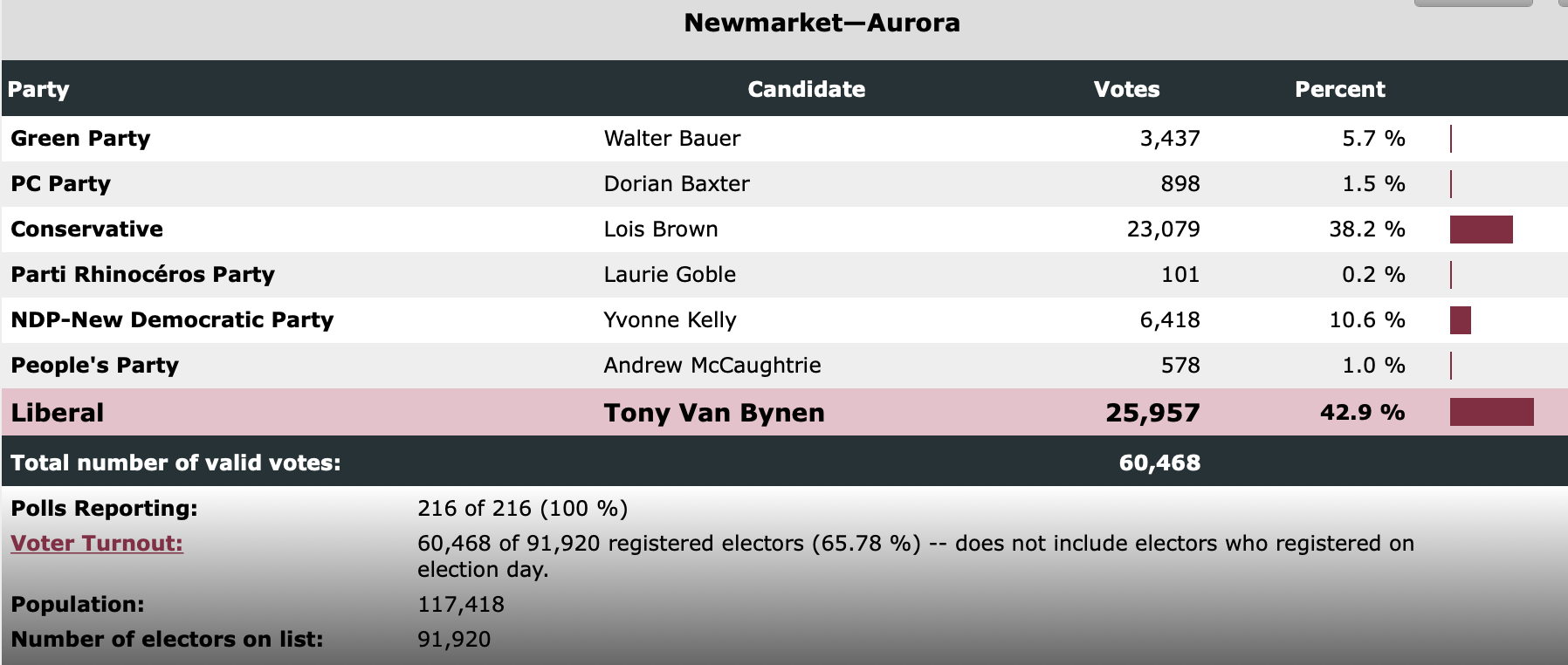 Details

Written by

Gordon Prentice
The Town deserves a big round of applause for acquiring Mulock Farm, the Newmarket home of the politician, lawyer and polymath Sir William Mulock.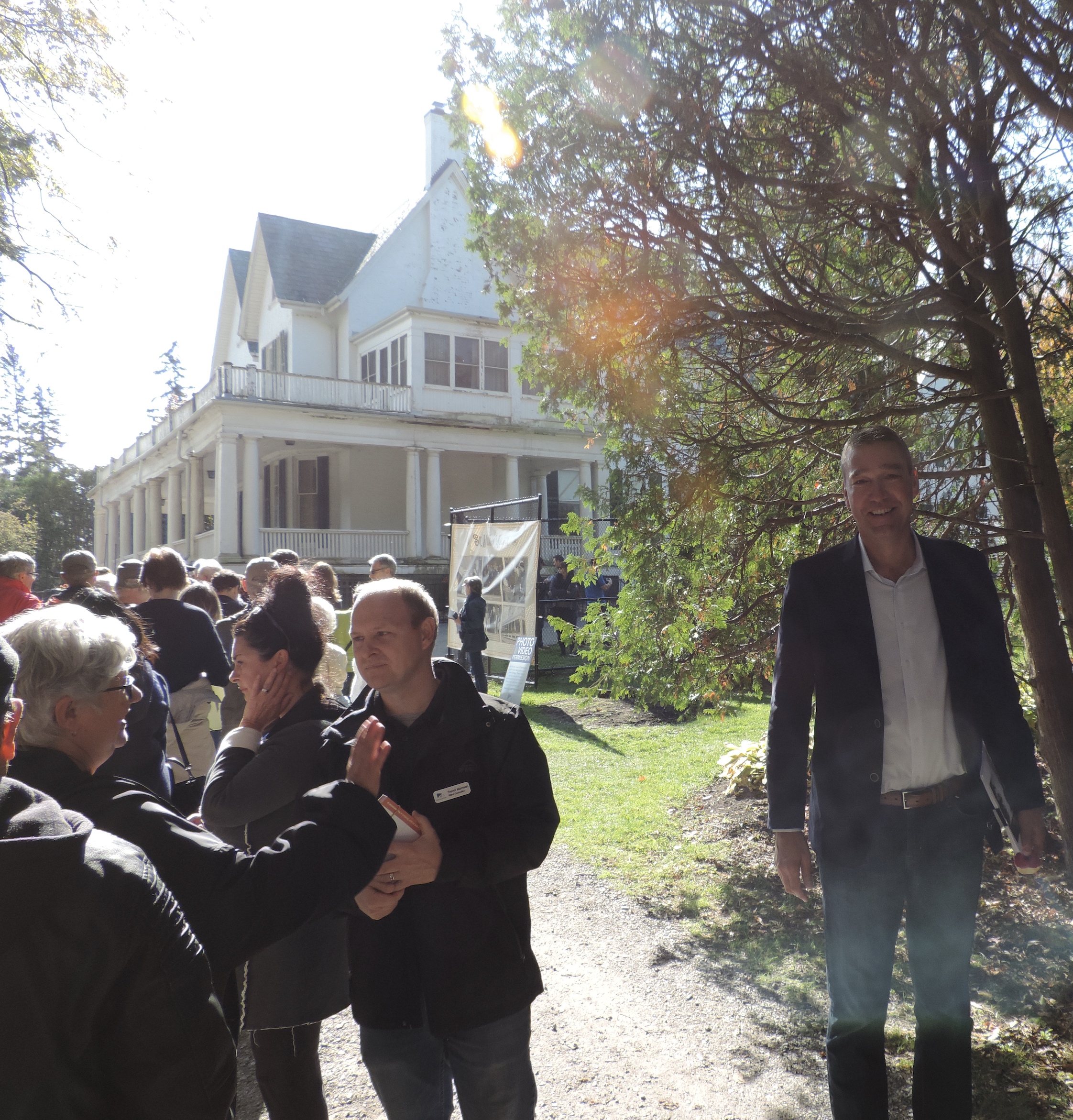 Yesterday, in bright Fall sunshine, there was an open-house where members of the public could see the impressive old house up close for the first time.
Mayor John Taylor and his councillor colleagues are out in force eager to tell us all about the history of the house and what it may become in future. We are given postcards to fill in with our thoughts. (Photo right shows the Mayor and Ward 4 councillor, Trevor Morrison)
The house will be closed now for a few years while it is repaired, restored and brought up to code. It looks impressive - even when empty and dowdy.
Old houses have stories to tell
There was, of course, a huge debate last year on whether the Town should acquire the property for $24M.
This tweet from local political commentator, Darryl Wolk, on 3 May 2018 probably summed up the views of many.
I am surprised the proposed "Mulock Central Park" has not gotten more attention in @townofnewmarket. Taxpayers misled on the biggest proposed tax increase in our history. Residents can expect to be hit with costs of at least $100 per year for the next 30 years. Sell the land!
To his credit, the then candidate for Mayor, John Taylor, made the acquisition of Mulock Farm an election issue – and won hands down.
Last year I wrote a short piece for the Architectural Conservancy of Ontario's magazine, Acorn, on Newmarket's Ghost Canal and Sir William Mulock's role in the controversial (and ultimately doomed) project. You can read it here at page 22.
This email address is being protected from spambots. You need JavaScript enabled to view it.
Update: And this is how Newmarket Today covered the Open Day.
Below: The sitting room at Mulock House.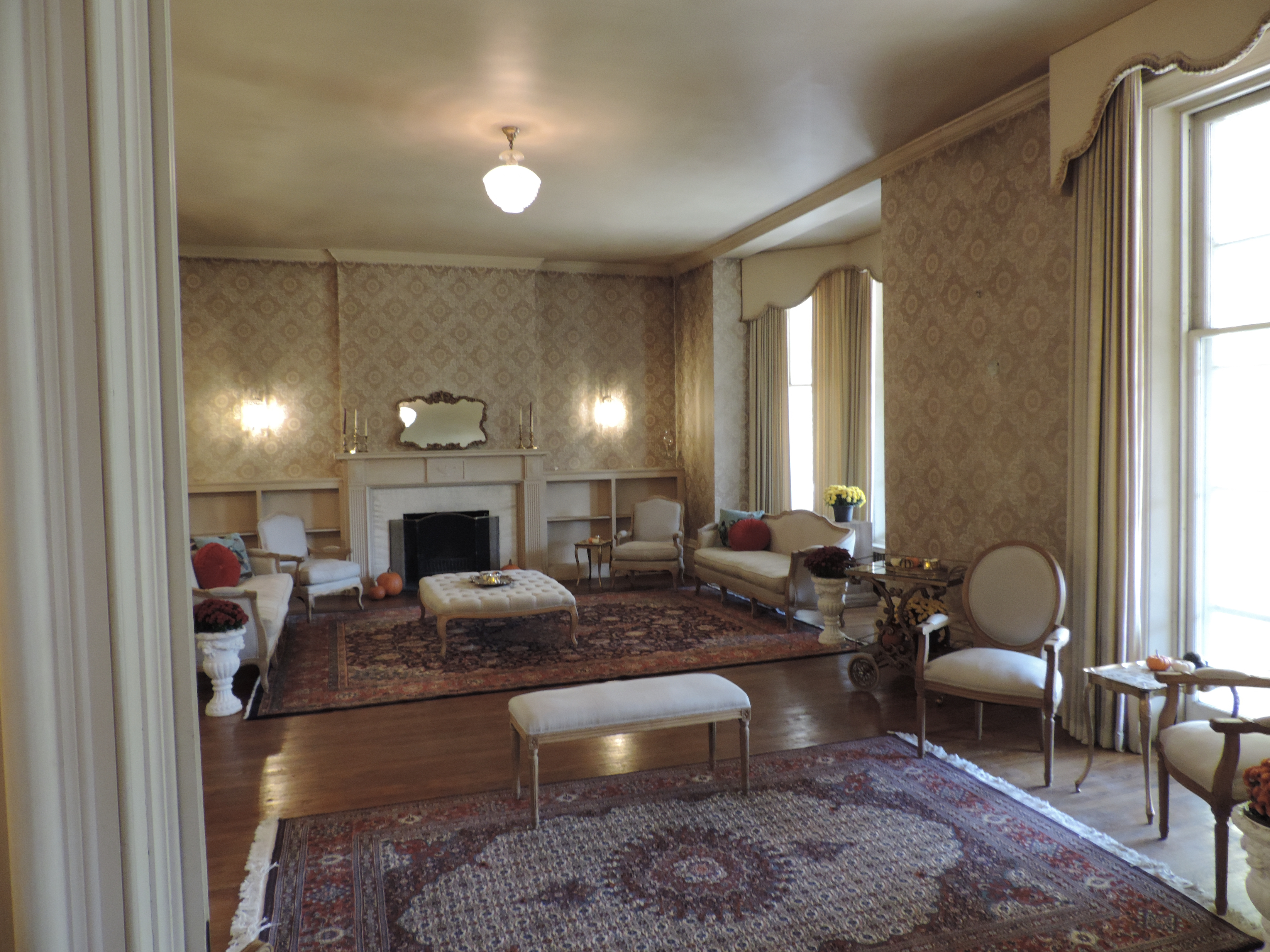 Details

Written by

Gordon Prentice
The latest projection from 338canada.com shows a dramatic narrowing of the election race in Newmarket-Aurora.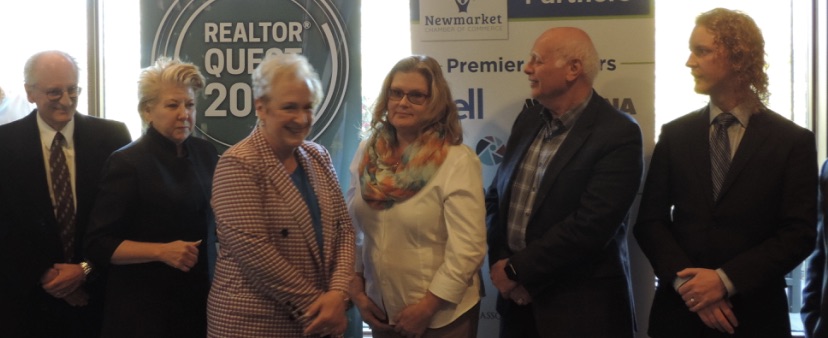 The Liberals coming from behind have now overtaken the Conservatives as likely winners The odds of winning are 51% to 49%.
I find this fanciful for the following reasons:
1. A dramatic increase in the Liberal vote could only happen if the Green and NDP vote collapses and migrates to Van Bynen.
2. There are no signs of a collapse in the NDP vote. On the contrary, support seems to be hardening. The projected Green vote is barely eroding. Both the NDP and the Greens have excellent, knowledgeable candidates who more than held their own against the others from the two main parties.
3. Today's CBC Poll Tracker tells us what we already know. The chances of a Conservative majority in the new House of Commons are negligible. The CBC puts the probability at a vanishingly slim 1%.
4. It follows that here in Newmarket-Aurora there is no need to vote Liberal "to keep the Conservatives out".
Hung Parliament
The Conservatives are not going to get a majority of seats in the House of Commons - barring the most extraordinary turn of events unforeseen by any of the polling organizations.
My advice is to vote for the candidate who is aligned most closely with your own views.
If Tony Van Bynen - a Liberal of only a few month's standing - ticks all your boxes then vote for him.
Likewise, if Lois Brown is your idea of the future then vote for her.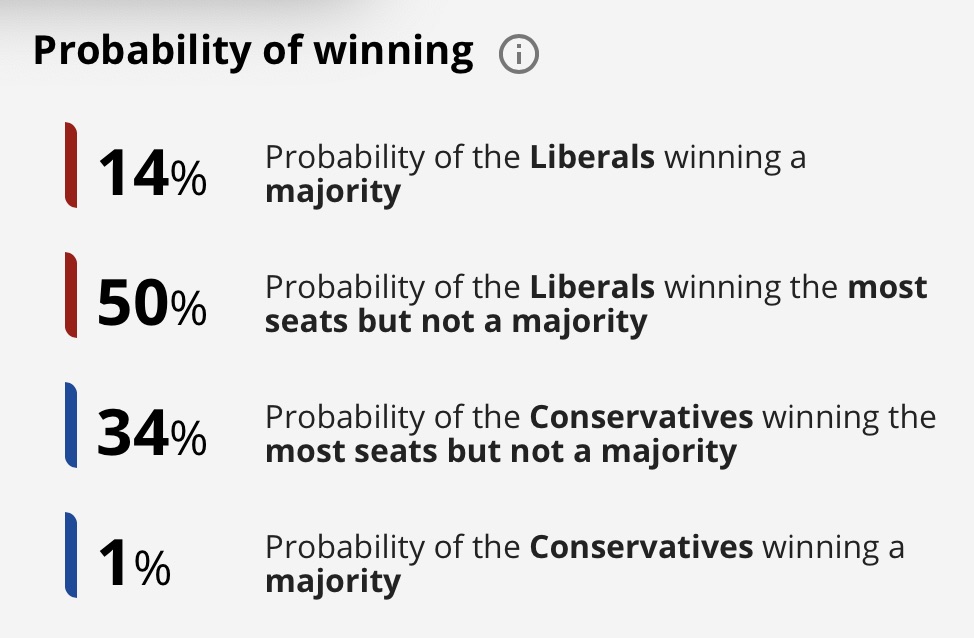 Neither the NDP nor the Greens are going to win here but the election is your chance to make your voice heard by registering your firm preference. A strong showing for a Party which doesn't come top of the poll can, paradoxically, still make the weather.
Of course, if the old banker wins - against all my expectations - then we must bend the knee before the will of the people.
We live to fight another day.
As it happens, late last night an email comes winging in from a long-standing Newmarket resident whose views I respect (though generally disagree with).
Grass roots
He tells me Van Bynen will win Monday's election because of his "grass roots" and:
"he knows how to campaign and is better organized than Lois"
Personally, I think that is a load of old tosh. In my day, candidates for Parliament never went out canvassing on their own. The optics are not good. Better to be surrounded by a happy and enthusiastic team of people than be seen shuffling along the road like a lost soul.
A few days ago I spotted the old banker out on his own and without supervision in Lorne Avenue, draped in his new favourite colour red, looking forlornly at his clip-board, wishing it were a balance sheet.
Tony Van Bynen MP
Anyway, the email made me think about having Tony as my MP. Until earlier today I never considered it a remote possibility.
It would certainly make a difference to my life - and to his.
I would be following his contributions in the Chamber of the House of Commons and in Committee, eager to hear his views on the big issues of the day. For most people that would be worse than a dose of anthrax but I like that kind of stuff.
Value for money
I'd also be interested in what else he gets up to in Ottawa, keen to know if we are getting value for money from our new MP or whether he will spend the next four years just gliding into his third retirement.
Will he still block me from viewing his Tweets when he is my MP?
Will I be able to get an appointment to meet him to discuss whatever may be on my mind?
But all that is for the future.
Main Street Demolition
For the moment I have more pressing things to think about. I don't know if Tony has expressed a view on the unlawful demolition of the protected heritage building at 184-186 Main Street South by his friend Bob Forrest. I hope so. Before he became a Liberal he told us repeatedly that Newmarket's Main Street was voted the best in Canada.
And now he is just silent. Like the old days.
Van Trappist redux.
This email address is being protected from spambots. You need JavaScript enabled to view it.
Update on 20 October 2019: in its latest projection today 338canada.com puts the Conservatives back in front in Newmarket-Aurora with a 58% chance of winning against the Liberals 42%.
Photo above right shows the candidates at the Newmarket Chamber of Commerce breakfast debate on 8 October 2019. From left to right: Walter Bauer (Green); Lois Brown (Conservative); Debate Moderator; Yvonne Kelly (NDP); Tony Van Bynen (Liberals) and Andrew McCaughtrie (People's Party of Canada).
What happened last time:

Photo below: From the Comic Store, Main Street South, Newmarket.