Details

Written by

Gordon Prentice
What personal qualities do you associate with Tom Vegh?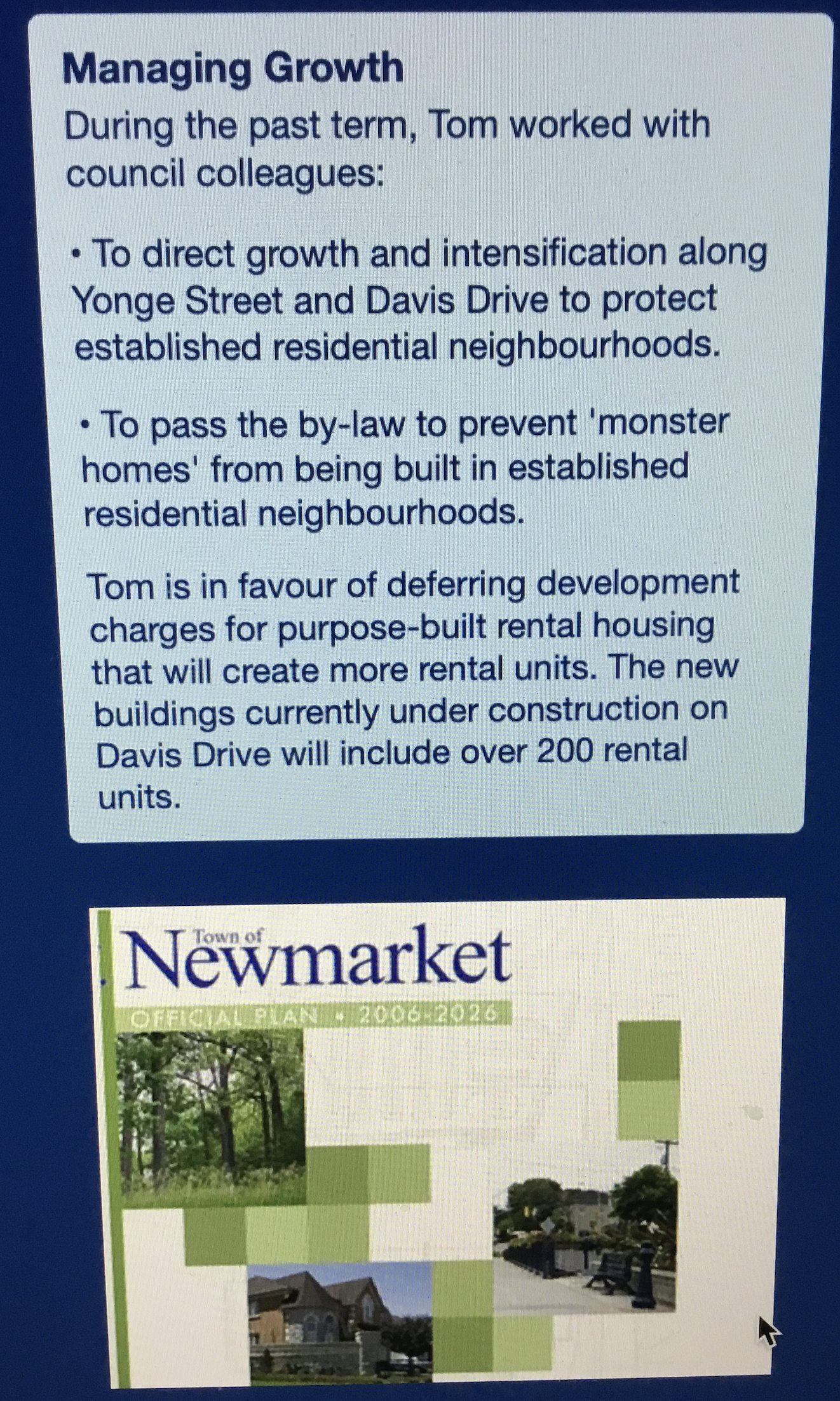 Personally, I think he is devious, reckless, dishonest and manipulative.
But I may be misjudging the man. I am only going on his record.
I am waiting with keen anticipation for the publication by Newmarket Today of his "candidate's questionnaire". After all, advance voting begins in six days time.
I returned mine some time ago.
Top four qualities
The paper asks:
What are the top four qualities required to be an effective municipal representative?
And they want to know if candidates will accept money from developers.
That's a tricky one for Tom given he was bankrolled by them in 2018.
Vegh has yet to return the questionnaire but there is no deadline. The paper asks only for a completed response prior to the October 24 election:
"which would be published in order when received."
The same formulation was used by the Toronto Society of Architects and Vegh found no difficulty in returning his questionnaire with boilerplate answers.
Visit TomVegh.com
I recommend all voters visit Tom Vegh's website. It tells you everything you need to know about our Deputy Mayor and Regional Councillor.
The website is impressive. It's well designed and probably cost a fortune. It reaches out and grabs your attention. Here is a man comfortable speaking to crowds. A man of action. Leading. Directing. Pointing. Charting the way forward.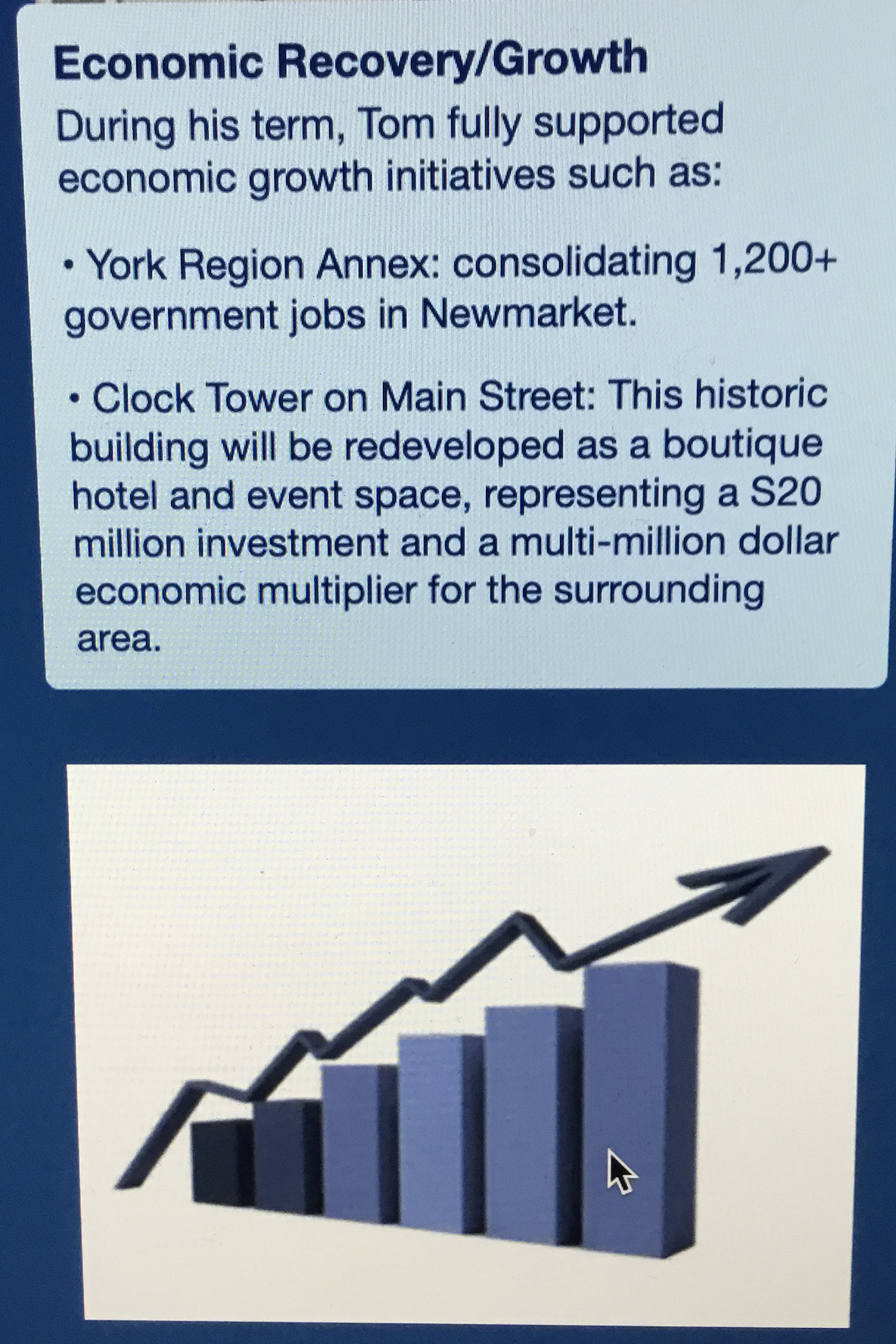 "Leadership you can count on."
What hokum!
But dig a little deeper. Have a look at the section: "Working for you"
Click on the tab "Managing Growth" and there is nothing at all about his votes at York Region to pave over the countryside. Nothing about his votes to convert prime agricultural land to other uses.
He says he passed the by-law to prevent "monster homes" from being built in established stable residential neighbourhoods. I pressed the council to act on the issue (he said modestly). And I was grateful they picked up the ball and ran with it.
Claiming Credit
Now click on the tab: Economic Recovery/Growth
He claims credit for the Clock Tower on Main Street and bringing the Postmark Hotel into the historic downtown:
"This historic building will be redeveloped as a boutique hotel and event space, representing a $20 million investment and multi-million dollar economic multiplier for the surrounding area."
What was Vegh's role in getting the Postmark Hotel into Town? Was he instrumental? Was he the deal-maker? I want to know.
I could write a book about the battle to save our historic downtown from developers and Tom Vegh wouldn't rate a mention.
He was a spectator throughout.
Tom! Just stop talking about the Library!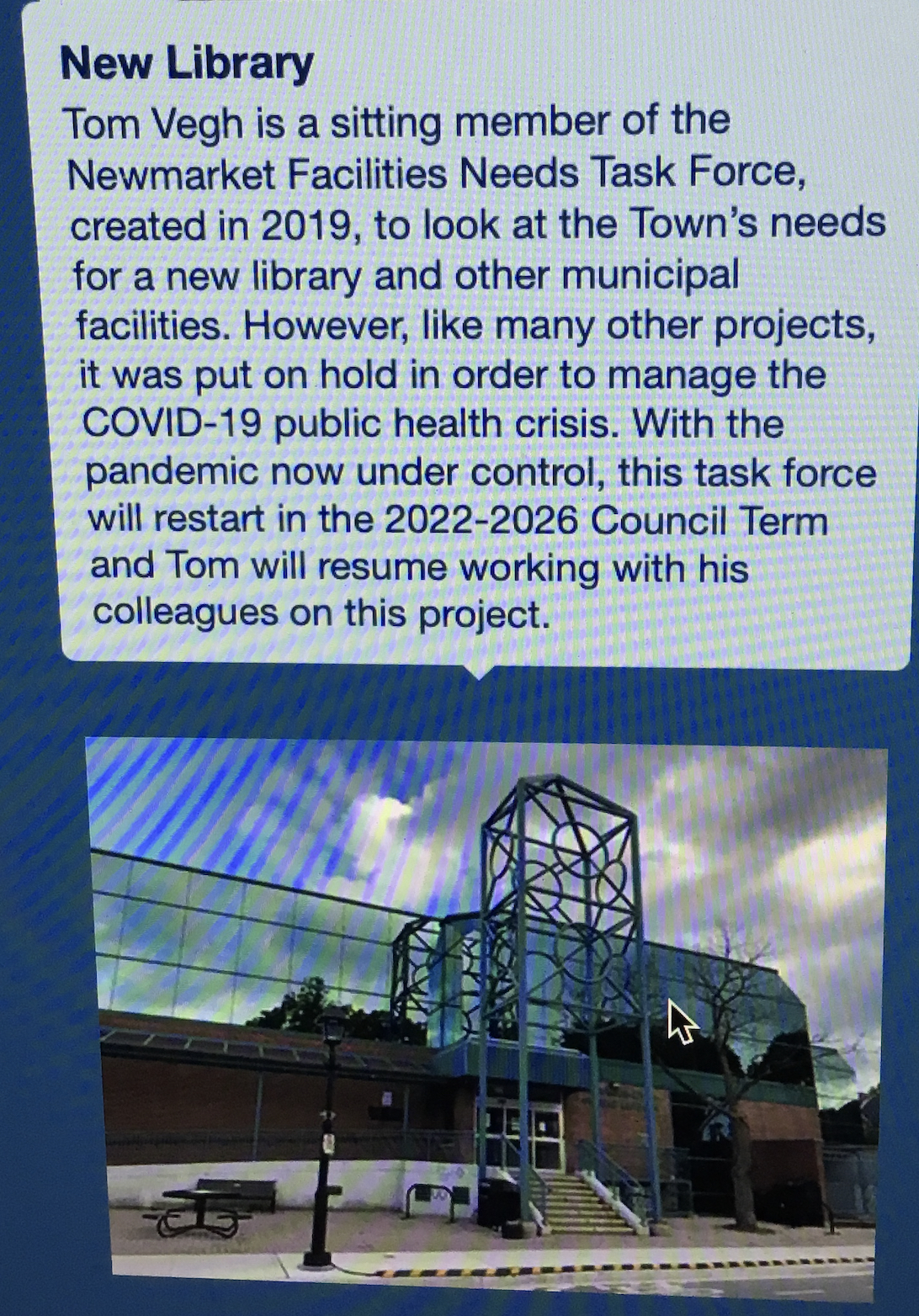 Now click on the tab: New Library.
"Tom Vegh is a sitting member of the Newmarket Facilities Needs Task Force, created in 2019, to look at the Town's needs for a new library and other municipal facilities. However, like many other projects, it was put on hold in order to manage the COVID-19 public health crisis, this task force will re-start in the 2022-2026 Council Term and Tom will resume working with his colleagues on this project."
Complete tripe. Work on the library was put on the backburner after the 2018 election and Vegh was content to leave it there.
Covid came to Canada on 25 January 2020.
I discover that Vegh is asking for donations and the money will be picked up! How quaint.
"Your Donation Can Help. Donate to the Tom Vegh Re-election Campaign by using the form below to make arrangements for your donation to be picked up."
Maybe that's how he got the money from his developer friends in 2018. By picking it up in brown paper envelopes in wads of $50 bills.
I discover another delicious irony.
His website tells us Tom Vegh is Vice Chair of the Town's Audit Committee.
You really couldn't make it up.
Gordon Prentice 9 October 2022
Below. Retrieved on Sunday 9 October 2022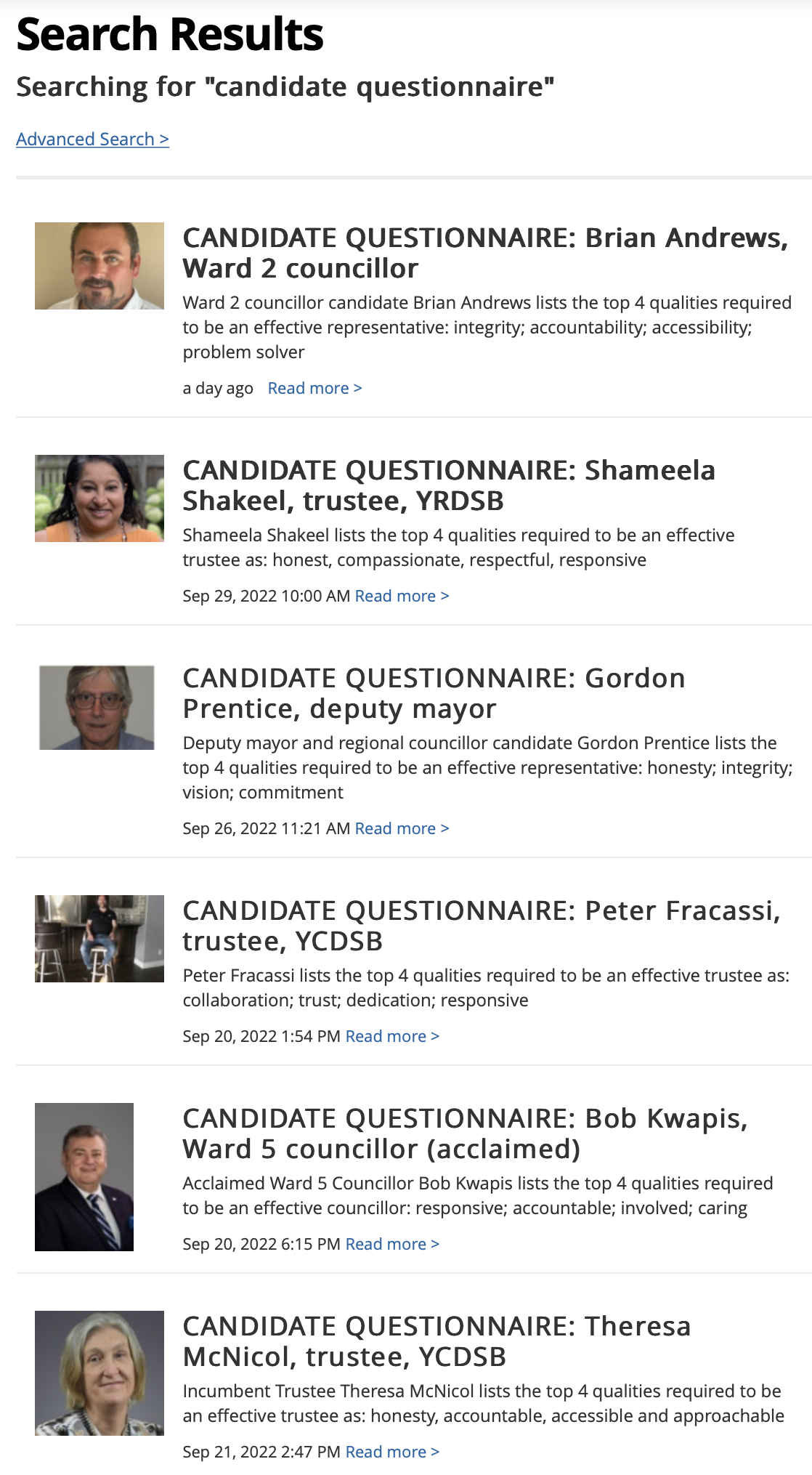 Details

Written by

Gordon Prentice
This morning our little team is again at the Farmers' Market. We are strategically placed at every entrance. For the public there is no escape.

The election campaign is now in full swing and I am seeing faces that look vaguely familiar.
I offer one of my leaflets to a woman on the way out and she says:
"We spoke a week ago and I let you put one of your signs on my lawn."
Aaaaargh!
I am mortified and offer a thousand apologies. It all comes flooding back. I had a long conversation with her and her friend on her porch. It was a lovely sunny afternoon.
"I am sorry! So sorry! Of course, I remember. It's just that I've been meeting so many people."
She smiles and I am forgiven.
Red Alert
But now I am on red alert.
As people leave the Farmers' Market, I remember the ones I spoke to as they arrived. I give them a little wave as if we've been friends for ages and a little nod of acknowledgement.
Now a young woman from Ireland stops to say hello. She says she reads my blog and likes it. I feel an instant warmth towards my new friend.
On best behaviour
In the distance, coming towards me I see the Mayor's parents, Kate and Tom, and I resolve to be on my best behaviour. Not one word about the election campaign passes my lips.
A huge number of people are from out of Town. They come from far and wide to get here. If they take a flyer and I discover they can't vote it is instantly retrieved, with a smile.
And I didn't come across a single person who defended Tom Vegh and his record.
And no-one excused or attempted to justify Vegh's habit of taking money from people in the development industry to fund his election campaigns.
U Turn
In announcing his U turn on 30 September 2022, Vegh told Newmarket Today
"I respect that (there are) people who would prefer you don't accept donations from anybody who's doing any business of any kind with the town. I just got to respect that."
Oh dear!
He now respects people who think it is wrong for him to take money from anyone doing business with the Town – now or in future.
The penny has finally dropped.
That's progress of sorts.
Gordon Prentice 8 October 2022
Details

Written by

Gordon Prentice
This evening I am out and about in Prospect Street with my little band of volunteers. I couldn't do this without them.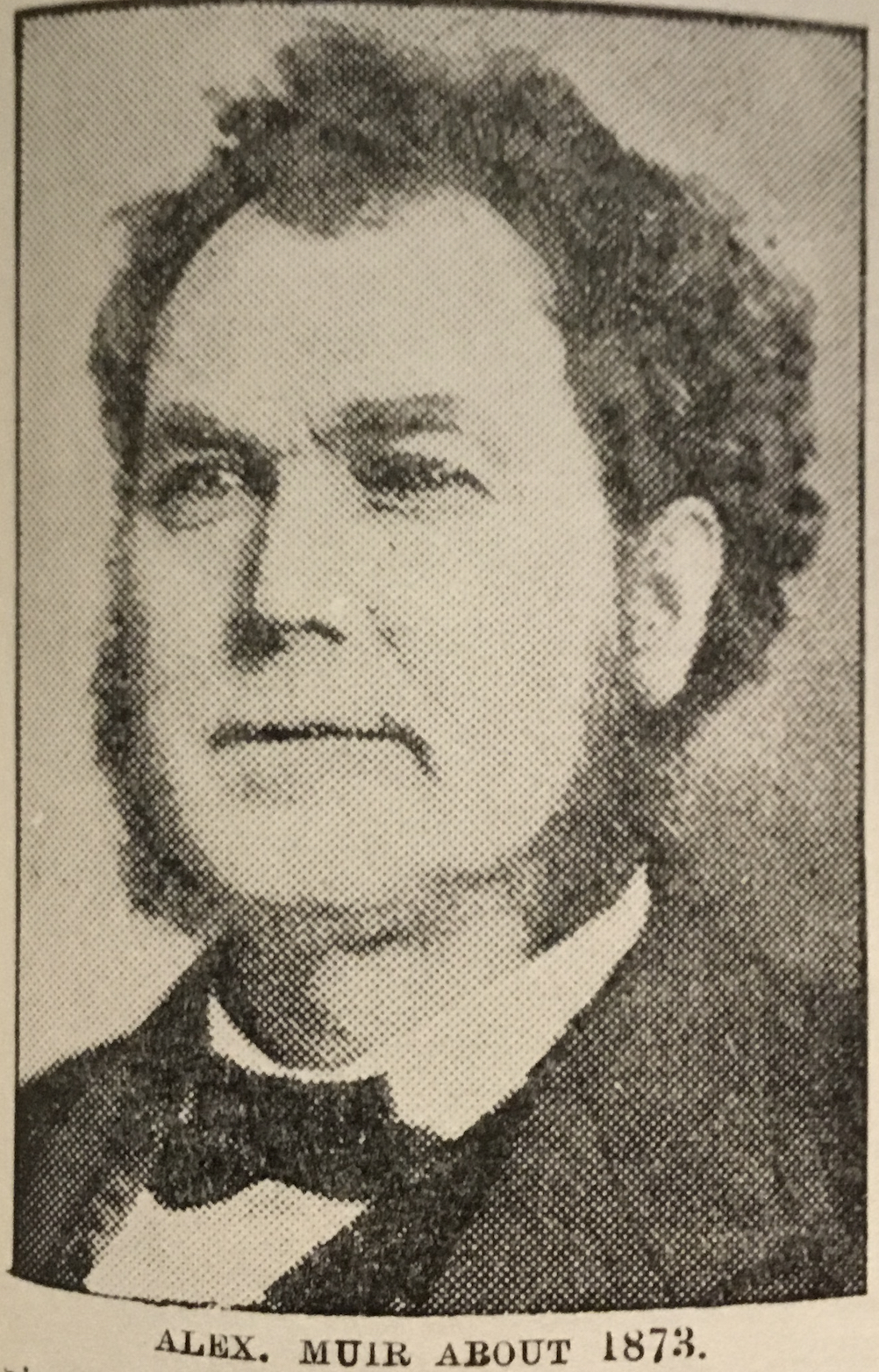 There are lots of multi-tenanted rental properties and it's a tough sell getting people to take my lawn signs.
The empty properties have Vegh signs outside. It's par for the course.
But we make progress.
Cómo está usted?
I see a bunch of people unloading groceries from their SUV and I greet them in faltering Spanish. But it is enough to grab their attention.
I stroll on. And now I am invited inside to talk to the home-owners. After ten minutes of genial conversation my lawn sign goes up outside their home.
I walk past the Alexander Muir Retirement Residence.
History is important
We live in an historic town and we need information boards on sidewalks to remind people what happened here. History is important.
In the 1870s Alexander Muir was a school teacher – the Principal of the "Common School" on Prospect Avenue. According to Robinson's massive six-volume "Landmarks of Toronto" Muir devoted his spare hours to newspaper work with the Newmarket ERA.
"Everyone, young and old, in Newmarket loved Alexander Muir. He always had a cheery word and a handshake for those who greeted him, and his familiar figure as he walked along the street, wearing for headgear a Glengarry cap, ornamented with a silver Scotch thistle, and the tails flying – he looked the typical Scotsman…"
I don't look anything like Alexander Muir but I know Lesmahagow where he was born.
Now I am talking to a young woman about train whistles. I was ambushed at last week's Farmers' Market on the same topic. So I am up to speed. Train whistles and railway safety are federally regulated. It is possible to get rid of these infuriating horn blasts but only if safety is not compromised. It can take a few years to sort it all out. I promise to do my best.
Politicians sell out
The last house I call on turns into a philosophical discourse on the nature of politics. The home-owner tells me all politicians sell-out. They get elected and their focus changes. The voters are no longer the priority.
I suppose there is some truth in this. The people we elect to represent us have got to take all sorts of other things into consideration when they make decisions for the collective good – not just the narrow interests of the people who voted for them.
Term limits
I am not in favour of term limits. The people should decide who should represent them - and for how long.
But if I am elected on 24 October I would only serve for one term.
I would listen to people and I would learn from them. I would understand the issues and never vote blind. And I would exercise my own judgement and do the right thing as I see it.
I'm in nobody's pocket.
Gordon Prentice 7 October 2022
Details

Written by

Gordon Prentice
I am reading Tom Vegh's glossy flyer and what he says about himself.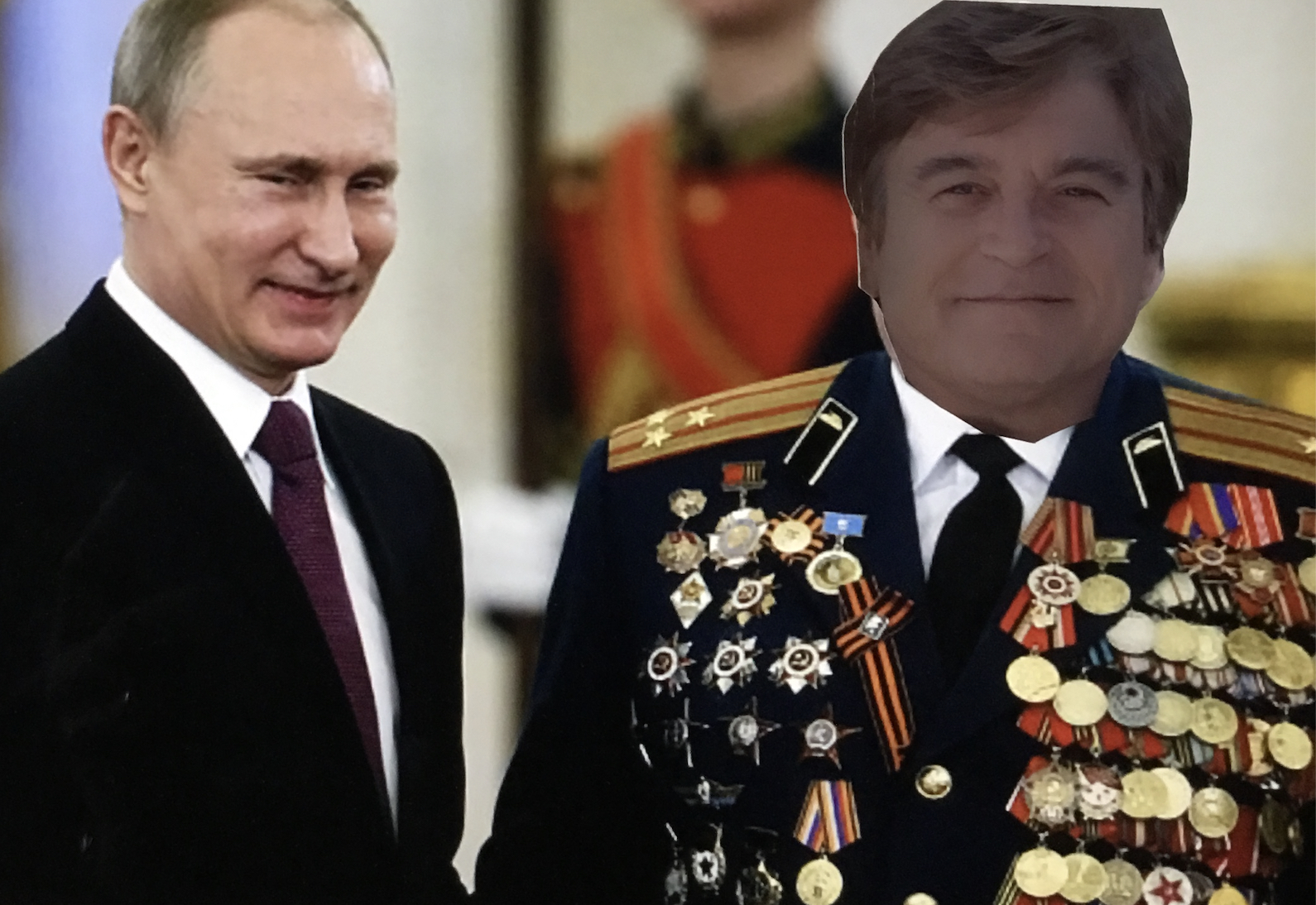 He reminds us that he is a director of this and a director of that.
He has more directorships than your average Russian General has medals on his chest.
Of course, all these board appointments come with the job. They are in no sense proof of distinction.
If I were to be elected on 24 October 2022 I would have a fistful of "directorships" within weeks.
What Vegh says is just puffery. And people aren't remotely interested in that kind of self-promotion.
Experience at executive level
But what caught my eye was this:
*25+ years' experience at the executive level in the non-profit and private sectors
*Past Executive Director of Habitat for Humanity York Region and Inn From the Cold
So, in this election campaign, he parades his experience as a past Director of the homelessness organisation, Inn From the Cold.
Yet he couldn't summon up the energy to talk about it when Newmarket's Mayor, John Taylor, was battling to convince his Regional Council colleagues to give a capital grant of $1M to the charity.
Throughout the long debate on 29 September 2022 Vegh sat on his hands and said nothing.
Abnormal
That is not normal behaviour.
Am I the only person in Newmarket who believes Vegh's silence was weird?
Clearly, the local press don't believe there is a story.
But I do.
In similar circumstances, I would have rowed in behind John Taylor, giving him vocal support.
Election Debate
I've invited Vegh to an election debate in the multi-purpose room at Newmarket Public Library from 7pm-8-pm on Tuesday 11 October 2022. All are welcome.
If Tom Vegh turns up - and I hope he does - I shall ask him to his face:
"Why didn't you speak in the debate on the funding of the Inn From the Cold?"
"Why didn't you support your own Mayor, John Taylor, in making the case?"
"And why did you leave the Inn From the Cold?"
Why?
Gordon Prentice 7 October 2022
Details

Written by

Gordon Prentice
I am out knocking on doors on Eagle Street with my little band of helpers. Today there are five of us ready to confront the unknown. Our task is to get my lawn signs up in high visibility locations and to listen to what the voters have to say.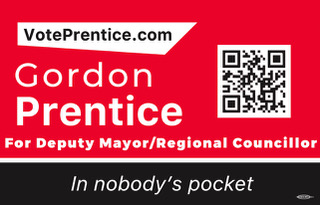 As usual there are plenty of Vegh signs in front of empty properties. This is his modus operandi. We knock on the doors to see if anyone could conceivably be living there and with no sign of life we move on. Vegh's signs stay in place, proclaiming support from a non-existent resident.
Now I am talking to a fascinating worldly-wise guy, sitting on his porch, cigarette in hand.
He is not voting because his vote won't change the system. The people with the money and the power call the tune.
Money Talks
I agree with him. Money talks.
But he has the power, through his vote, to elect people like me. And I won't sell out. I tell him I'll rattle the bars of the cage. And I'll get things done.
I try my best but he won't take my lawn sign. He has given up. Alienated from the whole system.
Now I am talking to an angry man. He doesn't want to listen. He retreats into his house refusing even to talk to me.
I say:
"What is it you are so upset about? I won't be back here again so why not talk to me? What's the problem?"
He disappears into his house, muttering.
Now I am talking at length to a man who is clearly interested in what I am saying. I have a very clear idea of what needs to change.
Now he tells me he didn't vote for Tom Vegh at the last election.
Check me out on Google
I am encouraged. I leave him my lawn sign. Check me out on Google. Visit my website. And if you don't like what you see take it down.
I use this formulation a lot. And it works.
It's my last call of the evening. I really, really want my lawn sign in this location.
I spend a long time talking to this voter, fielding his questions, making my case.
Pretending
Believe me, I say, I don't need this job. But I can't let Tom Vegh sell us out to the developers while pretending he is on our side.
Eventually he takes my lawn sign.
My friend who is close by hears everything and says I could sell ice to the Inuit.
He is wrong.
I am just telling it as I see it.
And people can take me or leave me as they choose.
Gordon Prentice 6 October 2022