Details

Written by

Gordon Prentice
I wonder when Southlake's Delphic Chief Executive, Arden Krystal, is going to make a public statement about the former Greenbelt lands in King which are earmarked for a new acute hospital. This is a very big deal. Personally, I'd like to know how it all came about.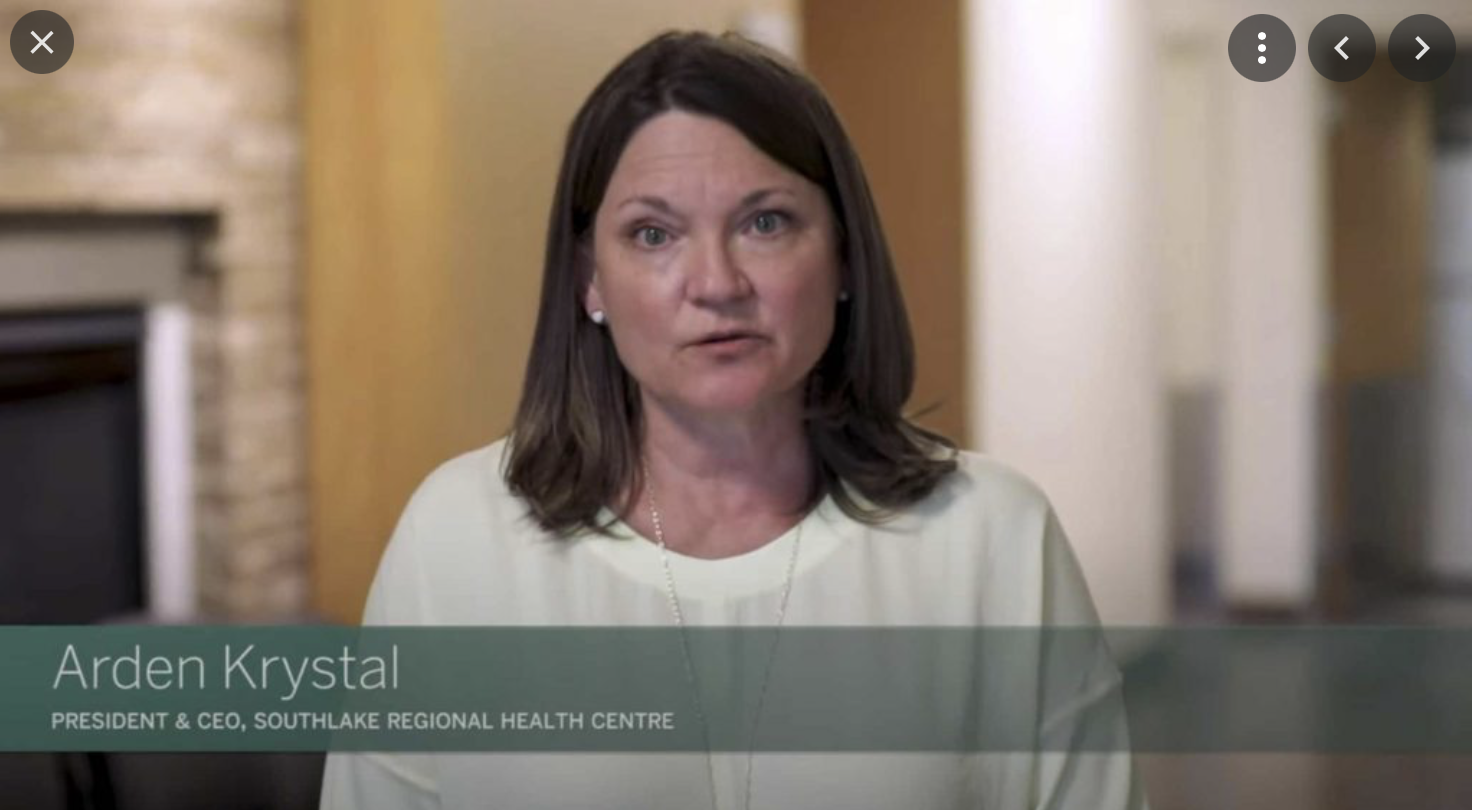 For the moment we've got to parse emails to discern their real meaning. It would be a lot easier for everyone if we just had a simple narrative from Southlake explaining what happened when and why.
Last week York Region's Chief Administrative Officer, Bruce Macgregor, told us our 15,000 new neighbours will occupy lands
"identified by the Province to also contain a hospital expansion up here in the Newmarket area – expansion of Southlake hospital."
Breathless
As the whole world now knows, Arden Krystal met developer Michael Rice and King Mayor Steve Pellegrini at King Municipal Centre on Tuesday 1 November 2022 when Rice offered for a nominal fee some of the Greenbelt land he had bought in King a few months earlier for a new hospital site. On Friday 4 November 2022 Municipal Affairs and Housing Minister, Steve Clark, announced that certain lands were to be removed from the Greenbelt, including those in King, opening them up for development. On Monday 7 November 2022 Pellegrini moved a motion at King's Committee of the Whole supporting a new hospital on the Rice lands, breathlessly congratulating everyone involved.
Pellegrini, who didn't want to get anything wrong, sent an email to Arden Krystal at 12:09 pm on 7 November 2022 attaching a draft of the motion he proposed to put before King Councillors that evening:
"Call if you have any questions, thanks Steve"
Krystal got back to Pellegrini at 2:24 pm the same day attaching an amended version of his proposed motion: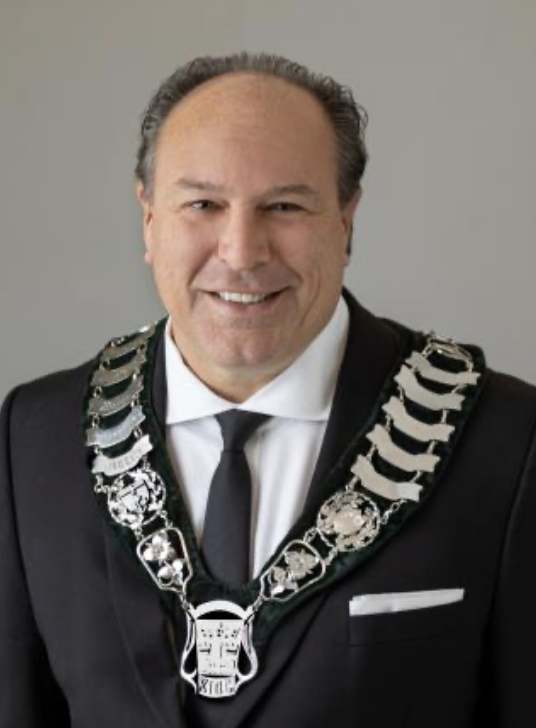 "Hey Steve. Thanks so much for your support – this is truly exciting! I wondered if you would be agreeable to a few small edits to the motion that I think will have the same impact but perhaps be less controversial. Please let me know if these would be acceptable. Cheers and thanks again."
Steve replies to Arden at 3:48 pm:
"All good. Will make those changes"
And, one nano second later, Arden replies:
"Awesome. Many thanks!!"
She copies her email to Township Clerk Denny Timm and Chief Administrative Officer Daniel Kostopoulos.
Nuanced
So what were the changes? Most of Pellegrini's motion escaped Krystal's blue pencil but there were a few changes which are nuanced.
Pellegrini version:
AND WHEREAS the lands satisfy the locational criteria for the new Southlake regional Health Centre
Arden Krystal's amended version:
AND WHEREAS the lands satisfy our understanding of the locational criteria for the new Southlake Regional Health Centre site
Pellegrini version:
AND WHEREAS the landowner has made a commitment to provide the necessary lands for the Southlake Regional Health Centre for a nominal fee
Arden Krystal's amended version:
AND WHEREAS the landowner is committed to providing the necessary lands for the Southlake Regional Health Centre site for a nominal fee
Pellegrini version:
AND WHEREAS the area designated as "Settlement Area" is not required to accommodate the new Southlake Regional Health Centre
Arden Krystal's amended version:
AND WHEREAS based on our understanding of the locational criteria for the new hospital the area designated as "Settlement Area" is not required.
It is my understanding that Rice had been in discussion with Southlake on their plans for a new hospital since, at least, January 2022. And it is also my understanding that Pellegrini has been scouring King for a site for a new hospital since 2019. In fact he said as much.
Pellegrini told the Era newspaper that the Province's decision to remove the Rice lands from the Greenbelt had come like a bolt from the blue:
When without warning the province pulled the King land out of the Greenbelt, council capitalised on it by saying "at least give us a hospital".
"Without warning."
Good one!
This email address is being protected from spambots. You need JavaScript enabled to view it.
See also: Timeline: Southlake and the sale of the Greenbelt lands in King
Details

Written by

Gordon Prentice
Steven Del Duca, the uncharismatic former Leader of the Ontario Liberal Party and now Mayor of Vaughan is proving to be a very big disappointment.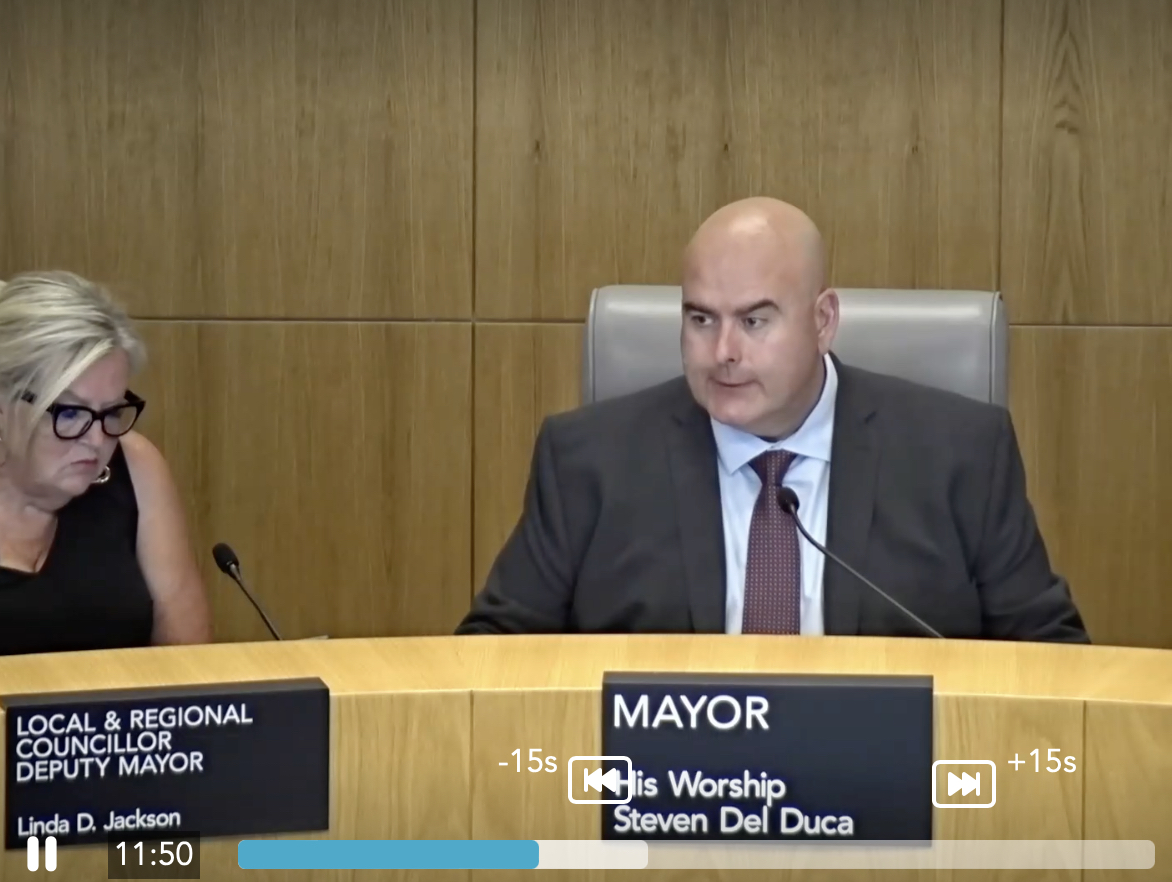 On Tuesday (20 June 2023) he called a special meeting in Vaughan to consider the City's response to Doug Ford's inchoate plans to shake up municipalities across the GTA. We know that Ford will break up Peel Region but we don't yet know what he plans for other regions – including our own here in York and its nine constituent municipalities.
However, it is now clear Del Duca wants to see a "single tier" Vaughan taking over many services currently provided by York Region. Some services, such as the police and paramedics, will continue to be shared with the other York Region municipalities and special arrangements will have to be made. I see a plethora of boards and masses of red tape.
Meaningless drivel
Del Duca came out with this meaningless drivel:
"We are a partner that can help the province and help our counterparts across York region with perhaps a new governance structure and model that will set all of the residents - not just here in Vaughan but right across what is today known as York Region - up for success."
Del Duca is commissioning consultants to come up with a blueprint on a "governance structure" by the end of September.
Del Duca was stung by Frank Scarpitti's earlier announcement that he favours a York "megacity". Which was rejected out of hand by Ford.
Del Duca believes he has to be seen doing something. Taking the lead. Charting the way forward. Being ahead of the curve.
Complete cobblers. Bad move. Del Duca is just helping Ford.
Pitiful
The debate at Vaughan on Del Duca's motion was truly pitiful.
No-one came to the defence of York Region – not even those Regional Councillors like Mario Ferri who have served on the Region for hundreds of years. No-one asked what the implications would be for York Region and its constituent municipalities if Vaughan were allowed by the Province to split from the Region. No-one asked if the Region could survive without a major player such as Vaughan. Everyone assumed a huge municipal reorganisation was inevitable – and that a single tier Vaughan would be a good thing.
No-one mentioned the high calibre senior management at York Region. I've watched them for years – with no axe to grind - and most are very good and a number are outstanding.
Ford's Regional Review 2019
No-one asked about the Ford Regional Review in 2019 which started out with great fanfare and ended as a damp squib. After all the talk of a massive municipal reorganisation nothing happened. The reorganisation report was never published. No-one in Vaughan called for the papers to be declassified so we could all make an assessment of the costs and benefits of a huge municipal upheaval.
No. They just voted, lobotomised, for Del Duca's unhelpful motion.
I found it very dispiriting.
This email address is being protected from spambots. You need JavaScript enabled to view it.
Update on 24 June 2023: From Newmarket Today: Newmarket Mayor urges care as Vaughan pushes for independence
Details

Written by

Gordon Prentice
The four by elections yesterday provided little drama and no upsets.
No seats changed hands with the Liberals holding Winnipeg South-Centre and the Montreal riding of Notre Dame de Grâce - Westmount. The Conservatives held Portage-Lisgar (Manitoba) and Oxford (Ontario).
The provisional results are here.
The right-wing People's Party leader, Maxime Bernier, drove up the turnout in Portage-Lisgar (Manitoba) to 45.12% but he still trailed the Conservative winner, losing badly.
Turnout in Oxford (Ontario) was 38.19%; Winnipeg South Centre (Manitoba) 36.63% and Notre Dame de Grâce – Westmount (Quebec) 29.69%. Here is the CBC take on it all.
48 candidates
In Winnipeg South Centre there were an astonishing 48 candidates – a record in a Federal election.
We are told a group called the Longest Ballot Committee signed them up as a way of drawing attention to Justin Trudeau's broken pledge in 2015 to get rid of first-past-the-post and bring in a fairer voting system. Proportional representation was mentioned as one of a number of possibilities.
They all appeared on the ballot paper as "Independents". Voters, predictability, went for the devil they know - the candidates from the main political parties.
In the Toronto Mayoral election on 26 June 2023 there will be 102 candidates and a truly gigantic ballot paper. Preposterously, they will all be running as independents as political parties are banned by law from fielding candidates in municipal elections – even in Canada's biggest city with a budget to match.
Ranked Ballot
In 2020 Doug Ford scuppered plans to allow municipalities to use a preferentail system of voting, the ranked ballot.
Under first-past-the-post Toronto's new Mayor is likely to be elected by a minority of voters. Just how small we wait to see.
This email address is being protected from spambots. You need JavaScript enabled to view it.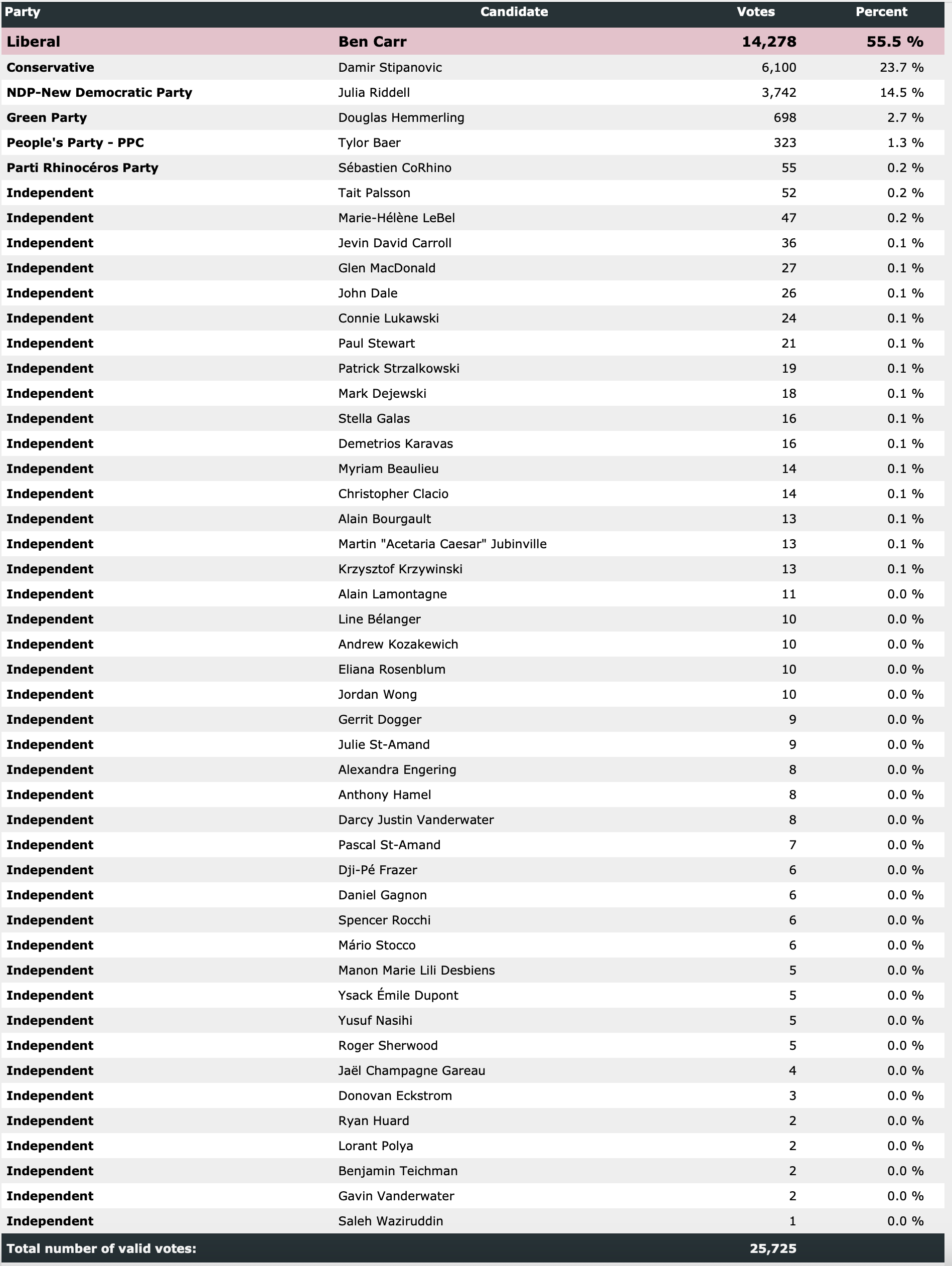 Details

Written by

Gordon Prentice
The former Governor General, David Johnston, tells us foreign governments are trying to influence voters and candidates and it is a real and growing threat.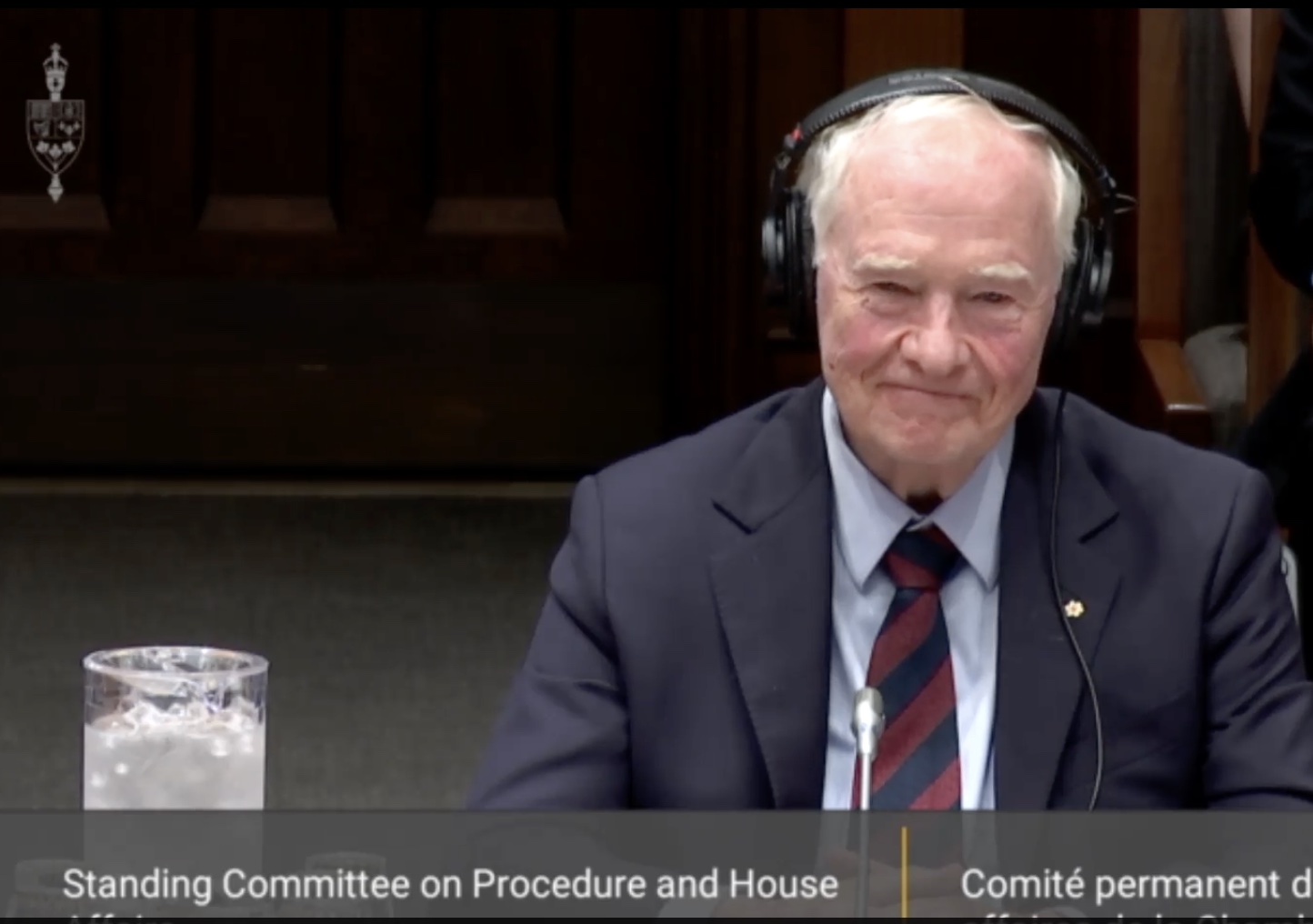 In his report published one month ago he identified shortcomings in the way intelligence is communicated and processed from the security agencies to the Government. But he rejected calls for a public inquiry on the grounds this would put at risk information that has to stay secret. He preferred public hearings. He believed State secrets would then be protected and these would only be made available to top politicians and others with the highest security clearance.
Rejected
MPs heard what he had to say and then politely rejected his advice. They voted for a public inquiry which, the Government says, is now back on the table. But since then all has gone quiet.
If we are to get to the truth, we need a public inquiry with subpoena powers and witnesses giving evidence under oath. The parties now need to agree the inquiry's terms of reference and decide on a chair and a timetable which is not open-ended.
That's difficult but not impossible.
The Globe and Mail's Andrew Coyne summed it up this way:
We need an inquiry to get at the things that cannot otherwise be got at: the internal decisions and deliberations of government. We do not need such inquiries at most times. We need them when government has made a mess of things, and won't come clean about how it happened. We need an inquiry most when a government is most reluctant to hold one.
This email address is being protected from spambots. You need JavaScript enabled to view it.
Update on 31 July 2023: Toronto Star Editorial: Slow Steps to an Inquiry
Details

Written by

Gordon Prentice
Tomorrow (Monday 19 June 2023) the UK House of Commons will vote on a report from the Committee of Privileges which documents in fine detail how Boris Johnson, Prime Minister during the Covid pandemic, lied repeatedly to the House about his compliance with the Covid Rules and Guidance which were in force at the time.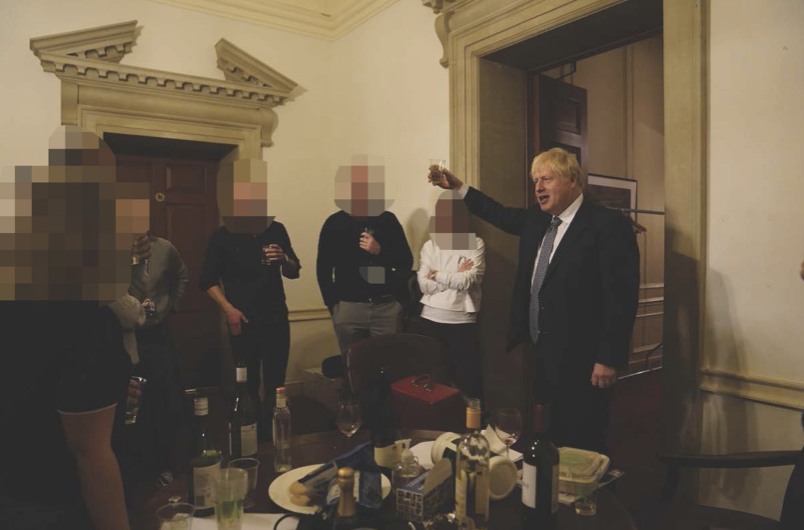 Deliberately lying to the House of Commons is a hanging offence. It has to be. Our system could not survive if Ministers were allowed to lie knowingly to the House and get away with it.
Kangaroo Court
The Committee sent a copy of their draft report to Johnson in confidence, asking for his comments before deciding on their final recommendations. He broke the embargo and issued a statement branding the committee - with its Conservative majority - a kangaroo court. He then resigned as an MP.
The Committee's proposed 90 day suspension from the Commons – enough to trigger a recall election in his riding – is now otiose but the Committee notes that:
"In view of the fact that Mr Johnson is no longer a Member, we recommend that he should not be granted a former Member's pass."
So if he wants to drop into Westminster in future he'll have to queue up with the rest of the public. The Committee wants a lifetime ban.
And although he impishly hinted that he might return as an MP, there is no way he is coming back. He has gone for good.
Habitual Liar
The Johnson I knew was a shameless habitual liar.
Everyone who ever worked with him said so.
But that never seemed to bother the convicted fraudster and Canadian retread, Conrad Black.
Four years ago, when Johnson won the Conservative leadership by 92,153 votes to his rival's 46,656, Black told his readers:
"I think Boris will just be fine."
That tells you everything you need to know about the judgment of Citizen Black.
A year ago I predicted Johnson would be gone in six months.
I wasn't so far off the mark.
This email address is being protected from spambots. You need JavaScript enabled to view it.