Details

Written by

Gordon Prentice
The respected polling aggregator 338Canada.com puts the Progressive Conservatives as the overwhelming favourites in Thursday's Provincial election.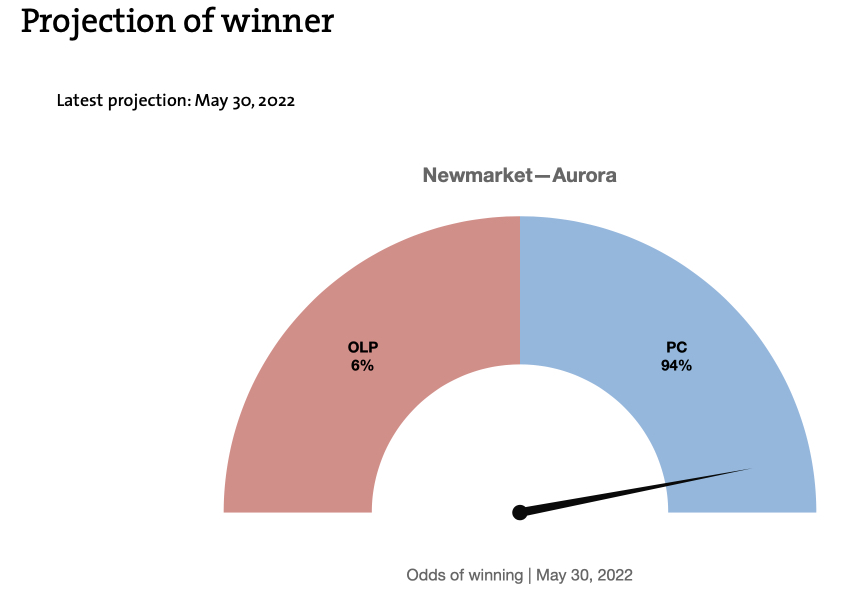 Nevertheless, the voters have the power to confound the pollsters if they so wish. In the last Federal election in Newmarket-Aurora the projections bounced all over the place, first pointing to a Conservative win before settling on the old banker, the safe bet.
There are no polls in the riding. But extrapolations from GTA wide and Provincial polls have a pretty good record in predicting the percentage vote for each Party. Forecasting the number of seats going to each Party is more problematic. No pollster predicted that the 2018 Provincial election would leave the Liberals with a rump of seven seats in the Legislature.
Back "progressive parties"
The Toronto Star's editorial on 27 May 2022 urges readers to back progressive parties to avoid a second Ford majority.
The Editorial Board advises:
"The best option is to get behind the Liberals in ridings where they are the main alternative to the PCs. In ridings where the election is a two-way contest between the PCs and the New Democrats, support the NDP."
Easier said than done.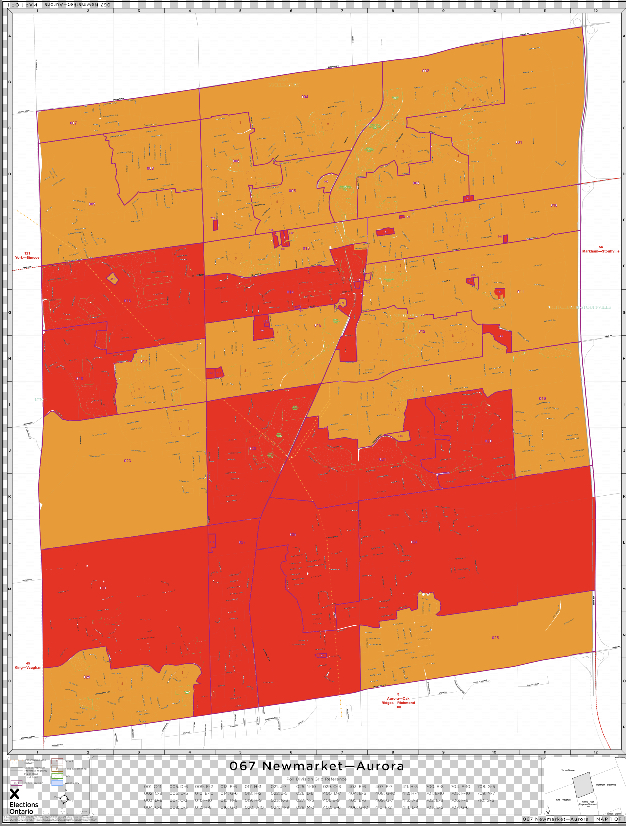 So who should voters back in Newmarket-Aurora to keep the silent and elusive office manager out?
The map on the right shows the NDP and Liberal votes in the 2018 Provincial election in Newmarket Aurora after the winning PC vote has been stripped out. The orange areas show those parts of the riding where the NDP polled better than the Liberals. And the red areas show where the Liberal vote was higher than the NDP. In that election the Newmarket-Aurora NDP came second to the PCs who won convincingly.
The Federal election last September gave the Liberals a clear edge but that was with a candidate with huge name recognition and a bland, inoffensive manner.
Getting it done!
Like Dawn Gallagher Murphy, our Liberal MP Tony Van Bynen is, by nature, taciturn and wary of expressing an opinion until it has been fully road tested and certified safe to use.
They both want to get it done. That's the slogan that ticks all the boxes.
On 22 March 2022 he explained what the the pact between the Federal Liberals and the Federal NDP would mean to his constituents and to Canadians more generally:
"The Liberal Party has reached an agreement with the NDP to deliver results for Canadians now. This is about getting big things done for Canadians..."
So they are all going to get it done.
That's nice.
This email address is being protected from spambots. You need JavaScript enabled to view it.
Ford and the photoshopped Gallagher Murphy getting it done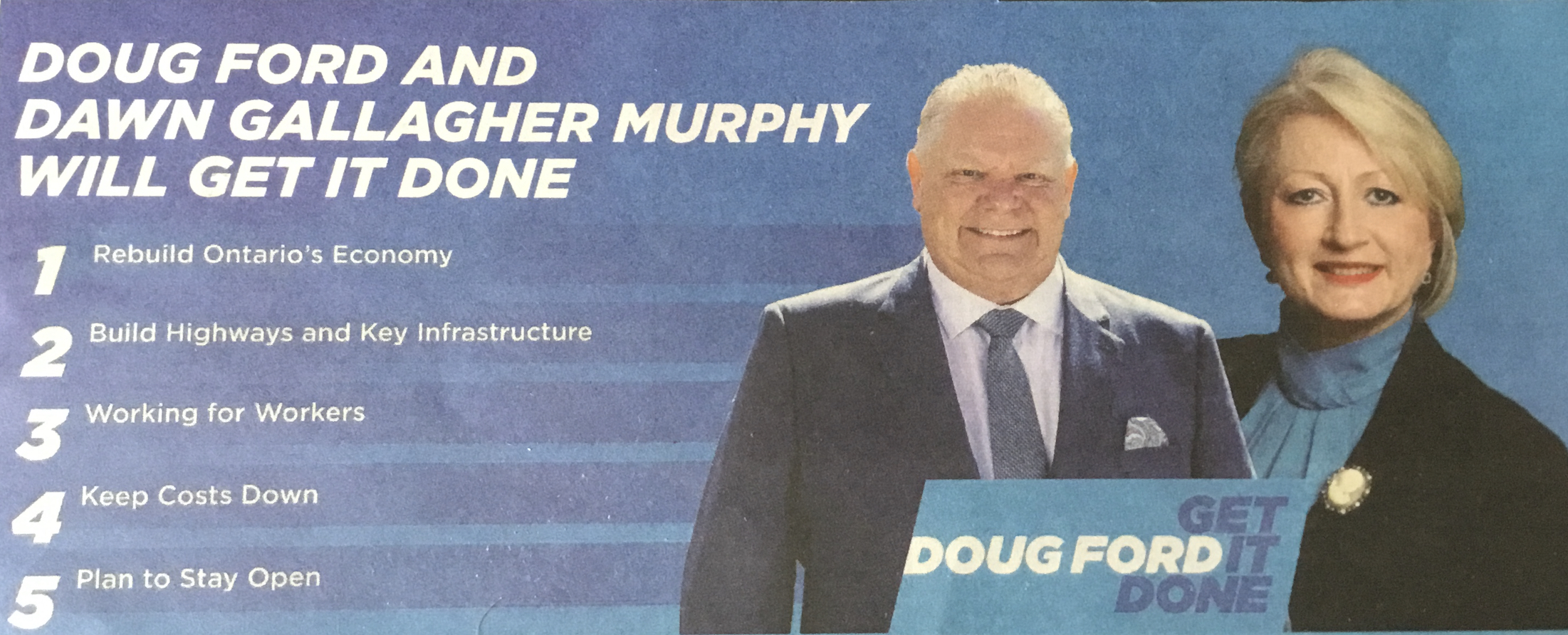 And the vote projection on 30 May 2022: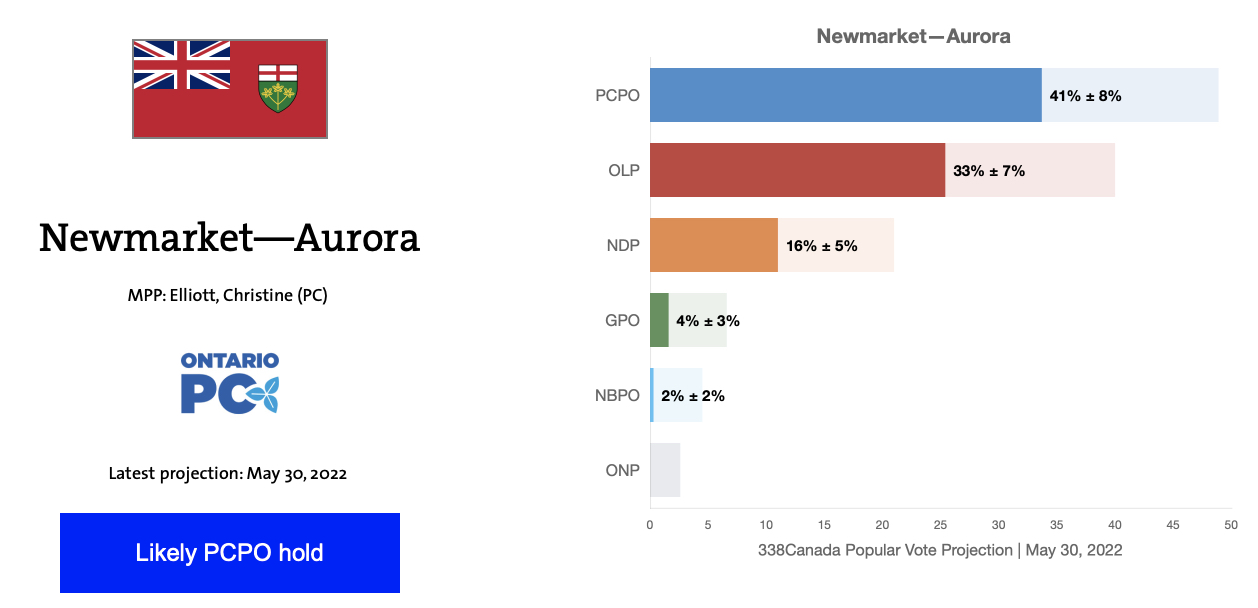 Details

Written by

Gordon Prentice
Ontario is sleepwalking into a second Ford term. Unless something wholly unexpected happens before Thursday then Christine Elliott's office manager will be our new MPP. I know next to nothing about Gallagher Murphy and her views. I don't even know how old she is.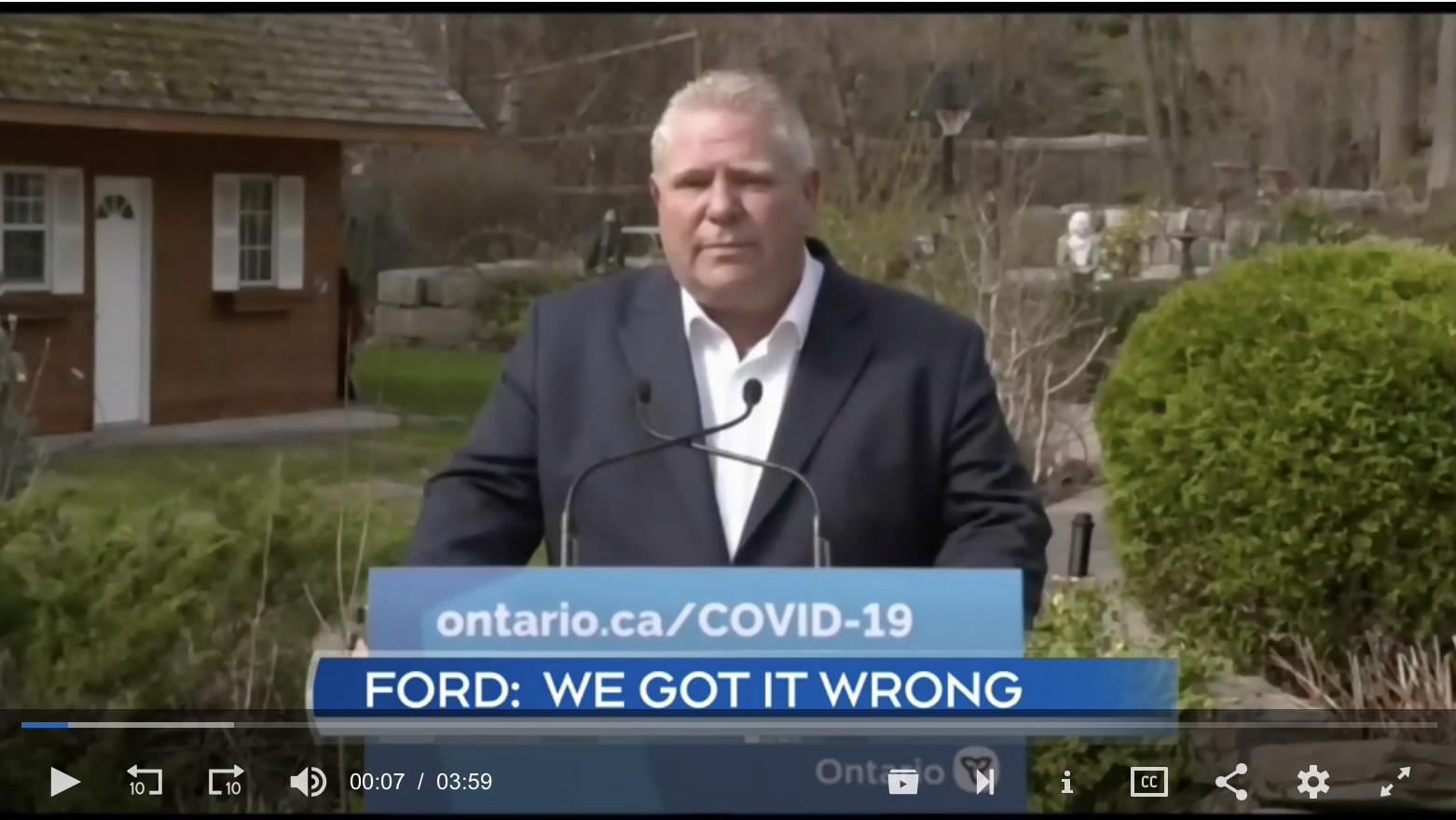 She has spent the last four years as Elliott's office manager and 15 years running her credit card business. But before that her life is a complete mystery – at least to me. No letters to the press. No interviews. No articles. No Tweets until a few weeks ago. No opinions. A blank sheet of paper. A complete cipher.
I am left wondering why Conservatives should vote for her.
No-Show
She has been a no-show at every single one of the candidates' debates and has not bothered to get back to Newmarket Today setting out her position on the key policy issues affecting our Town and the surrounding area. The New Blue candidate's response is here. The NDP's here. The Greens here. And the Liberals here.
Is this what today's conservatism stands for? Avoiding controversy? Hiding under bushes?
She refuses to engage with the other candidates. Her campaign is unbelievably shallow and trite.
Mute and insipid
By any measure, the mute and insipid Gallagher Murphy is the complete antithesis of what we need in our candidates for elected office. We need people who can confidently express a point of view and have the wit and capacity to argue their case in front of all comers. They should not be afraid to stake out their own views on the big issues of the day.
Instead, we have this listless and utterly useless candidate inventing reasons for not showing up at debates and claiming (falsely and absurdly) to have knocked on 25,000 front doors during the campaign.
This was the same office manager who allowed one of her staff to tell me in June 2019 to come back in the Fall if I wanted to make an appointment to see my then MPP, Christine Elliott. (I wanted to know if Buck-a-beer was really going to allow Andrew's Convenience Store and others like it to sell beer. They still can't.)
What was the deal?
Gallagher Murphy was personally appointed by Ford as Official PC candidate for Newmarket-Aurora on very same day Christine Elliott announced she was standing down. Why? What does he see in her? And what was the deal with Elliott?
Of course, Ford has done this before. In 2018 he appointed a long list of PC candidates, autocratically ignoring the views of local Party members on the ground.
Will Bill Hogg, the President of the Newmarket-Aurora PC Riding Association, who resigned in protest at Gallagher Murphy's appointment, be voting for her? I rather doubt it.
But, to return to the main point, which Doug Ford does Gallagher Murphy support?
Which Doug Ford? Three to choose from.
The right-wing firebrand, the affable centrist, or the leftist, cheering on the workers and defending their unions?
The convicted fraudster Conrad Black describes Doug Ford as the most left wing leader the PCs have ever known. He says Ford's leftward shift has created a vacuum for the New Blue party to fill.
Ford is certainly a very accomplished shape-shifter. First he was cutting the deficit, freezing the minimum wage and taking on public sector workers. Next came the tearful Ford admitting he sometimes got things wrong in the pandemic. And now, the latest reinvention, the man who is going to get it done regardless of the cost.
Black urges conservative leaning voters to support the New Blues though he recognises they have no hope of winning.
Constitutional conventions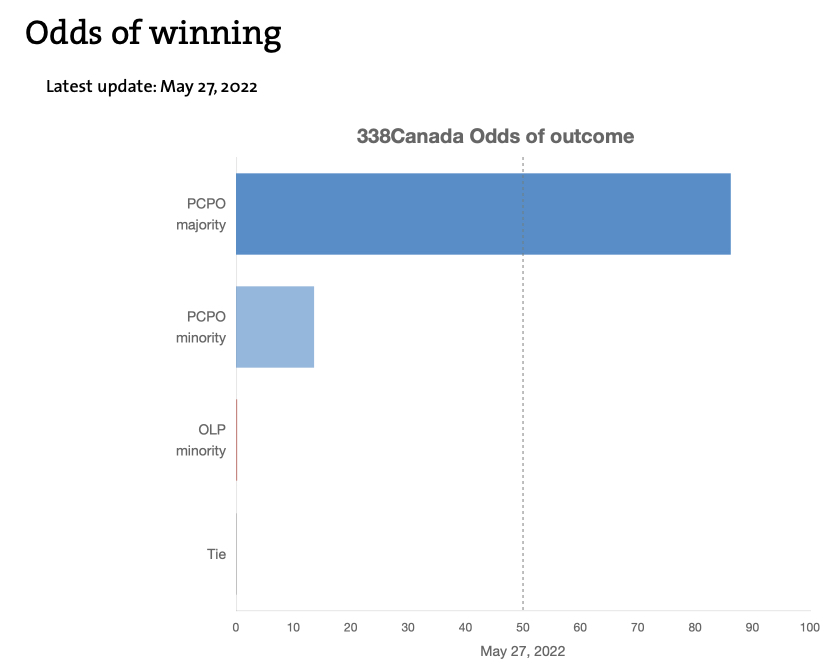 Ford's conservatism is, though, not very conservative.
He ignores constitutional conventions and doesn't think twice about dropping solemn undertakings given to the public.
Ford gave a cast iron guarantee that budgets would be presented by the end of March each year, enshrining the promise in legislation. This year the Budget (which also serves as the PC platform) was presented in April. It was never voted on. The Housing Bill passed in two weeks from start to finish - and received Royal Assent in the middle of the public consultation period.
Expect more of this when Ford wins on Thursday.
No platform
Unlike the Liberals, the NDP and the Greens, the Ontario PCs have no formal platform. They have five bullet points and the contents of the April Budget.
So what will tomorrow bring? Who knows?
Will Ford revisit his 2018 plan to reorganise municipalities to streamline service delivery and save money?
Will he let rip with Ministerial Zoning Orders, removing any voice for municipalities on what should happen in their own areas?
And when things get tight financially for the Province who will be expected to carry the burden?
I think I know the answer to that one.
This email address is being protected from spambots. You need JavaScript enabled to view it.
Below: Protests outside Christine Elliott's constituency office in June 2019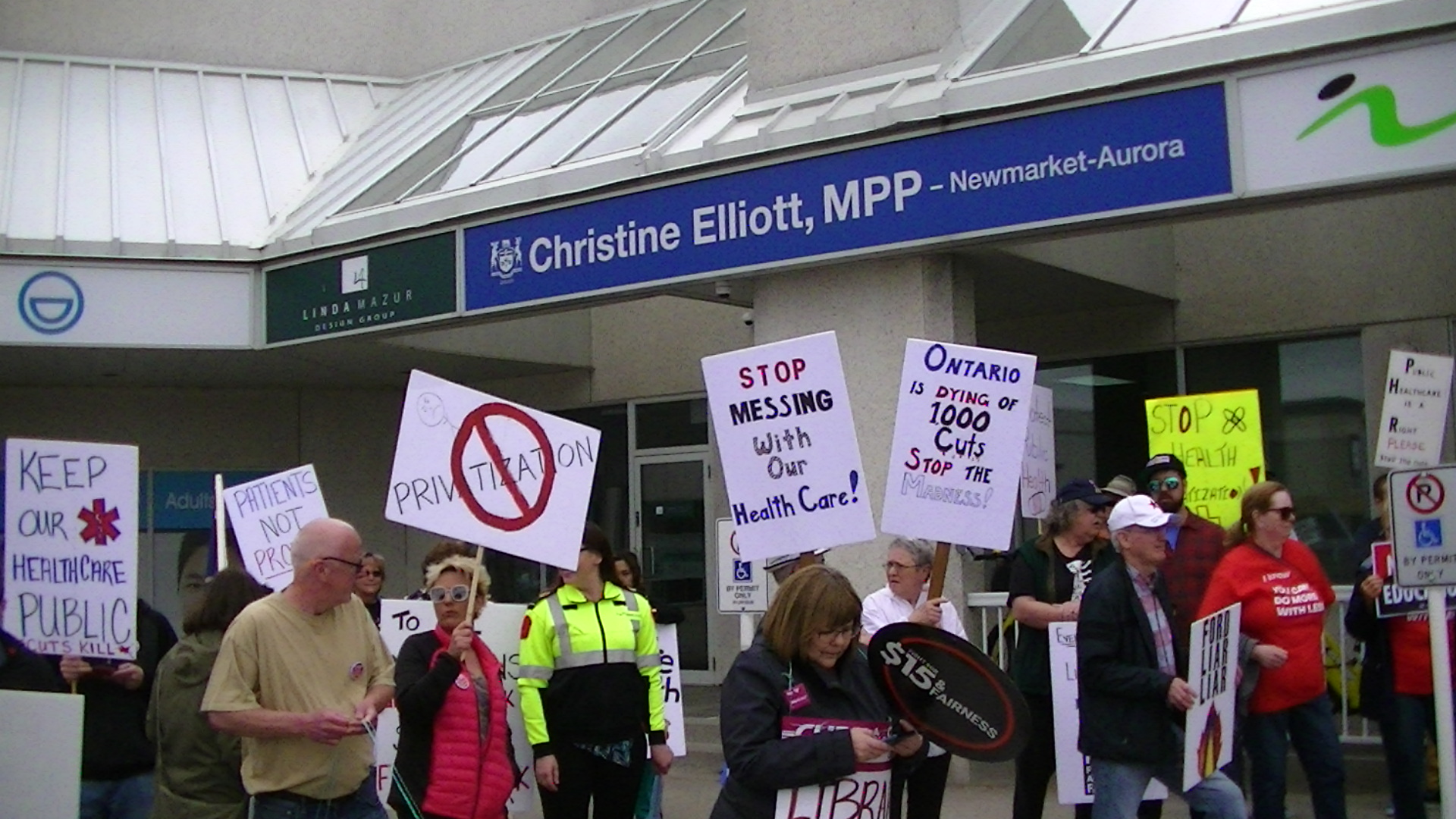 Details

Written by

Gordon Prentice
It is one of the great under-reported scandals of our time – the strike by developers who have planning approval to build desperately needed houses and apartments but choose not to.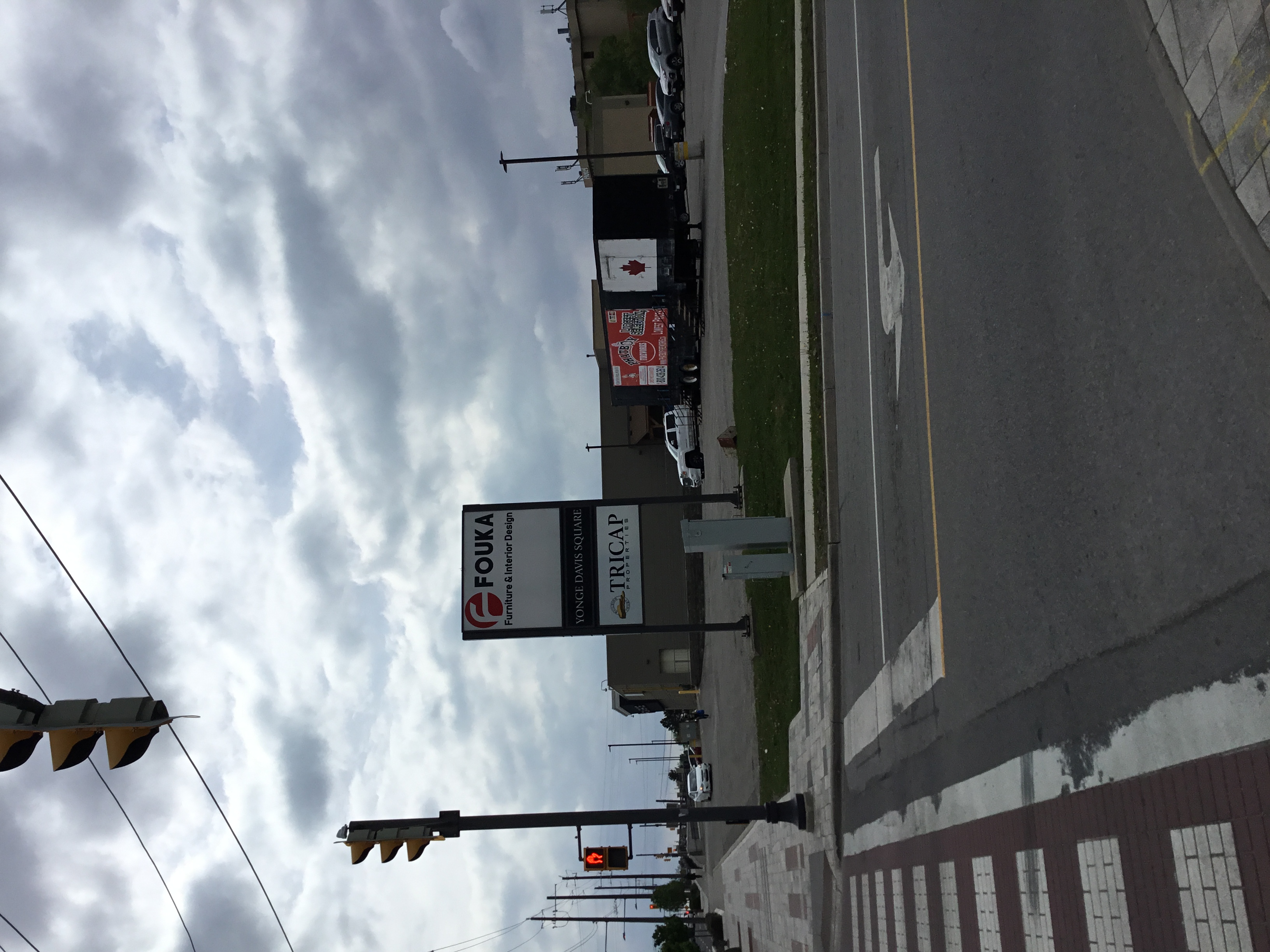 Instead they sit on their hands waiting for the value of their land to appreciate.
It is happening all over Ontario.
And here in Newmarket. The owner of the land behind the LCBO at 39 Davis Drive was given planning approval in 2009 for a 20 storey condo with 280 units and nothing has happened. (Photo right)
29 years and still waiting
A more grotesque example lies just around the corner at 22 George Street – owned by the same developer, Peter Czapka's TRICAP. (Photo below right)
Here planning approval was given for a 12 storey 115 unit condo in 1993 and the land is still vacant. It is used to store construction materials.
For years I have been making the case for sunset clauses on planning approvals. If shovels aren't in the ground within, say, three or five years than planning approval is revoked.
The developer goes back to square one.
Use it or lose it
The Liberal platform for the election on 2 June tells us:
"There are an estimated 250,000 new homes approved for construction that have not yet been built. We can't let land ready for new homes sit empty."
They promise to introduce a "use it or lose it" tax on developers sitting on land ready for development.
The NDP, too, knows there's an issue to address. But what about the Progressive Conservatives?
Wrong solution
At the tail end of his first term, Doug Ford set up a Housing Affordability Task Force which reported in February 2022. It acknowledges there is a problem (of developers on strike) but comes up with the wrong solution. It recommends that "infrastructure allocations" (for sewage and wastewater) should be withdrawn if construction hasn't started within three years.
Newmarket already does this. And it hasn't made a blind bit of difference.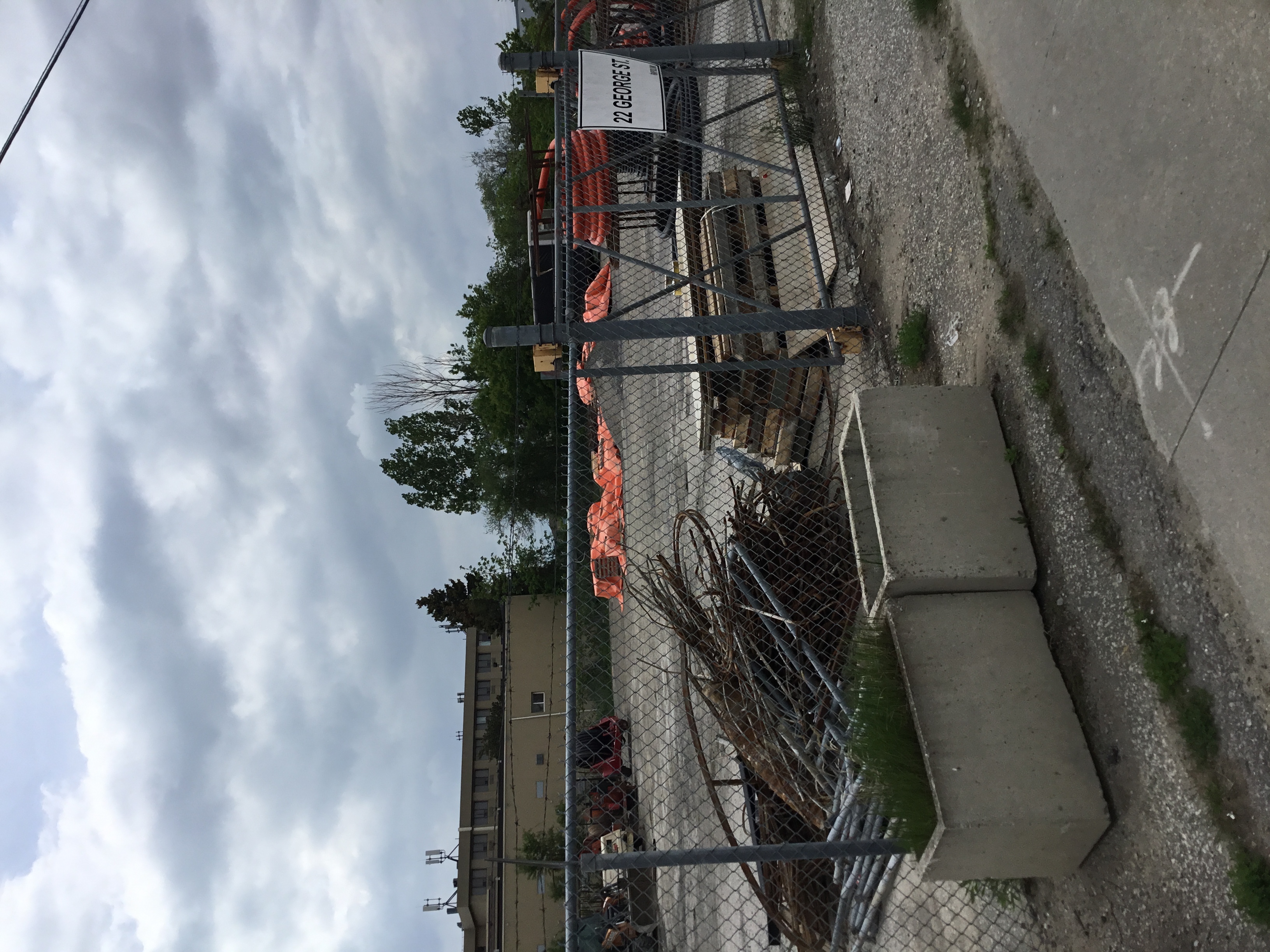 Every year the Town asks developers with planning approvals under their belt if they plan to start work in the next twelve months. If they say no their so-called servicing allocation is withdrawn and made available to another project which is ready to roll.
Recommendation dropped
Some of the Housing Task Force recommendations made it into Bill 109 that was rushed through from start to finish in two weeks – even before the public consultation period had ended.
But recommendation 43 on the withdrawal of the infrastructure allocations from developers on strike (see below) didn't even make it into the Bill. Clearly, Ford doesn't want to upset developers like TRICAP who land bank - and who give money to the PCs.
TRICAP supports the Progressive Conservatives
TRICAP makes political contributions but only to the Progressive Conservatives. The Elections Ontario website shows a splurge in 2016, after which the private company takes a breather. And then in February this year, Jennifer Czapka, TRICAP's Vice President, donates a modest $1,000 to the PCs. Just to show willing.
Doug Ford's Progressive Conservatives take money from developers who won't build the houses that Newmarket-Aurora needs.
No point asking Dawn Gallagher Murphy if she has a view on this.
We'd have more chance of getting an answer from the maple tree in my garden.
This email address is being protected from spambots. You need JavaScript enabled to view it.


Details

Written by

Gordon Prentice
The slaughter in Texas of 19 children earlier today by a deranged 18 year-old man should be the catalyst for tight new gun control laws in the United States.
But we all know it won't happen.
Even after Sandy Hook and the horror of the unspeakable murders of innocent children in an elementary school in Texas, the gun lobby still calls the shots.
But that is the dysfunctional United States. Where mass murder is now the weekly reality and politicians, for whatever reason, choose not to respond.
Here in Canada we can make different choices. There is no 2nd Amendment excuse to do nothing.
Doug Ford and our former MPP Christine Elliott are against banning handguns.
Steven Del Duca has pledged a Liberal Government would ban handguns within a year of taking office.
But what does Dawn Gallagher Murphy think? Does she have a view? I have no idea.
Someone should ask her.
This email address is being protected from spambots. You need JavaScript enabled to view it.
Updated on 25 May 2022: From the Toronto Star: Gunman kills 19 children and two adults.
Update on 31 May 2022: from the UK's Guardian newspaper: Trudeau announces "handgun freeze"
Details

Written by

Gordon Prentice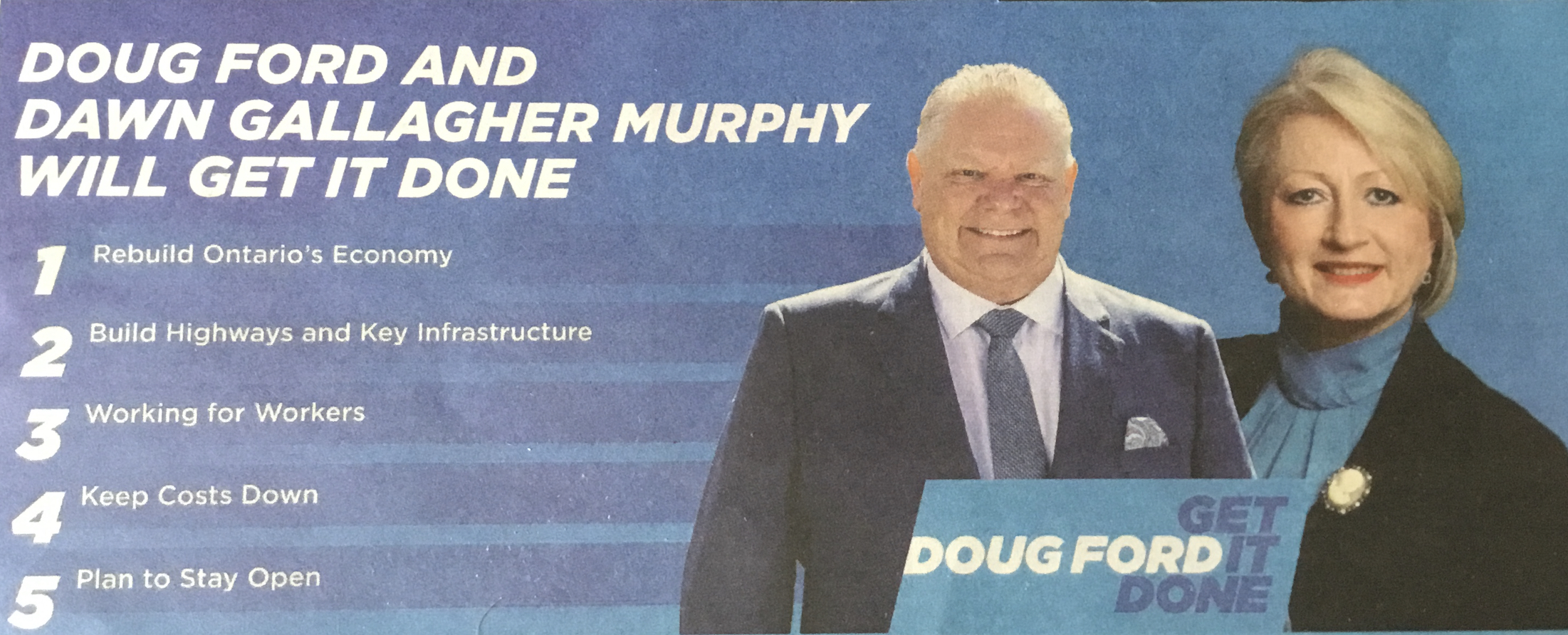 Above: From this week's Era Newspaper.
Deficits and Debt
For as long as anyone can remember former Newmarket-Aurora MPP, Christine Elliott, has made a very big deal about Provincial deficits and debt. They've featured in countless speeches.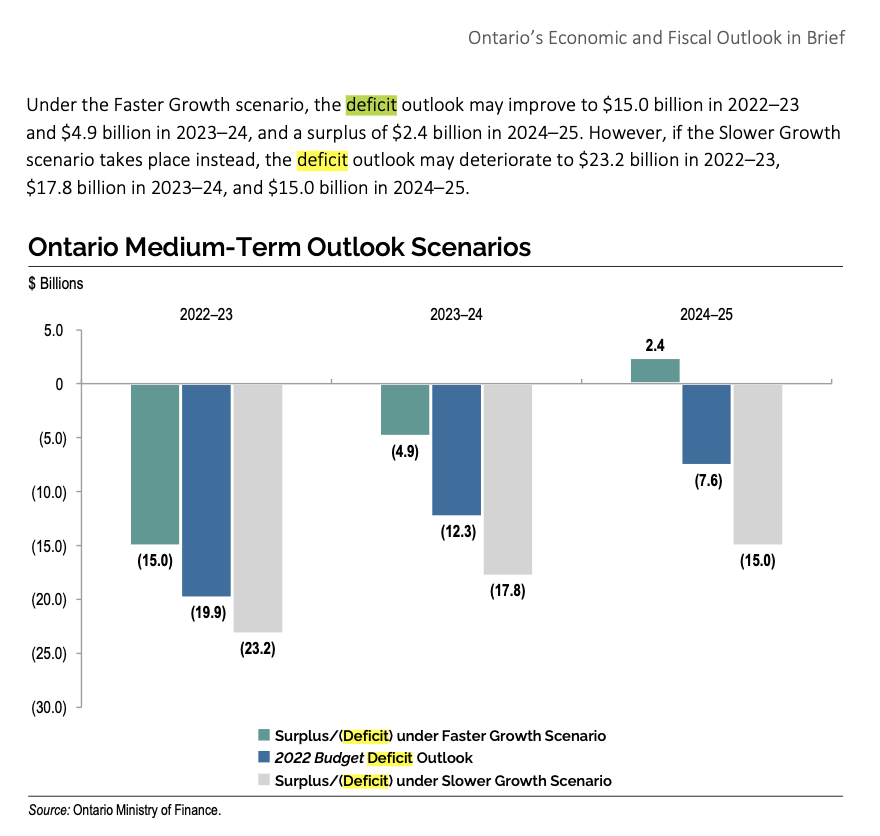 In her winter newsletter in 2019 (see below) she said the new Ford Government was addressing the fiscal challenges they inherited from the Liberals – notably the $15B debt (sic).
(In fact, she meant the annual deficit which is a mere fraction of the Provincial debt which has accumulated over decades. A deficit occurs when the Province spends more than it gets in revenues.)
$19.8 billion
The deficit for 2022/23 is expected to be $19.8 billion but it could be as much as $23.2 billion or a more modest $15 billion depending on what happens to the economy.
Spending on programs (eg health, education, children and social services, justice and so on) is expected to rise from $169 billion (including Covid 19 time limited funding of $19.1 billion) in 2020/21 to $188.1 billion in 2024/5.
Interest on debt is forecast to rise from $12.3 billion in 2020/21 to $14.9 billion in 2024/5.
Going for Broke
Ford has thrown all the old Conservative shibboleths overboard. He loves to be loved and he is going for broke.
Buck-a-beer now wants to spend more on everything.
Not just on Covid.
Gallagher Murphy will get it done!
Christine Elliott's office manager and PC candidate for Newmarket-Aurora, Dawn Gallagher Murphy, is straining at the leash to spend.
But how does this square with the long-held views of her former employer, friend and mentor, Christine Elliott?
Has Dawn asked Christine if deficits matter anymore?
Anathema
On 27 October 2008 Elliott told the Legislative Assembly:
"deficit financing is anathema to Conservatives"
because running a deficit
"means that we are paying more and more in interest payments"
By 2011 Elliott was complaining that the Liberals had racked up a
debt of over $17,000 each for every man, woman and child in Ontario. That's serious. It's something we need to get a hold of.
Ontario is broke
She said:
"There's no money to spend. Ontario's broke right now. We need to get this under control, and it's not likely that it's going to happen under this government."
The Ford/Elliott Government has increased the net debt for every man, woman and child in Ontario to $25,334 in 2020/21 rising to $28,334 in 2022/23.
I am left wondering if Dawn Gallagher Murphy has a view.
Probably not.
This email address is being protected from spambots. You need JavaScript enabled to view it.
Postscript: Should we believe Ford's forecasts?
Ford's Budget shows house prices rose 54% in the two years from February 2020 to February 2022. The same budget predicts house prices will rise 9.5% this year.