Details

Written by

Gordon Prentice
So much for Doug Ford masquerading as a "successful" businessman.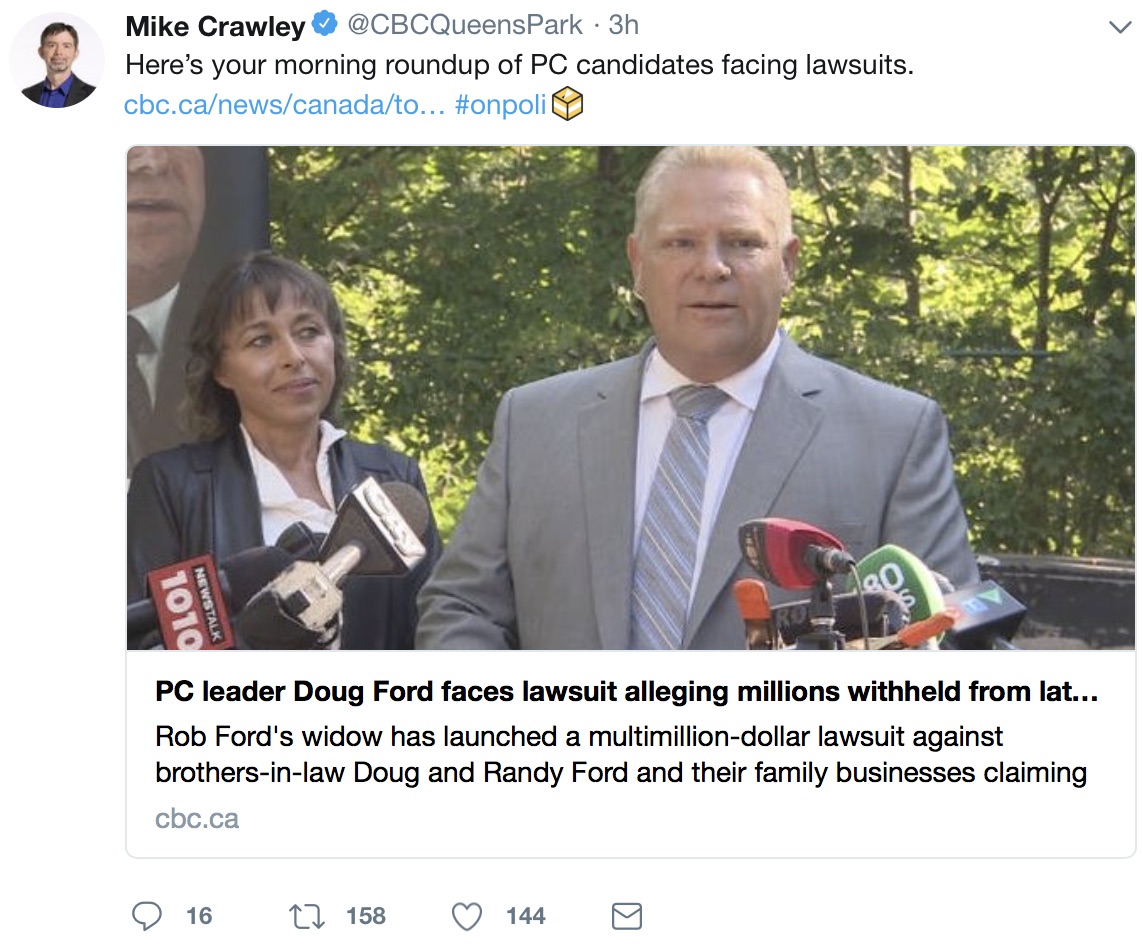 If we are to believe the astonishing lawsuit filed by Rob Ford's widow, Renata, the Deco Labels business has been run into the ground.
Year after year, losses mount and Doug carries on regardless, blowing cash as if the business will take care of itself. Ford has been plundering the company for years.
The lawsuit filed at the Superior Court shows the financial statements of Deco Toronto recording losses of $396,376 in 2010; $1,111,485 in 2011; $423,961 in 2012; $497,996 in 2013; $2,164,557 in 2016 and $1,498,598 in 2017.
Earlier today, the Star's Rob Ferguson tweets:
"On Renata Ford's lawsuit allegations @FordNation won't make Deco financial statements or his salary public."
For the man who tells us he believes in transparency and integrity and accountability, what's he got to hide?
Probably quite a lot.
Doug Ford: the unsuccessful businessman living on borrowed time
Many PC leaning people have turned a blind eye to the well-documented darker side of the Ford family believing Doug Ford, for all his faults, could at least plausibly claim to be a successful businessman. That narrative is now shot to pieces.
The Globe and Mail's Adam Radwanski writes of Doug Ford:
"…part of his appeal has been that he's a successful businessman. Not knowing the ins and outs of the provincial bureaucracy, or how a bill becomes a law, was cast as less a bug than a feature of someone who would be able to bring his no-nonsense, back-to-basics private-sector expertise – the sort he'd proven in building up Deco Labels, the family business – to Queen's Park."
Am I surprised by the latest turn of events?
Don't be ridiculous! Of course not.
Ford Family Skeletons
It was only a matter of time before the skeletons came clattering out of the Ford closet.
The PCs are now flirting with criminality across the piece. Current and former PC candidates are embroiled in lawsuits or under police investigation.
It beggars belief Ontario's voters – with their eyes wide open – would entrust the Government of the Province to such a motley collection of crooks and shady characters.
"Anyone but Ford" must be the guiding principle.
This email address is being protected from spambots. You need JavaScript enabled to view it.
Here is a useful aide-memoire from the Toronto Star's Martin Reg Cohn reminding us where the Parties stand on the big issues.
Details

Written by

Gordon Prentice
Kathleen Wynne's bombshell announcement yesterday tells us she doesn't know who voters will choose on 7 June but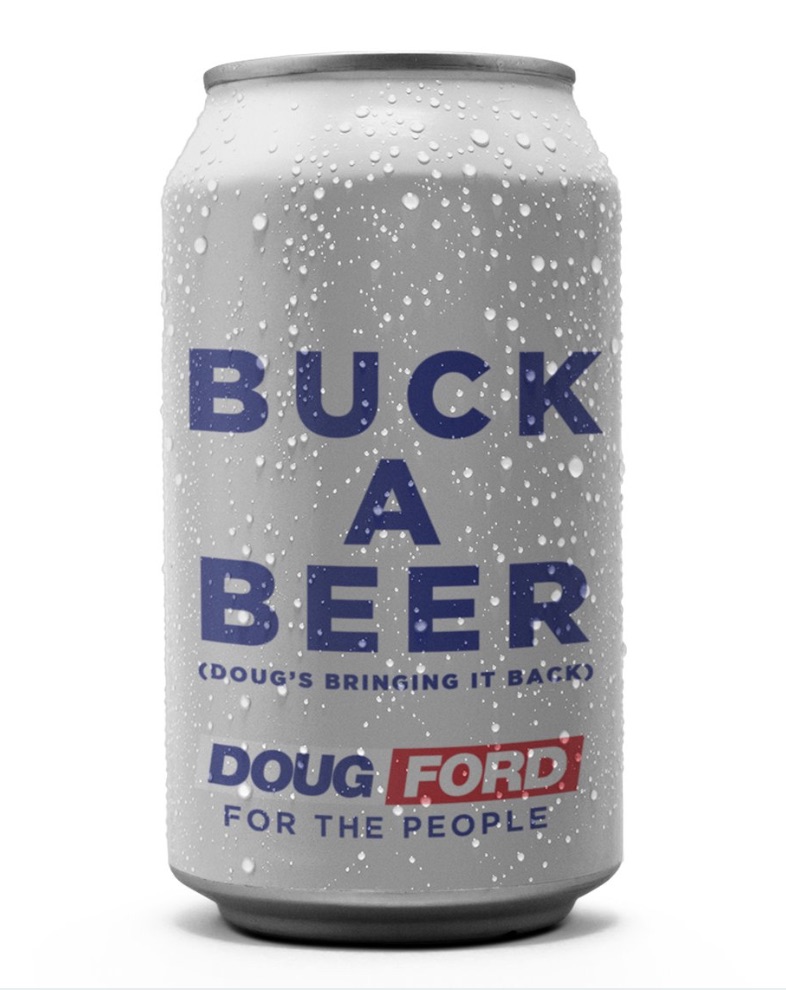 "after Thursday I will no longer be Ontario's Premier."
How will this play out?
Will Liberal voters take this as a green light to vote strategically for the NDP if they believe that's the only way of stopping Doug Ford in their riding?
Will they stick with Liberal incumbents – such as Chris Ballard in Newmarket-Aurora – on the grounds he's been a good MPP for the past four years and deserves to be re-elected?
Wynne's concession, five days before the election, is truly remarkable. Has she hung her candidates out to dry, broadcasting to the voters there is no possibility of a Liberal Government? Or has she thrown them a lifeline, allowing them to campaign on their own record without having Wynne's drag anchor pulling them down?
The PCs: a tainted Party
My advice is to vote for the candidate in the best position to beat Doug Ford's tainted Progressive Conservatives.
Even the PCs themselves know their Party has been corrupted.
Christine Elliott, the PC candidate in Newmarket-Aurora, lost to Doug Ford for the Party leadership and refused to concede defeat when the figures showed she had lost.
Elliott put out a statement saying her campaign had been made aware of
"serious irregularities with respect to this leadership race."
She subsequently threw in the towel and accepted the result and is now one of Ford's loyal lieutenants – at least until the result is declared.
All politicians have a shelf life. And when Elliott left the legislature she was well past her sell-by date. But the wholly unexpected resignation of Patrick Brown allowed her to re-enter Party politics, challenging Ford for the PC Leadership and, of course, losing.
Stepping aside
As for Wynne, would it have been better for her to step aside from the Liberal leadership three months ago instead of a few days before the election?
Absolutely.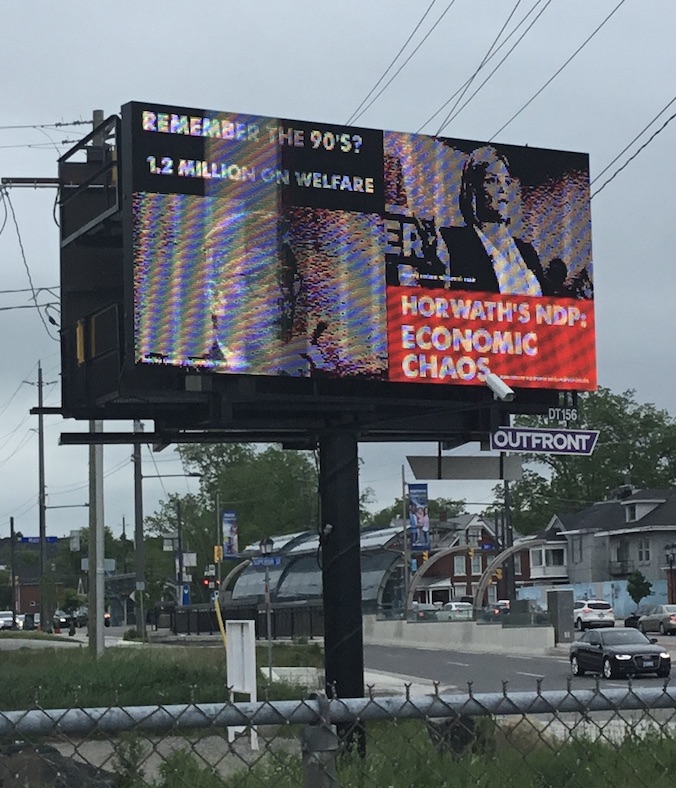 The best parallel I can immediately think of comes from New Zealand where the Labour Opposition Leader, Andrew Little, stepped down because of very poor polling figures and his successor, Jacinda Arden, took over on 1 August 2017 a mere seven weeks before the General Election. A deal was struck with the country's third Party and she found herself as Prime Minister.
Changing the face at the top allows a Party to present a new and fresher image to the electorate. It's tough on the Leader but politics is like that. It is in the nature of the beast. Here today and gone tomorrow.
The PCs are now going for the NDP jugular but their campaign seems increasingly inept.
Pitching for the seniors' vote
This PC ad, outside the Seniors' Centre on Davis Drive, is, obviously, pitched at the older demographic.
It asks (above a grainy photo of Bob Rae):
REMEMBER THE 90's?
1.2 MILLION ON WELFARE
And alongside a photo of Andrea Horwath it shouts:
HORWATH'S NDP:
ECONOMIC CHAOS
Rae was NDP Premier of Ontario from 1990-95 so you would probably have to be in your late 30s or early 40s to have any serious recollection of Rae Days and all that.
The people in Newmarket's Seniors' Centre may remember those tumultuous times. But around 40,000 younger people in Newmarket-Aurora will have no interest in this ancient history.
The past is another country.
Except for Doug Ford who wants to bring back the good old days where you could buy a beer for a buck.
This email address is being protected from spambots. You need JavaScript enabled to view it.
Update on 3 June 2018: The CBC's The Campaigner email blast tells me:
"While Wynne's concession was surprising, it isn't unparalleled in provincial politics. In 2001, BC's NDP premier Ujjal Dosanjh was in a similar position, conceding a week before election day and anticipating big losses for his party. He asked voters not to split the left vote by voting for the Greens over the NDP. His plea didn't work. Gordon Campbell's Liberals won all but two seats, stripping the NDP of Party status."
Details

Written by

Gordon Prentice
In 2006, not long after she was first elected as MPP for Whitby-Oshawa, Christine Elliott was lecturing her fellow MPPs at Queen's Park on the importance of keeping campaign promises.

She told them it was really important to address the cynicism of voters:
"doing what you say you're going to do and not turning your back on your promises after you're elected"
She said they had to improve the flow of information to the public
"so that they receive all of the information they need in order to make informed decisions."
Those fine sentiments have been thrown under the bus – quite literally.
The books look bad. Very bad...
According to this morning's Era Newspaper Doug Ford told a "roundtable of candidates" at Newmarket's Best Western Hotel: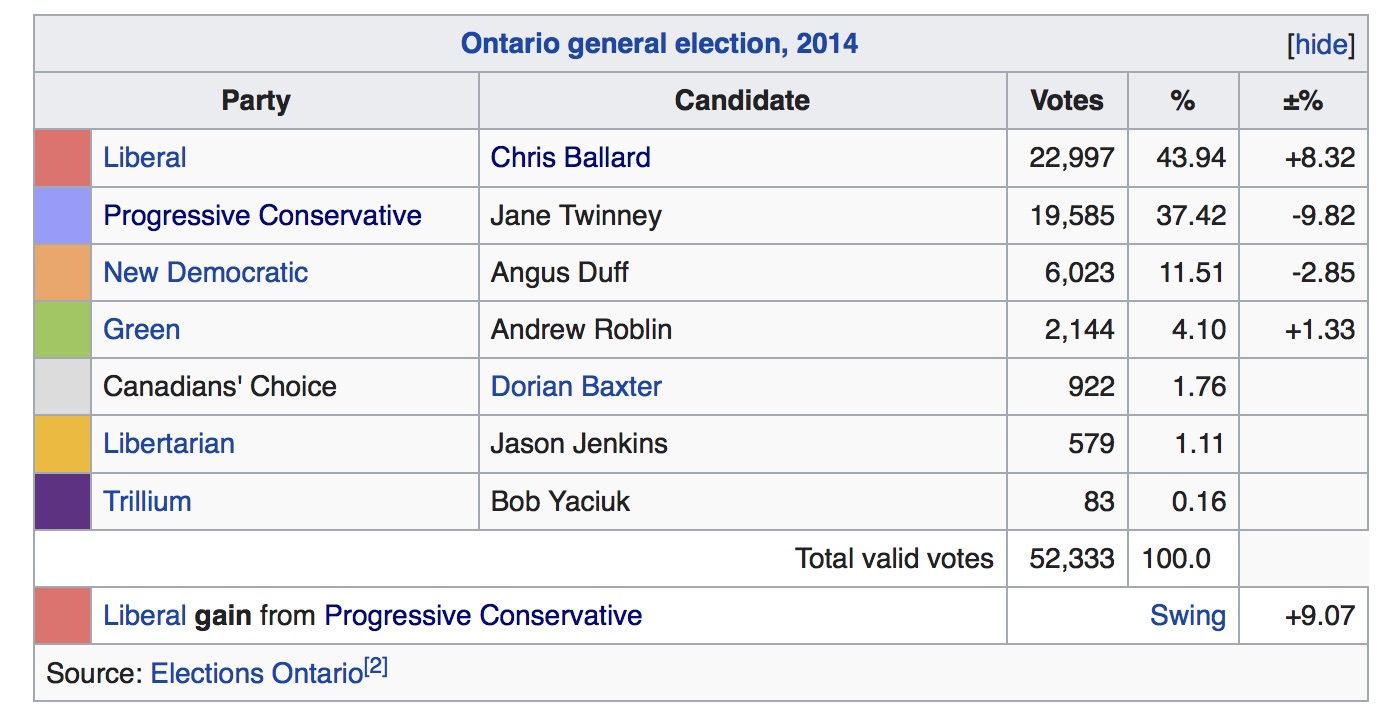 "We have been laying out our plan every day and putting a dollar amount beside every announcement. We have a fully costed plan."
Christine Elliott adds, disingenuously:
"We don't know how bad it is going to be yet. We can say we will be responsible and develop priorities."
Former chief economist at TD Bank, Don Drummond, writing in today's Toronto Star addresses that one head on:
"If the NDP or the Conservatives form the next Government, wait for that tired old refrain of how the books look worse from the insider perspective than the previous Government let on. Voters will not fall for that."
Other commentators say the new PC Plan makes a mockery of Ford's vow of a fully costed platform.
Ford's Platform "doesn't do the job"
And former Professor of Political Science at Ryerson University, John Shields, says the PC platform, as released, doesn't do the job.
"For voters, there still isn't any new fiscal information to make an informed judgment."
I wonder what Christine Elliott (2006 version) would say about that.
Now she says whatever it takes to get elected.
Lofty speeches on how best to deal with voter cynicism come later.
This email address is being protected from spambots. You need JavaScript enabled to view it.
Details

Written by

Gordon Prentice
The publication yesterday of the PC's "fully costed" platform is a big disappointment.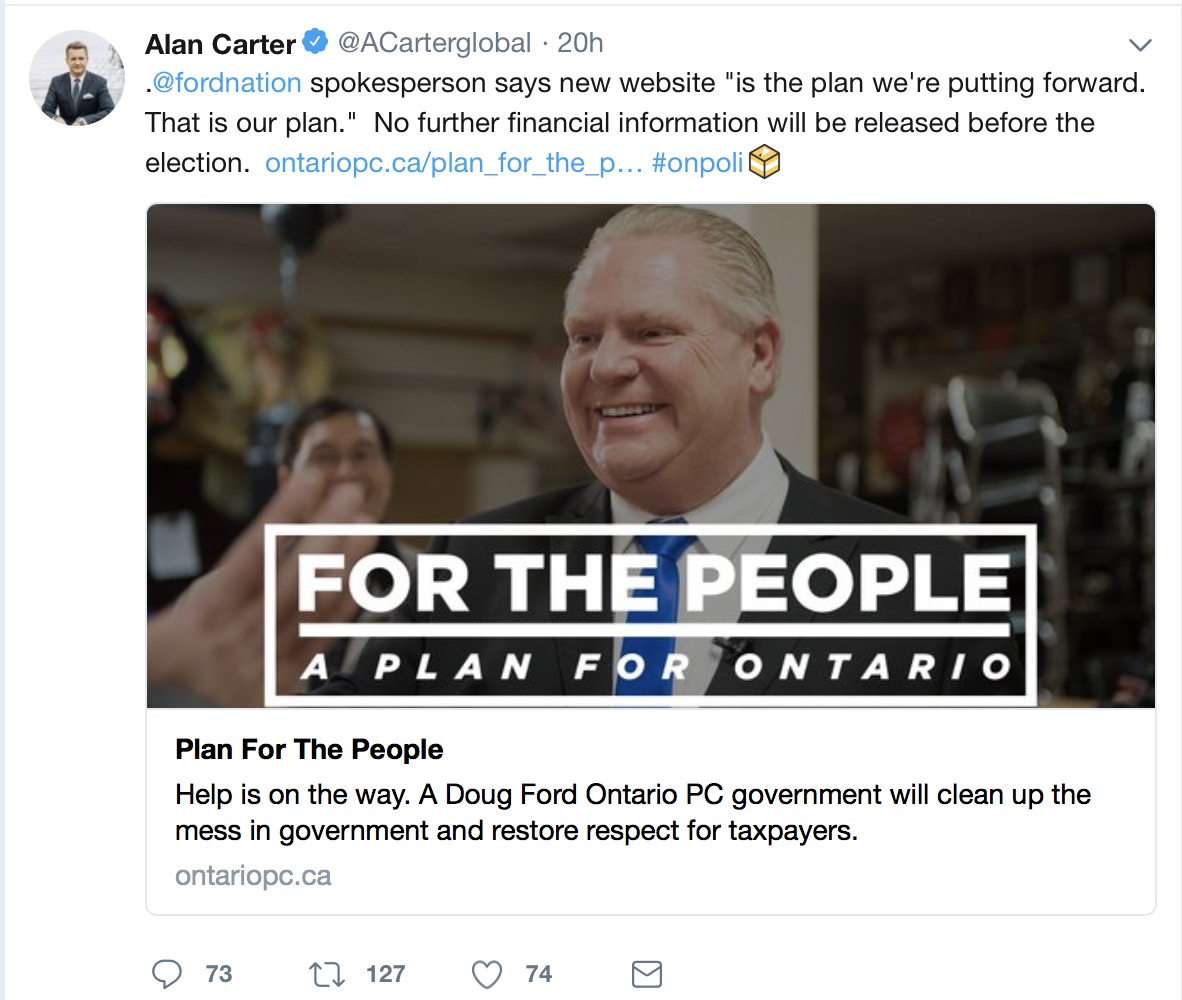 I am left wondering if this damp squib is what Christine Elliott had in mind when she told the Newmarket Chamber of Commerce candidates' breakfast meeting last week that a fully costed program would definitely be published before the election. She told me afterwards she didn't know precisely when.
The list of "clear, honest" commitments in Ford's "Plan for the People" together with their estimated costs is pure back-of-the-envelope stuff. The Plan is opaque when it comes to showing how the commitments will be paid for.
$6 billion disappeared from the Plan
The $6 billion in promised efficiency savings no longer appears in the plan – just a general spiel about rooting out inefficiencies. Ford says no jobs will be lost as a result of this efficiency drive. Just more cost-effective ways of buying paper clips and all the day-to-day things the Province needs to function.
Doug Ford's PCs have also abandoned their pledge to deliver a balanced budget within the first two years of their mandate. Instead we see the weasel word "responsible" creep into Ford's promise.
The Plan says Ford will:
"Return to a balanced budget on a responsible time-frame."
No Reckless Promises
Ford says he won't make reckless promises and that when he makes a promise he keeps it. "Period."
He told developers privately he would allow them to build on a "big chunk" of the Greenbelt but, full of contrition, he dropped his "reckless promise" 24 hours after an incriminating video went viral.
He now promises to
"Increase the supply of affordable housing across the GTA while protecting the Greenbelt in its entirety."
Perhaps Professor Ford should explain in detail how he plans to do this.
Ford says he will keep the all-day two-way GO/Regional Transit projects which are, of course, hugely expensive. Indeed, the Liberal Government took the perilous decision to sell off part of Hydro One – which has backfired on them explosively - precisely to channel much of the proceeds into modernising and expanding our ancient creaking rail network. So, how he makes his sums add up is more than of academic interest.
Respect and Trust
Ford's campaign is all about "getting Ontario back on track". He tells us "help is on the way" and he is going to bring "respect and trust to Queen's Park".
Perhaps all the PC candidates who cheated and bought their way to nominations via the 407 scandal and the 60,000 stolen IDs are going to be cleared of any wrong doing. This sinister crime is now, of course, the subject of a major police investigation.
If any PC candidates who were involved in this fraud are elected on 7 June Ford's promise to bring "respect and trust to Queen's Park" will be seen in retrospect as one of his more reckless.
This email address is being protected from spambots. You need JavaScript enabled to view it.
Details

Written by

Gordon Prentice
Background: The redevelopment of the Clock Tower in Newmarket's old downtown has been talked about since 2011. The developer, Bob Forrest, produced three versions in a bid to get approval, 9, 6 and 7 storeys, each with multi-level underground parking under Market Square. The final version was turned down by the Town on 28 November 2016 with only the Mayor in support. Forrest appealed to the OMB but this is no longer proceeding because of a new deal struck between the Town and the developer based on a "New Development Concept" – involving no demolition of heritage properties – but which we have yet to see.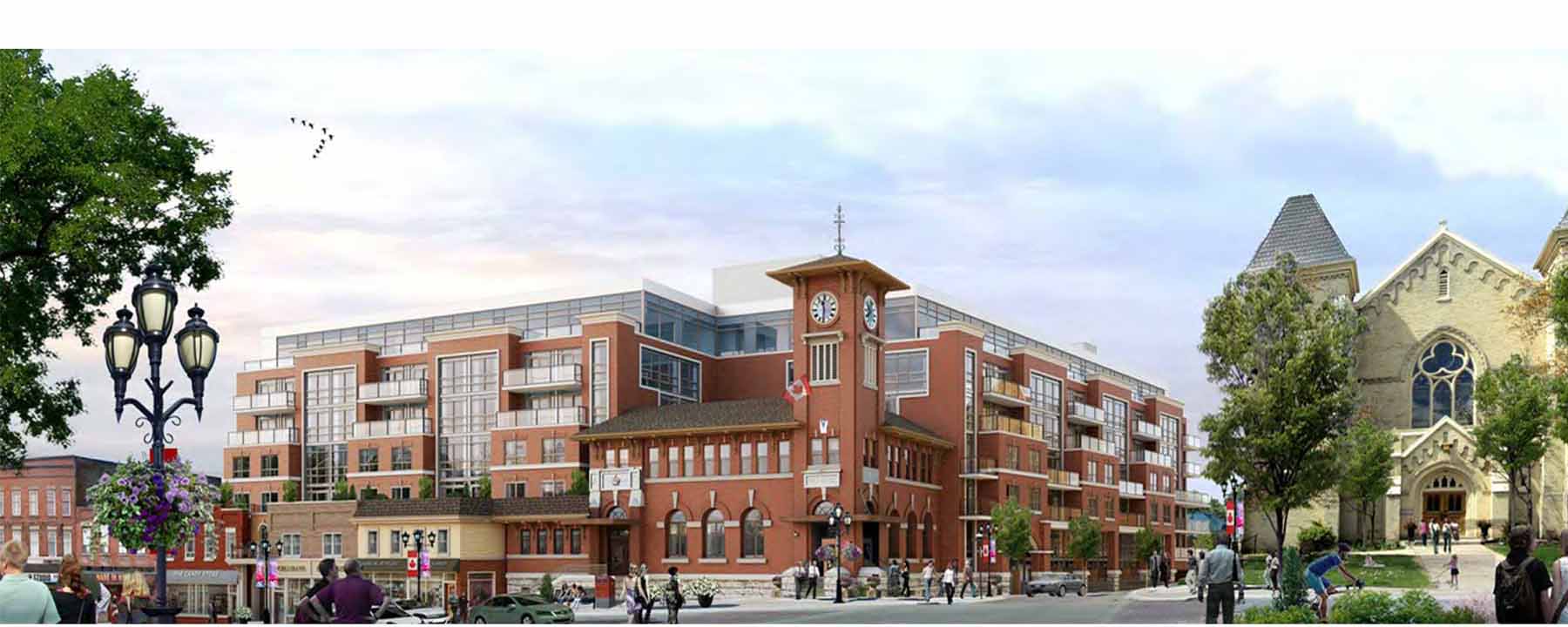 Director of Planning "misled"
For the first time – outside the Town's inner circle – Newmarket's Director of Planning, Rick Nethery, has let it be known he was misled by figures in a key document submitted as part of the Clock Tower application leading him to believe the true Floor Space Index (FSI) was 2.9 when, in reality, it was over 4.
The Floor Space Index is a key measure of density.
When asked by the Mayor to address comments that had been made about the development's FSI at the decision-making meeting on 28 November 2016, Mr Nethery said:
"There's no question that what Mr Wall (a member of the public) was saying is that we are looking at an FSI that's above what is currently in the documents. We don't dispute that. That is a question of whether or not if Council were to approve it they would be so approving with that in mind."
An FSI of over 4 would have given the proposed Clock Tower development in the heart of the fragile old downtown the highest density in the whole of Newmarket.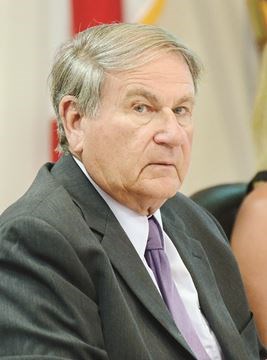 In conversation with veteran Newmarket councillor Dave Kerwin – described as a truly lengthy discussion - Mr Nethery said he had relied on a report from Brad Rogers of Groundswell, the planning consultants. In fact, Brad Rogers had no involvement whatsoever with Bob Forrest's Clock Tower application. The Planning Rationale Report containing the false FSI of 2.9 was prepared by Forrest's consultants, MacNaughton Hermsen Britton Clarkeson Planning Limited (MHBC).
What is the issue? Key information presented to councillors and public that was known to be false
One year ago, on 28 May 2017, I lodged an official complaint with Newmarket's Chief Administrative Officer, Bob Shelton, that, on 28 November 2016, the Town's Director of Planning, Rick Nethery, had put before councillors for decision a report on the proposed Clock Tower development that contained a Floor Space Index figure of 2.9 which the Director knew to be false.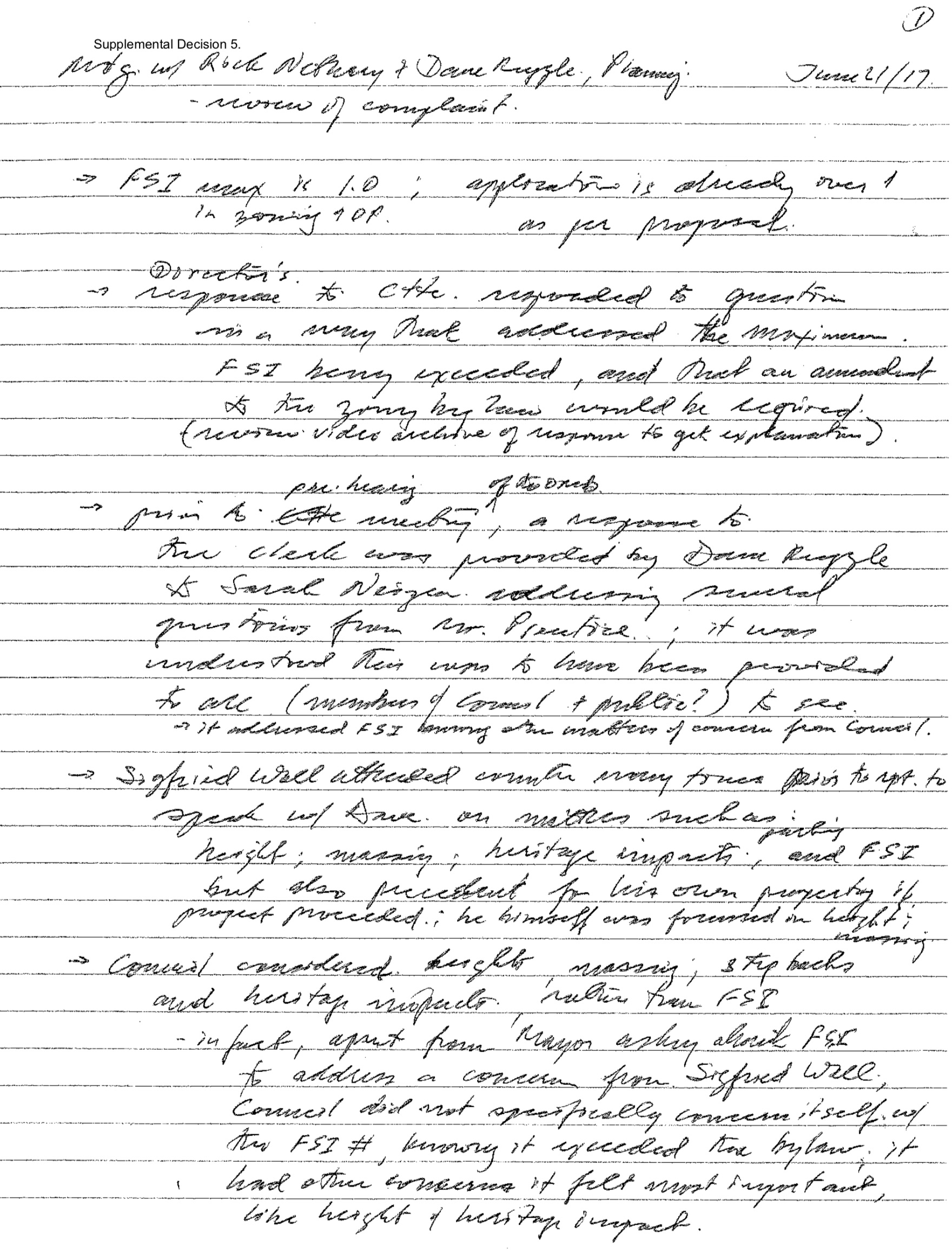 This is contrary to the Town's Code of Conduct which requires staff to be honest and not wilfully mislead councillors or the public on matters of corporate concern.
"No employee shall withhold information or wilfully mislead Members of the Council, other employees, clients or the public about any issue of corporate concern."
In the absence of any kind of explanation from Mr Nethery I took the view that he had deliberately turned a blind eye to the false FSI in order to increase the chances of Forrest's development getting approval. After all, the Mayor, Tony Van Bynen, had made it perfectly clear to the ERA newspaper that he was very much in favour.
The Clock Tower in its three evolving iterations had been the subject of discussions between Forrest and senior Town staff for years. Bob Shelton and Esther Armchuk (then Town solicitor) were intimately involved in these discussions as the project evolved. It was believed the development could kill two birds with one stone – the intensification of the old downtown with, perhaps, additional parking for the Town under Market Square.
Forrest confidently believed he had "approval in principle" from the Town in June 2013. The Town disputes this but refuses to release the report and minutes of the closed session meeting of the Committee of the Whole of 24 June 2013 where the matter was discussed.
What happened?
My complaint was reviewed by Mr Nethery's line manager Peter Noehammer who rejected it on 18 July 2017 on the grounds that the Town's planners considered height and massing more important than the FSI. There was no mention of Mr Nethery being misled. Nevertheless, he (Mr Noehammer) acknowledged that the 2.9 FSI was incorrect – how could he do otherwise? - and speculated that this was the result of some kind of misunderstanding by Forrest's planning consultants of what was required by the Town's Zoning By-law and what was said about parking in the Town's Secondary Plan.
My appeal against Mr Noehammer's review was heard by the Town's Complaint Review Committee composed of two senior members of staff – Esther Armchuk and Bonnie Munslow. Questions that I posed on 21 July 2017 in my response to Mr Noehammer's review - and arising directly out of it - were left unanswered.
Specifically, I wanted to know when Mr Nethery first realised the FSI was false. And when were elected officials first told the true FSI was greater than the 2.9 cited in the developer's document? To this day I have not received answers to these and other questions set out in my response to Mr Noehammer's review of 18 July 2017.
Beyond the scope of the original complaint
I was told these questions were not part of my original complaint and were beyond its scope. If I wanted answers I was advised to submit Freedom of Information requests, which I did. My questions were still not addressed. Key documentation was destroyed. And the Complaint Review Committee dismissed my appeal. I was told the one remaining avenue open to me was to go to the Ombudsman. I have done so.
Nevertheless, and in advance of the Ombudsman's investigation, I was still keen to get answers to the questions that had been ignored by Rick Nethery, Bob Shelton, Esther Armchuk and Bonnie Munslow.
I planned to invite every single elected official in Newmarket in turn to ask the Director of Planning on my behalf when he first realised the 2.9 figure was false. The answer to this disarmingly simple and straightforward question is the key to the kingdom.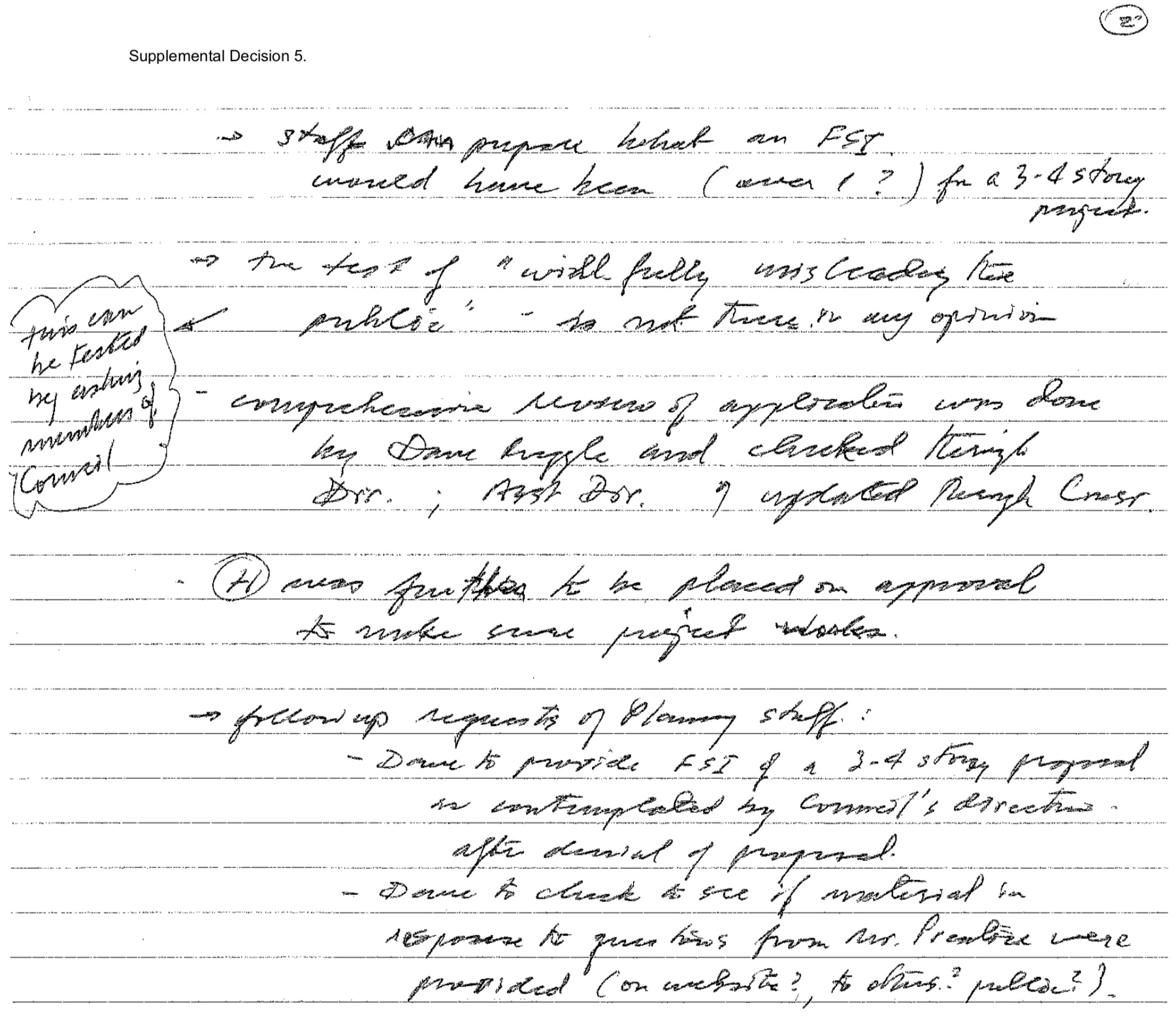 Mr Nethery had from 27 January 2016 (when the MHBC report was published) until 28 November 2016 to come to the realisation that the 2.9 figure was false. He was present at the Statutory Public meeting on 9 May 2016 when the proposed development's true FSI of over 4 was displayed in neon lights by a member of the public, Siegfried Wall. So, for Mr Nethery, when did the penny drop? And why did he allow the false FSI of 2.9 to remain in the report going up to councillors for decision?
Regional Councillor John Taylor declined to ask Mr Nethery
I first went to Regional Councillor John Taylor – who is now running for Mayor – but he declined to ask Mr Nethery. I then asked my Ward councillor, Tom Hempen, but he couldn't do it as he had declared an interest in the Clock Tower application as his jewellery business was close by. He advised me to approach another councillor and I asked Ward 5 councillor, Bob Kwapis, as the Clock Tower is in his patch. He too declined saying he was going to wait for the OMB to establish the facts. I next approached Councillor Dave Kerwin as the longest serving councillor on Newmarket Council – and, indeed, in the whole of Canada.
Councillor Kerwin told me Mr Nethery appeared to have been "innocently misled" by the developer's planning consultant's report whose 2.9 figure was derived from calculations involving the underground garage below Market Square. But all three iterations involved underground parking. Indeed, a report in November 2013 (planning report 2013/55) on the then 6 storey proposal - with two levels of underground parking extending under Town owned land – said the FSI was 4.25
With this history, didn't an FSI of 2.9 ring any bells in Mr Nethery's head?
It is simply not credible for the Director of Planning to ask us to believe that for ten months from January to November 2016 he did not know the FSI of 2.9 was false. So, when did he find out and what did he do about it? Who did he consult? Who did he talk to? Did he keep this realisation to himself? If so, why?
At no point during Mr Noehammer's review of my complaint was it put to me that Mr Nethery had been misled by the MHBC report.
When Mr Noehammer interviewed Mr Nethery and Mr Dave Ruggle, the senior planner responsible for the Clock Tower application, there was no mention of either being misled by the report. (Mr Noehammer's hand written record of the meeting was only produced following the intervention of the Information and Privacy Commissioner.).
Why is this important?
Until I have a statement from Mr Nethery explaining truthfully what happened I stick to my belief that his silence on the FSI which he knew to be false was to support the Mayor's agenda of intensification of the historic downtown. I also expect Mr Nethery to answer truthfully the questions posed in my letter to Mr Noehammer of 21 July 2017.
I believe other senior staff including the Chief Administrative Officer, Bob Shelton, should also make a statement on what they knew and when.
If key information put before councillors for decision is known to be false where does it all end? If this kind of deception can happen once – with no consequences for any of the main players – it can happen again.
This email address is being protected from spambots. You need JavaScript enabled to view it.
Subcategories