Details

Written by

Gordon Prentice
5pm: Developer Bob Forrest is putting Newmarket's iconic Clock Tower and the adjacent historic commercial properties up for sale.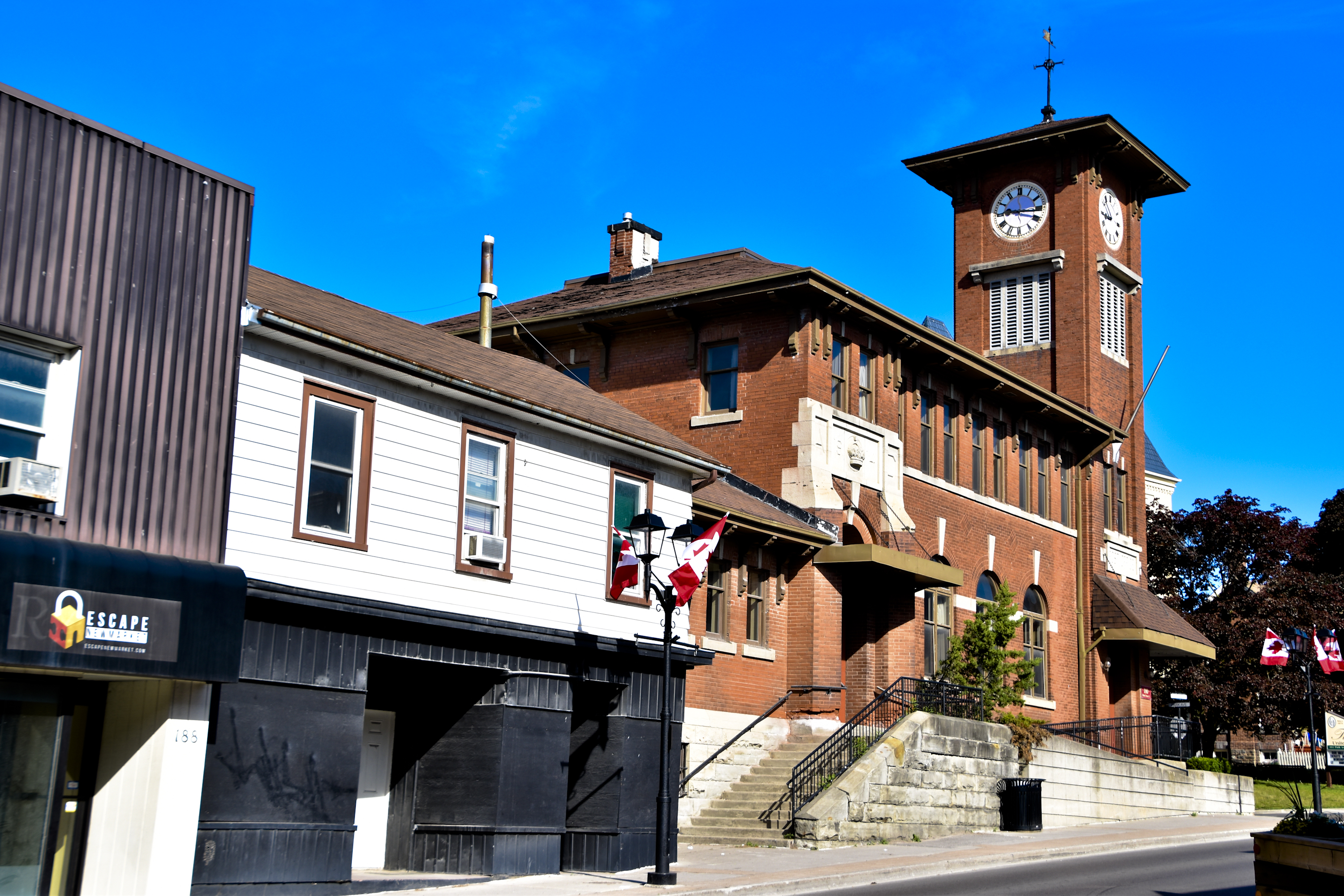 The sale is being handled by realtor Graham Purvis of Royal Le Page but the listing is not expected before June at the very earliest.
The agreement entered into by the Town and Forrest's Main Street Clock Inc last year still stands and Forrest will be getting the properties in a fit state for sale. They have been empty for many years and the buildings have deteriorated markedly.
A report on the Clock Tower is expected to go up to the Town's Committee of the Whole on Monday 29 April 2019.
All Forrest's buildings are within the Downtown Heritage Conservation District and the structures are protected - other than the old telephone exchange dating from 1957 (on the Market Square side of the Clock Tower building) which has no heritage value.
It appears the interiors are being stripped out.
This email address is being protected from spambots. You need JavaScript enabled to view it.
Update on17 April 2019: And this is how Newmarket Today subsequently covered the story.
I've had another look at the agreement entered into by the Town and Forrest's Main Street Clock Inc on 2 May 2018 and have reminded myself that the "New Development Concept" is simply a shorthand way of describing what Forrest can and cannot do with the lands he owns. This is what the Site Plan agreement (attached as Schedule 3 to the minutes of settlement) says:
… AND WHEREAS the Owner proposes to develop the Subject Lands (ie the lands that Forrest owns) within the existing Official Plan land use permissions and zoning by-law regulations, and the development shall be contained entirely within the existing building envelopes and structure, with the exception of the following, all at MSCI's sole option and discretion, (i) a ten stall parking lot (ii) the potential construction of passageway links between the buildings on the Subject Lands and (iii) the potential construction of covered garages at the rear of the Subject Lands, each as described in the minutes of settlement executed between the parties on the same date as this site plan agreement (the "New Development Concept")
On 4 May 2018, Colleen Forrest told us:
"Main Street Clock Inc looks forward to sharing in the near future an exciting new concept for this beautiful heritage space, a concept which will bring economic stimulus to downtown Newmarket."
It never happened. We didn't get an exciting new concept. Just another 12 months of dereliction and decay.
The Mayor, John Taylor, first learned of Bob Forrest's plans to sell the Clock Tower about two weeks ago.
Details

Written by

Gordon Prentice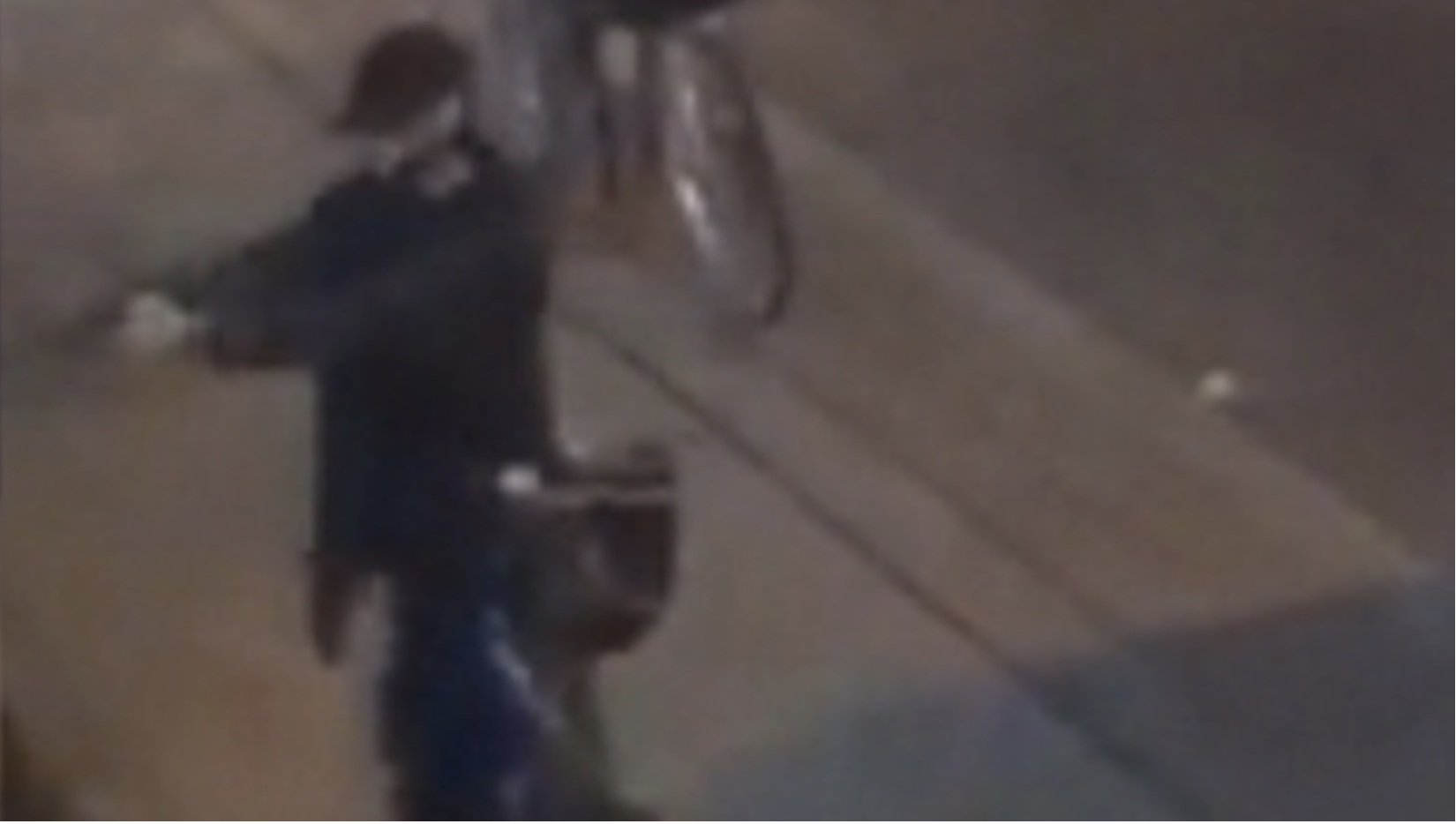 Newmarket-Aurora's Liberal MP, Kyle Peterson, now supports a ban on assault weapons.
This is progress.
But Kyle, who is standing down at the next election after one term in Ottawa, is still undecided about what to do about handguns. He told me last October he was going to wait for the report by Public Safety Minister, Bill Blair, before deciding which way to jump.
I have been pressing Kyle, whom I like, to come out strongly and unequivocally in favour of a ban on handguns and assault weapons. As an MP he is in a uniquely influential position. He can shape, mould and lead public opinion so his views matter to me.
But Kyle sticks to his guns. He is going to wait for Bill Blair's report.
Last Thursday (11 April 2019) the Government published a report on the firearms consultation which seemed to suggest the country was sharply polarised on a firearms ban. This was the narrative universally reported by the Canadian press from coast to coast. The gun-lobby got the headlines it wanted.
The full report was not posted on the publicsafety.gc.ca website until after the day after the story was reported by the media.
Flawed
The consultation is deeply flawed.
The on-line questionnaire, purportedly completed by 134,917 respondents, is completely bogus and its findings worthless.
On 11 April 2019, Patrick White in the Globe and Mail wrote:
"… the open nature of the survey invited digital trickery, with one firearms enthusiast telling the Globe last month he sent upward of 25,000 submissions using an automation app as way of thwarting what he felt were biased questions."
The fact that the online questionnaire could be manipulated in this way was openly acknowledged in the report which records the concerns that people had about the methodology. The list includes this concern:
"Did not require user verification and a single user could submit more than one response."
This concern was not addressed or rebutted in the report, merely acknowledged.
I hope the Globe and Mail will get back to Bill Blair for a comment on his useless on-line survey.
Manipulation
Why should people place any faith in a survey that can be so easily manipulated?
In the report's section on data collection and analysis I read that 1,103 responses were sent via email, 58 were sent via mail, and 8 were sent via fax.
But I learn that:
"Public correspondence sent to Minister Blair and Minister Goodale has not been included in this analysis."(my underlining for emphasis)
How many people like me emailed Bill Blair with their views without realising their comments would not be taken into account?
I sent two emails to Bill Blair on 11 October and 3 November 2018 and did not receive a reply to either.
Consultation by stealth
The report's section on data collection and analysis lists another concern:
"Lack of advertising meant members of the Canadian public did not know about the questionnaire."
Yet in this early period when I was struggling to understand the process for consulting the public, 134,917 on-line questionnaires were completed during the consultation period between October 11 and November 10.
We learn no questionnaires were completed in PEI or the Territories. Wasn't that a red flag signalling defects in the consultation methodology? We don't have the numbers or percentages of questionnaires completed in Nova Scotia, New Brunswick, Newfoundland and Labrador, Manitoba or Saskatchewan. Why not?
If the results can be extrapolated across the adult Canadian population as a whole (the very idea is risible) we are asked to accept that 81% of Canadians believe nothing more should be done to limit access to handguns and 77% believe no more should be done to limit access to assault-style firearms.
Seriously?
Christchurch
The questionnaire was, of course, completed before Christchurch. But I suspect the "results" wouldn't have been that much different had the questionnaires been completed after the massacre in New Zealand. The gun lobby is not open to persuasion.
When I was cajoling Kyle to come off the fence last October I asked how he would respond if a deranged individual shot and killed half a dozen people in Upper Canada Mall, using a handgun. I wanted to know if Kyle would tell the press and public he would be waiting for Bill Blair's report before commenting.
Seems to me we've got to move away from the usual bromides and platitudes we hear after gun massacres. Please, no more "thoughts and prayers".
We need tough new laws to ban all hand guns and assault weapons in private hands.

After the Christchurch massacre Kyle tweeted:
"Everyone in our community deserves to feel safe and secure"
Which begs the question what are you going to do about it?
This email address is being protected from spambots. You need JavaScript enabled to view it.
Details

Written by

Gordon Prentice
There is a hive of activity today down at Bob Forrest's historic Clock Tower properties on Main Street. Men in white overalls and face masks are heaving stuff from the property interiors into skips for construction waste.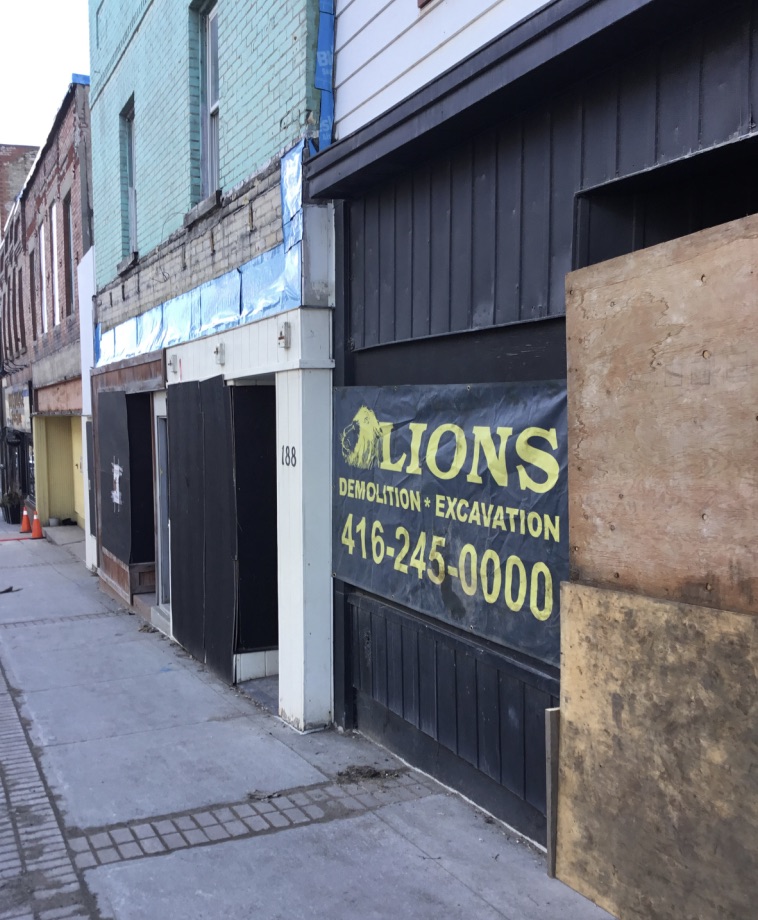 The historic properties at 180-194 Main Street have been boarded up and neglected for ages. But though they are gently mouldering away they are still liable for property taxes of around $42,000 a year. Bob has been shelling this out year after year but I suppose it is small change for him.
What the Town gets in taxes with one hand it generously pays out in grants with the other.
As part of the deal struck with Bob Forrest's Main Street Clock Inc last year, Forrest is eligible for grants of up to $100,000 to help bring the property facades up to scratch.
The matter was on the agenda of the Newmarket Downtown Development Committee on 29 March 2019 and drawings were available for members to view but these were not given out. My spies tell me the application was for the facades and interior renovations of the historic commercial buildings at 184-194 Main Street South. The Clock Tower building itself did not feature. The application was deemed to be incomplete and it was deferred to a future meeting.
New Development Concept
But how on earth did it get this far when we haven't yet seen the so-called "New Development Concept" when it was promised "in the near future" on 4 May 2018.
Section 10 (b) of the agreement between the Town and Forrest's MSCI says this:
"The Town will provide access to the Newmarket Downtown Development Committee (NDDC) incentive program up to a cap of $100,000 to the extent that the New Development Concept qualifies and meets program criteria..."
Cart before the horse
It seems to me Forrest is putting the cart before the horse if he is requesting cash from the Town before we have had sight of the New Development Concept. How do we know if it qualifies and meets program criteria if we haven't seen it?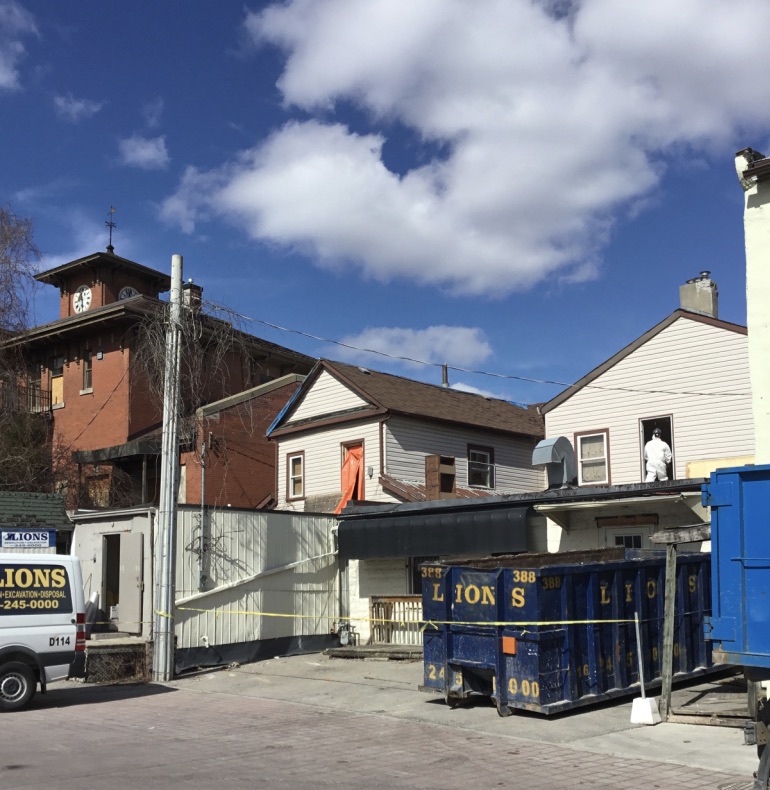 Has the Town seen the New Development Concept?
Has anyone asked for sight of it?
And if not, why not?
This is happening, for goodness sake, under our noses in the very heart of the Town's Heritage Conservation District. Have we gotten too used to the sight of these empty and decaying buildings?
Are they now just a familiar part of the streetscape?
Why can't the Director of Planning write an Information Report tomorrow and tell us what's happening?
Insofar as he knows.
This email address is being protected from spambots. You need JavaScript enabled to view it.
Details

Written by

Gordon Prentice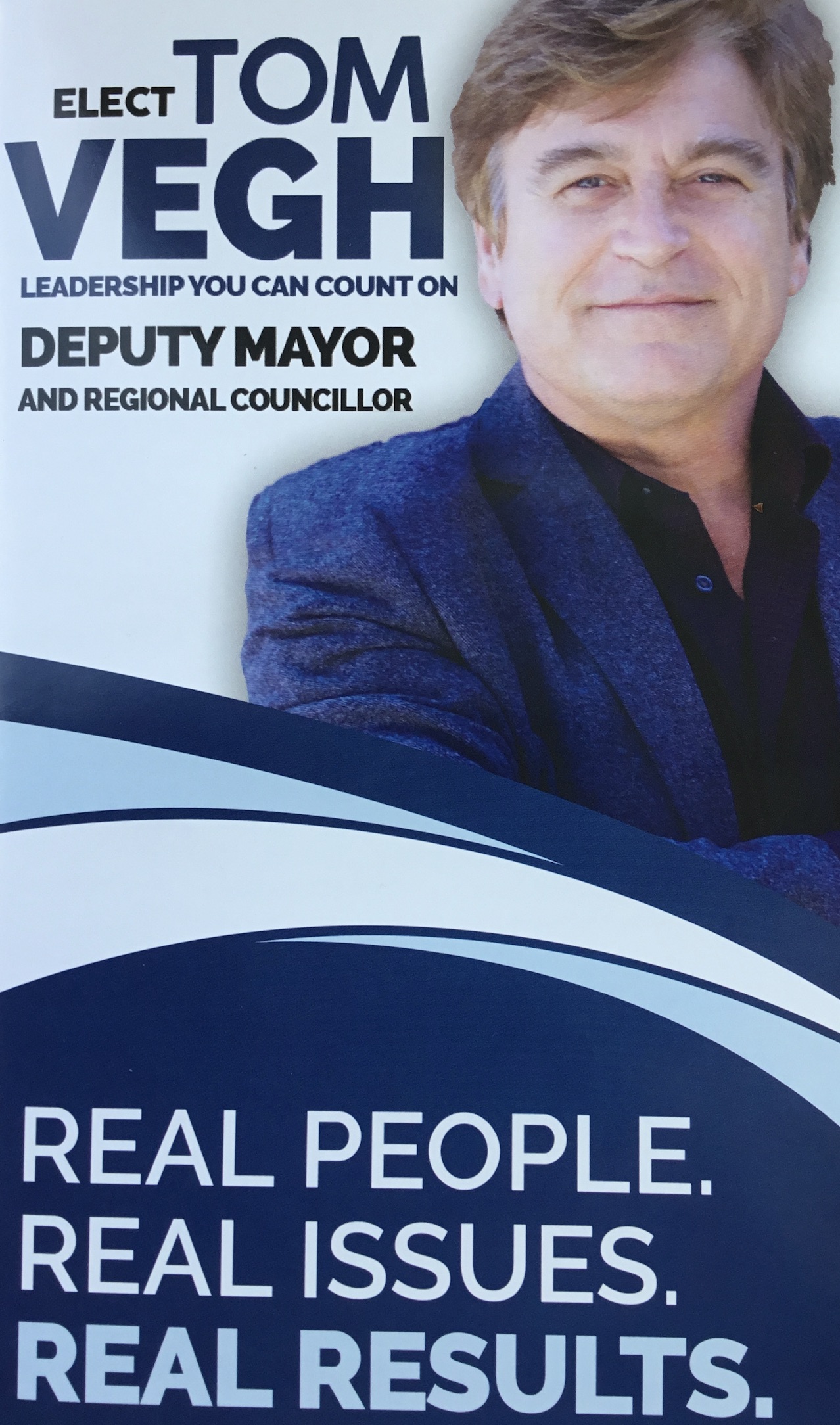 Regional Councillor Tom Vegh won his election last October on an explicit promise to build a new Library and Seniors' Centre on the site of the old hockey arena at Hollingsworth which is owned by the Town and will be closed permanently in 2020.
His main opponent, Chris Emanuel, told voters this was a pipe dream unless Vegh was willing to hike taxes by 40%. The voters took the chance and elected Tom.
Yesterday's Committee of the Whole - with a staff presentation and report on decommissioning Hollingsworth Arena - gives Tom a great opportunity to let us into his plans. He told me a month ago he has been working "diligently" on the matter.
As it happens, the Library and Seniors' Centre is the elephant in the room. Tom doesn't talk about them and no one asks. Tom is proving to be a huge disappointment. He refuses to engage in argument. He is afraid to make the case.
Broken Promises
Jane Twinney privately thinks it was just one of Tom's election promises – to be casually discarded once memories fade.
But I've told Tom I am going to track his promise for the full four year term of Council. When everyone else has moved on to exciting new topics I'll still be sitting on Tom's shoulder, reminding him about his new Library and Seniors' Centre.
That's how you keep politicians honest. You stick with them for the long term, following their inevitable twists and turns as their hastily written election pledges collide with reality.
(The same is true for senior staff who, given half the chance, will do their own thing, working on pet projects in their own parallel municipal universe.)
Brainstorming
But instead of painting a picture of his new Library and Seniors' Centre Tom waffles on about having a Council Workshop where everyone "brainstorms".
As I am listening to Tom and his brainstorming plan I am left wondering if he has ever spoken to his council colleagues individually to get support for his new Library. If so, it doesn't show.
I have concluded Tom is a particularly inept politician. I am surprised he didn't campaign last October on the promise of a Council Workshop on a new Library and Seniors' Centre. But maybe he realised that formulation wouldn't cut it with the voters.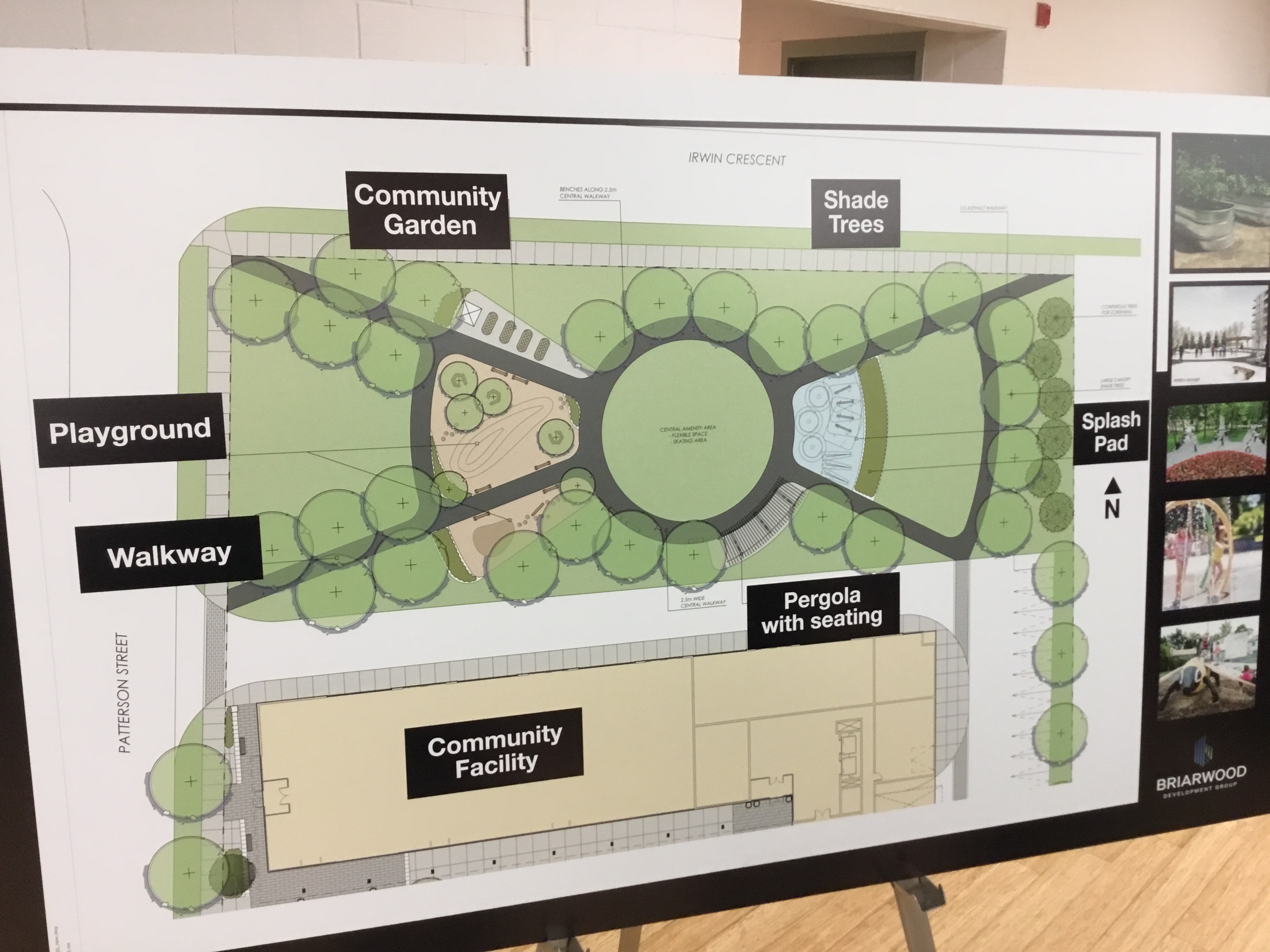 The Mayor, John Taylor, gives us a master class in how to handle Tom.
If Taylor wants things done – as with Mulock Farm - he calls on councillors to "seize the moment". If he is lukewarm about something (like a new Library) there's always plenty of time down the road to discuss things.
Taylor thinks it would be a mistake to hold a workshop before they see the staff report. But afterwards we hear it may be possible. But there is no rush. They've got all the time in the world.
And Taylor says there are "decision points" coming up but doesn't elaborate. We don't want a workshop getting in the way of decision points, Tom. Do we?
Tom doesn't ask if any of these decisions that are coming up will have a bearing on his plans for a new Library and Seniors' Centre.
Tom will have plenty of time to ask questions like that at the Council Workshop.
Whenever that is.
This email address is being protected from spambots. You need JavaScript enabled to view it.
The exchanges on 8 April 2019
Ward councillor, Jane Twinney, talks about the "decommissioning" of the Hollingsworth Arena in 2020 and how local people feel about it. We hear they are pretty much indifferent but wonder what is going to replace it. Jane wants staff to "bring back a report within six months on any plans for amenity use or public use at this location"
Jane says that within six months we are gonna know where we are going with this.
The Mayor, John Taylor, burbles on about "high level options" and wonders what the (Recreation) Playbook says. He agrees people are gonna wonder what's happening. "Does it (the arena) sit for a year? Two years? Four years?"
Jane Twinney: "One of the concerns out there is we have some plans in our Recreation Playbook for that area and it is hard for us to move forward on those until we know where we are going… It is good that we are dealing with this and that way we are able to move forward and come up with some concrete plans for that area which I'm looking forward to."
Development and Infrastructure Chief, Peter Noehammer, weighs in. He says the report will provide an opportunity to consider future land use. "But the Recreation Playbook first and foremost."
Tom Vegh: "For us the decision on decommissioning the arena… this has actually (been) on our radar for a number of years. I remember sitting round this table (asking) what are we going to do about Hollingsworth? And now we've gone forward a great deal."
"I agree with Councillor Twinney it's very important. People will immediately ask what are you going to do there? And I do welcome suggestions from staff. But I would also like to have – even before we have suggestions from staff, quite frankly – if we can have a Council workshop to discuss this. We can speak to our constituents. We can bring forward our ideas as part of the process. Yes. I do want to hear from staff on that."
"We may also want to go to the public to get some feedback from (them). It is a wonderful location right off Davis Drive. Got a High School. The size is significant enough. There is a lot of opportunities there."
"So I know, Councillor Twinney, you said a report back from staff within six months… Maybe we could include with that – maybe with a slightly longer time period if you wish – that there should be a Council workshop on that. A bit of brainstorming from Council on what we would like to see for that site in addition to something coming back from the staff based on whatever they feel it should be based on."
Mayor: "OK"
Tom Vegh: "I think Councillor Twinney asked for a seventh point for a report back within six months and I am agreeing with that. But I would also like to see in that six month period a Council workshop for us as Council to, um, discuss what we'd like to see on (that site). What opportunities (there are). A bit of brainstorming on that as opposed to just getting a report from staff."
Mayor: "OK… I think we should get the report. There are other things that can happen between now and then. Decision points that everyone is aware of. Why don't we take it one step at a time? I mean the report could be the trigger for a workshop. Right? Keep in mind we've got over a year and a half of this (the arena) functioning and still standing. We've got time on our side here (laughs)"
"Let's take a couple of decision points. We've got a decision point coming up soon on another matter related to this area and we've got the report that's being requested to lay out the options. One of those options could be a workshop and we could go to that but we do have a lot of time ahead of us."
"I think to do that previously (hold a workshop) is going to trigger the ward councillor getting public opinion. If you guys talk about this I (inaudible). So if we just take one step at a time…"
Tom Vegh: "OK. I agree with you that after the report there will have to be some kind of workshop and that's fine with me now."
Details

Written by

Gordon Prentice
The future of Ontario's eight regional municipalities and Simcoe County and their lower tiers is under review. The Premier wants our thoughts
"on governance, decision making and service delivery functions in these regions".
He says he is consulting the people to get their views. He wants to know how municipal services can be made more efficient while saving money.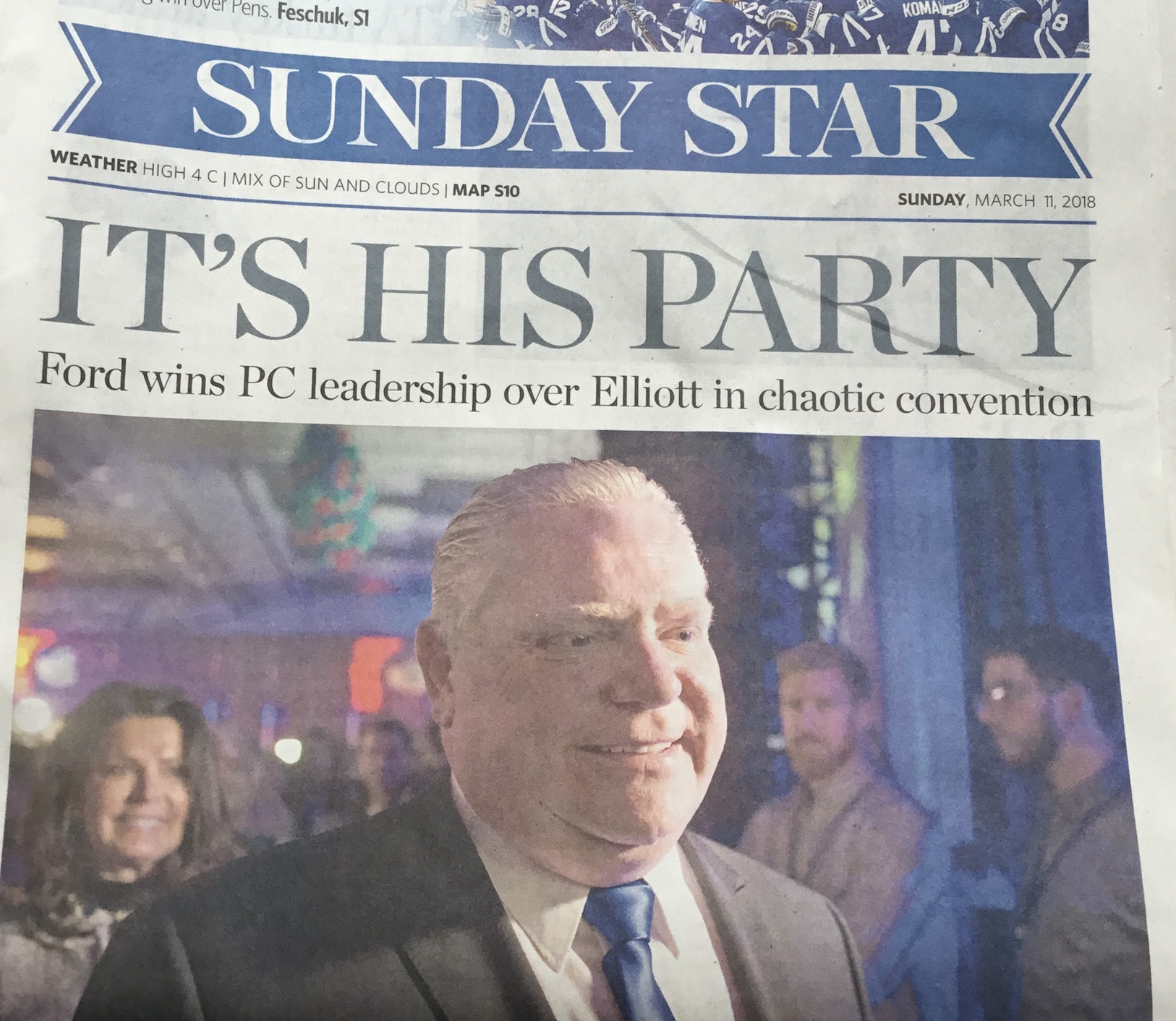 Ford, the proud winner of the "golden scissors" award, wants to cut red tape.
Unfortunately, the public consultation on his review is hopelessly flawed.
Insufficient background material has been provided by the Ford Government to get an informed dialogue going.
Are amalgamations the answer?
Would amalgamations save money? What are the costs and benefits? What about the opportunity costs of reorganisations? What about the work that won't get done because people and organisations are focussing on what happens next, to them?
There are examples of amalgamations in Ontario and elsewhere in Canada. Are there any lessons we can learn from those? We haven't been told.
There is material on municipal restructuring on the website of the Ministry of Municipal Affairs and Housing but it is not tailor-made to inform the current review.
The membership of the Regional Councils is drawn from directly elected Regional Councillors and lower tier Mayors who are passported on to the Region where they pick up a $55,000 "stipend". What are the pros and cons of this arrangement? Our current Mayor, John Taylor, frequently speaks at the Region in contrast to his silent predecessor, the mute passenger, Tony Van Trappist. Should all members of the Regional Council be directly elected?
Christine Elliott keeps her views to herself
If Regional Councils are to continue to exist in some form should all Regional Chairs be directly elected? In York Region we have an indirectly elected Chair, Wayne Emmerson. In Durham theirs is elected by the voters at large. (The PC Deputy Leader, Christine Elliott, who happens to be my own MPP, steadfastly refuses to tell me if she is in favour of the Durham model. She was the MPP for a Durham riding for many years before parachuting into Newmarket-Aurora.)
People who want to contribute have three ways to make their voice heard. They can fill in an on-line survey or put in a written submission (no more than 500 words please!) or speak directly to the two advisers appointed by Ford to move the policy forward. If you plump for the latter (as I have) you will, if you are selected, have 3-5 minutes to make your point.
Deadline tomorrow
I shall be going along to the York Region Seminar Room on Monday 6 May 2019 in the hope I am called. People who want to speak to the advisers must act now. The 6 day window to get your request in closes tomorrow, Tuesday 9 April 2019.
Clearly, the consultation period is way too short. Anything less than three months for a big policy decision is cutting corners. Municipalities may want to consult their residents or the myriad of organisations that have views on how municipalities deliver services. How can they possibly do this on these compressed deadlines?
Most people don't know Ford is asking for their views about a possible shake up of their local upper and lower tier municipalities. The advertising has been whispered. But the vested interests – the developers and their facilitators – will have been hard at work since the review was first mooted on 15 January 2019. They have teams of people whose full-time day job is to lobby and influence Government to deliver outcomes they want.
And of course members of the PC Party regularly get a heads up on what the Province is consulting on. Email blasts routinely urge them to participate in consultations with the web-link provided to make it easy. Then Doug asks them for a cash donation.
Doug Ford's Tin Ear
It seems to me Doug Ford's "Government for the People" doesn't listen to the people. He invites their views and then does what he intended to do all along.
On 23 January 2019 Ford asked for views on class sizes (amongst other things) and 11 weeks later told School Board Directors that the Province planned to phase out 3,475 full time teachers over the next four years.
On 4 April 2019, the Education Minister Lisa Thompson, complained:
"On a day when we reached out to begin good-faith consultations with Ontario's teachers, we instead are seeing Ontario teachers' unions condoning a student walkout at schools across the province."
Clearly, there is no point consulting people if the Government has already made up its mind. The press told us in February that "newly leaked documents show PC health changes are "a done deal". The PC Deputy Leader Christine Elliott struggled to convince us it was a genuine consultation.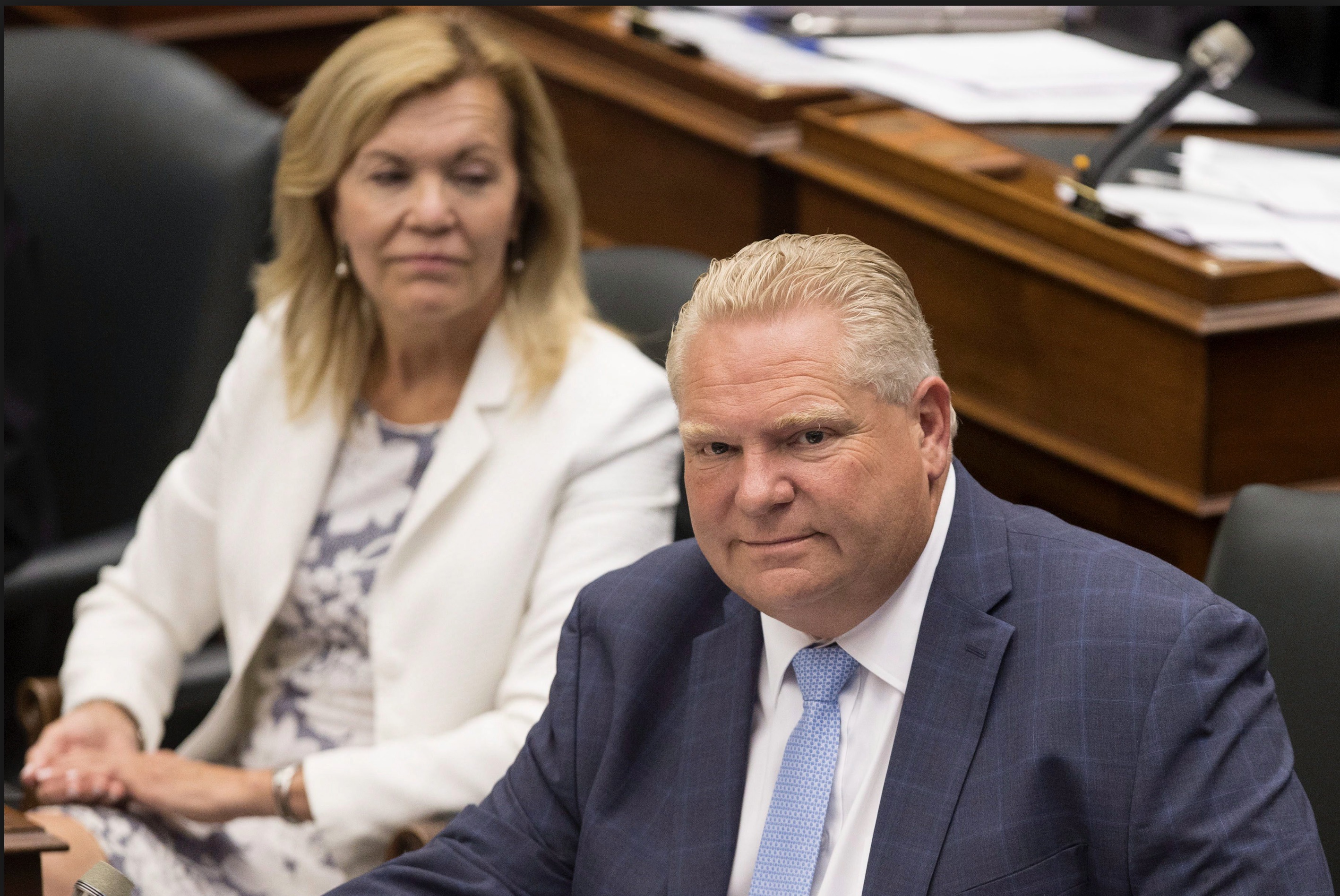 Going through the motions
The Province is currently consulting the public on a host of issues. But it's just going through the motions.
Ford is consulting on how best to moderate wage growth. As the man who froze the minimum wage I think we know where he is coming from. He is allowing a 45 day consultation on the future of conservation authorities. This is absurdly short given the typical municipal meeting cycle.
Modernising real estate laws gets a 43 day consultation.
He trumpets the fact that 2,000 people responded to his consultation on housing and 80% were from the general public. Is 2,000 out of an adult population of 11,529,862 a figure to celebrate?
When the previous Government consulted on the future of the OMB it produced a 44 page booklet to inform the public. And when the Municipal Act was up for review we had a discussion guide to help us understand the issues.
But where do I go for material on Ford's Regional Review?
Insights and experiences
If Doug Ford believes the public has insights, experiences and views that can make better policy then why make it difficult for people to participate? Why ask for Tweet-size responses?
We all want good policy making based on evidence that can withstand detailed scrutiny and challenge.
So why doesn't the Ford Government give us its early thinking in as much detail as possible and then invite us to comment?
I think we know the answer to that one.
He's making it up as he goes along.
This email address is being protected from spambots. You need JavaScript enabled to view it.