Details

Written by

Gordon Prentice
Background: The redevelopment of the Clock Tower in Newmarket's old downtown has been talked about since 2011. The developer, Bob Forrest, produced three versions in a bid to get approval, 9, 6 and 7 storeys, each with multi-level underground parking under Market Square. The final version was turned down by the Town on 28 November 2016 with only the Mayor in support. Forrest appealed to the OMB but this is no longer proceeding because of a new deal struck between the Town and the developer based on a "New Development Concept" – involving no demolition of heritage properties – but which we have yet to see.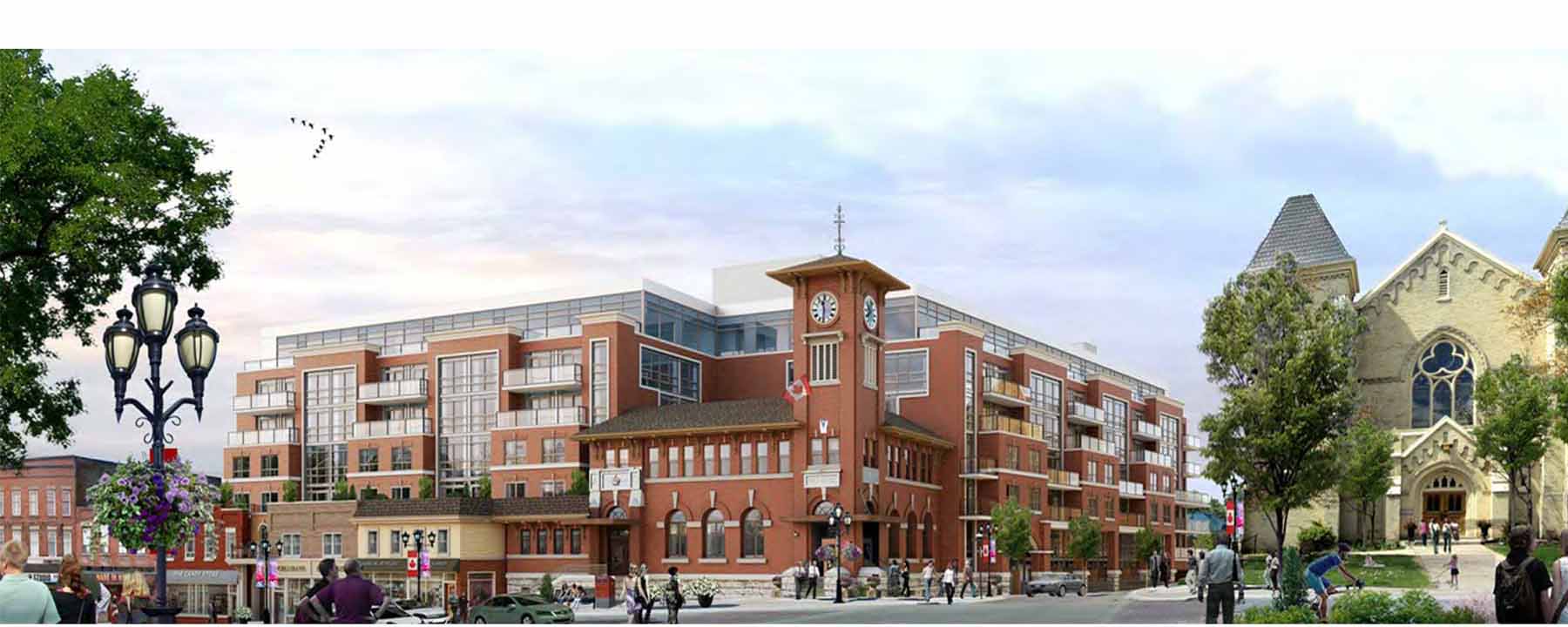 Director of Planning "misled"
For the first time – outside the Town's inner circle – Newmarket's Director of Planning, Rick Nethery, has let it be known he was misled by figures in a key document submitted as part of the Clock Tower application leading him to believe the true Floor Space Index (FSI) was 2.9 when, in reality, it was over 4.
The Floor Space Index is a key measure of density.
When asked by the Mayor to address comments that had been made about the development's FSI at the decision-making meeting on 28 November 2016, Mr Nethery said:
"There's no question that what Mr Wall (a member of the public) was saying is that we are looking at an FSI that's above what is currently in the documents. We don't dispute that. That is a question of whether or not if Council were to approve it they would be so approving with that in mind."
An FSI of over 4 would have given the proposed Clock Tower development in the heart of the fragile old downtown the highest density in the whole of Newmarket.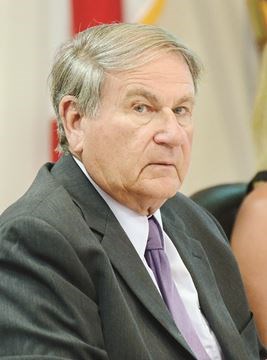 In conversation with veteran Newmarket councillor Dave Kerwin – described as a truly lengthy discussion - Mr Nethery said he had relied on a report from Brad Rogers of Groundswell, the planning consultants. In fact, Brad Rogers had no involvement whatsoever with Bob Forrest's Clock Tower application. The Planning Rationale Report containing the false FSI of 2.9 was prepared by Forrest's consultants, MacNaughton Hermsen Britton Clarkeson Planning Limited (MHBC).
What is the issue? Key information presented to councillors and public that was known to be false
One year ago, on 28 May 2017, I lodged an official complaint with Newmarket's Chief Administrative Officer, Bob Shelton, that, on 28 November 2016, the Town's Director of Planning, Rick Nethery, had put before councillors for decision a report on the proposed Clock Tower development that contained a Floor Space Index figure of 2.9 which the Director knew to be false.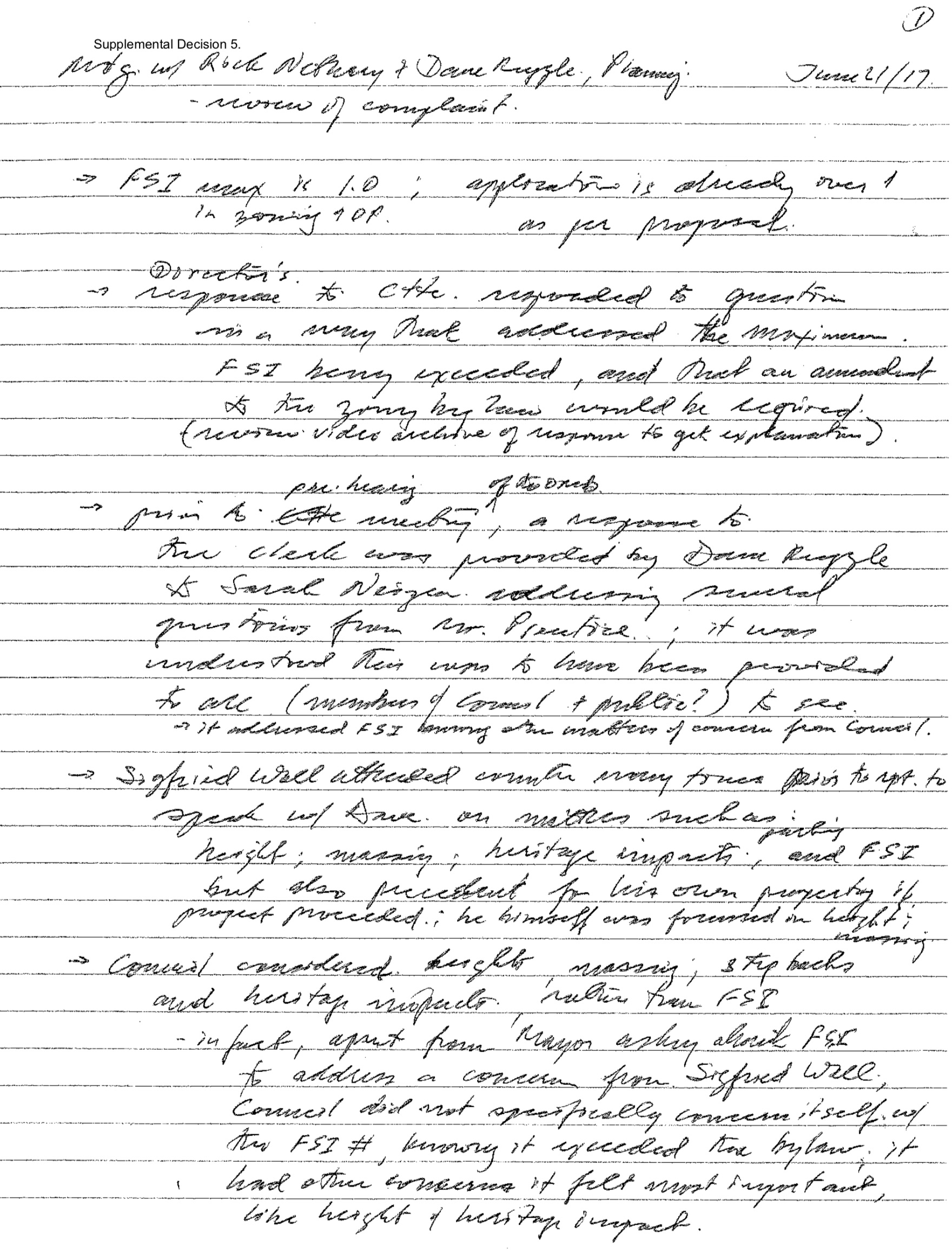 This is contrary to the Town's Code of Conduct which requires staff to be honest and not wilfully mislead councillors or the public on matters of corporate concern.
"No employee shall withhold information or wilfully mislead Members of the Council, other employees, clients or the public about any issue of corporate concern."
In the absence of any kind of explanation from Mr Nethery I took the view that he had deliberately turned a blind eye to the false FSI in order to increase the chances of Forrest's development getting approval. After all, the Mayor, Tony Van Bynen, had made it perfectly clear to the ERA newspaper that he was very much in favour.
The Clock Tower in its three evolving iterations had been the subject of discussions between Forrest and senior Town staff for years. Bob Shelton and Esther Armchuk (then Town solicitor) were intimately involved in these discussions as the project evolved. It was believed the development could kill two birds with one stone – the intensification of the old downtown with, perhaps, additional parking for the Town under Market Square.
Forrest confidently believed he had "approval in principle" from the Town in June 2013. The Town disputes this but refuses to release the report and minutes of the closed session meeting of the Committee of the Whole of 24 June 2013 where the matter was discussed.
What happened?
My complaint was reviewed by Mr Nethery's line manager Peter Noehammer who rejected it on 18 July 2017 on the grounds that the Town's planners considered height and massing more important than the FSI. There was no mention of Mr Nethery being misled. Nevertheless, he (Mr Noehammer) acknowledged that the 2.9 FSI was incorrect – how could he do otherwise? - and speculated that this was the result of some kind of misunderstanding by Forrest's planning consultants of what was required by the Town's Zoning By-law and what was said about parking in the Town's Secondary Plan.
My appeal against Mr Noehammer's review was heard by the Town's Complaint Review Committee composed of two senior members of staff – Esther Armchuk and Bonnie Munslow. Questions that I posed on 21 July 2017 in my response to Mr Noehammer's review - and arising directly out of it - were left unanswered.
Specifically, I wanted to know when Mr Nethery first realised the FSI was false. And when were elected officials first told the true FSI was greater than the 2.9 cited in the developer's document? To this day I have not received answers to these and other questions set out in my response to Mr Noehammer's review of 18 July 2017.
Beyond the scope of the original complaint
I was told these questions were not part of my original complaint and were beyond its scope. If I wanted answers I was advised to submit Freedom of Information requests, which I did. My questions were still not addressed. Key documentation was destroyed. And the Complaint Review Committee dismissed my appeal. I was told the one remaining avenue open to me was to go to the Ombudsman. I have done so.
Nevertheless, and in advance of the Ombudsman's investigation, I was still keen to get answers to the questions that had been ignored by Rick Nethery, Bob Shelton, Esther Armchuk and Bonnie Munslow.
I planned to invite every single elected official in Newmarket in turn to ask the Director of Planning on my behalf when he first realised the 2.9 figure was false. The answer to this disarmingly simple and straightforward question is the key to the kingdom.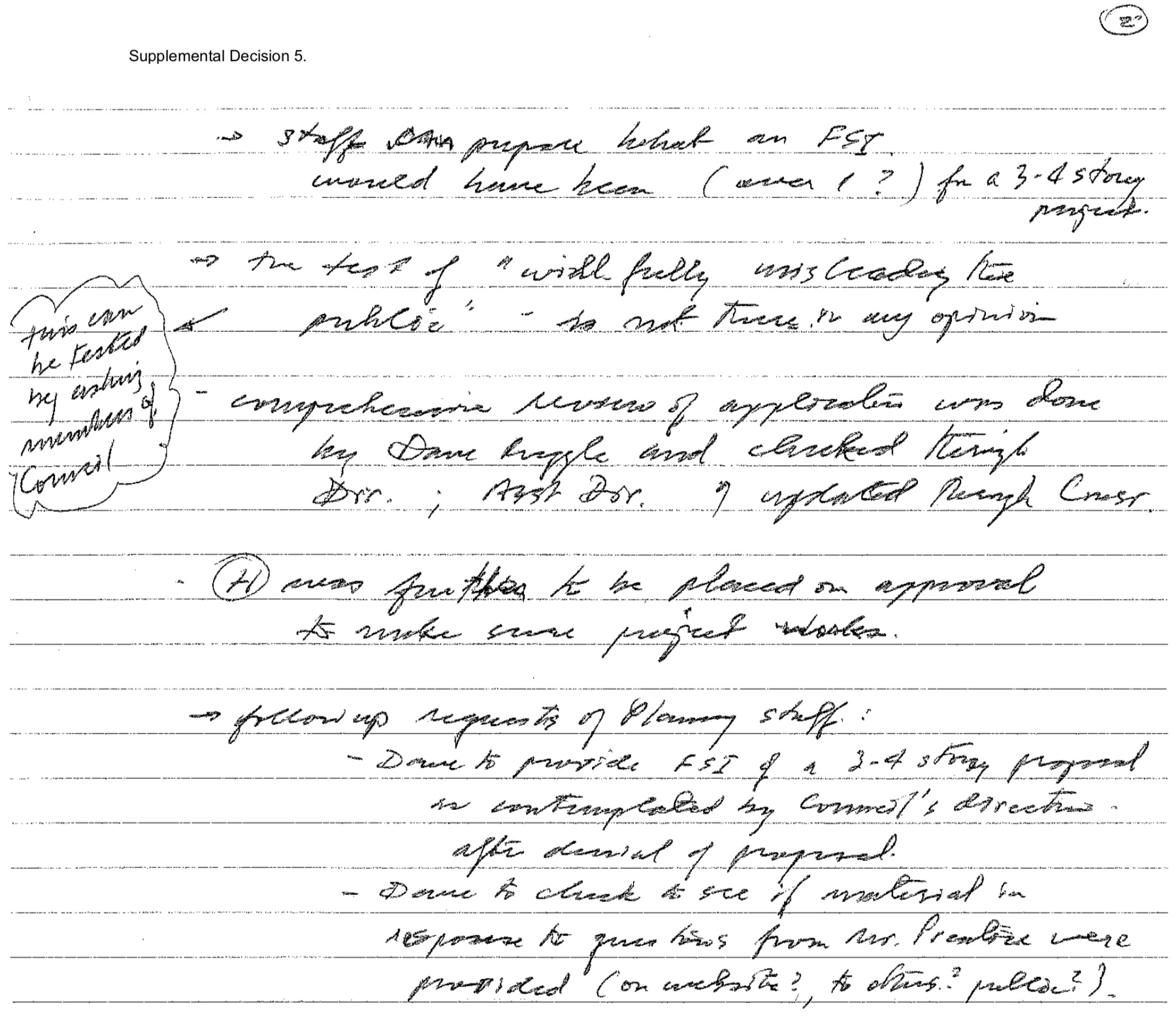 Mr Nethery had from 27 January 2016 (when the MHBC report was published) until 28 November 2016 to come to the realisation that the 2.9 figure was false. He was present at the Statutory Public meeting on 9 May 2016 when the proposed development's true FSI of over 4 was displayed in neon lights by a member of the public, Siegfried Wall. So, for Mr Nethery, when did the penny drop? And why did he allow the false FSI of 2.9 to remain in the report going up to councillors for decision?
Regional Councillor John Taylor declined to ask Mr Nethery
I first went to Regional Councillor John Taylor – who is now running for Mayor – but he declined to ask Mr Nethery. I then asked my Ward councillor, Tom Hempen, but he couldn't do it as he had declared an interest in the Clock Tower application as his jewellery business was close by. He advised me to approach another councillor and I asked Ward 5 councillor, Bob Kwapis, as the Clock Tower is in his patch. He too declined saying he was going to wait for the OMB to establish the facts. I next approached Councillor Dave Kerwin as the longest serving councillor on Newmarket Council – and, indeed, in the whole of Canada.
Councillor Kerwin told me Mr Nethery appeared to have been "innocently misled" by the developer's planning consultant's report whose 2.9 figure was derived from calculations involving the underground garage below Market Square. But all three iterations involved underground parking. Indeed, a report in November 2013 (planning report 2013/55) on the then 6 storey proposal - with two levels of underground parking extending under Town owned land – said the FSI was 4.25
With this history, didn't an FSI of 2.9 ring any bells in Mr Nethery's head?
It is simply not credible for the Director of Planning to ask us to believe that for ten months from January to November 2016 he did not know the FSI of 2.9 was false. So, when did he find out and what did he do about it? Who did he consult? Who did he talk to? Did he keep this realisation to himself? If so, why?
At no point during Mr Noehammer's review of my complaint was it put to me that Mr Nethery had been misled by the MHBC report.
When Mr Noehammer interviewed Mr Nethery and Mr Dave Ruggle, the senior planner responsible for the Clock Tower application, there was no mention of either being misled by the report. (Mr Noehammer's hand written record of the meeting was only produced following the intervention of the Information and Privacy Commissioner.).
Why is this important?
Until I have a statement from Mr Nethery explaining truthfully what happened I stick to my belief that his silence on the FSI which he knew to be false was to support the Mayor's agenda of intensification of the historic downtown. I also expect Mr Nethery to answer truthfully the questions posed in my letter to Mr Noehammer of 21 July 2017.
I believe other senior staff including the Chief Administrative Officer, Bob Shelton, should also make a statement on what they knew and when.
If key information put before councillors for decision is known to be false where does it all end? If this kind of deception can happen once – with no consequences for any of the main players – it can happen again.
This email address is being protected from spambots. You need JavaScript enabled to view it.
Details

Written by

Gordon Prentice
Ford is on the ropes, reeling from countless revelations about the rotten and corrupt PC nomination process which could put cheats, fraudsters and bullies into our legislature.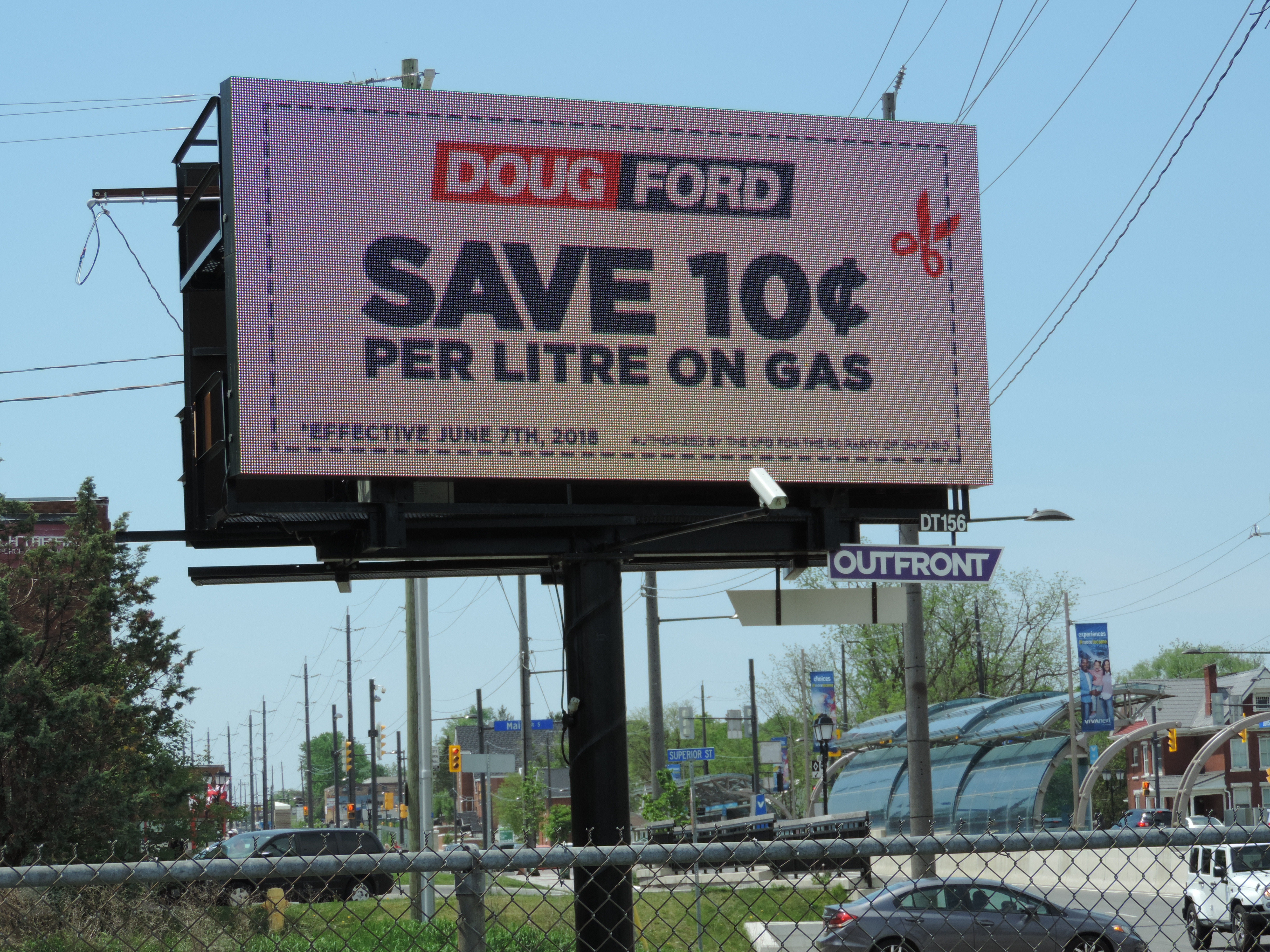 The evidence of malpractice is now overwhelming.
The practice of selling Party memberships in the run up to nomination meetings is asking for trouble. It invites cronyism and clientism and fraud. Who wants our politics to be tainted in this way?
It is in no-one's interest for us to turn a blind eye to the corruption of our politics.
The problem can be solved at a stroke by setting a cut-off date for participation in nomination meetings. Only members signing up, say, six months before the nomination meeting would be allowed to participate and vote. There will be other solutions but that one is simple and straightforward.
Final TV Debate has new significance
This tsunami of allegations now engulfing the Progressive Conservatives comes only days before the final TV debate where the Leaders square-off against each other.
The NDP by all accounts are soaring high in the polls with the Liberals flatlining.
The PCs are slowly seeping support.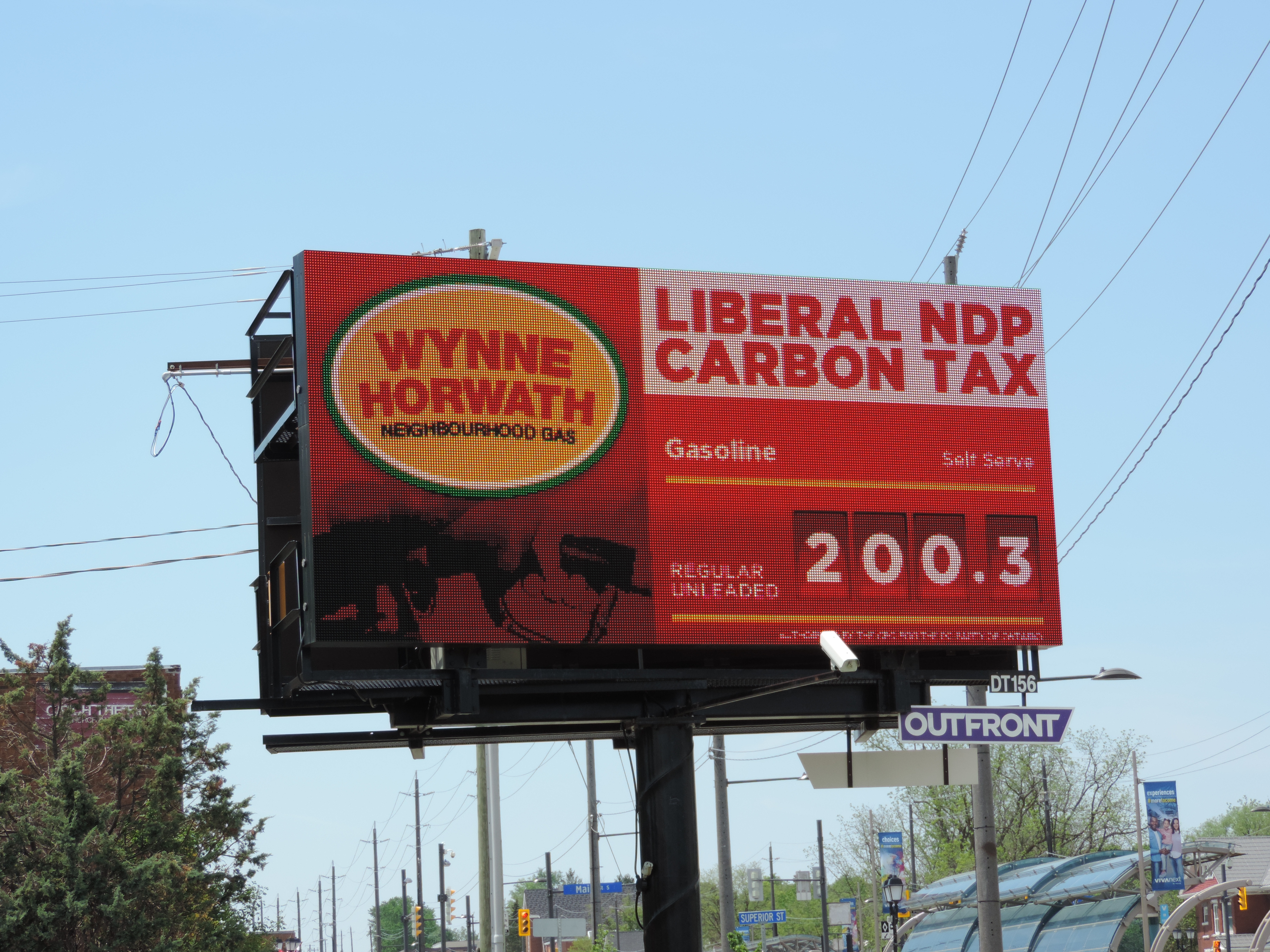 But who really knows what the voters are thinking?
Polls wrong about Brexit and wrong about Trump
The pollsters were wrong about Brexit – predicting by a large margin that the UK would remain in the EU – and they were wrong about Trump becoming president.
They get it wrong all the time.
But if Wynne is to stand a chance of winning the TV debate she's got to come out fighting.
Andrea Horwath may step back and allow Ford and Wynne to tear lumps out of each other – but there are dangers in relying on a passive approach, content with being a smiling spectator.
The one who lands the knock-out punch on Ford will be the winner.
This email address is being protected from spambots. You need JavaScript enabled to view it.
Details

Written by

Gordon Prentice
Chris Ballard, fighting for his political life here in Newmarket-Aurora, pledged last night that "by hook or by crook" he would bring a 15 minute GO train service to Newmarket's proposed new rail station at Mulock Drive. For the moment, the service is planned to stop at Aurora.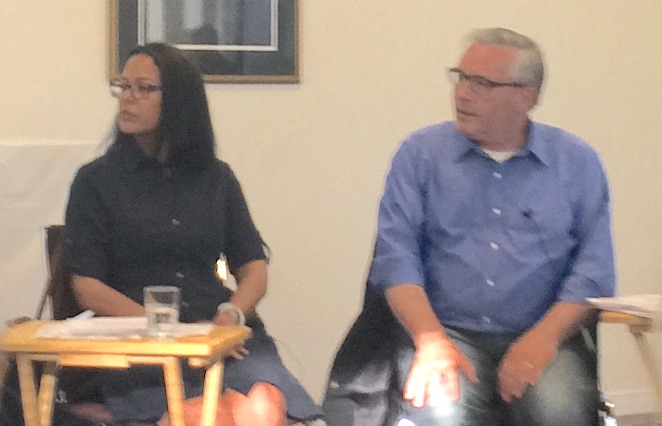 Ballard was speaking to an engaged and well-informed audience at Holy Cross Lutheran Church in Newmarket on a wide range of social issues. He was joined by the NDP's Melissa Williams with the PC's Christine Elliott and the Green's Michelle Bourdeau giving their apologies.
What did I learn that was new and interesting?
Keep Calm and Carry On
Melissa Williams has two businesses. One a marketing consultancy and the other, yoga and meditation. This might explain why she always appears so calm and unruffled.
I know she resents paying so much for her hydro but it comes as news to me that she has had to re-mortgage her house to meet all her expenses. It is, of course, her choice to make these details public but it gives us an idea where she is coming from. She comes across as open (perhaps disarmingly so) and absolutely genuine.
She is not a politician (at least not yet) and has never learned the art of dissembling.

Chris Ballard puts in another strong and confident performance, answering questions directly with no equivocations. I learn he is coming up to 60 and spent 25 of those years in the far north. Clearly, he knows and cares deeply about the issues facing first nations, giving us reams of examples.
Someone from the audience asks why the two candidates – and the two parties – can't get together and everyone laughs.
But there is a difference.
Ford rejects Ballard's briefing
Chris Ballard is blunt. He says an NDP Government would damage the economy. He says a strong economy funds the social programs we all care about. As for the PCs, he is dismissive. He says Ford would destroy the social safety net and roll back key programs on climate change. He reveals he offered Doug Ford a briefing on cap-and-trade but it wasn't taken up. Ford, he says, doesn't know the difference between a carbon tax and cap-and-trade.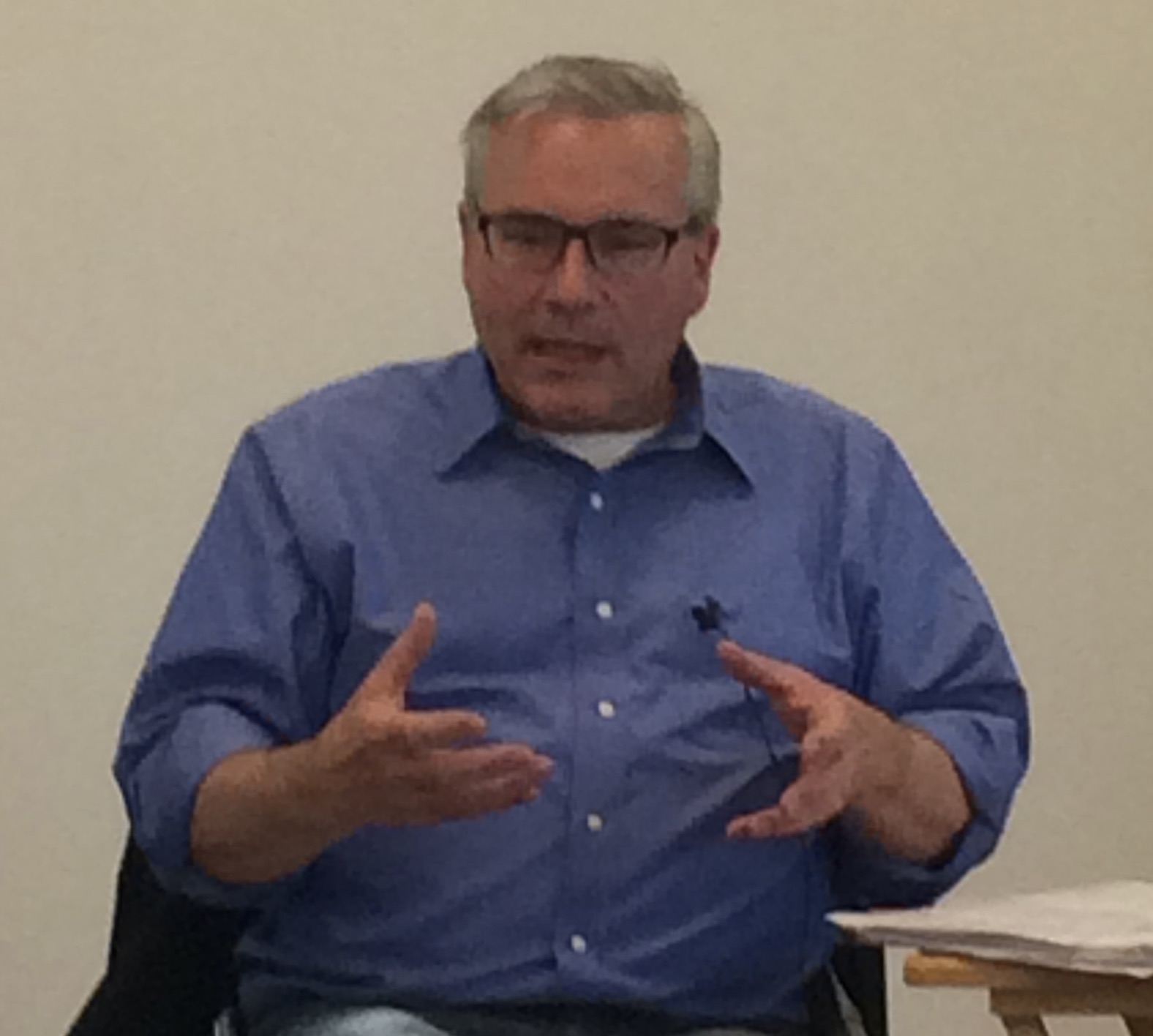 There are questions on precarious employment and both agree that not everyone is benefitting from growth in the Ontario economy. And what about income security? And truth and reconciliation? The questions keep rolling in. And now there is one on how best to promote critical thinking! Terrific! I am in the company of people who are light years away from Doug Ford's bumper-sticker politics. This meeting should have been streamed to a wider audience.
Melissa Williams has touching faith in Andrea Horwath's ability to deliver. That is not a criticism, merely an observation. Melissa sees the NDP platform as a program for Government, fully costed, with no mention of the black hole uncovered by the Liberals. Her list of spending commitments prompts one member of the audience to ask what many people are thinking. How will the NDP pay for it all?
Ticking all the boxes
Chris Ballard reflects on his four years at Queen's Park, comparing his promises to the voters in 2014 and what he has delivered. GO Rail expansion, OMB reform, protection of the Greenbelt and so on. He feels he has ticked all the boxes.
He gets energised about the Jobs and Prosperity Fund which Doug Ford has promised to abolish with the inevitable loss of 650 local jobs. Christine Elliott has been silent on this.
Now I hear someone say she is going to tweet Christine Elliott with the questions she couldn't answer tonight because of her absence.
I shall keep an eye on my Twitter feed.
This email address is being protected from spambots. You need JavaScript enabled to view it.
Details

Written by

Gordon Prentice
Former PC leadership contender and candidate for the bell-weather riding of Newmarket-Aurora, Christine Elliott, told a breakfast meeting earlier today that the Progressive Conservatives would be producing a fully costed platform before the election. She cannot say precisely when but says it is on the way.
She was speaking to an audience largely drawn from the Newmarket Chamber of Commerce at the Cardinal Golf Club just outside the riding.
In front of me I see the Liberal, Chris Ballard, defending the seat he first won in 2014, flanked by the NDP's new kid on the block, Melissa Williams, and PC hopeful, the veteran Christine Elliott.
The audience is well behaved and the atmosphere respectful, almost reverential. This would have suited the buttoned-up Newmarket Mayor, Tony Van Trappist, who I see at the back of the room, chin resting on his chest. At public meetings he would often warn members of the public not to applaud.
The MC, Ian Proudfoot, tells us there are 18 questions with strict time allocations involving red cards and a bell. The questions are all supposed to be business related except when they are not.
First question is, inevitably, about the cost of energy. Melissa says the NDP will buy back Hydro, return it to the public sector and cut energy bills by 30%. Just like that! Terrific!
Brownouts
Chris Ballard recalls the bad old days of brownouts in Aurora. The whole creaking electricity system badly needed investment and this is what the Liberals have been doing. He's happy with the public owning a 40% stake in a well-run company rather than 100% of a basket case. (My words). Christine Elliott says the high cost of hydro is forcing companies to consider relocating in the United States. She said the same thing at the Aurora Chamber of Commerce meeting last week.
Now we are on to spending and debt interest. This is a difficult one for the Liberals but Ballard comes out of his corner swinging, reminding us that Mike Harris spent 15.5 cents in every dollar to service debt and the saintly Kathleen Wynne is spending a manageable 8c. I consider this a good debating point and have Ballard ahead in these early rounds.
Now we are on to Bill 148, the Better Jobs Act. Christine Elliott says everyone wants to see an increase in the minimum wage – but not now. The PCs want to delay the implementation of next year's $15. Melissa and Chris trumpet their small business credentials saying they understand the pressures facing businesses but sticking with the increase is the right thing to do.
There is no Carbon Tax!
Now we are on to the environment and a question from the floor. What is the PC line on climate change? Woo Hoo!
Elliott denounces the Carbon Tax as a tax grab! The alternative is green energy, not taxing people. Sunshine and wind is the way forward!
Now Chris "Clark Kent" Ballard rips off his suit jacket and, transformed into Superman, zooms into the stratosphere. Our Climate Change expert yells:
"This is a question I love."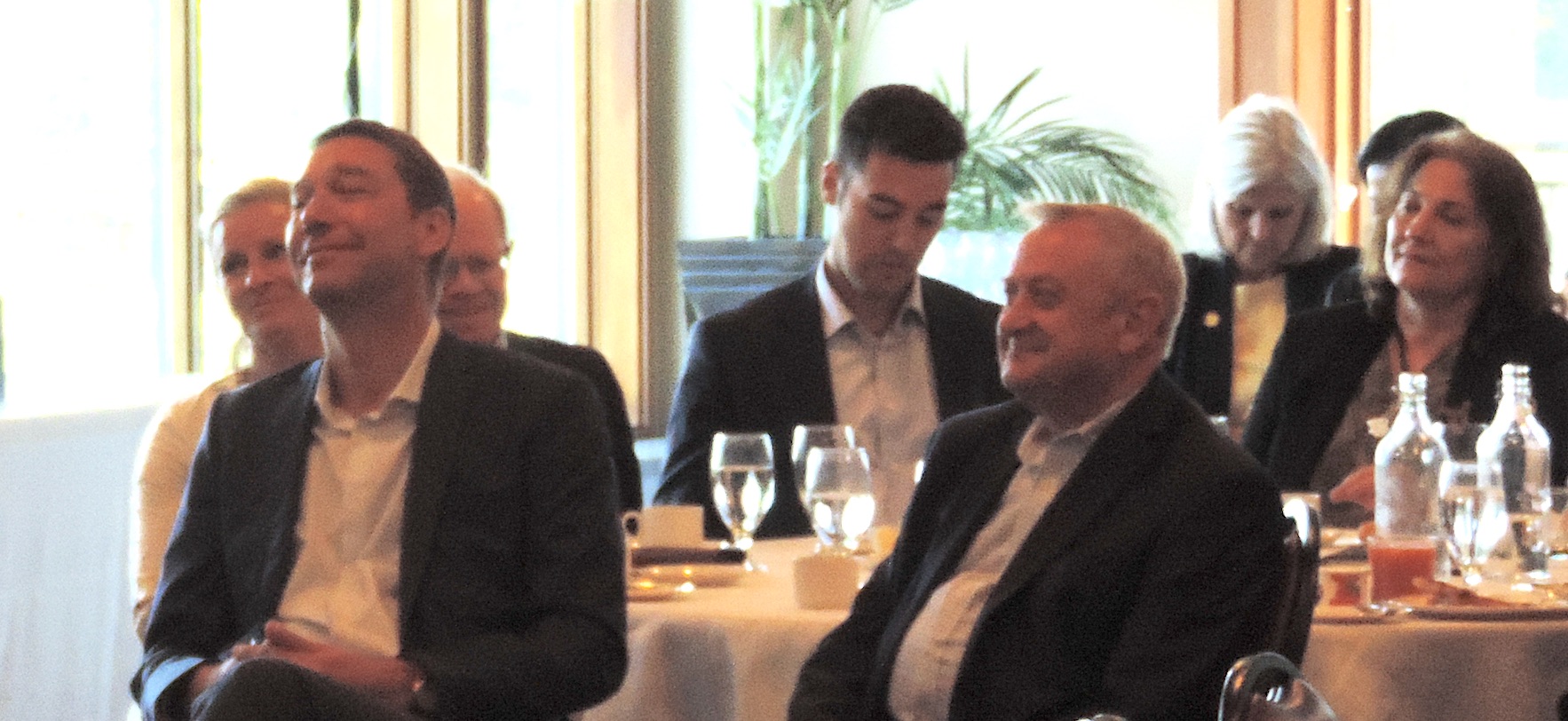 He says there is no carbon tax. The Province has "cap and trade" which targets major greenhouse emitters, driving down pollution and bringing billions of dollars into the Provincial Treasury.
Now we are on to heath care and whether, with rising costs, it is sustainable. Melissa makes me feel as if healthcare is already on life-support with people unable to get a hospital bed and unable to get their teeth fixed. The NDP is gonna pump in cash. Ballard lists all sorts of good things that are happening at Southlake and Elliott laments there is no plan for dementia. This concerns me. I think.
We are rattling along at quite a canter and the politicians are making some good points but, for me, the audience remains too well behaved. No laughing or groaning. Just respectful silence. Occasionally a partisan table (like the NDP one behind me) allows themselves some polite, nervous applause.
Lavishing praise
Now we are reaching mid-point with a question on Places to Grow, land use policies and affordable housing. Ballard points to 212 Davis Drive as the first purpose-built rental in Newmarket since Confederation. He lavishes praise on the Town and mentions the key role played by Mayoral hopeful John Taylor who is grinning from ear to ear.
Melissa, casting caution to the wind, says the housing situation is in a complete mess. She tells us there should be a land speculation tax and a crack-down on property flipping. The many estate agents in the audience are now getting palpitations.
Now we are back to the minimum wage. In my experience, people who earn much more than the minimum wage are often the most strident when it comes to capping it. Ballard sums it up quite nicely:
"People on $14 an hour are not parking their money offshore."
They are spending their money here in their own neighbourhoods and communities.
Christine repeats her earlier claim that the minimum wage – pitched at too high a level – is a jobs destroyer with people with disabilities being laid off first. I find myself wondering if this is legal.
Early onset
Now in a sign of early onset dementia, the Chamber of Commerce is beginning to repeat itself. We are back on hydro. Now a super-charged Ballard blasts the "gas plant stuff" (which no-one has mentioned) demanding it should "be put to bed".
He is now going on about Ontario having the fastest growing economy in Canada, outpacing all the G7 economies. The Provincial Government is investing in infrastructure which is needed to support growth.
Christine says if there is all this growth the Province shouldn't be running a deficit. All this spending:
"It's just to get votes!"
Surely not?
Andrea will be looking at it
Now more repeat questions on topics we've had already. Some in the audience – here from the beginning - are nevertheless probably hearing the questions for the first time. But now a question on transit and transportation and whether there should be a single transit authority across the entire GTA.
This allows Chris Ballard to embark on a long answer taking in GO trains, 15 minute train services and the new station at Mulock Drive. Christine says the PCs are going to spend $5 billion on something or other and, yes, parking is a problem.
Melissa Williams says:
"Bringing everything under one roof is something that Andrea will be looking at."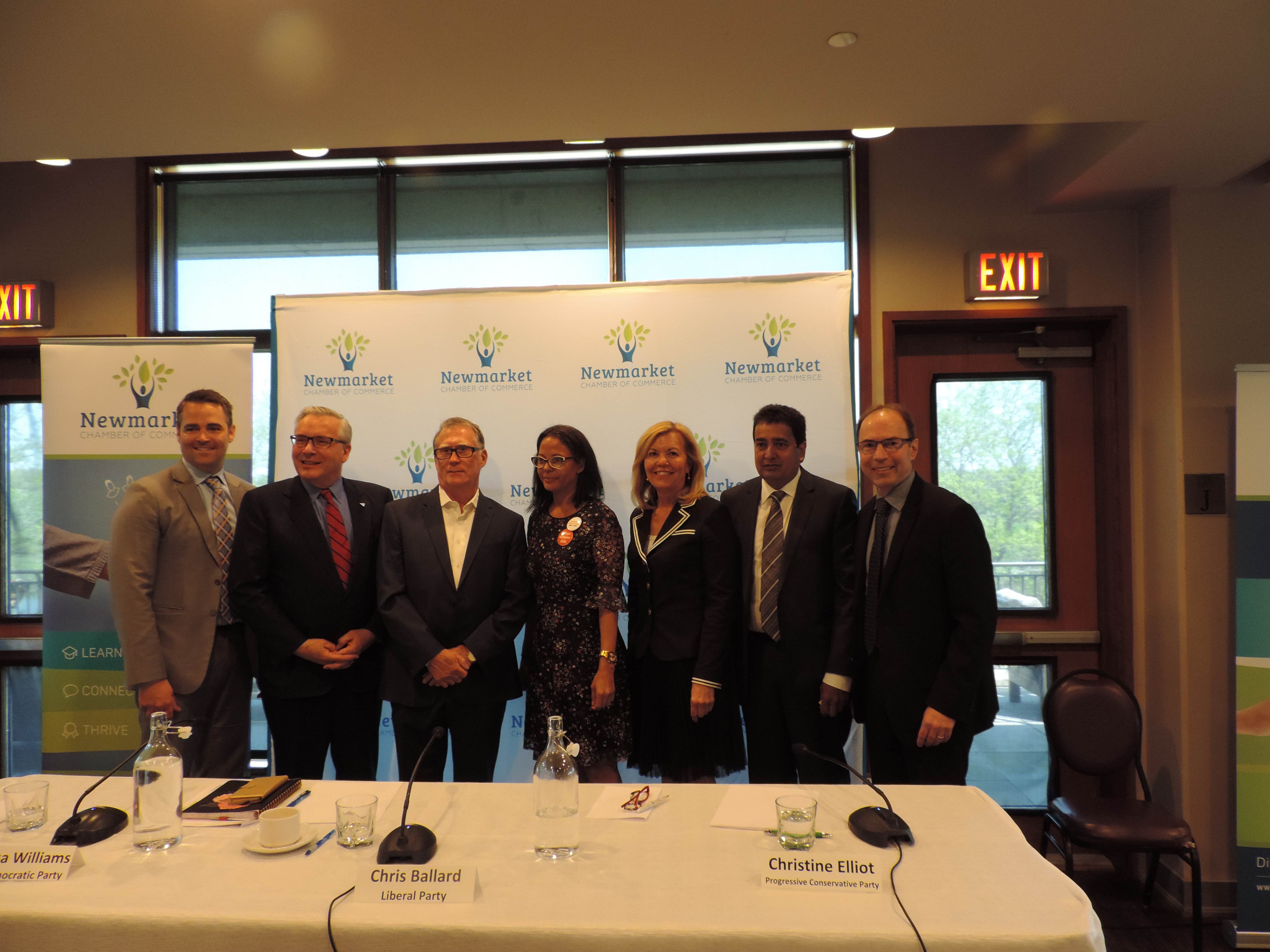 If Melissa is stumped for an answer we know that Andrea will be looking into it.
Back to hydro
Unbelievably, we are back to hydro yet again.
Now we are into the closing statements with Melissa promising a touchy-feely NDP where everyone in Ontario can feel at home and cared for.
Chris Ballard, the man with the ever-present smile, says:
"I'm not happy until the folks in Newmarket-Aurora are happy!"
Christine Elliott says we are not getting the best value out of our health care dollars (those efficiency savings again) and that she lies awake in bed at night worrying about the deficit. (I made the last bit up.)
Oh, yes. And she tells us the PCs will be producing a fully costed platform before the election.
This email address is being protected from spambots. You need JavaScript enabled to view it.
Details

Written by

Gordon Prentice
In tomorrow's Toronto Star former PC leader, Patrick Brown, boasts of his legacy. He says the Party was not left in a mess. There's cash in the bank and the Party is much more diverse. Membership soared from 12,000 party members to either 136,000 or over 200,000 depending, he says, on who you believe.
But there is a darker side. Brown lied through his teeth about his finances to the Province's Integrity Commissioner who said these lies were deliberate and not inadvertent.
So why should we now believe anything he says?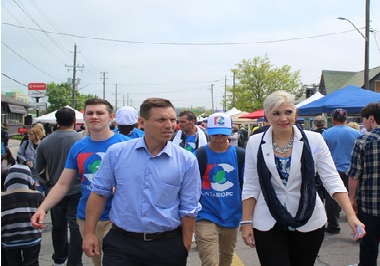 Brown says by-election wins triggered an avalanche of interest in becoming a PC candidate:
"We were not prepared as a party for the lengths people would go to win nominations. We had to shut down attempts to print fake ballots, produce fake ID's, stop fistfights and even the stuffing of ballot boxes. I was beyond frustrated to hear these ongoing stories."
This is Canada for goodness sake! Not Syria, South Sudan or Somalia. Stuffing ballot boxes is not something that is supposed to happen here.
We should be outraged.
For a while the PC's interim leader, Vic Fedeli, was determined to root out the rot. Then the moment passed.
Brown makes it sound as if he, as Party Leader, was an innocent by-stander when in reality he was in it up to his armpits.
Often, he looked the other way, choosing to ignore the cheating, malpractice and fraud. He now tells us:
"We took steps to ensure these nominations were run fairly and free from abuse. I personally ordered the party to bring in PWC to observe and certify our nominations. I have been as shocked as anyone else to hear about allegations that a candidate stole private 407 data. In retrospect, I am increasingly of the opinion political parties are ill equipped to handle nominations and that it is time to have Elections Ontario manage this part of our democratic process."
As usual, he is being economical with the truth.
Before Brown brought in Price Waterhouse Coopers he ruled that the nominations of the 64 candidates, already endorsed and approved, would stand even though many were challenged. PWC was brought in after the fact, checking on cheating in all nominations "going forward".
Here in Newmarket-Aurora Brown left the cheat Charity McGrath in place as the official PC candidate despite the resignation of the riding's entire board.
On 28 May 2017, the provincial nominating committee told the Newmarket-Aurora riding Board it proposed to take no action on the documented allegations of cheating and fraud.
When Ford took over as Leader McGrath was dumped to make way for Christine Elliott.
That's how we ended up with Ms Elliott, the PC Leadership's three time loser.
This email address is being protected from spambots. You need JavaScript enabled to view it.
Subcategories