Details

Written by

Gordon Prentice
I can now confidently predict that Britain's Foreign Secretary, Liz Truss, will win the Conservative Leadership contest on 5 September 2022 and become Prime Minister, replacing the serial liar, Boris Johnson. (Photo shows Truss in TV debate earlier today when the presenter fainted in front on her.)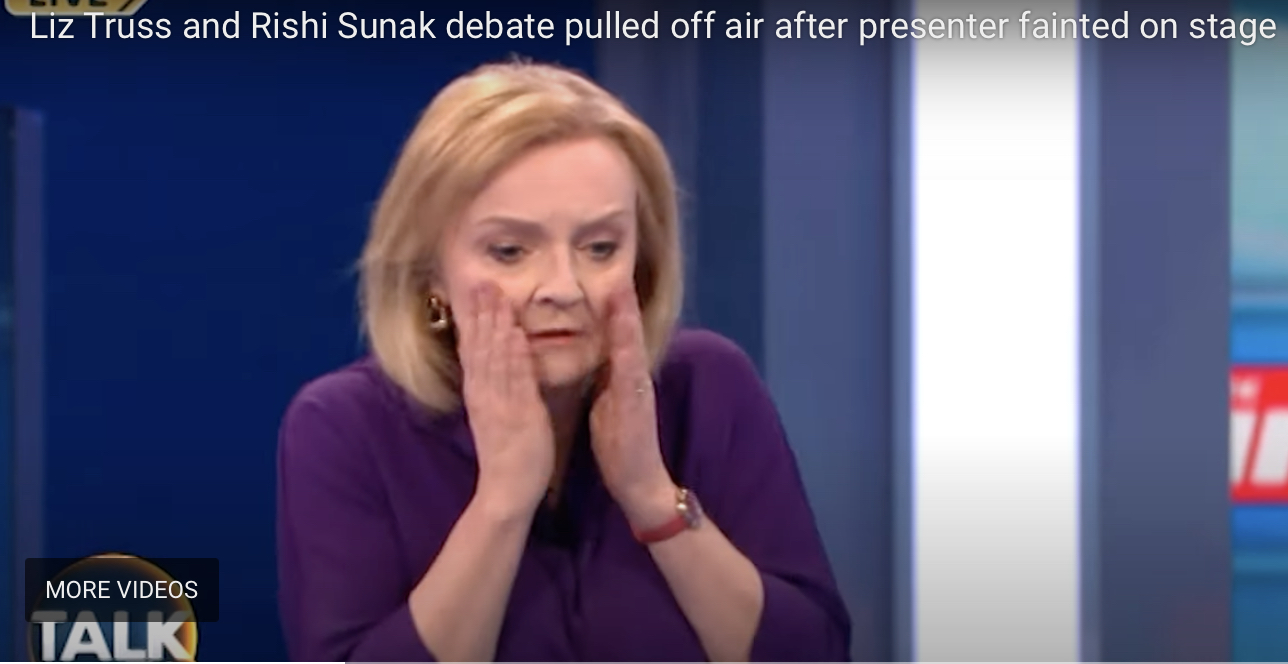 Her opponent, Rishi Sunak, the former Chancellor of the Exchequer, did well amongst Conservative MPs but didn't land a knock-out blow. Since 2001 Conservative leaders have been decided by the membership-at-large, choosing from a shortlist of two who emerge top in a series of ballots amongst Conservative MPs.
Older, Whiter, Wealthier
Britain's next PM will now be decided by a tiny sub-set of the UK population: older, whiter and wealthier than your average Briton. And, by definition, a lot more Conservative. Are they going to vote for the UK's first PM of South Asian descent?
I don't think so. They will not vote for Sunak – the man who triggered the revolt against Boris Johnson when he abruptly resigned as Chancellor. And until very recently, his wife, who is independently wealthy, did not pay full UK tax on her worldwide income as she claimed domicile in India. This device allowed her to pay tax only on her income which arose in the UK or was remitted (or brought in) to the UK leaving the rest of her vast fortune untouched. The optics are very, very bad.
What it takes to become UK Prime Minister: 92,153 votes
In the Conservative members' ballot in 2019, when Boris Johnson ran against Jeremy Hunt for the leadership, Johnson won by 92,153 (66.4%) votes to Hunt's 46,656 (33.6%) in a ballot where 87.4% of Conservative members voted.
The number of Conservatives who put Johnson in Number 10 is slightly more than the population of Newmarket, Ontario.
In the UK, candidates for the Conservative leadership (and, therefore, for Prime Minister) cannot sell memberships as a way of boosting support within the Party. There is a cut-off date three months before the contest begins, after which members cannot participate in the election. Seems fair enough to me.
Harper anoints Poilievre
Meanwhile, here in Canada the Conservative leadership race chunters on – though, in reality, it is all over bar the shouting.
Stephen Harper has anointed Pierre "bitcoin" Poilievre, the man who is going to make Canada the freest country in the world.
Poilievre sold way more memberships than Brown or Charest or any of the others so he is clearly our "Prime Minister in Waiting".
It's game, set and match for the super-salesman.
In time, people will forget that the contest was embarrassing and deeply corrupt.
It's just the way (some) political parties do things.
This email address is being protected from spambots. You need JavaScript enabled to view it.
Update on 27 July 2022: From the Globe & Mail's Andrew Coyne: The CPC has just engineered its own takeover
Update on 28 July 2022: From the Globe & Mail: Harper didn't address "batty" Poilievre policies...
Update on 29 July 2022: From the Globe & Mail: Conservatives say they have over 600,000 members - a record.
and the G&M Editorial on 30 July 2022: A leadership race that's no contest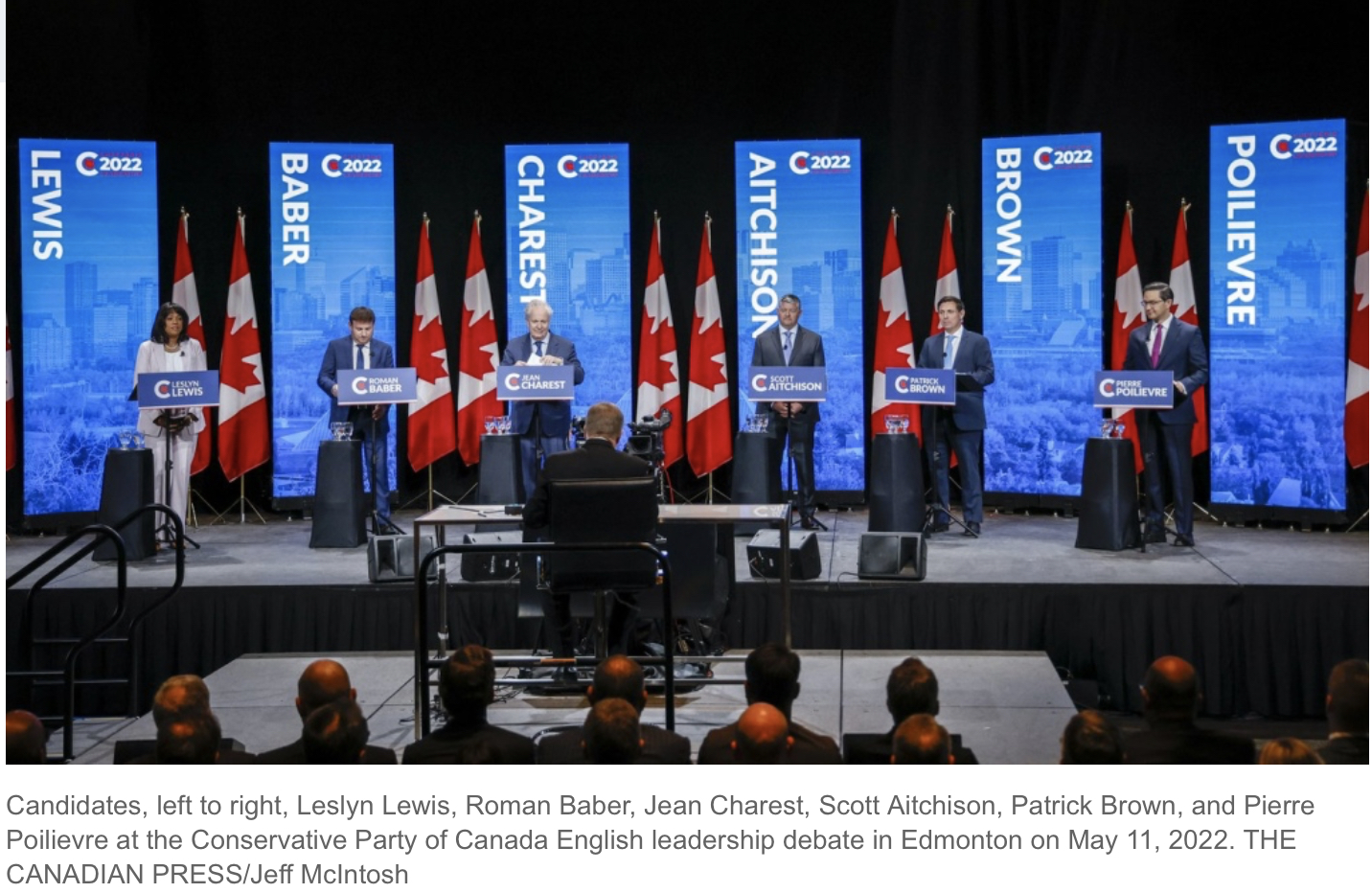 Details

Written by

Gordon Prentice
Friday 22 July 2022 was just like any other day.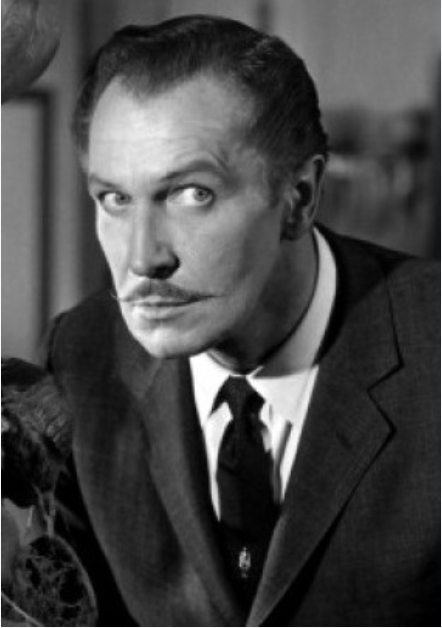 Except for that cough.
My voice had also dropped a thousand octaves making me sound like Vincent Price in one of these old black and white horror movies.
I knew that something was seriously amiss.
My temperature was 103.3°
You could have fried an egg on my forehead.
I slept for 12 hours straight.
Covid-19 Positive
A second Rapid Antigen test on Saturday morning confirmed what we already knew. I was positive.
Bad news.
York Region's Medical Officer of Health, Dr Barry Pakes, tells us we are now in the 7th wave and we have to keep our guard up. Here he offers advice on how to keep the dreaded virus at bay. (It is also the portal to Covid statistics)
I still don't know how I caught it.
I've been Pfizered four times - the maximum possible for someone of my age.
So now I am self isolating.
I don't feel too unwell. Just a general feeling of lassitude.
Looking out the window and waiting for Vincent Price to go away.
This email address is being protected from spambots. You need JavaScript enabled to view it.
Details

Written by

Gordon Prentice
We live off London Road in Newmarket and every summer grey bearded pensioners become part of my life.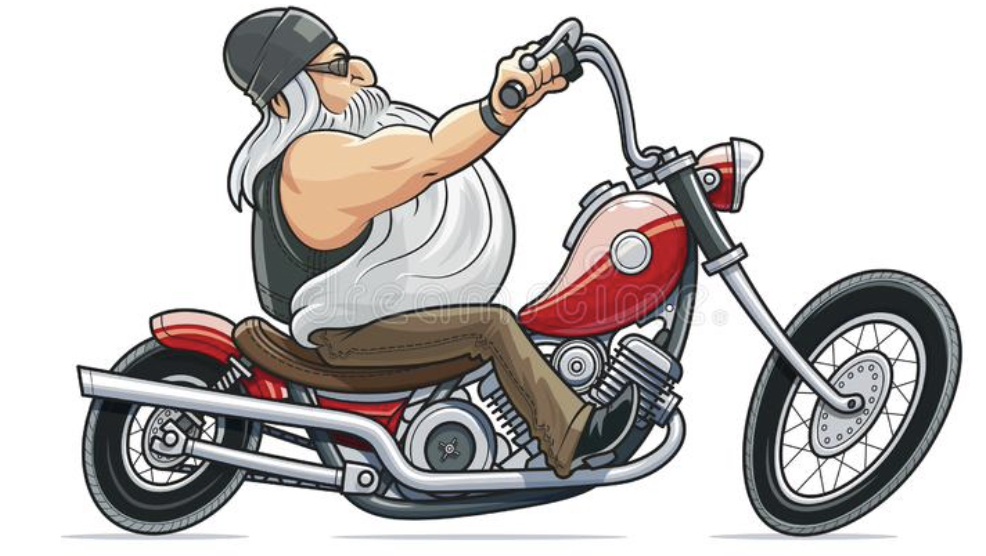 London Road runs through a residental neighbourhood but over the years it has turned into a heavily trafficked arterial. I could live with that were it not for the noise.
Sitting astride their over-chromed Harley Davidsons I hear the pensioners coming long before I see them.
They arrive at my intersection, phut, phut, phutting, gunning the engine, revving up three or four times to make sure we know they are there. Then they gently move off at a stately 10-15kph. Roaring as they go.
They could be blowing smoke in my face or giving me the finger.
Old Men going Nowhere
Worse. They are not going anywhere. These old men are cruising the Town.
Why don't they just disappear? Preferably out of Ontario.
The seniors on Harley Davidsons are the most intrusive and irritating. But close behind are the boy racers whose standard-issue cars are modified to make us notice them. Giant mufflers. Rap with an ear-splitting thudding bass.
Toronto's Noise Review
Earlier this week Toronto City Council told us they intend to conduct a "noise review" next year and they will be asking the Province to address the problem of excessive vehicle noise and illegally modified vehicles.
They are also looking at new regulations which would allow the Council to launch
"a noise activated camera/automated noise enforcement pilot project".
That is terrific news.
Enforcement Blitz
The City Council has also requested:
"the Toronto Police Services Board conduct additional joint vehicle enforcement blitzes with bylaw enforcement and explore equipping police officers with sound level meters to support enforcement of vehicle noise. The City will also educate licensed car repair facilities that muffler cut-outs, straight exhausts, gutted mufflers, Hollywood mufflers, by-passes and similar devices are prohibited under the Highway Traffic Act."
This makes my heart sing.
Similar initiatives are happening in progressive cities around the globe. And, increasingly, here at home people are are saying enough is enough.
The Grey-Beards and the Boy-Racers have had it their own way for far too long.
It's time to put a sock in it.
This email address is being protected from spambots. You need JavaScript enabled to view it.
Details

Written by

Gordon Prentice
On Tuesday night, the Toronto Star's Robert Benzie broke the story that Doug Ford is planning to curb the role of municipal councillors in Toronto and Ottawa while giving the Mayors of these two cities greatly enhanced powers.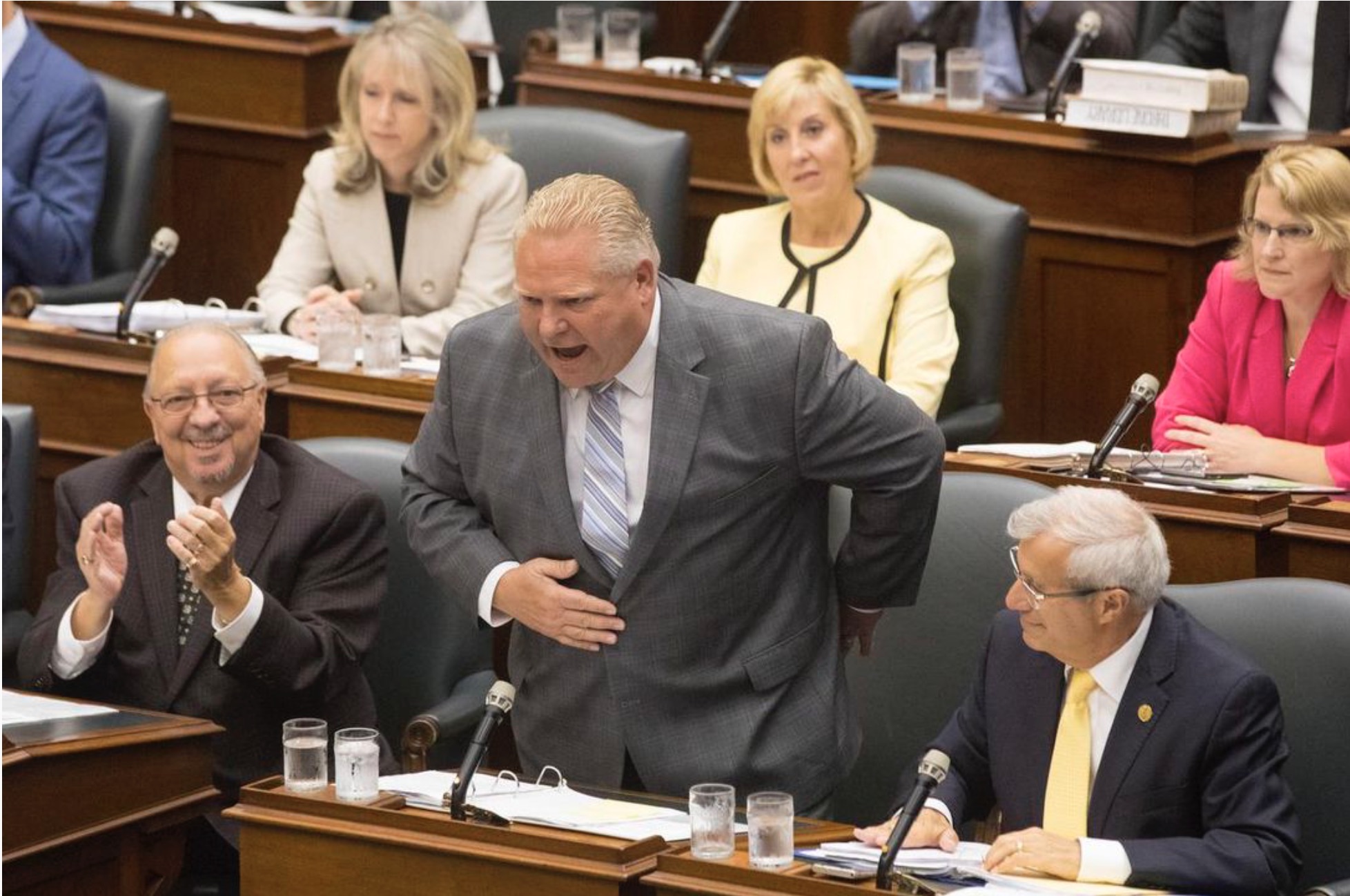 This is to be a trial-run with other cities such as Mississagua, Brampton and Hamilton in a second wave.
I suppose we should be grateful for small mercies. Ford could have embarked on a wholesale municipal reorganisation, amalgamating and abolishing for no particular reason. Just to show he can do it.
We don't know the details of the Toronto and Ottawa pilots which, apparently, have not yet been considered by Ford's Cabinet.
Not mentioned
Ford's "Strong Mayors" plan wasn't even mentioned in the Provincial election less than two months ago.
Instead, the Progressive Conservatives ran a largely content-free campaign.
We are told that Doug Ford and Dawn Gallagher Murphy will get it done: They will (1) rebuild Ontario's economy (2) build highways and key infrastructure (3) work for workers (4) keep costs down and (5) plan to stay open.
This wasn't a platform. Just a bunch of slogans.
We are told their policy offering was all in the 2022 Budget - the one that hadn't even passed when the legislature was dissolved for the election. And still hasn't.
Get it done!
Our newly elected MPP, Dawn Gallagher Murphy, who was personally appointed by Doug Ford, is a perfect example of this new breed of politician who trades in vacuous slogans. She says nothing substantive and talks in happy generalities. During the election she refused to engage with the other candidates and stayed away from the debates.
On Wednesday I emailed Dawn asking for an appointment to discuss the plans for super-charged Mayors. I shall report back on our conversation.
Easily Distracted
Ford just goes where the fancy takes him. He is, by nature, capricious and impulsive. Under his leadership, the Progressive Conservatives have no rigorous policy making process.
Policy is whatever Ford decides it is, from moment to moment.
He blind-sided us all in 2018 when he announced in the middle of the municipal election campaign that the membership of Toronto City Council would be cut by half.
He launched a municipal review in 2019 to cut red tape and identify savings but backed off from making any changes. He didn't really know what he wanted.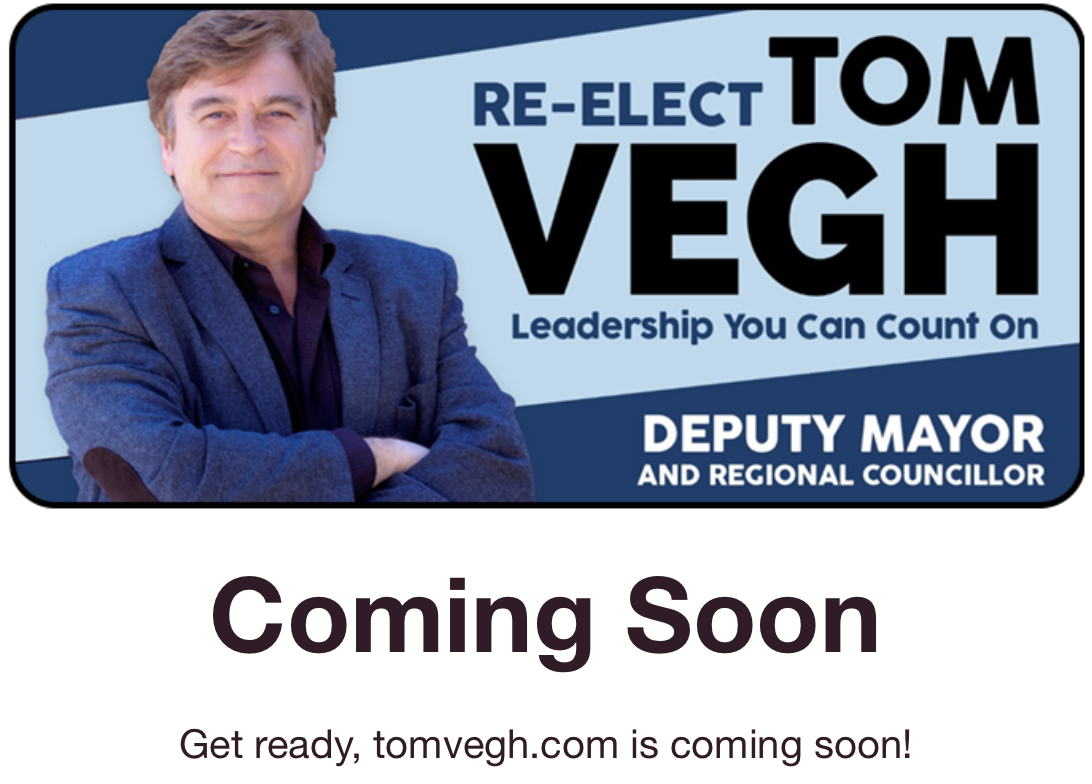 Ford axed election for Chair of York Regional Council
In 2018 when Ford was cutting the size of Toronto City Council he shamefully axed the planned direct election of the Chair of York Regional Council.
I gave evidence to the Bill Committee at Queen's Park in 2016 when Kathleen Wynne was considering legislation for the direct election of Regional Chairs. The Liberal Government picked up Chris Ballard's Private Members Bill and put it into law - only for the measure to be reversed by Ford who stuck with the status quo.
I reminded the Bill Committee that the population of York Region is bigger than five Provinces and three territories and is one of the fastest growing areas of North America yet its Chief Executive, Wayne Emmerson, is not directly elected by the voters at large but by his 21 Council colleagues
A decade ago, I recall Professor Robert MacDermid from York University explaining why the Regional Chair should be elected by the voters at large.
An election for the Regional Chair would force the voters and politicians to confront the huge infrastructure and transport issues that are currently neglected, forgotten or, even worse, swept under the carpet.
We need to engage the public in these big issues. And what better way than to have an election for the Chair of York Regional Council.
Dancing to their tunes
Here in Newmarket, the election campaigns of our Regional Councillor, the ineffective Tom Vegh, are bankrolled by developers and he dances to their tune.
But how many people know that Vegh is in the pockets of the developers?
And, in an election that will be woefully under-reported, who is going to tell them?
This email address is being protected from spambots. You need JavaScript enabled to view it.
Details

Written by

Gordon Prentice
Earlier this week Statistics Canada released the latest batch of results from the 2021 Census, including information about families, households, and marital status. It is the third of seven release dates for census results.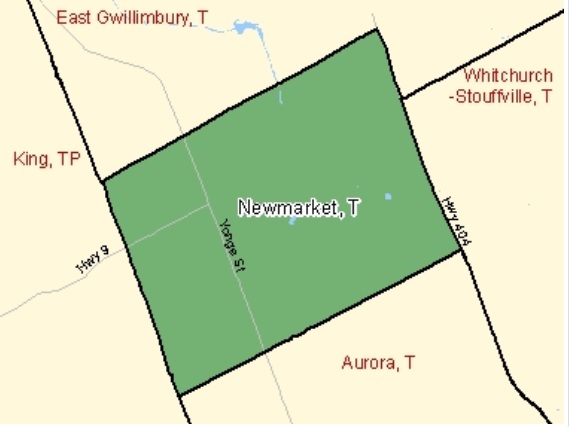 What do the figures tell us about the Town where we live?
Newmarket population is up 4.4% between 2016 and 2021. There are now 87,942 of us. Aurora is up 11.9% and East Gwillimbury is up a staggering 44.4%. It is the fastest growing municipality in the country.
The average age in Newmarket is 41. Higher than Aurora at 40.9 and much higher than Canada as a whole, 39.2.
Living Alone
There are 5,535 people living alone in Newmarket - or 18.3% of all households compared with Aurora at 17.1%; East Gwillimbury 13.9% and Canada as a whole 29.3%.
The single person household became the dominant form of household in Canada for the first time in 2016. It has now crept up from 28% in 2016 to 29.3% in the 2021 census.
Roommates
The fastest growing household type was the so-called "roommate" category – people living with others who are not related (as spouses or partners). In Newmarket there were 2,470 people living with non-relatives or 2.9% compared with Aurora's 1.9% and East Gwillimbury's 2.1%. In Canada as a whole it is 4.2%.
The soaring cost of housing is clearly one of the factors driving this phenomenon.
In its commentary on the census the Globe and Mail observed:
These "roommate households" grew 14% since 2016 compared with 4% growth among households of a family without additional people. This was driven by people aged 20-34 whose roommate household status grew by 20% since the previous census."
Well-off
Generally speaking, Newmarket is a well-off place – though with pockets of deprivation and low incomes. The median after-tax income of households in Newmarket in 2020 was $95,000 – way above the all-Canada figure of $73,000 but lower than Aurora and East Gwillimbury which are both on $102,000. (The median is the mid-point between the highest and lowest household incomes.)
Statscan says
"After-tax household income is the measure of income that most closely captures the overall economic well being of Canadians, reflecting how much money families have to support their consumption, investment and savings needs."
And the very well-off
21.2% of Newmarket households have household incomes of $150,000 or more compared with 26.1% in Aurora; 22.8% in East Gwillimbury and 12.4% in Canada overall.
COVID-19
32.2% of adults in Newmarket received COVID 19 emergency and recovery benefits compared with 30.9% in Aurora; 31.2% in East Gwillimbury and 27.6% in the country as a whole. The median benefit across Canada was $8,000 with Newmarket on $8,500; Aurora on $9,000 and East Gwillimbury on $8,000. The maximum that could be received was $14,000.
These pandemic payments cushioned the impact for people on low incomes.
Low incomes
The thresholds for low income depend on household size. For a single person household low income after tax is below $26,503.
11.1% of Canadian households are deemed low income with Newmarket and Aurora both on 7.5% and East Gwillimbury on 6.6%
This email address is being protected from spambots. You need JavaScript enabled to view it.