Details

Written by

Gordon Prentice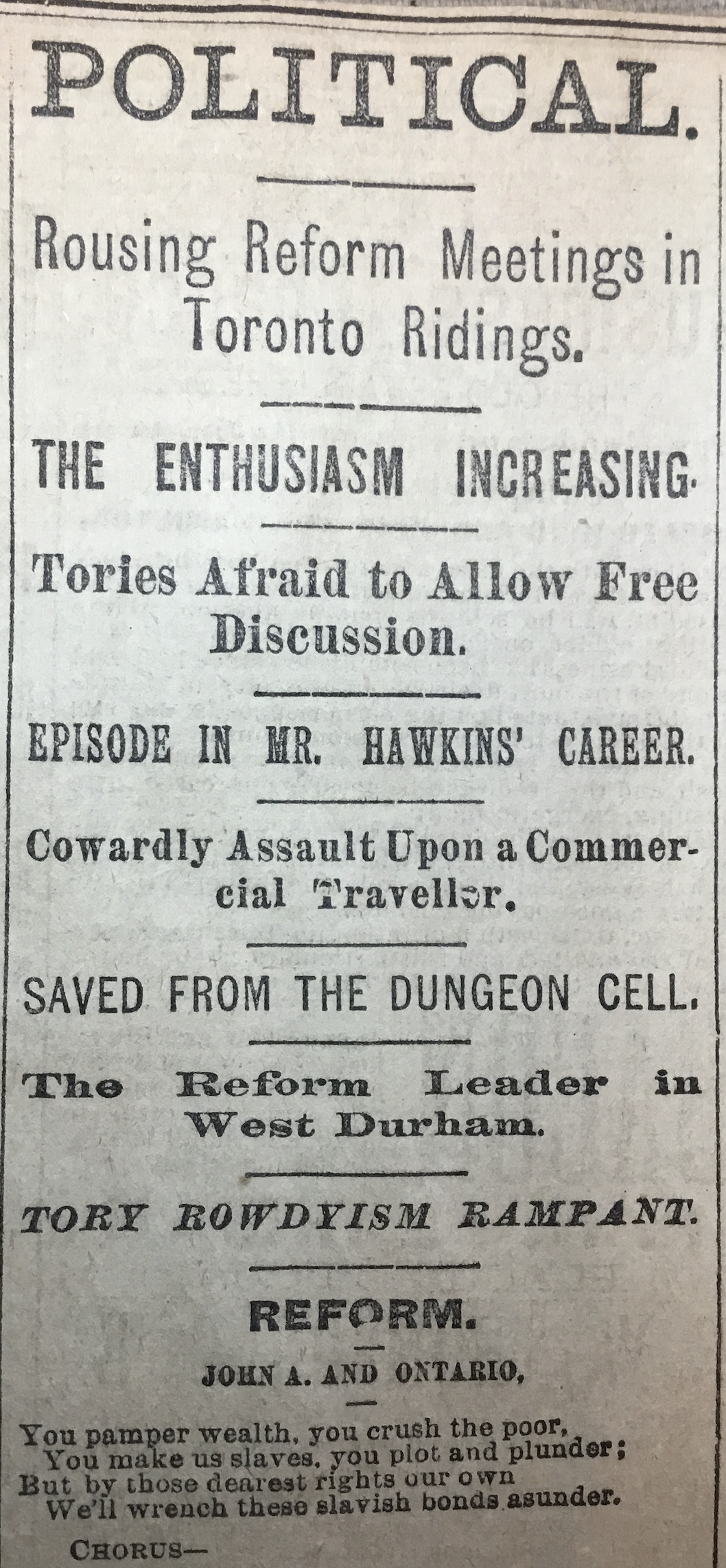 Bob Hepburn believes a major debate is the most critical event in the race to become Toronto's new Mayor.
Writing in this morning's Toronto Star, Hepburn says:
"Like them or hate them, the truth is that candidate debates are the most important events in any election campaigns."
I feel as if Hepburn and I are kindred spirits.
He goes on:
"… given how important the outcome of this by-election is to Toronto's future, this debate is equally important for voters, providing them with a unique opportunity to see each candidate's character and style. It will also help residents make an informed decision on who they think is the best person to tackle problems such as poverty, affordable housing, jobs, transit, crime, access to services and more.
Despite criticism from many commentators, debates count."
Regrets
One of my abiding regrets of last October's election for Newmarket Deputy Mayor and Regional Councillor was that there was no debate. I wanted to share a public stage with my opponent Tom Vegh taking questions as they come but it never happened.
The Chamber of Commerce and the local media for their own reasons decided not to organise one. So I wrote to Tom (handily re-elected with me not even close) on three occasions asking for a debate. I even booked a room at Newmarket Public Library after having given him three dates to choose from. No response.
Short-changed
Losing an election is no big deal. It happens all the time. But I feel the voters are short-changed when there is no debate – and, therefore, no public commentary on it afterwards.
Elections are more than counting votes. There is – or should be – a whole supporting architecture designed to ensure the vote is free and fair and that electors are informed. That means campaign financing rules to make sure candidates can't buy elections. But it means more than that. (Graphic from the Globe newspaper: Federal Election 1882 when the voter turnout was 70.3%. Women got the vote in 1918. Some groups were still excluded from the franchise until 1960.)
Boycott
It recent years there has been a disturbing trend where candidates boycott debates when they see no advantage in attending. Instead, incumbents rely on the rolling campaign of continuous social media posts and on-line ads designed to keep their name in front of the public.
Our new(ish) MPP for Newmarket-Aurora, Progressive Conservative Ford appointee and food fetishist, Dawn Gallagher Murphy, famously boycotted all election debates.
In the 2021 Federal Election campaign in Newmarket-Aurora, Conservative candidate, Harold Kim, similarly boycotted the debates, citing diary clashes.
In the 2019 Federal Election in Newmarket-Aurora, Conservative candidate Lois Brown was a no-show at the debate.
There's a pattern.
Some time ago I asked Newmarket's Mayor, John Taylor, if the Municipality would organise election debates through an arms-length, independent agency – if no other respected and independent third party was prepared to do so.
Municipalities already appoint wholly independent people as Integrity Commissioners.
So why not have Debates Commissioners?
This email address is being protected from spambots. You need JavaScript enabled to view it.
Details

Written by

Gordon Prentice
Newmarket-Aurora MPP, Dawn Gallagher Murphy, charged the cost of her "Free BBQ and Corn Roast" to the taxpayers.

The event on 16 October 2022, billed as a thank you to the community, cost $11,160.50 which was reimbursed by the Ontario Legislative Assembly.
Gallagher Murphy was first elected in June 2022. She was appointed by Doug Ford as the PC candidate for Newmarket-Aurora on the same day – 4 March 2022 - as Christine Elliott announced she would not be standing in the Provincial election.
The rules allow MPPs to host events in their ridings and be reimbursed for expenses where the event is open to the public and is "non-partisan and non-political". The relevant rules are here.
Totally indefensible
Personally, I think this kind of "thank you to the community" bankrolled by taxpayers is totally indefensible. If she wants to pay for a huge free BBQ out of her own pocket that's a different matter entirely. But I don't want my tax dollars paying for a publicly funded knees-up celebrating her arrival as Newmarket-Aurora's new MPP.
I am left wondering if there is a cap on the amount that can be spent on any single event and if there is a cut-off date before the next scheduled election where these events are impermissible.
Gallagher Murphy says these free BBQs and corn-roasts are to become annual events.
Figures don't add up
Elsewhere… I wrote to Dawn Gallagher Murphy on 14 February 2023 about a discrepancy in her Campaign Candidate Return which she filed with Elections Ontario on 30 November 2022.
Her Statement of Expenses at line 034 shows that $5,228.60 was spent on "Meetings Hosted". Yet in Schedule 6 (List of suppliers) the total amount paid to suppliers of "food" for the expense "Meetings Hosted" is $8,228.11.I asked Gallagher Murphy why there is a difference of $2,999.51 between the two figures. She ignored me. So I asked the Campaign's chief financial officer, Blake Koehler, and the Riding President, Teresa Kruze, for an explanation but, again, there's radio silence.
Auditors recall email
One week ago I wrote to the Gallagher Murphy campaign auditors – Impact CPAs LLP down in Richmond Hill.
I received a reply which gave certain figures. Then minutes later a second email came winging in telling me the auditors
would like to recall the message, "The Candidate Compliance Return (CR1) of Dawn Gallagher Murphy filed with Elections Ontario on 30 November 2022".
I wait to hear from them.
You can read my letter to Dawn Gallagher Murphy by clicking "read more" below.
This email address is being protected from spambots. You need JavaScript enabled to view it.
Note: Candidates for election to the Provincial Parliament must submit details to Elections Ontario showing how much money they raised and what they spent it on.
Below: from Dawn Gallagher Murphy's Expense Claim:

Update on 16 March 2023: From Newmarket Today: MPP's Barbeque Expense is the top expense of all MPPs
Read more: $11,160 cost of MPP's "Free BBQ and Corn Roast" event was paid by the taxpayers
Details

Written by

Gordon Prentice
Southlake Regional Health Centre insists it has no records relating to the key meeting on 1 November 2022 when landowner and developer Michael Rice promised hospital chief executive Arden Krystal land in the Greenbelt for a new hospital "for a nominal fee".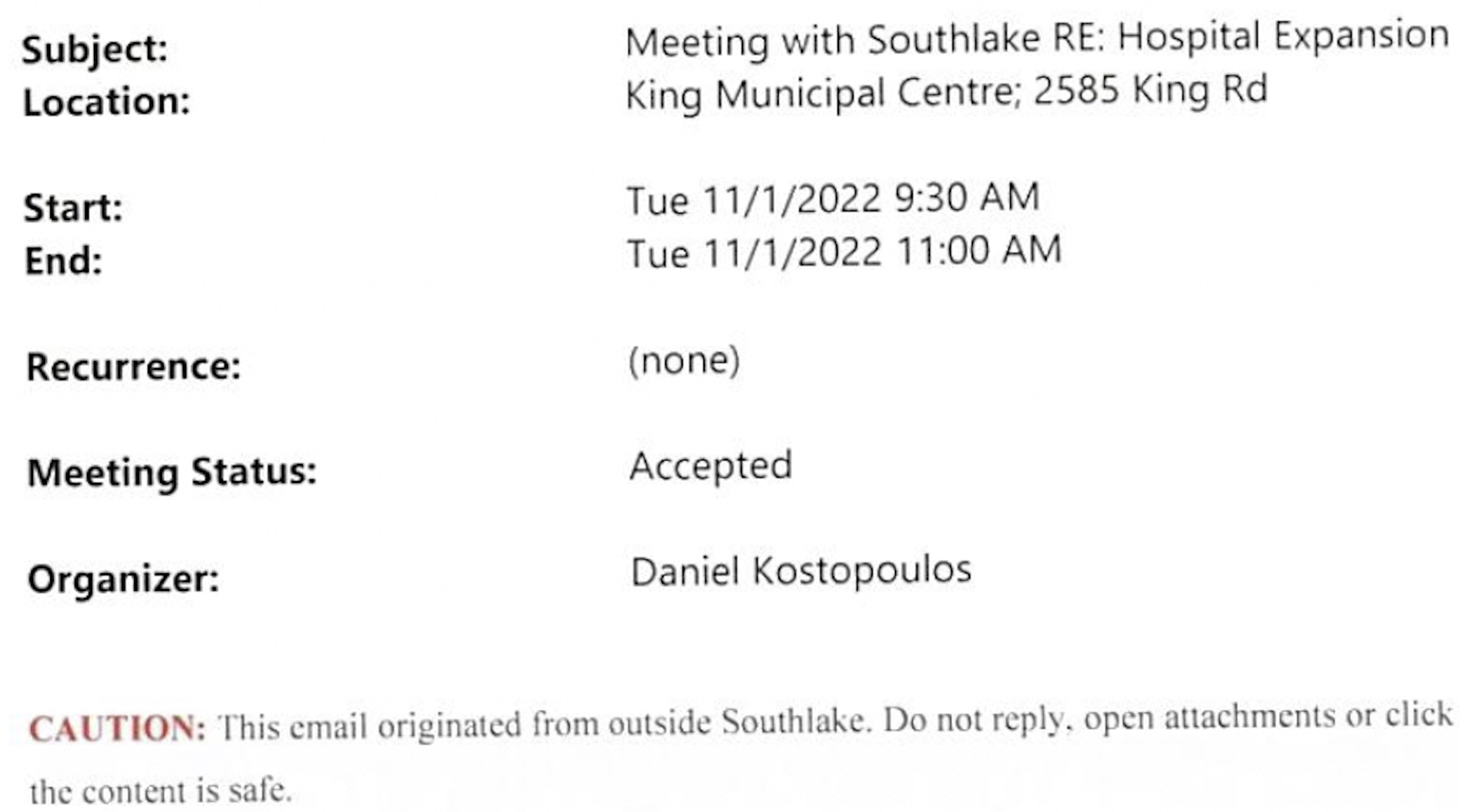 The commitment to land in King, west of Bathurst and south of Miller's Side Road and next door to Newmarket, was given three days before the Government announced that certain lands in the Greenbelt – including those purchased by Michael Rice on 15 September 2022 – would be opened up for development.
Hospital Expansion
The 1 November 2022 meeting on "hospital expansion" at King Municipal Centre was scheduled to run from 9.30am until 11am. It was organised by King Township's Chief Administrative Officer Daniel Kostopoulos.
Apart from Michael Rice and Arden Krystal those present included the Township's Mayor, Steve Pellegrini, its Director of Growth Management, Stephen Naylor, and Southlake's Vice President Capital Facilities and Business Development, John Marshman.
On 25 January 2023 I asked Southlake for sight of all records held by them:
"(including emails, phone calls and meeting records) relating to the in-person meeting on 1 November 2022, involving Mayor Pellegrini of King, the Rice Group and Representatives of Southlake in which a commitment was given that lands in King would be provided to Southlake for a nominal fee."
Sanitized
On 3 March 2023 Southlake tells me they have no records - other than a sanitized invitation to the 1 November meeting which, astonishingly, does not show (a) when it was sent or (b) the names of the recipients. (shown right) This is simply not good enough.
Personally, I don't think Southlake's response is remotely credible.
If I were Chief Executive on $530,878 a year, responsible for running one of Ontario's multi-million dollar flagship hospitals, and I had been offered land for a new Southlake for $5 I would want to take a note of who said what at the meeting. I'd jot something down. With follow-up points.
But no. After this hugely consequential meeting, we are told there is absolutely nothing. As with the Municipality of King, there are no records which show me the process or mechanism used to identify lands which may be suitable.
Record Keeping
We are not talking patient confidentiality here. This is about standard public administration and the importance of keeping records. This was a scheduled 90-minute meeting on a matter of great consequence. Was there nothing worth recording?
The Information and Privacy Commissioner of Ontario requires public institutions – including hospitals - to conduct a reasonable search for so-called "responsive records" when they receive Freedom of Information requests. It is the law of the land. The IPC says:
"A reasonable search occurs when an experienced employee who is knowledgeable in the subject matter of the request makes a reasonable effort to locate records related to the request."
"A reasonable effort is the level of effort you would expect of any fair, sensible person searching areas where records are likely to be stored. What is reasonable depends on the request and related circumstances."
In the light of this I've asked Southlake to look at the files held by Arden Krystal's office and John Marshman's office. At the very least I would expect some communication with senior staff on this dramatic offer of land, essentially for free.
Making the Case
Southlake has been making the case for a new site for a few years.
Newmarket Today reported in August 2021:
"The hospital is planning to expand to a nearby area, but has yet to find a suitable location."
The Chief Executive, Arden Krystal, said she hoped some land could be gifted by benefactors.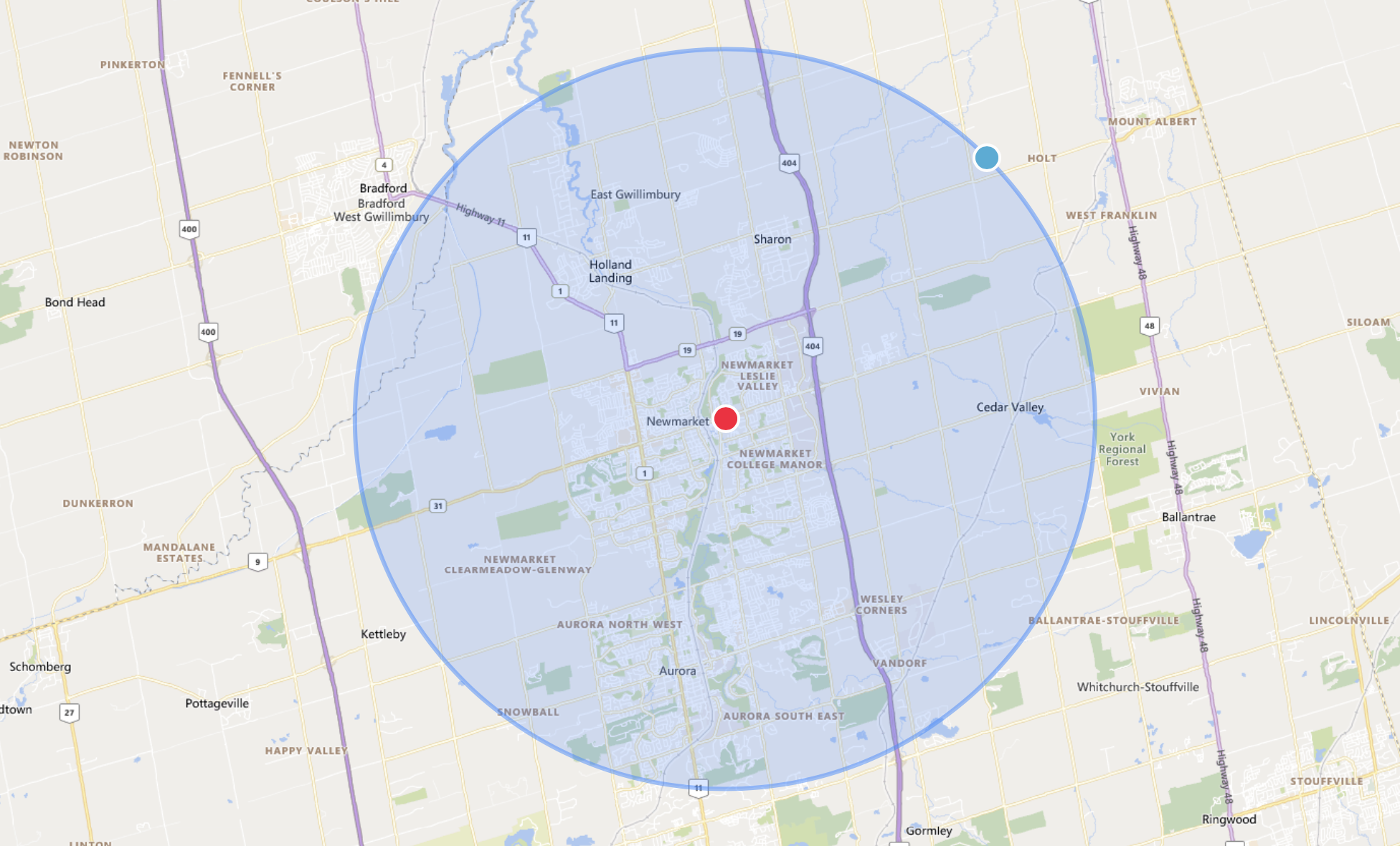 Almost a year ago, on 8 April 2022, the Province gave Southlake $5M to help plan for a new hospital:
"This funding will support planning to build a new state-of-the-art hospital and redevelop the existing site to meet the growing demand for services and improve access to high-quality health care for residents of York Region and Simcoe County."
How was planning grant spent?
How was this $5M planning grant spent? Was any of it earmarked to search for a suitable location? if not, why not? Would a Greenbelt location outside a settlement area be permitted? Would it be suitable? What constraints on development might apply? What about medical and ancillary businesses which are not part of the hospital but support its work? Could they locate next door to the hospital campus, also on Greenbelt lands?
Who was advising the Chief Executive on possible sites? Was it John Dunlap? Was it the Province? We are told the Province was working with Southlake on the early stages of the planning process. Who had responsibility for scouting for a suitable second site?
What were the drawbacks, if any, to the offer of an estimated 60-80 acres of the Rice Greenbelt lands? Where were the offered lands (the Rice lands cover 2.7 sq km)? Was the location acceptable? Was there any negotiation? Were the remaining Rice lands going to continue in agricultural use? Was there any suggestion or hint that the Greenbelt designation could be changed – if not immediately then at some point in the future?
Process
What was the process employed by Southlake to identify a suitable location within 10km of the Davis Drive site? (Graphic right shows area within 10km radius of Southlake)
We know King's Mayor, Steve Pellegrini, had been scouring the municipality for a suitable site for a new hospital for years – because he said so.
"I have been moving this idea forward since 2019 – on different lands, with different landowners."
He told the press a "different landowner" had offered land in the vicinity.
The municipality tells me:
"The idea of providing land in the vicinity for a new hospital came from a landowner to Mayor Pellegrini several years ago."
Despite these statements from the Mayor, the municipality has been unable to show me any records relating to the process or mechanism in place to identify lands in King which might be suitable for a new hospital.
Clear Blue Sky
We are expected to believe the offer of free land in the Greenbelt for a new Southlake just dropped out of a clear blue sky.
I don't think so.
I want an assurance that Southlake has conducted a reasonable search for the records I have requested. That's why I have today lodged an appeal with the Information and Privacy Commissioner.
If there are genuinely no records about that key meeting on 1 November 2022 that raises a whole new set of questions.
This email address is being protected from spambots. You need JavaScript enabled to view it.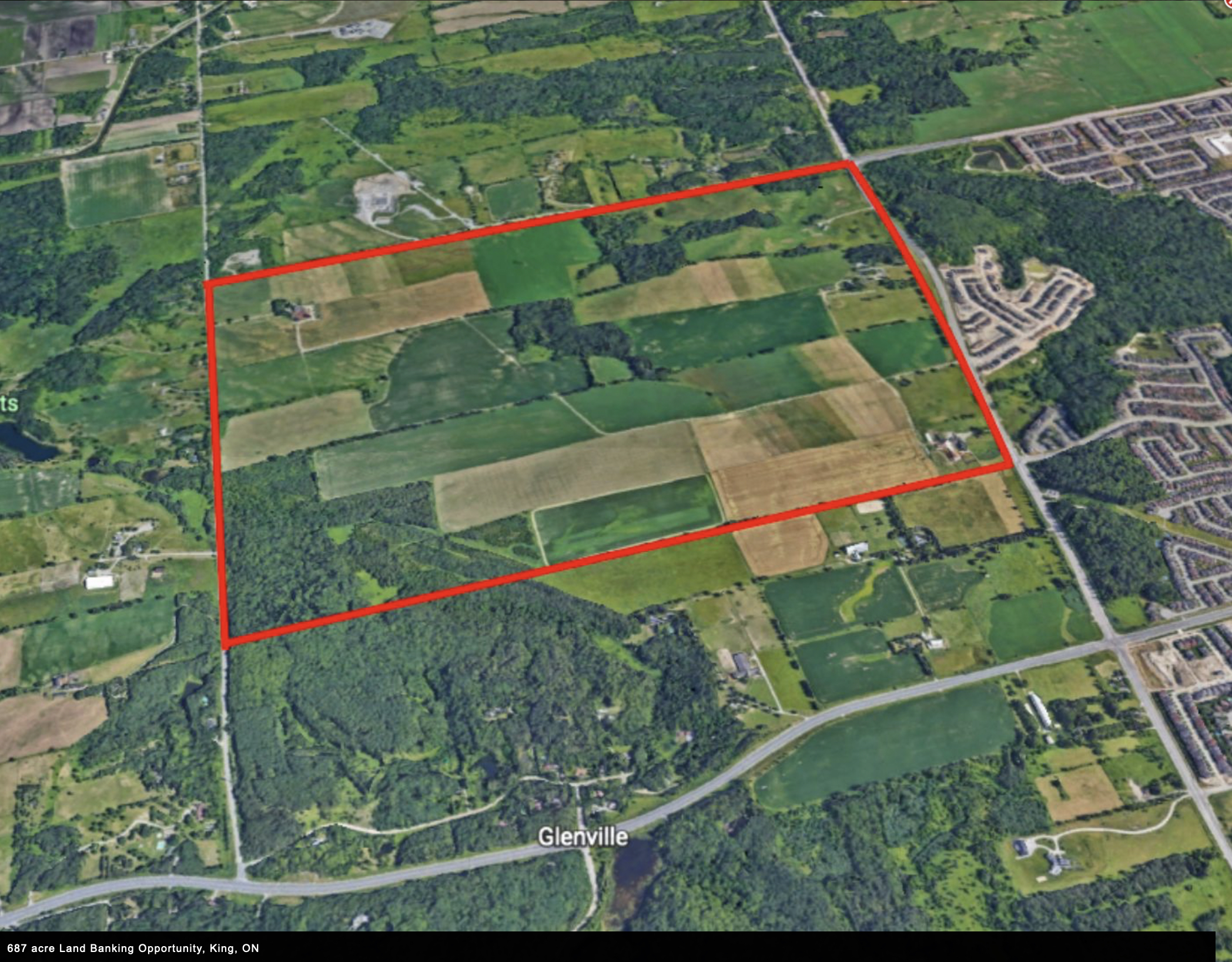 12 March 2023: From the Toronto Star - a backgrounder on how Ontario's hospitals are managed. "Break down the silos running our hospitals"
Details

Written by

Gordon Prentice
Tomorrow, 4 March 2023, marks the first anniversary of Dawn Gallagher Murphy's appointment as the Official Progressive Conservative candidate for Newmarket-Aurora.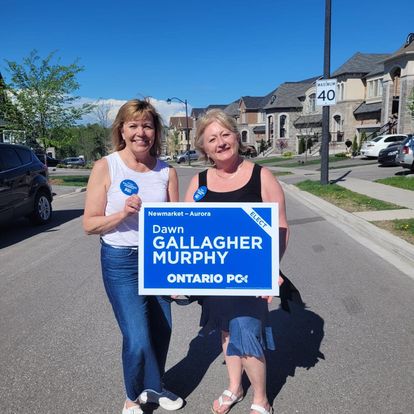 Our Progressive Conservative MPP was never chosen by Party members in Newmarket-Aurora. She was foisted on them.
After repeatedly assuring people that she was going to run again for a second term Christine Elliott abruptly announced her retirement on 4 March 2022. And, without missing a beat, Doug Ford immediately installed her Office Manager, Dawn Gallagher Murphy, as the official PC candidate.
Definitely running
Christine Elliott had previously told The Agenda's Steve Paikin - and others - she was definitely running for re-election.
Steve Paikin: Are there any circumstances under which you could imagine that not happening?
Christine Elliott: Well, there's lots of circumstances but I hope none of them happen to me. There's illness, I hope not. But other than that, no, I don't expect that.
As late as 17 February 2022 the Newmarket Aurora Riding Association was still telling the world Christine Elliott would be their candidate in the June 2022 Provincial election.
Bombshell
Then came the bombshell on 4 March 2022. Newmarket Today reported:
"The Ontario Progressive Conservatives announced March 4 that Dawn Gallagher Murphy would take over the nomination from Newmarket-Aurora MPP and Minister of Health Christine Elliott. The long-time official had announced she would not run for re-election that same day."
The local Party was completely blindsided. They were cut out of having any say in who should be their candidate in the June Provincial election. Instead, Doug Ford brazenly told them who their candidate would be. It would be his choice, not theirs. A fait accomplis.
A deal had been done between Elliott, Ford and Gallagher Murphy to stitch up the candidacy. And Party members of the Newmarket-Auroral PC Riding Association were left looking on, as hapless bystanders.
This email address is being protected from spambots. You need JavaScript enabled to view it.
Details

Written by

Gordon Prentice
Newmarket-Aurora MPP, Dawn Gallagher Murphy, spent more than $8,000 providing free meals to voters in the run up to last June's provincial election.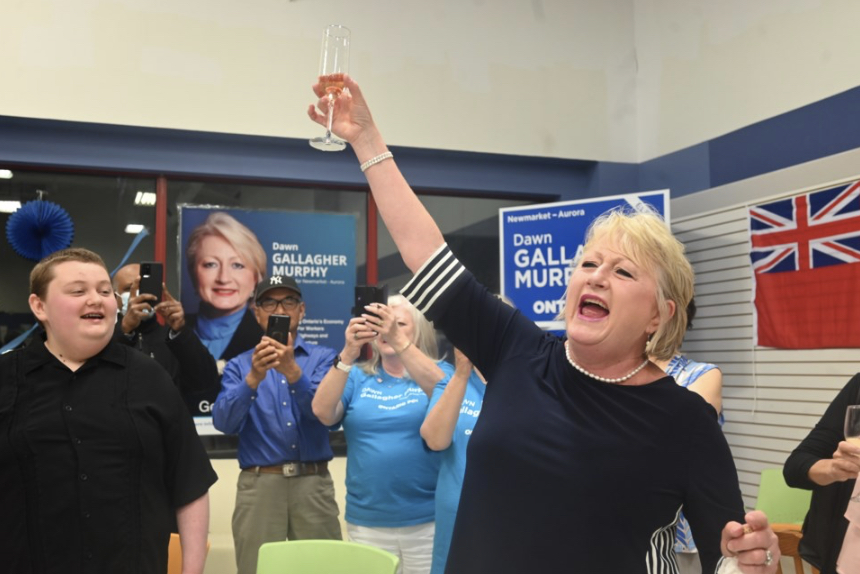 Dawn Gallagher Murphy's financial statement (or CR-1) was filed with Elections Ontario on 30 November 2022.
It itemises her election income and expenditure.
The Hostess with the Mostess
Her Statement of Expenses tells us she forked out $5,228.60 to feed voters at meetings she hosted.
But, intriguingly, in Schedule 6 (List of Suppliers) the following are listed under the expense heading "Meetings Hosted".
Meetings Hosted
Description of Expense Supplier Amount
Food Molisana Bakery $367.25
Food Wicked Eats $947.72
Food MrCorn Ltd $1,356.00
Food 180 Drinks $2,397.86
Food A Million Mouthfuls $3,159.28
This list totals $8,228.11 for food for "Meetings Hosted".
I've asked Dawn Gallagher Murphy to explain why there is a difference between the two figures - $5,228.60 and $8,228.11.
Meeting and Eating
Curiously, Gallagher Murphy gives no other information about the meetings she hosted other than the cost of the mountains of food the voters consumed. She says they were not fundraising events.
There are no other costs associated with the meetings such as hall rental. Were they street parties?
We are not told how many meetings she hosted, nor the venues nor when they took place. (Photo right: Dawn Gallagher Murphy at her victory party)
And because these were not fundraising events Elections Ontario says there is no requirement to give this information.
Wining and Dining
Dawn Gallagher Murphy was absent from all the election debates. She said the first one she missed was due to a "family emergency" but then she boycotted all the others without giving reasons. It was as if the debates were a huge inconvenience when she could be spending her time more profitably wining and dining her future constituents.
I emailed DGM on 14 February 2023 asking her to tell me more about these meetings she hosted. Where and when did these meetings take place? It's radio silence. I hear nothing.
Corn-Roast
Last October, after she had won the election, DGM hosted a free barbecue and corn roast at the Riverwalk Commons in Newmarket.
Newmarket Today reported:
"The event is a celebration of the season and a thank you for the support the community has given her."
Dawn Gallagher Murphy clearly has a passion for food. She says the free corn roast is to become an annual event.
Of course, what she does with her own money between elections is a matter entirely for her.
Treating the voters
But wining and dining voters in the run up to voting is quite another matter.
Or at least it should be.
Why stop at $8,228.11 for free meals for the voters?
Why not spend $18,228.11 or $28,228.11? Or more.
Is there a limit? And if not why not?
This email address is being protected from spambots. You need JavaScript enabled to view it.
Contributors to DGM's campaign are here.