Details

Written by

Gordon Prentice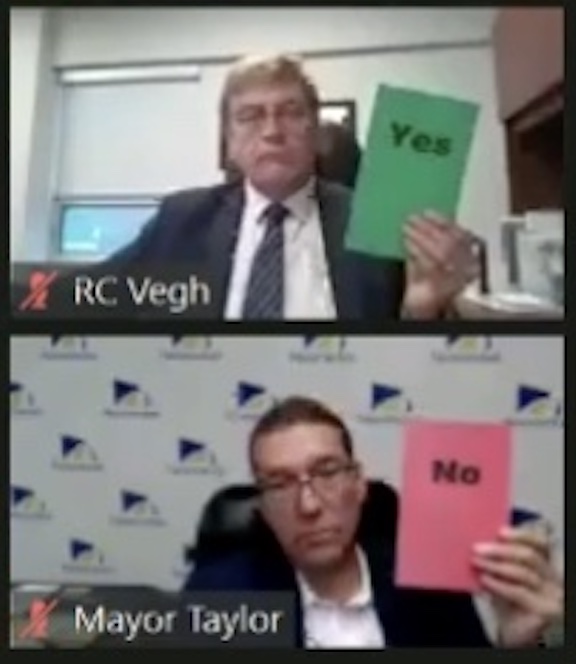 This is the response to my appeal against Ted McFadden's decision not to print my reasons for running. He asked me to re-write it to omit any reference to my opponent, Tom Vegh.
I refused.
Tom Vegh and his ethical lapses are the very reasons I am running.
Time to move on, I think.
1 September 2022
Hi Gordon
Thank you for your email.
Ted McFadden has provided you with the reasons why we would not publish your reason for running as stated. The candidate profile is your opportunity to talk about yourself, but you have chosen to talk about someone else. That's not the purpose of the profile.
You said you are not prepared to alter what you have submitted. I can only reiterate what Ted and Lisa Queen have communicated to you: we cannot print your answer as provided.
Sincerely,
Lori Martin
Lori Martin (she/her) | Deputy Director of Content
Metroland | Durham, Kawartha Lakes, Muskoka, Northumberland, Ottawa Valley, Parry Sound, Peterborough, Simcoe County, York
This email address is being protected from spambots. You need JavaScript enabled to view it.
Details

Written by

Gordon Prentice
Newmarket's ERA newspaper – which is delivered weekly free of charge to every home in the Town – won't tell its readers why I am running for election as Deputy Mayor and Regional Councillor.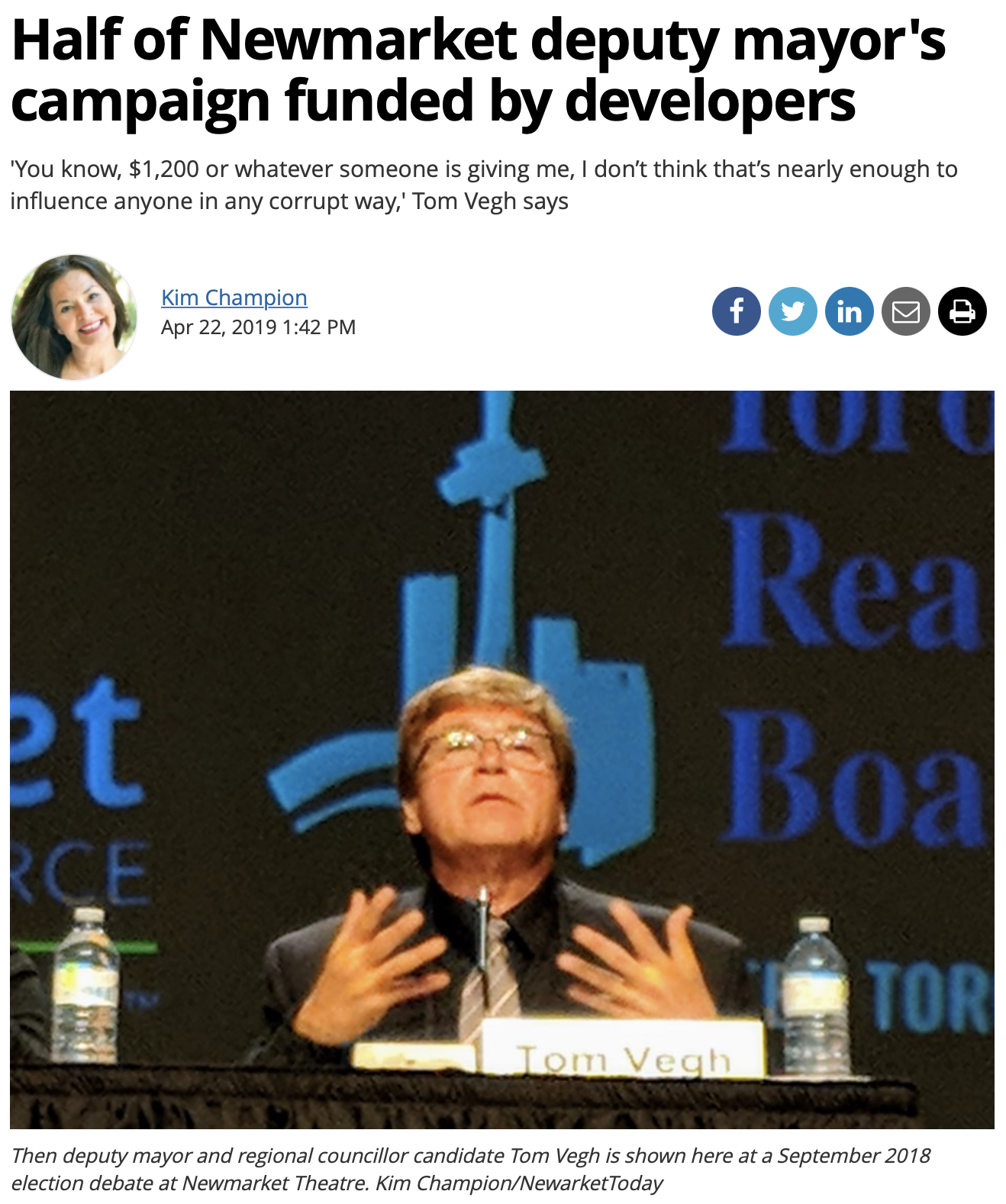 Ted McFadden, the Managing Director of Metroland York Region, who is responsible for editorial policy, asked me to rewrite my reasons for running to remove any reference to my opponent, the incumbent Regional Councillor Tom Vegh. I refused and I am appealing his decision.
Drunken Sailor
I am running because I want to see honest and ethical behaviour in municipal government and that means challenging Tom Vegh who spent like a drunken sailor in the 2018 election. He then had to be bailed out by developers' money after the election to clear the debt he had run up.
Newmarket Today reported in 2019 that more than half of Vegh's campaign contributions came from within the development industry.
The law now bans corporate and union donations to candidates running for office but private individuals can contribute up to a maximum of $1,200 per candidate. Money poured in to Vegh's campaign from individuals who are also big names in the development industry. They just swapped hats and sent the cheque to Vegh.
$30,000 debt
After he won the election Vegh was still carrying a huge $30,000 debt.
He told Newmarket Today:
"After the election I started receiving a lot of cheques and some of those I sent back for one reason or another, if I wasn't comfortable accepting it. But there's a few there that I said, "Yeah, OK".
Which begs the question - which cheques did he refuse to cash and why?
Vegh trilled:
"I won the election without their (developers) help, without even talking to them or them approaching me. And then we started receiving the donations."
Obligation
It must have occurred to Vegh that taking money in this way could be seen as placing him under an obligation to the development industry. Without their money his election would have been challenged.
Vegh said;
"You know, $1,200 or whatever someone is giving me, I don't think that's nearly enough to influence anyone in a corrupt way. Second, I'm not corrupt. Third, there's an entire Newmarket council there, don't overestimate my influence on council."

I don't.
Tom Vegh has questionable ethics. His voting record on major planning issues at York Region more often than not follows the development industry line. He has voted to press ahead on controversial planning proposals after rejecting the benefit of advice from the Region's professional planning staff.
Tom Vegh is the reason I am running.
This email address is being protected from spambots. You need JavaScript enabled to view it.
Click "Read more" to see the email exchanges.
Read more: Newmarket's ERA Newspaper won't tell its readers why I am running for election
Details

Written by

Gordon Prentice
The chair of York Regional Council, Wayne Emmerson, tells me he will be seeking a third term in November for the job which paid over $232,379 in 2021 plus generous benefits.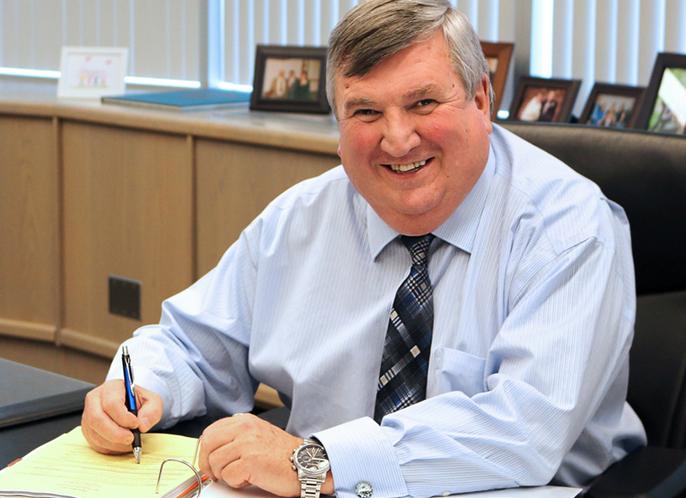 "I will be running for Chair in November. I will be asking York Regional Council to support me."
The Chair is indirectly elected by the 20 Mayors and regional councillors drawn from York Region's nine constituent municipalities.
Voters have no say
The Wynne Government picked up Chris Ballard's Private Members Bill and put it into law, forcing Regions to elect their chairs by the voters at large. In 2018 Doug Ford reverted to the old method of indirect election - meaning people had no say in choosing the regional chair.
York Region has a population larger than five Canadian Provinces.
Newmarket-Aurora's newly elected MPP, Dawn Gallagher Murphy, has not expressed a view on whether she favours the election of the regional chair by the voters at large or by the 20 members of the regional council. (Click "read more" below)
Indefensible
Emmerson's vote carries the same weight as members who are directly elected by the voters.
This is indefensible.
In March 2016 I made the argument to a Committee in Queen's Park. The case for direct election is as compelling as ever.
If elected to York Regional Council I would press for the election of the chair by the voters at large.
This email address is being protected from spambots. You need JavaScript enabled to view it.
Read more: Ontario's Deformed Democracy: York Region Chair Wayne Emmerson seeks a third term
Details

Written by

Gordon Prentice
On Aug 18, 2022, at 5:37 PM, Tom Vegh <This email address is being protected from spambots. You need JavaScript enabled to view it.> wrote:
Dear Gordon,
Thank you for your emails. If you were a regular constituent I would be pleased to answer any questions you may have on the work I do on Newmarket and York Region Councils on behalf of Newmarket residents. However, as you have declared yourself a candidate in the upcoming municipal election, I am sure you can understand my reluctance to engage with you during the campaign period.
I wish you all the best.
Sincerely,
Tom
From: Gordon Prentice <This email address is being protected from spambots. You need JavaScript enabled to view it.>
Date: August 18, 2022 at 9:52:18 PM GMT+1
To: Tom Vegh <This email address is being protected from spambots. You need JavaScript enabled to view it.>
Subject: Re: Campaign contributions from persons known to be associated with the development industry
Hello again Tom
I am grateful for your reply which is, I am afraid, totally inadequate.
You say you will not answer my questions because (a) I am candidate and (b) we are in the campaign period.
This is precisely when you should be engaging with me and explaining your decision to accept developers' money to fund your campaigns.
Will you give a commitment to join me on a public platform to debate the issues?
I am copying this to Joseph Quigley at Newmarket Today.
Gordon
Sent from my iPad
Details

Written by

Gordon Prentice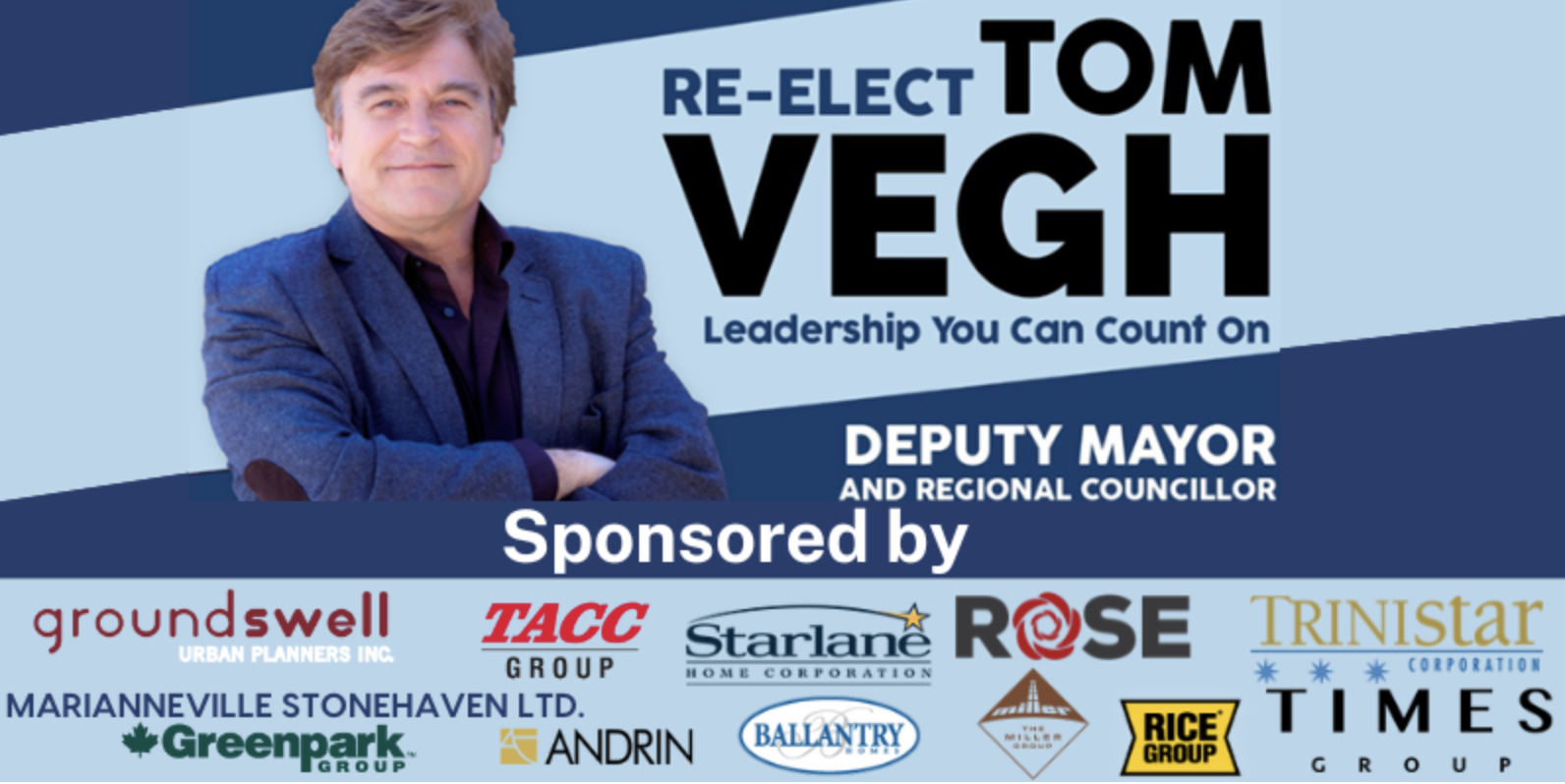 Running for election shouldn't be an arms race with the prize going to the candidate who spends the most.
The provisional campaign expense limit for the office of Regional Councillor, calculated by the Town Clerk taking into account the number of electors, is an eye-watering $52,166.50.
I learn I can spend up to $16,098 of my own money.
I have no intention of spending anything close to these stratospheric amounts. My campaign will be light and nimble and frugal. And honest.
The cost of each Vegh vote
I expect to spend a fraction of Tom Vegh's campaign budget which will be padded out by fat cheques from developers.
In 2018 Vegh's campaign income totalled $49,489.
His expenses came in at $45,846.
And he got 8,570 votes.
Each vote cost him $5.34
Measles
Vegh spent $8,590 on advertising; $25,358 on brochures and flyers and $11,472 on signs which were absolutely everywhere. The Town looked as if it had measles.
But, interestingly, he spent nothing on hosting meetings. No surprises there. Tom Vegh is a man of few words.
In 2018 the voter turnout was a less than stellar 34.7%.
Here is the result last time:
Tom Vegh: 8,570
Chris Emanuel: 7,952
Joan Stonehocker: 2,688
This email address is being protected from spambots. You need JavaScript enabled to view it.