Details

Written by

Gordon Prentice
This afternoon I wander down to the York Region Administrative HQ where I have been given the opportunity to address the two special advisers, Ken Seiling and Michael Fenn, who were appointed in January to review regional government in Ontario and to come up with recommendations. (Photo: the advisers in the centre of the hemicycle waiting for the kick-off.)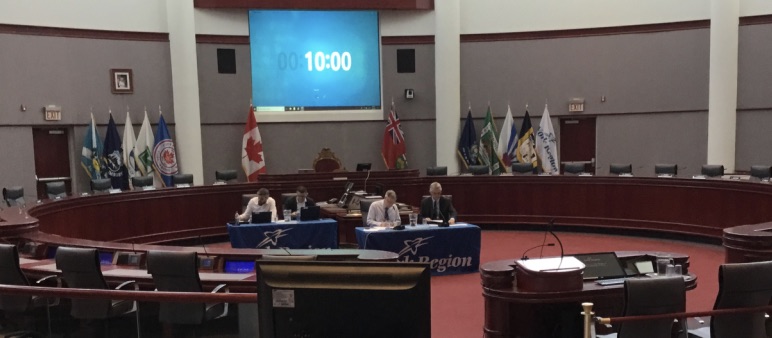 Astonishingly, there are only five of us down to speak. There's CUPE, the Ontario Library Association, a delegation from the Unionville Residents' Association in Markham, the Director of Markham Museums and me, a member of the public.
We are seeing consultation by stealth. No full page ads in the press. No email blasts. And only a few days to get your request in to speak. You blink an eyelid and you've missed it. Hmmm. Too bad!
3-5 minutes
In an email beforehand from the advisers' back-up team I am told I have been given 3 – 5 minutes to make my case.
"When preparing your remarks to the advisers, please keep in mind that the advisers want to hear your views on the way your elected municipal representatives make their decisions and represent your community. The advisers also want your thoughts and observations on the efficiency, effectiveness and cost of the various municipal services that your municipalities provide. In particular, the advisors are looking for your feedback on regional governance; decision-making and service delivery."
That's a lot of ground to cover in three minutes.
As the CUPE person is standing at the lectern Michael Fenn says that because there are so few of us we now have ten minutes.
Zero information
I decide to concentrate my fire on three targets.
First, there has been next to no background information provided by the Province. I tell the advisers I have no sense of where they are coming from. Will the review recommend amalgamations?
The review asks if two tier structures are appropriate for all municipalities. But we have zero information on the costs of moving to a single tier. These are likely to be very substantial. I rely on reports from Mississauga (which wishes to secede from the Region of Peel):
"Studies done by various researchers and academics have concluded that amalgamations in Ontario and in other provinces have resulted in cost increases, not cost savings or service efficiencies."
We have no evidence on the costs of previous amalgamations and their impact on service delivery.
Local means local
Second. I believe local government should be as local as possible. And I take it as axiomatic that citizen involvement is a good thing. So getting rid of the lower tier and uploading everything to the regional level wouldn't be desirable. And it wouldn't work. York is not a city region. It covers a huge area. I mention efficiencies arising from co-operation between the lower tier authorities.
Third. I move swiftly on to governance issues. Three years ago I gave evidence to the Bill Committee at Queen's Park and argued for the direct election of the York Regional Chair. I was disappointed the Ford Government cancelled the 2018 election at the same time it was cutting Toronto City Council by half. I remind the advisers the then PC Opposition voted with the Liberal Government to have York Regional Chair elected by the voters at large.
Now I hear myself quoting from a chunk of my Queen's Park speech. Why can Durham have an elected Chair but not York? (Photo right: Durham Regional Chairs debate 2018).
York has a population bigger than PEI, Newfoundland, Labrador, New Brunswick, Nova Scotia and Saskatchewan – and is closing on Manitoba. Yet the Chair is indirectly elected by 20 people.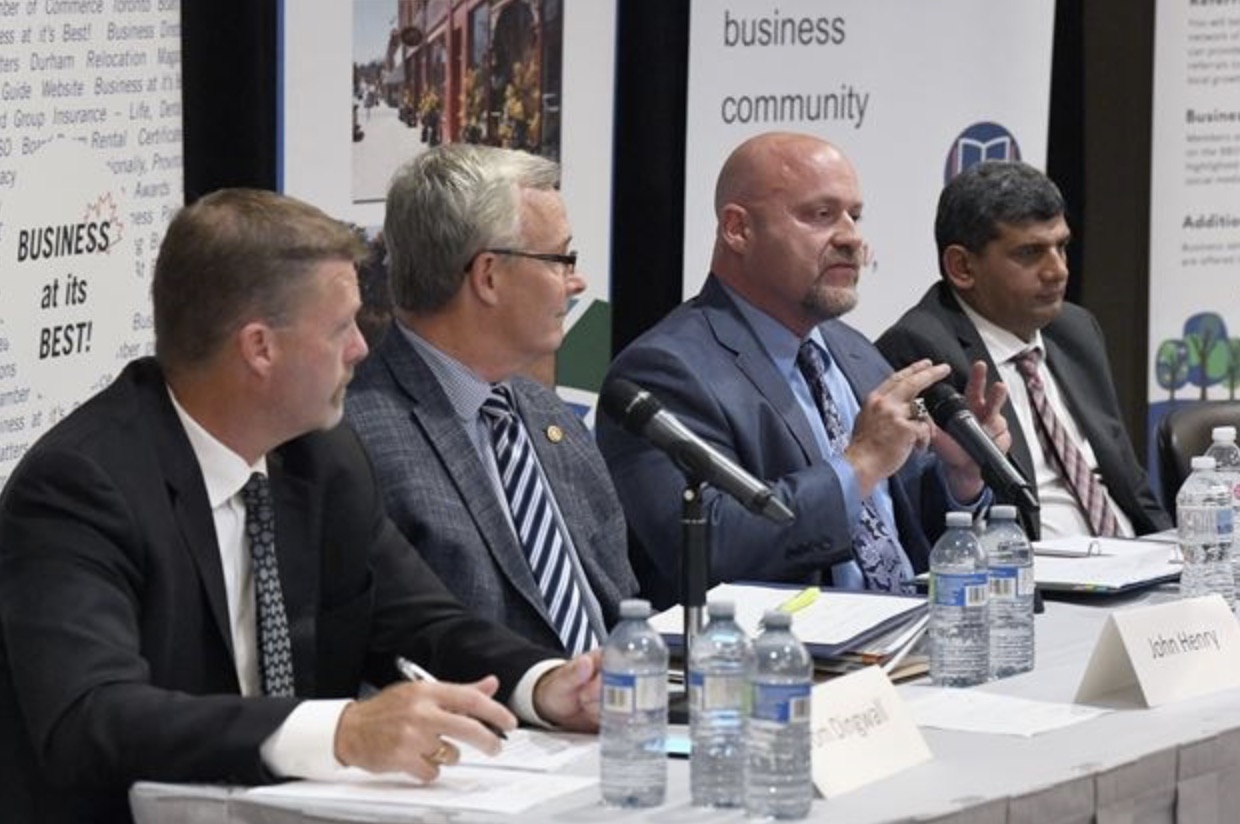 The invisible man
I tell the advisers I would be surprised if one in 1,000 people could name the regional chair, Wayne Emmerson. He is totally invisible to the general public.
Now I am well into my stride. I am on top of my soapbox talking about the importance of elections. They are about competing visions of the future and about deciding priorities. In the absence of elections these debates happen but in a muted way inside this hermetically sealed Chamber. Now I am galloping along.
There is no citizen involvement to speak of. And the method of election to York Region is also part of the problem. The system used is "Double Direct" and it doesn't work. The review team has given the public no explanation of what it is and possible alternatives. (There is one election for double direct with Mayors and Regional Councillors sitting on two bodies – the lower tier municipality and the Region.)
Academics say that with double direct the upper tier is less accountable to the community and there are conflicts of interest with members trying simultaneously to represent the views and policy positions of the upper and lower tiers which may be different. I agree with that.
Mayors not pulling their weight
I tell the advisers I have spent years observing members of York Regional Council and many of them make next to no contribution at all. Mayors are passported on to the Region, picking up their $55,000 "stipend". Some are disinclined to make any effort at all, focussing solely on their own patch. And regional report-backs to the lower tier can be very perfunctory.
Maybe that will change now that we have live streaming from the Regional Council Chamber, a recent innovation.
The solution is to take the Mayors out of the regional tier and have Regional Councillors focussed exclusively on regional priorities.
The advisers want to know how big my regional council will be. Answer: as big or as small as you want it to be.
I have 1:45 seconds left and decide to get something off my chest that has been bugging me for years. In Newmarket planning approvals for major developments were given to landowners ten and even twenty years ago but nothing has been built. We see a patch of dirt where the condo should be. We need sunset clauses to revoke planning approvals if they are not acted upon after, say, five years. I concede this is off-point but it chimes perfectly with the Ford Government's announcement last week to get more housing built in shorter timeframes.
And that's it. Time's up. My suggestions will no doubt be filed away and be forgotten while Ford redraws the municipal map.
York Region will decide its response to the Regional Review on Thursday 9 May 2019 following the advice of a working group consisting solely of the Mayors of the nine constituent municipalities.
This email address is being protected from spambots. You need JavaScript enabled to view it.
Members of the public have until May 21, to submit their views. 500 words of less, please!
Recommendations from the advisory body will focus on the following questions:
Questions on municipal governance and decision-making;
Is the decision-making (mechanisms and priorities) of upper- and lower-tier municipalities efficiently aligned?
Does the existing model support the capacity of the municipalities to make decisions efficiently?
Are two-tier structures appropriate for all of these municipalities?
Does the distribution of councillors represent the residents well?
Do the ways that regional councillors/heads of council get elected/appointed to serve on regional council help to align lower- and upper-tier priorities?
Questions on municipal service delivery;
Is there opportunity for more efficient allocation of various service responsibilities?
Is there duplication of activities?
Are there opportunities for cost savings?
Are there barriers to making effective and responsive infrastructure and service delivery decisions?
Update on 14 May 2019: And this is how Newmarket Today covered the story.
Details

Written by

Gordon Prentice
The Superior Court in Newmarket has ordered Aurora businessman and PC activist Anthony Pullano to pay a whopping $174,400 in costs to Magna's Steve Hinder on top of the $50,000 awarded by the jury last December in general damages for defamation.
Brock Weir quotes the trial judge in his recent piece in the Auroran.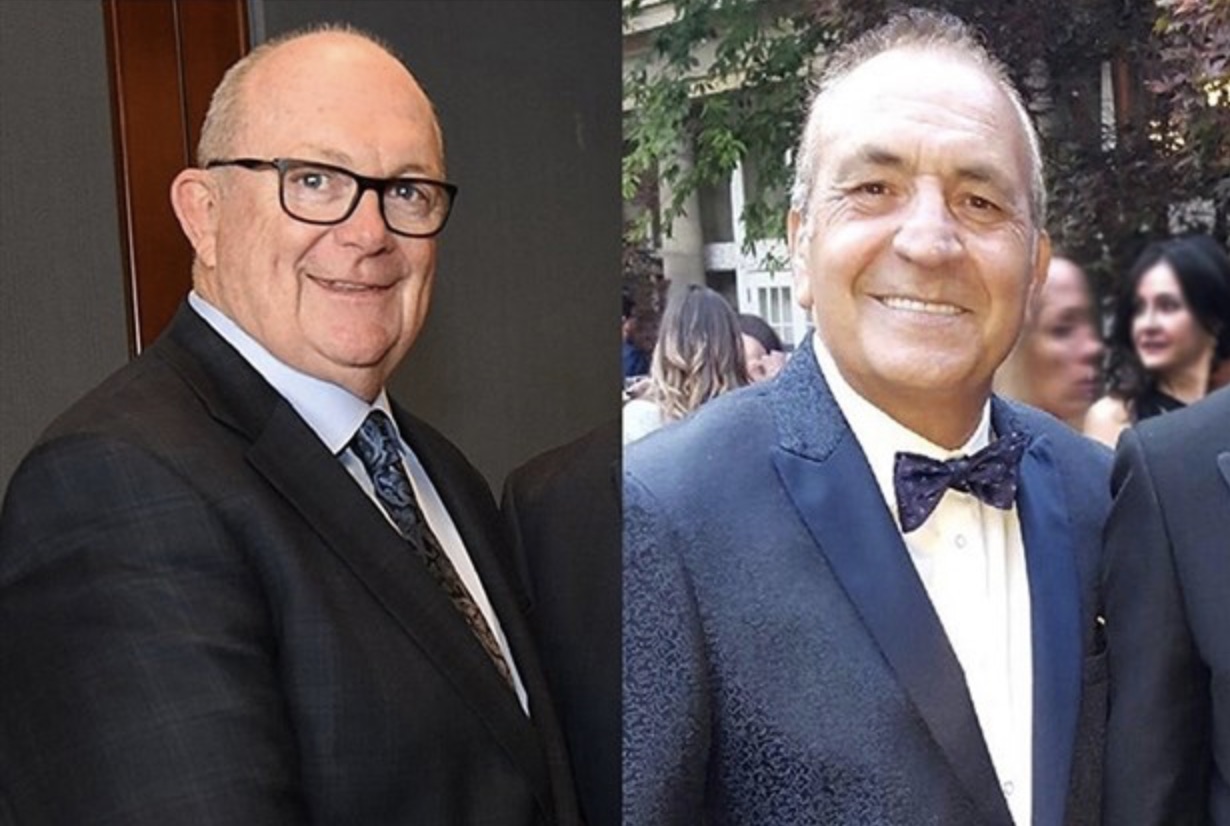 I sat through the trial and I found the judge to be, at times, impatient and irascible. He was often exasperated – and let it show.
Pullano his own worst enemy
And not without some cause. Anthony Pullano was his own worst enemy. He couldn't answer a straight question. He was meandering and long-winded and very often off-point. But he had a story to tell and the jury delivered its verdict on the facts after being instructed on the law by Mr Justice McCarthy.
I am not a lawyer or a pretend lawyer. I am Joe Public. But the judge's reasoning raises a few red flags for me. (Photo: Hinder of the left, Pullano on the right)
The judge said:
"The plaintiff was entirely unsuccessful at trial. The finding by the jury that he had been punched by Hinder, in all circumstances, cannot be viewed as constituting any measurable level of success. The jury dismissed the notion that Pullano sustained any physical, emotional or psychological injury. The jury rejected the suggestion that the punch had caused the infection of his [cardiac] implantation site. There was no basis for an award of general damages. I have found that an award of nominal charges is unwarranted."
But Mr Justice McCarthy chose not to instruct the jury on the law of battery despite being asked to do so by Pullano's sterling lawyer, William Reid. In fact, the judge sought and received the consent of counsel from both sides to abandon the charge of assault and substitute battery. In law, these have different meanings. The jury was left in the dark about the elements of the tort of battery. At the time I thought this was a big deal. I was asking myself how I would approach the issue had I been on the jury. The judge also misdirected the jury on the law on damages.
The judge goes on:
"The jury found no conduct on the part of Hinder deserving of aggravated or punitive damages. Conversely, the jury found multiple instances of defamation of Hinder by Pullano; implicit in its verdict is that it accepted Hinder's evidence that he had suffered emotional upset and embarrassment as a result of Pullano's defamatory comments being disseminated via social media to the broader community."
The damning evidence of Fred Rankel
I heard things at the trial that the jury did not. If there was legal argument about the admissibility of evidence the jury was asked to leave but members of the public were allowed to stay and hear the exchanges.
The judge excluded important evidence from Fred Rankel, a successful Auroran businessman of many years standing who knew Hinder and Pullano but was beholden to neither. He told the Court under oath how Hinder described the former Mayor of Aurora, Phyllis Morris, in an uncouth and deeply offensive manner.
The judge stopped Reid's line of questioning in its tracks and asked Fred Rankel and the jury to leave the Court while this was dealt with.
Reid said Hinder's counter-claim for defamation meant his (Hinder's) previous statements about people should be put before the jury to give them a rounded picture of the type of man that Steve Hinder is.
Reid told the Judge that on 10 June 2014 Hinder said to the former Mayor of Aurora, Tim Jones, in the presence of Mr Rankel:
"If these WOPs get elected we will have to roll up our tents and leave town."
Pullano's lawyer told the judge these and other similar statements by Hinder were crucial to the defence and to rebutting the counter-claim on defamation. The judge disagreed and ruled such statements would be severely prejudicial to Hinder and he would not allow them to be put before the jury.
We are told Anthony Pullano has until 15 May to decide on an appeal. I do not envy William Reid who must advise his client on whether or not to go down that perilous road.
Pullano has already been taken to the cleaners financially and the thought of him forking out even more money for what may be a lost cause makes me shudder.
This email address is being protected from spambots. You need JavaScript enabled to view it.
You can read Mr Justice McCarthy's decision on costs here.
Update on 10 May 2019: Anthony Pullano has confirmed his lawyer has filed a Notice of Appeal
Details

Written by

Gordon Prentice
The constituency office of Newmarket-Aurora's MPP, Christine Elliott, was today picketed by a good-natured rainbow coalition of protesters, all concerned about Doug Ford's latest cuts.
The group says they are independent and not party political.
I see familiar smiley faces. Not one of them looks threatening.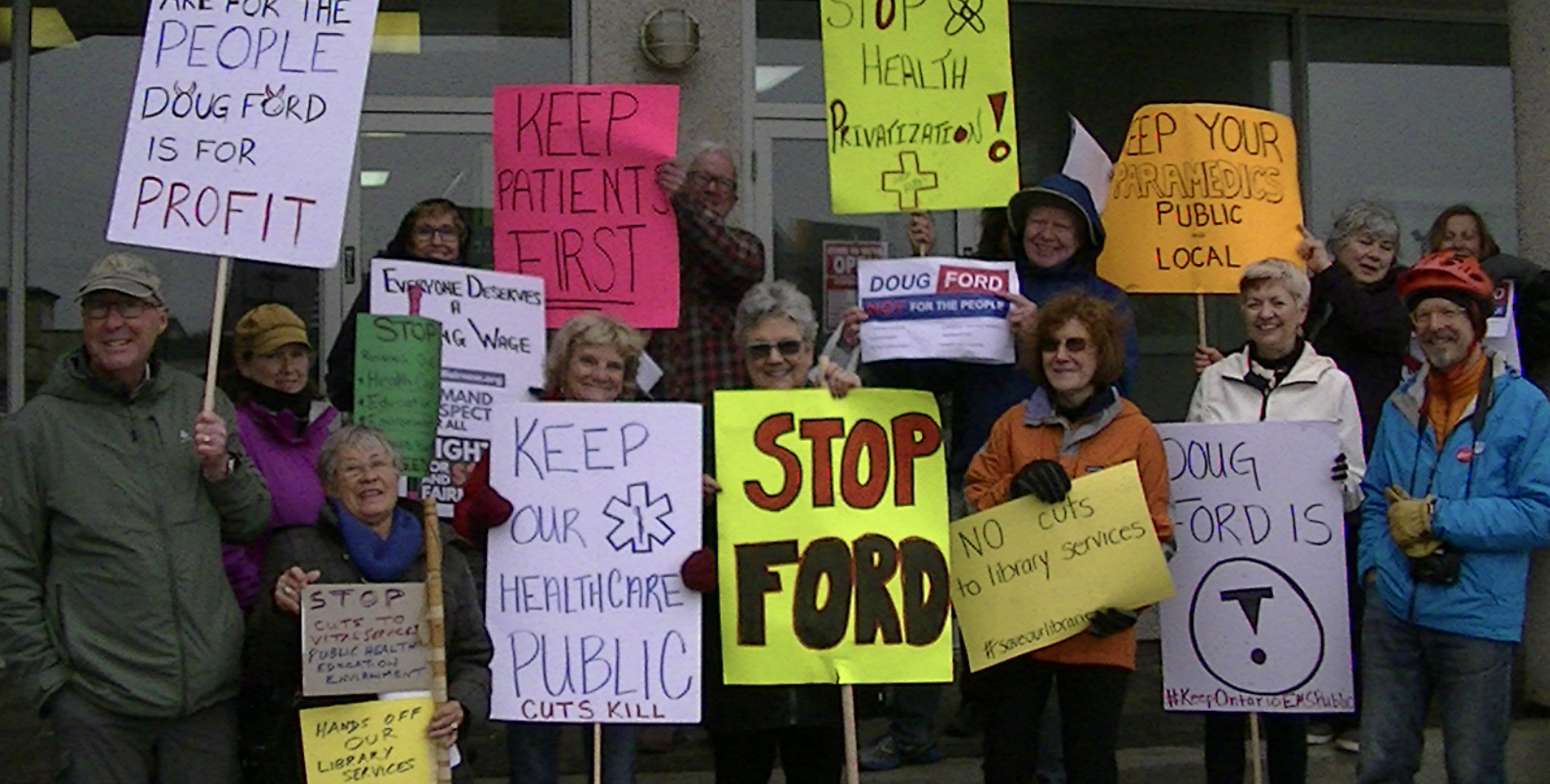 Jackie Playter is in the thick of it, holding a placard aloft which shouts:
"Keep our Healthcare Public. Cuts Kill."
Jackie, Newmarket's Honorary Citizen of 2017 and the Town's champion hugger, vows to be back outside Elliott's office next Wednesday from 12 noon to 1pm doing the same thing.
Protesting. Gently.
Elliott's staff lock the front door, keeping the protesters at bay, while insisting:
"There are no cuts."
Elliott is, of course, Minister of Health besides being Ford's Deputy Leader - even though she can't stand him.
In its review of the 2019 Ontario Budget, the Conference Board of Canada, says
"The province plans to restrict growth in health care spending to 1.8 per cent over the next five years. This will be a remarkable feat if achieved, as the province has seen health care spending grow at an average annual rate of 3.7 per cent over the last decade."
This means reining back health spending significantly while Elliott and Ford place their faith in "efficiencies".
The Toronto Star's Robert Benzie tells us:
"Queen's Park is slashing its share of public health funding with municipalities from 75 per cent to 50 per cent, and eliminating thousands of teachers' positions across the province."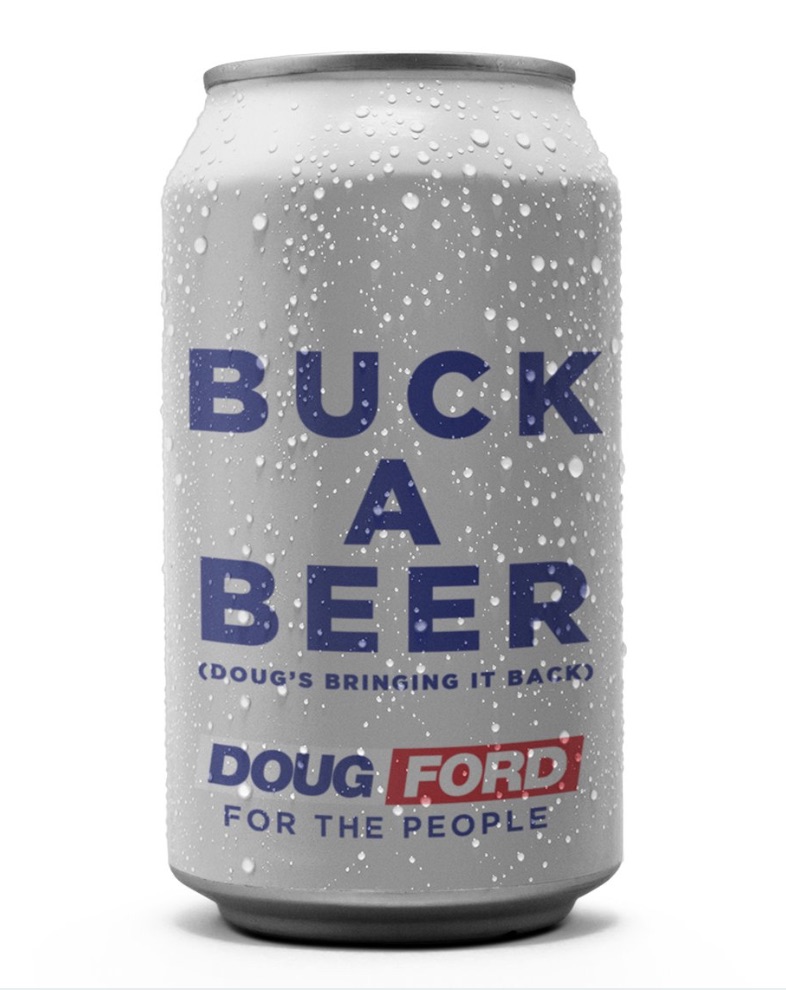 We are told spending cuts extend from trees to libraries.
Ford likes cutting programs by half
At a time of unprecedented flooding Ford is cutting in half the provincial funding to Ontario's 36 conservation authorities.
The Ontario library service is losing half of their provincial funding, axing inter-library loans which will be a hammer blow to more isolated communities.
But, funnily enough, there always seems to be enough money to pay inflated salaries to Ford's cronies who land plum patronage jobs in and around government.
Here is the Toronto Star's list of winners and losers in Ford's first budget.
If you need an alcoholic drink at 9am then Doug Ford is your man.
This email address is being protected from spambots. You need JavaScript enabled to view it.
Background: Elliott was parachuted into the riding after Charity McGrath was blocked by Ford from standing as PC candidate for election irregularities. Elliott hates Ford but conceals her animus towards him as the price of remaining PC Deputy Leader and Minister of Health. Elliott chooses not live in the riding.
Update on 9 May 2019: This is how Newmarket Today covered the story as it developed.
Details

Written by

Gordon Prentice

Yesterday (Monday 29 April) I wander down to the Council Chambers to hear Regional Councillor and Deputy Mayor Tom Vegh tells us how he going to deliver on his election promise of a new library and seniors' centre at Hollingsworth Arena.
A report from the Town's planners and approved by senior staff is designed to spike Timid Tom's plan for a library and seniors' centre on the site. We are told:
"… the Briarwood Development Group has expressed an interest in purchasing the arena property to facilitate the comprehensive re-development of the subject properties."
The Town is in the curious position of being a putative partner with Briarwood but as the planning authority it must maintain the pretence of being at arms-length.

"Preliminary" opinion
Now councillors are asked to give a "preliminary opinion" on whether the Briarwood proposal fits with the planning vision for the area which the planners have been working on for years since the Sandro Sementilli fiasco. They say this "preliminary opinion" is needed because the Town owns a big chunk of land at Hollingsworth Arena:
"This preliminary opinion and accompanying information will assist Council in making an informed decision regarding this potential sale."
Poor old Tom. He is being hung out to dry.
We are told the preliminary opinion should not be taken as approval for any planning application that may subsequently be submitted by Briarwood. Perish the thought! No. No. No. The Town will be giving Briarwood a nod and a wink but that's as far as it goes. All the proper planning processes will be followed in the usual way.
Any comments?
Now we are on to the Hollingsworth agenda item and the Mayor, John Taylor, looks around and invites colleagues to have their say:
"Any comments or thoughts to share with Council?"

Timid Tom looks vacantly at the screen in front of him while Victor Woodhouse dives in:
"So in accepting this report there is a fair amount of information here including a couple of options, one with regards to the Hollingsworth property itself. Actually both of the options involve the sale of (land). A very small portion of the land (in the first option) and the second option involves the sale of the lands entirely. And you are bringing this forward to Council? We don't have all the information. Are we just to receive the report at this point?"

The Mayor, John Taylor, tells Victor:
"…I always try to provide some context for people who are in attendance who wonder what we are talking about. The other thing to keep in mind is a companion report to this in our in-camera agenda that will talk to the financial or contractual nature if we were to sell any portion or all of the Hollingsworth property (and) what would that look like."
"These planning negotiations are always done in confidence to make sure we protect the best interests of the taxpayer and residents in terms of what we would get or what we would pay for a land transfer. That will all though be shared in due course whatever the decision is (and) if there is a contract to move forward."

"I mention that because Council is not privy yet at this point to this information. This will be the first glance coming up in the in-camera session. I think what Councillor Woodhouse is alluding to is (that) it is a little hard to move forward without all the information."
Now the ward councillor, Jane Twinney, pitches in:
"I want to speak (about) the in-camera position. This is the first time (we) are taking a look at this decision. It is important for us and for the community and I think we need to get some more information before we can even consider what options if any and where we are going to go. But we need to look at the financial part of it because it is hard to make a decision when you don't know what you are talking about dollar-wise."
"I want to make sure that the residents understand that the reason for going in camera. It is the fact that if you are selling your home… you are not going to discuss that (the asking price) in front of the buyer… but I do want to ensure that we are going to be disclosing all that information in public session. That's important to the residents… I am going to be asking that any decision be deferred to the next Committee of the Whole but I do think that we need first to get this information today and start (thinking) about it… It is important we land in the right place."

Mayor: "OK"
Slithering and silent
At this point Tom slithers under the table. Staying out of sight. Taylor continues:
"I just want to clarify… in term of the in-camera information being shared with the public etc. I just wanna make sure we don't create expectations. Ultimately that's Council's decision but I assume that if we were to decide to sell a portion or all of the land (the information) would eventually be shared through our processes here. However, if we were not to do so that would not necessarily be shared because of future transactions or you don't want to disclose what you might or might not have (accepted). I just wanted to clarify that.
He invites the Commissioner of Corporate Services (and former Town Solicitor) Esther Armchuk to comment. She confirms that when title changes the public is told. (It is in the Land Registry which is a public document.) If there is no sale she says no information is released:
"to protect negotiations and legal discussions… to ensure that we are negotiating in the best interests of the Town and trying to obtain the best value that we can."
Unfortunately, because decisions on the possible sale or acquisition of land are kept under lock and key forever (citing client-solicitor privilege) major blunders or simple errors of judgement escape public scrutiny. For me, a classic example must be the Town's decision in 2008 not to buy the Glenway lands for public open space – and perhaps for other uses. There was a preremptory twenty-minute discussion and no written report. We unearthed that little nugget years later after the die was cast. Anyway…
Blank
Now the Mayor is wrapping up and asks yet again if there are any other questions or comments from any other members of Council. Nope. Tom's face is blank.
Later…. after the in-camera session the Committee reconvenes in public. Jane Twinney wants local residents to be informed of the upcoming Committee of the Whole meeting on Hollingsworth on 21 May 2018 at 12.30pm at 395 Mulock Drive when decisions will, presumably, be made.
The in-camera session may have been terrific entertainment with Tom forensically analysing the Briarwood proposals and arguing his case for a new library and seniors' centre on the Hollingsworth site. Who knows? But on the evidence so far I rather doubt it.
Instead Tom has been treating us to a tantalising dance of the seven veils.
Leaving us to wonder what, if anything, he is going to reveal and when.
Now there's a thought.
But perhaps not.
This email address is being protected from spambots. You need JavaScript enabled to view it.
Newmarket Today covered the story here.
You can read the Council's Sale of Land policy here.
Details

Written by

Gordon Prentice
The decision by developer Bob Forrest to sell the iconic Clock Tower building and the adjacent historic commercial buildings is great news.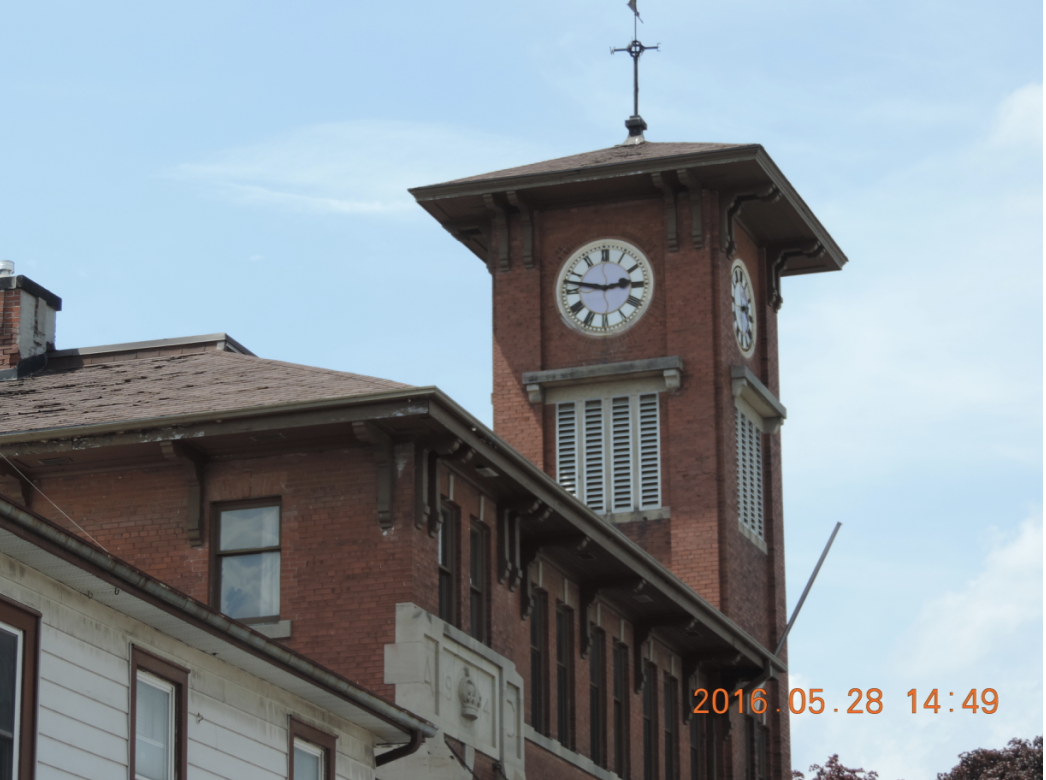 Forrest has been like a dose of anthrax to Newmarket's historic downtown and the sooner he packs his bags and leaves the better. Personally, I'm fed up looking at his desolate boarded-up properties.
I've been writing about Bob for far too long. But I know from long years of experience that stamina is required when dealing with developers. They play the long game. They have very deep pockets and have time on their side. They can sit out protests and wait for people to lose interest and move on with their lives. That's the way they win.
Bob's plans had been incubating in his head for years before we got to hear about his "concept" in 2013. And when Bob discovered people were less than impressed he spent another three years going back to the drawing board, amending, refining and tweaking his concept before finally throwing in the towel and admitting defeat.
The Town Solicitor will be giving councillors an update on the sale and what it may mean tomorrow Monday 29 April. You can find agenda item 5.2 here.
Bob's allies
Developers always have their enablers. Forrest had an ally in the former Mayor – Tony Van Trappist – but, at the end of the day, support from the old banker wasn't enough.
At public meetings on Forrest's development proposals Van Trappist would tell people they "would have plenty of opportunities to make their voices heard". This is a tried and tested way of managing a meeting when the audience is hostile or sceptical or both. We didn't know then he had already made up his mind. But there were plenty of clues.
The new Mayor of Newmarket, John Taylor, is cut from different cloth. He sees the sale as a win for the community on the grounds Bob's departure will get things moving again in the heart of the heritage conservation district. I hope so.
How did we get here?
Forrest bought the Clock Tower for a song in 2011. He spent masses of time and barrow loads of cash trying to get his development through.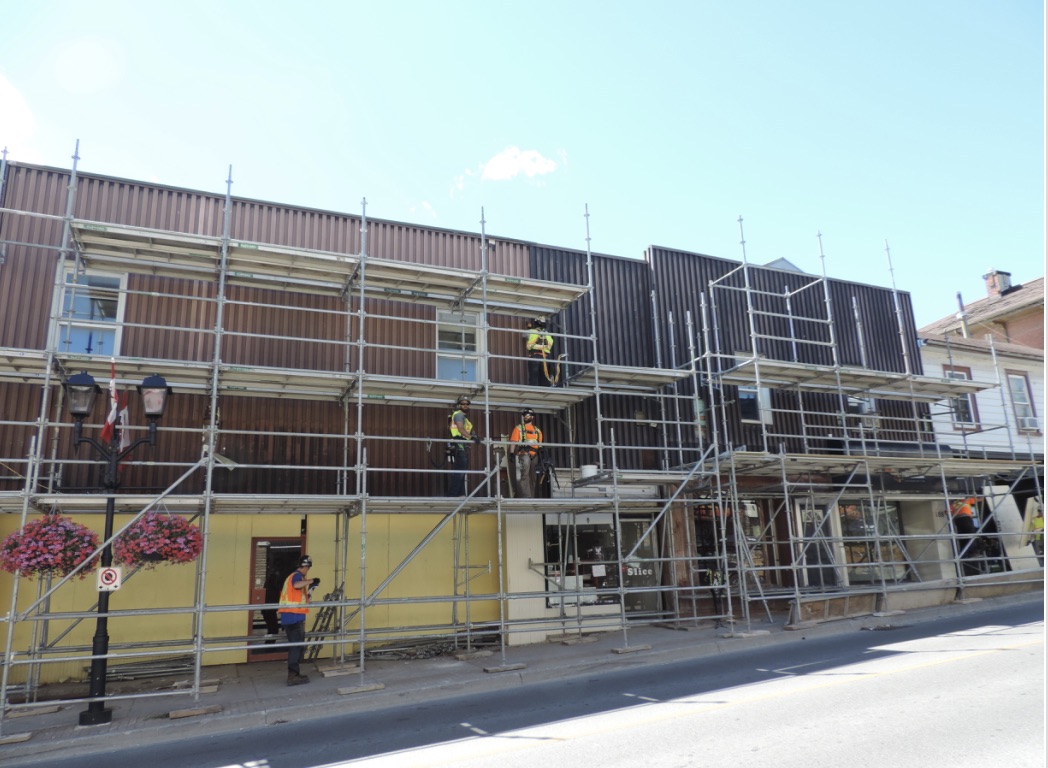 The Town's senior staff spent endless hours discussing Bob's plans, trying to devise a win-win that would increase density in the old downtown while protecting the Town's built heritage. They wanted to accommodate Forrest if at all possible. And as a consequence, they were too slow to recognise that Bob's plans – whether seven, nine or six storeys - would never fit into the old downtown.
Forrest had a formidable coalition ranged against him – from downtown retailers to citizens' and charitable groups like the Heart of Newmarket and the Architectural Conservancy of Ontario who fought to protect the Town's built heritage. Bob tried hard to seduce councillors but failed. Only the old banker took the bait.
In 1995 the Town passed a by-law to designate the Clock Tower as being of architectural and historical significance. In 2007 the Town agreed in principle to establish a heritage conservation district and the following year work started on the Lower Main Street South Heritage Conservation District (HCD) Plan.
Bob buys the Clock Tower for $2.3M
In March 2011, Bob's numbered company 2259613 Ontario snapped up the Old Federal Post Office (aka the Clock Tower) for the knock-down price of $2,340,000. It was on the market for $3,275,000. In June Forrest gave a presentation on his "Clock Tower concept" to a closed session of the Committee of the Whole.
In July senior staff reviewed Forrest's Clock Tower proposal where there is talk about drawing up a balance sheet: Benefits for Town vs Costs for Town. Other meetings followed to discuss access rights, heritage issues and parking. The latter has always been a big issue in the old downtown.
On 5 October 2011 the Heritage Conservation District Plan was endorsed by Newmarket Council.
In the new year things began to heat up. Mike Bryan, the owner of 184-194 Main Street South emailed Newmarket CAO, Bob Shelton, to say he was in the process of selling the properties and he was authorising the buyer, Main Street Clock Inc and its parent company Forrest Group, to "discuss details of my company's land exchange with the Town of Newmarket". He sold his properties to Forrest for $1,800,000.
Bob needed Town owned land for his project to get off the ground
On 30 April 2012 Forrest's right-hand man, Chris Bobyk, made a PowerPoint presentation to the Committee of the Whole in closed session and on 7 May councillors considered a report on the Clock Tower and the proposed land exchange. At this stage the land swap was a complete mystery to the public. We would find out later that the development could only go ahead if the Town agreed to make available the land that Forrest needed. Senior staff and councillors danced around this issue for years, waiting for Forrest to lodge his planning application before deciding whether to do the land swap or not.
On 18 October 2012 Chris Bobyk told the Town's planners Forrest didn't want to go to the trouble of doing detailed design work on the Clock Tower until they got the OK from the Town that they had the zoning agreed and in place. Forrest's people were also sweet talking so-called "community leaders" to get them on side. The Town's senior staff were briefed on all these shenanigans.
On 23 October Forrest warned the Town's Chief Administrative Officer Bob Shelton and others he could pull out:
"We are spending money to work out issues with Heritage and BIA. The cost of preparing a complete application for zoning is far too onerous for us to undertake without having (redacted). Given that we have spent over $100,000 on reports and design, in the last 30 days, if the above is not going to fly, we prefer to withdraw right now."
In November Forrest was again in discussion with senior Town staff on a myriad of issues including the difficulties he faced in developing the site and how he should go about consulting the public. There were parking and heritage issues. He asked for their thoughts.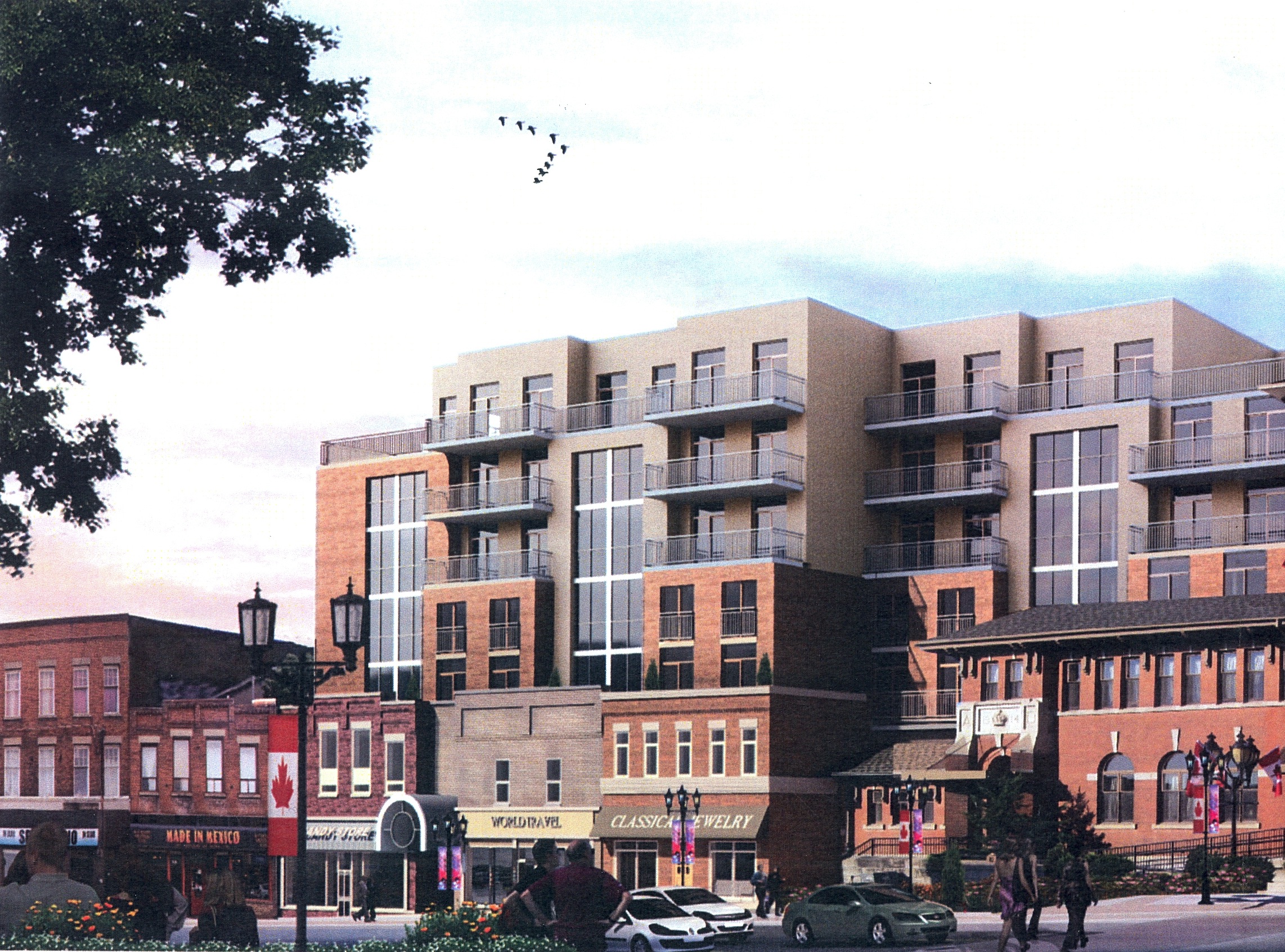 Now we are into 2013 and Bob was again complaining about how much this Clock Tower venture was costing him. He said he was bending over backwards to accommodate the Town but there were limits. In January Chris Bobyk emailed Van Trappist, Bob Shelton and others to say they couldn't make any more concessions without putting the entire project in jeopardy.
"Our proposed density has been reduced in the current plans inclusive of height to the lowest point possible while maintaining financial feasibility for the project."
On 3 April 2013, Bobyk unveiled the Clock Tower redevelopment concept to a sceptical audience at the Community Centre in Doug Duncan Drive. He chose not to mention that the Town's heritage watchdog, the Heritage Advisory Committee, had voted against the proposed development. He said an application would be lodged with the Town "in the next few months". That didn't happen. Bob wanted to get all his ducks in a row first.
Where is the Heritage Conservation District Plan?
On 30 April 2013 I urged Van Trappist to take immediate steps to bring forward a By-law to bring fully into force the Lower Main Street Heritage Conservation District Plan which had been approved by Council in 2011 but the enabling By-Law had never been implemented.The Director of Planning told me there wasn't enough money in the budget to cover the additional staffing costs.
In June staff presented a report (2013-29) to the Committee of the Whole. We learned that since mid 2011 Forrest had been considering various conceptual development proposals for these lands which involved "closed session discussions with Council on related property matters". They'd been jabbering for years.
The latest concept was for a development including a six-storey apartment building with 145 apartments and 6 retail units with a mix of surface and underground parking. On 17 June and again on 24 June the Committee of the Whole met in closed session. Forrest subsequently insisted there was an agreement in principle. The Town denied this. Despite repeated Freedom of Information requests the Town refuses to make the report and minutes public.
Secret discussions to stay secret
The Town says publication of the minutes will give the game away if their negotiating strategy is revealed. They claim, preposterously, that this would imperil future negotiations if they show their hand – as if they always rigidly follow the same negotiating position.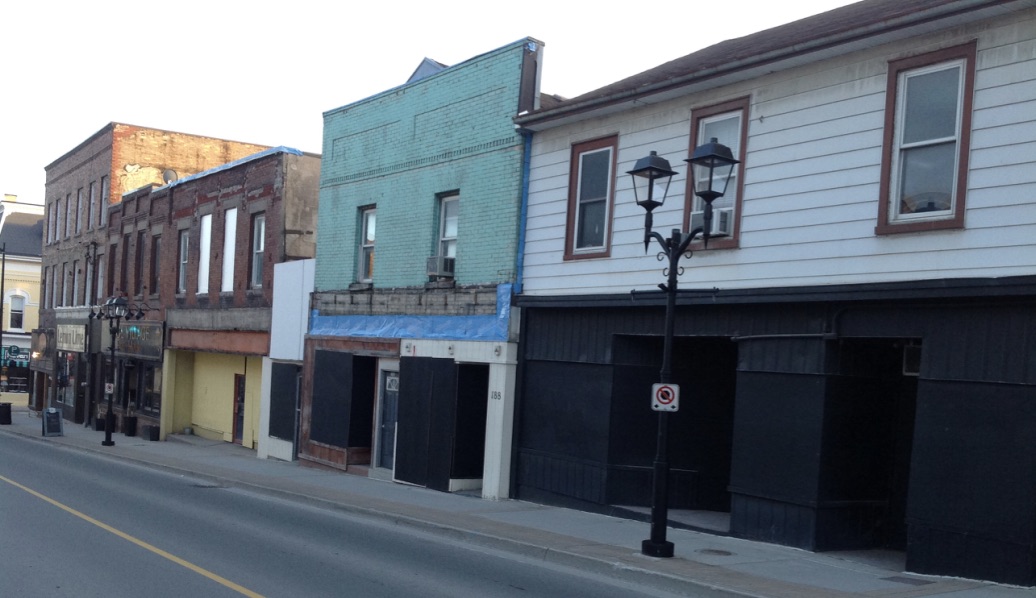 "The information contained in the records is detailed, specific and describes a negotiating strategy that, if released, would prejudice the Town in future negotiations. The release of these records will reveal the Town's negotiating position and tactics and would impact the Town's position in future negotiations."
The public finally learned that Forrest needed Town-owned land for the project to proceed. In August, a staff report recommended passing the necessary by-law to bring in the 2011 Heritage Conservation District Plan. All this was costing Forrest time and money and in September he took out a mortgage on the Clock Tower property for $3,000,000 with PACE Savings and Credit Union.
Eviction notices
Later that month Forrest decided to evict his business tenants on Main Street South citing demolition and redevelopment as a reason, even though there is no certainty the Council would give approval to demolish. He wanted them out by 31 March 2014.
Forrest emailed the then Town Clerk, Andrew Brouwer, asking the Council to defer any decision to bring into force the Heritage Conservation District By-law. But the Town pressed ahead nevertheless and the by-law was agreed on 21 October 2013.
In November a report on the Clock Tower application (2013/55) told us Forrest wanted a zoning by-law amendment to permit a mid-rise 6 storey building with 150 residential units above 10 units of ground floor commercial and two levels of underground parking with 173 spaces. The underground parking would extend under the existing library parking and a portion of Market Square parking lot.
We learn this development – one of a number of iterations - would have a floor space index (FSI) of 4.25. The FSI, which is a measure of density, would later become a controversial issue.
In November 2013 Forrest appealed to the Ontario Municipal Board saying his planning application for the condo proposal, deemed complete, had been lodged with the Town before the Heritage Conservation District By-law had been enacted. In December the Newmarket Heritage Advisory Committee calls on the Council to reject Bob's development.
Bob shoots for the sky with a nine-storey condo
We are now into 2014 and Bob still had not submitted a formal application to the Town. He was endlessly testing the water. In January, in a last-minute revision of plans, he decided to go for a nine-storey condo, up from seven.
The statutory public meeting on 3 February 2014 was packed. Chris Bobyk said the underground car park could not be built solely on the land that Forrest owned. For technical reasons it would have to "spread out" and encroach on to Town owned land. People were beginning to ask why the Town didn't just say no.
In March Forrest, conciliatory and brazen in equal measure, offered to extend the lease of his tenants until September 2014 and then on a month-by-month basis but only if all opposition to his project was stopped.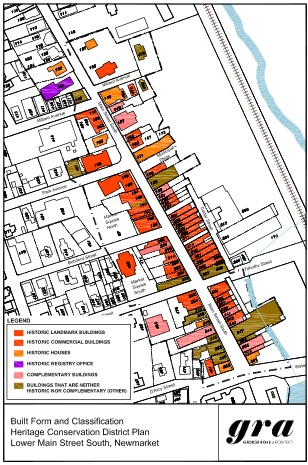 On 19 June Bob put the Clock Tower and adjacent buildings up for sale. But no buyer emerged or he subsequently decided not to sell. We don't know. In a bizarre twist he subsequently denied ever trying to sell them.
Forrest met Van Trappist and Bob Shelton on 14 August 2014 to discuss a wide range of issues. He made it clear he wanted a firm land swap deal.
On 19 August the OMB issued an Order bringing the Heritage Conservation District By-law "into full force and effect" as from 31 October 2013 except for the properties under appeal (180-194 Main Street South).
Town is "dysfunctional"
Now we are into 2015. Forrest was continually in contact with the OMB, updating them on the progress of his development proposal. Angry and exasperated, he branded the Town "dysfunctional".
In May Bobyk had separate meetings with councillors - away from the Town Hall – to brief them on the overall history of the Clock Tower application and to review the proposal that was current at the time. Bobyk told Van Trappist he would report back on what happened, telling him what individual councillors thought.
By June Bobyk was becoming increasingly impatient and he pressed Bob Shelton to get the land swap issue sorted out in August. He wanted to know if the Town would be holding out for public parking spaces in the cavernous underground parking garage. He told Shelton:
"the boundaries for the land exchange vary dependent on whether the municipal parking option is included or not. Need your direction soon."
On 5 September Forrest told his business partners the land swap agreement was being drafted and that he already had the Town's agreement in principle. Forrest said he had settled on six storeys but there was a real possibility he could get seven with rental. In October Bob Forrest floated with councillors the idea of making the proposed development rental.
On 15 December 2015 the increasingly restive BIA Board of Management carried a motion calling for:
"responsible development within the three storey height limitations permitted in the Downtown Newmarket Heritage Business District... (It) objects to and opposes any proposed transfer or swap of Town-owned Heritage land (specifically the land on or below the critically important Market Square parking block) by the Town to the Forrest Group or any other developer for the purpose of providing space to build an underground parking lot for its intended project, the construction of which would have catastrophic effects on BIA businesses."
Boarded-up shop fronts
Now we are into 2016. On 5 January Forrest told his business tenants on Main Street he had been wrong-footed by the Heritage By-law and didn't see it coming. He said he would let his tenants stay where they are for a little bit longer. He said he worried about boarded-up shop fronts and how the Council would react. He told his tenants:
"My business isn't renting stores. My business is building buildings and I want to get to the point that I can build my building at the earliest possible moment."
In February Bobyk had more one-to-one meetings with councillors.
On 7 April 2016 Forrest applied for a Zoning By-law amendment for a seven-storey rental apartment building at the Clock Tower. On 11 April the Mayor, Tony Van Trappist, finally revealed his true colours, telling the local press:
"The Clock Tower is a great example of the intensification we need."
On 14 April the President of the Architectural Conservancy of Ontario, Catherine Naysmith, spoke to a packed meeting at Trinity United Church on historic Main Streets and how they can be protected and yet still thrive. Heritage properties can be money spinners.
Later that month John Taylor declared that no land would be sold or transferred in relation to the Clock Tower site
"unless in relation to a Council approved and endorsed development and only after the project has significantly advanced".
A second statutory meeting on Bob Forrest's latest plan for the Clock Tower was held on 9 May. First six storeys then nine. Now we are on seven. Forrest's much anticipated slide show makes no mention of the land swap.
Demolition by neglect.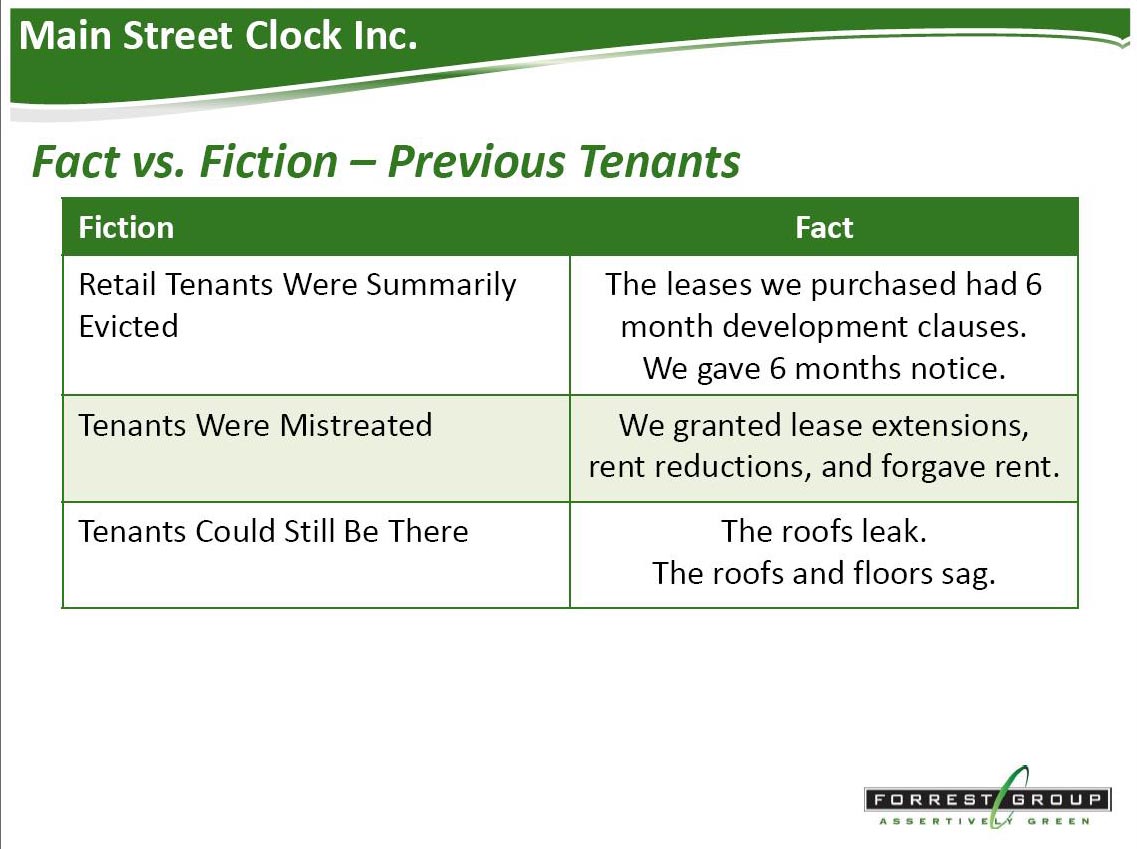 Speaking about the historic commercial properties he owns, Forrest candidly admitted:
"The roofs leak. The roofs and floors sag."
This is demolition by neglect. In September the historic commercial buildings on Main Street showed their faces to the public for the first time in decades. In October Forrest released his "Project Landscape" document, allegedly addressing misunderstandings and misconceptions about the Clock Tower development. It made no impact.
Despite the planning paralysis over the Clock Tower, in November the Canadian Institute of Planners voted Newmarket's historic Main Street one of the great places in Canada.
Town's planners go for a compromise
On 17 November 2016 the Town's planners recommended approval for an amended version of Forrest's Clock Tower development. They wanted Forrest's resubmitted planning application for a Zoning By-law amendment to be approved subject to certain conditions. The planners wanted the height of the proposed development fronting on to Main Street pegged to five storeys including step backs and the height on Park Avenue, including step-backs, to be capped at seven storeys.
On 21 November 2016 John Taylor said he would not support a seven-storey development: "It is simply too large for the site and for the Heritage Conservation District". On 24 November Forrest rejected the planners' compromise and said he would ask the Council to support his original application.
It is D-Day. The Committee of the Whole on 28 November 2016 heard from members of the public and from its own staff – including the Director of Planning, Rick Nethery, who conceded under questioning that the report before councillors was inaccurate on the crucially important FSI metric which is a measure of density.
"There's no question that what Mr Wall was saying is that we're looking at an FSI that's above what is currently in the documents. We don't dispute that. That is a question of whether or not if Council were to approve it they would be so approving with that in mind."
Instead of the document's purported FSI of 2.9 the Clock Tower had in fact an FSI of 4.279 which would have given the structure the highest density in the whole of Newmarket. The Director of Planning allowed a report to be presented to councillors with recommendations for decision which contained facts he knew to be false.
The Town's senior staff subsequently tried to explain this away by insisting height and massing were more important than the Floor Space Index. But we now know the FSI calculation had been manipulated by including in the calculations the proposed development's underground car parking. The Town's Zoning By-law specifically excludes the underground parking area in the calculation of the FSI.
On 14 December Forrest appealed the Council's decision to the OMB. Forrest's lawyer, the silver-tongued Ira Kagan, said with a straight face:
"The proposed development represents good heritage planning and good planning in general".
We all know that is complete cobblers. It is just a well-worn formula lawyers and planners trot out when the occasion demands.
In 2017 the Town and Forrest braced themselves for an OMB Hearing. And the Town threatened litigation over the ownership of the lands in Market Square. Both sides backed off.
On 2 May 2018 the Town and Forrest agreed Minutes of Settlement saying they were committed to an "open and transparent process".
In April 2019 we learn Bob is going to sell.
This email address is being protected from spambots. You need JavaScript enabled to view it.