Details

Written by

Gordon Prentice
This is from this morning's Globe and Mail page A7: Records show talks with developer began before he bought property in protected lands, shortly before Ford Government reversed its promise.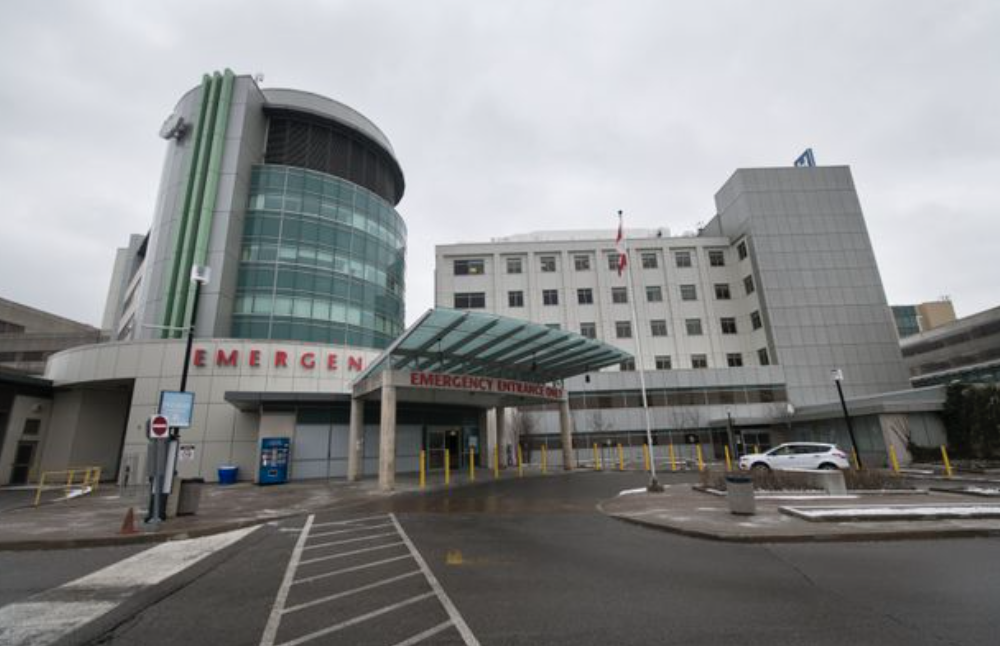 The Globe and Mail's Jill Mahoney writes:
A proposal to donate part of a sprawling property in Ontario's protected Greenbelt for a new hospital followed talks that spanned nine months and involved a developer, local mayor and hospital executives, documents show.
Internal records obtained by The Globe and Mail through freedom-of-information requests shed light on the timeline of developer Michael Rice's interest in Southlake Regional Health Centre's expansion, revealing he began discussions with hospital officials before buying a property largely located in the Greenbelt, an arc of protected farmland, forests and wetlands encircling the Greater Toronto Area. The documents also show Mr. Rice's company purchased $15,000 in event sponsorships at the request of a local mayor.
Mr. Rice's $80-million purchase of the property, a portion of which is being considered for the new hospital, closed less than two months before Premier Doug Ford's Progressive Conservative government reversed its long-standing promise not to touch the Greenbelt by unveiling plans in November to allow the construction of at least 50,000 homes on 15 areas of protected land. Mr. Rice's property in the township of King is among the land freed up for development.
King Township's Mayor had previously confirmed that he, Mr. Rice and officials from Southlake met to discuss the property three days before the government's Greenbelt announcement, but the records reveal that Mr. Rice began talks with the hospital about its expansion plans in January, 2022.
The documents do not detail what land was discussed at the January meeting. It is not clear when Mr. Rice, who owns other property in the area, became interested in purchasing the land in King, an affluent area north of Toronto known for its horse stables.
The Globe and other media outlets reported that Mr. Rice and several of the other landowners whose properties were removed from the Greenbelt have ties to the PC Party. A donor named Michael Rice has contributed more than $13,000 to the PC Party since 2018, provincial records show, and Mr. Rice's development company hired a former Ontario PC cabinet minister to lobby the government between 2019 and 2020.
Both the province's Integrity Commissioner and Auditor-General are investigating the Greenbelt decision amid accusations from opposition parties and environmental advocates that the government tipped developers off about its plans, which Mr. Ford and Municipal Affairs and Housing Minister Steve Clark have denied.
Mr. Rice, president and CEO of the Rice Group, a retail, industrial and infrastructure development company, did not respond to e-mails seeking comment.
The terms of Mr. Rice's proposed land donation for Southlake's expansion have not been made public and were not detailed in dozens of documents disclosed by Southlake and King Township.
At a meeting with Southlake and King Township officials on Nov. 1 – three days before the government's Greenbelt announcement – Mr. Rice committed to providing a portion of his land for the new hospital for "a nominal fee – $2, $5, whatever," King Mayor Steve Pellegrini said in an interview with The Globe.
Mr. Pellegrini said he had no advance knowledge of the government's plans and said there were "never any deals" to support removing Mr. Rice's land from the Greenbelt if he agreed to donate part of the property for a hospital. (Mr. Pellegrini says the government could have located a hospital in the Greenbelt through a legislative amendment or ministerial zoning order.)
Southlake requires a second hospital on up to 40 hectares of land to relieve overcrowding at its current Newmarket facility. The province provided $5-million for expansion planning a year ago.
Officials are "evaluating all opportunities as part of our site selection process," including Mr. Rice's land, Southlake spokeswoman Lindsey Furlanic said in a statement. Potential locations are being assessed based on several criteria, including proximity and "financial considerations," she said.
Mr. Rice's property is a total of 278 hectares, or 2.78 square kilometres, and borders Newmarket.
The documents from the FOI requests indicate that Mr. Rice's company approached Southlake and King Township for meetings last year.
Jordan Holt, the Rice Group's manager of acquisitions and finance, asked for a meeting about the hospital's expansion plans in early 2022, telling John Marshman, Southlake's vice-president of capital, facilities and business development, in an e-mail that he would "prepare a preliminary overview of our company/land holdings that may be of interest to you."
After the Jan. 26, 2022, meeting, which Mr. Rice attended, Mr. Holt thanked Mr. Marshman, writing: "We look forward to staying close to this project and I'd like to reiterate Michael's statement that we're here to help in any capacity."
In April, a real estate firm promoted the large Greenbelt property in King on Facebook as "a prime land banking opportunity," the practice of holding undeveloped land for future development.
Realtor John Dunlap declined to say when he began representing the former owners, who were members of the Schickedanz family, prominent developers with ties to the racehorse industry, but said he was the second agent they worked with. The family did not respond to a request for comment.
In June, John McGovern, the Rice Group's senior vice-president of policy and planning, contacted King Township's chief administrative officer, Daniel Kostopoulos, to ask for a meeting. He noted that Mr. Rice had recently run into Mr. Kostopoulos and discussed "the lands we have under contract in King."
Over lunch on Aug. 10, Mr. Pellegrini met Mr. Rice for the first time and asked if he would consider donating part of his property for Southlake's expansion.
"He said, 'Absolutely,'" the Mayor recalled, adding that a hospital would make the rest of Mr. Rice's land "very appealing" for other developments.
A few weeks later, Mr. Pellegrini's executive assistant Teresa Barresi e-mailed Mr. Rice to invite him to the Mayor's cultural gala in September, attaching sponsorship information. The company purchased a $5,000 "gold" sponsorship, which included four tickets and an ad in the program.
Mr. Pellegrini said his staff routinely asks business people to sponsor events that support local initiatives.
"I'm very transparent and very clear. I do not touch money. I do not ask. It goes through the township," he said.
King Township staff later organized a meeting for Mr. Rice with Southlake officials on Nov. 1.
A draft six-slide presentation the Rice Group prepared ahead of the meeting described the company's services – including planning, construction and project management – and featured a draft concept site plan. (The Township of King withheld two slides about the site plan from disclosure on the grounds they contain third-party information.)
The Rice Group subsequently sent Mr. Kostopoulos a revised presentation that did not include the draft concept site plan, asking him to delete the previous e-mail.
The Nov. 1 meeting with Southlake was attended by Mr. Rice, Mr. Pellegrini and Arden Krystal, Southlake's president and CEO, along with other officials. Neither Southlake nor King Township provided any records detailing what took place at the meeting.
On Nov. 4, the Ford government revealed it was opening up the Greenbelt, which protects more than 800,000 hectares of countryside, by removing 3,000 hectares of land for housing development. The province also added 3,800 hectares to the Greenbelt elsewhere.
Two days later, on the following Sunday, Mr. Pellegrini's executive assistant, Ms. Barresi, e-mailed Mr. Rice, saying Mr. Pellegrini had asked her "to reach out to you regarding your purchase" of a $10,000 "diamond" sponsorship of the Mayor's Nov. 29 business development breakfast. (King Township spokeswoman Donna Kell said Ms. Barresi contacted seven potential sponsors that day.)
A Rice Group official paid for the sponsorship the next morning. Later that day, Mr. Pellegrini introduced a motion at a King Township council meeting calling on the provincial government to fast-track approval of the new Southlake site on Mr. Rice's land.
Mr. Pellegrini, who says he opposes the decision to open up the Greenbelt, said he worked on the resolution after hearing about the government's announcement.
"It's like, if you're going to serve me up lemons, I'm gonna make lemonade out of this," he said. "I want my hospital."
Before introducing his motion at the Nov. 7 council meeting, Mr. Pellegrini sent the text of the resolution to Ms. Krystal, Southlake's CEO.
In her response, Ms. Krystal thanked Mr. Pellegrini for his support and asked him to make minor changes to make the motion "less controversial," e-mails show. Mr. Pellegrini made the edits, which included adding that the lands satisfy King's "understanding" of the criteria for the new hospital site.
Ms. Krystal said in a statement she requested the tweaks because the Greenbelt plans "were still subject to provincial consultation and would need to be reviewed as part of our site selection process." (The land removals became official in December.)
In the hours before the council meeting, Mr. Rice sent maps of his property to Mr. Kostopoulos, King's chief administrative officer, and asked for a phone call so he could "pass some comments on." That same day, Southlake's Mr. Marshman e-mailed Mr. Rice to arrange a follow-up meeting. Mr. Rice agreed, writing: "We are ready to review concepts."
In late January of this year, Mr. Marshman sent the Rice Group's Mr. Holt a list of information required by the hospital's architects, including "current concept plans for the broader development illustrating streets and blocks" – the first hint of a larger vision for the land in the records disclosed to The Globe.
Mr. Marshman also asked if the Rice Group had contacted officials in King Township and Newmarket about sewer and water main connections.
Municipalities are wrestling with providing sewage and other services for lands freed from the Greenbelt, though the province has said it chose areas that were "on or near readily serviceable land."
Mr. Pellegrini said figuring out how the land will be serviced is an open question. "I can barely service the lands I have now, so who's servicing this land?"
(Click read more for my initial comments on Jill Mahoney's article.
Details

Written by

Gordon Prentice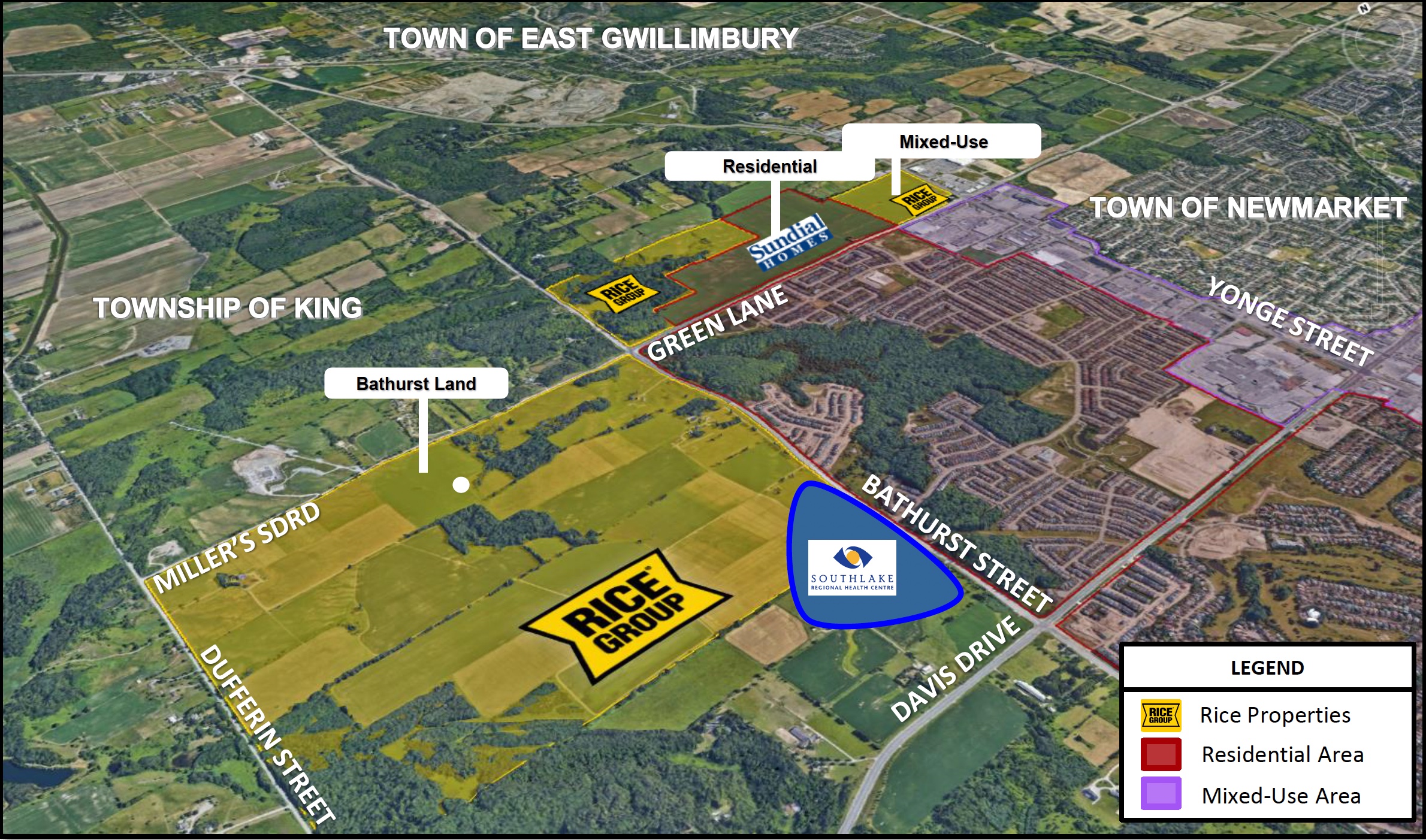 A presentation at King Municipal Centre on 1 November 2022 involving landowner and developer Michael Rice and Southlake CEO, Arden Krystal, shows the proposed location of Southlake's new acute hospital. It was planned to straddle Greenbelt land owned by Rice and John Dunlap. The format of the meeting was agreed beforehand by King CAO Daniel Kostopolous and John McGovern, the Senior Vice President (Policy and Planning) of the Rice Group.
Dunlap was a member of the Southlake Board until September 2022 and was the agent who facilitated the sale of the 2.8 sq km block of land from Bob Schickedanz, the former President of the Ontario Home Builders Association, to Michael Rice, the developer.
The 1 November 2022 meeting was three days before the Government announced that certain areas of the Greenbelt would be opened up for development. The following month, on 21 December 2022, the Rice lands were removed from the Greenbelt.
The Township of King originally said they had no records of the meeting on 1 November. That was incorrect.
Southlake have also said they have no records of the 1 November 2022 meeting when Michael Rice made the hugely consequential offer of land to them for a nominal fee.
I suspect Southlake's "no records" position is now unsustainable.
This email address is being protected from spambots. You need JavaScript enabled to view it.
Update on 31 May 2023: Selling the Greenbelt: Southlake and Transparency
Below: The plan posted on the Environmental Registry showing the Rice Lands to be removed from the Greenbelt: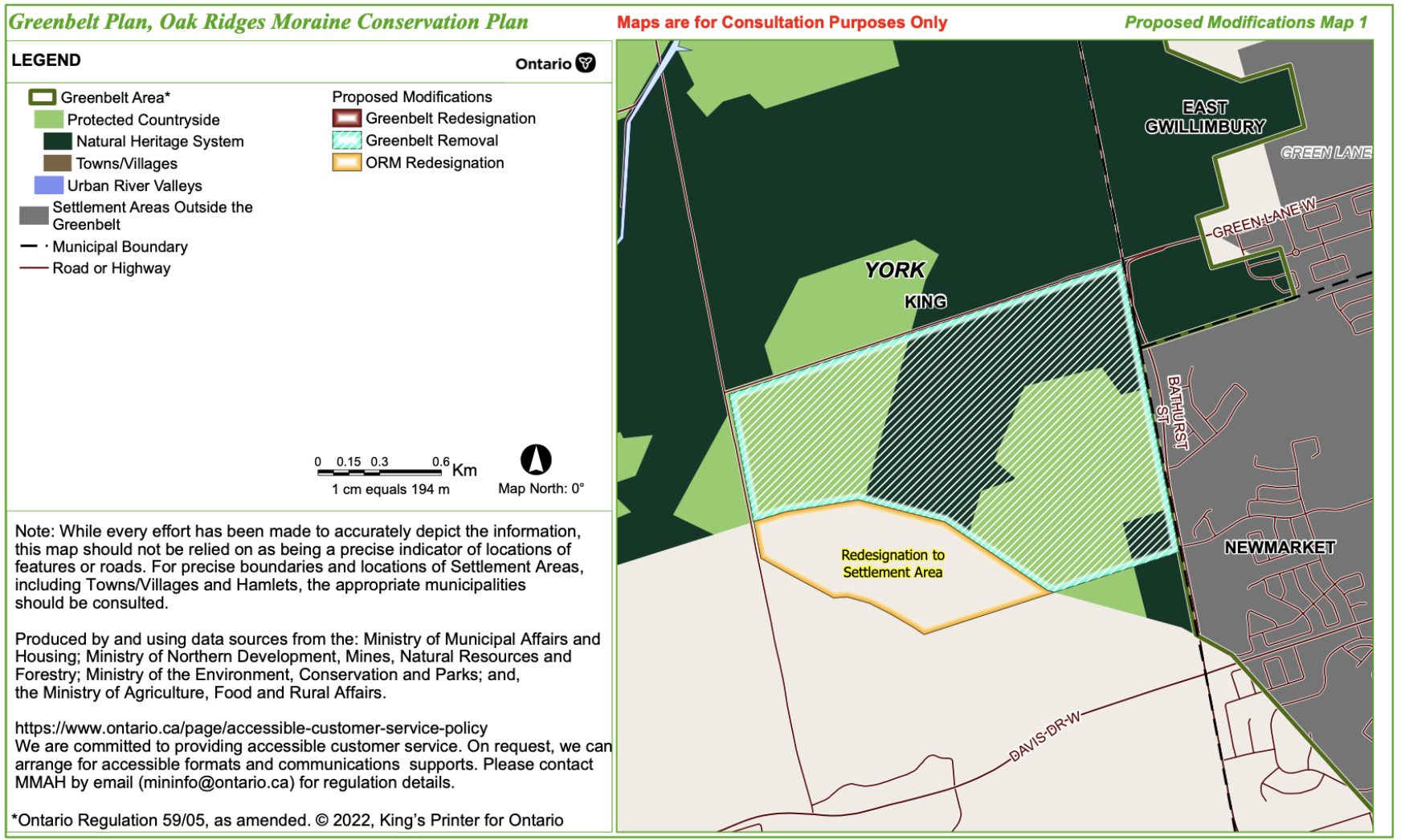 Details

Written by

Gordon Prentice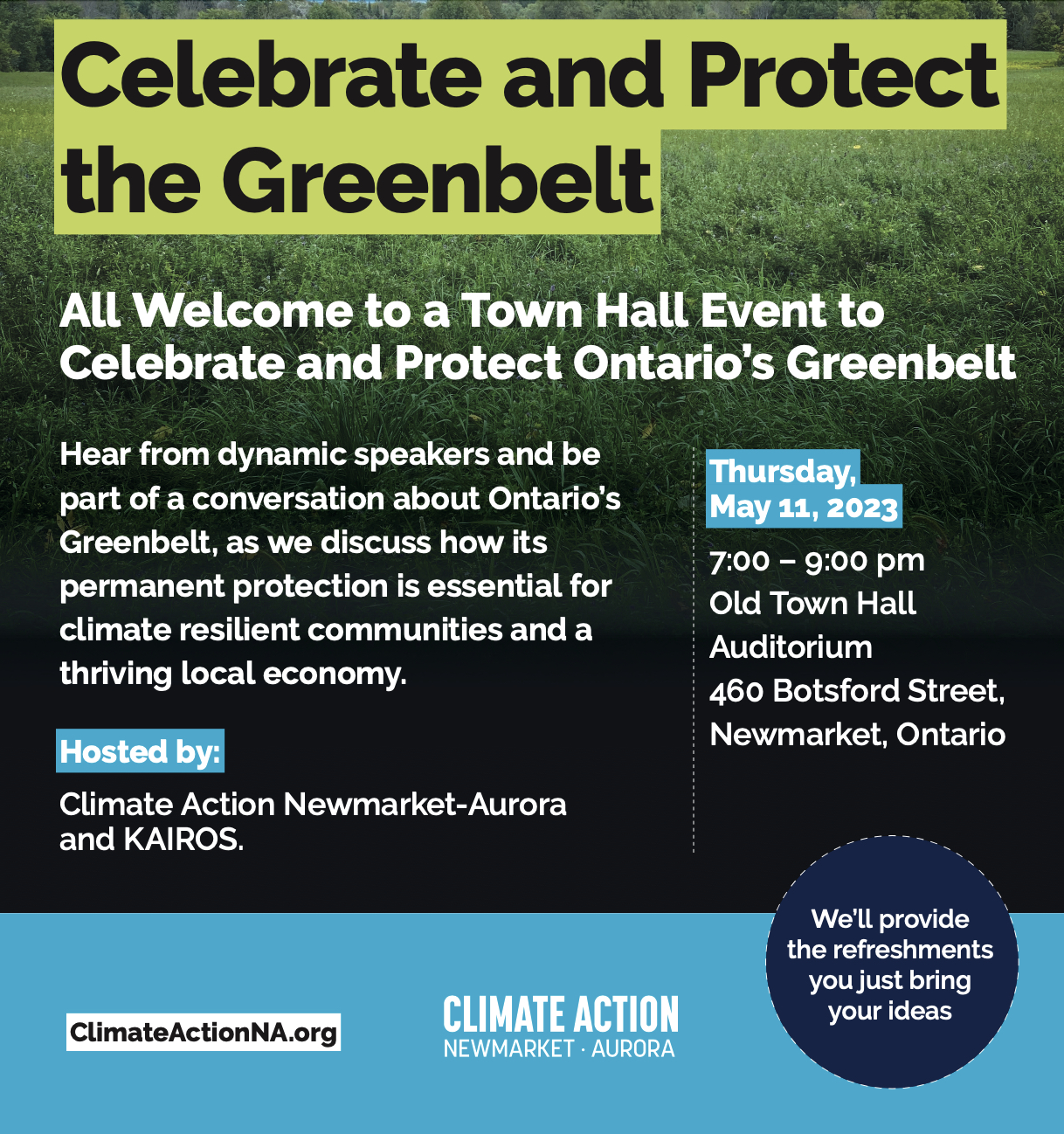 Climate Action Newmarket-Aurora writes:
We're expecting a full house to participate in our event to Celebrate and Protect the Ontario Greenbelt. Please encourage your friends, family and political representatives to join us. There will be opportunities for discussion and to ask questions of our three knowledgeable speakers:
Franz Hartmann is the Coordinator of the Alliance for a Liveable Ontario and has a long history in building alliances and community engagement. He served as Chair of the Ontario Greenbelt Alliance (OGA) for four years and helped the Alliance build vast community support for the Greenbelt. He is currently serving as the OGA Coordinator. Franz also held the role of Executive Director of the Toronto Environmental Alliance (TEA). Under his leadership the TEA succeeded in getting key environmental policies adopted at Toronto City Hall. This included a new climate action plan and a zero waste plan. Prior to working at TEA, Franz was the Environmental Advisor to City Councillor Jack Layton.
Franz will provide a brief history of the establishment of the Greenbelt, and the benefits that it provides for biodiversity, food security, clean water and air, and recreation. He will highlight the top threats to the Greenbelt. Franz will let us know what we as individuals or teams can do to help.
Claire Malcolmson has worked on Lake Simcoe issues since 2001. Currently she is the
Executive Director of the Rescue Lake Simcoe Coalition. Claire played a leadership role in the successful passage of two pieces of Ontario legislation: the Lake Simcoe Protection Act(2008), and the Great Lakes Protection Act (2015). Claire and the Rescue Lake Simcoe Coalition's work on "Campaign Fairness" resulted in changes to the Municipal Elections Act (2016), banning corporate and union contributions to election campaigns. Claire has also held roles with Environmental Defence, the Lake Simcoe Coordinating Committee, the Oak Ridges Moraine Foundation Board and Paddling Around Lake Simcoe.
Claire has a Masters degree in Integrated Watershed Management
Claire will focus on Lake Simcoe and protection of the watershed, and land use planning impacting forests, wetlands and the impact of the Bradford ByPass.
Michael Wilson is a Food and Farming Business Leader with Clearwater Farms – Willow Beach, who also calls himself an Agri-preneur. Michael has been with Clearwater for 7 years, currently as the operations manager. Michael started off farming and is now focused on sales and distribution. Clearwater Farms' purpose is captured on their website "Inspired by water, we exist to deepen young people's connections with the natural environment, marrying the arts, science and technology to cultivate a more sustainable future."
Michael will speak to protecting the environment through smarter Agriculture practices in and around the Greenbelt. This includes regenerative and organic approaches to food security, healthy soil and water conservation.
Details

Written by

Gordon Prentice
The four-term Mayor of King, Steve Pellegrini, believes a new hospital can be built anywhere in the Greenbelt if that's what the Province decides – even if it goes on irreplaceable prime agricultural land.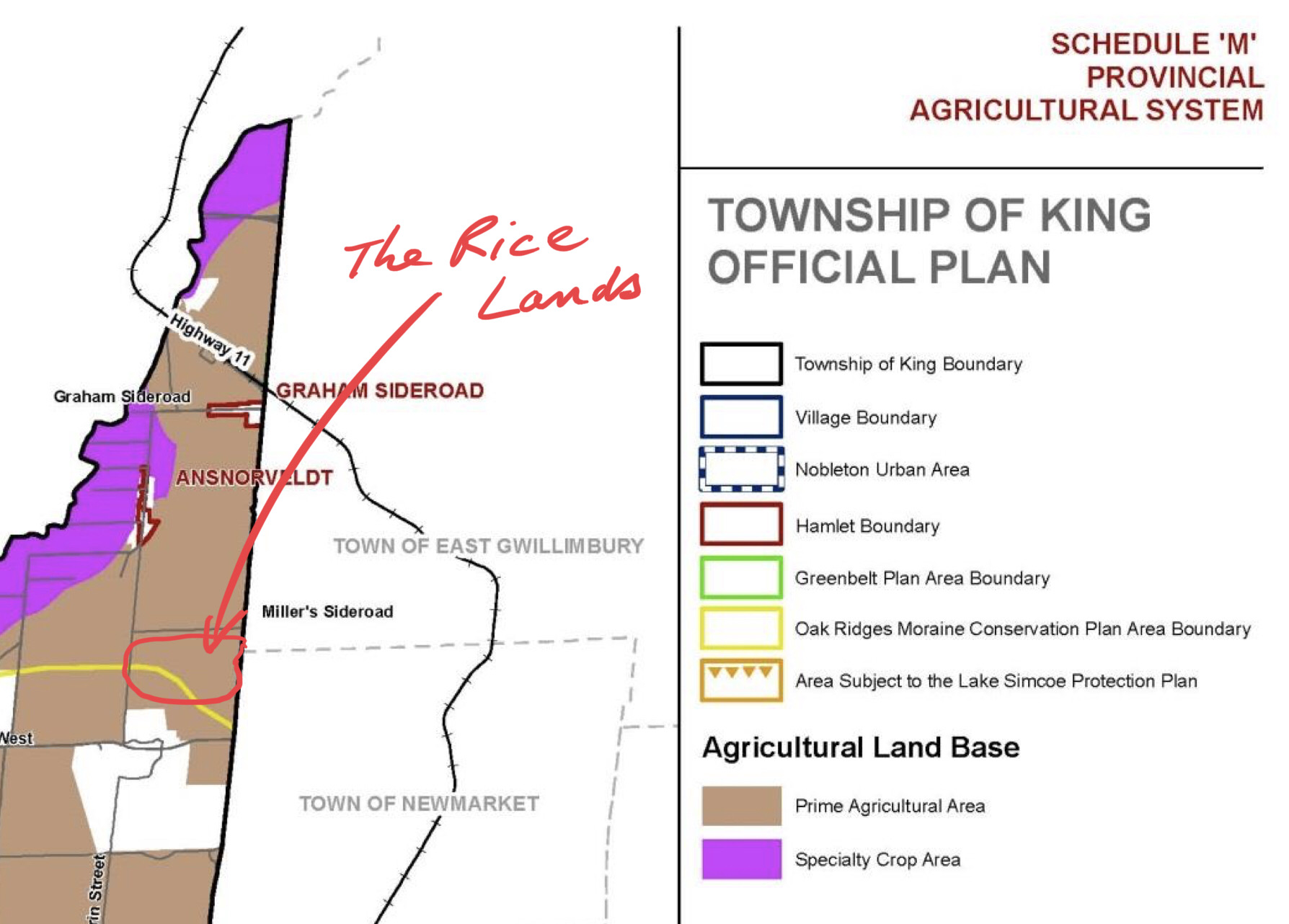 Pellegrini is quite simply wrong.
Until the rules are changed, Ontario's established planning regime would direct a second Southlake to an existing urban area within the Greenbelt.
Indeed, King's own Official Plan (OP) would not have allowed a hospital on prime agricultural land. On 10 September 2020 York Region approved King's OP which addresses the Township's long term planning requirements to the year 2031. Then, as now, it conformed with Provincial and York Region land use policy direction.
Long Process
The Mayor, Steve Pellegrini, made it clear everyone had an opportunity to contribute:
"This was a long process. Tons of involvement in the community. It lasted over five years so there is ample opportunity for input…"
Nowhere does the plan mention major institutional uses such as a new hospital being located on prime agricultural land in the Greenbelt.
Searching for a site since 2019
It was only after the Government's announcement on 4 November 2022 that it intended to open up for development certain lands in the Greenbelt that Pellegrini told the press he had been looking for a new site for Southlake for years:
"I have been moving this idea forward since 2019 – on different lands with different landowners."
If the Township's Director of Growth Management, Stephen Naylor, believed a new hospital could be built on prime agricultural land – despite everything said in King's Official Plan and in the Town's Zoning By-law for the Countryside which was approved only seven months ago - he should say so now and give his reasons. (photo right) He cannot shelter behind Pellegrini whose understanding of planning law is severely limited.
Experienced, Skilled, Strong, Focussed
Naylor has been Director of Planning and Development at King – and now Director of Growth Management – since July 2018. His linked-in profile describes him as an experienced Director of Planning and Development with a demonstrated history of working in the government administration industry. He is: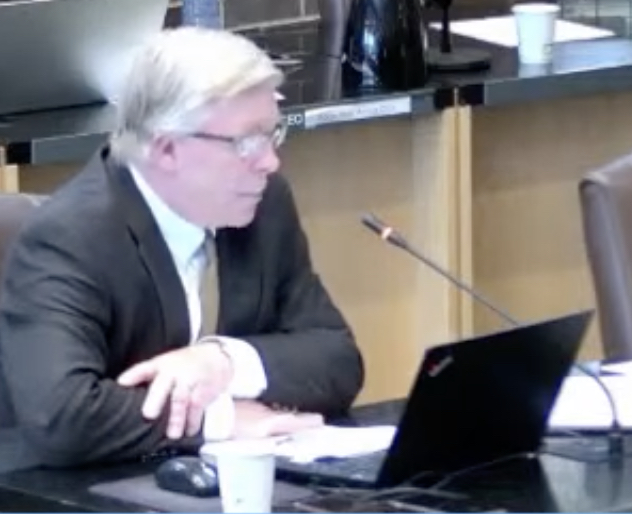 "Skilled in Customer Experience, Sustainability, Zoning, Land Use Planning, and Land Use. Strong business development professional with a Masters of Environmental Science focused in Land Use Planning from York University."
I wrote to Mr Naylor a few days ago to ask him to explain the planning justification or rationale for allowing a new hospital on prime agricultural land. A report from Naylor to King councillors updating them on King's Official Plan in August 2020 made no mention of this even as a remote possibility.
I wait to hear from him.
(Click "read more" below to see my email.)
This email address is being protected from spambots. You need JavaScript enabled to view it.
The story so far: In 2022 the Mayor of King, Steve Pellegrini, had a series of meetings with the developer, Michael Rice, who had bought a vast 2.78 sq km track of Greenbelt land in King, south of Miller's Side Road and west of Bathurst, on 15 September 2022 for $80M.
Pellegrini says that when they met there was no indication that the Government was going to open up parts of the Greenbelt for housing development. He says Rice did not indicate anything like that. Instead, off his own bat, Pellegrini asked Rice if would make some of his land available for a new hospital and, on 1 November 2022, at a meeting with Southlake's CEO, Arden Krystal, Rice said he would, for a nominal fee. Pellegrini said he met Michael Rice only once – at that 1 November 2022 meeting - but that was untrue.
No records
Pellegrini says he has been scouring King for suitable land for a new hospital since 2019. But the Township has no records showing how landowners were approached to see if they would be willing to offer land for a new hospital. There is no information on the process or mechanism King put in place from 2019 onwards to identify lands in King which might be suitable for a new hospital. And the Township tells me the Director of Growth Management, Stephen Naylor, did not undertake any searches for land which may be suitable for a new hospital. It looks like Pellegrini was flying solo. But did he rely on professional advice from the Township's chief planner, Stephen Naylor? And, if so, what form did it take and what did it say?
Existing laws
Pellegrini and Stephen Naylor met Michael Rice and John McGovern (Senior Vice President Policy and Planning at the Rice Group) on 17 October 2022 in a pre-meeting to discuss the proposed second Southlake. Pellegrini has insisted hospitals can be built anywhere in the Greenbelt if the Province so decides. Of course, the Government can redraw the Greenbelt boundary to allow a hospital (or any other form of development) but that is not what Pellegrini has been saying. He has been claiming hospitals can be built anywhere in the Greenbelt under existing laws. And that is false. A professional planner such as Stephen Naylor would have known this. Indeed, King's Official Plan – only recently adopted and chiming with York Region's and Provincial policy – would not allow a hospital on prime agricultural lands such as those owned by Rice.
Minister's Zoning Orders
In late 2021 the Ford Government amended s47 of the Planning Act to specify that while the minister could ignore provincial planning policies and plans when it issued Minister's Zoning Orders it could not ignore such policies and plans – for example, the Greenbelt Plan - when issuing MZOs for lands within the Greenbelt.
Pellegrini has never sought to explain his meetings with the developer, Michael Rice, by saying he thought the Ford Government was about to change the Greenbelt boundary in King to exclude the Rice lands.
Pandora's Box
­­­­­­­­­­­­­­­­­­­­­­­­­On 1 November 2022, Rice offered land to Southlake for a nominal fee. Pellegrini celebrated this in a motion to King Council on 7 November 2022 which was approved unanimously - and which opened up a Pandora's Box. Neither King nor Southlake say they have any records of this hugely consequential 1 November 2022 meeting.
Read more: A second Southlake in King? We need to hear from Stephen Naylor
Details

Written by

Gordon Prentice
The by-election on 26 June 2023 to replace John Tory as Toronto's Mayor promises to be an election like no other.

As of today, there are 49 candidates but this astonishing number could yet increase before nominations close on 12 May. Registration costs a mere $200 and candidates must be nominated by only 25 supporters. The Globe and Mail today describes this as a ludicrously low bar. Basically, anyone who fancies the job can throw their hat into the ring.
The Mayor's salary is $202,948 a year.
Veteran councillors, provincial politicians and former Mayoral hopefuls
The confirmed and potential candidates include "a slew of veteran councillors, provincial politicians and former mayoral hopefuls".
The candidates include the useless former Toronto police chief Mark Saunders, the former MP Olivia Chow, current councillors Brad Bradford, Josh Matlow, and Anthony Perruzza, former councillor Ana Bailao and Ontario Liberal MPP Mitzie Hunter.
I don't know how the voters will winnow out the field in the absence of political parties whose primary function, it seems to me, is to flag up where the candidates stand in the political spectrum, from left to right.
But the voters will make their choice. Probably by name recognition.
Strong Mayor: Important Powers
Thanks to Doug Ford the Mayor will have important new powers. The Globe and Mail reminds us the next Toronto Mayor:
"will be able to veto bylaws related to the housing crisis or to the building of infrastructure, and introduce budgets and veto proposed amendments to them. The veto can only be overturned by a two-thirds majority on council.
As well, the mayor will be able to create or dissolve council committees, and hire or dismiss city department heads (excluding the chief of police and auditor-general)."
First-Past-the-Post with a Vengeance
Yet the new Mayor could be elected on 20% of the vote on a low turnout. This is First-Past-the-Post with a vengeance. All thanks to Doug Ford who vetoed the ranked ballot in municipal elections.
Only 28 of the 49 candidates so far declared have websites. They range from the mainstream to the exotic to the complete joke (Giorgio Mammoliti).
Toronto, take your pick:
Bahira Abdulsalam, Ana Bailao, Brad Bradford, Chloe Brown, Roland Chan, Sarah Climenhaga, Frank D'Angelo, Philip D'Cruze, Rob Davis, Cory Deville, Anthony Furey, Isabella Gamk, Hua Xiao Gong, Brian Graff, Mitzie Hunter, Syed Jaffery, Kris Langenfeld, John Letonja, Giorgio Mammoliti, Josh Matlow, Mark Saunders, Knia Singh, Erwin Sniedzins, Meir Straus, Reginald Tull, Jeffrey Tunney, Kiri Vadivelu and Jody Williams.
This email address is being protected from spambots. You need JavaScript enabled to view it.
Update on 15 May 2023: From the UK's Guardian: 100 candidates and a dog. And the Toronto Star editorial: A Bloated Ballot. Is it time to set a higher bar to run for office?
Globe and Mail ediitorial 24 April 2023
The Solution to Toronto's Electoral Dysfunction? Political Parties
Voters in Toronto will be going to the polls in two months for a mayoral by-election that will be, in typical Toronto fashion, an underwhelming event.
Made necessary by the inglorious departure of ex-mayor John Tory in February, the June 26 by-election will feature all that is wrong with the way Toronto elects its mayors.
It could, though, also be the moment when the flaws in the system become so apparent that Canada's most populous city gets the electoral makeover that it needs. Which is to say, the creation of political parties at the municipal level.
The problem starts with the ludicrously low bar for becoming a mayoral candidate. All that's required is a $200 fee and 25 signatures. There is something quaint about making it so easy to run for mayor, but the result is not optimal.
Voters in June will once again be faced with a phone book-like ballot with at least 50 candidates on it organized alphabetically by last name. This undifferentiated list includes candidates that range from runners-up in previous mayoral contests, a few sitting and former councillors and provincial legislators, a former Liberal MP, a former Toronto police chief, dozens of grassroots activists, a gaggle of perennial no-hopers who've never received more than 0.5 per cent of the vote, and a man who once advocated for the colonization of the ozone layer.
Turnout will likely be atrocious. It was less than 30 per cent in the city's general municipal election last fall. By-elections generally produce lower turnouts, so it's not unreasonable to assume that fewer than one in four Torontonians will bother to have a say in who their next mayor is.
Given that the vote will likely be divided among four or five leading candidates, the winner could be someone that only one in 10 eligible voters actually chooses.
The new wrinkle is that this person will be endowed with the "strong mayor" powers that the Ontario government granted the mayors of Toronto and Ottawa last year.
Which means the next Toronto mayor will be able to veto bylaws related to the housing crisis or to the building of infrastructure, and introduce budgets and veto proposed amendments to them. The veto can only be overturned by a two-thirds majority on council.
As well, the mayor will be able to create or dissolve council committees, and hire or dismiss city department heads (excluding the chief of police and auditor-general).
In other words, the next mayor, who may well have one of the weakest mandates in recent history, will also have unprecedented powers that are grossly undemocratic. It's quite something to imagine that a person who only one in 10 Torontonians voted for could hold so much unilateral sway over their lives.
Creating political parties in Toronto could change all of this. It would be far from unprecedented: Municipal parties have long existed in Montreal and Vancouver. And their benefits are many, especially in the context of Toronto's electoral lethargy.
Adding partisan colours to municipal campaigns would raise turnout. Parties have an interest in getting out the vote, and in getting people to pay attention to the issues.
They also serve to differentiate between candidates, whether for council or the mayor's seat, by aligning them with competing ideologies and visions. The name of a candidate on a list of 50 might be vaguely recognizable to a voter; their affiliation to a registered party with a published platform could fill in the blanks.
Perhaps above all, parties could create a counterweight to the province's strong-mayor boondoggle. It would likely be harder for a mayor to act unilaterally. More likely, they wouldn't have to, because they would already have the support of council, and a broad mandate from voters.
This is a debate Toronto needs to have. The city is coming out of decades of inaction on the key issues of housing and transit. Long-overdue transit lines are getting built, and the provincial government has put an emphasis on increasing housing density along those corridors.
As well, just last week, Toronto's chief planner recommended allowing multiplex dwellings in the vast swaths of the city that are anachronistically zoned for single-family homes only.
Positive things are happening. This is the moment to revitalize Toronto's moribund elections. A city of its size and complexity deserves a higher grade of politics.