Details

Written by

Gordon Prentice
Will Christine Elliott, Minister of Health and Long-term Care, find time to read a well argued critique of Bill 108 (More Homes More Choice Act) from senior Newmarket Council staff which is on the Council's agenda tonight? (Scroll to agenda page 316)
Elliott says she "champions" the new Act and claims it will make housing more affordable for the people of Newmarket-Aurora.

The report says
"Bill 108 contains limited evidence that its central objectives, making it easier to bring housing to market and accelerating local planning decision, will be achieved."
A copy of the report is being sent to Elliott for her "consideration".
The Town wants the Province to "engage in significant and meaningful consultation with municipalities prior to the development of the regulations" which will be made under the new Act.
If this happens it will be a first.
The Town should formally request a meeting with the Minister now that Queen's Park is shuttered until after the Federal Election in the Fall and she has time to "re-connect" with her riding.
The report says the consultation on the Bill was short with
"key pieces of information missing which will come through Regulations at a later date. The full impact of these changes cannot be fully understood without the information provided in Regulations."
With the amazing FordFest BBQ and celebrations now behind her what better time than now to sit down with the Town and talk about what should be in those much anticipated Regulations?
This email address is being protected from spambots. You need JavaScript enabled to view it.
Details

Written by

Gordon Prentice
It's been a bad week for Buck-a-Beer.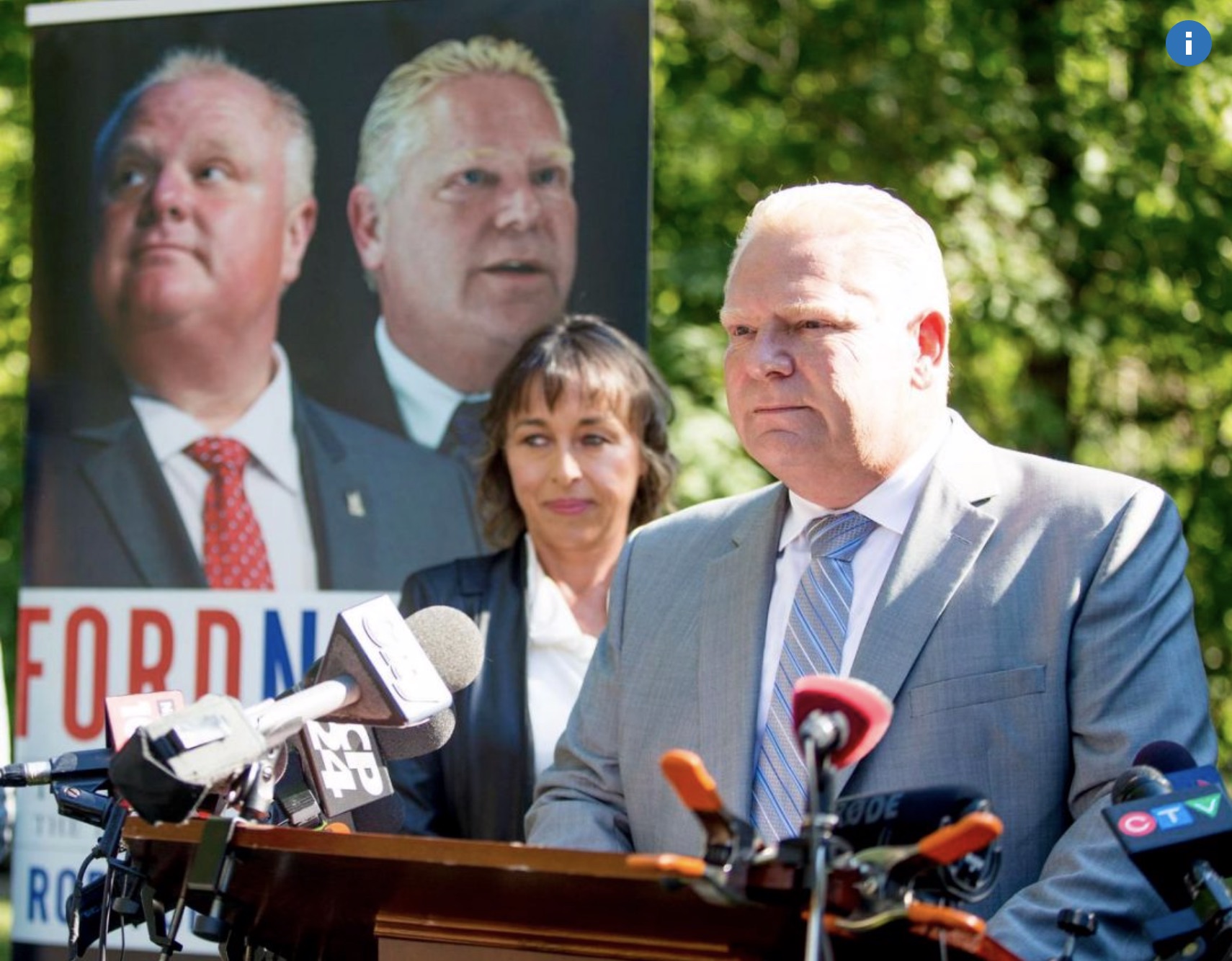 The re-shuffle didn't fix anything. And the patronage appointments had to be reversed.
But perhaps the most painful development for Buck-a-Beer is Renata Ford's decision to run as a candidate for Maxime Bernier's People's Party of Canada in Etobicoke North, the riding he represents in the Provincial Parliament. Delicious!
But, more gripping still, is the news from Renata's own mouth that the $16.5 million lawsuit she brought against Doug Ford is "still before the courts".
I thought it had just fizzled out in the way these things do. But it appears to be alive and well.
Ford's Deco Labels bleeding money
The lawsuit filed at the Superior Court by Renata Ford last June shows the financial statements of Deco Toronto recording losses of $396,376 in 2010; $1,111,485 in 2011; $423,961 in 2012; $497,996 in 2013; $2,164,557 in 2016 and $1,498,598 in 2017.
Ford, who sees himself as a great businessman with the golden touch, won't make Deco Labels financial statements or his salary public.
A year ago I went to a post-election briefing by the Globe and Mail's Adam Radwanski who perceptively told us the Libs/NDP should have focussed during the campaign on the "chaos" that Ford would generate and that he would be a "giant headache" for four years.
Cleaning out the stables
Well, Ford is certainly delivering chaos. And no-one has been able to rein him in – certainly not Caroline Mulroney whom Radwanski identified as someone who would clean out the stables. As if!
Christine Elliott has proved to be another huge disappointment, clapping like a seal whenever Buck-a-Beer barks an order.
Three weeks ago Tony Miele who chairs the "PC Fund" wrote to Party members about the election of Doug Ford as Premier of Ontario. He says the election marked an end to:
"15 years of Liberal corruption and waste with your tax dollars.15 years, when we were hit with scandal after scandal. You know what passes for a scandal with Doug Ford? Trying to save the taxpayers a few bucks. The media is up in arms every day trying to take Doug down. It's our job – yours and mine – to make sure our guy can keep on fighting."
The abuse of power
The real scandal surely is about the abuse of Parliamentary procedures to ram legislation through on major issues of public policy without giving the public any opportunity to comment. It is about the scandalous patronage appointments. About ripping up contracts and legislating to deny any legal remedies to the other parties. It is about slashing public services with no mandate. And much more.
Ford's mantra used to be:
"Promise Made. Promise Delivered"
But when things got difficult for Buck-a-Beer the message changed and now they're:
"Protecting What Matters Most"
In Ford's case, it's his back.
Renata Ford is out for revenge but so too is Vic Fedeli who did his master's bidding and is rewarded with a humiliating demotion.
This email address is being protected from spambots. You need JavaScript enabled to view it.
Details

Written by

Gordon Prentice
Another Friday and another demonstration by the Common Ground people outside the constituency office of our MPP Christine Elliott, Minister of Health and Long Term Care.
She is of course never at her office on "constituency Fridays" but neither is our 68 year old ex-Mayor and wannabe Liberal MP, Tony Van Trappist.
I think the old banker just wants another pension.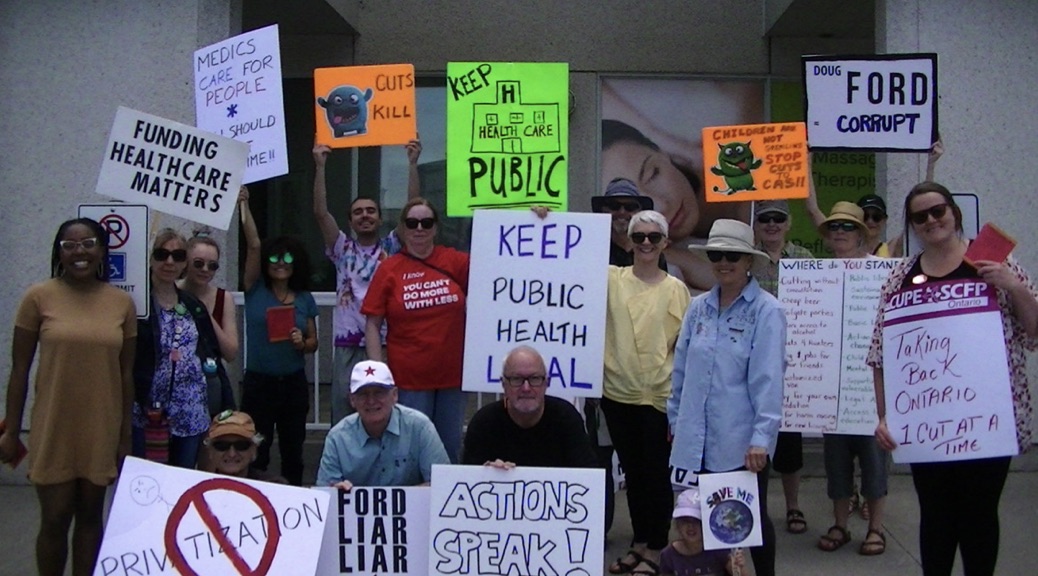 Newmarket's Citizen of the Year 2017, Jackie Playter, has repeatedly assured me that our putative Liberal MP for Newmarket-Aurora will be outside Elliott's office, holding a placard aloft.
Personally, I can't see it.
The old banker protesting? About anything?
For months now I've been hoping to get a photo of him holding a placard outside Elliott's office, talking to the demonstrators about their concerns. But he is never there.
I suppose I could photoshop Van Trappist but it's not the same as the real thing.
Jackie tells me she is not Van Trappist's campaign manager though she is supporting him.
Good for her!
This email address is being protected from spambots. You need JavaScript enabled to view it.
Details

Written by

Gordon Prentice
Ontario's Health and Long term Care Minister Christine Elliott is losing a big chunk of her responsibilities as long-term care is passed over to Dr Merrilee Fullerton and Michael Tibollo takes on mental health and addictions.

Fullerton and Tibollo also join the inflated 28 strong Cabinet, with salaries and staff to match.
Elliott is delighted about the cut in her workload, effusively congratulating Ford earlier today and telling us she is looking forward to working closely with her new Cabinet colleagues.
Ford likes Elliott's congratulations!
Ford tweets that he likes the fact that Elliott is congratulating him!
I don't know if the burden of being Minister for Health and Long-term Care was too much for Elliott to carry alone. Maybe she asked Ford to lighten her load.
On 26 February 2019 Elliott was speaking about her new "People's Health Care Act" lambasting the alleged fragmentation of the health and long-term care system she inherited. She told us:
"Too much time and attention is spent on maintaining a siloed and fragmented system… Right now care is fragmented, particularly at transition points, for example, from hospital to home care."
"We envision a community-based health care delivery model that connects care - and includes primary care and hospitals, home care and long-term care, mental health and addictions supports, just to name a few."
Help required
She didn't say then that she needed help to deliver her vision.
But she does. And she is grateful.
I shall be interested to see how the Ministry's organisation chart is divided up to reflect all the new responsibilities and who deals with the inevitable overlaps.
Oops! Almost forgot.
Caroline Mulroney was demoted.
This email address is being protected from spambots. You need JavaScript enabled to view it.
Background paper considered by York Region on 20 June 2019 on the health service restructuring as proposed by Christine Elliott. The map is here.
Update from the Toronto Star: The day Ford blew up his Cabinet to save himself. And how the Globe and Mail sees it.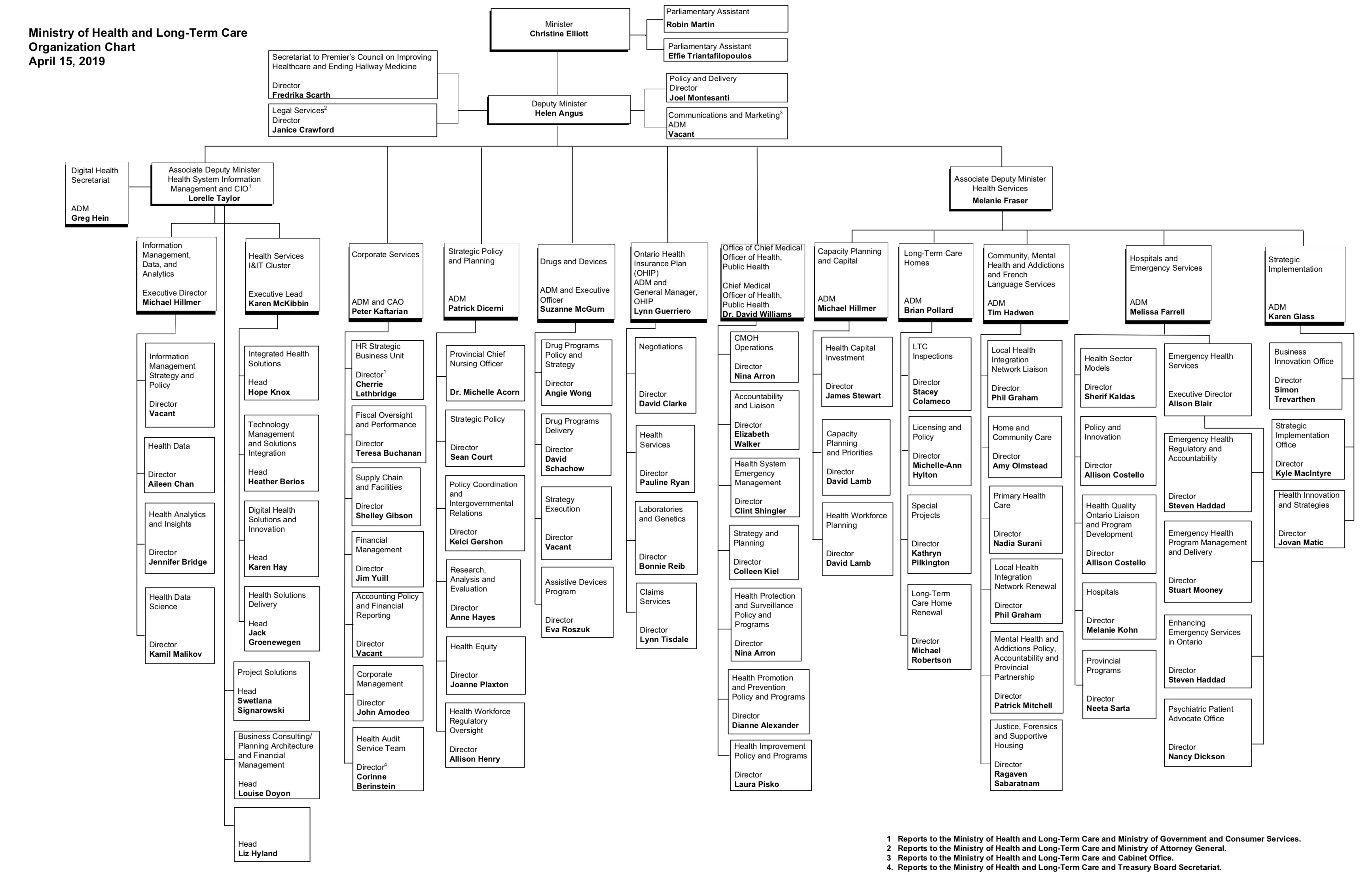 Details

Written by

Gordon Prentice
In her winter newsletter PC Deputy Leader Christine Elliott told her constituents in Newmarket-Aurora there would be no cuts to front-line services and no job losses.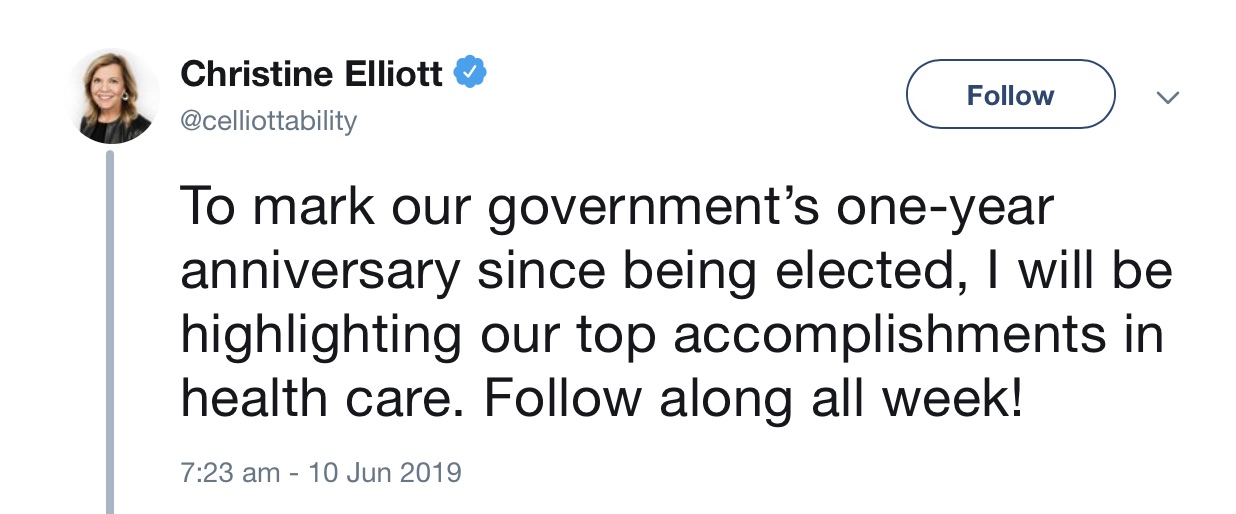 That promise may be difficult to sustain.
On Thursday (20 June 2019) York Regional Council will be considering a report from the Regional Treasurer, Laura Mirabella, who says the provincial funding reduction this year is estimated to be $10.86 million with the largest direct impact on Community and Health Services.
Child care and paramedics will see significant cuts in the years up to 2022.
Christine Elliott's achievements
Elliott has been hard at work tweeting about her Government's Olympian achievements. Hardly a day goes by without a new announcement about a milestone reached.
The Government House Leader Todd Smith (who is responsible for managing the business at Queen's Park) breathlessly tweets on 7 June:
"Our Government has accomplished more in 12 months than any other Government in Ontario's history."
This reminds me of the old Soviet Union which regularly boasted about increased tractor production when harvests were failing.
The Toronto Star has a different take on the first anniversary of the Ford Government giving us a list of the casualties during a year of slash and burn.
Elliott has also been championing Bill 108 (More Homes, More Choice Act 2019) which has been roundly condemned by Aurora's energetic Mayor, Tom Mrakas.
The Government introduced Bill 108 on 2 May 2019 and it got Royal Assent on 6 June 2019. The consultation period ran for less than one month. That's the way Ford likes it. Laws should be made fast with no messing about! He doesn't want people to bother with the small print.
Developers don't like development charges
The Bill was supposed to promote new home ownership and rental housing but it also makes big changes to how municipalities determine and collect development charges.
Development charges are paid by developers to municipalities theoretically to offset the costs of growth – the new roads, lighting and infrastructure that new communities need.
Like Mrakas, Newmarket's Mayor John Taylor has expressed major concerns about Bill 108's likely impact. A staff report going up to today's Committee of the Whole (17 June 2019) says this at page 253 onwards: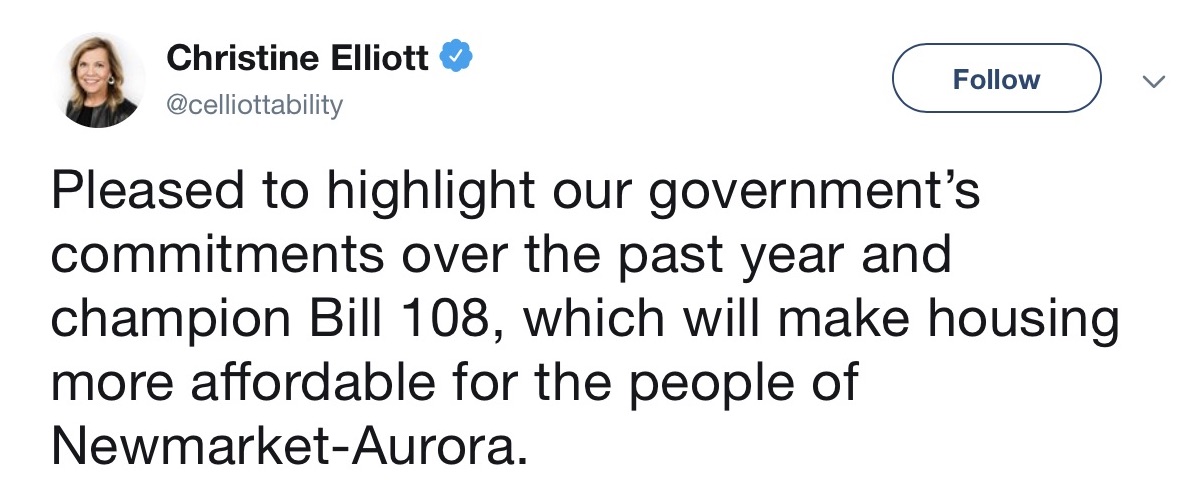 "The proposed changes in Bill 108 represent a dramatic change from the planning and development financing landscape that has been consistent in Ontario since 2007."
The report goes on:
"Bill 108 contains limited evidence that its central objectives, making it easier to bring housing to market and accelerating local planning decision, will be achieved. The proposed changes could have significant impacts on how the Town attempts to achieve its strategic goals…"
"From the evidence provided, proposed changes will dramatically change the development financing landscape. The changes will create additional administrative costs, increase price uncertainty for developers, and may reduce municipalities' ability to continue to provide the same level of service in the face of growth without finding additional sources of funding."
$300 million
York Region estimates Bill 108 could cost the Region $300 million over the next five years.
Why so much?
The Region says Bill 108 further limits a municipality's ability to recover growth-related costs through development charges.
Municipalities across Ontario are fearing the worst. But until the Regulations are published we don't know how big the hit is going to be to municipal budgets.
The developers will, of course, be laughing all the way to the bank.
They like Buck-a-Beer and he likes them.
This email address is being protected from spambots. You need JavaScript enabled to view it.
Update on 19 June 2019: More than 400 administrative health sector workers to be laid off in Ontario.
Update on 20 June 2019: Doug Ford: Year one. (From the Globe and Mail.)