Details

Written by

Gordon Prentice
Jim Watson, the incumbent Mayor of Ottawa, and Tony Van Trappist, the retiring thin-skinned Mayor of Newmarket, share one thing in common – they block certain people from reading their Tweets.
Van Trappist has fiercely defended his right to block critics.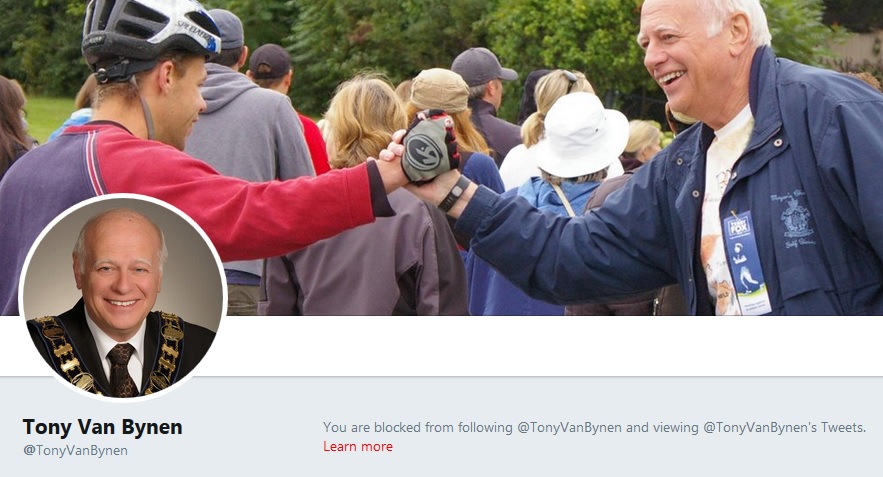 Even people like me who are never abusive. At least not intentionally. I can say things that people may find offensive but we live in a free country. This isn't Saudi Arabia and I don't have to worry about getting my fingers chopped off for writing something Mohammed bin Salman finds disagreeable.
I remember Newmarket's John Heckbert bravely telling councillors in February 2016 that it was a mistake for them to block people from accessing their social media platforms.
He says it is all about "democracy":
"No member of Council should be allowed to block, censure or otherwise restrict the inherent right of residents to question them and receive information from them in whatever way that resident chooses to engage them including via social media platforms."
This upsets Van Trappist no end.
Full of injured innocence he scolds Heckbert:
"Yes. You are entitled to say what you have (said). And if you have something to say my view is you post that on your site. My page represents my views and anything that comes from my twitter feed is believed to be endorsed. So I don't feel in the slightest way obligated to advance an argument that is contrary to my views. So I don't apologise for blocking certain people."
"I do set standards in terms of what I permit on my site and again I don't apologise for that. But if you have something to say, set up your own site. Set up your own contacts. Send out your own messages. So you still have that right."
Now the Globe and Mail has nailed its colours to the mast. Last Friday (19 October) the editorial was absolutely unequivocal:
"Mr. Watson is also wrong when he says his Twitter account is a personal one. That's just not true – even if he is the only person operating it, as appears to be the case. The account is being used by the elected chief executive of Ottawa to sell his election platform, to campaign, to announce events he will attend as mayor, to cheerlead for himself and to communicate vital information to city residents.
His posts are done on the public dime during working hours and inherently reflect the office that he holds; he cannot pick and choose which of the city's taxpayers are agreeable enough to merit the privilege of seeing them."
Maybe Van Trappist's Tweets are pure gold. Sharp, witty, insightful.
Alas, I shall never know.
This email address is being protected from spambots. You need JavaScript enabled to view it.
Details

Written by

Gordon Prentice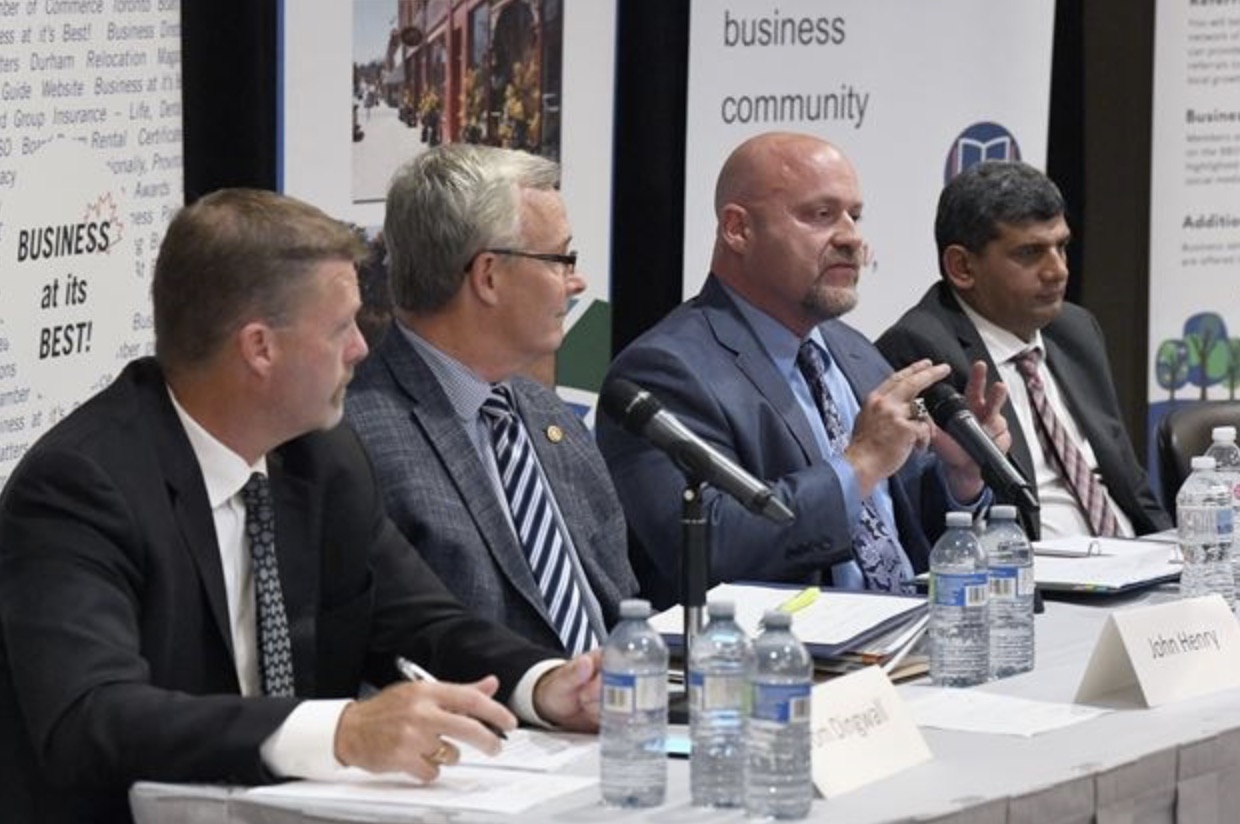 In July I asked my MPP, Christine Elliott, the Deputy Leader of the Ontario Progressive Conservative Party, for her views on whether the Chair of Durham Regional Council should be elected by the voters at large or by a handful of members of the Regional Council.
She won't tell me.
Durham is home to her former riding and where she still lives.
Before 2014, the Chair of Durham Regional Council was appointed by its members – as happens in York Regional Council today. But there was a referendum in Durham's constituent municipalities in 2010 (with voters overwhelmingly in favour of direct election) and the Region switched from an appointed Chair to one elected by the voters at large in 2014.
Election in full swing in Durham
As I type this out the election in Durham is in full swing with five candidates battling it out for the job. Here, in York Region, we have the silence of the graveyard. We hear no clash of opinions between Steven Del Duca and Mario Racco and others, grabbing the attention of the voters, offering alternative visions of the future.
York region's population is bigger than PEI, Newfoundland, Labrador, New Brunswick, Nova Scotia or Saskatchewan, and is rapidly closing on Manitoba. Yet the person who leads York region will be indirectly elected by 20 people on 6 December 2018 at the inaugural meeting of the new Council.
The first highly anticipated direct election by the voters at large for York Regional Chair was cancelled by Doug Ford with Elliott, now MPP for Newmarket-Aurora, uncritically supporting his decision.
From 2006-2015 Elliott was the MPP first for Whitby-Ajax and then Whitby Oshawa in Durham Region.
Mum's the word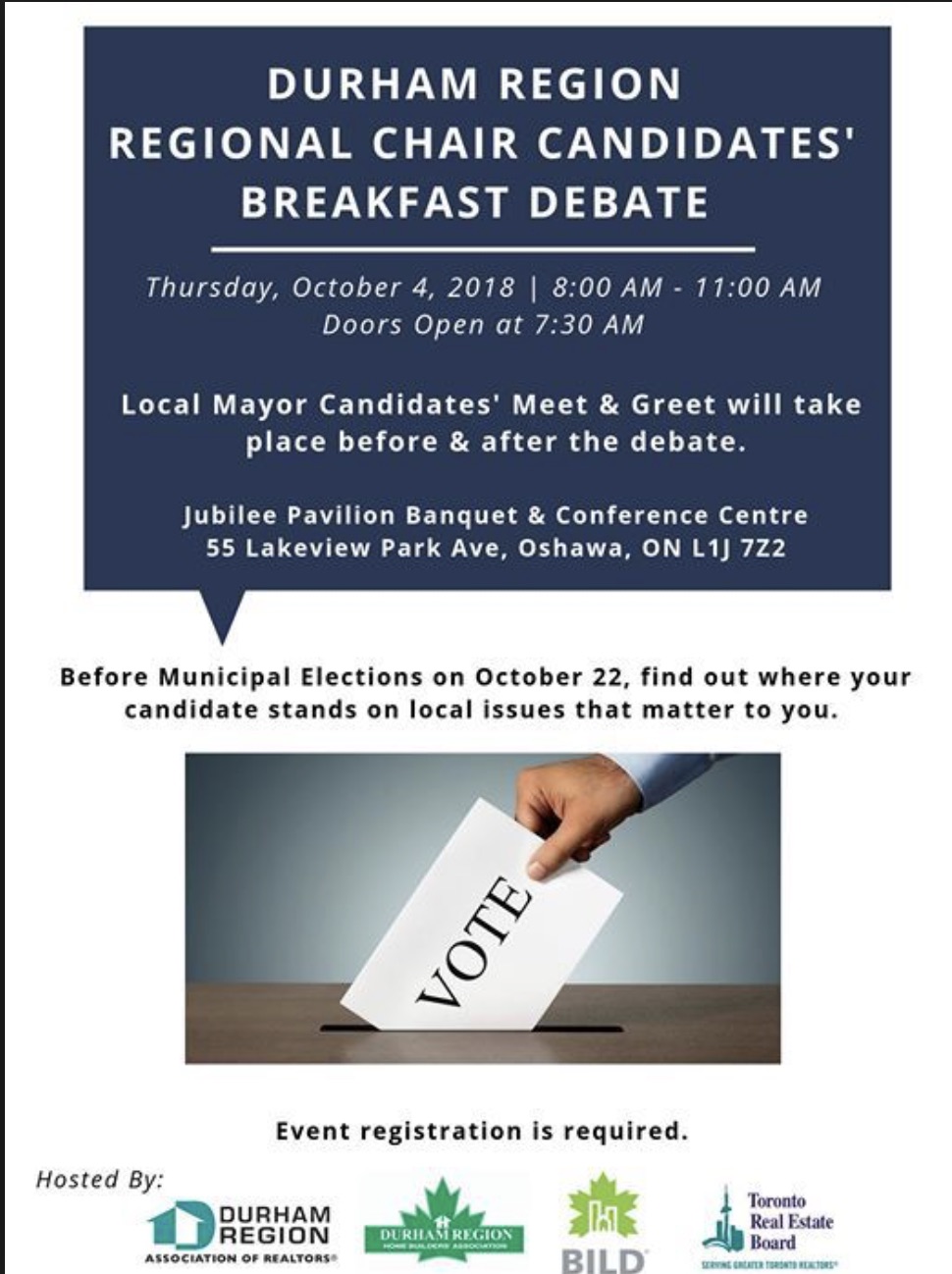 So far as I can gather Elliott chose not to express a view on the direct election of the Chair of Durham Regional Council and refuses to engage with me on this major issue of public policy.
Elliott does not reply to my emails and neither has her constituency assistant, Sarah, acknowledged them. I have twice asked for an appointment with Elliott and my requests disappear into the ether as if they had never been made.
This is not how the system is supposed to work.
Doug Ford is on record boasting about how he returns calls to constituents and praises PC MPPs who make a habit of doing this. But that's not Elliott's way.
Minimum wage rebuff
She didn't meet people arguing for an increase in the minimum wage who asked for a meeting several times.
I've asked candidates running for Durham Regional Chair if Elliott expressed a view but they can't recall. She kept her views to herself. In all her years at Queen's Park she was silent on the issue. There is nothing in Durham's local newspapers. She has left no footprints in the sands.
But Elliott is against the direct election of the Chair of York Region.
And she won't explain why it's OK for Durham but not here.
This email address is being protected from spambots. You need JavaScript enabled to view it.
Update at 6pm: I'm getting emails from people who have been in touch with Elliott - sometimes on multiple occasions - who haven't received the courtesy of a reply. If this has happened to you please let me know at This email address is being protected from spambots. You need JavaScript enabled to view it.
I won't quote you by name unless you specifically ask me to.
Details

Written by

Gordon Prentice
I am not a member of the Facebook Public Group "Newmarket Votes" but I take a look from time to time to see what they are talking about.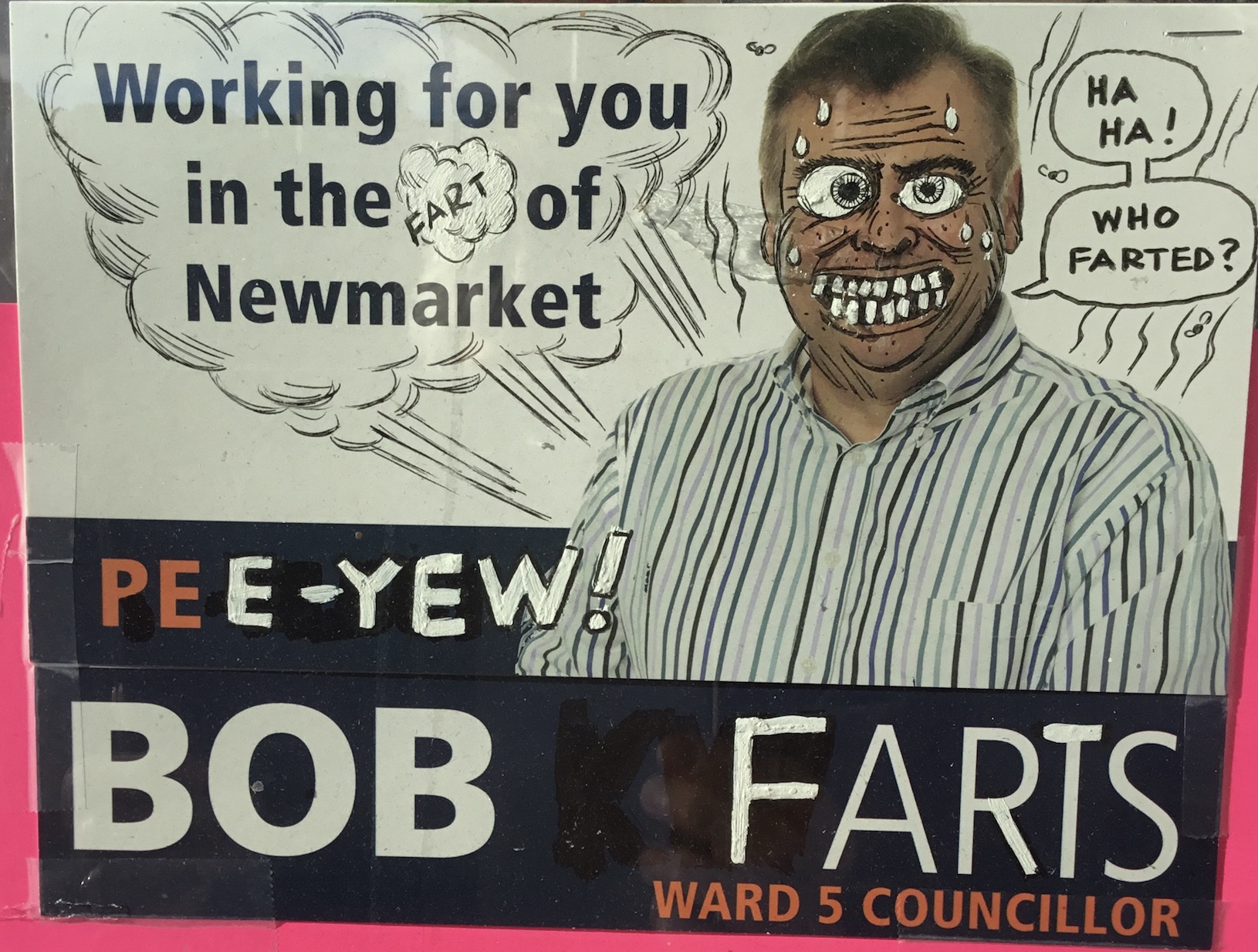 The owner of Main Street's Fourth Dimension Comic Store, Steven Gilbert, posted some inventive cartoons of our councillor wannabees which were removed by the site's administrator after a torrent of complaints.
Newmarket's History Hound, the straight-laced Richard MacLeod is the Witchfinder General, dubbing the cartoons "demeaning" and demanding their immediate removal.
MacLeod declaims:
"There is no place for that sort of art in a political forum."
As a student of history he should know better.
Long Tradition
There is a long tradition of political cartooning, poking fun at the high and mighty and those seeking elected office and long may it continue.
Earlier today I wander down to the Comic Store and chat with Gilbert.
I ask him if he is related to Linda Gilbert who is running for School Board Trustee. With a chortle and then a booming laugh he yells: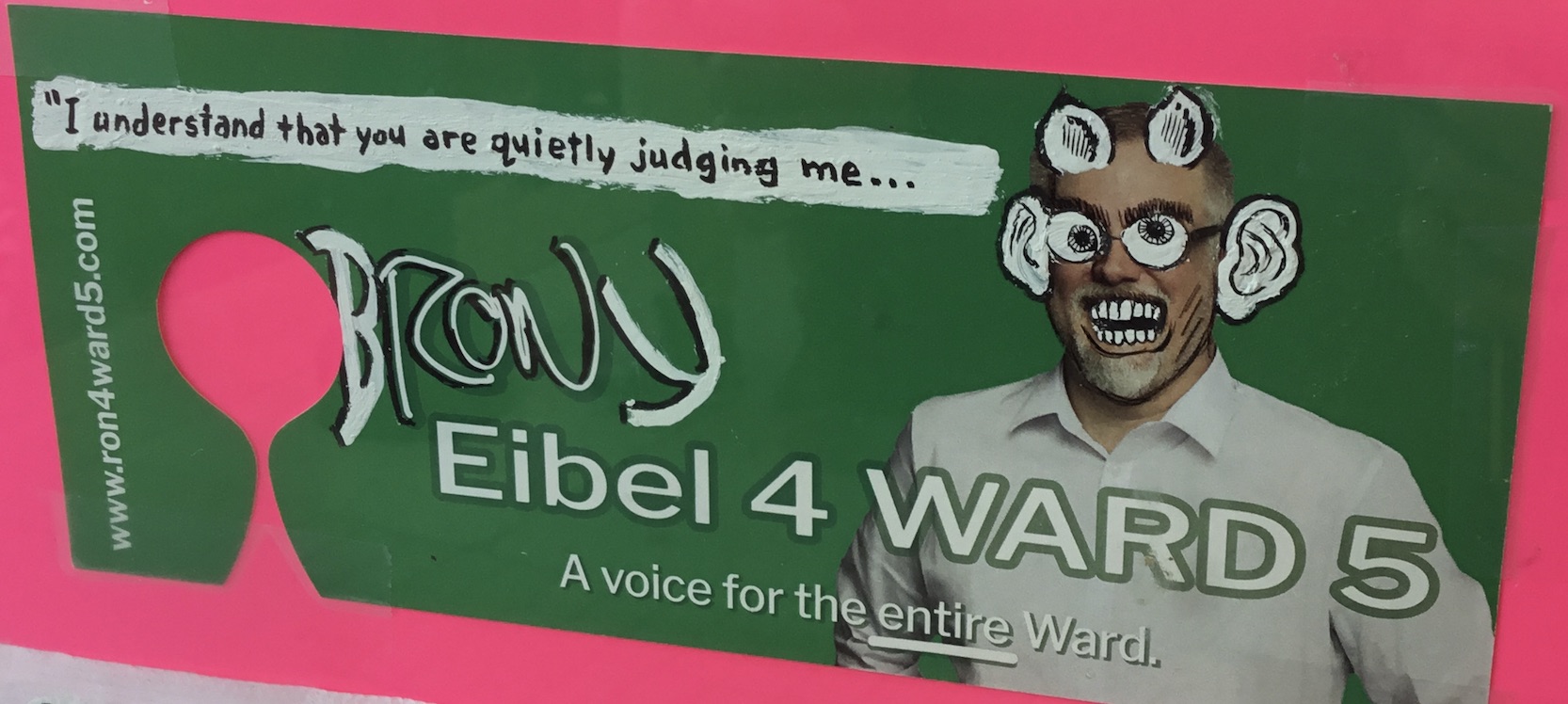 "Doesn't she wish!"
(That, Richard, was another joke.)
He admits his cartoons are juvenile and not everyone's cup of tea – the product of a lifetime reading MAD magazines and comics from the same stable.
But candidates who have been immortalised by Gilbert's pen should feel flattered.
Better that than being ignored.
You can see the full gallery in the window of the Fourth Dimension Comic and Games Store, 237 Main Street South, Newmarket.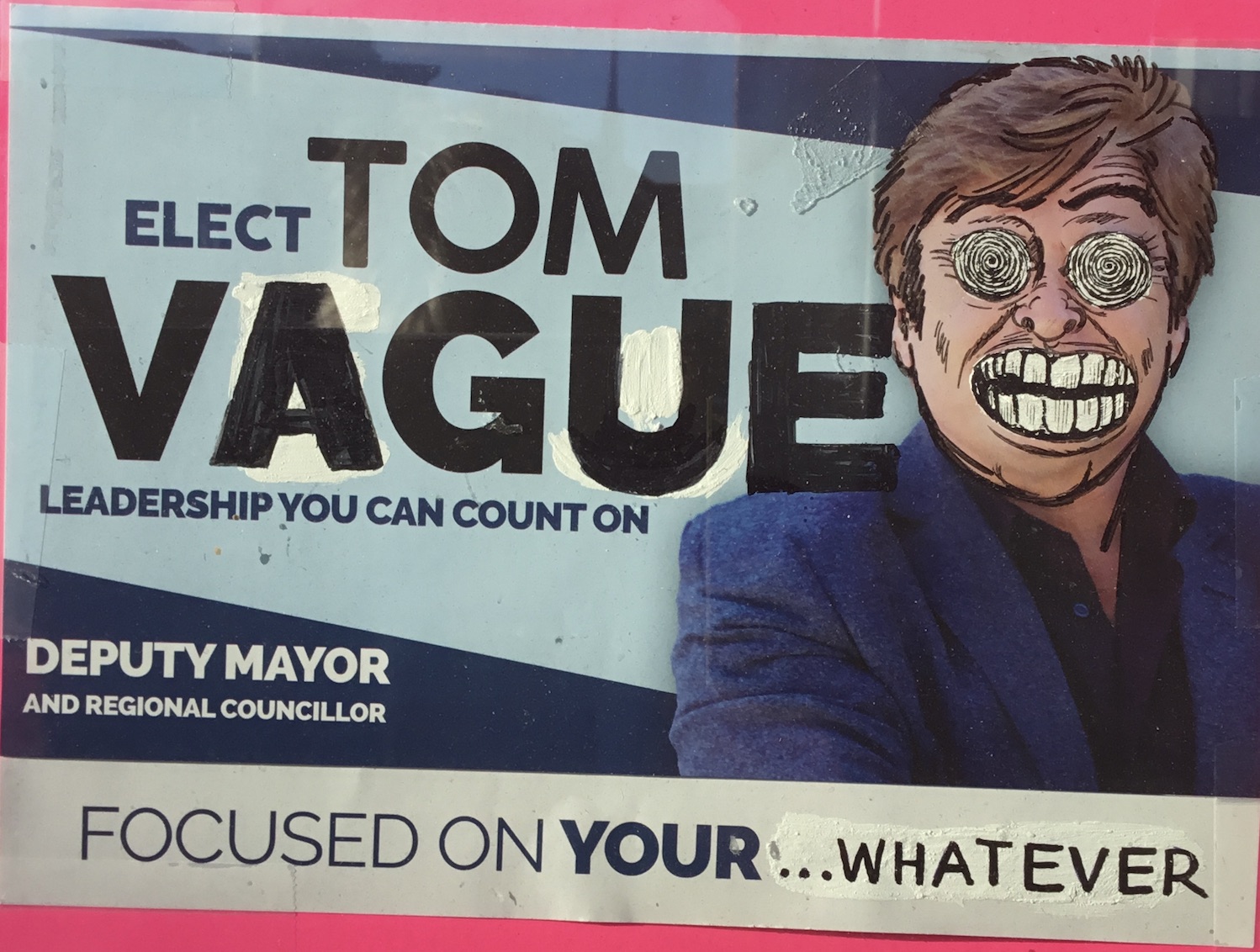 This email address is being protected from spambots. You need JavaScript enabled to view it.
Details

Written by

Gordon Prentice
If I lived in Newmarket's Ward 5 I would be voting for Ron Eibel in the election on Monday.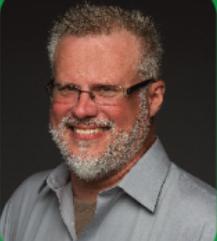 The incumbent councillor, Bob Kwapis, won the downtown Ward in a crowded by-election in 2016 after Joe Sponga threw in the towel for reasons which have never been fully explained.
It was a spirited campaign involving seven candidates and Kwapis cruised to victory with 803 votes well ahead of the runner up Darryl Wolk (479 votes) and Tracee Chambers (444 votes). Ron Eibel came fourth, limping home with 105 votes. But I am sure he will do a lot better this time.
Kwapis spent a fortune on the by-election campaign. Money was no object.
I've been re-reading the blog I wrote two years ago about Bob Kwapis who, then and now, comes across as jolly and engaging. That hasn't changed. He smiles a lot and that's good. But does he deliver? How does he measure up now that we have seen him at work for two years?
Kwapis is skilled at self-promotion. His election leaflets list "recent achievements" which suggest he is the go-to man if you want something done in the Ward.
But steer well clear of Bob if you have a planning problem. If he invites himself to your house offering to help just say no. More likely than not he'll side with the developer.
Kwapis refuses to ask awkward questions
The Clock Tower is, of course, the issue that dominated the last term of Council. It is an incontestable fact that the Director of Planning, Rick Nethery, misled the public by allowing the development's FSI (a measure of density) which he knew to be false to appear in the report going up to councillors for decision on 28 November 2016.
I asked Kwapis on 11 April 2018 if he would ask Nethery when he (Nethery) first realised the FSI was false. Kwapis said it was a matter for the OMB. And since the OMB was cancelled following the settlement between the Town and Bob Forrest on 4 May 2018 Kwapis has let sleeping dogs lie. (Mayoral front-runner, John Taylor, just as incurious, also refuses to ask Nethery.)
"Very proud"
Kwapis is "very proud of the recent success in negotiating the Clock Tower development agreement". But what part did he play and what has he done since then?
Coleen Forrest, the wife of the developer Bob Forrest, told us on 4 May 2018 that the new concept plans for the Clock Tower would be available "very soon". That is getting on for six months ago. Has Kwapis asked what is causing the delay? Is Kwapis being proactive or just being a spectator again?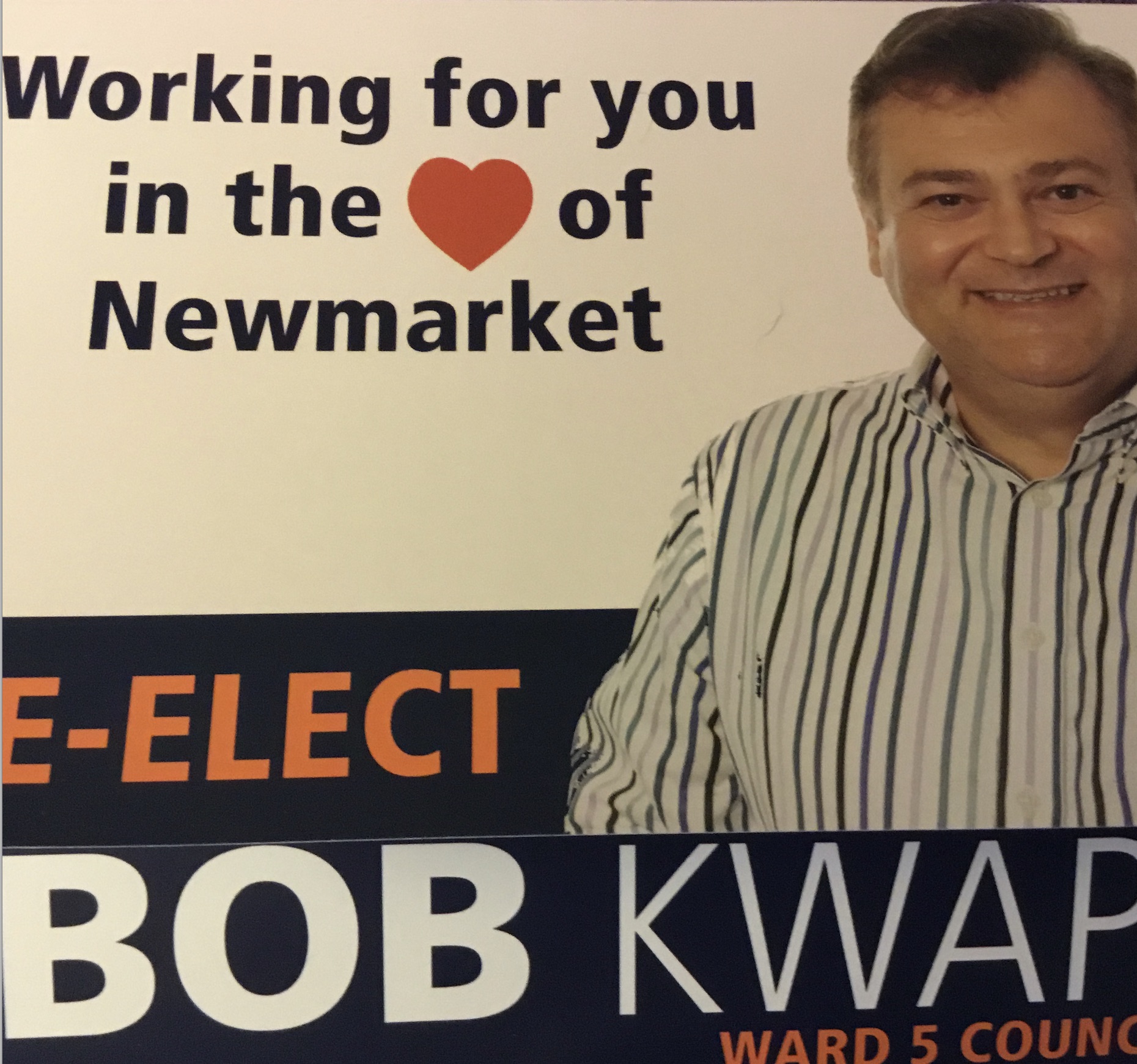 The historic commercial buildings on Main Street have been left empty and boarded up for years now. What happened to his plan to get displays in the empty shop windows? Are the old buildings prepared for winter? Will they be heated? Has he asked to see the interiors? Is he doing anything more than taking the credit for what people like Ron Eibel have done.
Ron Eibel was a lead character in the Clock Tower story. He was instrumental in blocking Forrest's plans. And he has stuck with the issue which is still, in large part, unresolved.
Ron Eibel: quick thinking with a sense of humour
Ron Eibel is a quick thinker and is someone prepared to ask difficult, even awkward, questions. In the new Council he would be a burr under the saddle – but not in a disruptive non-collegial way. To be effective on Council you have to get along with people of all stripes and he could do that. But we need a counterweight to the groupthink that infects and contaminates Council decision-making.
There has been no candidates' debate for the Ward 5 election this time around but I remember the one held at the Newmarket Theatre for the 2016 by-election. Eibel was the only candidate without a note in front of him – answering the questions fluently and showing a firm grasp of ward issues.
In a toe-curling performance on 15 May 2017 veteran councillor Dave Kerwin – who is now stepping down – described Bob Kwapis as the "Jewel of the Council" for backing a developer against a local resident. Kerwin gushed:
I know you have a backbone and that to me means everything."
Perhaps Bob Kwapis could now show some of that backbone by asking Rick Nethery when he first realised key information on the Clock Tower was false.
This email address is being protected from spambots. You need JavaScript enabled to view it.
Details

Written by

Gordon Prentice
Regional Council candidate Chris Emanuel today slapped down Tom Vegh for promising a new library and seniors' centre when for the past four years - as a library board member – he failed to move the agenda forward and get anything done.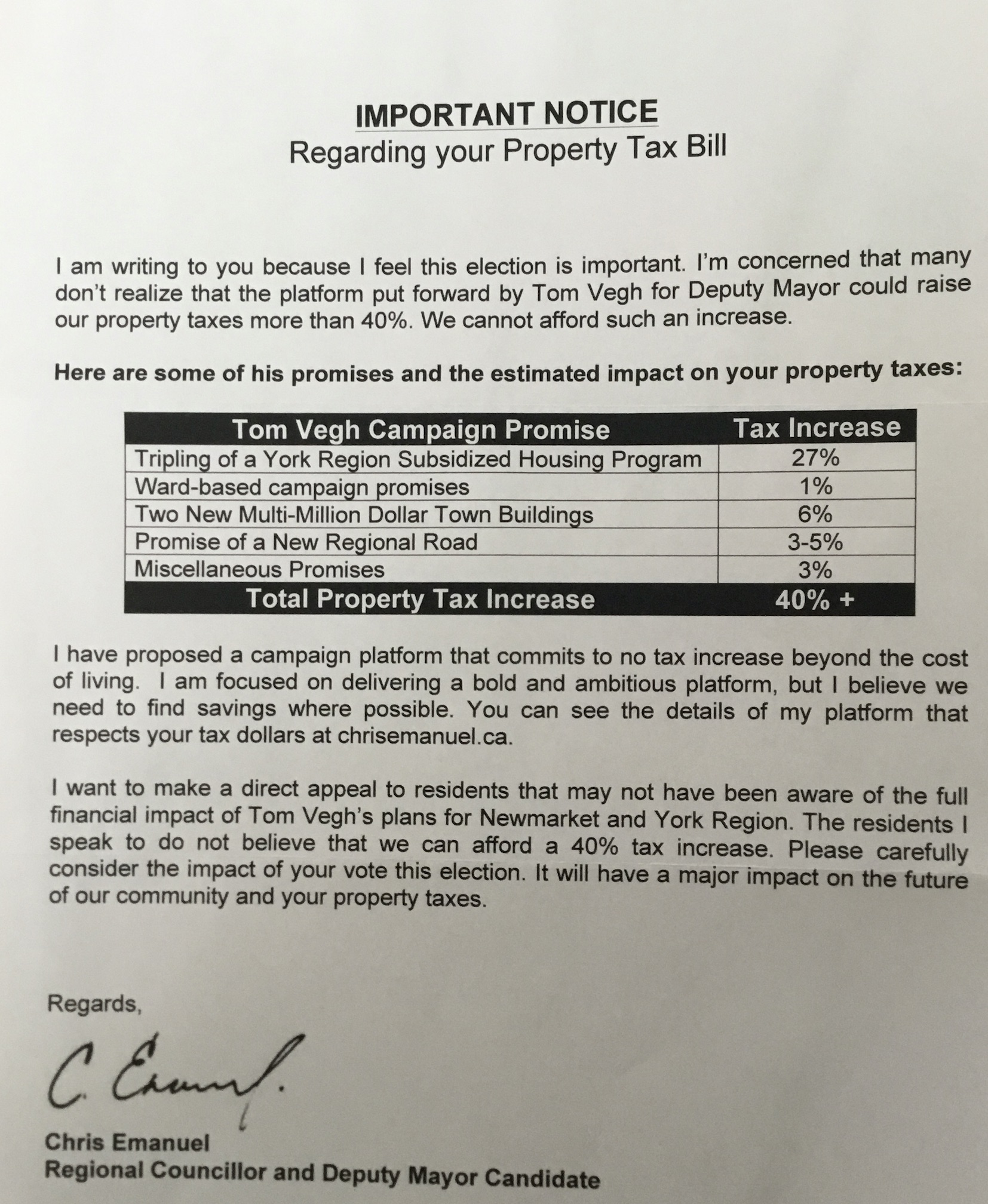 Emanuel paints a picture of Vegh as all talk and no action. Someone who was unable to show us what his new library would look like and what it would cost.
In promising us a new library Vegh is just spinning another yarn:
"Not only has the board failed to complete a study on what a new library would look like, what size it would be, where it would be located, but he couldn't even get Council to agree to pay for that study."
Over the years I've sat in on a number of presentations to Council by Library Chief Executive Todd Kyle and I don't recall Vegh banging the table, demanding a new library. Had he done so I think I would have remembered.
Emanuel points out that the Town's library is open 6 days a week:
"One of the drivers for not opening 7 days a week has been the cost.... I can't imagine not moving forward on a 7th day because of cost, but he's now able to justify a new facility... how many days will it open?
Vegh identifies site for new Library
In a Tweet last week (8 October 2018) Vegh says the combined Library/Seniors' Centre would be located on Paterson Street on the Hollingsworth Arena site. Vegh says he wouldn't sell the site to developers. However, in 2015 Vegh was in favour of doing a deal with the swashbuckling pseudo developer Sandro Sementilli to redevelop the site (but not for a library). His Progressive Conservative colleague on Council – Jane Twinney – voted against. The deal fell through.
A letter from Emanuel now going out Town-wide repeats his earlier claim that Vegh is promising two new multi-million dollar Town buildings.
Emanuel says one of them is the combined Library and Seniors' Centre – which is uncosted - and
"the second is a reference to a Community Centre that he has committed to in Copper Hills."
Vegh flatly denies this.
An unqualified "no"
"A new community centre in Copper Hills is not in my platform nor in any of my campaign literature. Neither the Town or I are entertaining such an idea.
When Copper Hills was built 10 years ago, the site plan included a new school... The York Region District School Board (YRDSB) had an option to purchase that land for a school. In 2015 a group of Copper Hills residents approached me to help them convince YRDSB to exercise that option before it expired in 2017. I explained to them that the Town does not build or operate schools, but promised I would work with them and the local school trustee…
In 2017 the YRDSB purchased the land but said that the local school-age population does not justify building a new school. However, they may be open to building a school/community hub. The residents think this is a good option and I will continue working with them, the Trustee, and our MPP to make this happen. Let me stress that this is a YRDSB project, not a Town of Newmarket project…"
If Vegh delivers a community centre people won't care who paid for it. They will remember he pushed for it.
Vegh courts the senior vote

Tom Vegh's platform is full of pledges for seniors:
"Newmarket's seniors' population has grown by 30% in the last decade but housing options have not kept pace. Tom Vegh will
(1)Double the number of housing subsidies for seniors
(2)Provide incentives to build apartments and condominiums in Newmarket
(3)Triple the number of spaces available for supportive seniors' housing."
Emanuel accuses Vegh of having a shopping list without prices.
Emanuel is much less specific than Vegh:
"We must make sure our community is affordable – housing and recreation programme must not be out of reach for families, seniors and young people."
Developers will pay
Emanuel says Vegh expects developers to pay for his (Vegh's) promises through Development Charges. (This is money paid over to York Region and the Town of Newmarket ostensibly to offset the additional costs of growth – the sewers and roads and so on.) But Emanuel insists this won't happen as developers are already paying the maximum allowable (90%) as set out in Provincial legislation.
I don't know if that is true but Emanuel says it with such conviction I am prepared to give him the benefit of the doubt.
Emanuel says Vegh expects the Federal Government and the Province to foot the bill for his supportive housing program. And while they do provide grants that help offset some regional costs why, he asks, should
"any reasonable person believe that they will triple that commitment. And when they don't triple that commitment is Tom Vegh's plan to raise property taxes or blame other levels of government for a promise he knew was unachievable?"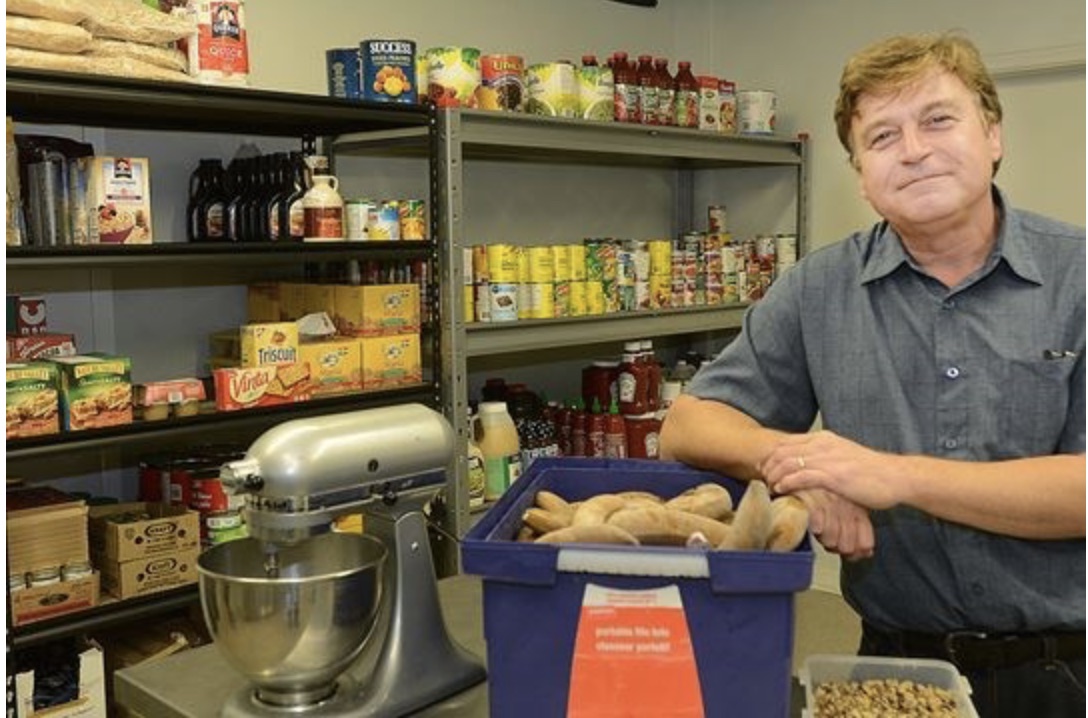 Emanuel says it is unrealistic to expect spending on housing in Newmarket to be tripled without a similar percentage increase across York Region – and that would cost a stack of money – approaching $1 billion in operating and capital costs.
"Newmarket represents about 7.5% of the region's allocation of housing and, while Tom Vegh may consider himself to be a savvy politician, I don't know how Newmarket's two members of Regional Council could convince the other 19 that Newmarket's should just be tripled and their communities would remain stagnant."
Promising the earth
According to Emanuel, the assumed 40% hike in property taxes includes 3%-5% for a new regional road.
I don't know what costs would fall on the Town of Newmarket from the construction of this road. It all seems a bit up in the air to me. Emanuel points to Davis Drive but I'm not sure how relevant that is when the Province picked up the bill in its entirety. There were the costs of expropriating land which fell on York Region but I always believed these were passed on to the Province. (I am now disappearing into the weeds.)
Emanuel says Vegh has a load of other promises including a new tennis facility and a parking structure downtown. All uncosted. Emanuel says his accounting of the 40% tax hike is a conservative estimate but concedes not everything Vegh is promising is likely to happen.
"But that begs a bigger question, does he believe they would (happen)? Or is he promising things he simply knows he cannot deliver on."
This email address is being protected from spambots. You need JavaScript enabled to view it.
Subcategories