Details

Written by

Gordon Prentice
Two months ago Doug Ford asked a group of "experts" – including former PC leader Tim Hudak – to come up with recommendations to address housing supply and affordability issues.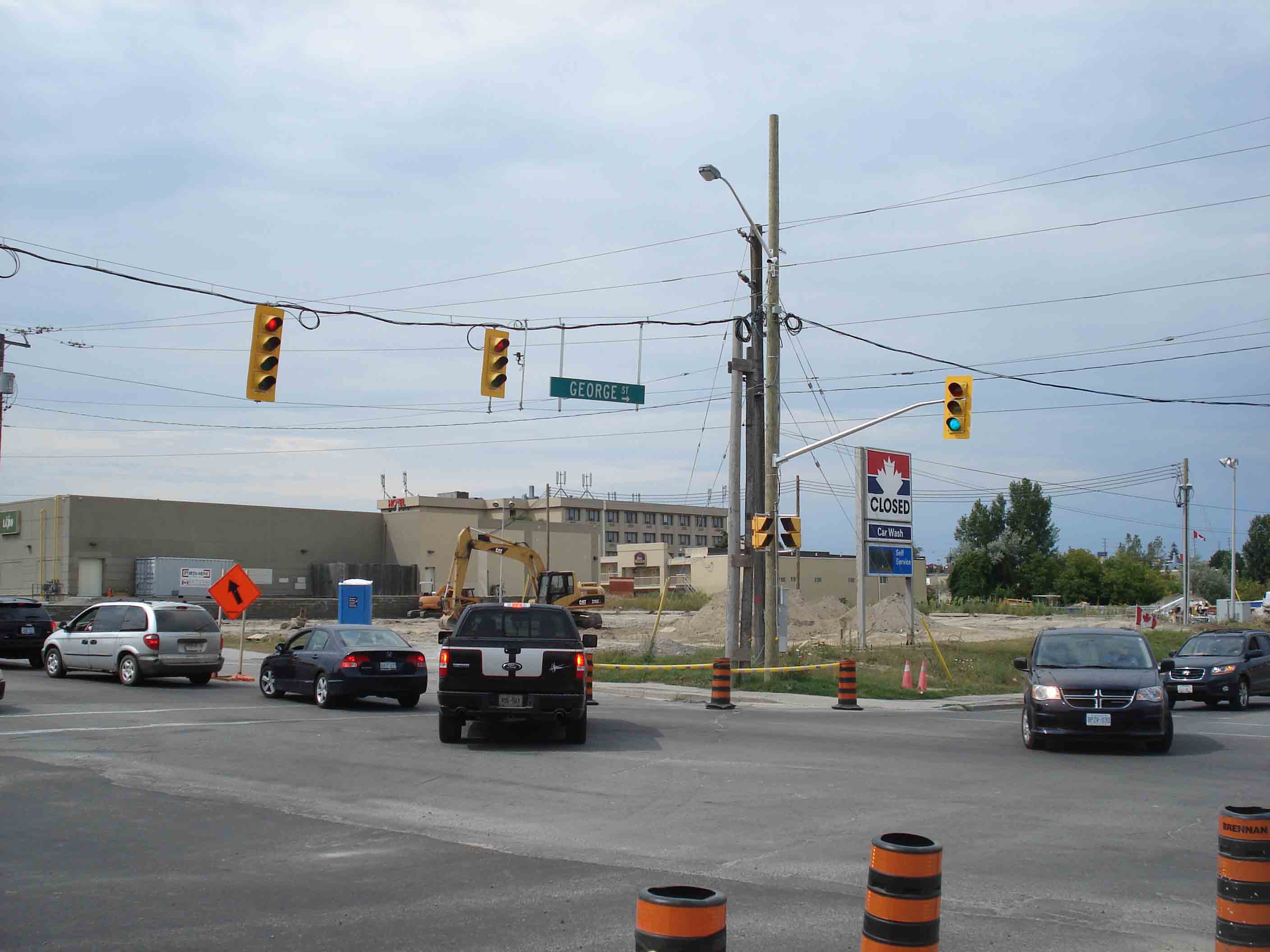 The Housing Affordability Task Force has just published their report and conclusions.
The Globe & Mail is enthusiastic:
"On Tuesday, the Province of Ontario unveiled a bold new housing blueprint. Just two months ago - with a provincial election this spring, and housing a top issue - the Doug Ford Government rushed together an expert panel on housing affordability. The main goal was to increase supply..."
There is a painless way to start increasing supply: force developers to act on the planning approvals they have.
The Task Force report says this on page 22:
Municipal leaders... shared their frustrations with situations where new housing projects are approved and water, sewage and other infrastructure capacity is allocated to the project – only to have the developer land bank the project and put off building.
They believe the answer is to:
Enable municipalities, subject to adverse external economic events, to withdraw infrastructure allocations from any permitted projects where construction has not been initiated within three years of build permits being issued.
This limp sanction is not enough.
Here in Newmarket, developers with planning approval are asked every year if they intend to start work on their project in the next twelve months and, if not, the servicing allocation is redirected elsewhere.
It doesn't make a blind bit of difference to the developers. If they don't want to build, they won't. I've been complaining about this for years.
Land-banking
Tri-Cap is the most egregious local example of a developer land-banking and refusing to build.
Planning approval for a 280 unit 20 storey condo at the intersection of Davis Drive and George Street was granted in 2009 (photo above). Around the corner, at 22 George Street, planning approval was granted 28 years ago for a 12-storey condo with 115 apartments. Almost three decades later it is still a patch of dirt. Why is this allowed to happen when there is so much housing need?
And to add insult to injury, hundreds of millions of dollars of public money has been spent on the Davis Drive corridor, making it ready for intensification, yet the developer sits on his hands, waiting for land values to increase.
Sunset clauses
There is a powerful case for sun-setting planning approvals, revoking them if they are not acted upon within, say, three years.
We know Doug Ford, won't do this. He is the developers' friend.
But will the Liberals and NDP put it in their election platforms?
If not, why not?
What on earth is there to be afraid of?
This email address is being protected from spambots. You need JavaScript enabled to view it.
See also: Ontario's Housing Supply Action Plan
Details

Written by

Gordon Prentice
What does it say about the state of the Conservative Party when a photo of the interim leader, Candice Bergen, wearing a "Make America Great Again" cap passes without comment?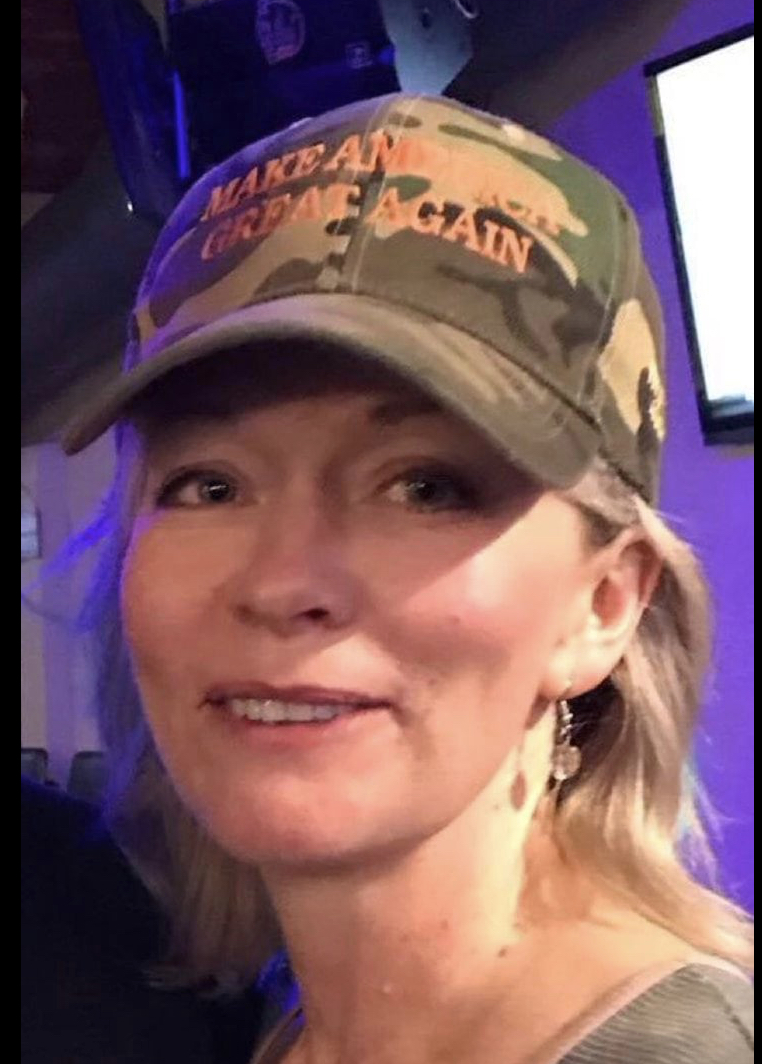 Or that the convicted fraudster Conrad Black is the star attraction in a fundraising event held by Peter Mackay last Thursday (3 February).
Astonishingly, Mackay has still to pay off all the bills he ran up when he contested the Conservative leadership in 2020 and lost to yesterday's man, Erin O'Toole.
Despite this, we are told he is thinking about throwing his hat into the ring again.
Who can afford to run?
I am left wondering how many "everyday Canadians" (as some politicians loftily say) could possibly afford to run without breaking the bank.
In 2017 contenders were given a month to raise an entry fee of $100,000. By 2019, the rules were changed to set the entry fee at $300,000. I've no idea how high the bar is going to be set this time. But $500,000 would certainly discourage the riff-raff.
To get on the ballot in 2020, the wannabe leaders also had to get endorsements from 1,000 party members drawn from at least thirty ridings across seven Provinces.
Patrick Brown. Seriously?
Among those testing the water this time around is Brampton Mayor, Patrick Brown. I simply cannot believe he is serious. If he goes for it there will be a cascade of embassassingly bad news – much of it sourced from his own acidic little autobiography: Takedown: The Attempted Political Assassination of Patrick Brown.
The detailed rules and procedures of the leadership election have yet to be set but we know the Conservatives' National Council has struck an ad hoc committee to come up with names for the Leadership Election Organisation Committee. This Committee is comprised of (but not limited to) six National Council members from different regions plus one Senator, one MP and one Conservative Fund Canada.
Gaming the system
Every member of the Conservative Party will have a preferential vote in their home riding. And each electoral district will be allocated 100 points or 1 point per vote cast, whichever is less.
Weighting votes in this way gives ridings with smaller memberships a bigger say in the outcome. So candidates game the system by courting tiny memberships, often in remote localities. They tell them what they want to hear. This is what O'Toole did so successfully last time round, racking up support in rural Quebec.
Reform Act 2014
Erin O'Toole was forced out as leader thanks to the Reform Act 2014 which gives the Party caucus at its first meeting after each election the right:
to determine what powers within the Parliamentary party belong to MPs and which stay with the leader. Those powers include the decision to oust an MP from their party caucus, or to call for a party leadership review.
Under the old Westminster model, MPs were responsible for choosing their leader. Then the franchise was widened to include all Party members – often signed up at the last moment. This was heralded as a great step forward, giving many more people a say. But it also had the perverse effect of cementing the leader in place, making it impossible in practice to remove them. The Reform Act changed all that.
Instant members
Andrew Coyne, writing in Saturday's Globe and Mail, put it this way:
"… leaders have come to be elected by the membership at large – supplemented by tens of thousands of "instant members" with no previous allegiance to the Party – leaving the leader, between elections, accountable to no-one"
He goes on:
"If caucus can no longer be compelled to accept a leader who is repugnant to it, that implies it should also have a say in choosing the leader."
For now, he says, the die is cast. But the way around that contradiction is to give MPs a much greater say in the nomination process. So, to get on the ballot a candidate for leader would need the declared support of, say, 15% of the Parliamentary caucus.
But above all else, the Conservatives need to have an honest debate about their Party and what it stands for in today's Canada.
Authenticity
That involves candidates being their authentic self, telling party members what they really think about the big issues and not triangulating or finessing their views to suit the moment.
However, in today's politics, where technology allows voters and their preferences to be sliced and diced, sorted and categorised, that's a big ask.
Personally, I prefer politicians who say what they mean and mean what they say.
At the end of the day, to do otherwise is to cheat the voters.
This email address is being protected from spambots. You need JavaScript enabled to view it.
From the Hill Times 7 February 2022: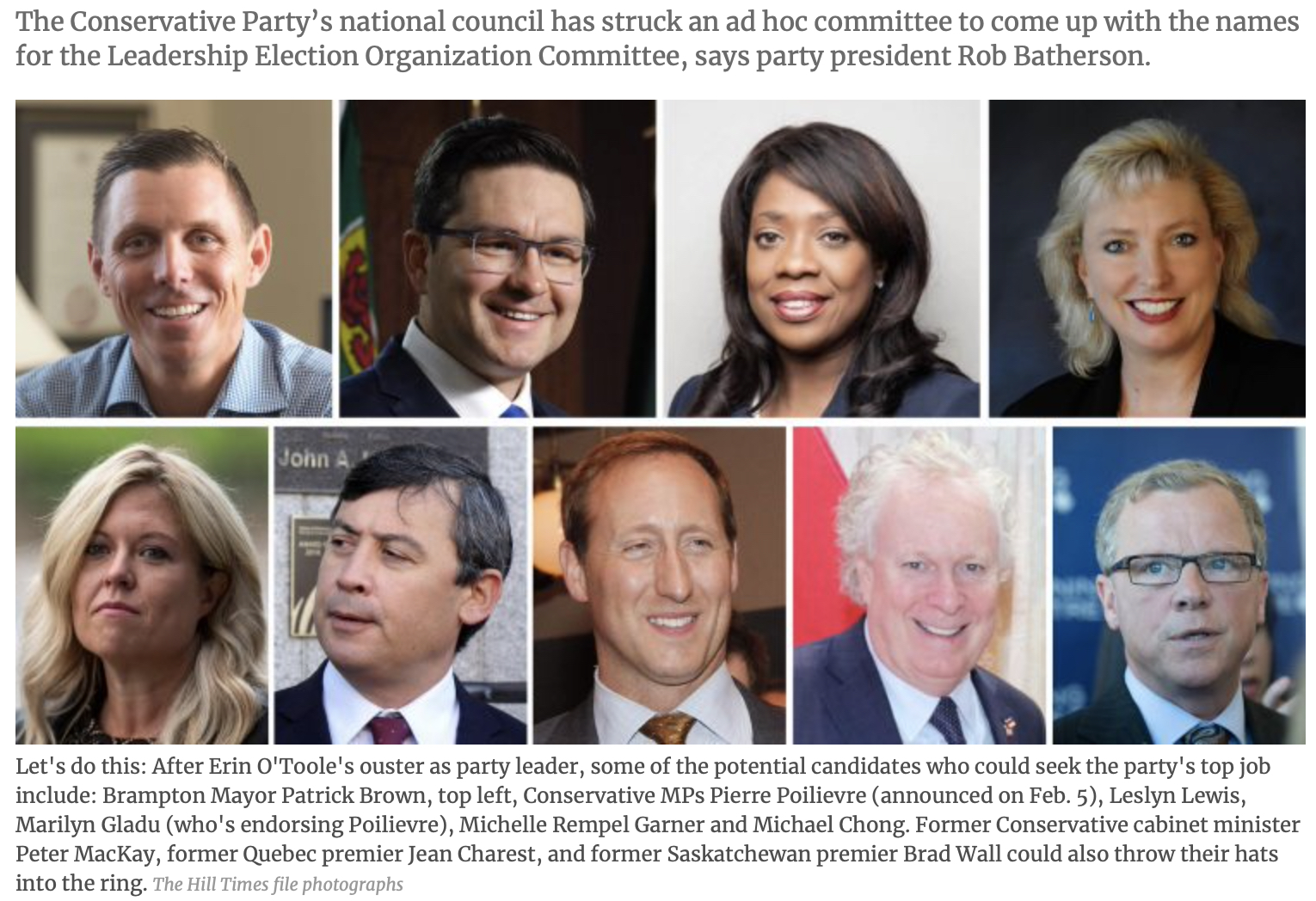 Details

Written by

Gordon Prentice
The big news today – at least for me – is a promised review of Competition Law.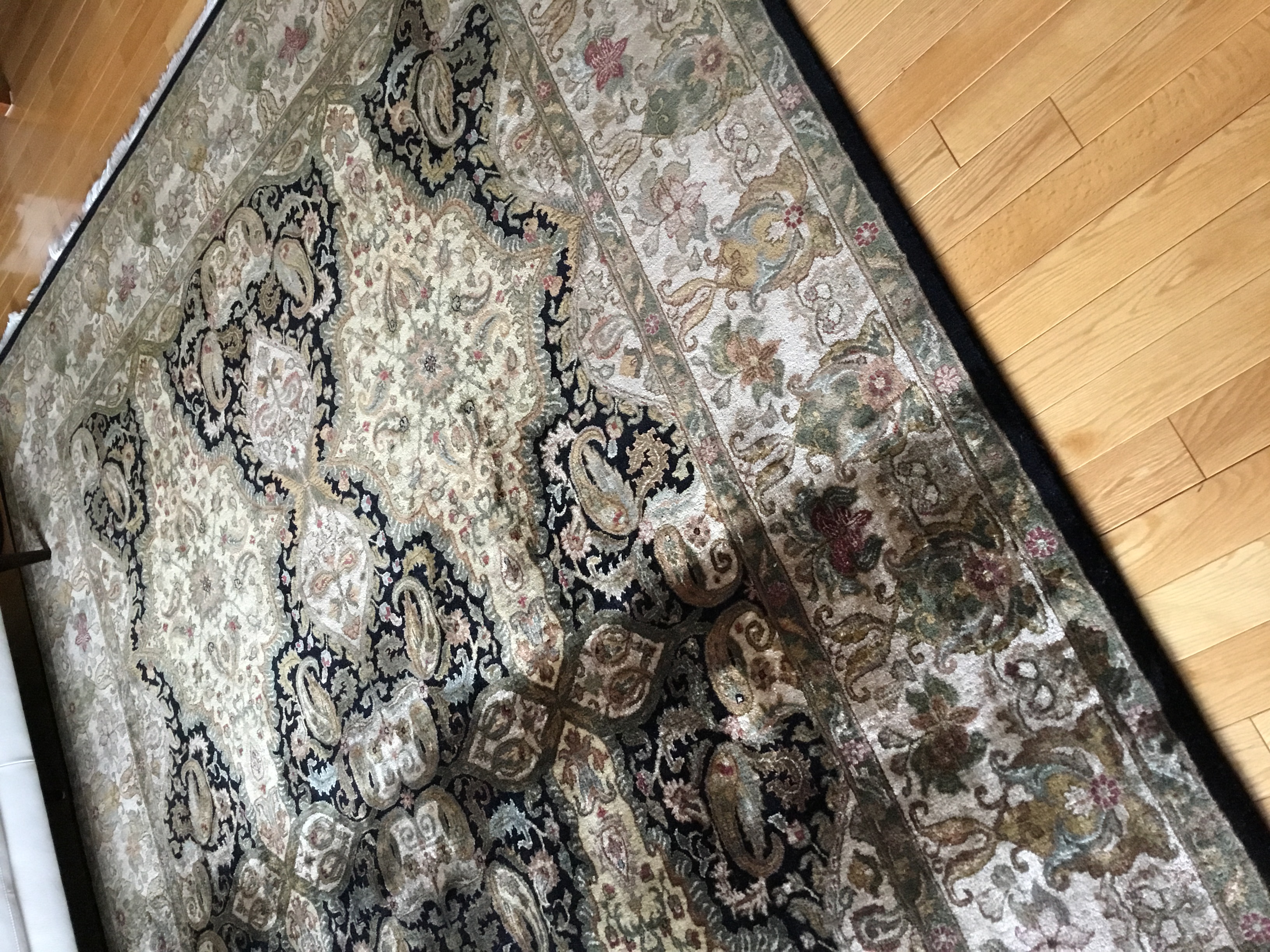 Can't come soon enough.
The review will include "deceptive advertising".
As it happens, I'm already in touch with the Competition Bureau about the Newmarket firm Fully Completely Inc who operate out of 320 Harry Walker Parkway North.
Last year I gave them five expensive (for me) hand-woven carpets for cleaning and got them back in December in a lamentable condition.
After a number of phone calls and email exchanges with the firm, asking them what they were going to do about it, I receive this one from the owner, Darren Cunliffe, on 30 December 2021:
"This is sad you have put this amount of time in this. It's a rug. Let us know if you want us to pick up and rectify. I'm not engaging you in this again."
Against my better judgement I returned three carpets for "remedial work", holding back two for safe keeping until I saw the results from the first three. The largest carpet is, quite literally, a shadow of its former self (photo: after remedial work).
I gave my carpets to Fully Completely because (a) I wanted to give my business to a local firm and (b) their website flagged up their expertise and customer focus:
"We at Fully Completely through our experience decided there was a market for quality service at a reasonable price. Anyone can say they are carpet cleaners, but we at Fully Completely are schooled and certified by the INSTITUTE OF INSPECTION CLEANING and RESTORATION CERTIFICATION (IICRC)"
That's just a bunch of hokum.
The Institute tells me that Fully Completely Inc is not certified by them and the owner, Darren Cunliffe, does not appear in their records. They tell me individual carpet technicians may be registered with the Institute but without names they could not check. And when I asked Fully Completely to give me the names of the people who worked on my carpets they refused citing "privacy reasons".
I've asked Darren Cunliffe for my money back.
If I don't hear from him we shall take it from there.
Fully Completely Inc is not a member of the Newmarket Chamber of Commerce.
This email address is being protected from spambots. You need JavaScript enabled to view it.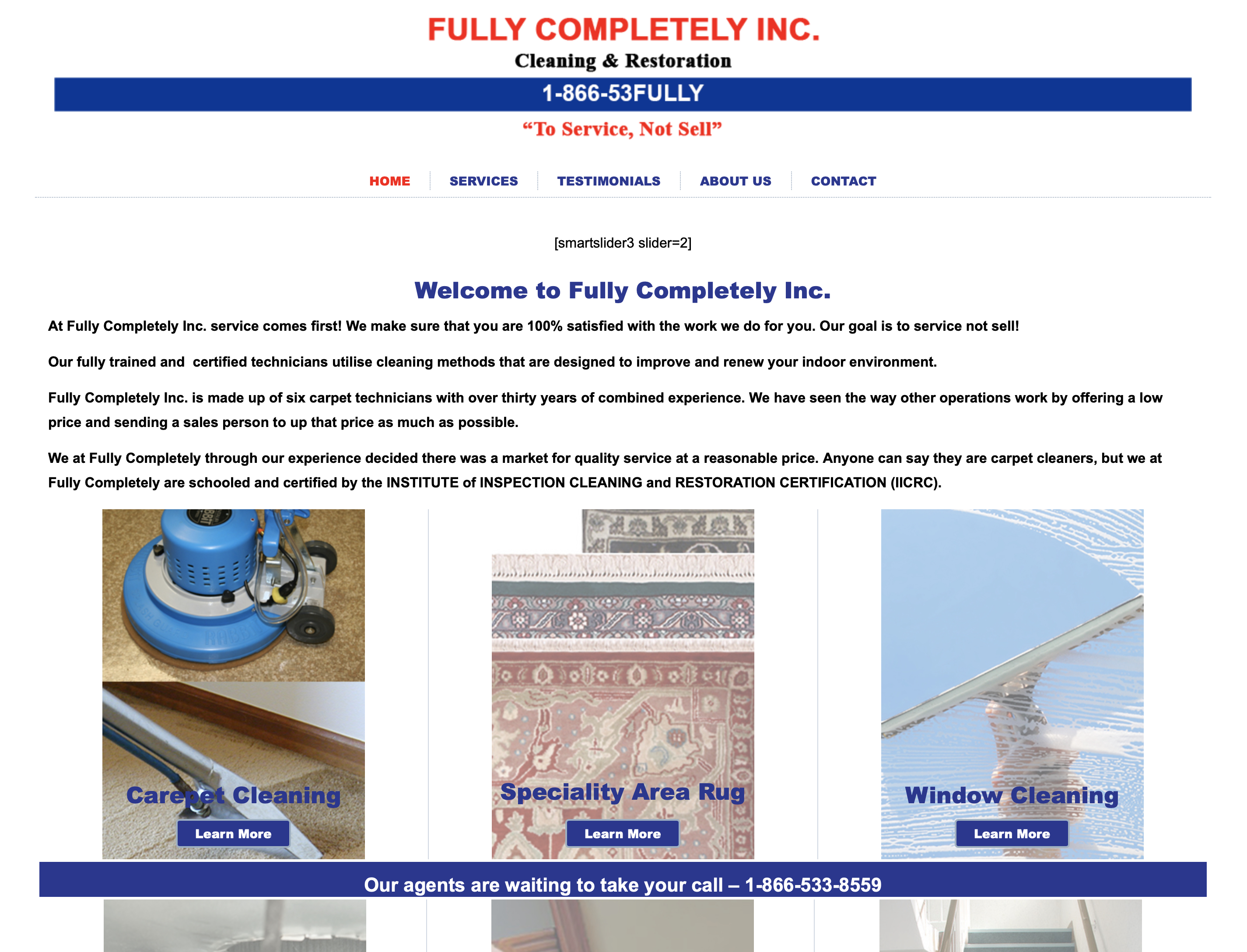 Details

Written by

Gordon Prentice
An estimated 84% of truckers are vaccinated.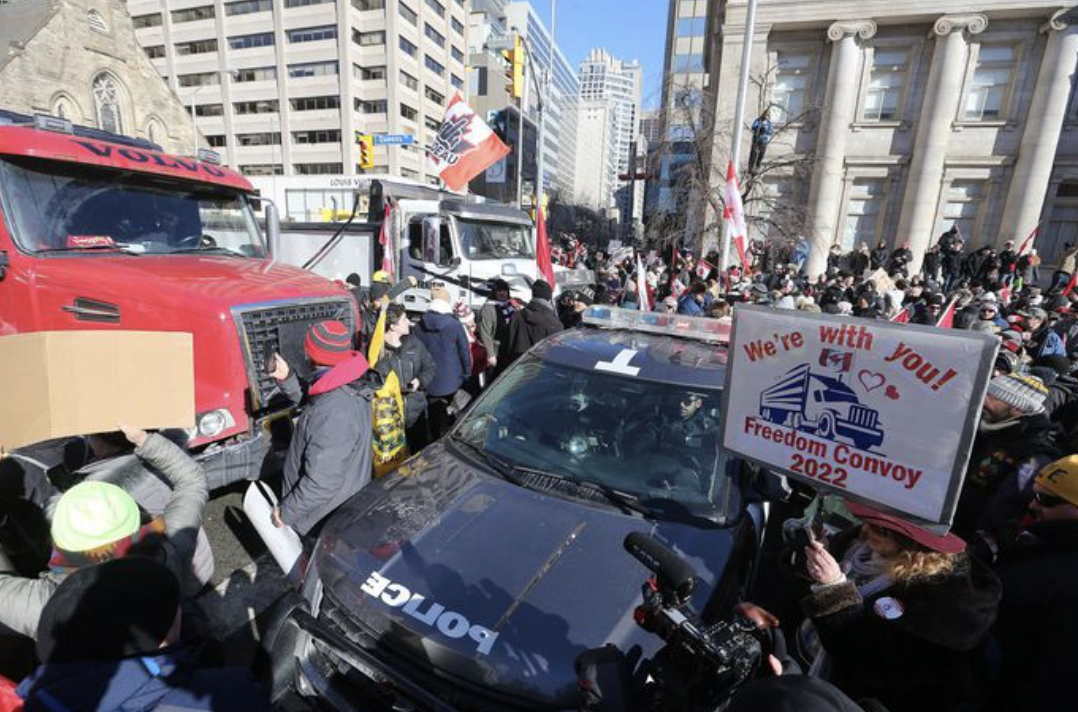 But they don't get much airtime.
The other 16% of truckers and their camp-followers - who are getting all the attention - claim the freedom to remain unvaccinated. (Photo Downtown Toronto today)
This morning (5 February 2022) the Ontario Government tells me:
89% of people over the age of 12 are fully vaccinated (at least two doses);
3% are partially vaccinated and
8% are unvaccinated.
In the Province's Intensive Care Units:
174 are fully vaccinated (50.8%)
10 are partially vaccinated (2.9%) and
158 people are unvaccinated (46.1%)
The official figures are constantly being updated but, as of now, 8% of the population at large is unvaccinated yet they, the unvaccinated, occupy 46% of the beds in Intensive Care.
Prioritising the vaccinated
Clearly, the unvaccinated who get Covid 19 are much more likely to end up in intensive care than the fully vaccinated. They put an additional load on a system already under pressure.
Other things being equal, it seems to me the fully vaccinated should have priority over those who deliberately choose to remain unvaccinated.
Heath care is rationed in all sorts of ways. Waiting lists are the obvious example. But rationing happens in more subtle ways every day, all over the country, in a million medical and administrative decisons, rarely made explicit.
At the moment ICUs appear to be coping. But what if a virulent new strain of Covid emerges?
The truckers won't have the freedom to go elsewhere for treatment. No-one else is gonna let them in. They will be stuck here in Canada.
With the freedom to choose to go to the back of the queue.
As if.
This email address is being protected from spambots. You need JavaScript enabled to view it.
Note: There is a time lag between hospital reporting on Covid and the figures appearing on Ontario.ca. Public Health Ontario is reporting 501 patients in Intensive Care today (5 February)
The Provincial Government says of its figures:
This is a new data collection and the data quality will continue to improve as hospitals continue to submit data. Data on patients in the ICU is collected from two data sources that have different extraction times and public reporting cycles. This may cause discrepancies with other hospitalization numbers that are collected using a different process.
Update on 8 February 2022: Toronto Public Health data show hospitalization and death are rare for individuals with three doses of Covid 19 Vaccine.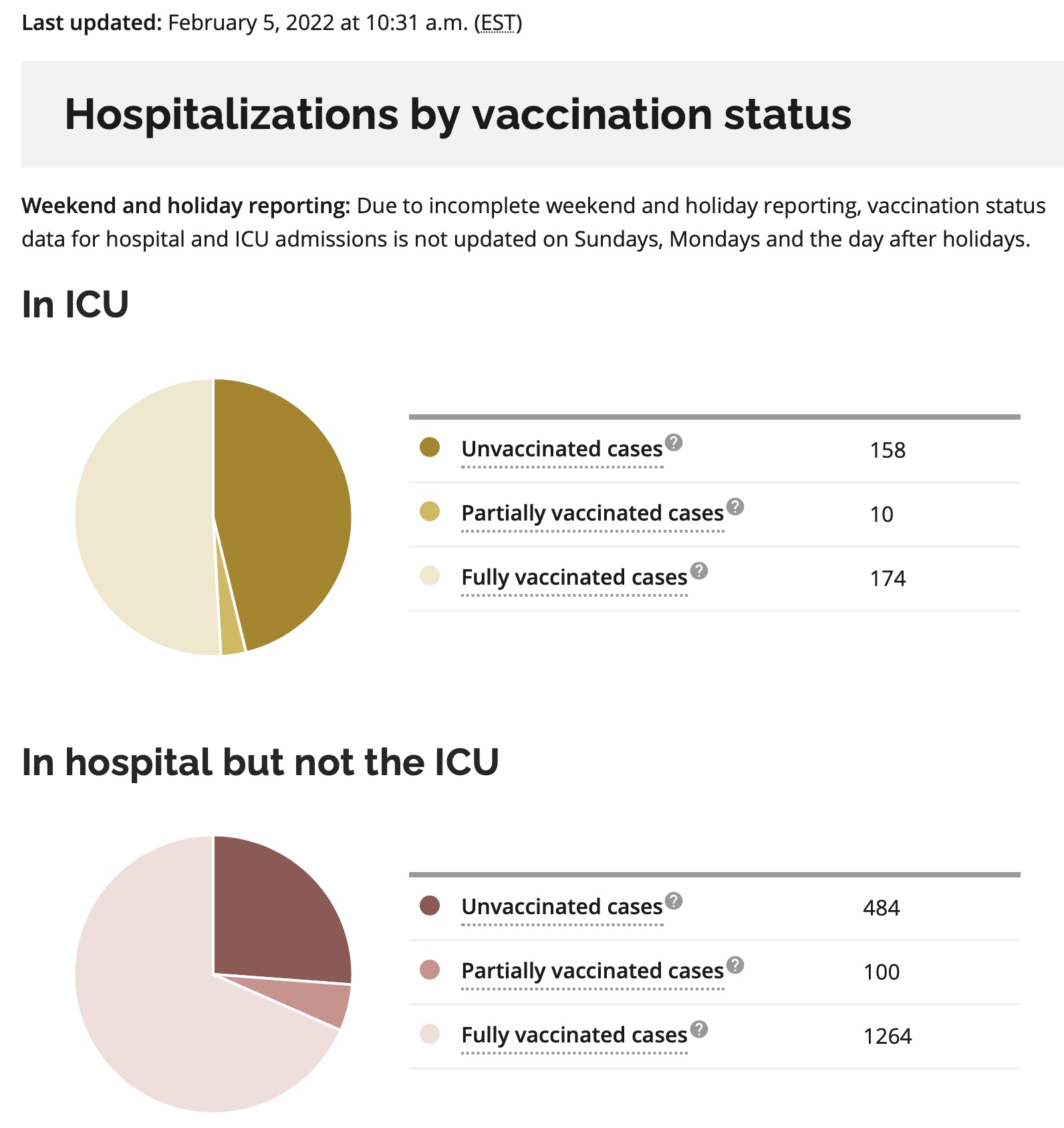 Details

Written by

Gordon Prentice
The Toronto Star's Martin Regg Cohn reported on Saturday that the NDP candidate for Ajax, former Mayor Steve Parish, was responsible for naming a local street after the WWII German Naval Commander Hans Langsdorff.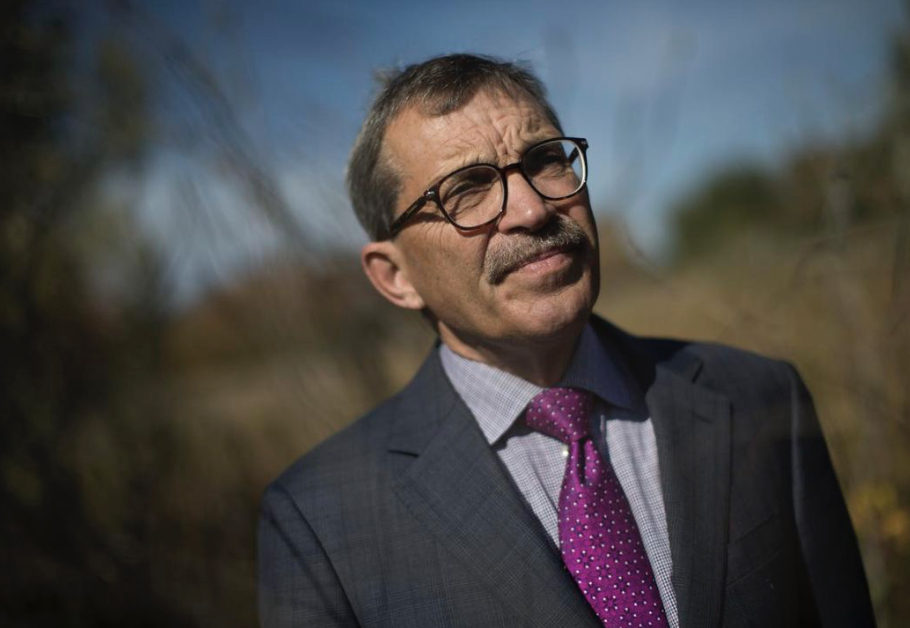 When Parish (photo right) was confirmed last month as the NDP's "star candidate" in Ajax, Cohn asked the Party for an explanation.
"…the Party referred me to his previous public statements, and those of party leader, Andrea Horwath, saying he meant no offence."
Cohn goes on:
"As mayor in 2007 Parish hailed Langsdorff as a "remarkable leader". His town took the name from HMS Ajax, one of the three Allied vessels involved in the fight against the Graf Spee commanded by the Nazi Captain."
Horwath gets it wrong (again)
Andrea Horwath often gets things wrong. But defending Parish was a serious error of judgement. One of many in her decade at the helm of Ontario's NDP.
(Last year she said it was a Charter Right for education workers to refuse a Covid 19 jab. This unleashed an immediate storm of protest - from within the Party and outside - and she rapidly back-tracked.)
And now, this morning, I read that Andrea Horwath has decided that Steve Parish cannot be a candidate for the NDP.
"The NDP's vetting process gave us confidence that Mr Parish does not hold anti-semitic views. However, our Party is committed to naming and correcting injustice, and vowing to do better – and as a candidate he has not met the mark."
Shelf-life
Personally, I believe Andrea Horwarth is well past her sell-by-date as leader of the NDP. All politicians have a shelf-life and it is not cruel or unreasonable to suggest she should make way for someone else. The NDP is not going to win a majority of seats in the June election under her leadership.
After the Dundas controversy I've spent some time thinking about how we should commemorate people – or not.
And the very idea that we should have a street in Ajax named after a card carrying member of the Nazi Party beggars belief.
I spent this morning reading a big chunk of the Battle of the River Plate by Richard Woodman and Christopher Summerville.
Trapped in the River Plate in Montevideo with British and Allied warships waiting for him, Langsdorff chose to scuttle his battleship. He and his crew made it safely to dry land. Three days later Langsdorff commited suicide.
Faith in my Fuehrer
On the evening before he shot himself in the head he wrote that he accepted responsibility for the scuttling of his ship and he was
"happy that I can with my life prevent the casting of any imaginable shadow on the honour of the flag"
and he would
"meet my fate with firm faith in the cause and the future of the nation and of my Fuehrer".
How did Steve Parish get it so wrong?
And what on earth was Andrea Horwath thinking when she waved him through as one of the NDP's "star candidates"?
This email address is being protected from spambots. You need JavaScript enabled to view it.
HMS Ajax was commissioned into the Royal Navy in 1935. During the Battle of the River Plate HMS Ajax was commanded by Captain Charles Henry Woodhouse who was promoted to Rear Admiral in 1946. He retired in 1950 and, unusually, was made a full admiral in 1952. After the River Plate, HMS Ajax went to the Mediterranean where she took part in the Battle of Matapan, in operations off Crete and in the Malta convoys. Later she was part of the force covering the D-Day landings in Operation Neptune. In 1944 she provided accommodation for Churchill on his visit to Athens. She was broken up in 1949.
Update on 8 February 2022: Andrea Horwarth was elected leader of the Ontario NDP in March 2009.