Details

Written by

Gordon Prentice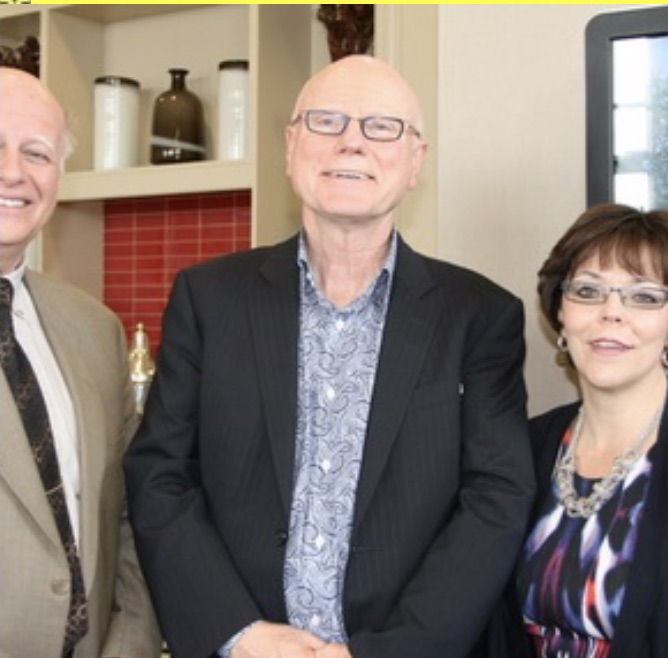 Only the cold-hearted and mean-spirited would begrudge the $95,631.11 severance payment to Newmarket's former Mayor, Tony Van Trappist, who stepped down from office last October.
Over his three terms as Mayor he selflessly consumed countless "business lunches" where the tab was picked up by grateful Townsfolk. He was, after all, conducting important Town business.
The 2018 Statement of Remuneration and Expenses tells us Van Trappist billed taxpayers for business lunches at the Cachet Restaurant, the Goulash House, Joia Ristorante, Bagel World, Hungry Brew Hops, Villa Risi Ristorante, The Buttery Restaurant, Boston Pizza, Ristorante Orsini, Astoria Shish Kebob House, The Crow`s Nest Pub, Pho Fusion, Ground Burger Bar, Arthurs Landing, Lot Six Restaurant & Bar, Brick N Fire Restaurant, Cora Breakfast and Lunch, The Courtyard Restaurant, Sunset Grill, Cardinal Golf Club, Aqua Grill, Reef and Beef Steakhouse amongst others. He liked to spread our largesse around.
Dining on our dollar
Unfortunately, in all those years when he has been dining on our dollar we have never been told the purpose of these business lunches nor the names of his lunch companions. I am told there are "privacy issues" about disclosing this information.
Personally, I think that's a load of old cobblers. If the quaint Van Trappist tradition of billing the Town is to continue then the purpose of the lunch should be given as a matter of course together with the names of the other diners. "Business lunches" are our business too, especially when we are paying.
As an old banker, Van Trappist will be aware of business lunch etiquette as promulgated by the charge card people, American Express.
Spaghetti can be tricky
Dress appropriately and arrive early. Go before you go. Put your phone away (difficult for Van Trappist) and order something easy to eat. ("A big splotch of spaghetti sauce on your lapel isn't easy to overlook.")
You have only one chance to make a good first impression. Remember, elbows off the table and cut up your food. And don't talk with your mouth open!
Instead of commemorating the Van Trappist years by naming a street after the great man (very boring) why not think outside the box?
Perhaps a bronze statue of Van Trappist, furrowed brow and deep in conversation, seated at a restaurant table, transacting Town business. A marble plinth and a location in the old downtown would be appropriate.
Van Trappist has of course always been economical with the actualité. Over his years in office he regularly danced round the issue of his total remuneration. His $10,000 a year from the Hydro company was always conveniently forgotten about until I forced the issue a few years ago and it is now reported as a matter of course.
Sunshine List fairy tales
And last week's Sunshine List put him on a salary of $111,387.93 with $7,024.99 in taxable benefits. This excludes his Hydro cash and the "stiped" he got from York Region – both remunerated positions linked directly to his position as Mayor. A fact picked up and publicised by Newmarket Today. Good on them.
To be clear, I have absolutely no problem with people in the public sector being fairly remunerated for the important work they do. And, whether you love them or loathe them, we can't do without politicians either. They too should be treated fairly.
But the Sunshine List - in its current fraudulent and misleading form - is well past its sell-by date.
A bit like free "business lunches".
This email address is being protected from spambots. You need JavaScript enabled to view it.
Photo above shows Tony Van Trappist (left) with developer-duo Bob and Colleen Forrest
Van Trappist's pay and benefits in 2017 were closer to $200,000 and not the $212,000 reported in my blog of March 2018. I have discounted the expenses he claimed from the Region and Town.
Details

Written by

Gordon Prentice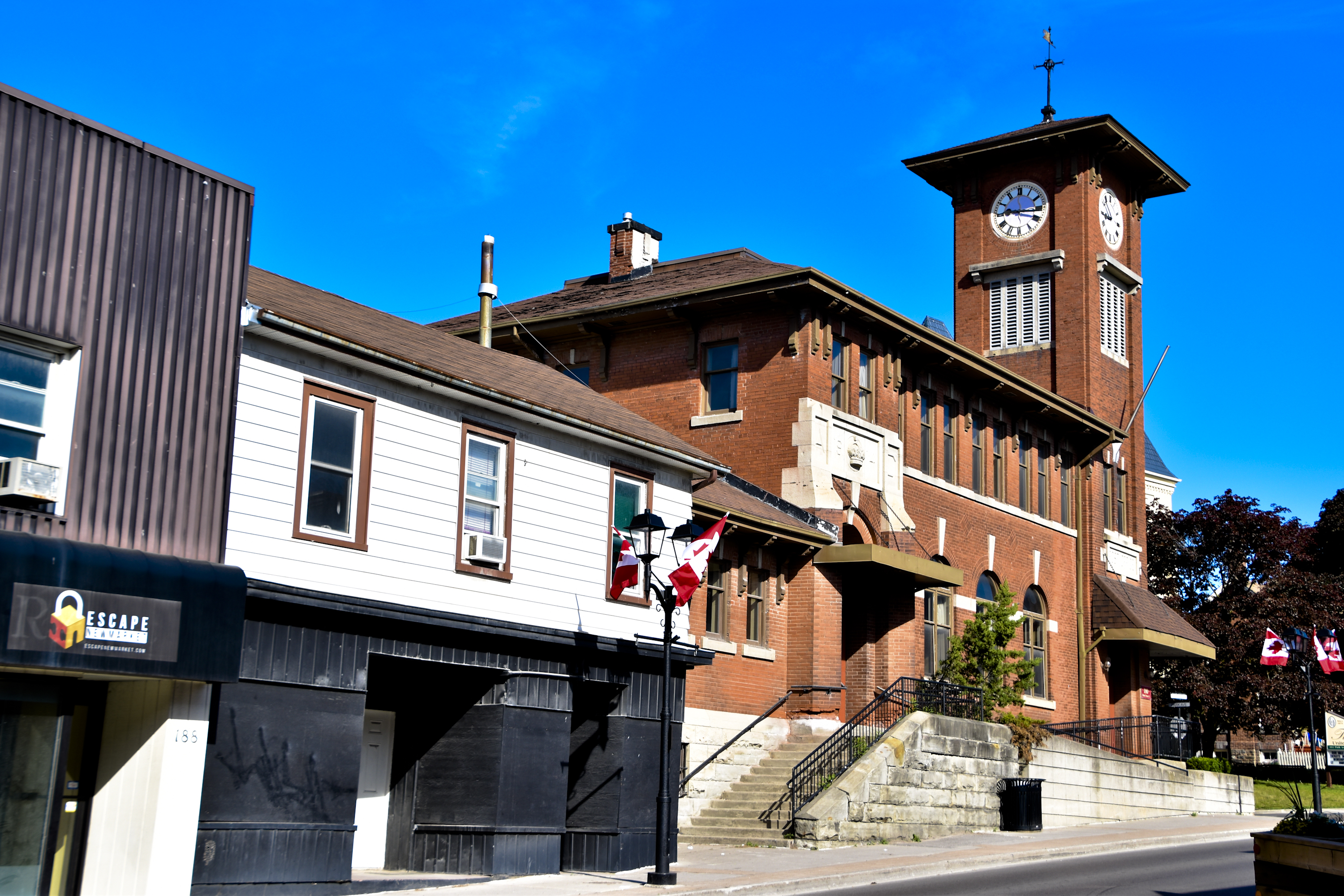 This morning (29 March 2019) the Newmarket Downtown Development Committee will consider an application from developer Bob Forrest for improvement grants for his derelict properties on Main Street which have been left empty for years.
The Town promised grants of up to $100,000 if Forrest kept to his side of the bargain.
Fat chance.
On 4 May 2018, Forrest's wife, Colleen, promised we would have sight of the New Development Concept in the "near future" and we are still waiting.
Clearly, the Forrests take us all for fools.
Bob Forrest's brass neck is in a league of its own.
The report tells us Forrest's application is being made
"in accordance with Section 31 of the Minutes of Settlement negotiated for these properties… Note the funding is outside the scope of the annual budget of the NDDC."
In these circumstances not a single cent of public money should be paid over.
The ball is in Forrest's court and he should immediately make available the New Development Concept that we were promised almost a year ago.
This email address is being protected from spambots. You need JavaScript enabled to view it.
Details

Written by

Gordon Prentice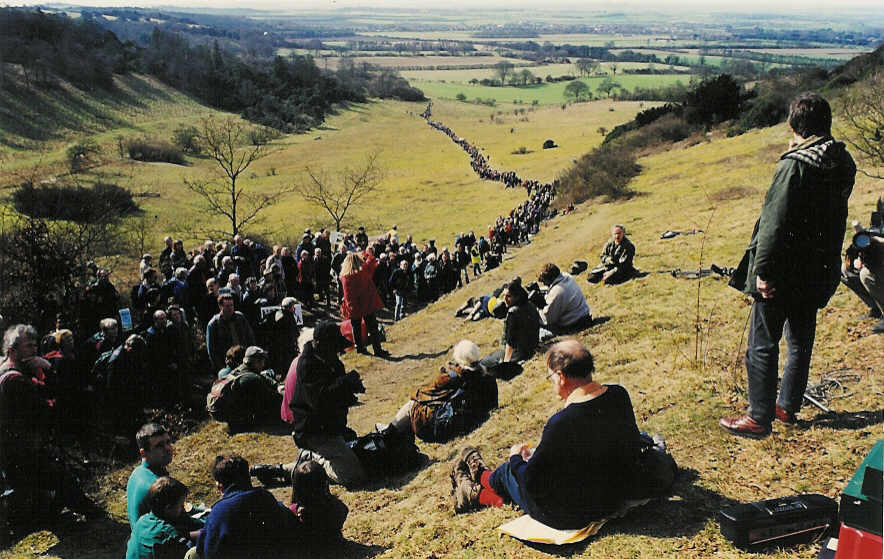 I am a member of the splendid Oak Ridges Trail Association and I enjoy getting out and about into the countryside when I can. Though the idea of bumping into a bear still freaks me out.
These days it doesn't seem remotely controversial to say that people should have the right to roam over open uncultivated country. But that wasn't always the case – at least not in England and Wales.
Only 20 years ago huge tracts of mountain and moorland were out of bounds to walkers. Over 4 million acres in a small densely populated island were effectively no-go areas.
Way back then many of us were involved with the Ramblers in trying to get the law on access changed and, after a huge struggle, we were successful.
Class hatred
I was regularly accused of "class hatred and class warfare" which is absurd. I like Downton Abbey as much as the next person. And people who know me will testify that I always defer to my elders and betters.
Speaking of which… The photo above left was taken at a rally on Shirburn Hill in Oxfordshire on 14 March 1999. And that's me standing on the right holding a microphone addressing a cast of thousands.
Viscount Parker, the heir to the eighth Earl of Macclesfield, had banned access to the rolling downland but there was a public right of way across his land.
People squeezed on to that narrow ribbon of a footpath, stretching away into the distance as far as the eye could see. They were making a point. Very effectively.
It was the weirdest experience imaginable as I heard my words echoing around the hills even as I spoke.
And there were no bears for me to worry about.
The photo was taken by my old friend Andrew Bennett who was president of the Ramblers' Association at the time. It was later turned into a postcard. The terrific Kate Ashbrook who was the campaign's driving force is again chair of the Ramblers - for the third time.
This email address is being protected from spambots. You need JavaScript enabled to view it.
Details

Written by

Gordon Prentice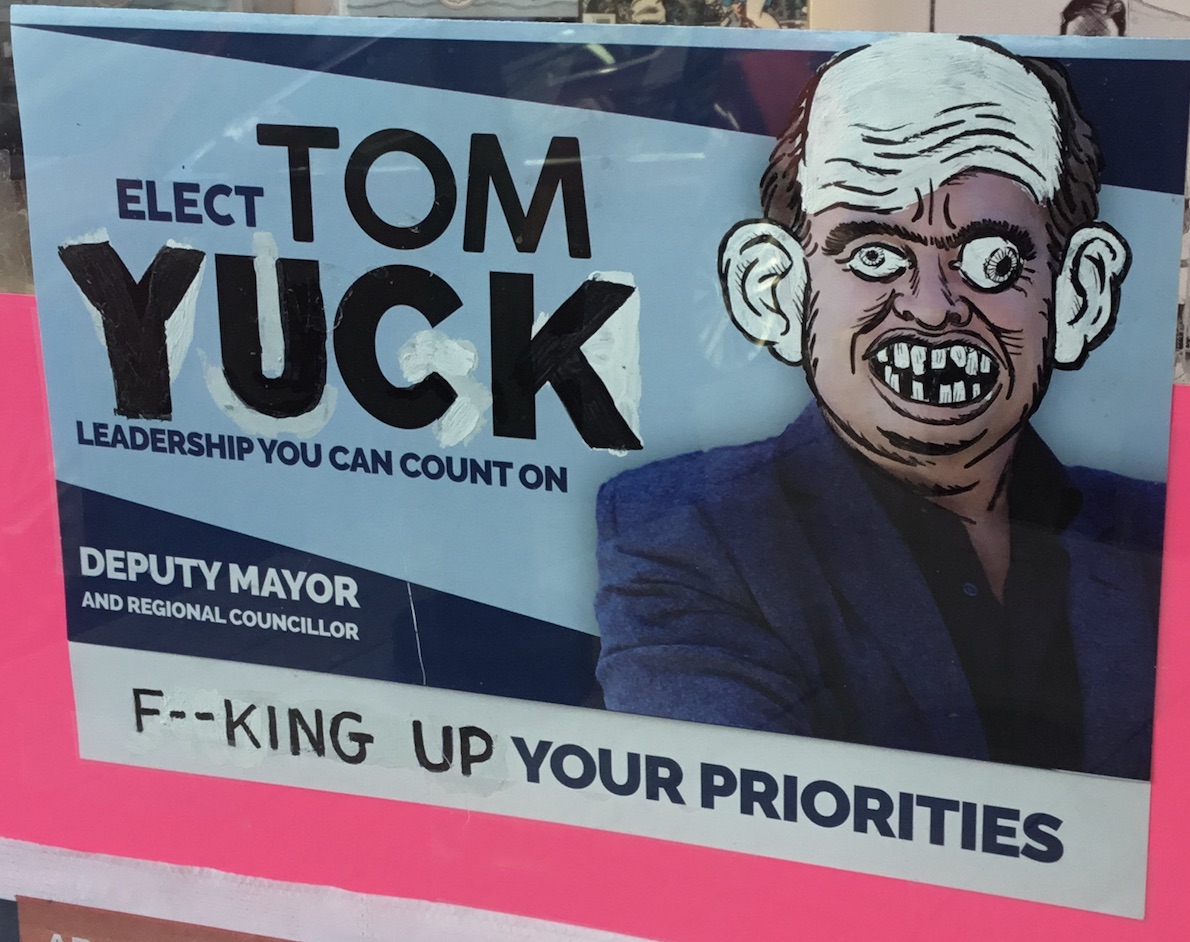 Regional Councillor Tom Vegh is either very stupid or very clever.
Sometimes it is difficult to tell the difference with gifted people. They can have insights lost on the rest of us.
When Tom told the voters last October that he was committed to building a new Library and Seniors' Centre on the Hollingsworth Arena site he didn't say when they could expect it. Voters could be forgiven for believing it was something that would happen in the 2018-2022 Council term. But maybe for Tom it was just blue skies thinking.
If Tom is doing more than just kite-flying he needs the support of at least four other Council members to turn his promise into reality. Maybe he is working furiously behind the scenes to win them over.
Earlier today Tom tells me:
"When I have something to announce I will let you know."
Hmmm. That's not what he said to the voters last fall.
Up the creek
Personally, I think Tom is up the creek without a paddle, drifting about with nowhere to go. Not a clue. And yet he is a full-time elected official with all the time in the world to plot the best way of getting from A to B.
The expensive Strategic Priorities exercise continued today (26 March 2019) and Tom was there in physical form but saying little. Kelly Broome probably said more than Tom so that tells you all you need to know. Tom seemed curiously disengaged. Maybe he was thinking great thoughts or perhaps his knee was bothering him.
At the last meeting on 11 February 2019 the Library and Seniors' Centre didn't make it into the top five priorities in the relevant "pillar" but Tom was absent, convalescing.
Today is different. Tom is present and I am expecting to hear him make a persuasive case for including a new Library and Seniors' Centre as a priority for this Council term.
Other councillors aren't shy about pushing for the inclusion of priorities that didn't make the grade at the last meeting.
Bob Kwapis talks about tourism. He is told this priority fell off through the ranking process. But Ian McDougall, the man in charge of this very laboured exercise, reassures everyone. He says the fact that tourism isn't highlighted as one of the top five priorities in its pillar doesn't mean tourism won't be a focus in the future. Oh no no no. Tourism will happen. Lots of stuff will come up in the next four years that didn't feature in the top five priorities.

But a new Library/ Seniors' Centre is surely different. No?
A new Library isn't going to stroll into Town looking for a place to park itself. It has gotta be planned for and financed.
Speak up, says Taylor
The Mayor, John Taylor, believes the Town has got to live within its means and simply can't afford a new Library and Seniors' Centre when it has Mulock Farm on its plate. But he gives councillors the green light to argue the case for their own pet priorities, inviting them to speak up:
"Now is the time to say what we want to move forward on."
Tom chooses to remain silent. I wonder if that is because he sees the strategic priorities exercise as irrelevant in the context of a new Library/Seniors' Centre at Hollingsworth. Or is it just the wrong time to raise the issue? Perhaps Tom is being fiendishly cunning.
Tom told me over two months ago that when he had something to say I would be the first to know. And then he told me he was diligently working on the issue.
Maybe Tom will say something when the report on the Town's strategic priorities is presented to Council for approval in a month or two.
But I rather doubt it.
This email address is being protected from spambots. You need JavaScript enabled to view it.
Details

Written by

Gordon Prentice
The unelected Chair of York Regional Council, Wayne Emmerson, last week apologised to elected members for slapping them down in public. He says sometimes he just loses it.
Joe Li and Jack Heath have been recent targets of Emmerson's ire.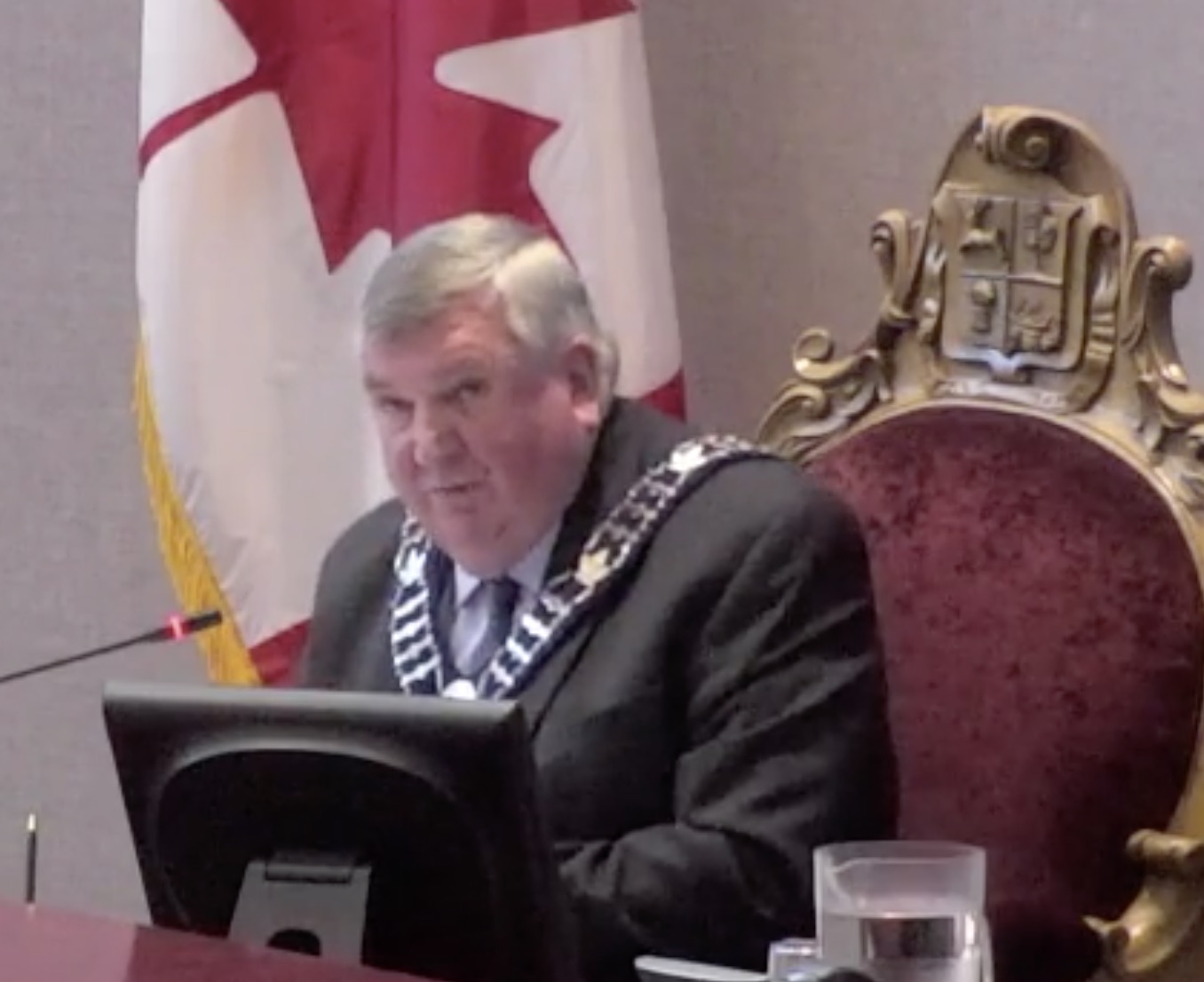 Emmerson has a tendency to hurry Heath along, urging him to get to the point.
Jack Heath can be a tad long-winded at times but I find him thoughtful and always worth listening to.
Wayne "Back from the Dead" Emmerson has his favourites. He always defers to Markham's Mayor, Frank Scarpitti, who can drone on interminably. I've never heard Emmerson utter a single critical word about Scarpitti, York Region's capo di tutti capi and the highest paid Mayor in Ontario. Maybe that's because Frank gets more money in pay and benefits than Emmerson's $281,938. I haven't checked recently.
Against streaming
Both were dead against the live streaming of York Council and Committee meetings and now we know why. Frank didn't think he was pretty enough for the TV cameras and Emmerson, on his own admission, can be a bit bossy.
"Over the last couple of weeks I've had an opportunity to look at the tapes of what's gone on and re-visit some of the tapes and I have to say to you that some comments have been made to me that (I've made) too many comments and I do apologise if I've hurt your feelings or done anything different. I sometimes lose it. We go on. So I'll do my best not to make as many comments."
"And the other thing is I try never ever to cut you off. And I do apologise to Councillor Heath the other day about some of the things said. I will do better as we go forward. Just so you are aware of that."
Emmerson is currently the only member of the Regional Council not to be subject to a Code of Conduct. All the others are covered by the Codes that operate in their home municipalities (which Emmerson doesn't have).
Naughty Boy!
But now the Region is being forced by law to bring in a Code of Conduct for its members. And not before time. A few years ago the Regional Councillor for Vaughan, Michael Di Biase, was docked three month's pay in his home municipality for interfering with the tendering process. Naughty boy! But his York Region salary – or "stipend" – remained untouched.
And when the draft Code was brought forward for approval there were all sorts of squeals and protests.
Emmerson immediately established some kind of "working group". I've no idea who is on it nor how they were selected. Nor its terms of reference. He mumbles to his colleagues:
"We did have a small working group and we kinda went through it (the draft Code of Conduct) and we made some more or less adjustments but we have another meeting scheduled for April 11 after the Committee of the Whole and we hope to be able to bring a report to Council on April 18 to finally understand what the Code of Conduct is. But we'll have (indistinct)"
"But this is Council's Code and this is why the Committee kinda wanted to make sure we had a bit more time with it…. It is back on the agenda (today) because we said we'd bring it back on March 21."
The Municipal Act requires all municipalities to establish a Council Code of Conduct by March 1, 2019.
Let's hope York Region can agree its first ever Code of Conduct by April 18, 2019.
But don't count on it.
This email address is being protected from spambots. You need JavaScript enabled to view it.