Details

Written by

Gordon Prentice
Last Thursday, Newmarket Mayor John Taylor, voted against endorsing York Region's Official Plan (ROP) which guides development over the next 30 years.
An angry Taylor said he had never voted against a budget or an official plan at local or regional level in 16 years as an elected official.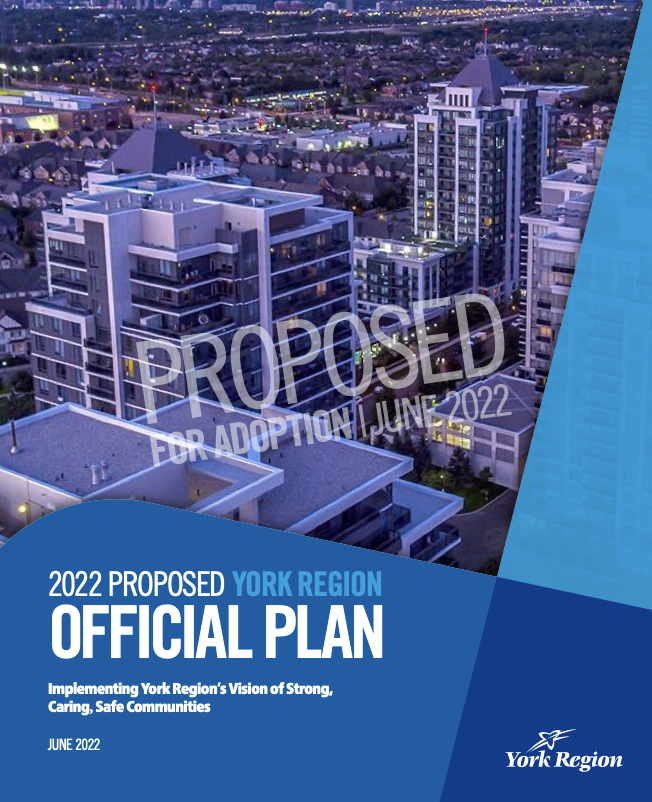 So this was a big deal.
Taylor warned his colleagues the Plan would encourage sprawl.
Regional Council ambushed with last-minute amendments
And he sharply criticized fellow members of York Regional Council for bringing large numbers of amendments forward at the last moment, precluding any detailed analysis or input from the regional staff.
"These significant amendments came forward largely with only a verbal explanation from a member of council. I cannot support this approach to planning. Some have even been brought back a second time to be expanded upon with still no written analysis. There are close to 20 employment land conversions not supported by staff and are largely unaccompanied by any analysis of any nature."
Although Taylor was careful not to name anyone in particular it is clear he had Markham's Mayor, Frank Scarpitti, and Vaughan's Maurizio Bevilacqua in his sights when he made the accusation.
Taylor believes the entire process has been subverted by the long list of pro-development eleventh-hour amendments to the plan.
Development will go to unserviced land, miles away from transit
Taylor told the meeting the Official Plan would open up 7,785 acres of land in the so-called Whitebelt for development. This land, which appears white in Growth Plan maps, lies between settlement areas and the Greenbelt and was seen as a reserve to accommodate growth in the long-term once existing settlements like Newmarket had been built-out with more intensive development.
The 7,785 acres identified by Taylor is about 12 square miles. The Town of Newmarket covers about 14.8 square miles. He told his colleagues they were choosing sprawl over intensification – and it was not sustainable, environmentally, socially or financially.
Taylor quoted a study in Ottawa which showed the costs of building infrastructure to service new developments in open country costs way more than within existing settlements. Taylor said the Hemson report showed:
"intensified forms of housing save a city about $600 per year, per unit. While new community housing or subdivisions cost the city around $450 per year per unit."
Flawed
Taylor said the final version of the Regional Official Plan was too flawed to get his support.
Newmarket's Deputy Mayor, Tom Vegh, who relies heavily on contributions from developers to fund his election campaigns, did not speak in the debate but voted to endorse the plan, complete with all the last-minute amendments.
The Regional Official Plan now goes to the Regional Council on 30 June 2022 for final approval.
This email address is being protected from spambots. You need JavaScript enabled to view it.
Read Taylor's speech by clicking below.
Read more: Taylor votes against York Region's Official Plan and slams colleagues for undermining the entire...
Details

Written by

Gordon Prentice
Boris Johnson is an inveterate liar.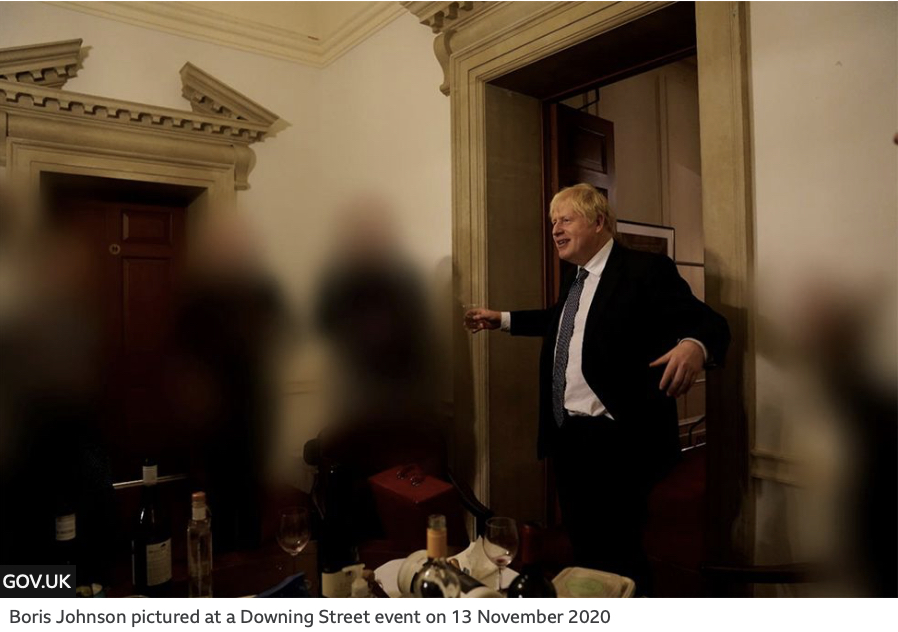 The people who know him best will testify to that. Fellow journalists from opposite ends of the political spectrum like the former Telegraph editor Max Hastings and the Observer's Andrew Rawnsley who says Johnson has vomited over standards in public life.
Hanging Offence
In our Westminster system it is a hanging offence deliberately to mislead Parliament. The Ministerial Code – ironically policed by Boris Johnson - requires Ministers to resign if they do so.
Lying through his teeth
Politicians have been known to mislead and dissemble. They can be economical with the truth. But a deliberate bare faced lie to Parliament trumps all other offences. Our system could not survive if lying became routine or normalised.
William Hague, who led the Conservative Party for over four years but never became Prime Minister, gives Boris Johnson zero chance of surviving. In an article in the Times of London yesterday he says of the 41% of the Conservative Parliamentary Party who voted against the Prime Minister:
"The nature of their revolt has an important bearing on what happens next. They are not a faction that has been seen off, or an alternative policy direction that has been defeated. They represent instead a widespread feeling, a collapse of faith, that almost certainly cannot be repaired or reversed. For Johnson, continuing to lead the party after such a revolt will prove to be unsustainable."
Rules flouted
For his part, Johnson denies that he broke any rules yet the evidence is incontrovertible.
A detailed report by the senior civil servant, Sue Gray, makes it clear the Covid rules in place at the time were flouted in 10 Downing Street. The BBC reports:
"Ms Gray gives details of 16 events between May 2020 and April 2021 that fell within her remit. Twelve of these were also investigated by police.
She says that "what took place at many of these gatherings and the way in which they developed was not in line with Covid guidance at the time".
Eighty three people who attended these events received fines as a result of the police investigation, including the prime minister and the chancellor of the exchequer."
Committee on Privileges
The House of Commons Privileges Committee is now examining whether the Prime Minister misled the Commons. The Committee will look at statements like these:
At Prime Minister's Questions on 1 December 2021 Boris Johnson said:
"all guidance was followed in No 10"
On 8 December 2021:
"I have been repeatedly assured since these allegations emerged that there was no party and that no Covid rules were broken."
and
"the guidance was followed at all times."
When the Committee reports Boris Johnson will be toast.
He can't stop lying. He can't help himself.
It's in his DNA.
This email address is being protected from spambots. You need JavaScript enabled to view it.
Update on 11 June 2022: see also Andrew Coyne in the Globe and Mail: "If Marco Mendocino misled Parliament he has to go."
Update on 12 June 2022: From the UK Observer's Andrew Rawnsley: Cabinet too spineless to act against Johnson
Update on 16 June 2022: From the UK Guardian: Ethics Adviser Quits
Update on 26 June 2022 from the UK's Observer: Andrew Rawnsley's take on the two by-election defeats suffered by Boris Johnson's Conservatives.
Update on 6 July 2022: Conservatives in meltdown. And what happens if Johnson resigns or is forced out. Also the Prime Minister at Parliament's Liaison Committee on 6 July 2022.
Details

Written by

Gordon Prentice
The result of yesterday's Provincial election in Newmarket-Aurora was never in any doubt.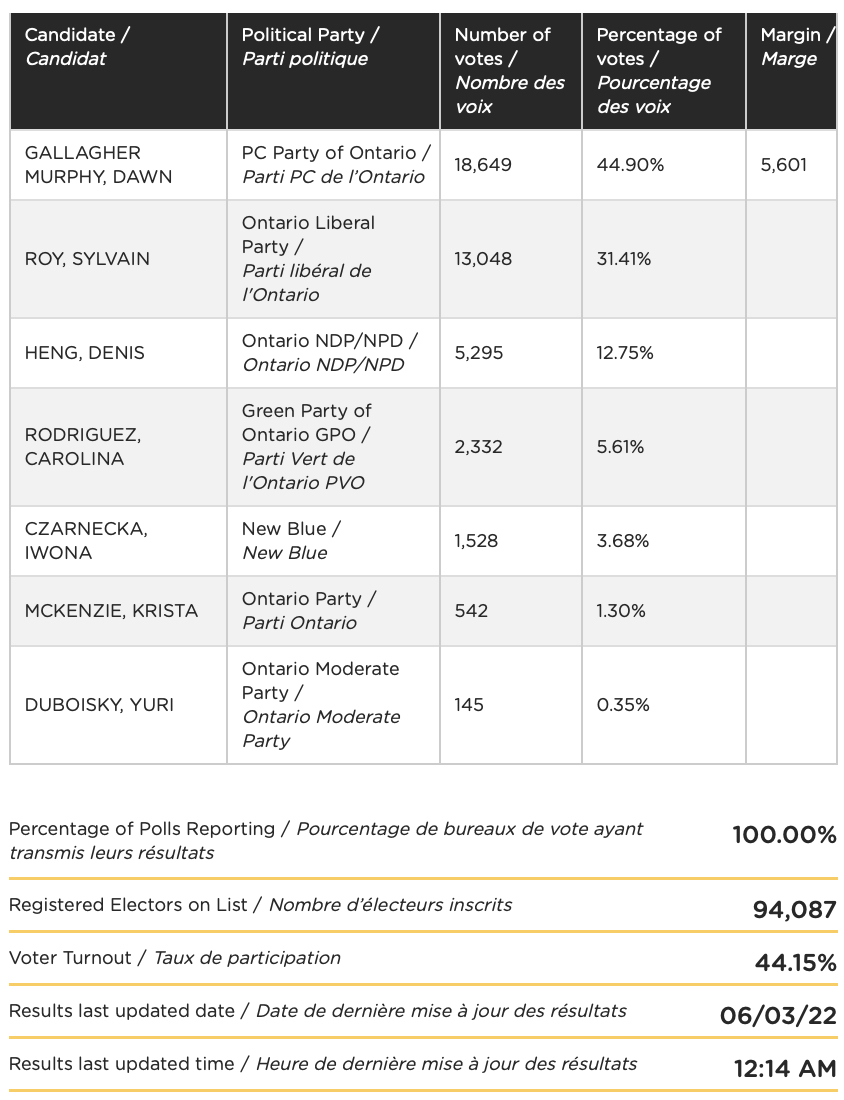 The PC candidate romped home with 45% of the votes cast despite a lacklustre campaign in which she boycotted candidates' debates and declined to give interviews to the media.
Turnout is lowest ever
The second big story of the election is the collapse in voter turnout. 57% of voters in Ontario couldn't be bothered to vote – the lowest turnout ever.
Only 44.1% of the Newmarket-Aurora electorate voted compared with 58.9% in 2018.
The low turnout skews the results. Those determined to vote tend, on the whole, to be Conservative leaning voters.
Liberals stretch lead over NDP
Comparisons with the last Provincial Election must come with caveats. The Liberals then were uniquely unpopular.
In 2018 we saw the NDP move into second place though only 565 votes ahead of the Liberals. Yesterday, the Liberal Sylvain Roy was 7,753 votes ahead of the NDP candidate Denis Heng. Both were impressive candidates but the so-called progressive vote coalesced around the Liberals.
The Greens did well this time with 5.6% of the vote (3.5% in 2018).
Ford's PCs refused to engage in debate and it was left to the other parties to fill the void – and here in Newmarket-Aurora they did so by agreeing with each other on many of the big issues. At the Newmarket Chamber of Commerce debate, all the candidates were against the Bradford Bypass so the sparks didn't fly. Gallagher Murphy, in favour, wasn't there to defend her position.
Resignations inevitable
It was inevitable that Andrea Horwath and Steven Del Duca should announce their resignations as Leaders of their parties last night. The prospect of Horwath staying on for a fifth election campaign in 2026 as NDP leader was never on the cards. Too many voters just tuned her out. They had heard her anecdotes from the campaign trail a million times before and they had become jarringly familiar.
Del Duca had some good policies but he never set the heather on fire.
His policy to ban handguns within a year of taking office and his "buck-a-ride" promise could have grabbed the voters' attention but didn't. Ford's licence plate rebate got a lot more coverage, for and against.
Making the political weather
Del Duca had to make the political weather and get noticed. But it never happened.
We shall see how Ford plays the hand the voters dealt him. Defensively, I hope. Both for his sake and ours. With such a solid majority he could do a lot of damage.
I shall be fascinated to see how my new MPP, Dawn Gallagher Murphy, settles into her new role.
Will she keep constituents waiting months for an appointment? Will she speak out on the big issues of the day? Or will she follow Ford's talking points, never daring to step out of line with the man who appointed her as PC candidate?
To have travelled so light so far is a remarkable achievement.
Saying nothing about anything is clearly a winning strategy.
This email address is being protected from spambots. You need JavaScript enabled to view it.
Update at 4pm on 3 June 2022: From Newmarket Today: Newmarket-Aurora reacts to Conservative win.
Update on 4 June 2022: From Newmarket Today: "Gallagher Murphy rides blue wave to victory in Newmarket-Aurora" From the Toronto Star editorial: "Parties share a lot of the blame for record low turnout" And from the Globe and Mail: "Record low turnout is not a good sign for our democracy."
Update on 7 June 2022: From the Globe and Mail editorial: Ford won the election by becoming a fiscal yes-man.
Update on 7 June 2022: In a video post on Twitter Dawn Gallagher Murphy thanks voters in Newmarket-Aurora for their support
And what happened last time: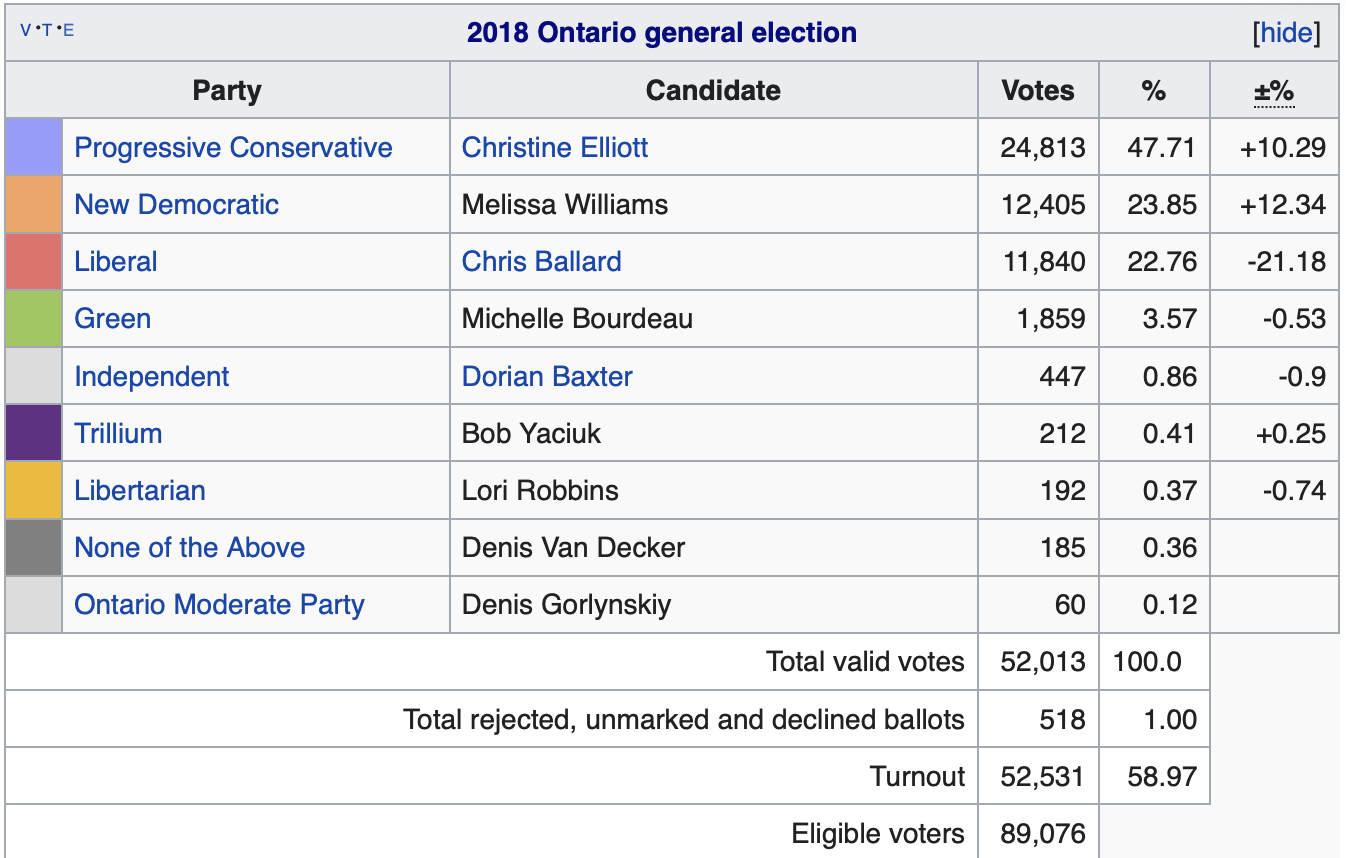 Details

Written by

Gordon Prentice
Doug Ford's appointee, the Progressive Conservative candidate, Dawn Gallagher Murphy, avoids the media to the very end.
My spies tell me CTV will be doing a profile of Newmarket-Aurora in their programme at 6pm this evening (Wednesday 1 June).
I have no idea how long or short the piece will be.
But our next MPP, the ventriloquist's dummy, office manager Dawn Gallagher Murphy, declined to be interviewed.
This email address is being protected from spambots. You need JavaScript enabled to view it.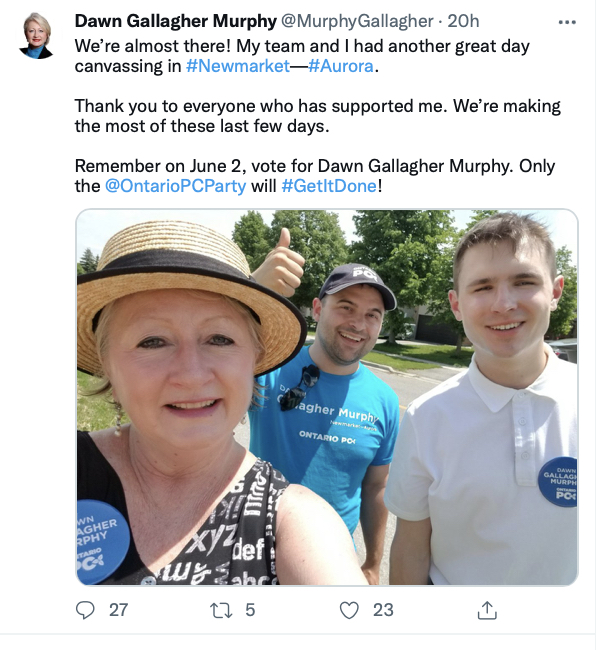 Details

Written by

Gordon Prentice
Like most Canadians I welcome the Prime Minister's announcement on Monday of a national freeze on handguns.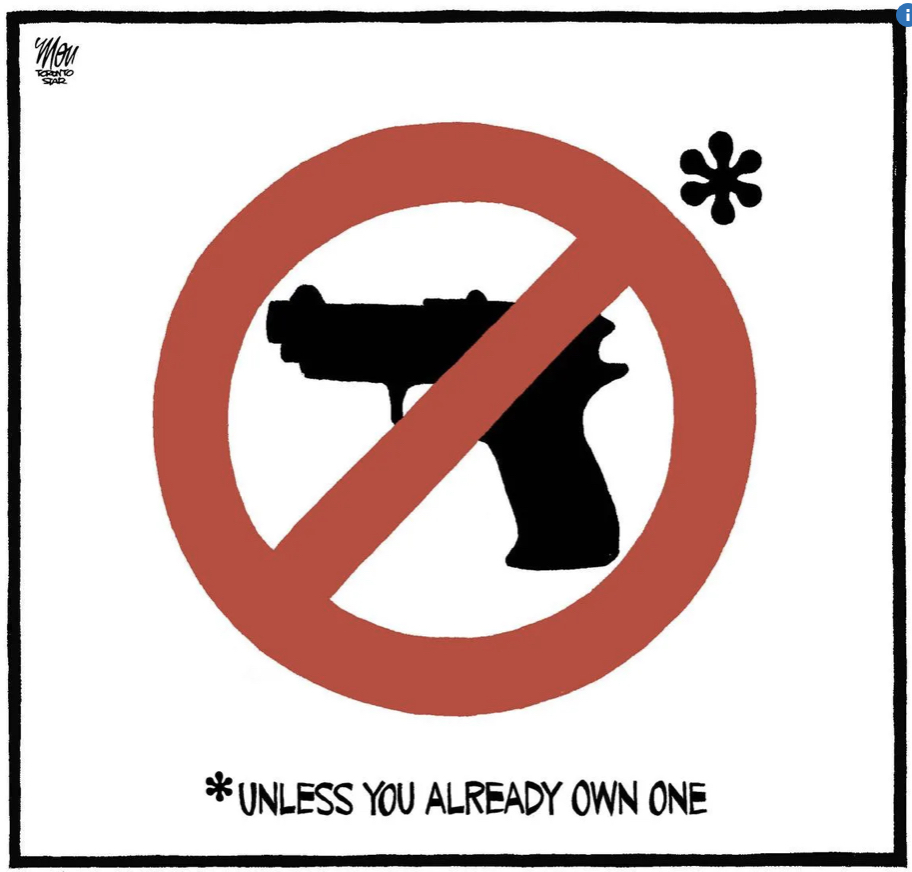 The reintroduced Bill C21 (abandoned last year when Trudeau called an early Federal Election in September) and the accompanying regulations will:
"prevent individuals from bringing newly acquired handguns into Canada and from buying, selling, and transferring handguns within the country"
This is all good stuff. I see the glass as half full, not half empty.
At a stroke, the Ford Government's veto on a handgun ban in Ontario is removed.
Step in the right direction
People like me who want to see a complete ban on handguns say it is a step in the right direction. But why has it taken this long?
Trudeau's handgun policy has now morphed through three distinct stages – and it is not over yet. First there was the proposal to give cities and municipalities the powers to ban handguns in their own patches. This was widely panned as being totally unworkable. (Graphic right from the Toronto Star)
Then there was a re-think in Ottawa. The re-engineered policy would give the Provinces and Territories the final say on whether to ban handguns within their own jurisdictions. A billion dollars – as a minimum - was promised by the Federal Government to make the decision to ban easier to swallow.
Clueless
No-one had the faintest idea how the policy would work in practice. In early January I asked my MP, Tony Van Bynen, to explain things after he had flagged the issue up in his December flyer. But he didn't have a clue. He said he would pass on my concerns on to the new Minister for Public Safety, Marco Mendecino, but, as always, the correspondence disappeared into a big black hole.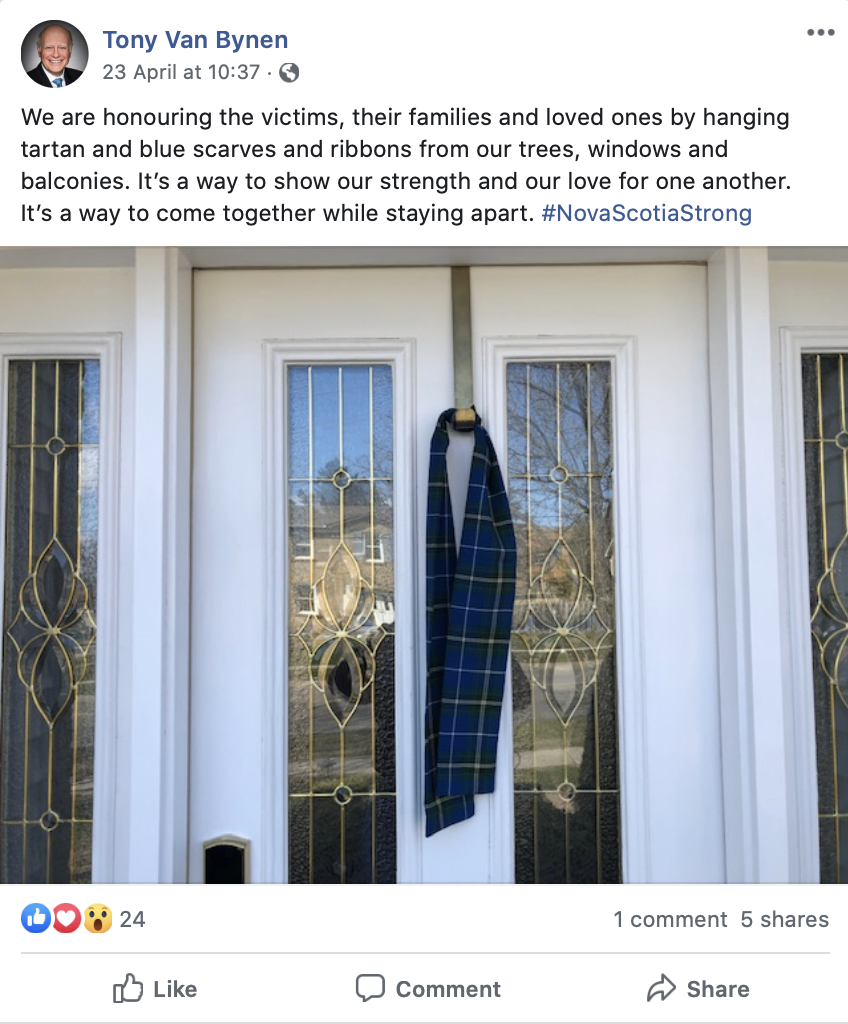 We are now at the tail end of a Provincial election in which Ontario's Liberal leader Steven Del Duca promised to ban handguns within a year of taking office. The ink on that pledge is hardly dry before it is overtaken by events.
Who is responsible for deciding the Federal Government's policy on handguns? The Minister, Marco Mendecino? Justin Trudeau? The PMO's Office? Whoever calls the shots it is perfectly obvious Liberal MPs like Van Bynen are not consulted, nor the Liberal caucus. They will get the news like the rest of us, after the event.
Policy making in the Federal Liberal universe is reactive. And often ham-fisted. MPs who put up with this way of doing things end up as decorative parts of the Constitution, spectators not participants.
The courage to speak out
Back in February, a column by the Toronto Star's Althea Raj caught my eye. She told us she wished more MPs had Joel Lightbound's courage to speak out.
She says the backbencher who spoke out against his own Government's Covid-19 response did us all a favour.
"I wish the media and political parties made less of a fuss about internal dissent so that more MPs could find the courage to share their thoughts publicly. It is not normal for a broad-based party to have absolute unity of thought."
Exactly.
If MPs want to see a nationwide ban on handguns – which is the logical next step after a freeze on sales – then why can't they say so?
Thoughts and prayers (again)
After the Portapique massacre Tony Van Bynen draped a tartan scarf on his front door and posted the image on Twitter so we could share his anguish. There was love for one another but he stopped short of calling for a ban on handguns. That would be a step too far.
Van Bynen marches in lockstep with the Prime Minister so in his next taxpayer funded newsletter he will be telling us he supports a freeze.
Believe me. This is progress.
This email address is being protected from spambots. You need JavaScript enabled to view it.