Details

Written by

Gordon Prentice
The Liberal Riding association in Brampton Centre is looking for a candidate to replace Ramesh Sangha who was kicked out of the Liberal caucus after making "baseless and dangerous accusations against a number of his caucus colleagues." Sanga, who now sits as an independent, says he won't be running again.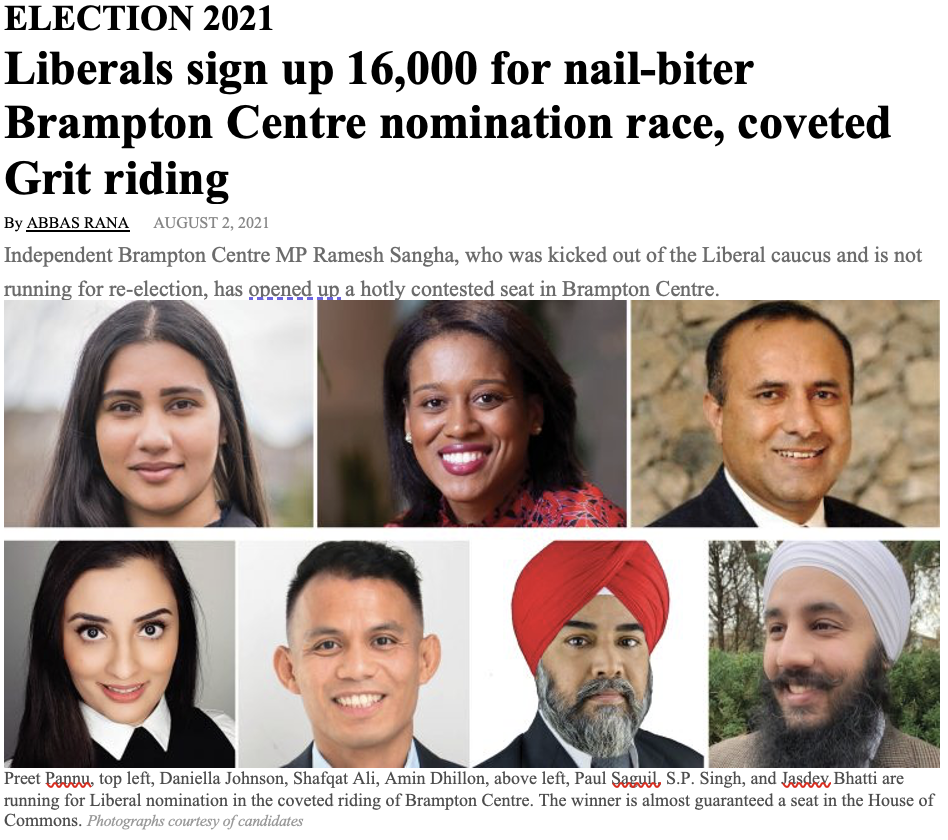 Tomorrow Liberal Party members will begin voting on a new Federal election candidate for Brampton Centre.
Getting selected means getting elected
In this riding getting the Liberal Party nomination pretty much guarantees a seat in the House of Commons. Securing the nomination is the hard part.
The Hill Times tells me that a staggering 16,000 new Liberal members have been signed up by the seven wannabe MPs seeking the Party's nomination. Over one fifth of the riding's 78,229 electors are now members of the Liberal Party. Just like that!
These contests to become the Party's official candidate are straight out of the old Wild West. They are not policed or regulated in any way by Elections Canada. Internal Party rules and procedures decide what happens.
And sometimes they fall short of what is required.
Dark Arts
Brampton Mayor, Patrick Brown, a master in the dark arts of Party management and manipulation, claims that by-election wins when he was PC Leader triggered an avalanche of interest in becoming a PC candidate:
"We were not prepared as a party for the lengths people would go to win nominations. We had to shut down attempts to print fake ballots, produce fake ID's, stop fistfights and even the stuffing of ballot boxes. I was beyond frustrated to hear these ongoing stories."
We don't even know how many members some parties have. Brown told TVO in January 2019
"When I first announced my intention to run for the Party leadership there were 10,000 Party members. It wasn't diverse. It was largely rooted in rural Ontario. By the time I was removed as Leader the number was either 15 times or 20 times that depending on what numbers you believe. We were at a record membership either way…"
Both the Progressive Conservatives and the Liberals allow people seeking the Party nomination to sign up members in the run up to the vote. This is an invitation to malpractice and skulduggery. And it leads to cronyism and clientism.
Disqualified
Jass Johal, who loaned $375,000 to Brown, went on to become the PC candidate for Brampton North in November 2016 after selling PC memberships on an industrial scale – 6,200. He was disqualified as PC candidate on 15 March 2018. Brown failed to disclose the loan and was censured by the Integrity Commissioner.
By any measure Brampton Centre's 16,000 new Liberal members is impressive but there are some ridings with truly staggering membership totals.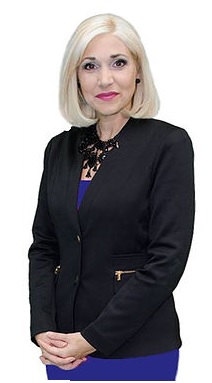 Yesterday's Hill Times tells me:
"In 2015, the Liberal riding association of Surrey-Newton, B.C., had 25,000 party members in which Liberal MP Sukh Dhaliwal and Liberal Randeep Sarai competed for the party's nomination. Mr. Dhaliwal won, and Mr. Sarai later ran in Surrey Centre, B.C. Since then, Mr. Sarai has won that riding twice. In the same election cycle, the riding of Brampton South had about 16,000 members and the riding of Brampton East had about 10,000 members…"
Paper Members
At a time when participation in political parties is shrinking I think it is great that some riding associations are increasing their memberships. New members bring in much needed money, fresh energy and new perspectives. But there is a downside if those new recruits are merely paper members, here today and gone tomorrow, joining up to advance the interest of one candidate and walking away if he or she doesn't win the nomination.
Malpractice, cheating and fraud can happen anywhere, not just in Brown's Brampton.
Here in Newmarket-Aurora in 2017 the President of the PC riding association with the support of the riding executive branded their then candidate, Charity McGrath, a cheat for falsifying signatures on memberships and paying the $10 membership fee for new members. (Photo right: Charity McGrath)
So, what needs to be done?
I'd like to see the political parties invite Elections Canada and Elections Ontario to become involved in Party nomination contests to ensure everything is squeaky clean.
I also believe people who are seeking a Party's nomination for the Federal or Provincial Parliament should not be in the business of signing up new members at the last minute to boost their chances.
There should be a cut-off date, say six months before a nomination contest, and only members prior to that date would be allowed to participate.
I know it sounds a bit harsh and uncompromising.
But the alternative is very unappealing.
This email address is being protected from spambots. You need JavaScript enabled to view it.
Update on 7 August 2021: The Liberal Party in Brampton Centre selected Shafqat Ali to be their candidate in the Federal Election.
Update on 9 October 2021: Shafqat Ali MP was elected with 16,189 votes (47.7%). The Conservatives came second with 11,026 votes (32.5%) and the NDP trailed third with 5,932 votes (17.5%).
Details

Written by

Gordon Prentice
Southlake's Board of Directors has turned down a request by hospital nurses to meet them and hear their concerns for patient safety following the imposition of "team-based nursing" in its Intensive Care Units.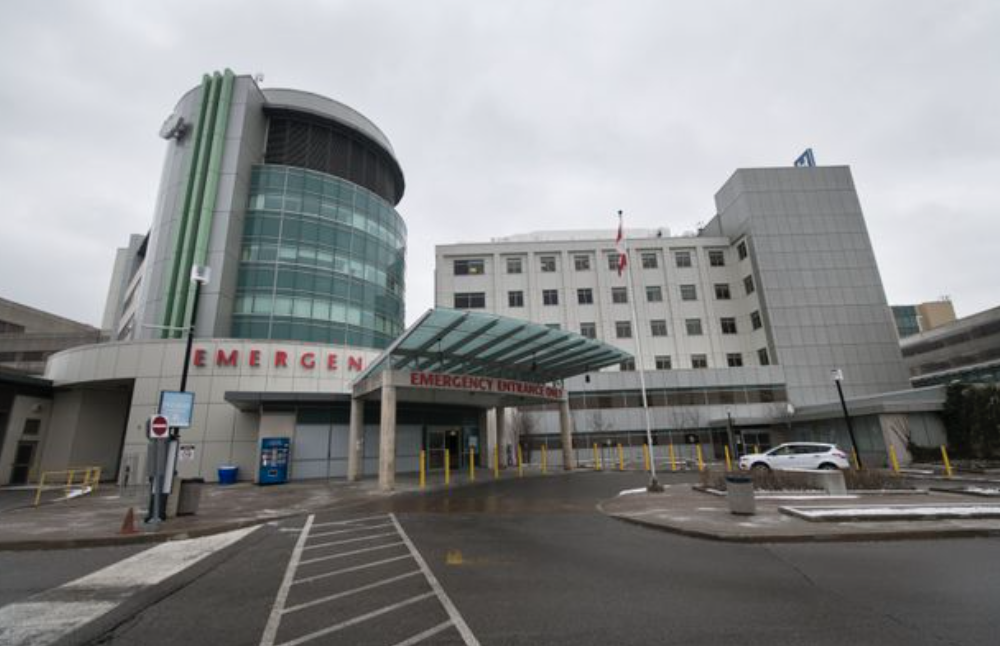 In a press release earlier this week the Ontario Nurses Association (ONA) said they had approached the Board only after twice being denied a meeting with the Chief Executive, Arden Krystal.
The ONA says 96% of registered nurses and registered respiratory nurses had signed a letter asking the Board to hear their concerns for patient safety
"and to put an immediate stop to the implementation of the model and the hiring of nurses to work in the ICU who have not received training in critical care nursing."
Serious Risks
The ONA's warnings are clear and precise. The nurses believe the implementation of the team-based nursing model will result in serious risks to vulnerable, critically ill patients in the ICU.
The ONA says
"The province only intended team-based nursing to be used as a temporary measure to deal with the patient surge during the pandemic and that other hospitals are not pursuing this unsafe and risky model of care in critical care units."
Why on earth can't the hospital meet the nurses and address their concerns, point by point?
Weekend and Evening Surgery and Burn-out
Meanwhile, the Province has just published its plan to handle the backlog in surgery caused by the pandemic. The plan involves running operating theatres on weekends and in the evenings and expanding the use of private sector clinics.
A presentation by the Ministry of Health to journalists yesterday acknowledged the problem of burn-out amongst medical staff working round the clock to contain the pandemic. So how does the Province expect burned out medical staff to work weekends and evenings to clear the backlog?
The problem was acknowledged by Southlake's Chief Executive, Arden Krystal, who told the House of Commons Health Committee on 10 June 2020 that getting staff to work extra hours would be very difficult:
"… they are pretty burned out. To try to get them to work those extra hours, even if we were funded for it, would be very difficult. Once again, we need to rethink our hospital sector."
That sounds like a cue for introducing the team-based working model.
Let's talk about a new Southlake
Ironically, while Southlake won't talk to its own nurses they want to talk to us about plans for a new acute hospital.
Their first virtual Town Hall took place on Tuesday featuring East Gwillimbury Mayor Virginia Hackson and Southlake's John Marshman. The event was over in half an hour with the moderator reading out five questions from anonymous participants.
I learn the new acute hospital will need 60-80 acres. That is a huge amount of land. Upper Canada Mall and its surrounding car parks is 76 acres so that gives you an idea of the scale of the project.
The Newmarket Town Hall, hosted by the Town's Mayor, John Taylor, is on 10 August 2021 at 7pm. Just log on to https://southlake.ca/townhall/.
Southlake is in the Minister of Health's Newmarket-Aurora riding.
This email address is being protected from spambots. You need JavaScript enabled to view it.
From Newmarket Today on 28 July 2021: Health Minister unveils $324M surgical recovery plan to clear pandemic backlog.
Update on 4 August 2021: From Newmarket Today: Southlake's Intensive Care Unit plan draws fire of NDP critic, nursing leaders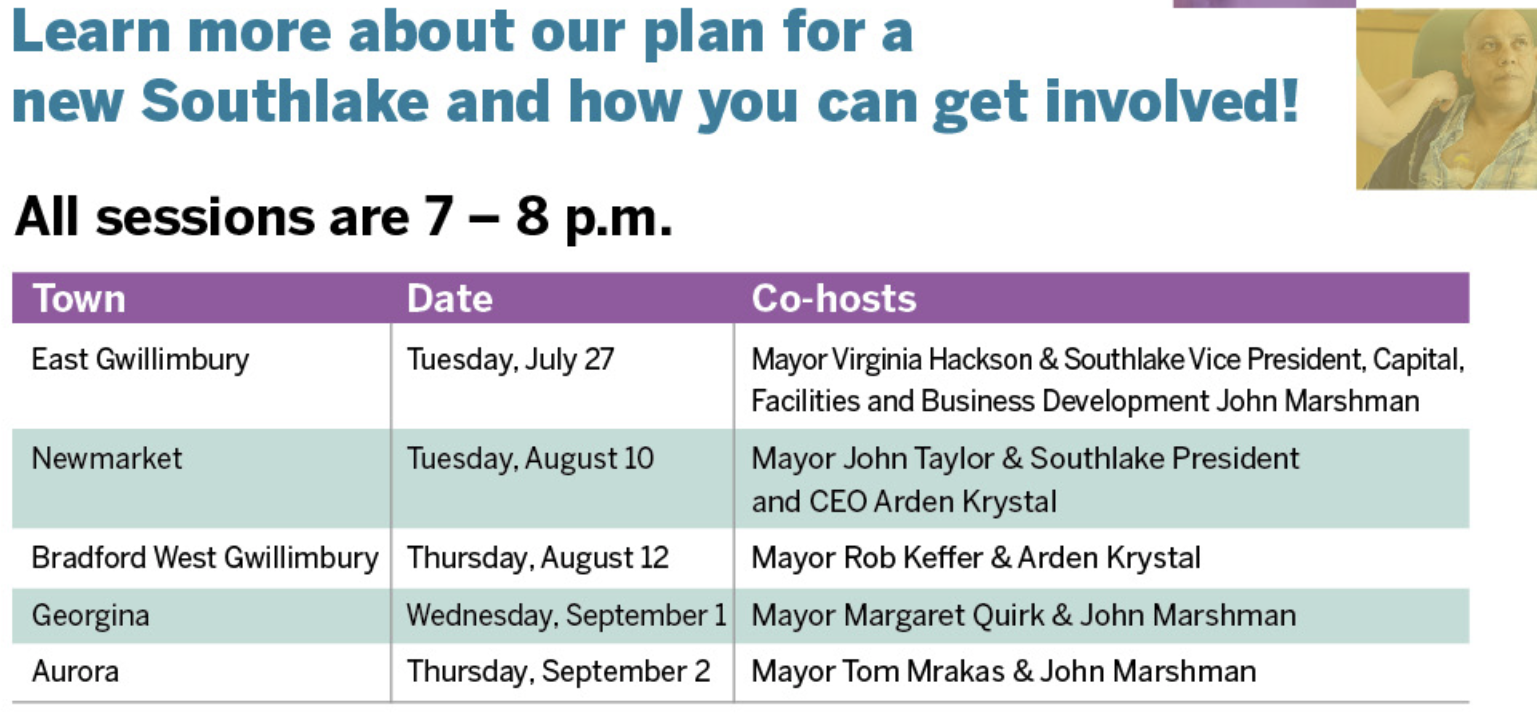 Details

Written by

Gordon Prentice
This morning's Toronto Star paints a picture of Southlake Hospital in turmoil.
The report describes a "staffing crisis" where intensive care nurses plan to leave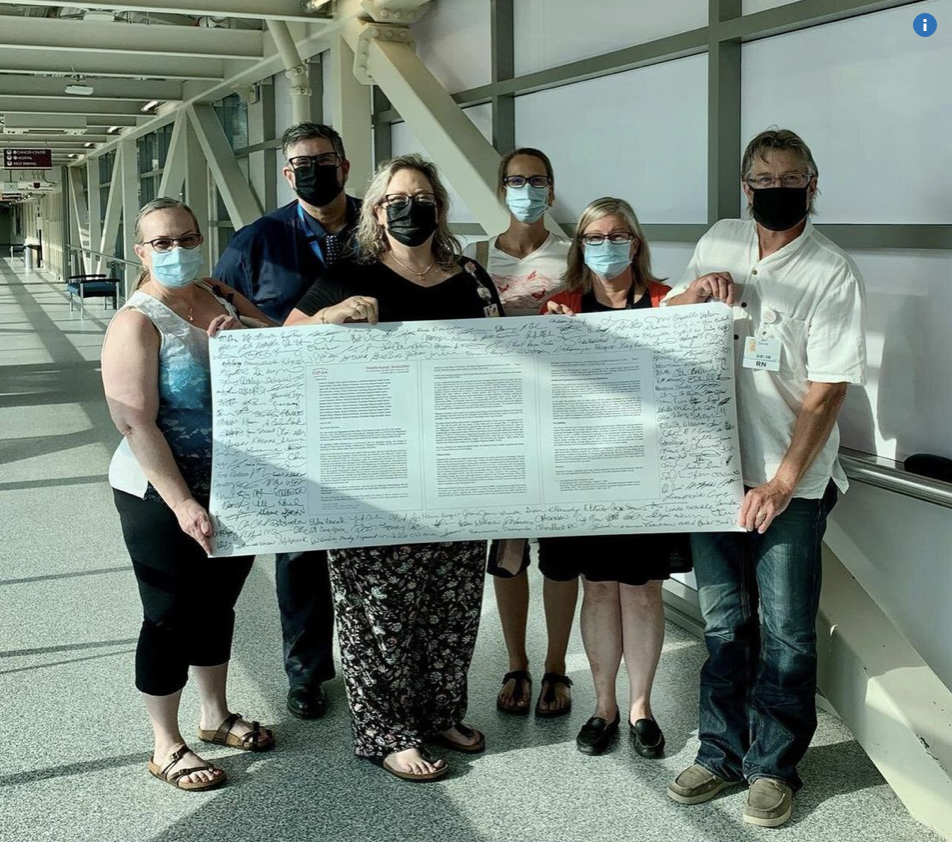 "if the hospital implements a team-based nursing model on a permanent basis".
The nurses say the team-based model is putting patients at risk. (Photo right: nurses with a copy of their letter of 12 July 2021 to the hospital board of directors)
Southlake Foundation's Annual Report, made available on-line yesterday, makes no mention of the staffing dispute triggered by the introduction of team-based nursing which
"involves partnering critical care nurses with non-critical care staff to treat critically ill patients."
Instead it says Southlake has redesigned processes and redeployed staff across the organisation.
The impression is given that Southlake is one big happy family. But, despite appearances, it looks to be a deeply divided organisation.
Some nurses may have refused to go along with the reorganisation. There have been nine involuntary lay-offs of Registered Nurses since September last year.
The Star's reporting tells us that Ontario went into the pandemic with the worst registered nurse-to-population ratio in the country. In Ontario in 2018 there were 669 registered nurses per 100,000 people. Across the rest of Canada there were 828 registered nurses per 100,000 people.
This email address is being protected from spambots. You need JavaScript enabled to view it.
From Southlake Foundation's 2020-21 Annual Report:

Update on 24 July 2020: From Newmarket Today: Shocked and Terrified
Details

Written by

Gordon Prentice
Figures released by Southlake Regional Medical Centre following a Freedom of Information request show nursing numbers falling alarmingly even as the hospital battled to contain the Covid pandemic.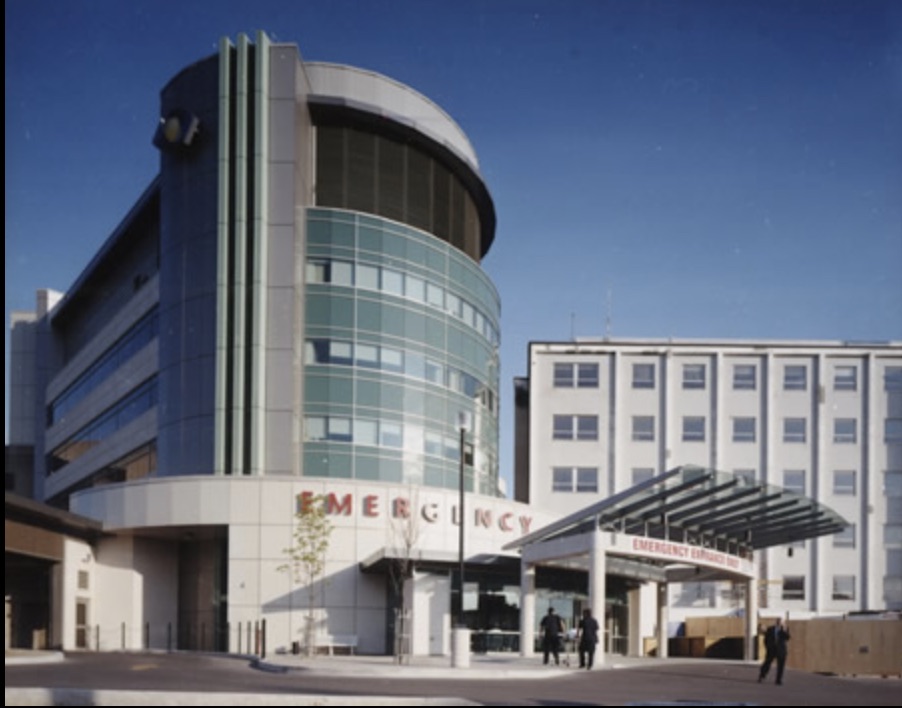 Last September Southlake said it would be eliminating 97 Registered Nurse positions because of "significant financial pressures". The hospital said it hoped to avoid "any frontline involuntary employment loss".
In fact, Southlake says nine Registered Nurses have received notices of termination of employment since 1 September 2020.
Nursing staff down 74
The new figures show that the number of Registered Nurses fell from 1,245 in September to 1,123 in May – a reduction of 122.
By contrast, the number of Registered Practical Nurses increased from 379 to 427 over the same period – up by 48.
Overall, the total number of nurses (Registered Nurses and Registered Practical Nurses) fell by 74 while the pandemic gripped the hospital's catchment area.
I am told the 1,123 Registered Nurses at Southlake on 1 May 2021 increased to 1,160 on 12 May 2021 suggesting 37 were recruited over that twelve-day period.
The New Southlake
Southlake is poised to launch a consultation on its Master Plan which includes proposals for a new hospital for acute patients on a new green field site. The consultation kicks off with an on-line Town Hall on 27 July in East Gwillimbury. Newmarket follows on 10 August.
The hospital has also launched a new website to make the case for a new hospital.
The Chief Executive, Arden Krystal, told Newmarket Today the website and the Town Halls will "enable people to learn about the Southlake Master Plan and to ask questions".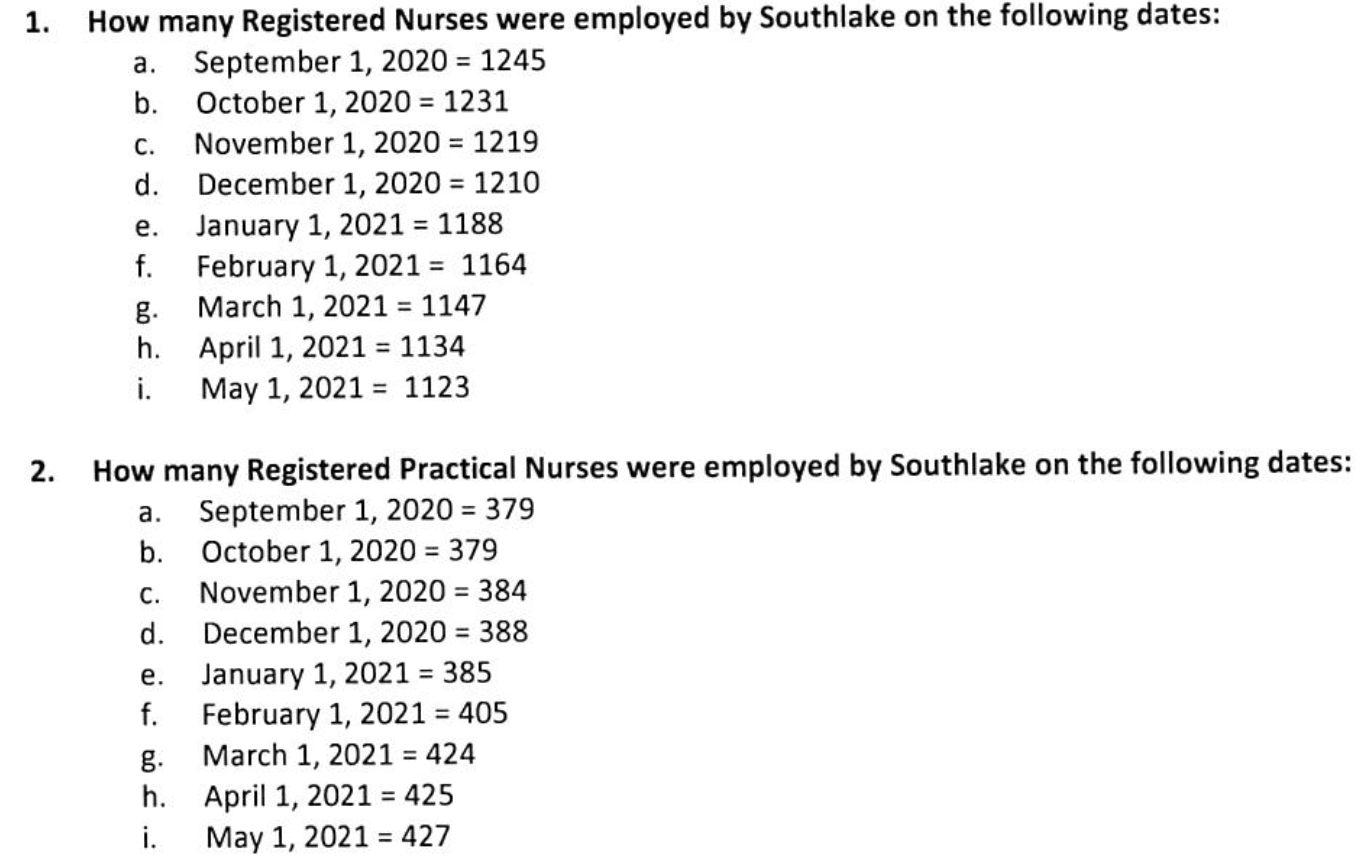 Unfortunately, what we have seen by way of background material is very, very thin, setting out aspirations but little in the way of detailed analysis.
Has Southlake identified a site for the proposed new hospital? This is the question on everyone's lips.
Pros and Cons
What are the pros and cons of splitting acute services from ambulatory care?
Are there examples where this has happened elsewhere? If so, what lessons can be learned?
Common sense tells me co-location of acute and non-acute services probably makes sense.
If it does, why not build an entirely new hospital elsewhere and sell-off the Davis Drive site?
We don't want to lose you
Personally, I would like to see Southlake stay in Newmarket. It is good for the Town to have a centre of medical excellence right here on our doorstep. And the Town has been encouraging (insofar as I know) the development of a cluster of medical and allied medical services around Southlake. I support that.
Southlake typically plays its cards very close to its chest. But on this one I hope they open up and let us into their thinking.
Southlake is in the Minister of Health's Newmarket-Aurora riding.
This email address is being protected from spambots. You need JavaScript enabled to view it.


Update on 23 July 2021: The Annual Report is now available to view.
What is the difference between a Registered Nurse and a Registered Practical Nurse?
Graphic below from the New Southlake website: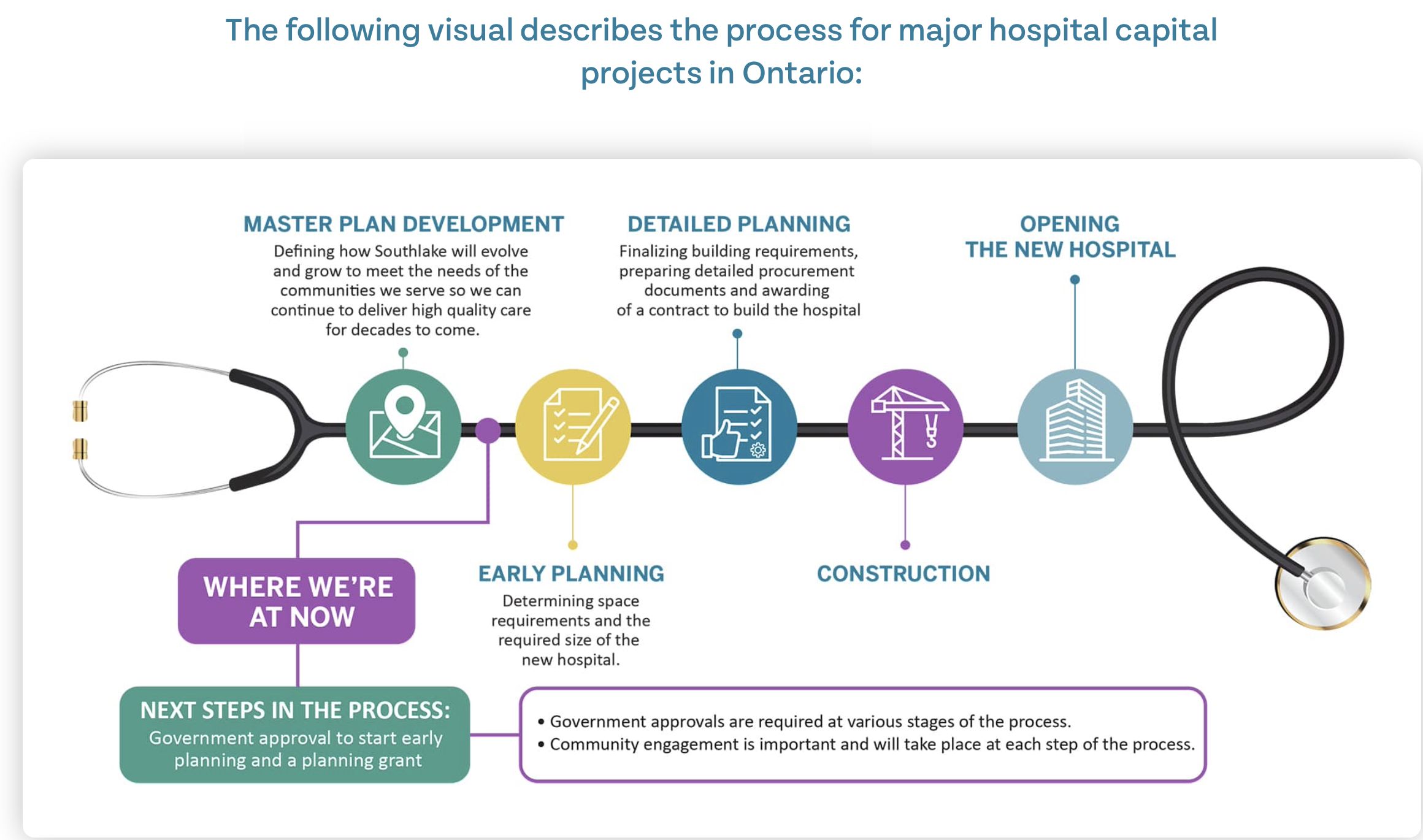 Details

Written by

Gordon Prentice
Background: Last September Southlake Hospital in Newmarket announced that it would be eliminating 97 Registered Nurse positions because of "significant financial pressures". The hospital said it hoped to avoid "any frontline involuntary employment loss".
So what happened?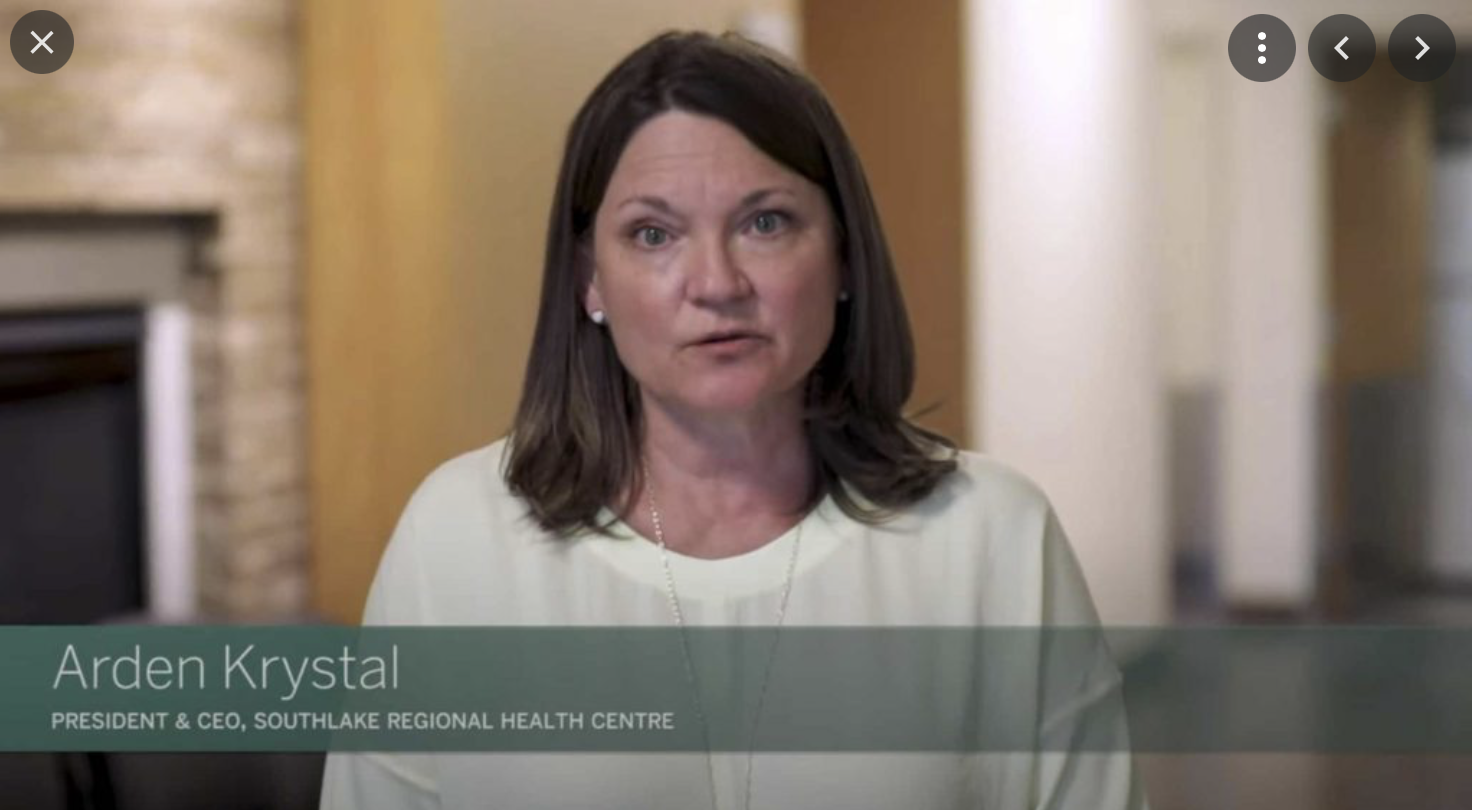 Southlake gets "one-off" bail out
Southlake Regional Medical Centre received an $18.5M one-off cash injection from the Province to help fund its day-to-day operations during 2020-21. The hospital has been in the front line, battling the Covid 19 pandemic.
Southlake's Annual General Meeting passed without fanfare on 23 June 2021when the Treasurer, Steve Hills, warned Board members that, despite the extra funding from the Ministry of Health, the hospital would be back in deficit next year.
Hills told Board members the Ministry funding was
"intended to help address working capital deficits accumulated in previous years. While this result is a positive step in addressing the structural financial challenges of the hospital, it was achieved largely off of one-time supports received in March 2021 and therefore does not represent a permanent solution. At this time, the Hospital is forecasting a deficit position for fiscal 2022."
"Not sustainable"
At last year's AGM on 17 June 2020 when he reported a deficit of $17,679,000 Hills said:
"The current financial position is not sustainable."
In his Treasurer's Report Hills says the Ministry of Health provided financial support throughout the pandemic.
"We were also fortunate to receive a combination of base and one-time operating funding and working capital support to assist with the ongoing financial challenges that pre-date and are unrelated to COVID."
"Team-based staffing"
The papers put before the Board last week make no mention of the cuts in the numbers of registered nurses other than the Treasurer's oblique reference to "team based staffing models".
Perhaps the hospital's Annual Report will shed some light on this but it has yet to be posted on their website.
While the hospital and its staff have worked heroically to protect us all from Covid, the pandemic has ensured things can never be quite the same. The hospital has to address increased wait-times arising from delays to treatments and postponed surgeries as well as dealing with
" expected challenges with health human resources as staff recover from an unprecedented year. These will be coupled with increased future demands for specialty staff as the health system tries to catch up for lost time.."
Burned out
Last year, Southlake's Chief Executive, Arden Krystal, told the House of Commons Health Committee that dealing with the pandemic meant cancelling operations.
Our hospital went down to 30% of our normal volume. We've modelled that for hip and knee replacements alone it could take us seven years to recoup the number of surgeries we would need to do if we don't work evenings, weekends and everything else. Of course, the problem with that is human resources. As one of my other colleagues mentioned, they are pretty burned out. To try to get them to work those extra hours, even if we were funded for it, would be very difficult…"
Which brings me back to where I started. What has happened to the plans to get rid of 97 Registered Nurse positions?
The Ontario Nurses Association tells me that 70 have received termination notices but none, as yet, has been laid off.
Newmarket-Aurora's MPP is the Minister of Health, Christine Elliott.
This email address is being protected from spambots. You need JavaScript enabled to view it.
Update on 3 July 2021: Below: Ontario Nurses' Association ad in this morning's Toronto Star and Globe and Mail: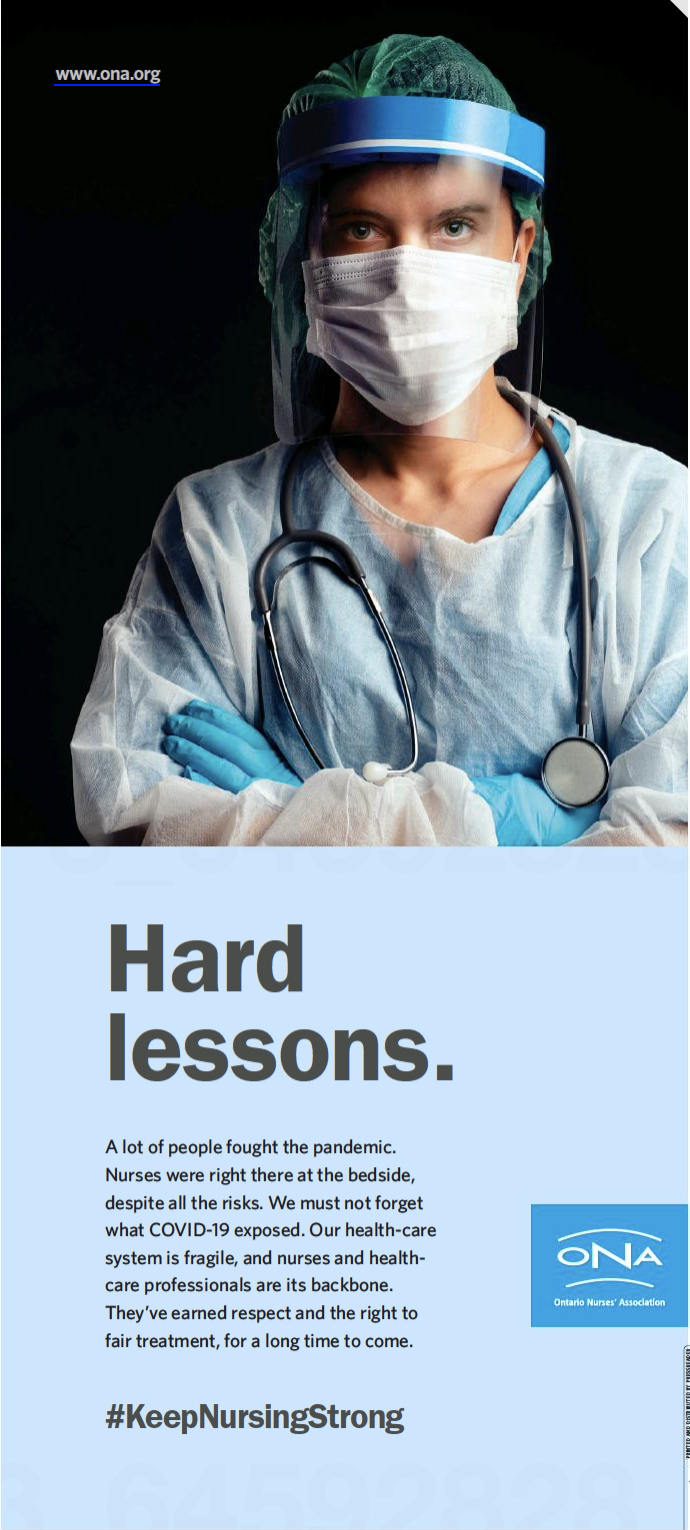 As a result of the pandemic, Southlake's Board suspended open board meetings from March 2020 and meets virtually. Last week's AGM – as with the year before - was also virtual with no public attendance. Click here to read the reports that went before the Board.