Details

Written by

Gordon Prentice
Every year the Town of Newmarket spends a small fortune hiring outside consultants to do things it says it cannot do in-house. Perhaps the staff with skills are tied up on other work. Or the required skills aren't available.
The Planning Department, for example, is spending over $200,000 on consultants to work on the Mulock Secondary Plan. The planners say they don't have the "bandwidth" to do this work. They have also hired people to help design a strategy to safeguard stable residential areas from inappropriate development.
After last year's municipal election our councillors were asked to decide their strategic priorities for the 2018-2022 Council term, again using a team of outside consultants.
Newmarket Public Library hired Pesce and Associates:
"to complete a review of the NPL operations with the intention of determining how best to position the NPL for current and future success".
Why can't the work be done in-house?
Only last week staff recommended consultants should be hired (at a cost of $100,000) to look at the possibility of redrawing ward boundaries to ensure rough parity in ward populations. There is a growing imbalance. Jane Twinney wanted to know if at least some of the work couldn't be done in-house.
In the event, councillors agreed to postpone the review until the next term. But what struck me most was the way our councillors recoiled at the thought of spending $100,000 on outside consultants.
In fact, the figures show the Town spends millions every year buying in help. (The table shows the spend on consultants by area of service over the past five years.)

A quick look at the Town's "Bid Opportunities" page shows the extent of the services bought in by the Town. Currently consultants are being sought to design recreation management software (program registrations, facility bookings and so on) and to come up with ideas on what might be done with the old Fire Hall on Main Street which has been empty for years.
Consultancy is big business
The consultancy sector across Ontario is booming as municipalities farm out work that used to be done in-house. Three years ago I warned that the Town's institutional memory was being contracted out to the private sector.
I blogged about the astonishing case of the Newmarket planning consultant Howard Friedman who had a long-term contract with the Town to manage its relationships with the development industry. Friedman, who was the interface between the two, became a fixture and fitting. The then Director of Planning, Rick Nethery, told councillors there was a lot of staff turnover and new people hired by the Town could not begin to match Mr Friedman with his long 18-year tenure in the job. (I don't know if Mr Friedman still has a contract with the Town.)
The Public Interest
The best in-house staff have a clear idea of what is meant by the public interest.
When we buy in outside help consultants may be more circumspect. There are any number of professional heritage consultants – architects and planners – whose clients are drawn from both public and private sectors. In my experience, they tailor their professional advice to their clients' needs. And developers and municipalities often have very different perspectives on how heritage properties should be maintained, retained and adapted.
The Town's former Chief Administrative Officer, Bob Shelton, believed going out to private consultants helped the Town to handle the peaks and troughs of a variable workload.
Some departments are clearly under more pressure than others. It is possible to wait over a year to get a report from staff addressing issues of concern that have been raised by residents.
So I can understand why councillors (often reluctantly) agree to buy in outside help – to take the pressure off staff.
But do we get value for money?
An article last year in the academic journal Canadian Public Administration (One step forward, two steps back? Consultant influence on local economic development policy in Canada) tells me cities in Canada are
"increasingly outsourcing economic development policy advisory and development to private consultants"
and that
"the policy documents authored by consultants tend to be similar in style, scope and language; and from a policy perspective, there is a convergence of policy as cities are recommended the same economic development strategies."
In fact, the language used is often a straight lift with slabs of text being taken from one report and pasted into another – for a different client.
The authors analysed the economic development plans of ­­­­cities in Ontario "to identify the influence of consultants on the policies within the documents". They found "homogenization" of policies which are cut and pasted from one client's plan into another's.
What is the answer?
When our councillors go out to the market to buy in services they should insist on originality with policies specifically tailored to Newmarket.
And if a template has been used we should all be told about it.
This email address is being protected from spambots. You need JavaScript enabled to view it.
Click this link to get to the Town's Bid Opportunities website page.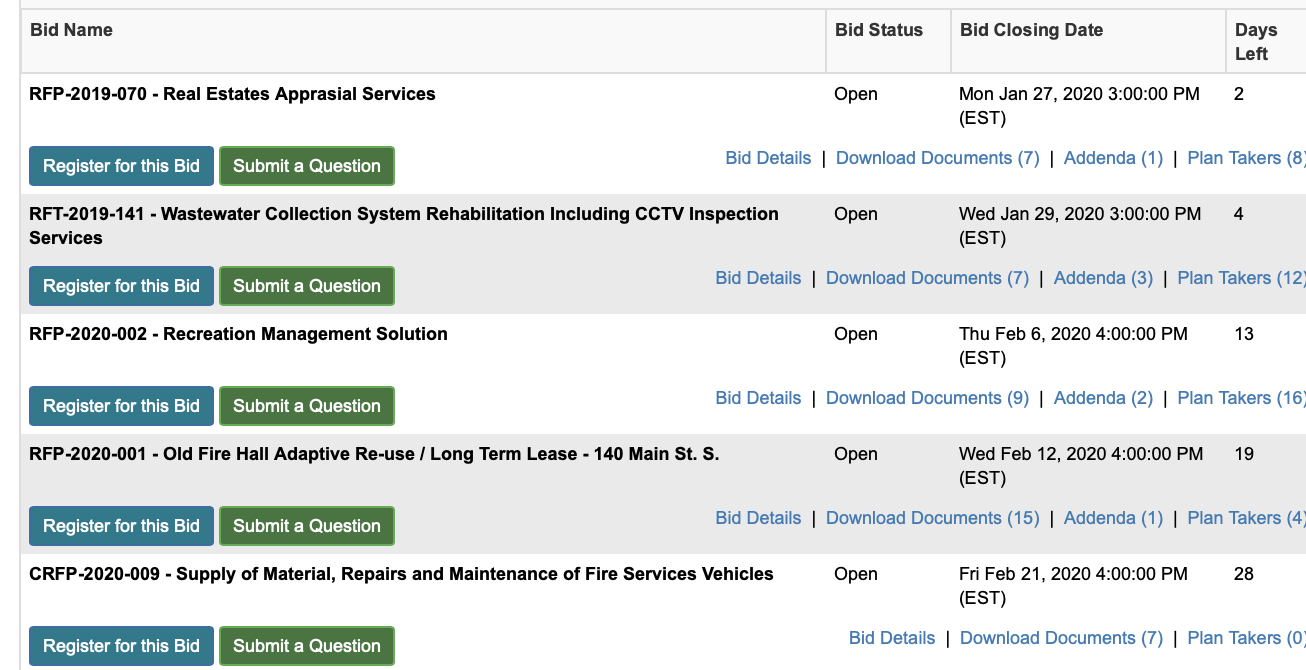 Details

Written by

Gordon Prentice
The Town today published the terms of a settlement with the developer, Bob Forrest, which commits him to rebuild at his expense the historic Simpson Building which he ordered to be demolished on 9 October 2019.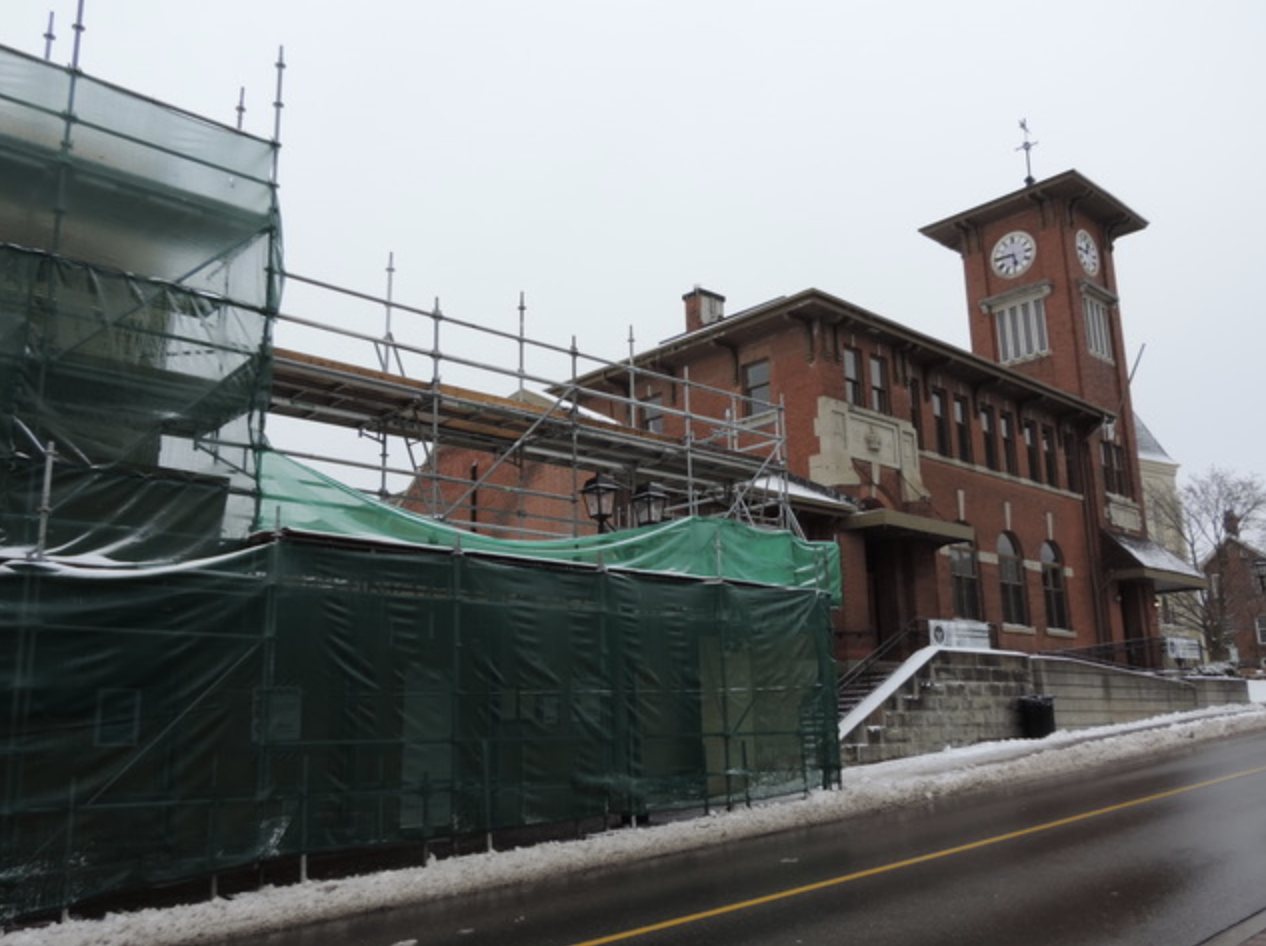 Forrest's Main Street Clock Inc is to pay $100,000 to the Town as a penalty and will forfeit the $100,000 the Town had agreed to pay to Forrest under the terms of the May 2018 agreement.
The Town is to be congratulated for bringing this whole sorry business to a conclusion.
The Mayor, John Taylor, says this is a positive outcome for the downtown:
"Our main objective is to protect our heritage and continue to move forward with the development and revitalisation of our Main Street."
I have no doubt Taylor values the Town's heritage and that it is important to him. We know he also wants to get the whole length of Main Street moving and alive again. And that he vowed months ago that the unlawful demolition must have consequences. The question is: are they severe enough?
"Acknowledges and regrets"
Bob Forrest says he "acknowledges and regrets" that the building which once housed the apothecary of the first female pharmacist in Ontario was "taken down without proper permissions". What weasel words!
We know he ordered the demolition because he would need to spend an additional $100,000 to make the old building safe after years of neglect. He baulked at this and ordered:
"Take it down."
Forrest will now have to rebuild the Simpson House and this is to be welcomed. However, no matter how good the reconstruction, nothing can bring back the original and that is, for many of us, a matter of great sadness.
Dose of Anthrax
Forrest has been like a dose of anthrax to the Town, evicting business tenants and boarding up the retail units for years, sterilising the heart of our only Heritage Conservation District.
He has been brought to book but my own initial feeling is that the developer got off lightly. He may suffer some fleeting reputational damage but, crucially, he is not being prosecuted. If I were a councillor I would be making the case for prosecution.
Why?
Because the demolition on 9 October 2019 wasn't inadvertent or a mistake. It was brazen and calculated. The rubble disappeared within hours.
Forrest knew exactly what he was doing and why.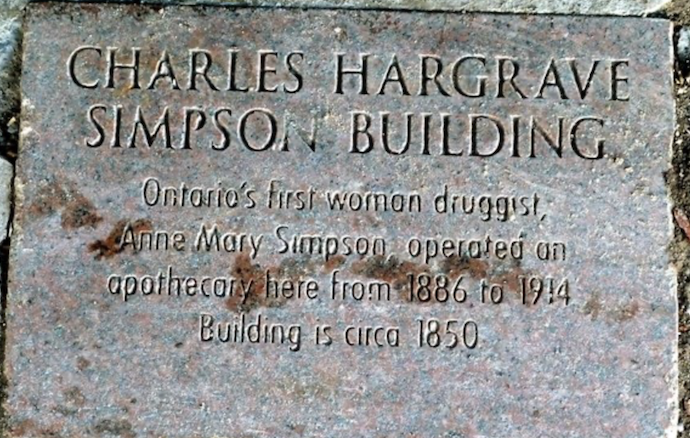 We shall find out more about the sequence of events which led to Forrest ordering the demolition in the Report from Peter Noehammer, the Town's Commissioner for Infrastructure and Development, which is scheduled to go to the Council on 3 February.
Unanswered questions
In the meantime there are still many unanswered questions.
What is the timetable for completing the building works?
What has happened to the sale of the Forrest buildings? (the land at 184-186 Main Street was removed from the sale after the building was demolished.) Will Forrest still sell or will he hang on to them? What, if anything, is left of the May 2018 agreement?
The destruction of the Simpson building in the heart of Newmarket's historic downtown was truly calamitous. But today's announcement will put a line under a tragic episode in the Town's history when a developer was inadequately supervised and was essentially allowed to pursue demolition by neglect.
Will there be a deterrent effect on other developers who tear down historic buildings and see fines and penalties as a necessary cost of doing business?
We must hope so.
This email address is being protected from spambots. You need JavaScript enabled to view it.
This is how Newmarket Today reports the story.
Details

Written by

Gordon Prentice
Canada's centre-right newspaper of record, the Globe and Mail, tells us their Royal Highnesses the Duke and Duchess of Sussex can't live in Canada so long as they are "senior members" of the Royal family.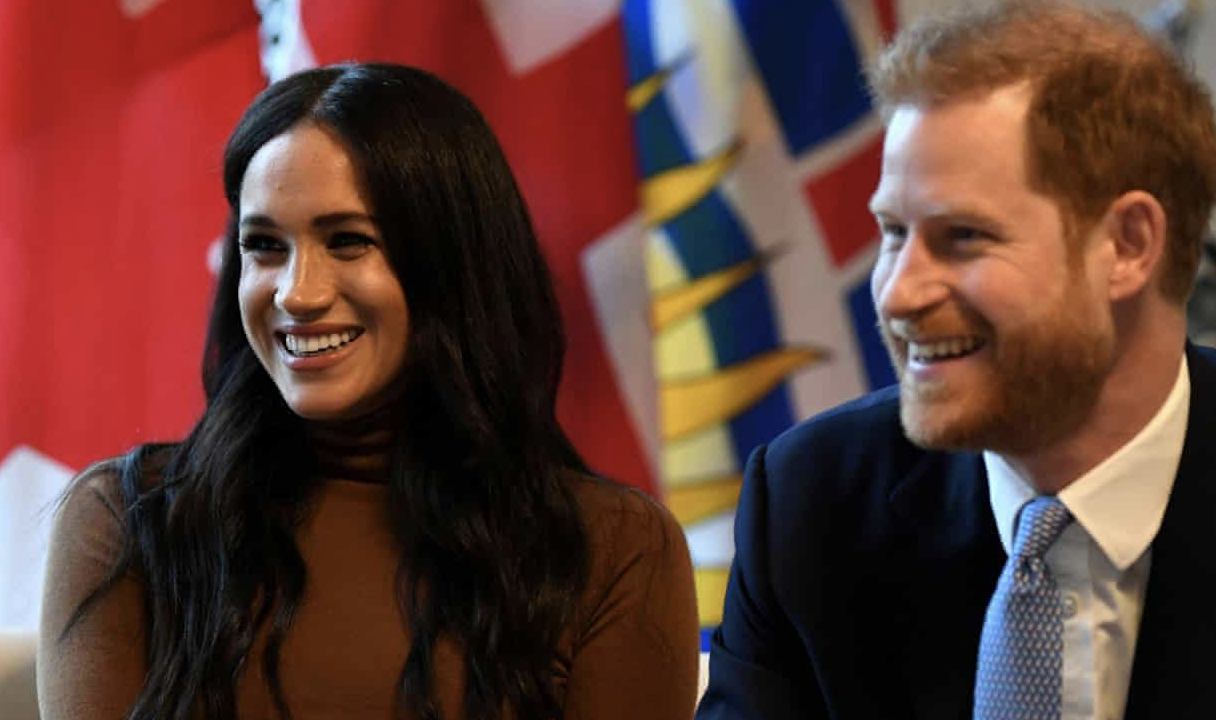 "If they were ordinary private citizens, plain old Harry and Meghan from Sussex, they would be welcome. But this country's unique monarchy, and its delicate yet essential place in our constitutional system, means a royal resident – the Prince is sixth in the line of succession – is not something that Canada can allow. It breaks an unspoken constitutional taboo."
The editorial refers to the Nickle Resolution of 1919. It was because of this resolution that the convicted fraudster Conrad Black had to renounce his Canadian citizenship to become a peer and join the House of Lords.
I am very much in favour of the Nickle Resolution. I have always been against so-called "name-changing" honours – the Sirs and the Dames and the Lords and the Ladies.
Clearly, there must be ways for the nation to recognise extraordinary achievement and merit and valour but name-changing honours shouldn't be part of the package.
A small discreet lapel badge would suit me just fine.
Dump the titles
The Globe and Mail advises their Royal Highnesses to dump the titles and become, presumably, Harry Mountbatten-Windsor and Meghan Markle.
Some commentators question whether they would be entitled to settle in Canada. John Ibbitson quotes a leading Vancouver immigration lawyer who recommends the lead applicant for permanent residence should be Megham because of her previous Canadian connections. (She spent time in Toronto while filming Suits.) He suggests that Harry is a bit on the old side (at 35) and doesn't have the skills that Canada needs.
That is a load of old tosh. Canada embraced me despite my age and obvious imperfections.
The press is now full of stories about where the Sussexes will live. I am pretty sure it won't be Newmarket even though the Town touts itself as being one of the best places to live in Canada.
Wanyee Li from the Toronto Star's Vancouver Bureau has come up with a list of desirable properties in British Columbia but I see one from Toronto has sneaked in. For $16.9 million Harry and Meghan could buy a place in The Bridal Path, the city's most exclusive address.
But that would mean having that old rogue and scoundrel Lord Black of Crossharbour as a neighbour.
Can't see it.
This email address is being protected from spambots. You need JavaScript enabled to view it.
Update on 16 January 2020. From the Globe and Mail: The awkward truth about Harry and Meghan in Canada. And from the Toronto Star: Harry and Meghan are welcome, but on our terms. And from the UK's Guardian: Prince Andrew: Home Office "recommends downgrade of security".
Update on 17 January 2020: From the Globe and Mail: Conrad Black moving out of family estate as owner decides what to do with property. From the Guardian: Harry and Meghan's UK home shut up and staff moved elsewhere. From today's G&M. The Banks never miss an opportunity... HSBC is, of course, headquartered in London (England). And on 18 January 2020 it is announced that Harry and Megan will no longer use the His/Her Royal Highness handle but stick with the less elevated Duke and Duchess of Sussex.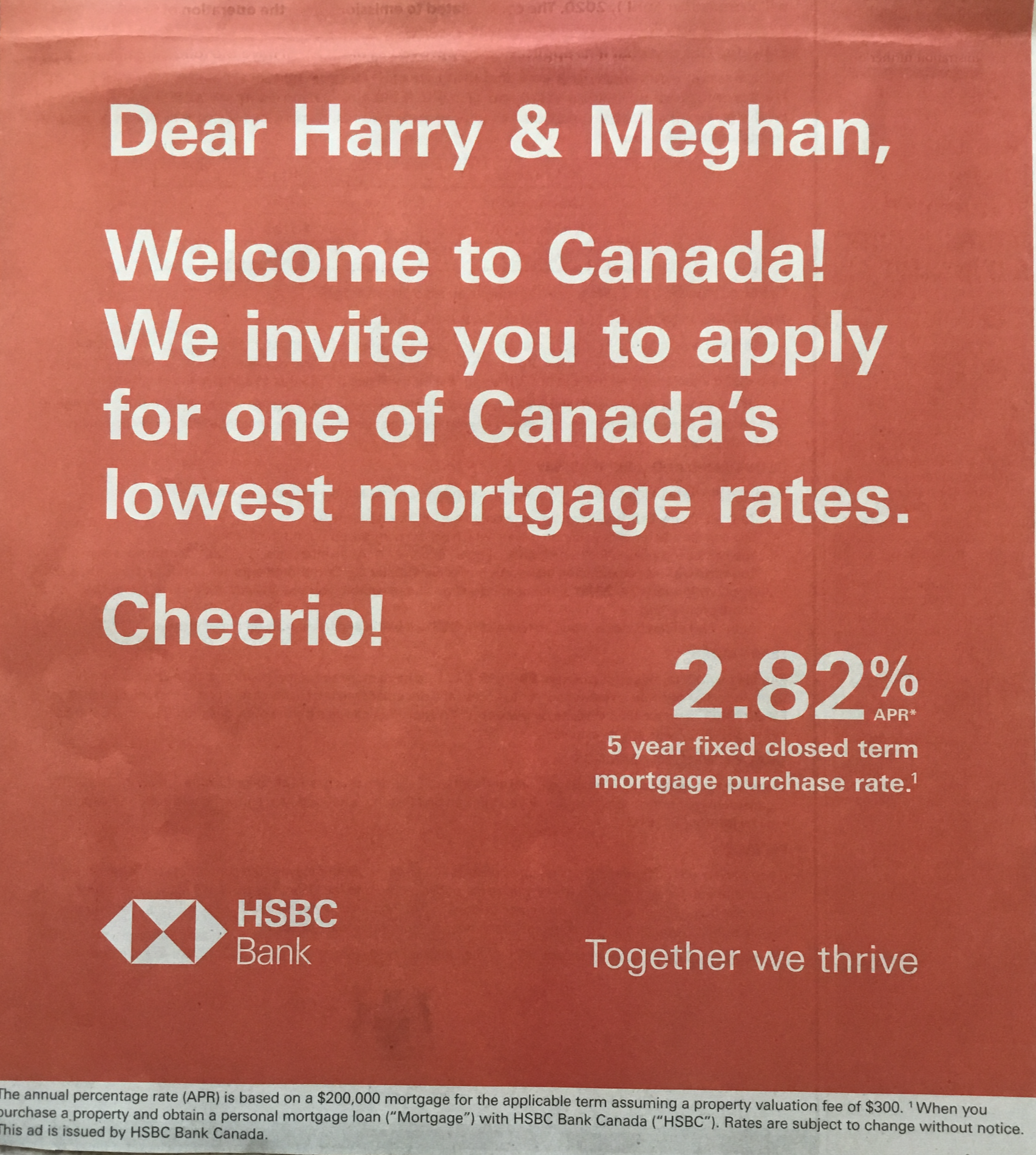 Details

Written by

Gordon Prentice

Yesterday Newmarket councillors unanimously declared a Climate Emergency.
They promise to reduce emissions and transition towards a low carbon economy.
They vow there will be no more hot air in the Council Chamber.
But the declaration was enough to get local climate activists from Drawdown on their feet, giving a standing ovation to bemused councillors unused to this kind of adulation.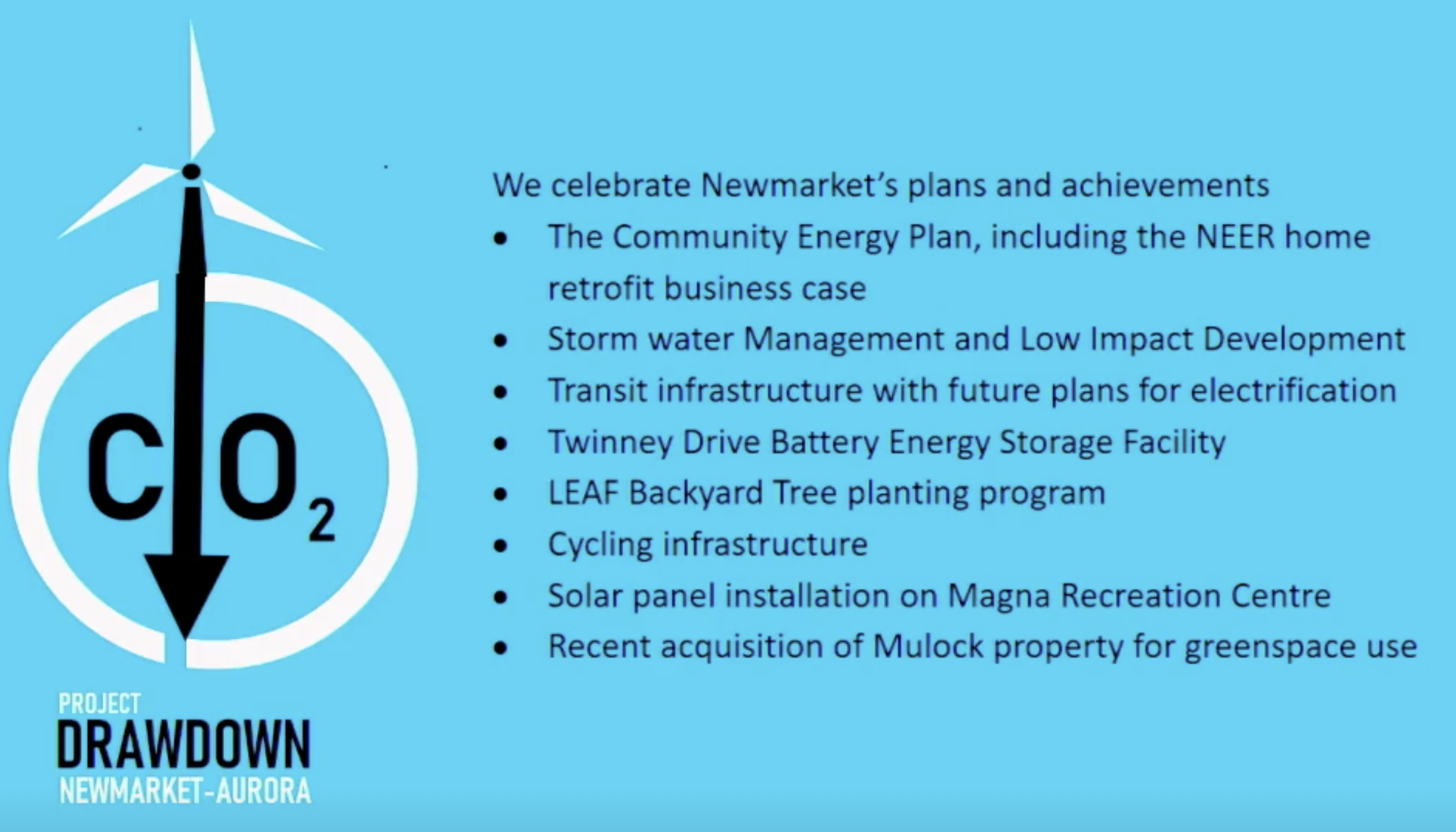 I remember the old days when Mayor Van Bynen was in the Chair. Obsessed with process and procedure, he would sternly warn deputations that no applause was allowed. But yesterday was different. People were actually applauding councillors!
The new Mayor, John Taylor, goes through a long list of things the Town is doing to become eco-friendly. It is an impressive list. We can expect four electric buses soon on Davis Drive, courtesy of York Region.
Everyday things
Ward 5 councillor, Bob Kwapis, wants to know from the lead deputant, Debbie Fletcher-Queen what everyday things people could do to help save the planet that, perhaps, may not be immediately obvious to them. Debbie hesitates and then says something about food waste. The Mayor suggests cutting back on eating meat and I immediately find myself thinking if there's a photo of him out there, at a BBQ, tucking into something sizzling, straight off the grill.
Deputy Mayor Tom Vegh – who is on the Lake Simcoe Conservation Authority – tells us we can expect longer and wetter Springs and hotter summers. The authority is importing trees from the south as they will be more likely to survive up here as the climate changes. For me it was one of these "how interesting" moments. We learn the boundaries of the flood plains are being redrawn to reflect the new reality.
The word "emergency" implies urgency. So I am hoping our new MP, former Mayor Tony Van Bynen, picks up the baton and makes the climate emergency the centrepiece of his next substantive speech in the House of Commons which returns on 28 January 2020.
I walk 4km home through the snow and ice, feeling virtuous. And pleased with the Council.
This email address is being protected from spambots. You need JavaScript enabled to view it.
And this is how Newmarket Today saw it. Watch the Drawdown deputation make the case here at 16 minutes in.
Update on 23 January 2020: Newmarket Today reports that pairing the word "climate" and "emergency" in the same sentence riles some folk in Newmarket. And Councillor Grace Simon has second thoughts about the appropriateness of the term "climate emergency" and switches sides.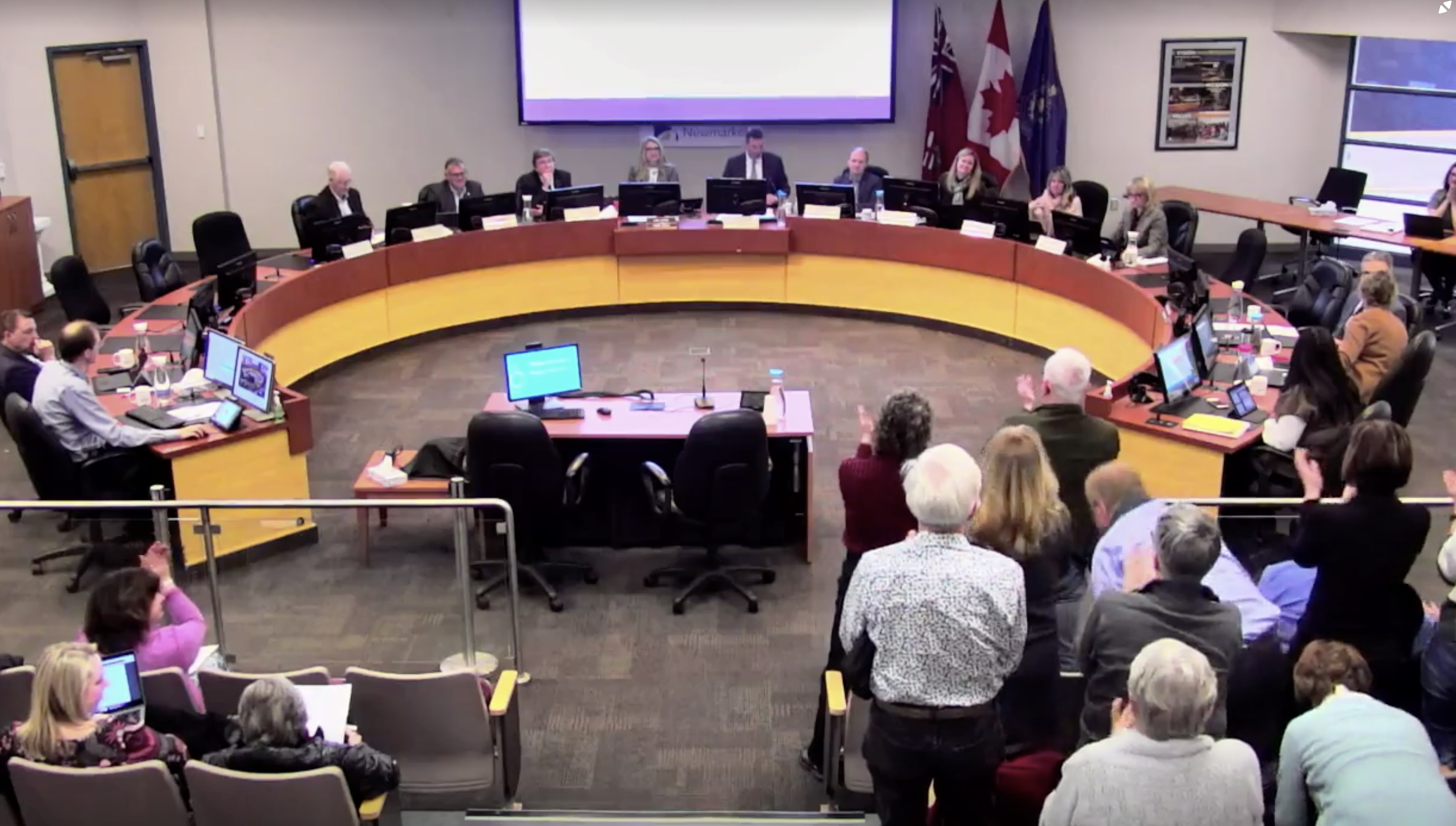 Details

Written by

Gordon Prentice
It is now three months since the developer Bob Forrest ordered the demolition of the designated heritage building at 184-186 Main Street South and we are still waiting for the report from the Town's Commissioner of Development and Infrastructure Peter Noehammer.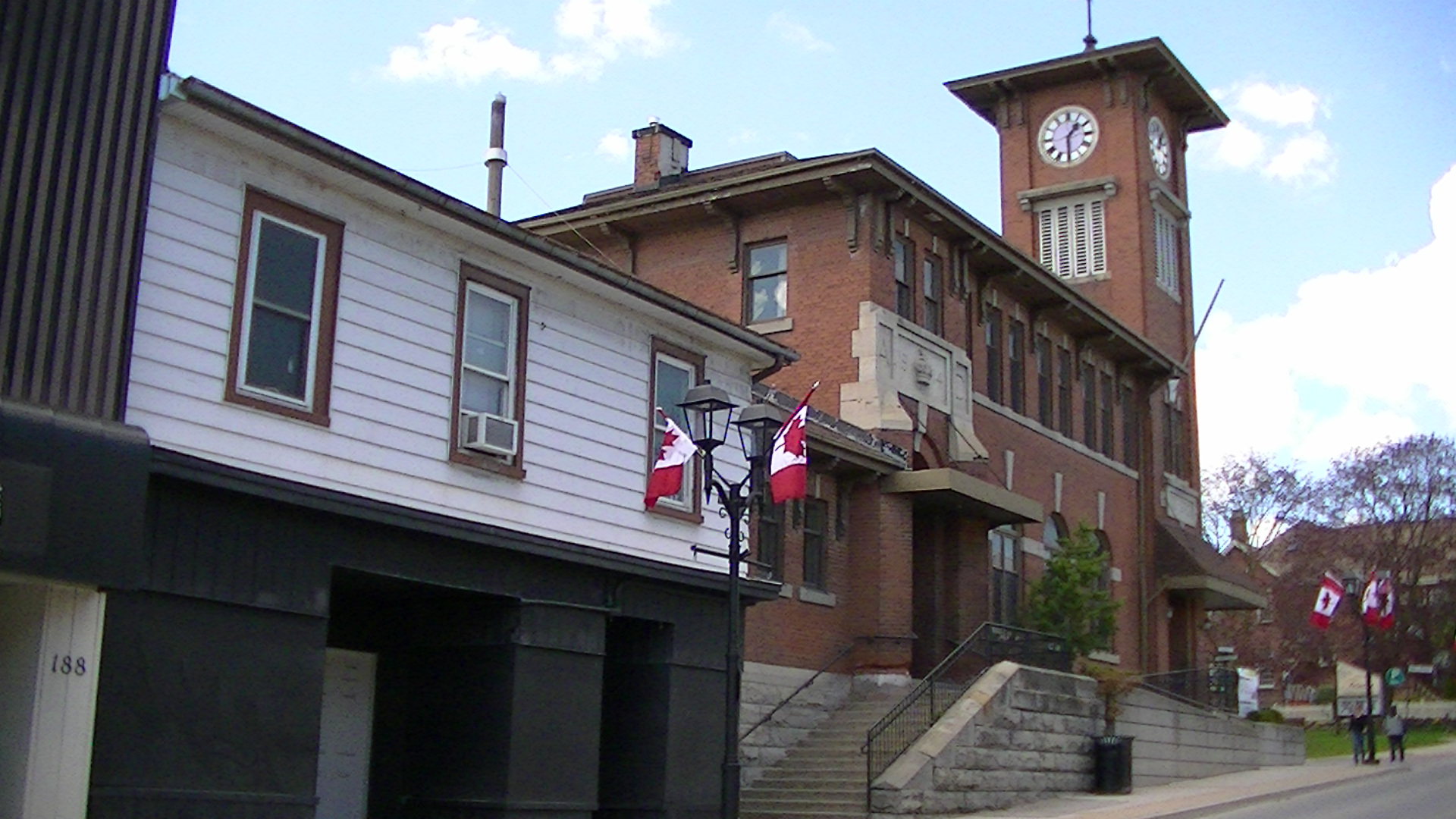 What on earth is causing the delay?
At Tuesday's meeting of the Town's Heritage Advisory Committee, members considered a letter from local resident, Elaine Adam, who posed a series of questions about the demolition:
"What actions will the Town take against the developer to make sure that consequences are severe enough that other developers will not repeat this? Is this an illegal act, is it criminal, have the proper legal authorities been involved? What safeguards are in place to protect the adjacent buildings? Why does Mr Forrest have his properties for sale even though there is an investigation by the Town and there is a Stop Work Order in place?"
The Committee Chair, Billie Locke, asked for an update and got one that was short and to the point with no elaboration. The Town's Senior Planner, Adrian Cammaert, says there is an open and ongoing investigation and
"that is pretty much all I can say".

No-one tries to prise any more information from the taciturn planner. No-one asks when the investigation is expected to wrap up. Or how many people are working on it. Why is everyone so incurious?
Take it down.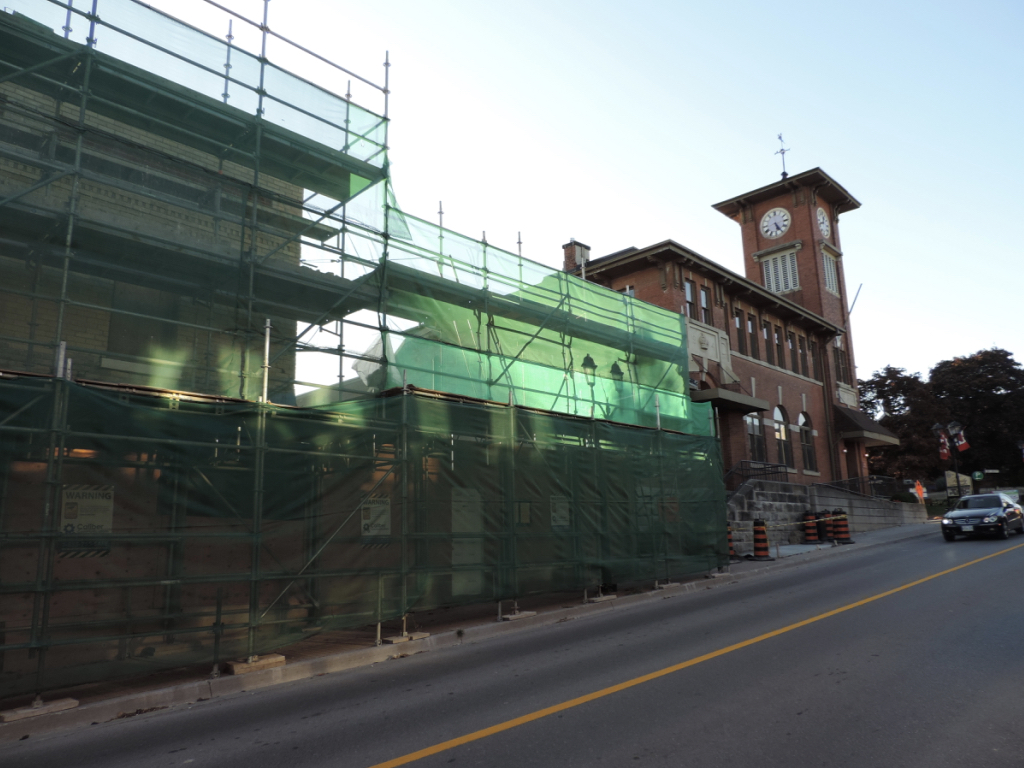 Shortly after the unlawful demolition I spoke to Jacques Carrier, the man who tore the old building down. He told me - in the presence of one of the site supervisors from Prime Design Build - why it was demolished and who ordered it. No-one from the Town has since approached me and I conclude from this the facts are not in dispute. Nevertheless, the Town seems to be agonising about what to do next. The Mayor, John Taylor, vows there must be consequences but we don't know what he has in mind other than a full rebuild and he won't tell us.
Let me be absolutely clear. The Town should prosecute Forrest.
The demolition of a designated heritage building in the heart of a Heritage Conservation District without permission from the Municipality is very, very unusual. In fact, I am still trying to find a close parallel.
Few parallels.

Last month I contacted over 50 Ontario municipalities who have 134 Heritage Conservation Districts between them. I wanted to know if there had been any unlawful demolitions of designated buildings within any of their Heritage Conservation Districts and, if so, whether a prosecution had been brought under the Ontario Heritage Act or Building Act or both. So far, I've come up with one case from Markham where the owner demolished a residential property at 249 Main Street in Unionville's Heritage Conservation District without approval. The owner pleaded guilty and was fined $10,000.
So far as I can tell, most prosecutions involve illegal alterations of buildings – not their wholesale destruction. In Hamilton, for example, with seven Heritage Conservation Districts, there have been no prosecutions for demolitions – only for alterations such as driveway widening and window replacement without the necessary heritage permit.
Next door to us in Aurora a prosecution has been brought for the demolition of a non-designated property on the Town's Heritage Register without the Council's consent. But, importantly, this was not within Aurora's sole Heritage Conservation District. The case is now before the Courts.
The Town will be hosting a workshop on heritage issues on 27 January 2020 from 9am – 12 noon in the Council Chamber at 395 Mulock Drive, Newmarket. It is open to interested members of the public. It will be run by Community Heritage Ontario.
There will be lot of very unhappy people if we don't know by then what the Town intends to do about the unlawful demolition of the Simpson Building in the heart of the old downtown.
This email address is being protected from spambots. You need JavaScript enabled to view it.
Photos above right. Before and after.