Details

Written by

Gordon Prentice
The Town of Newmarket's stewardship of historic properties has been truly deplorable.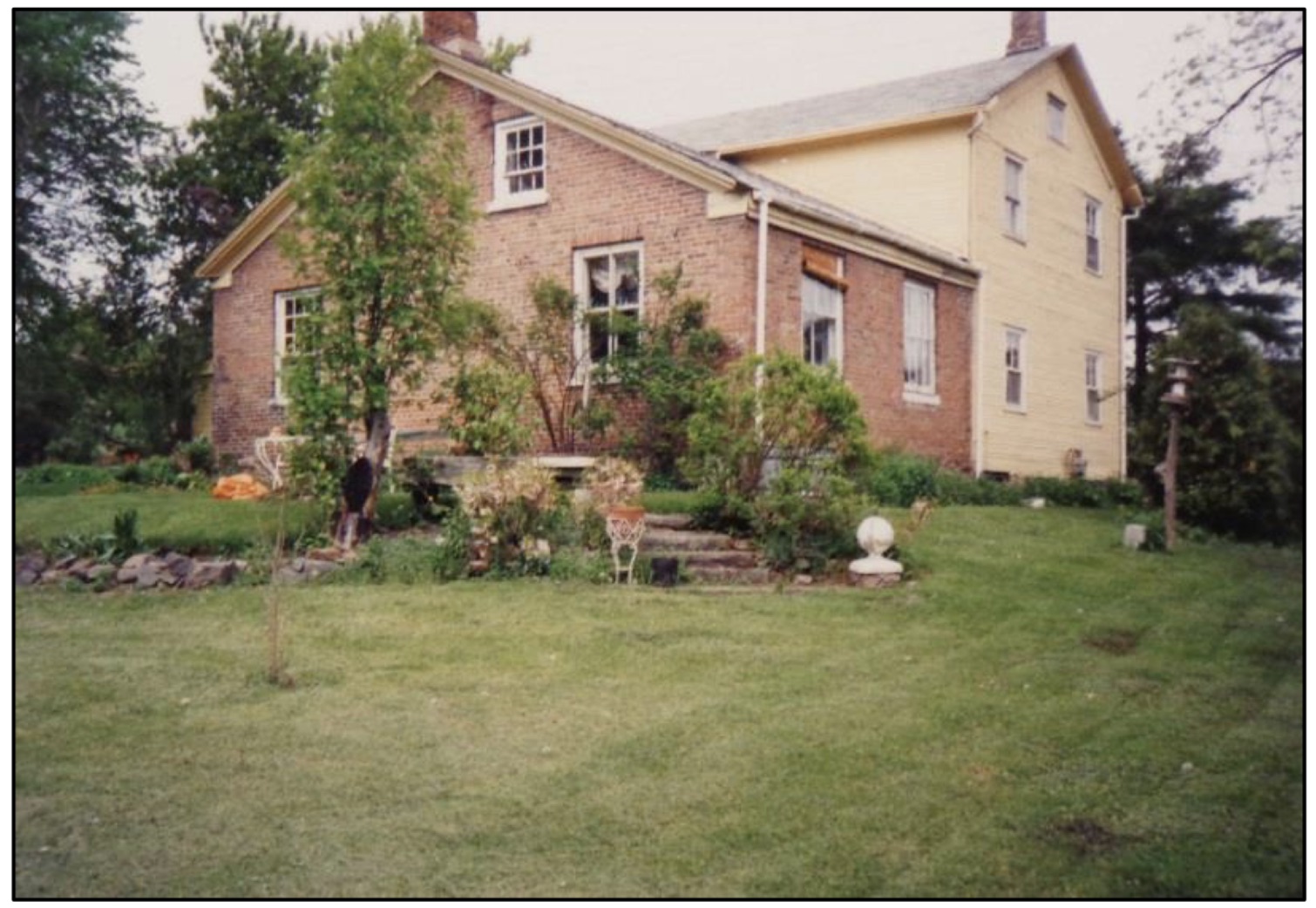 If residents don't kick up a fuss then historically important buildings can be lost forever. Concerns put to senior Town staff appear to go in one ear and out the other.
Seriously incorrect information has been given to councillors by so-called "experts" such as Wayne Morgan commissioned by developers who want to demolish historic properties that stand in the way of redevelopment.
Take the infamous example of Bogart House on Leslie Street – reputedly the first two storey dwelling north of Toronto, dating from the early 1800s, possibly as early as 1811 and certainly no later than the 1820s or 1830s.
Bogart House was designated by the Town in 1987 under the Ontario Heritage Act as a building of historic significance.
Derelict
However, scandalously, in recent years it was allowed to become derelict, falling into rack and ruin. Who allowed this to happen? And who is going to take responsibility for this unconscionable failure to act? The only sound I hear is silence. Why does no-one check on designated buildings that are empty and at risk? What systems are in place to keep a watchful eye on heritage properties?
Forest Green Homes who own the old cemetery lands in Leslie Street have been planning a new housing development for the past few years and Bogart House inconveniently is in the way. They first submitted a planning application to the Town in 2012 and again in 2015, 2017 and this year. They have the brass neck to tell us Bogart House should be demolished and replaced with a plaque, commemorating its former existence.
They brought in an "expert" - Wayne Morgan - to argue the case for demolition and, in almost every particular, the facts he put forward have proved to be bogus.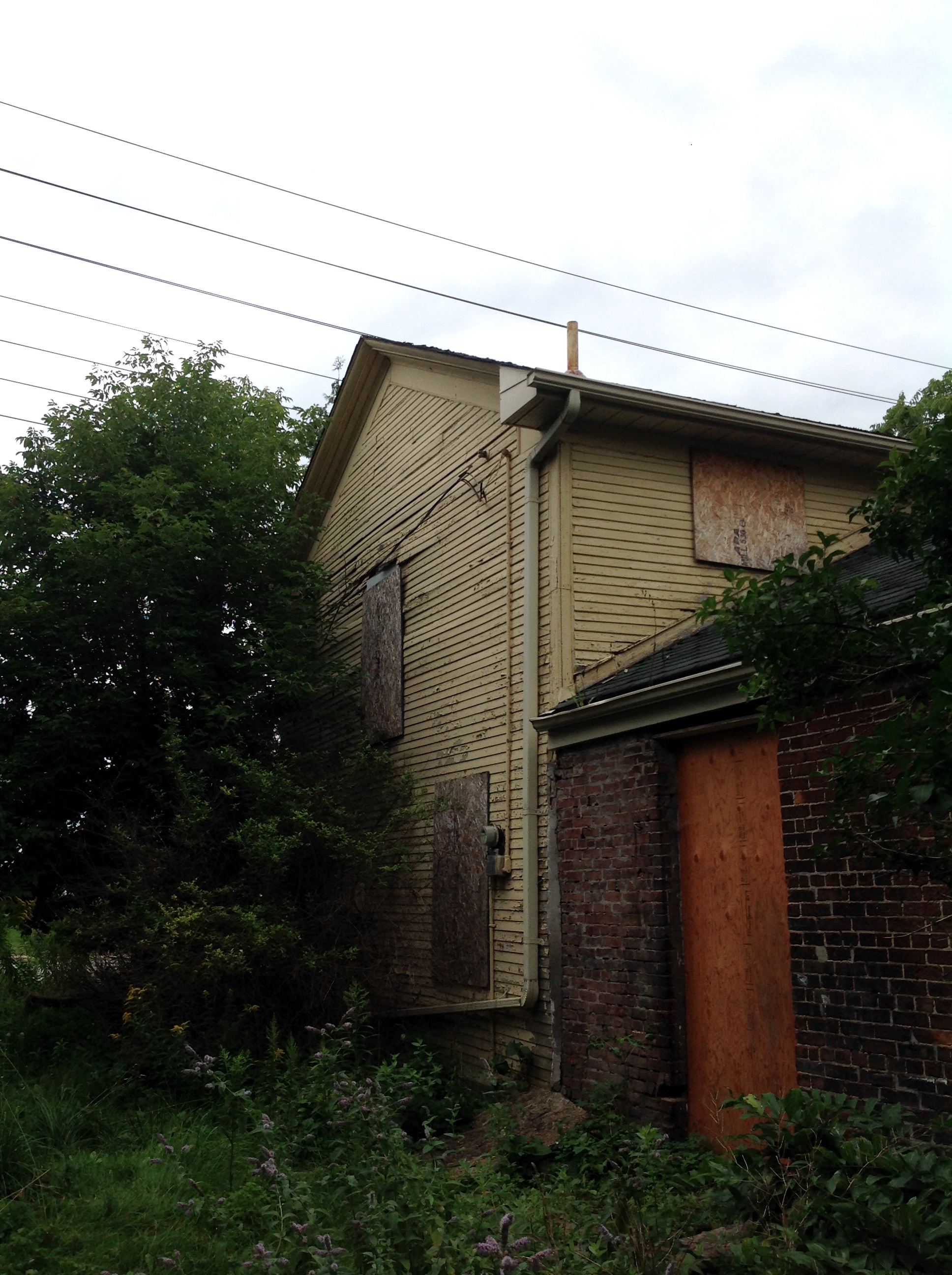 He told us the old house was extensively remodelled and rebuilt in the 1870s with very little of the early structure remaining. This is simply untrue. Morgan says:
"The Bogart / Johnston House was designated because it was an early (1811) extant structure in the community and because of its association with a pioneer, John Bogart Senior. However, the structure has been greatly altered over the years, with very little of the early structure remaining. As discussed below, the House has a low to moderate level of heritage integrity on both the exterior and interior…"
Era Architects in their second opinion found Morgan's work to be flawed:
"Wayne Morgan's research has established that a house was built on the site at 16920 Leslie Street by John Bogart in 1811 and that circumstantially the house may have been very extensively rebuilt or remodeled in the 1870s.
From our site investigation to date, there is ample evidence that the framed house on the site is very old, dating at the latest from the 1820s or 30s.
The fabric of the house is remarkably original and authentic to this early period. We can definitively say that the house was not extensively rebuilt or remodeled in the 1870s… The extensive evidence of surviving architectural detail that dates the house to this period includes numerous features such as…" (list given). My underlining for emphasis.
Credit goes to those elected officials – John Taylor primarily - who called for that second opinion. The retiring Ward 4 councillor, Tom Hempen, who sits on the Heritage Advisory Committee, was adamant the old house should not be pulled down.
Union Hotel
On Wednesday (26 September 2018) at the candidates' debate at Newmarket Theatre, the man who wants to be our Regional Councillor, Tom Vegh, tells us the Town had done a "fantastic job" on heritage. He believes it is something the Town takes very seriously. He says the Town has demonstrated tremendous success in preserving the Town's heritage.
Which planet is Tom Vegh living on?
Why was Bogart House allowed to get into its present ruinous state?
And would he like to comment on the long-simmering scandal of the Union Hotel at the junction of Davis and Main, within spitting distance of the Town's self-congratulatory triumphal arch which welcomes us into the historic downtown?
If the Town seriously wants to protect our built heritage it shouldn't wait until structures are falling down before intervening.
This email address is being protected from spambots. You need JavaScript enabled to view it.
Details

Written by

Gordon Prentice
Election Lawn Signs. Do they make a difference?

In a word. Yes.
There remains a place in political campaigning for the humble lawn sign notwithstanding (there's that word again) the unrelenting rise of social media.
In municipal elections where there is no polling, the lawn sign stands as a proxy of the support for the various candidates. Of course it is very rough and ready. It is difficult to draw any meaningful conclusions where there are lots of candidates with a roughly equal number of signs. But where one candidate is way out in front that's usually a sign of something.
Carpet-bombed
Parts of Ward 4 (where I live) have been carpet-bombed by Tom Vegh who is running for the Regional Councillor vacancy. I spoke to people with Vegh signs on their lawns because I was intrigued to find out more about his persuasive approach. He asked for permission (of course) and pledged to take it away after the election or before if the residents changed their minds. By all accounts, he was very personable. The results are there for all to see.
Similarly, Bob Kwapis, the "Jewel of the Council", is running again in Ward 5 after his convincing by-election victory in 2016. He has been a very busy little bee with his signs appearing everywhere, like a rash. Bob smiles a lot and people like that, overlooking the fact that he jettisons his campaign pledges as soon as they become unwanted baggage.
The Mayoral wannabee, Joe Wamback, so far as I can tell, has not put up a single lawn sign. He is always telling us he is not a politician and may be this is his way of demonstrating the fact. If he runs a campaign with no signs, he is doomed.
I emailed Joe on Monday to ask when I could expect to see his signs going up but, so far, I haven't heard from him. He is probably a one-man-band with no network of supporters to fall back on.
The odds-on favourite for Mayor is John Taylor whose support is deep and widespread. He says experience matters and, personally, I think that makes a difference of sorts. I wandered along to his campaign kick-off at the Legion in Srigley Street a few weeks ago and the place was packed. And although I have my policy differences with him he can be very effective when he decides to get off the fence and stake out a position. When Taylor finally spoke out against the Clock Tower he took lots of councillors with him, leaving the Mayor, the hapless Tony Van Trappist, the sole voice supporting the development, twisting in the wind and isolated.
Big and bold but fewer signs than expected
I also invited myself along to Chris Emanuel's campaign launch and, again, there was a cast of thousands. His supporters congregated to celebrate his big, bold and positive ideas.
Maybe they can help him put up a few more lawn signs.
I don't know if Tom Vegh had a campaign launch party but he has more than made up for it with his impressive street-by-street canvassing.
This is a side of Tom that is new to me, reinventing himself as a silver-tongued tribune of the people.
His lawn sign tells me it is leadership you can count on.
Ahhh.
This email address is being protected from spambots. You need JavaScript enabled to view it.
Details

Written by

Gordon Prentice
Mayoral candidate, Joe Wamback, promises to be a new broom, sweeping away the secrecy that is the hallmark of our municipal government in Newmarket.
But perhaps this is easier said than done.
Secrecy is in the warp and weft of our Town.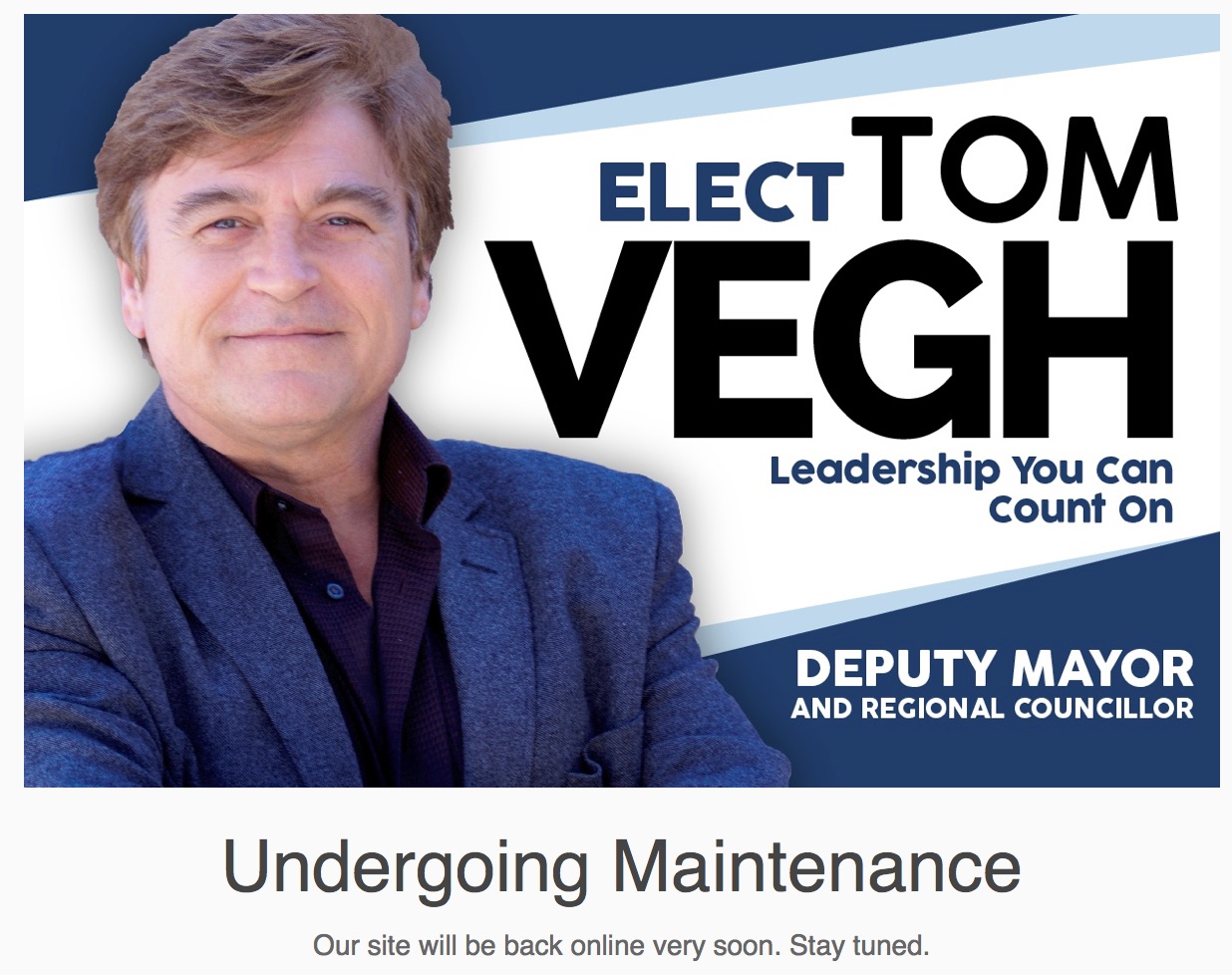 Councillor Tom Vegh: Take the case of Tom Vegh, the long-time councillor for Ward 1 who is now running for Deputy Mayor and Regional Councillor. In 2005 he bought land from the Town in Silken Laumann Drive hoping to develop it. When that proved impossible in 2009 he persuaded the Town to buy it back. The spending watchdog NTAG tried to get details but was told:
"The disclosure of the requested records to the advocacy group would not increase public confidence in the operations of the Town."
There are lots of good reasons for keeping information under lock and key but maintaining public confidence in the Town's operations is not one of them.
The Clock Tower: Over five years ago, on 24 June 2013, councillors met in camera to discuss the possibility of a development at the Clock Tower. The developer, Bob Forrest, presented his concept – there were no worked out plans at that stage - and he resolutely maintains to this day there was an agreement in principle. The Town disputes this and refuses point blank to publish the records on the grounds it will reveal the Town's negotiating strategy.
When my third Freedom of Information request on this subject was turned down on 31 August 2018 I was told:
"The release of these records will reveal the Town's negotiating position and tactics and would impact the Town's position in future negotiations."
Is this remotely plausible?
I think it is more about saving face.
We know the Town wanted public car parking spaces as the price of agreeing a development in the historic downtown but it all went sour. Forrest was too greedy, wanting too much, and the Clock Tower was eventually rejected by the Town. But despite this, crucial information which would help us understand the whole picture is locked away indefinitely, until it:
"no longer has an impact".
In fact, answers to Freedom of Information requests are not all routinely posted on the Town's website as one might expect. Many are sifted out and never appear in the public record.
Glenway: The redevelopment of Glenway Golf Course which is now changing the face of a huge chunk of Newmarket happened after the Chief Administrative Officer, Bob Shelton, told councillors in an oral report to a closed meeting in 2008 that the Town should not even consider buying the open space as it (the Town) was
"not in the business of running a golf club".
True. But the Town, then and now, is responsible for ensuring there is sufficient open space for a growing population.
Bob Shelton believes the Town should bring in outside people to do specific work as and when they are needed. They are then left to get on with it. The Town commissioned the consultant, Ruth Victor, who was left totally unsupervised. She concluded the golf course (purchased by Marianneville Developments for a paltry $10M) should be made available for a massive housing development that would carpet the former greens and fairways. There was a huge outcry from local people and the Town convened a "Glenway Lessons Learned" meeting on 23 June 2015. Bob Shelton and the Director of Planning, Rick Nethery, were like Easter Island statues, mute. They chose not to share their insights and so, predictably, we didn't learn any lessons from them.
Regional Council candidate, Chris Emanuel, who was at the meeting told me there was too much secrecy. Perhaps, in the course of this election campaign, he will elaborate and go beyond the stuff on Open Data he has already spoken about.
The cost of defending the Town's position at the OMB was $588,291. The Town's planning staff refused to appear before the Tribunal on the grounds they supported development and the councillors decided, at the last moment and under public pressue, to resist it. But the die was already cast.
Politicians come and go
Politicians come and go but the permanent bureaucracy at the Town Hall has been cemented in place for decades. More often than not, they decide what gets released to the public. Their first priority is to protect the Town's reputation and to avoid, at all costs, embarrassment.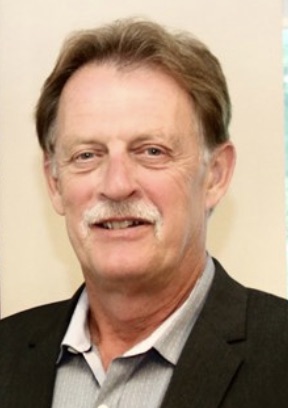 Contrary to the Town's Staff Code of Conduct, the Director of Planning, Rick Nethery, knowingly misled the public when he allowed a report on the Clock Tower to go up to councillors for decision on 28 November 2016 when he knew a crucially important metric on density – the Floor Space Index (FSI) – was false. The Code enjoins Town employees to tell the truth.
Nethery says in his own defence that in his view the FSI is not as important as other factors such as height and massing. But he has not told us when he first realised the FSI figure was false – and Bob Shelton hasn't asked him to tell the rest of us. When I approached John Taylor he also declined to ask him.
Shelton who recently announced his retirement has worked at the Town of Newmarket man and boy and for the last twenty years has been Chief Administrative Officer on a comfortable salary of $251,343.
Over his long career Shelton lists many successes and for these he deserves a hearty round of applause. He kept the show on the road – a skill not always fully recognised nor appreciated. But he also kept the lid on a thousand controversies.
Loss of institutional memory
When Shelton leaves in November there will be a profound loss of institutional memory. He remembers what happened years ago even if the rest of us have forgotten all about it – or were never told in the first place. He knows where all the bodies are buried.
The Council is, or should be, a learning organisation. If the Municipality makes a mistake it should learn from the experience – as should the residents – and we all move on. Except it is not like that in practice. The Town has a deep attachment to secrecy, fearing adverse publicity can only do lasting damage.
Why was it, for example, that the Town even considered partnering with the gaudy swashbuckling showman Sandro Sementilli to redevelop Hollingsworth Arena? There are many other examples out there.
Joe Wamback calls for absolute transparency but - even for me - that's asking too much. Councillors and staff need private time and space to kick ideas around and to weigh the alternatives. That said, a lot of stuff goes into closed session under the cloak of "solicitor-client privilege" when it could be discussed in public.
Under Bob Shelton, the Town's policy is to keep everything that may reflect negatively on the Town - and the actions of its most senior staff - sealed. The guiding principle is to say nothing and wait for the storm to pass.
If I ruled the world (or the tiny bit that is Newmarket) I would "declassify" confidential reports as soon as possible. Obviously, there are reports on personnel and labour relations and those where there are privacy concerns and these should be kept confidential. No question. But on matters of broad public policy why should these be lumped into the same category? To save face and avoid embarrassment? For convenience?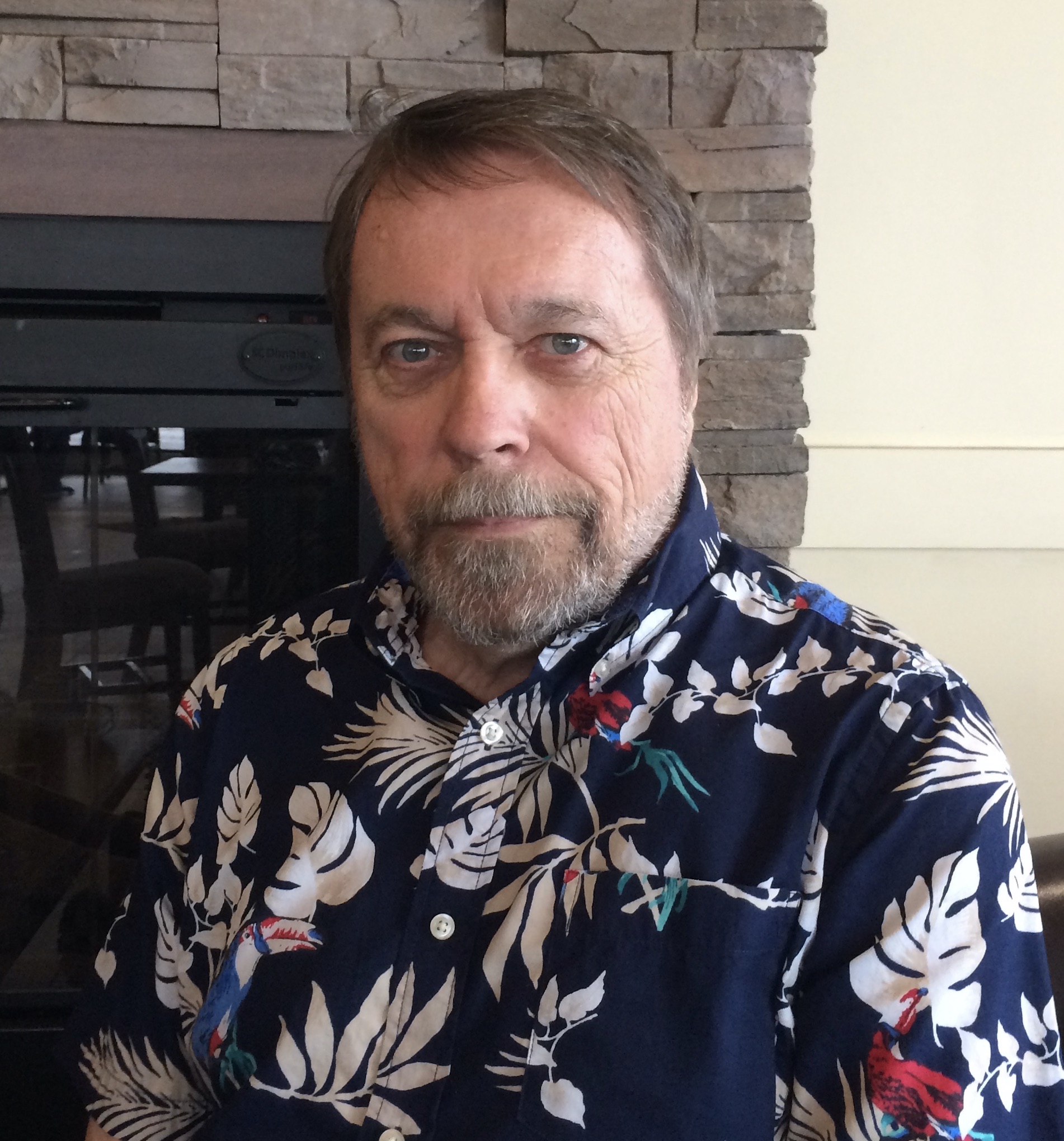 Hyper transparency
Joe Wamback is feeling his way in an unfamiliar world. But the same cannot be said for John Taylor who knows every inch of the Municipality's hidden wiring.
Four years ago, on 29 September 2014, Taylor told councillors:
… in-camera discussions go through a process and most of them eventually, if not all of them, eventually, come out of camera. You go through a process that takes time and staff review it and they report back to us how to bring it out in its entirety or partially and at what stage.
This description of reports coming up from the vaults and into the light of day is fanciful.
In that testy and controversial debate Taylor warned against "hyper transparency". He reminded us that every Municipality has confidential memos and confidential reports.
"This is an absolute necessary tool, protecting the interests of residents in our communities. We have often conversations or negotiations or litigation or decisions that sharing them publicly would harm the residents' interests in a financial way and in other ways. So as a brief example, if we are talking about going to the OMB or purchasing a piece of land. These are two examples. Just like you potentially selling your home. You wouldn't invite in all the other real estate agents to hear you tell your real estate agent about your lowest offer would be, what you would accept. You would keep some things confidential because that is in the best interests of yourself financially."
But what happens once we've been to the OMB as in the case of Glenway? And what happens once the house is sold? If John Taylor were a realtor would he want the sale prices to be made available or, like the Toronto Real Estate Board, would he want them kept confidential? The Taylor I know would keep them under wraps. But perhaps I'm wrong.
Taylor concludes:
"At the end of the day there will still be matters that we simply cannot and will not disclose because it is not in the best interests of residents and I think it is very important that we discuss that and people understand that principle and that there are elected officials willing to stand by that principle."
I am left wondering if Joe Wamback secretly agrees with that or whether, in his quest for absolute transparency, he will let it all hang out.
This email address is being protected from spambots. You need JavaScript enabled to view it.
The Mayoral debate will be hosted by the Newmarket Chamber of Commerce at Newmarket Theatre at 6.30pm on Wednesday 26 September 2018
Details

Written by

Gordon Prentice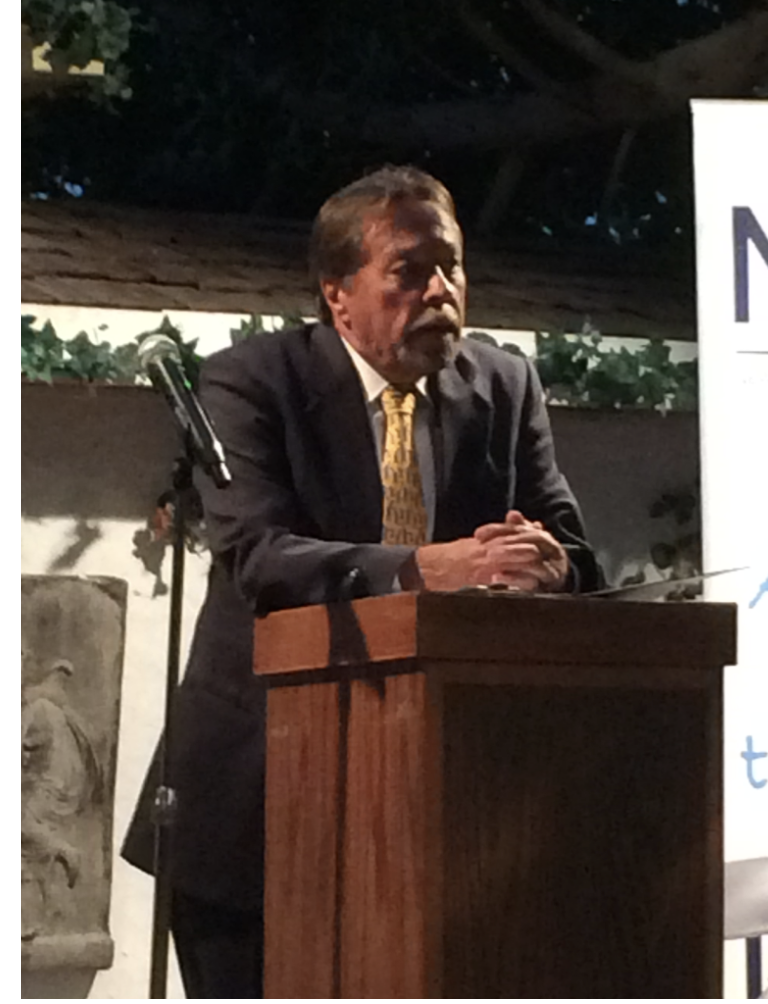 The Newmarket Taxpayers Advocacy Group (NTAG) is grilling the Town's candidates for Mayor and I decide a few days ago to wander down to Madsen's Greenhouses to see them strut their stuff.
Unfortunately, the accountant Talib Ansari pulls out at the last moment for personal reasons and so we are left with Joe Wamback, neatly turned out in jacket and tie, standing alone at the lectern. John Taylor has his own spot in front of the NTAG faithful on Wednesday, 3 October.
I last spoke to Joe in May of this year and came away wondering why he wanted to be Mayor. He had no prospectus to speak of; it was pretty much a blank sheet of paper. He wanted more transparency but these days who doesn't?
Joe appears relaxed as he takes the stage. The acoustics are not great but this isn't Thomson Hall. It's a greenhouse with tables and chairs, full of shadows and ferns. He tells us loudly he doesn't need the microphone.
"I'm not a politician"
He starts by reminding us he is not a politician though, in some respects, he behaves just like one. He is fluent and confident on his feet. We all marvel as he presents his glowing credentials to us. He has run a successful company. He spent nine years as an adjudicator in a Federal tribunal. We learn he crafted policies on victim support that are now the law of the land. By any measure it is an impressive CV.
And he is also a proud fiscal conservative.
The Mayoral contest should provide something for everyone and the withdrawal of Ansari means the vote is not going to splinter three ways. This makes it easier for Joe though he clearly has a mountain to climb. John Taylor has a high profile with the kind of name recognition most politicians would die for.
The evening starts with NTAG President, Teena Bogner, firing pre-prepared questions to Joe. What made you decide to run? What about transparency and oversight? Can you identify and deliver cost savings? What do you think about Mulock Farm, the mooted new library and Newmarket Theatre which limps along carrying an annual deficit of $750,000. There is plenty of red meat there to get his teeth into.
The hunt for "cost savings"
Now I am listening to a series of intelligent questions from an engaged audience who live, breathe and dream cost savings and "efficiencies". I too believe public money should be well spent but I live in a different part of the forest where people are more likely to see the benefits of public spending.
The questions don't wrong foot Joe who is in turns combative and quietly sympathetic. A new senior centre and library? He understands. He says he is a senior himself.
He wants to see affordable housing on the 12 acre site at Mulock Farm – while preserving the park. He is trying to have his cake and eat it. Joe tells us:
"We do not need a Central Park."
On the proposed GO Rail station at Mulock Drive he is uncompromising. It's not going to happen. The overpass or underpass would be very difficult from an engineering perspective and would, in any event, be prohibitively expensive. The new station is just not needed. It is too close to the Tannery on Davis Drive and Aurora. He is also concerned about the 281 jobs that would be lost if and when the land around the station is redeveloped. Joe skilfully refers to the number of families likely to be affected and condemns the $250,000 the Town is spending on its Mulock Secondary Plan. The car showrooms would go to make way for higher density development – the quid pro quo Metrolinx insists on as the price for getting the new station.
No to Mulock Station
As I listen to Joe I am shaking my head, imperceptibly. It is one thing for Doug Ford to axe Mulock Station to "save money". It is quite another matter for the Town's Mayor to sabotage an initiative which in the medium to long term will bring huge benefits to the area and to Newmarket as a whole.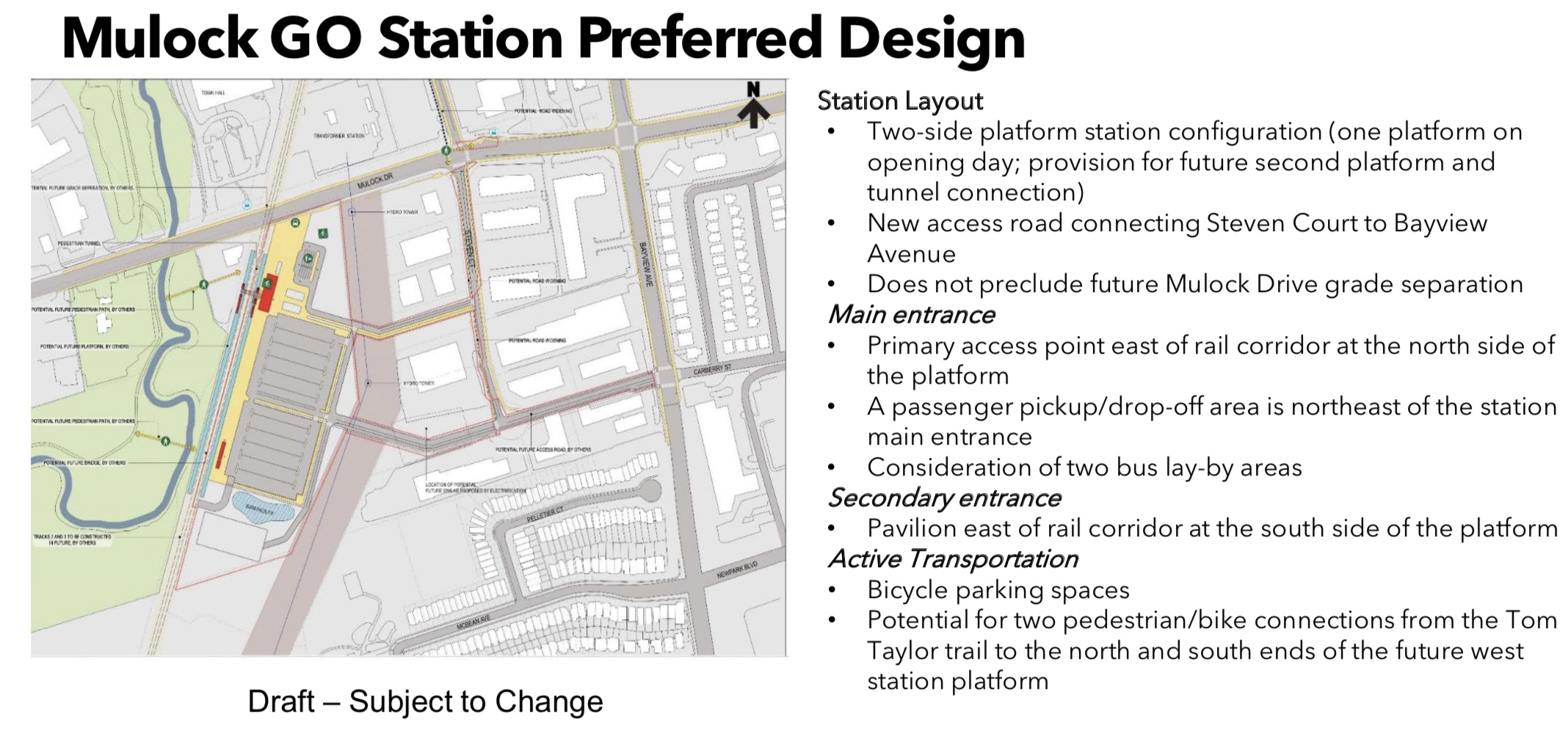 Now Joe is telling us he wants to relocate the Eagle Street GO Bus Station to the Tannery. As I've been advocating this for years I decide to award him a brownie point.
Now he is talking about building a new parking structure at Davis Drive.
He fields questions about the future of Hollingsworth arena, telling us the Town shouldn't be a developer itself but should partner with the private sector.
He is animated and energised about marijuana. It's is a done deal. It's gonna be legal. It's impossible to wind back the clock but the Town can pass by-laws regulating the locations of shops selling the stuff. He is sceptical of bike lanes and would get rid of the waist-high yellow posts along the road that delineate them. He reads his audience well and knows this will get a laugh – which it does. Now he tells us:
"My heart is as big as anyone's for those that need help most."
But in the next breath – and just in case you doubt where he is coming from - he makes it clear taxpayers' dollars are a limited resource.
Contracting out Town services
He ridicules the idea of the Town becoming an internet provider and warns against encroaching on the private sector's turf. But he goes further. He says the Town has a staff of 800 and we should be looking at ways of contracting out some of the services that are currently provided in-house. He doesn't specify which and no-one asks.
Joe is not prepared to argue the case for amalgamating municipalities to save cash but he doesn't see any reason why particular (unspecified) services cannot be shared. This is unexceptional stuff coming straight from the standard Conservative play book.
Now someone is asking him where he has been for the past four or more years. He has been the invisible man. He says he had to take a low profile and steer clear of controversy as a condition of his work as an adjudicator. Fair enough, but neither was he following events that have convulsed the Town over recent years. Last night he confessed to knowing nothing about the Newmarket soccer loan controversy. That surprised me but I suppose it shouldn't have.
Now we are talking about the role of the Mayor and the Town bureaucracy. He believes in term limits – eight years would do nicely – as
"We need new blood and new ideas."
The ideas, he says, come through the staff – the Bob Sheltons of this world – and the job of the Mayor is to make things happen. Seeking funding. Bending ears and, perhaps, twisting arms. Who knows?
Oh dear!
This dismays me.
Of course full time senior staff will have their own views on how the Town should grow and develop but to pass the initiative to them to "come up with new ideas" is to misunderstand the role of elected members.
"I like Doug Ford"
Someone asks him what he will do if he loses.
It is no big deal. He and Lozanne will move on to the next thing – whatever that may be. He repeats what he told me in May:
"I am not doing this for the money."
The Chamber of Commerce debate next Wednesday (26 September 2016) promises to be a compelling clash of ideas and approaches.
His opponent, John Taylor, is by nature and inclination an interventionist (though in a careful, prudent and "don't frighten the horses" kind of way) and Wamback is a true-blue, dyed-in-the-wool Conservative. Joe tells us:
"I like Doug Ford."
This man, Joe Wamback, tells it as he sees it. He is not going to dance around the issues. So I hope the format next Wednesday allows the two of them the briefest of pleasantries before locking horns.
They have very different approaches to running the Town and we have a clear choice in front of us.
This email address is being protected from spambots. You need JavaScript enabled to view it.
Update: Newmarket Today's coverage of the event is here.
Details

Written by

Gordon Prentice
Christine Elliott is my MPP.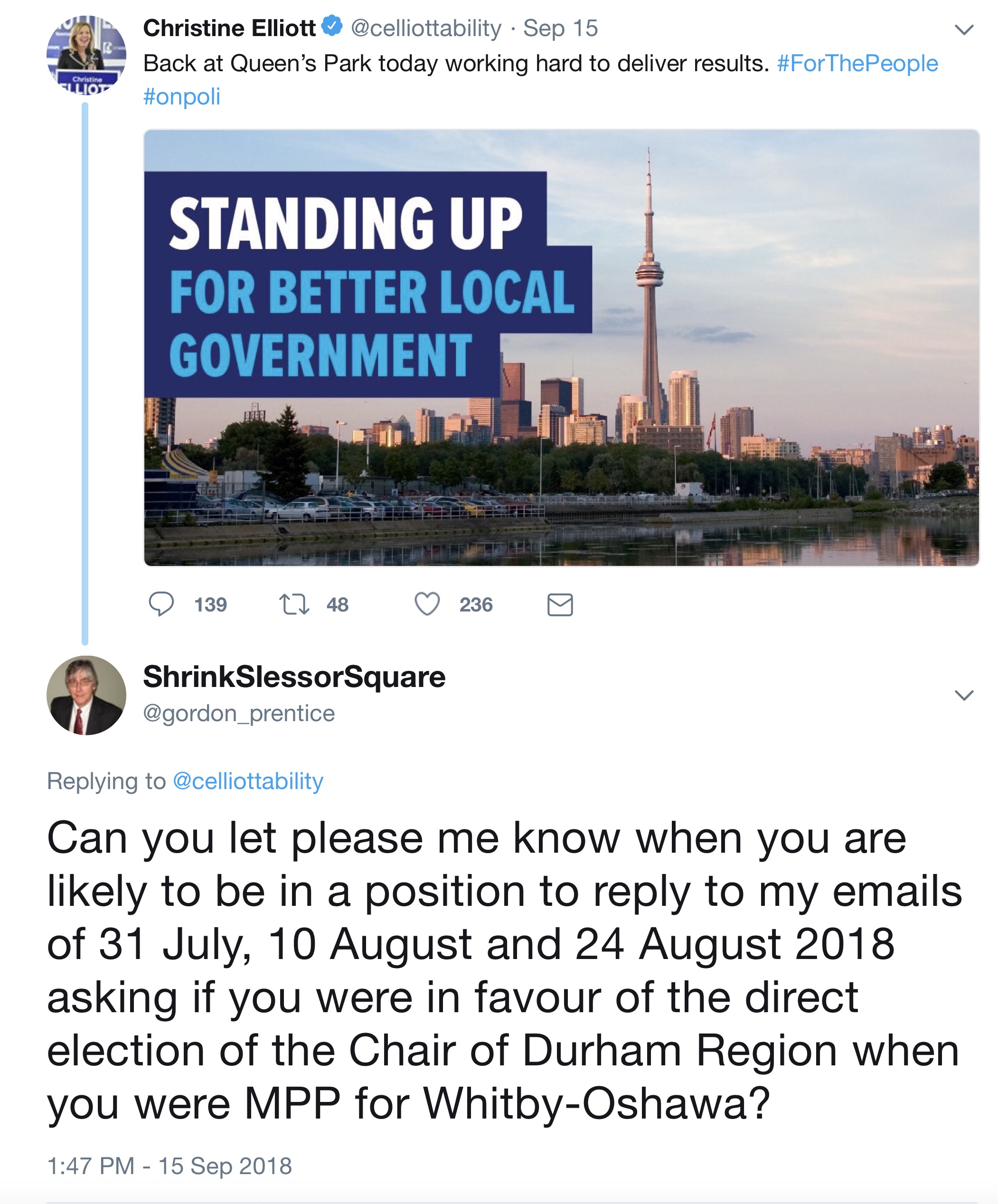 She steadfastly refuses to tell me if she was in favour of the direct election of the Chair of Durham Regional Council when she was MPP for Whitby-Oshawa.
It is not a trick question.
I want my MPP to tell me where she stands on a major issue of public policy - the election or appointment of the Chairs of Regional Councils.
Instead of a crisp straightforward answer all I hear is silence.
Durham Regional Council has elected its Chair by the voters at large since 2014. A municipal referendum was held in 2010 where a large majority of voters favoured direct election. The referendum failed because the number of voters participating did not reach the specified threshold. But the Regional Council persuaded the Minister to intervene.
Bill 31 – the Efficient Local Government Act – comes back to the floor of Queen's Park at one-minute past midnight tonight (17 September 2018) recreating the provisions of Bill 5 – the Better Local Government Act – and separating the regional sheep from the regional goats.
The Head of Council (Regional Chair) in York, Peel, Niagara and Muskoka will be appointed by members of the regional council. But in Halton, Durham and Waterloo the voters at large will decide.
Understandably, the entire focus of the debate so far has been on Toronto City Council. Mr Justice Belobaba declined to involve himself in how Regional Chairs are to be elected, concentrating on what he believed was the primary issue - the Province intervening in an election which was already underway.
But the manner in which Regional Chairs are selected is an issue that won't disappear.
York region's population is bigger than PEI, Newfoundland, Labrador, New Brunswick, Nova Scotia, Saskatchewan, and is rapidly closing on Manitoba. Yet the person who leads York region is indirectly elected by 20 people.
On 26 July 2018, York Region Chair, Wayne Emmerson, announced he would be withdrawing from the race to become the first directly elected chair:
"I have made this decision with the full support of my family. It is a difficult decision, but it is the right decision for me and those close to me."
On 27 July 2018, Emmerson tells the press:
"I love the job and I want to be able to do what I can for the region of York and the residents of the region of York. I've been thinking about it more and I'm going to go back in. I've changed my mind and I'm going to run for regional chair (appointment)."
In 2014, an anomaly in the provincial Municipal Conflict of Interest Act allowed Frank Dale to vote for himself as Chair of Peel Region, in a ballot he otherwise would have lost.
Now tell me indirect election beats asking the voters at large.
This email address is being protected from spambots. You need JavaScript enabled to view it.
Update: Watch former Newmarket-Aurora MPP Chris Ballard discuss the cancellation of the elections for Regional Chairs on Steve Paikin's "The Agenda" aired on 19 September 2018.
Subcategories