Details

Written by

Gordon Prentice
Regional Councillor Tom Vegh won the October 2018 election in Newmarket on a false prospectus.
He made an explicit promise to the voters that he would build a new library and seniors' centre on the site of the old Hollingsworth Arena which the Town plans to "decommission" in 2020.
Of course, Tom's vote is only one out of nine on Newmarket Council and I took his pledge to mean (a) that he would strive to convince his colleagues to support his library/seniors' centre plan and (b) that he had thought it through and had a proposition to put before us.
Alas, instead of a plan we see a gaping void.
There is, of course, no disgrace in a politician arguing their point of view and losing in a vote. It happens all the time. But Timid Tom refuses to engage in debate. What's he afraid of?
On Monday 29 April 2019 the Town's Committee of the Whole will be considering a staff report on the redevelopment of the Hollingsworth Arena site – which is owned by the Town – and the adjacent lands owned by the developer, Briarwood.
It is Tom's last chance to redeem himself. (You can read the report here at agenda item 5.1)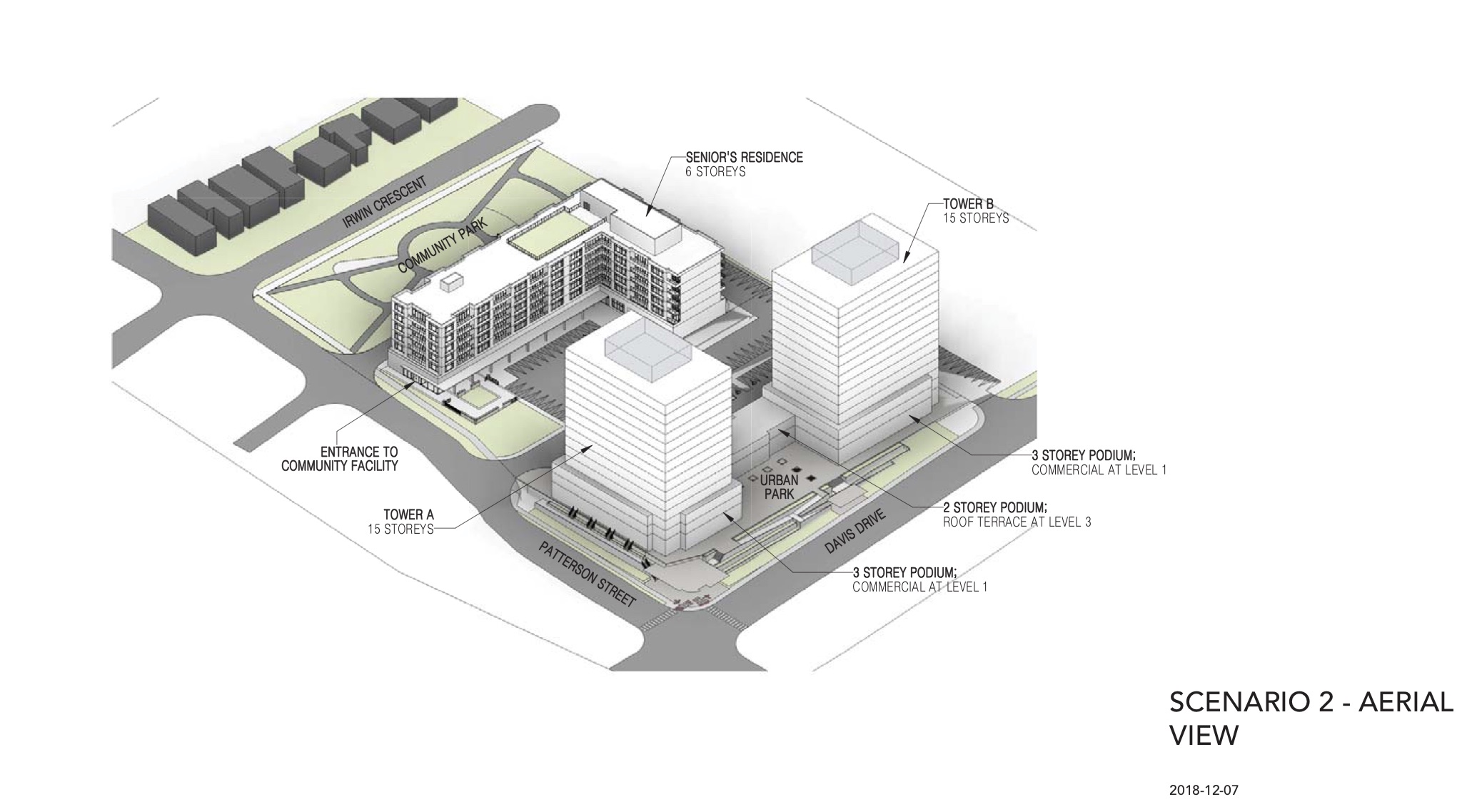 The staff report invites councillors to:
"endorse in principle the notion of redeveloping the entirety of the properties municipally known as 693 Davis Drive, 713 Davis Drive and 35 Patterson Street, in a manner generally consistent with the conceptual drawings entitled "Scenario 2 – Site Plan" and "Scenario 2 – Aerial View", attached to this Report, prepared by the Briarwood Development Group, dated December 7, 2018"
If this is carried – as I suspect it will be - it kills stone dead any possibility of the dual library/seniors' centre that Tom dangled before the voters last October, enticing them to vote for him rather than the early favourite Chris Emanuel.
The very next item on the agenda (item 5.2) is a piece of puffery about the Town's "strategic priorities" which reads as if it emerged from a sophisticated process but, in reality, it is just an expensive cut-and-paste job, re-hashing stuff that's been around for a long time and repackaging it.
There was a discussion of sorts about the Newmarket Public Library but with no enthusiastic champion it failed to get into the top five in its particular "pillar". Yet again it is not a priority for the new Council.
And Tom, more feeble and hesitant than usual, is content to play the part of a spectator when he should have been speaking clearly and persuasively about his vision for a new library and seniors' centre.
I've told Tom he can post a blog here on Shrink Slessor to explain how he is going to put his plan (whatever it is) into practice. He can write whatever he wants.
He has done this before to correct what he considered erroneous and tendentious commentary about land he bought from the Town years ago in Silken Laumann Drive.
So Tom. It's over to you.
Make the case.
This email address is being protected from spambots. You need JavaScript enabled to view it.
I see Newmarket Today has run a piece about Tom taking developers' money to finance last year's election campaign. Tom gets the money but what's in it for them? My advice to Tom is to steer clear of developers' money. It always ends in tears.
Details

Written by

Gordon Prentice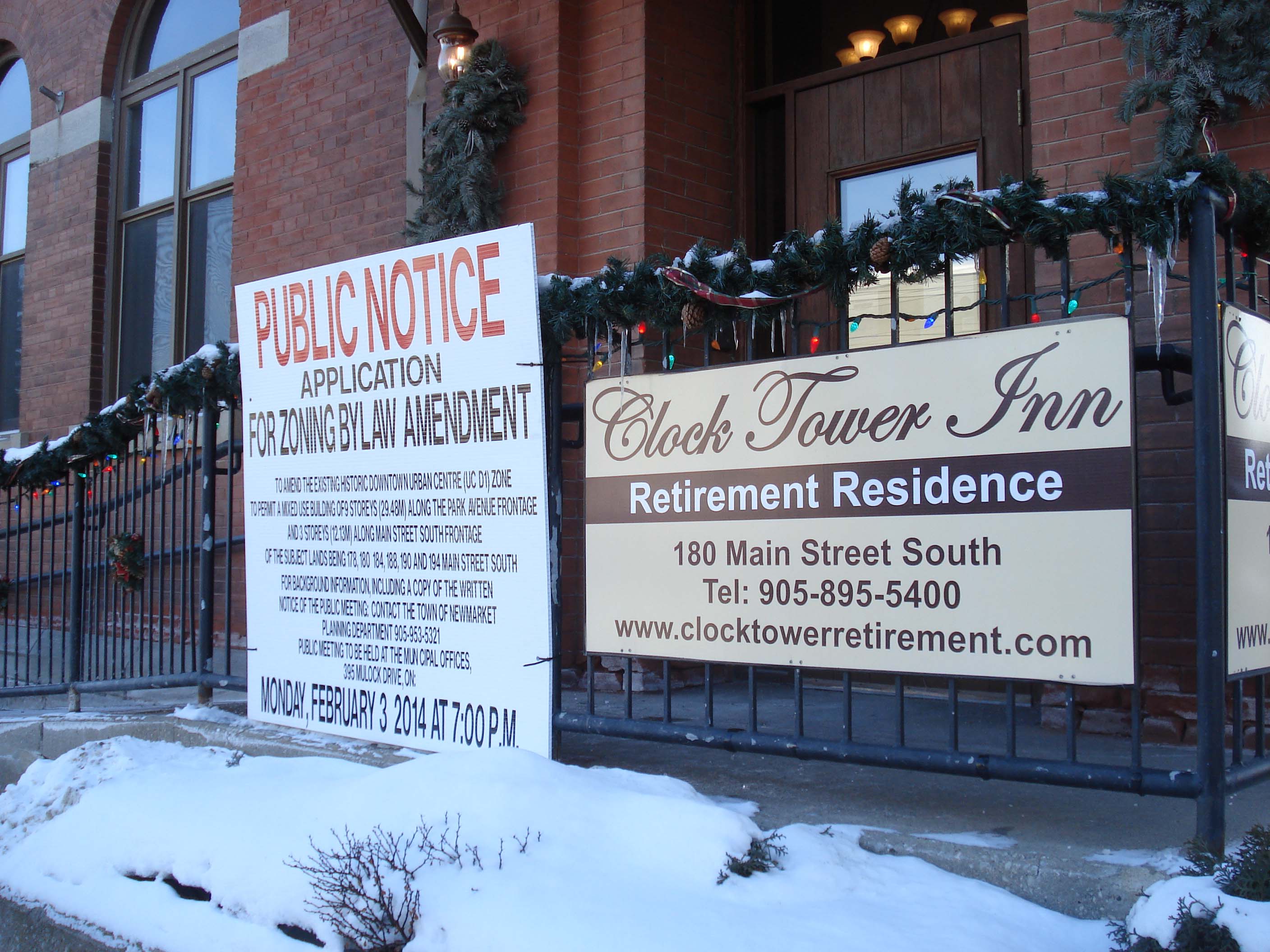 The decision by Bob and Colleen Forrest to sell the Clock Tower and the adjacent historic commercial properties should come as no surprise. Bob put the properties on the market years ago but, for whatever reason, he didn't sell. Or couldn't get any buyers.
Now we must assume he is serious. His heritage properties are in a disgraceful condition having been boarded up and neglected for years. Rotting from the inside out is demolition by neglect.
Colleen says the sums don't add up and they cannot do anything with the properties other than get rid of them. But who is to say the Forrests will find a buyer at the price (whatever it may be) that they are prepared to accept?
The Town's Committee of the Whole will be considering its next moves on the Clock Tower on 29 April 2019. It is an important meeting and a lot will turn on the decisions made. So, what should happen next? And what questions need to be answered?
1. Invite Bob and Colleen Forrest to the meeting to give a presentation and take questions. They can explain why they have taken the decision to sell and bring us up to speed on Colleen's promise of 4 May 2018 that they would be bringing forward an "exciting new concept for this beautiful heritage space, a concept that will bring economic stimulus to downtown Newmarket". What progress, if any, did they make on developing their concept?
2. If the Forrests sell what responsibilities and obligations arising from the Town's agreement with MSCI on 2 May 2018 will fall to the new owner? The lawyers will want to weigh in on this one. The land exchanges have been completed but what happens if the Forrests can't sell - or won't accept a lower offer - and they are still the owners on 15 December 2019 when, under the terms of the agreement, work is scheduled to begin on the old buildings with shovels in the ground.
3. Will we now have a report on the interiors of the buildings which have reportedly been allowed to decay into a truly horrible state? What heritage features from the interiors are worth saving? The fact that the buildings have been allowed to deteriorate so dramatically is not an excuse for demolition as some have mooted. Look at Bogart House which is to be brought back from the dead after an alleged heritage expert recommended it be demolished.
4. What are the Forrests planning to do with the interiors? They appear to be gutting the interiors. Is there an inventory of heritage features that should be left in-situ? Do they have all the necessary permissions from the Town?
5. When do they intend to submit grant applications to the Newmarket Downtown Development Committee? Do they intend to ask for grant money for the interiors as well as for the facades of the heritage commercial buildings?
6. What works do the Forrests intend to carry out to make the properties ready for sale?
7. On 4 May 2018, Colleen talked about the problems with getting a servicing allocation to hook up the buildings to the sewage and wastewater system. She told the press: "...the planned Clock Tower condominium building would be unlikely to receive servicing allocation until 2026-27". Understood. But are there any servicing constraints on any new development on Forrest's land which is now, once again, part and parcel of the Downtown Heritage Conservation District?
We shall find out soon enough.
This email address is being protected from spambots. You need JavaScript enabled to view it.
Details

Written by

Gordon Prentice
On Thursday (18 April 2019) York Regional Council will formally adopt its first ever Code of Conduct.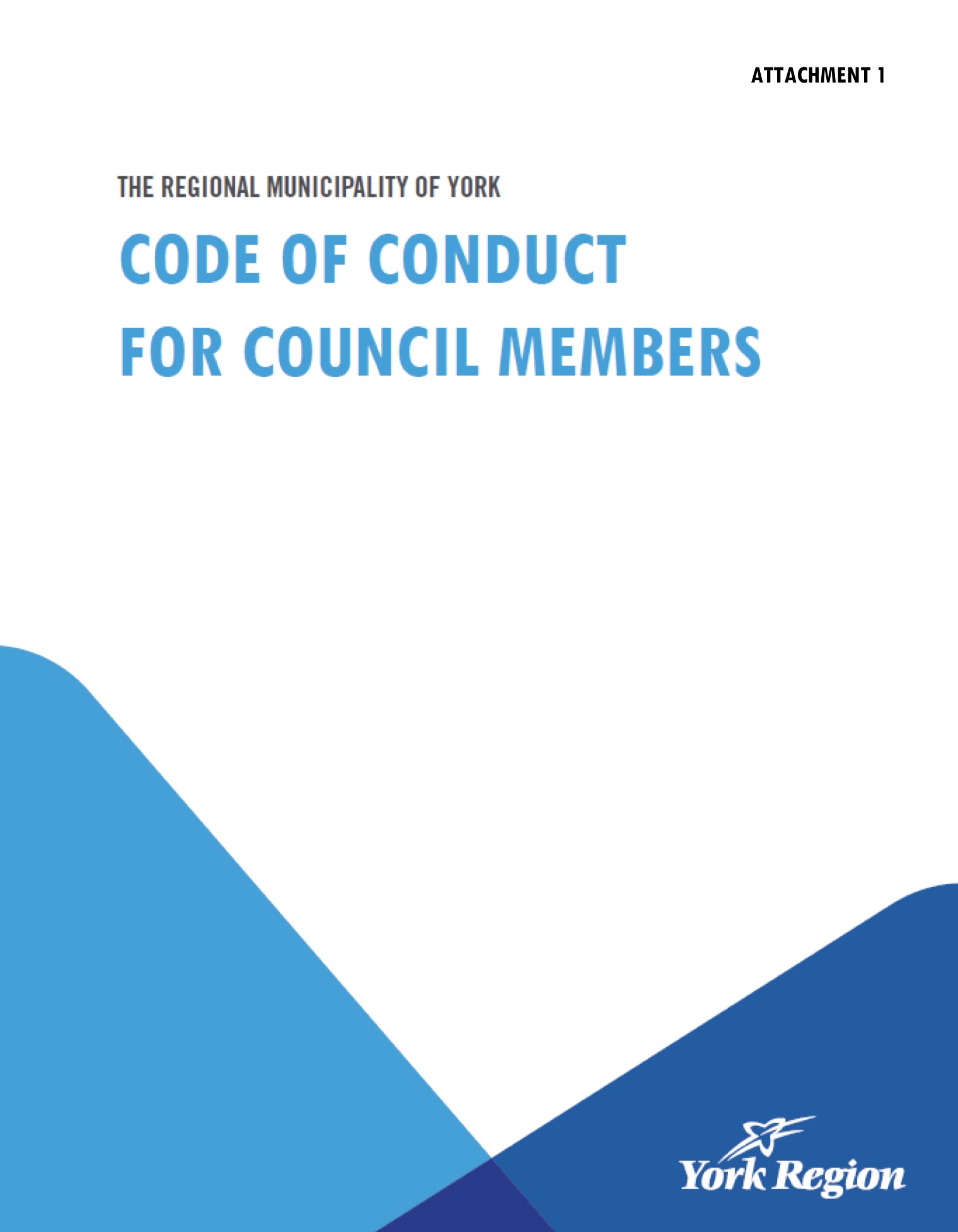 It should have happened years ago but there was a lot of foot dragging. A Code of Conduct is a safeguard which protects the public from rogue councillors but it also protects the members themselves from unjustified accusations of inappropriate behaviour.
The Regional Council has had a number of bites at a Code of Conduct and the one up for approval on Thursday is slimmed down from the January 2019 version by the Region's Integrity Commissioner (another recent innovation).
Code rewritten
The Integrity Commissioner's Draft Code was sent away for a re-write and the new version, authored I think by staff, is half the length of the original and is much better in every regard.
It seems to tick all the boxes but you can never be entirely sure it will capture all eventualities. People are endlessly inventive when it comes to circumventing rules.
The most important statement in the new Code of Conduct is listed as its first guiding principle:
"Members shall serve the public in a conscientious and diligent manner that promotes public confidence and will bear public scrutiny."
As a general rule, if elected members are happy to read a report about their activities appearing on the front page of their local newspapers there is probably nothing to worry about.
When severance doesn't mean severance
Before he was indirectly elected to the Chair of York Regional Council in December 2014 Wayne Emmerson had been Mayor of Whitchurch Stouffville for many years. And by virtue of that position he was also a member of York Regional Council.
When he retired as Mayor he collected a severance package from Whitchurch Stouffville reflecting his many years of service including 17 years as Mayor.
Emmerson said that he standing down as Mayor and coming off the local council because he was going to run for Chair of York Region. He couldn't be Mayor of Whitchurch Stouffville and Chair of York Regional Council at the same time. He said that if he was successful in becoming Regional Chair it would trigger a by-election back in his home turf which would cost the taxpayers in Whitchurch Stouffville a pile of cash. He thought that would be a waste of their money.
Emmerson, facing an electorate of 20, successfully stood for Regional Chair against Newmarket's John Taylor.
At the same time Emmerson collected a severance payment of $35,514.64 from York Region on the grounds he ceased to be a member of York Regional Council on election day on 27 October 2014. But he became its Chair on 11 December 2014. He was back on York Regional Council without having missed a single meeting – at the same time as everyone else who was re-elected - and with a wodge of dollar bills in his pocket.
Severance, to me, suggests cutting ties. Going off and doing something else. Hence the rationale for the pay-out. But staying on and pocketing the cash?
Ethical dilemmas
But I suppose that's why we have Codes of Conduct and Integrity Commissioners to help us navigate our way through these difficult ethical dilemmas.
Unfortunately, York Region did not have a Code of Conduct nor an Integrity Commissioner in December 2014 so it was up to Emmerson himself to decide what to do.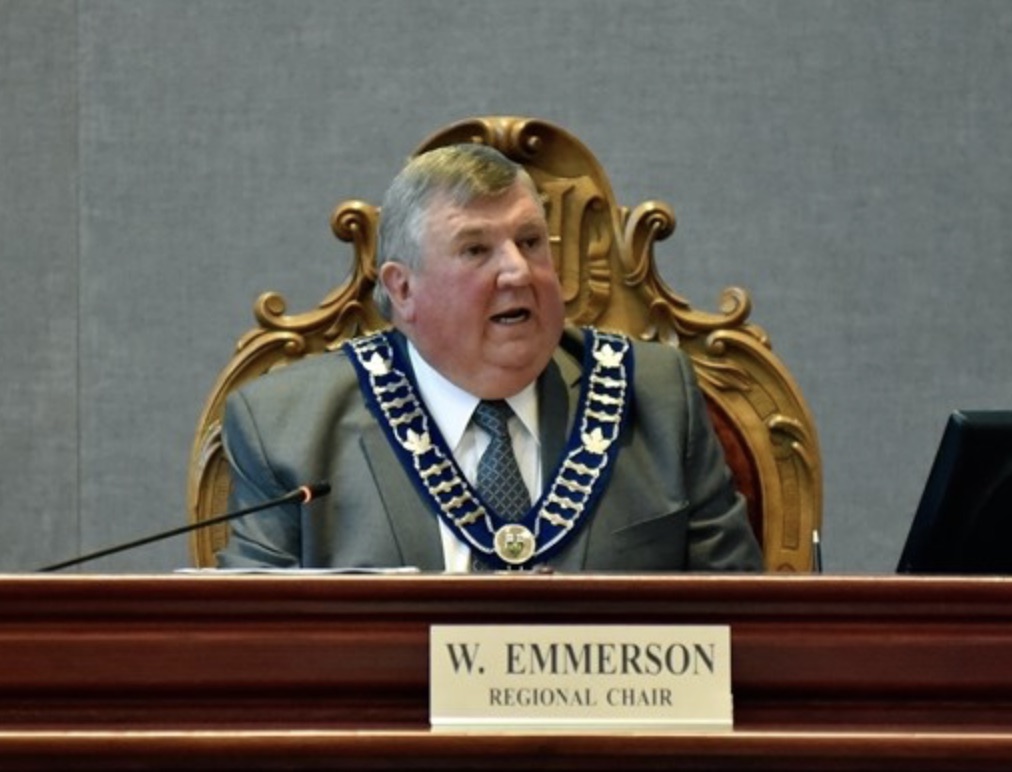 The severance package is calculated according to the member's length of service which means "any continuous period of service as a member". The 1996 by-law was amended in 2009 to clarify the meaning of "service". It means
"continuous, unbroken service as a member."
Severance has to be claimed. It is not awarded automatically.
Perhaps it would have been more appropriate for Chairman Emmerson not to have claimed his York Region severance payment of $35,514.64 until he knew the result of the election for Regional Chair. After all, he had six months to make that call.
If he had lost to Taylor his connection with York Regional Council would have been well and truly severed. No doubt about it.
But Emmerson had teed up the votes and won 16-4. And he collected his severance as a bonus.
What Emmerson did was clearly lawful.
But ethical?
This email address is being protected from spambots. You need JavaScript enabled to view it.
Details

Written by

Gordon Prentice
5pm: Developer Bob Forrest is putting Newmarket's iconic Clock Tower and the adjacent historic commercial properties up for sale.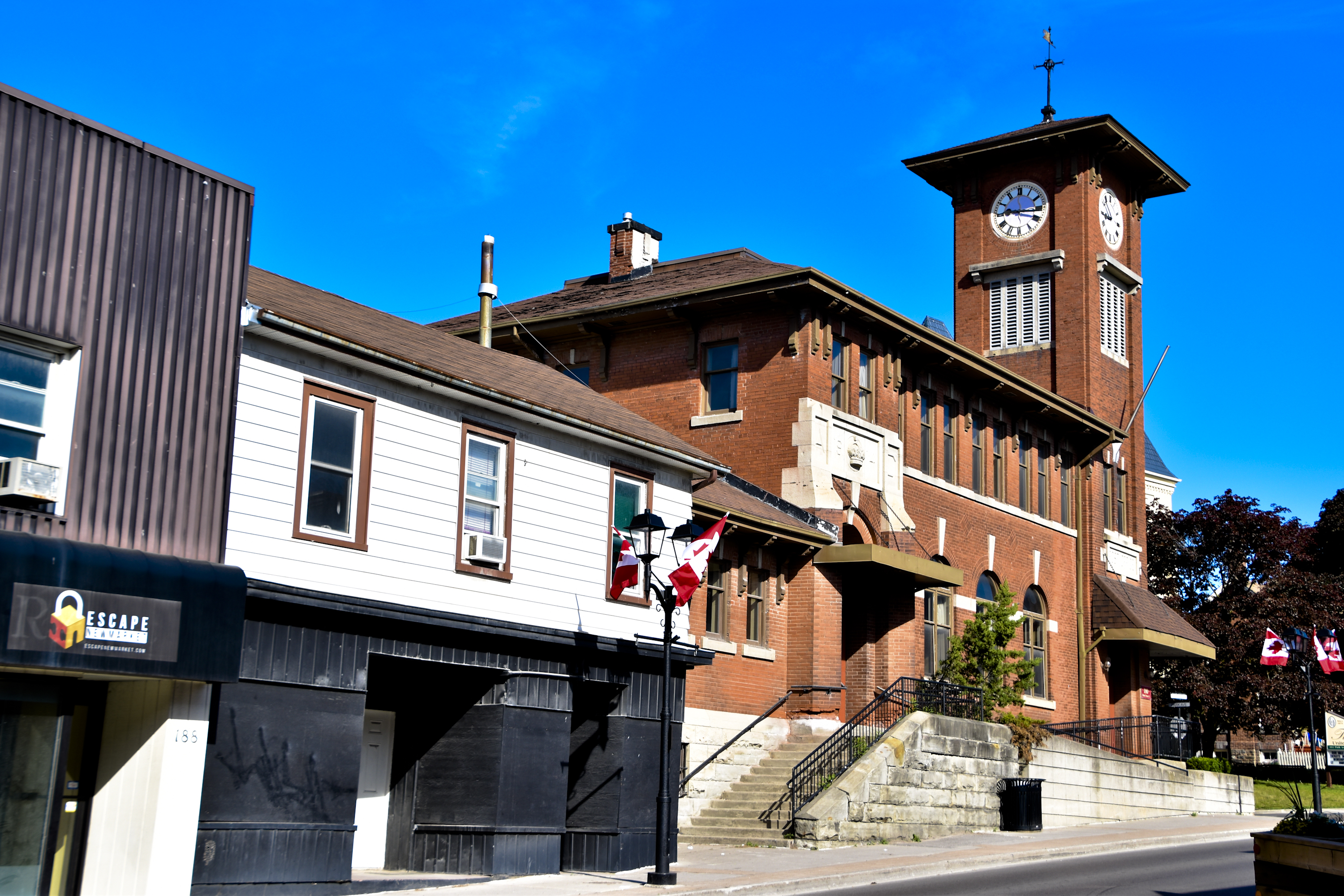 The sale is being handled by realtor Graham Purvis of Royal Le Page but the listing is not expected before June at the very earliest.
The agreement entered into by the Town and Forrest's Main Street Clock Inc last year still stands and Forrest will be getting the properties in a fit state for sale. They have been empty for many years and the buildings have deteriorated markedly.
A report on the Clock Tower is expected to go up to the Town's Committee of the Whole on Monday 29 April 2019.
All Forrest's buildings are within the Downtown Heritage Conservation District and the structures are protected - other than the old telephone exchange dating from 1957 (on the Market Square side of the Clock Tower building) which has no heritage value.
It appears the interiors are being stripped out.
This email address is being protected from spambots. You need JavaScript enabled to view it.
Update on17 April 2019: And this is how Newmarket Today subsequently covered the story.
I've had another look at the agreement entered into by the Town and Forrest's Main Street Clock Inc on 2 May 2018 and have reminded myself that the "New Development Concept" is simply a shorthand way of describing what Forrest can and cannot do with the lands he owns. This is what the Site Plan agreement (attached as Schedule 3 to the minutes of settlement) says:
… AND WHEREAS the Owner proposes to develop the Subject Lands (ie the lands that Forrest owns) within the existing Official Plan land use permissions and zoning by-law regulations, and the development shall be contained entirely within the existing building envelopes and structure, with the exception of the following, all at MSCI's sole option and discretion, (i) a ten stall parking lot (ii) the potential construction of passageway links between the buildings on the Subject Lands and (iii) the potential construction of covered garages at the rear of the Subject Lands, each as described in the minutes of settlement executed between the parties on the same date as this site plan agreement (the "New Development Concept")
On 4 May 2018, Colleen Forrest told us:
"Main Street Clock Inc looks forward to sharing in the near future an exciting new concept for this beautiful heritage space, a concept which will bring economic stimulus to downtown Newmarket."
It never happened. We didn't get an exciting new concept. Just another 12 months of dereliction and decay.
The Mayor, John Taylor, first learned of Bob Forrest's plans to sell the Clock Tower about two weeks ago.
Details

Written by

Gordon Prentice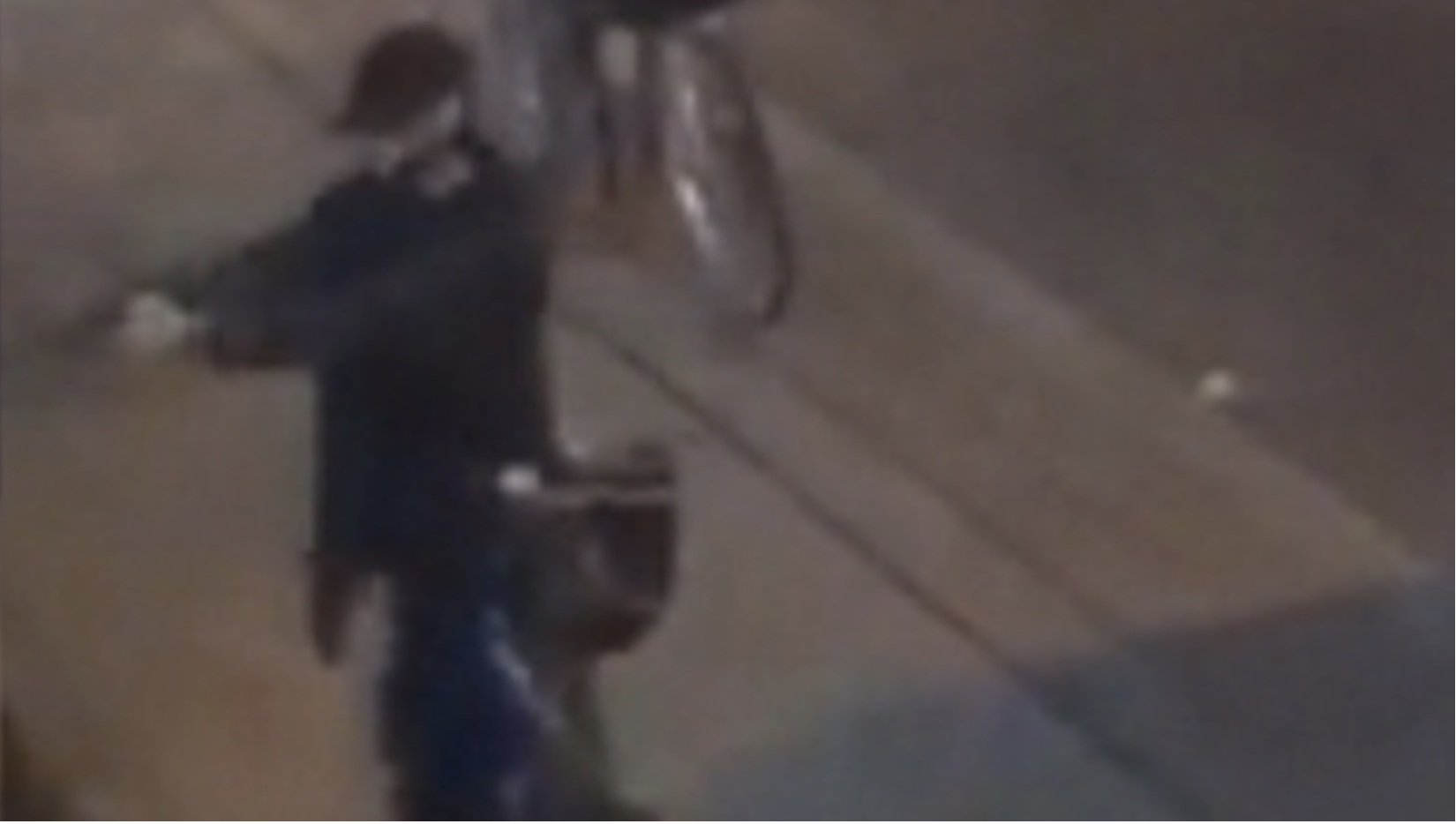 Newmarket-Aurora's Liberal MP, Kyle Peterson, now supports a ban on assault weapons.
This is progress.
But Kyle, who is standing down at the next election after one term in Ottawa, is still undecided about what to do about handguns. He told me last October he was going to wait for the report by Public Safety Minister, Bill Blair, before deciding which way to jump.
I have been pressing Kyle, whom I like, to come out strongly and unequivocally in favour of a ban on handguns and assault weapons. As an MP he is in a uniquely influential position. He can shape, mould and lead public opinion so his views matter to me.
But Kyle sticks to his guns. He is going to wait for Bill Blair's report.
Last Thursday (11 April 2019) the Government published a report on the firearms consultation which seemed to suggest the country was sharply polarised on a firearms ban. This was the narrative universally reported by the Canadian press from coast to coast. The gun-lobby got the headlines it wanted.
The full report was not posted on the publicsafety.gc.ca website until after the day after the story was reported by the media.
Flawed
The consultation is deeply flawed.
The on-line questionnaire, purportedly completed by 134,917 respondents, is completely bogus and its findings worthless.
On 11 April 2019, Patrick White in the Globe and Mail wrote:
"… the open nature of the survey invited digital trickery, with one firearms enthusiast telling the Globe last month he sent upward of 25,000 submissions using an automation app as way of thwarting what he felt were biased questions."
The fact that the online questionnaire could be manipulated in this way was openly acknowledged in the report which records the concerns that people had about the methodology. The list includes this concern:
"Did not require user verification and a single user could submit more than one response."
This concern was not addressed or rebutted in the report, merely acknowledged.
I hope the Globe and Mail will get back to Bill Blair for a comment on his useless on-line survey.
Manipulation
Why should people place any faith in a survey that can be so easily manipulated?
In the report's section on data collection and analysis I read that 1,103 responses were sent via email, 58 were sent via mail, and 8 were sent via fax.
But I learn that:
"Public correspondence sent to Minister Blair and Minister Goodale has not been included in this analysis."(my underlining for emphasis)
How many people like me emailed Bill Blair with their views without realising their comments would not be taken into account?
I sent two emails to Bill Blair on 11 October and 3 November 2018 and did not receive a reply to either.
Consultation by stealth
The report's section on data collection and analysis lists another concern:
"Lack of advertising meant members of the Canadian public did not know about the questionnaire."
Yet in this early period when I was struggling to understand the process for consulting the public, 134,917 on-line questionnaires were completed during the consultation period between October 11 and November 10.
We learn no questionnaires were completed in PEI or the Territories. Wasn't that a red flag signalling defects in the consultation methodology? We don't have the numbers or percentages of questionnaires completed in Nova Scotia, New Brunswick, Newfoundland and Labrador, Manitoba or Saskatchewan. Why not?
If the results can be extrapolated across the adult Canadian population as a whole (the very idea is risible) we are asked to accept that 81% of Canadians believe nothing more should be done to limit access to handguns and 77% believe no more should be done to limit access to assault-style firearms.
Seriously?
Christchurch
The questionnaire was, of course, completed before Christchurch. But I suspect the "results" wouldn't have been that much different had the questionnaires been completed after the massacre in New Zealand. The gun lobby is not open to persuasion.
When I was cajoling Kyle to come off the fence last October I asked how he would respond if a deranged individual shot and killed half a dozen people in Upper Canada Mall, using a handgun. I wanted to know if Kyle would tell the press and public he would be waiting for Bill Blair's report before commenting.
Seems to me we've got to move away from the usual bromides and platitudes we hear after gun massacres. Please, no more "thoughts and prayers".
We need tough new laws to ban all hand guns and assault weapons in private hands.

After the Christchurch massacre Kyle tweeted:
"Everyone in our community deserves to feel safe and secure"
Which begs the question what are you going to do about it?
This email address is being protected from spambots. You need JavaScript enabled to view it.