Details

Written by

Gordon Prentice
The land west of Bathurst and immediately adjacent to Newmarket which is currently Greenbelt will be worth an absolute fortune when that status is removed and it becomes available for development.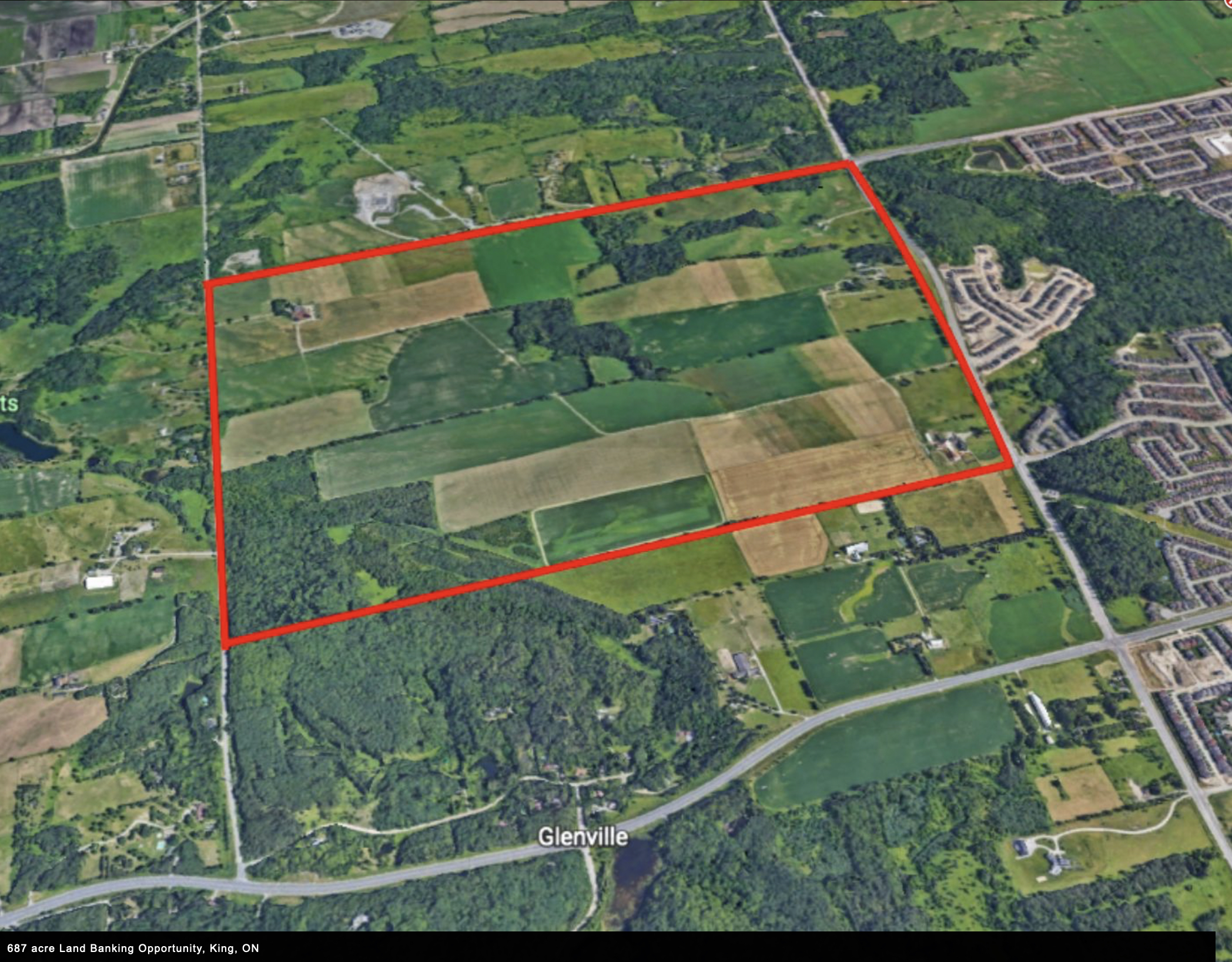 The Province announced on Friday 4 November 2022 that it was redesignating 7,400 acres of Greenbelt to accommodate new housing.
The huge parcel of (soon-to-be ex-Greenbelt) land at Bathurst was sold in August this year for $80M. It covers a massive 2.78 sq kms.
Land Banking Opportunity
The real estate agents, Moffat Dunlap, described the 687 acres as a prime opportunity for "land banking".
They say the land is located
"across the road from completed subdivisions"
and is:
"a unique opportunity to acquire the largest block of land ever assembled in the area. Multiple houses and barns on the property which support the existing cash crop and livestock farm. The tenant farmer is willing to continue to work the land to keep the taxes low."
"Almost out of development land"
The estate agents say the land is in a strategic location and that the
"surrounding municipalities are almost out of development land."
For the new owners, the redesignated Greenbelt land will now be worth many, many multiples of the $80M they paid for it only a few months ago.
The land is shown in this Land Registry map, bottom left, as lots 3, 4 and 5 of Block 03407 together with the northern half of lot 2.
Gordon Prentice 8 November 2022
Update on 17 November 2022: From the Toronto Star: They recently bought Greenbelt land that was undevelopable. Now the Ford government is poised to remove protections - and these developers stand to profit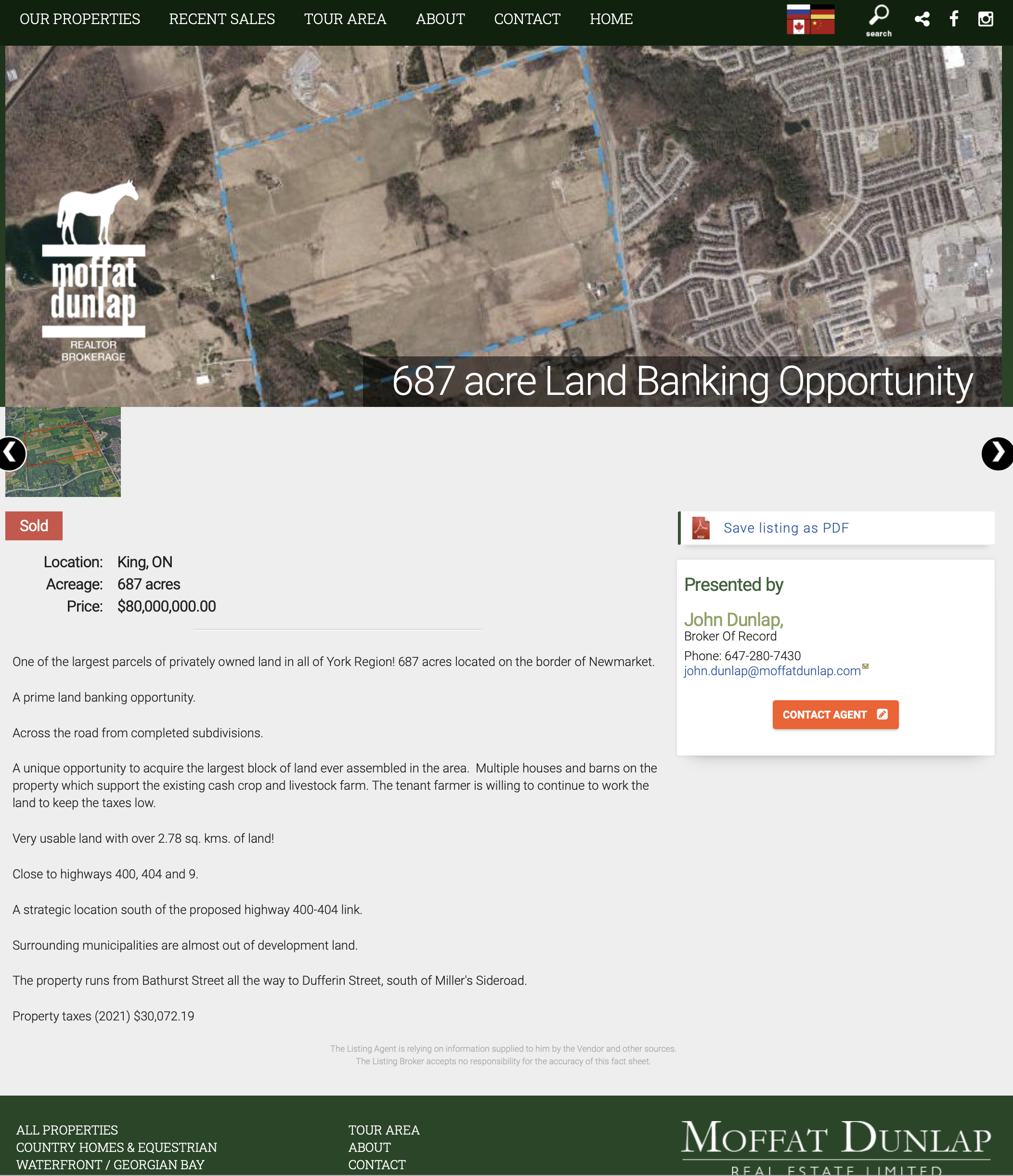 Details

Written by

Gordon Prentice
The Town of Newmarket has a policy which guides and regulates new development in established residential neighbourhoods but is it working?
After the furore over the monster house in Elgin Street in 2017 the Town reviewed its policies and updated its Zoning By-Law. It went further by adopting "urban design guidelines" which stress:
"(that) within Residential Areas, single- and semi- detached dwellings should be used to promote infill and new development at a scale and character that is compatible with the established neighbourhood"
I defy anyone to visit Eden Court and come away with the view that the new building going up there fits in nicely.
The final report of the Established Neighbourhoods Compatibility Study says the Town's policy on development criteria should:
"Acknowledge and respect the prevailing physical character of surrounding neighbourhood properties, particularly those properties with frontage along the same street segment…"
Building Permit
Newmarket Today tells its readers:
"Director of planning and building Jason Unger said new dwellings on existing lots are exempt from site plan control, meaning only a building permit is required. He said the home does meet the height requirements of the municipal by-law."
"The new by-law did reduce the lot coverage from 35 per cent to 30 per cent, which this new home is violating by covering 31.5 per cent of the lot. Unger said a minor variance application is required and will be reviewed by the committee of adjustment."
The committee of adjustment can approve developments which do not strictly comply with the Town's Zoning By-laws so long as these as considered minor and do not offend the Zoning By-law's general principles.
But why wasn't the lot coverage issue picked up by the building control people when the applicant applied for the building permit? It was issued on 11 May 2022.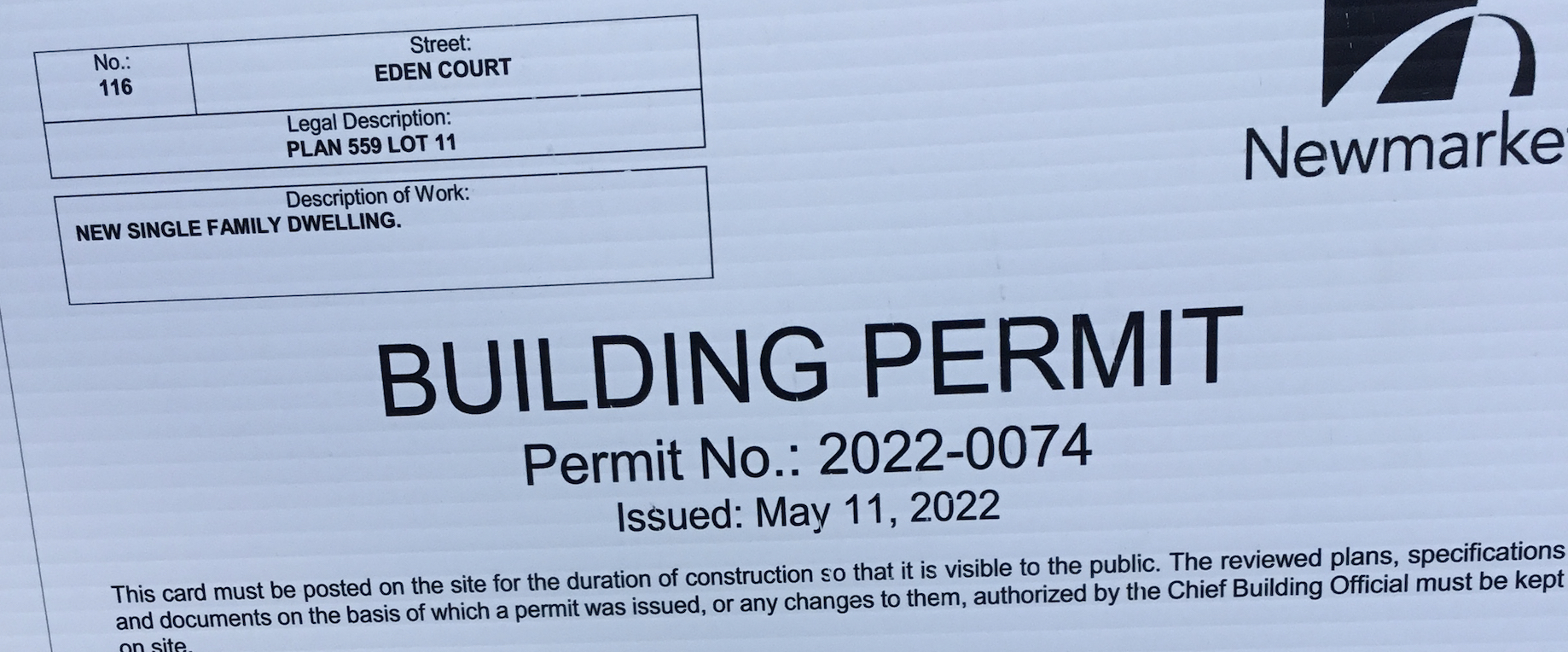 The applicant would have had to submit plans and drawings for approval, presumably certified as accurate by a surveyor.
Lot Coverage
By-law 2020.63 which reduced the lot coverage from 35% to 30% at Eden court (and elsewhere across Town in areas with a similar typology) was brought into force on 14 December 2020.
Given that section 1.51 of the Town's Zoning By-law states:
"The requirements of this By-law must be met before a building permit is issued for the erection, addition to or alteration of any building or structure."
Why was a building permit issued before the requirements of the Zoning By-law had been met?
And now the Town's Planning Director says the remedy is for the applicant to request a minor variance.
Does it fit in?
But there is another wider question that is crying out to be answered. Why did the Town go to all the trouble and expense of designing a policy to make new developments in residential neighbourhoods fit in and yet end up thinking the new house under construction at Eden Court is OK?
The Town's Director of Planning says the height standards have been met but what about all the other aspects which help determine compatibility?
If they've all been met where does this leave the residents of Eden Court who will have to gaze out at this new building for years to come?
And where does it leave the Town's much trumpeted policy on compatibility?
Gordon Prentice 8 November 2022
See also presentation by Jason Unger and Phoebe Chow on 26 October 2020.
Update on 10 November 2022: The Committee of Adjustment will meet on 30 November 2022. The agenda is here.
Maximum lot coverage varies by typology: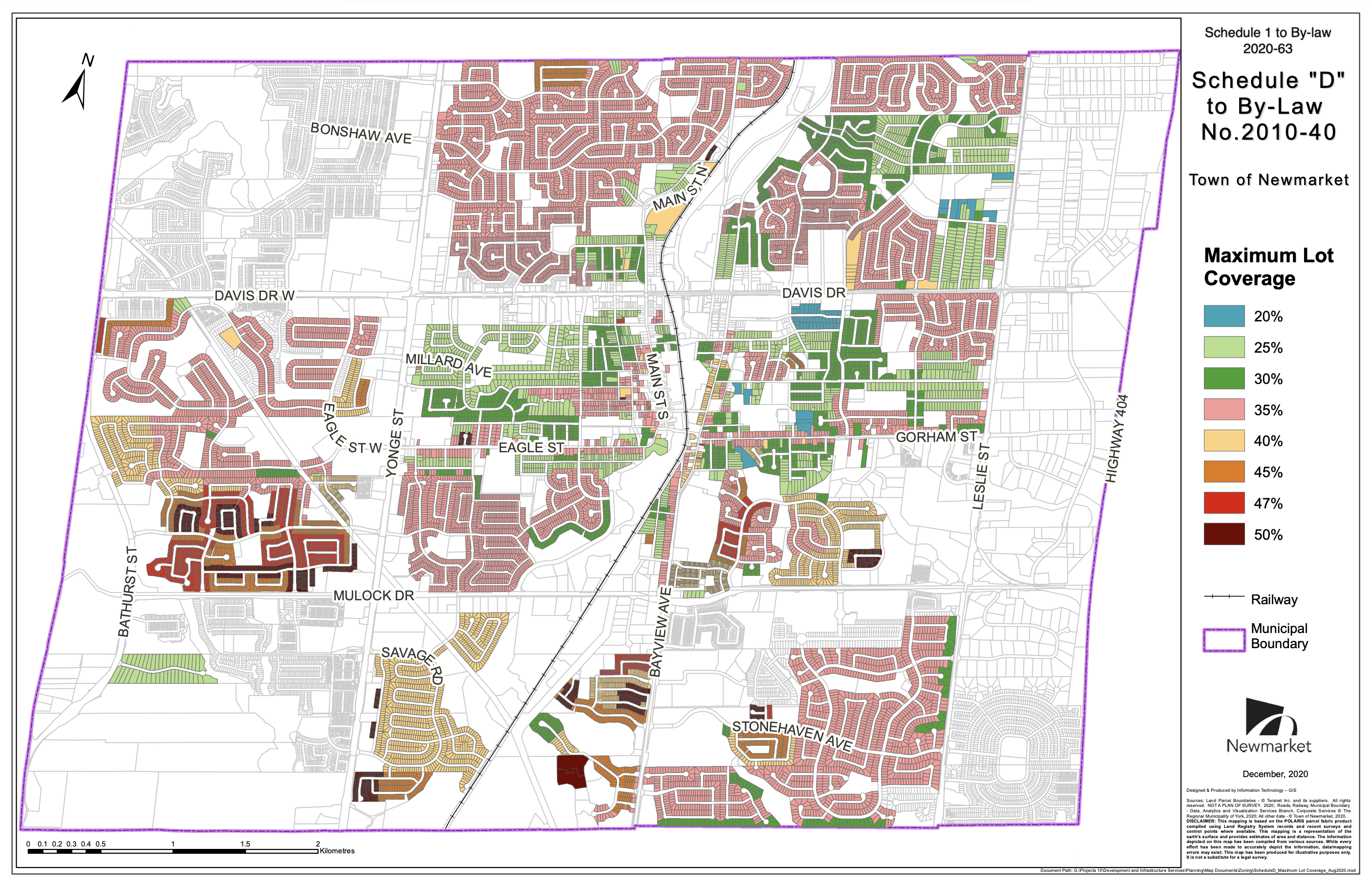 The Town is now divided into Residential Character Areas: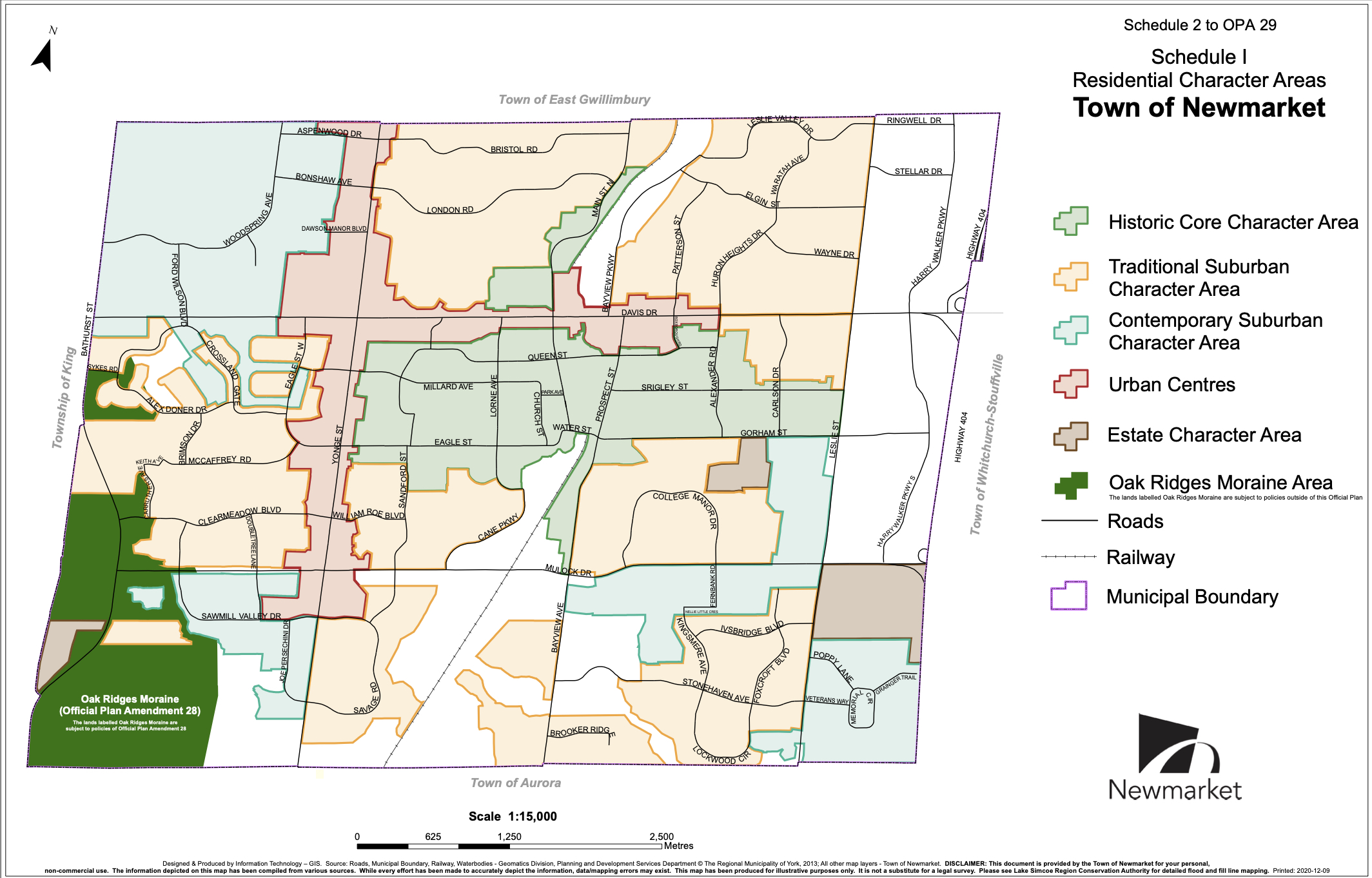 Details

Written by

Gordon Prentice
My friend, Chris Howie, emails me: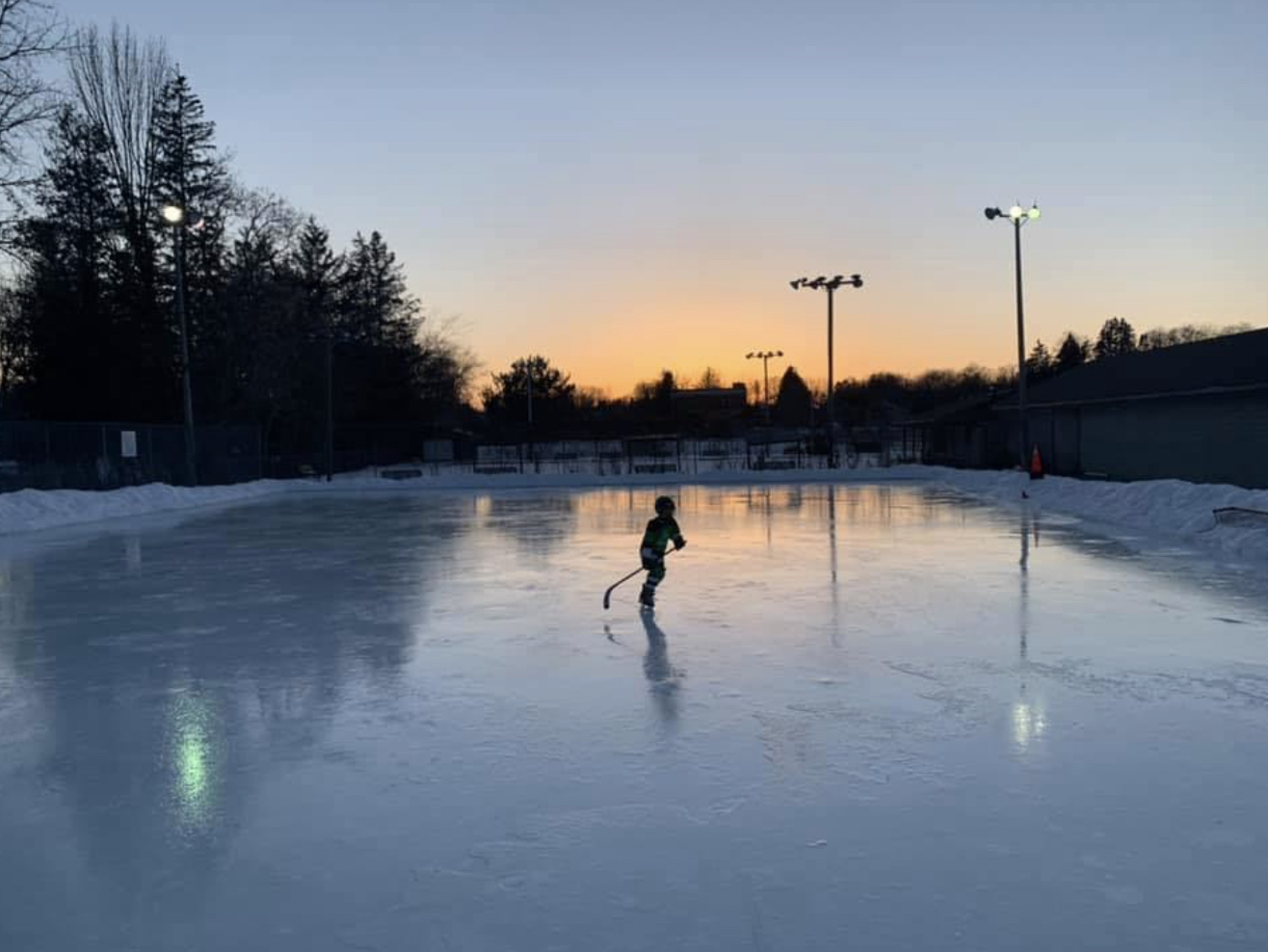 "We have a great opportunity to feature Newmarket and our Community via the outdoor rink I run for children that also raises donations. Could you please help raise awareness of the contest by doing a post in your blog?"
I tell him my blog has a small but influential readership. And he just needs numbers.
In his pitch to voters Chris writes:
"I started the Newmarket Lions Park Community Hockey Rink 9 winters ago to give back to my Community and give children of all backgrounds access to a great rink.
I run the rink by age group so that young children can skate with their friends and children their age without feeling intimidated by older kids or adults flying around and taking hard shots.
I did not have access to hockey growing up; our Family was below the poverty line for several years, so hockey was out of the question…which is why I use the rink as a Community platform to raise donations for the Newmarket Food Pantry and for Belinda's Place Women's Shelter. I also use the rink to raise equipment donations for children to help them get into the game and stay in it. This year I will be raising equipment donations for Hockey Equality."
Voting is open now until 10 November 2022 at 11.59pm.
Gordon Prentice 7 November 2022
Details

Written by

Gordon Prentice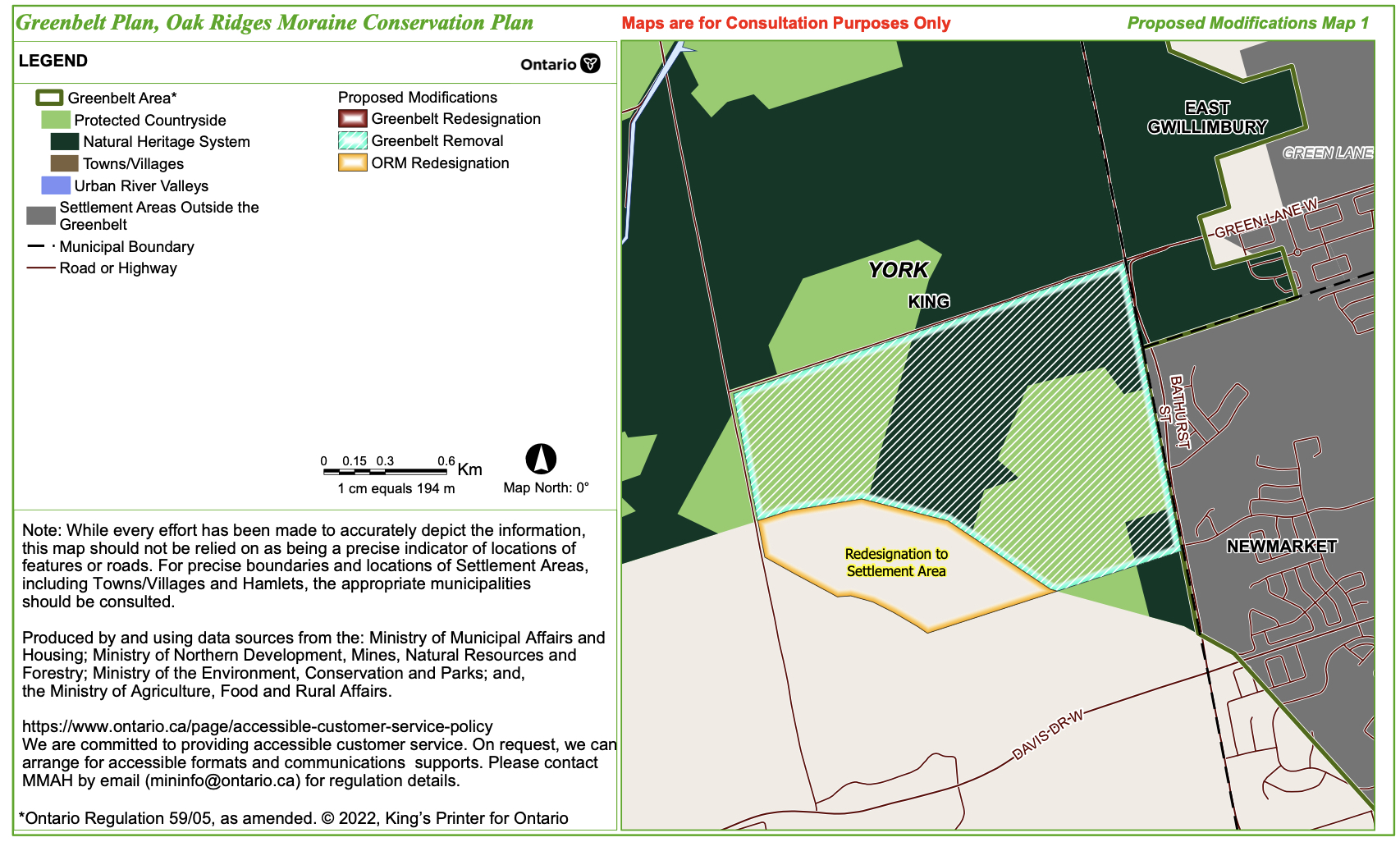 Doug Ford's plan to open up 7,400 acres of Greenbelt for development, announced on Friday 4 November, shows we can't trust a word he says.
The mask has slipped.
Back in 2018 Ford was caught on camera promising a group of developers he would open up a "big chunk" of the Greenbelt. There was a furious reaction and he did a rapid U-turn.
Now, emboldened by a second election victory, there is no need for a course correction. It's full steam ahead.
The Toronto Star reports:
"Ontario backtracks on Greenbelt pledge with plan to allow housing on 7,400 acres"
The 30 day consultation period ends at 11.59pm on 4 December 2022.
"Tough Decision"
Municipal Affairs Minister Steve Clark told the Star:
"It was a tough decision. The situation has changed and our policy had to change with it."
And he justified the change of heart this way:
"Ontario is expected to grow by more than two million people by 2031, with approximately 1.5 million of those new residents in the Greater Golden Horseshoe Region. This growth was recently confirmed by the federal government's newly released immigration targets. To accommodate that growth and support the building of more homes, our government is proposing to remove 15 areas of land totalling approximately 7,400 acres from the edge of the Greenbelt area."
But environmental groups were unsparing in their criticism.
Death Sentence
Environmental Defence says:
"the proposed 7,400 acre giveaway to land speculators is a death sentence for the entire Greenbelt."
They predict:
"Stripping these 7,400 acres of protection at the request of land speculators would unleash a firestorm of land speculation across the entire Greenbelt – denying farmers the certainty they need to continue stewarding the forests, wetlands and soils on their land, and pushing ownership forever out of reach. It will also start a never-ending queue of Greenbelt land speculators at the Minister's door, each with their own convenient rationalization for paving their own patch of Greenbelt."
They say there is no need for this attack on the Greenbelt as there is:
"a vast supply of unused "greenfield" land already open for development within existing municipal settlement boundaries."
Local Impact
The proposed changes impact the Greenbelt immediately adjacent to us here in Newmarket, west of Bathurst in the municipality of King. (see map)
The land marked in diagonal lines in turquoise is to be removed from the Greenbelt. And the land outlined in yellow is to be redesignated from Oak Ridges Moraine to a settlement area.
The photos show land that will lose Greenbelt status.
Gordon Prentice 06 November 2022
Below: Looking West from Bathurst at Greenbelt lands from the binoculars shown
Update on 9 November 2022: Editorial from the Toronto Star: The Greenbelt is for nature not housing
Update on 10 November 2022: Opinion piece from the Tornonto Star: Doug Ford's Housing Bill is short-sighted and will undermine long term prosperity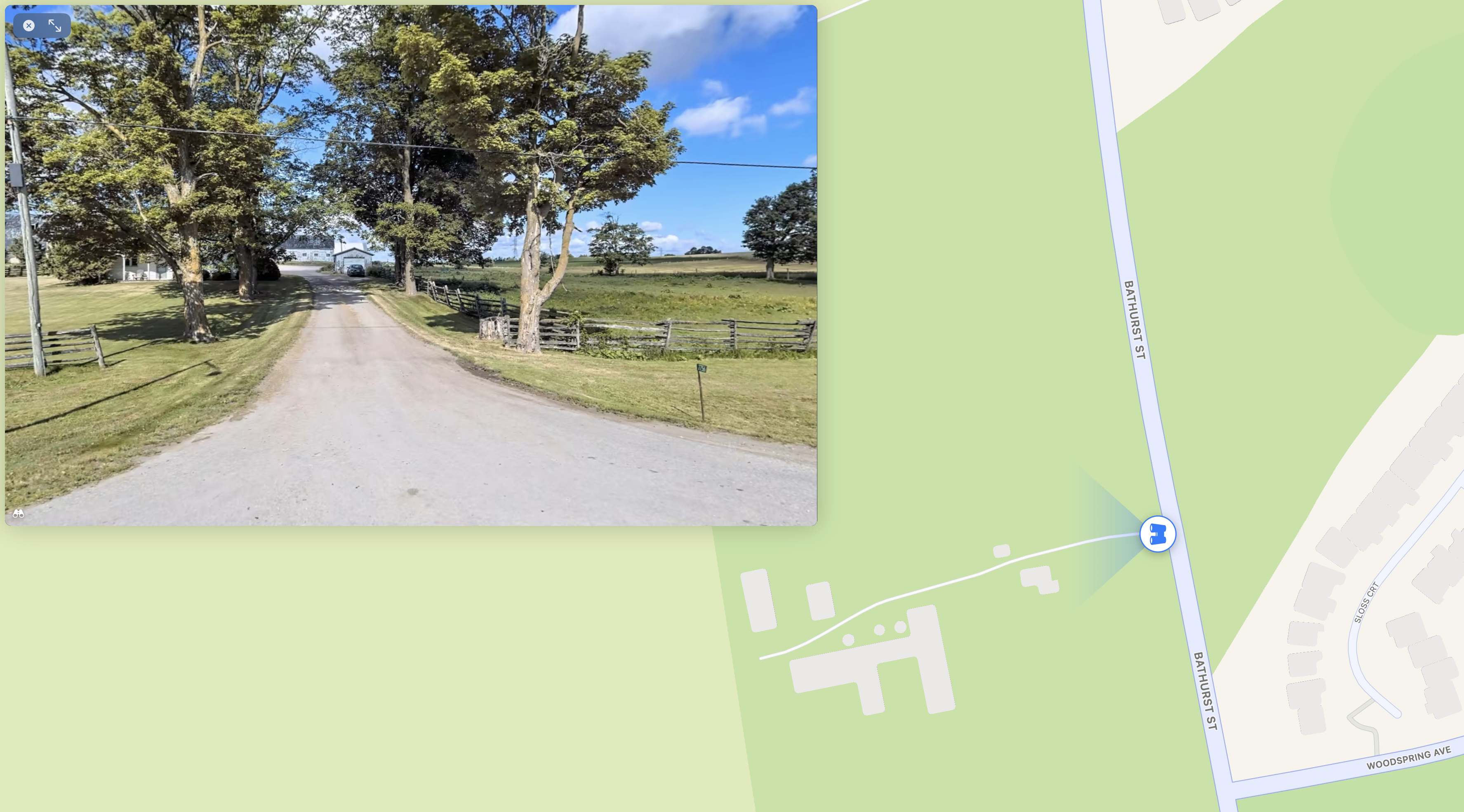 Details

Written by

Gordon Prentice
I am taken by the arresting full page ad in this morning's Toronto Star urging readers to contact Doug Ford on 416-325-1941.
The message is from the Elementary Teachers' Federation of Ontario, the Ontario Secondary School Teachers' Federation, the Ontario English Catholic Teachers Association and l'association des enseignantes et des enseignants franco-ontariens.

I call as requested and get through to the Premier's Office but don't speak to the great man himself.
Instead of the expected recorded message I find I am speaking to a real person.
"I'd like you to pass a message on to Doug Ford. I think his use of the "notwithstanding clause" in the dispute with CUPE is entirely inappropriate. And I'd like you to get back to me with his response."
I leave my phone number.
I am told to expect a call back.
When that happens you will be the first to know.
Gordon Prentice 5 November 2022
Above right: Dawn "Corn Roast" Gallagher Murphy's Tweet earlier today. She's heard from parents. She will not waver. And she will not waive her right to invoke the notwithstanding clause of the Canadian Charter of Rights and Freedoms believing it is a convenient way to resolve a labour dispute.
Update on 7 November 2022: From the CBC: Education Minister says Bill 28 will be replealed in its entitety. And from CTV: CUPE to end strike after Ford offers to rescind education law