Details

Written by

Gordon Prentice
Regional Council candidate Chris Emanuel today slapped down Tom Vegh for promising a new library and seniors' centre when for the past four years - as a library board member – he failed to move the agenda forward and get anything done.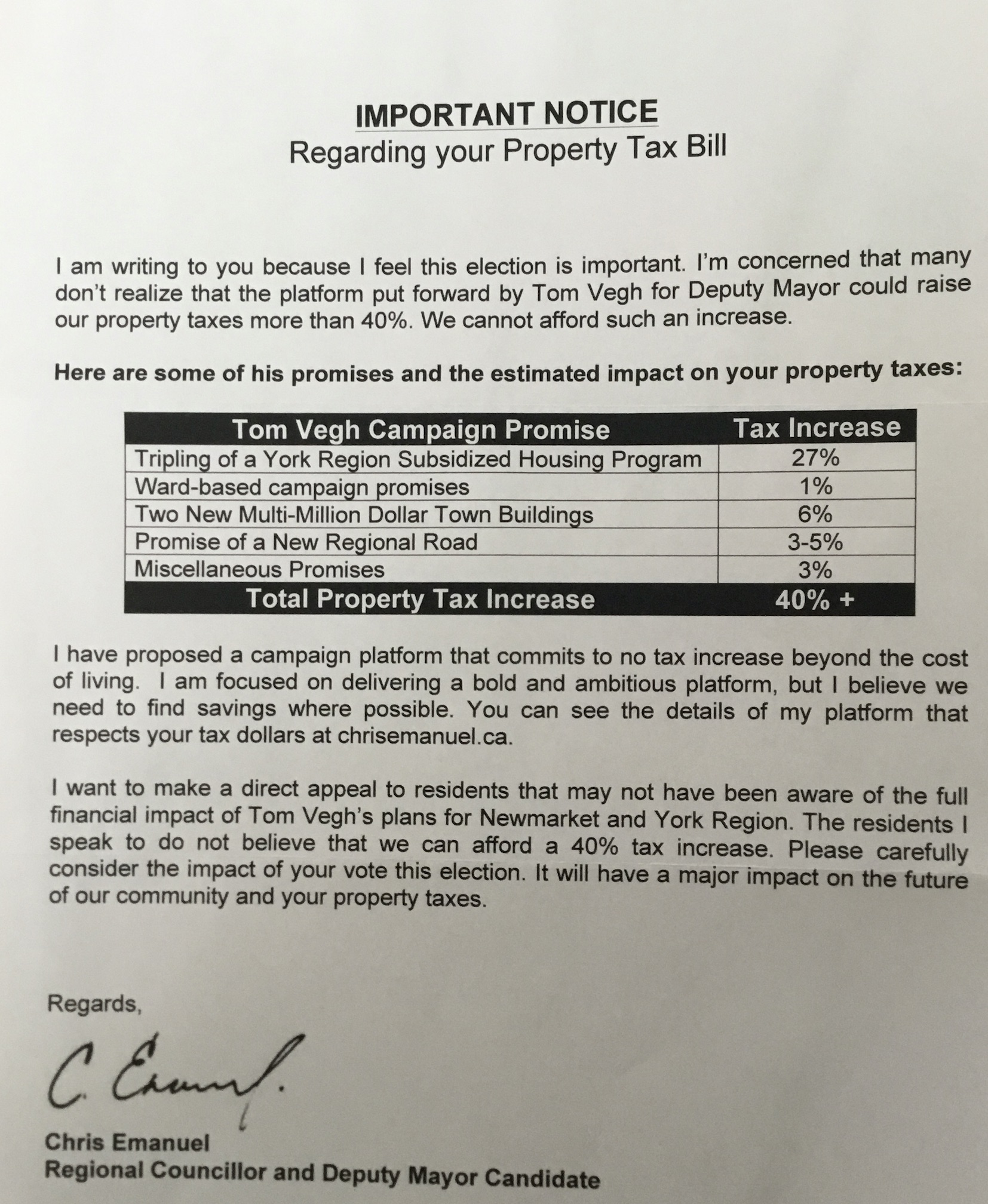 Emanuel paints a picture of Vegh as all talk and no action. Someone who was unable to show us what his new library would look like and what it would cost.
In promising us a new library Vegh is just spinning another yarn:
"Not only has the board failed to complete a study on what a new library would look like, what size it would be, where it would be located, but he couldn't even get Council to agree to pay for that study."
Over the years I've sat in on a number of presentations to Council by Library Chief Executive Todd Kyle and I don't recall Vegh banging the table, demanding a new library. Had he done so I think I would have remembered.
Emanuel points out that the Town's library is open 6 days a week:
"One of the drivers for not opening 7 days a week has been the cost.... I can't imagine not moving forward on a 7th day because of cost, but he's now able to justify a new facility... how many days will it open?
Vegh identifies site for new Library
In a Tweet last week (8 October 2018) Vegh says the combined Library/Seniors' Centre would be located on Paterson Street on the Hollingsworth Arena site. Vegh says he wouldn't sell the site to developers. However, in 2015 Vegh was in favour of doing a deal with the swashbuckling pseudo developer Sandro Sementilli to redevelop the site (but not for a library). His Progressive Conservative colleague on Council – Jane Twinney – voted against. The deal fell through.
A letter from Emanuel now going out Town-wide repeats his earlier claim that Vegh is promising two new multi-million dollar Town buildings.
Emanuel says one of them is the combined Library and Seniors' Centre – which is uncosted - and
"the second is a reference to a Community Centre that he has committed to in Copper Hills."
Vegh flatly denies this.
An unqualified "no"
"A new community centre in Copper Hills is not in my platform nor in any of my campaign literature. Neither the Town or I are entertaining such an idea.
When Copper Hills was built 10 years ago, the site plan included a new school... The York Region District School Board (YRDSB) had an option to purchase that land for a school. In 2015 a group of Copper Hills residents approached me to help them convince YRDSB to exercise that option before it expired in 2017. I explained to them that the Town does not build or operate schools, but promised I would work with them and the local school trustee…
In 2017 the YRDSB purchased the land but said that the local school-age population does not justify building a new school. However, they may be open to building a school/community hub. The residents think this is a good option and I will continue working with them, the Trustee, and our MPP to make this happen. Let me stress that this is a YRDSB project, not a Town of Newmarket project…"
If Vegh delivers a community centre people won't care who paid for it. They will remember he pushed for it.
Vegh courts the senior vote

Tom Vegh's platform is full of pledges for seniors:
"Newmarket's seniors' population has grown by 30% in the last decade but housing options have not kept pace. Tom Vegh will
(1)Double the number of housing subsidies for seniors
(2)Provide incentives to build apartments and condominiums in Newmarket
(3)Triple the number of spaces available for supportive seniors' housing."
Emanuel accuses Vegh of having a shopping list without prices.
Emanuel is much less specific than Vegh:
"We must make sure our community is affordable – housing and recreation programme must not be out of reach for families, seniors and young people."
Developers will pay
Emanuel says Vegh expects developers to pay for his (Vegh's) promises through Development Charges. (This is money paid over to York Region and the Town of Newmarket ostensibly to offset the additional costs of growth – the sewers and roads and so on.) But Emanuel insists this won't happen as developers are already paying the maximum allowable (90%) as set out in Provincial legislation.
I don't know if that is true but Emanuel says it with such conviction I am prepared to give him the benefit of the doubt.
Emanuel says Vegh expects the Federal Government and the Province to foot the bill for his supportive housing program. And while they do provide grants that help offset some regional costs why, he asks, should
"any reasonable person believe that they will triple that commitment. And when they don't triple that commitment is Tom Vegh's plan to raise property taxes or blame other levels of government for a promise he knew was unachievable?"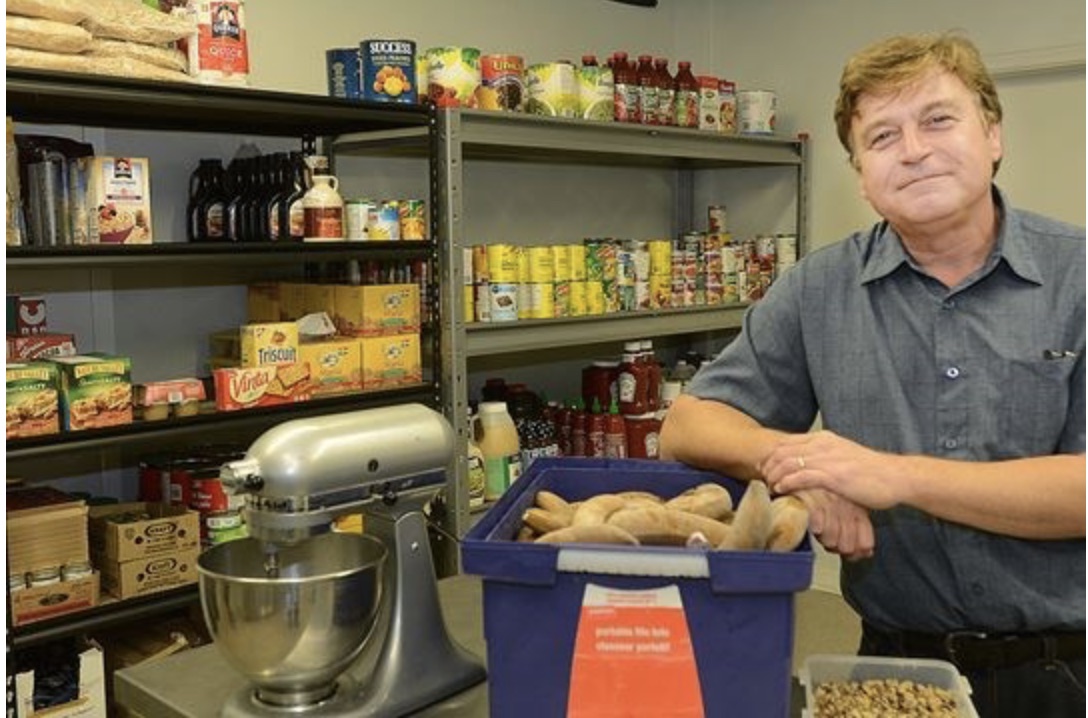 Emanuel says it is unrealistic to expect spending on housing in Newmarket to be tripled without a similar percentage increase across York Region – and that would cost a stack of money – approaching $1 billion in operating and capital costs.
"Newmarket represents about 7.5% of the region's allocation of housing and, while Tom Vegh may consider himself to be a savvy politician, I don't know how Newmarket's two members of Regional Council could convince the other 19 that Newmarket's should just be tripled and their communities would remain stagnant."
Promising the earth
According to Emanuel, the assumed 40% hike in property taxes includes 3%-5% for a new regional road.
I don't know what costs would fall on the Town of Newmarket from the construction of this road. It all seems a bit up in the air to me. Emanuel points to Davis Drive but I'm not sure how relevant that is when the Province picked up the bill in its entirety. There were the costs of expropriating land which fell on York Region but I always believed these were passed on to the Province. (I am now disappearing into the weeds.)
Emanuel says Vegh has a load of other promises including a new tennis facility and a parking structure downtown. All uncosted. Emanuel says his accounting of the 40% tax hike is a conservative estimate but concedes not everything Vegh is promising is likely to happen.
"But that begs a bigger question, does he believe they would (happen)? Or is he promising things he simply knows he cannot deliver on."
This email address is being protected from spambots. You need JavaScript enabled to view it.
Details

Written by

Gordon Prentice
Newmarket's Regional Councillor candidate Chris Emanuel warns voters they face a tax hike of over 40% if they elect Tom Vegh.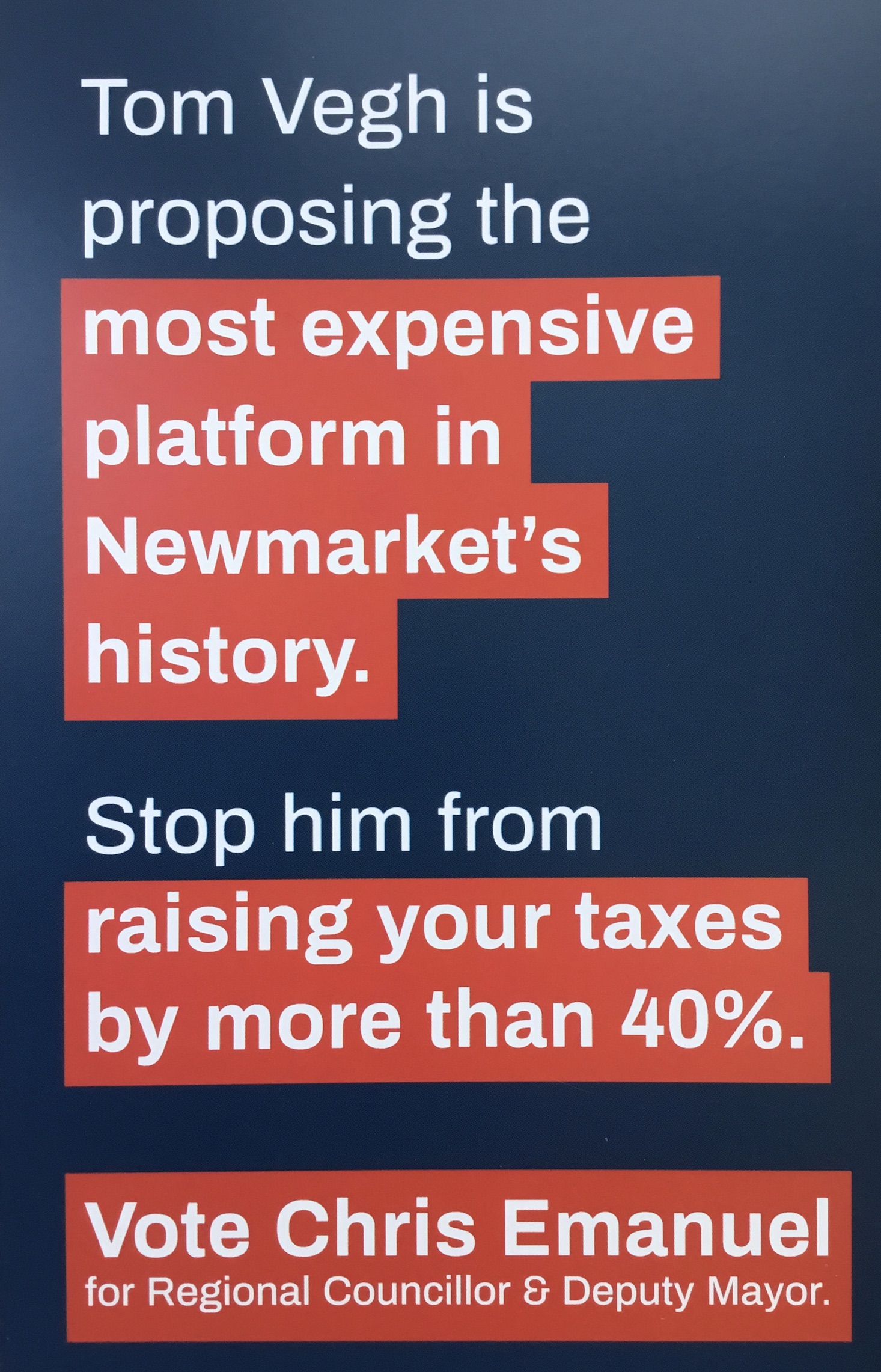 Is this on the cards? Or even remotely plausible? Or just another example of a ludicrous, hyperbolic attempt to smear a political opponent?
Leave aside for the moment that regional councillors – as elevated as they may be – have no powers to impose eye-watering tax increases. They have to persuade their colleagues to vote for policies which have consequences for taxpayers.
Vegh says Emanuel is fearmongering. He says the figures are absolutely untrue.
Emanuel claims Vegh's support for York Region subsidized housing would mean a staggering 27% increase in our property taxes.
Vegh counters by saying subsidized housing for seniors is 100% funded by the provincial and federal governments.
"Property tax dollars do not fund seniors' housing subsidies. therefore, this has zero impact on your property taxes. With the growing senior population in Newmarket, there is an urgent need for more affordable seniors housing and I will make it a priority to secure this funding."
But "subsidized housing" is not restricted to seniors. Can we agree the meaning of terms? York Region subsidizes rental at 212 Davis Drive but the tenants are not all seniors.
New Library and Seniors' Centre
Emanuel excoriates Vegh for pushing for a new library and seniors' centre predicting this will mean a 6% increase in property taxes.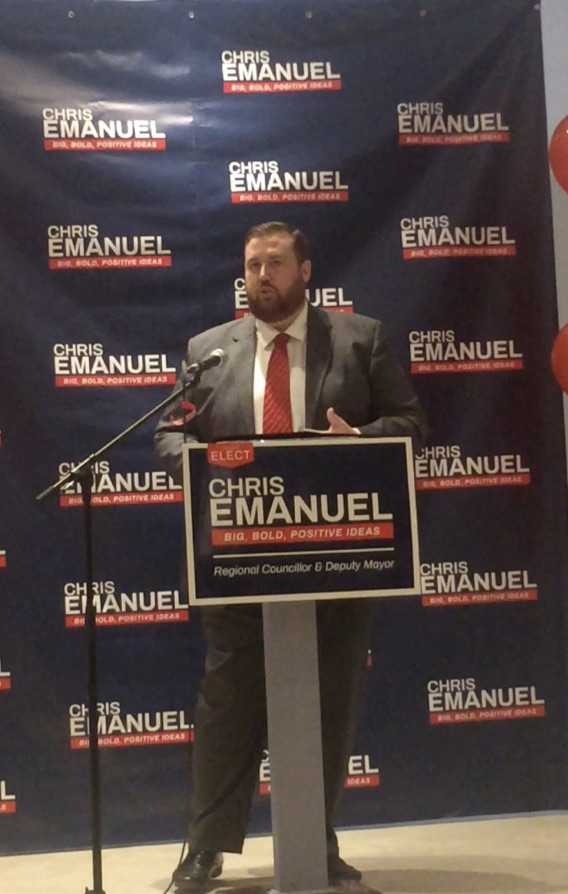 Vegh explains:
"Building a dual-purpose library/seniors centre is partially funded by development charges. The Town already has $2.6 million dollars in restricted reserves dedicated to this project, and that fund is growing by about $300,000 every year.
… the site I am proposing is already owned by the Town, and you must take into account that the two Town-owned assets (existing seniors centre and library) can be used to offset the cost. The Town will also achieve operational and capital savings by combining the two services. When you add together the annual development fees collected, the value of the two assets, and operational savings, they more than offset any borrowing costs. This new facility should not have any impact on your Newmarket property taxes."
Emanuel claims Vegh's "promise of a new Regional road" will add another 3-5% to our taxes. Vegh tells me:
"The Region of York and the Province are already in discussions to build an east/west link between highways 404 and 400. No one is sure what the cost will be, and it is a project still a few years away. It will likely be a tri-party (Federal, Provincial/Regional) funding agreement. Chris Emanuel made up the "3-5%" figure and it has no basis in fact.
Emanuel says Vegh's ward based campaign promises will marginally increase taxes – by 1%. Vegh hits back:
"Splash pads and other recreational amenities are funded by development charges, and the Town already has $9 million in our restricted reserve fund to pay for them. My plan is to have the building schedule accelerated from 10 years to four years. Again, doing this will have zero impact on your Newmarket property taxes."
Invented figures
Vegh says he has no clue what is meant by Chris Emanuel's "other promises" and says the 3% is just another invented figure.
I think Chris Emanuel should tell us how his figures were derived.
Personally, I like election campaigns that rely on facts, not distortions or half-truths or suppositions or meaningless predictions.
For myself, I can confidently predict with 100% accuracy that Tom Vegh's tax increases will never materialise unless he can persuade a majority of members of Newmarket Council to go along with them.
And what are the chances of that?
This email address is being protected from spambots. You need JavaScript enabled to view it.
Details

Written by

Gordon Prentice
In 2005 Tom Vegh bought land from the Town at Silken Laumann Drive with the aim of developing it. For various reasons this proved to be impossible and the Town bought the land back from Vegh in 2009.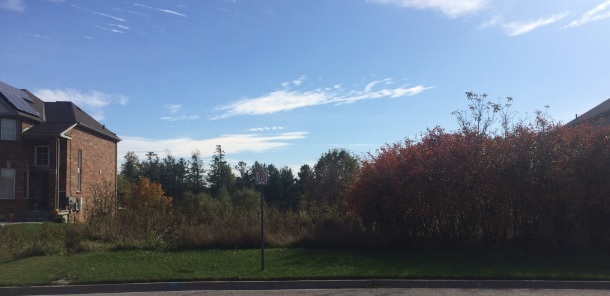 The central question for me is this: Did Vegh get special treatment? Would any other member of the public in similar circumstances be treated in exactly the same way?
Vegh has been a member of Newmarket Council since 2000. He stresses he was not on the Council in 2005 when the deal was done.
We are talking here about a land transaction between an individual and a public body where the details should be publicly available. This information should not be off-limits.
Yesterday Vegh emailed me:
I addressed this on Newmarket Votes on October 4th, but you must have missed it. Here is what I posted. Please correct your story.
It has come to my attention that a few people are making false claims about a building lot my wife and I purchased 13 years ago. Here are the facts:

• In 2005, when I was not on Council, through a blind bidding process managed by a third party, my wife and I were the highest bidders to purchase a residential building lot that the Town declared surplus and advertised in the Era Banner. With the sealed bid was included a mandatory $40,000 deposit. Our goal was to build our dream home.

• We were aware that the Town had an easement over a portion of the property and we had no problem with that because it was not in the allowable building foot print.

• During the due diligence process our engineer discovered that there was an unprotected large storm pipe 40 feet deep under the easement that would require us to build foundations 40 feet deep to protect the pipe, at an additional building cost of $225,000.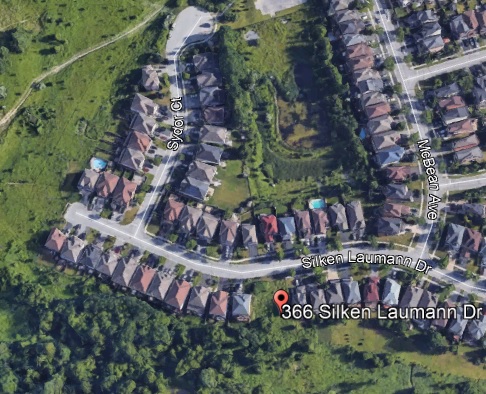 • The Town admitted that they were not aware that the pipe was not in a sleeve (protected) and agreed that the need for an extraordinary building foundation ($225,000+) should have been disclosed in the original sales listing.

• It was settled through a mediated court process, not at council. Council only approved the Minutes of Settlement. The Minutes of Settlement was dictated by the mediator (a sitting trial judge) and rested on the agreed statement of facts. It was short and made three orders.
1. revoke the sale of the lot,
2. return our deposit ($40,000) without interest, and
3. each side was responsible for their own legal and professional fees.

To address some of the false statements that have been made on this site:
• The lot is only 40 feet wide and a little over 100 feet deep. There was never an application to turn it into a townhouse development.
• The lot was listed with residential zoning in place. We did not apply for a zoning change.
• The town did not pay our legal or professional fees. That is a claim made by others, but they admit they have no evidence to back it up. The $40,000 we received was the return of our deposit, without interest.
The Town's Sale of Land policy – which tells me is updated every three years – is silent on reacquisition. Clearly this is something that is not anticipated.
But one of the two stated purposes of the Sale of Land policy is:
"to establish a consistent, transparent and accountable procedure to be followed in the disposition of real property assets by the Town."
By keeping details of the reacquisition of the Vegh property under wraps the Town is being neither transparent not accountable.
The way to resolve this is for Vegh formally to request the Town to publish full details of the land sale and the subsequent buy-back and to release it from any confidentiality agreement that may apply.
This email address is being protected from spambots. You need JavaScript enabled to view it.
Details

Written by

Gordon Prentice
Who should we vote for in the election for Regional Councillor?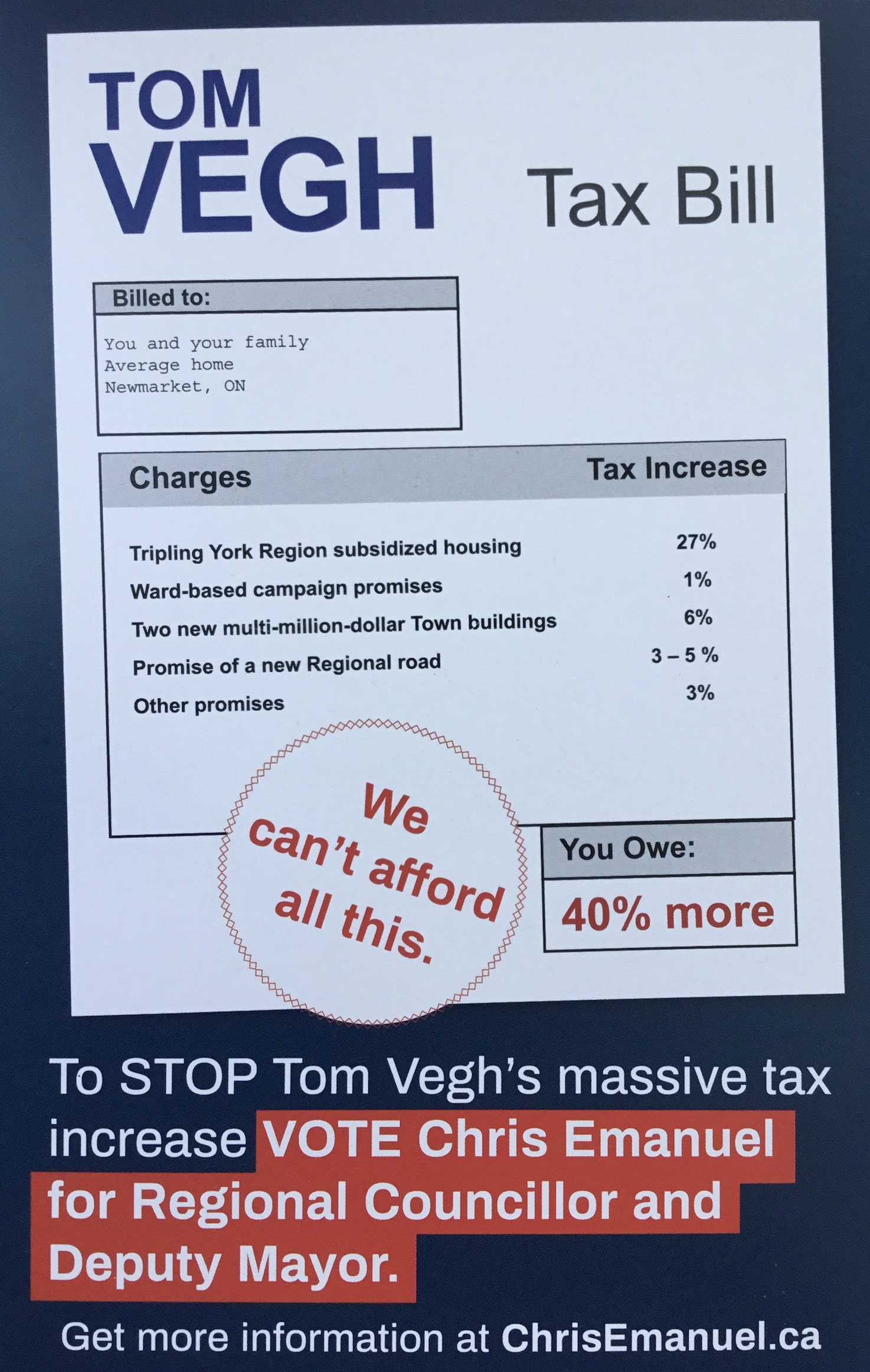 We have to choose between Tom Vegh and Chris Emanuel. Or, perhaps, Joan Stonehocker.
But from their campaign flyers you'd be hard pressed to tell who is the Conservative (that's Vegh) and who is the Liberal (Emanuel). Stonehocker looks Green to me. But there is a lot of cross-dressing in politics these days.
A few years ago, the overly eager Vegh excitedly told his Ward 1 constituents he was planning to go to Queen's Park as a Progressive Conservative MPP but then it all went pear-shaped when the nomination went to the cheat, Charity McGrath.
New Library and New Seniors' Centre
In this election Vegh promises two major spending commitments – a new Library and a new Seniors' Centre. But these are pipe dreams and are undeliverable unless he can secure five out of the nine votes on Newmarket Council. His vote has the same weight as the mute Kelly Broome's.
I can't immediately recall any examples over the past four years when Tom Vegh has persuaded his colleagues to follow his lead on a major Town-wide issue. He doesn't have a silver tongue and can be hesitant.
Emanuel's platform of big, bold and positive ideas is, by contrast, a bit of a damp squib. He wants to (a) reorganise the fire service and (b) stop Tom Vegh's "massive tax increase".
Emanuel condemns this 40%+ tax increase which, he says, will be generated by Vegh's commitment to subsidized housing and to
"Two new multi-million-dollar Town buildings."
Emanuel doesn't refer explicitly to the proposed new library and senior centre probably because many people would find these quite attractive. Just the kind of big, bold and positive investments the Town needs for a growing (and ageing) population. And there are probably lots of folk out there who would give three cheers for more subsidized housing.
Frightening the voters with talk of "massive" tax increases
Emanuel's flyer looks at first glance like yet another one from Tom Vegh as it uses the same font and layout. I don't know if this is clever or misguided. Probably the latter.
In any event, Vegh has been carpet-bombing the Town with his lawn signs and this must count for something.
Once a voter has a VEGH sign on their property I suspect it would feel a bit like cheating to vote for someone else on the day.
That said, Emanuel undoubtedly has a loyal and enthusiastic following. His campaign kick-off involved a cast of thousands, including the veteran councillor Dave Kerwin who for years has sat next to Vegh at Council.
I am left wondering if Vegh had a campaign launch. If so, it was the best kept secret in Town. I didn't get an invitation.
Tom Vegh's property dealings and public confidence
We still don't know the truth about Tom Vegh's personal property dealings with the Town of Newmarket. The Town won't spill the beans on the grounds that
"The disclosure of the requested records to the (Newmarket Taxpayers) advocacy group would not increase public confidence in the operations of the Town."
Vegh could, if he chose, tell the voters what happened and why. As it is, it looks bad. Very bad.
Vegh trumpets his "environmental leadership" but supported a housing development on protected meadowland near Silken Laumann Drive, a stone's throw from the railway track. I remember the OMB hearing well. It wasn't my finest hour. I was infuriated by the development and, as I was giving my views in a faltering fashion, I glanced at Vegh to see him smirking.
"Leadership you can count on"
I don't think so.
This email address is being protected from spambots. You need JavaScript enabled to view it.
Details

Written by

Gordon Prentice
Weeks before the election the Town of Newmarket is seeking the help of outside consultants to help set "strategic priorities" for the new Council term.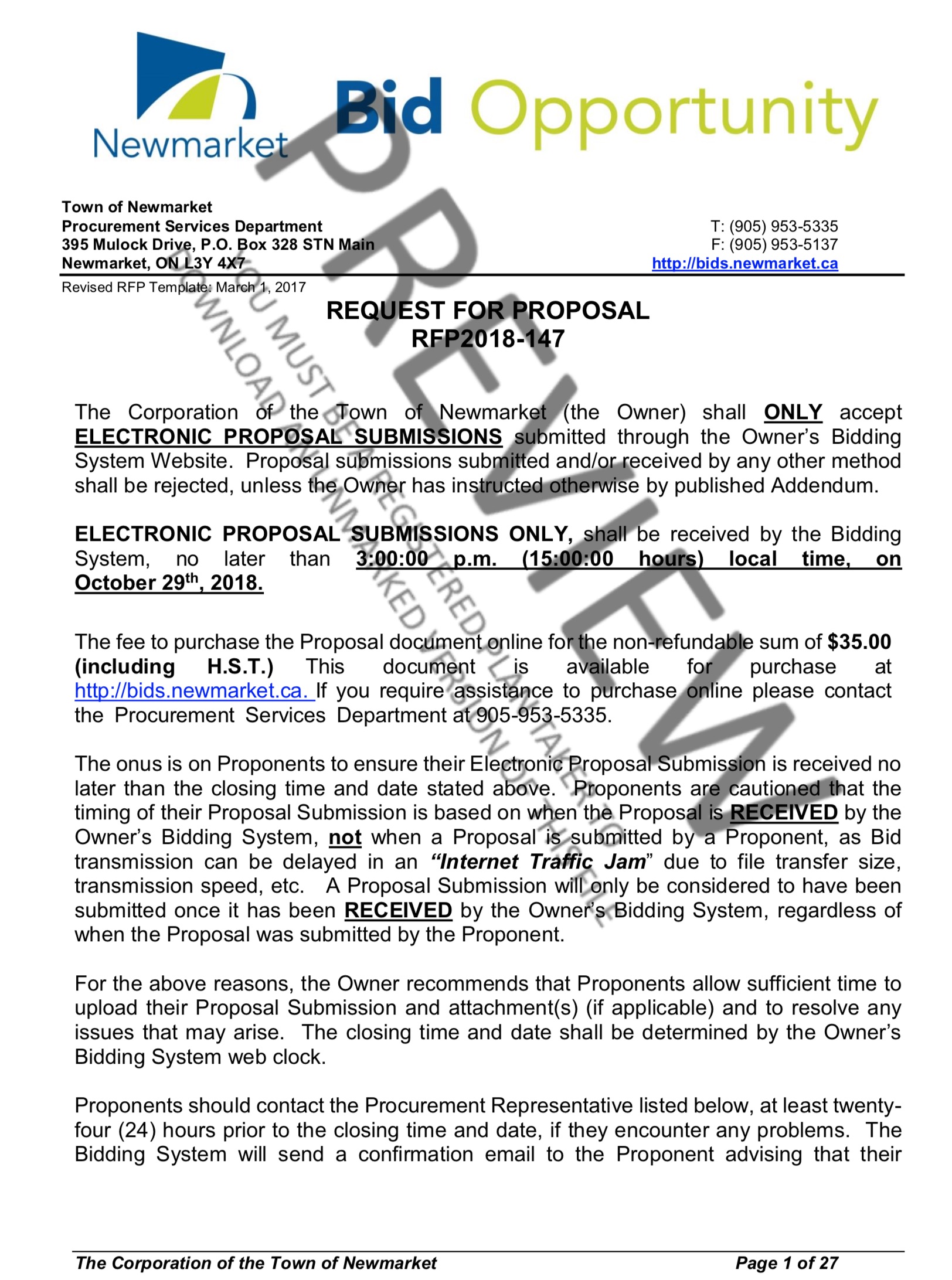 You really couldn't make it up.
The Town's retiring Chief Administrative Officer, Bob Shelton, on a lip-smacking salary of $251,343, apparently needs the help of outsiders to understand what our elected officials are really thinking.
Off-the-cuff comments by newly elected councillors – harvested on a bus tour around the Town - are to be taken down by staff and handed to the consultants who will interpret their true meaning.
"Information gathered by staff on the Council Orientation Bus Tours that will include each Member of Council addressing 2 or 3 key questions developed by staff as we travel to each ward (questions to be determined). Staff would provide notes to consultants"
Is this a joke?
Why are we spending "taxpayers' dollars" on this absurdity?
Who authorised this? Shelton? Van Trappist? Elected officials?
What is the contract worth? We should be told.
And regardless of the dollar value it is the most unbelievable extravagance imaginable.
If our own senior staff can't do this work in-house they should be replaced by those who can.
This email address is being protected from spambots. You need JavaScript enabled to view it.
The bid documentation tells us:
The consultant(s) will be provided with advance information and it is expected that this information is reviewed in detail by the consultant(s) along with discussions with senior staff. It is expected that this advance work by the consultant(s) will result in a more time efficient and more effective strategic priority planning process. Advance informing documents/processes include:
Ø 2014 – 2018 Council Strategic Priorities and accompanying tracking/reporting documents
Ø 2018 Community Survey Results
Ø New Council Feedback: Information gathered by staff on the Council Orientation Bus Tours that will include each Member of Council addressing 2 or 3 key questions developed by staff as we travel to each ward (questions to be determined). Staff would provide notes to consultants
Ø Carry over and/or Emerging Projects (from senior staff and Council's perspective )
Ø Review of existing strategy documents (e.g. Secondary Plan, Recreation Playbook, Cultural Master Plan, Economic Development Strategy, Smart City Framework, Innovation Strategy, etc.)