Details

Written by

Gordon Prentice
This afternoon I wander along to the constituency office of my MPP, Christine Elliott, to make an appointment to see her.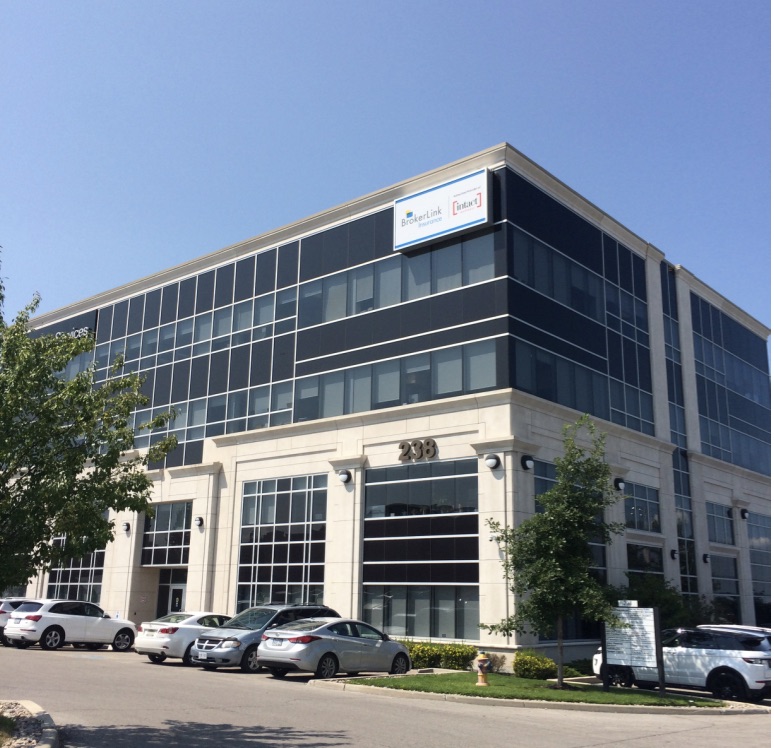 238 Wellington Street East is quite an imposing building whose tenants are largely in the financial services sector. An elevator whisks me up to the second floor and Suite 203. A frosted glass panel bears the coat of arms of the Legislative Assembly.
Inside I introduce myself to Sarah who is sitting behind a desk. I say I wrote to Christine two weeks ago about the cancelled elections for Regional Chairs and I have not had any response despite a reminder.
I say the issue is urgent as Bill 5 (cutting the size of Toronto City Council by half and axing the elections for Regional Chairs) is barreling its way through the legislature and could become law at any time. There is to be no public consultation.
I want to ask Christine what she thought about Durham Regional Council's move from appointment to direct election by the voters at large in 2014.
Did Elliott support direct elections for the Chair of Durham Regional Council?
She was MPP for Whitby-Oshawa in Durham at the time of the municipal referendum in 2010 which delivered 80:20% support for direct election. How did she vote? Did she vote? Will she tell me how she voted?
Sarah now pulls up my emails on the screen and says Christine gets about 1,000 a week. Good grief!
She says Christine is very busy. There is her work at the Health Ministry as well.
So when is Christine next here for appointments?
On Friday 24thAugust. Dawn deals with appointments. I ask for her business card but these haven't been printed yet. Sarah doesn't have any either.
Sarah says they will review my email and if the points can be answered then an appointment may not be necessary. Hmmm.
As I leave I remind her time is pressing.
When I get home I check on the legislative progress of Bill 5 and discover it is now the law of the land.
Two weeks from start to finish.
I can hear Ford laughing out loud: Promise made. Promise kept.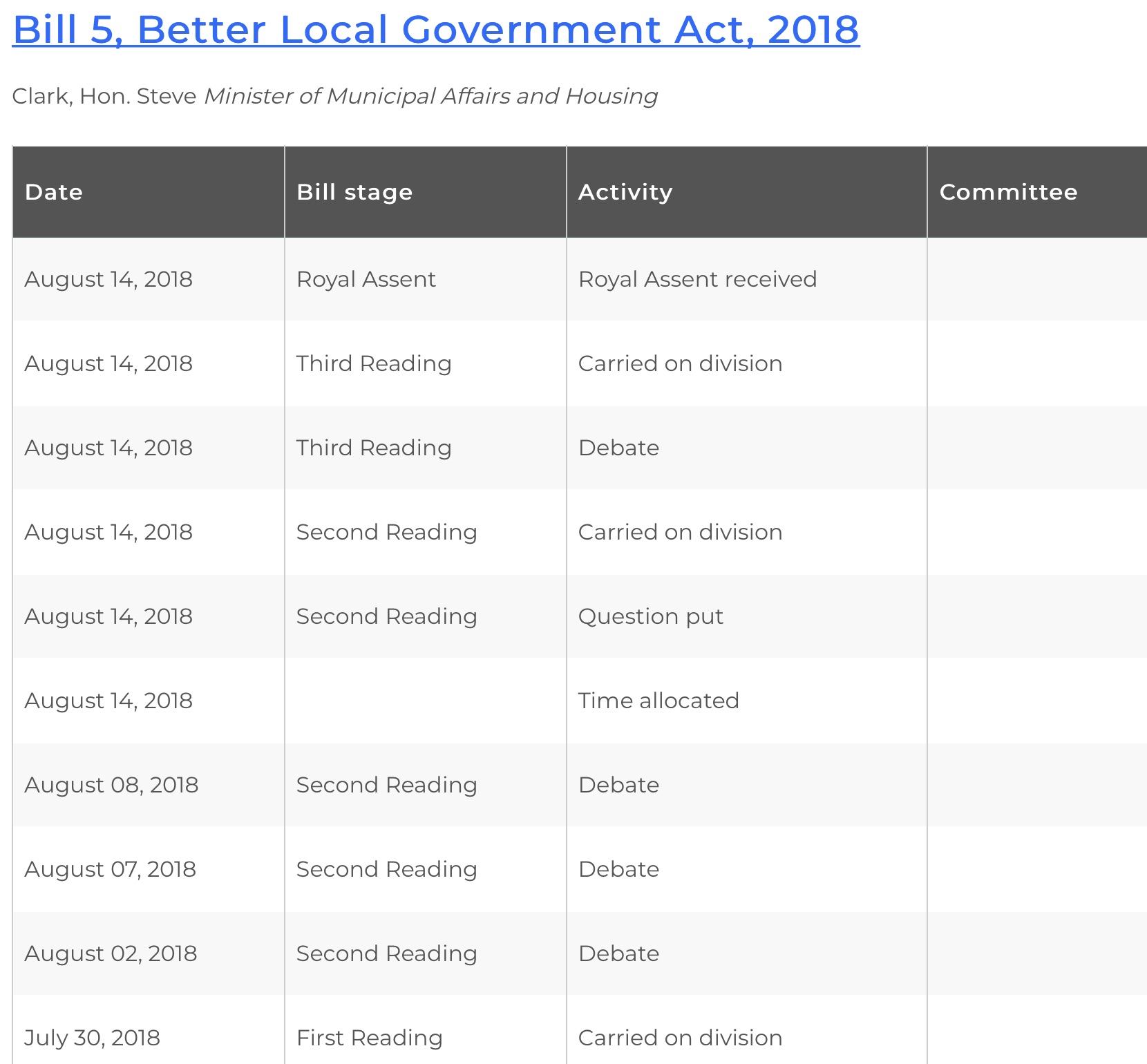 This email address is being protected from spambots. You need JavaScript enabled to view it.
Update on 15 August 2018: Christine Elliott did not vote on the timetable motion nor on the second and third readings of Bill 5 on 14 August 2018.
During yesterday's debate Ottawa Liberal MPP Nathalie Des Rosiers told the Chamber:
"I had the legislative library do a little bit of research for me. I asked them, "Has it ever been done in Ontario or in Canada to change the rules, to introduce a bill changing the rules on elections, while an election has been called?" The answer? Never. It had never been done in Ontario. They looked at every province, and this has never been done."
Details

Written by

Gordon Prentice
Thursday at 1.45pm.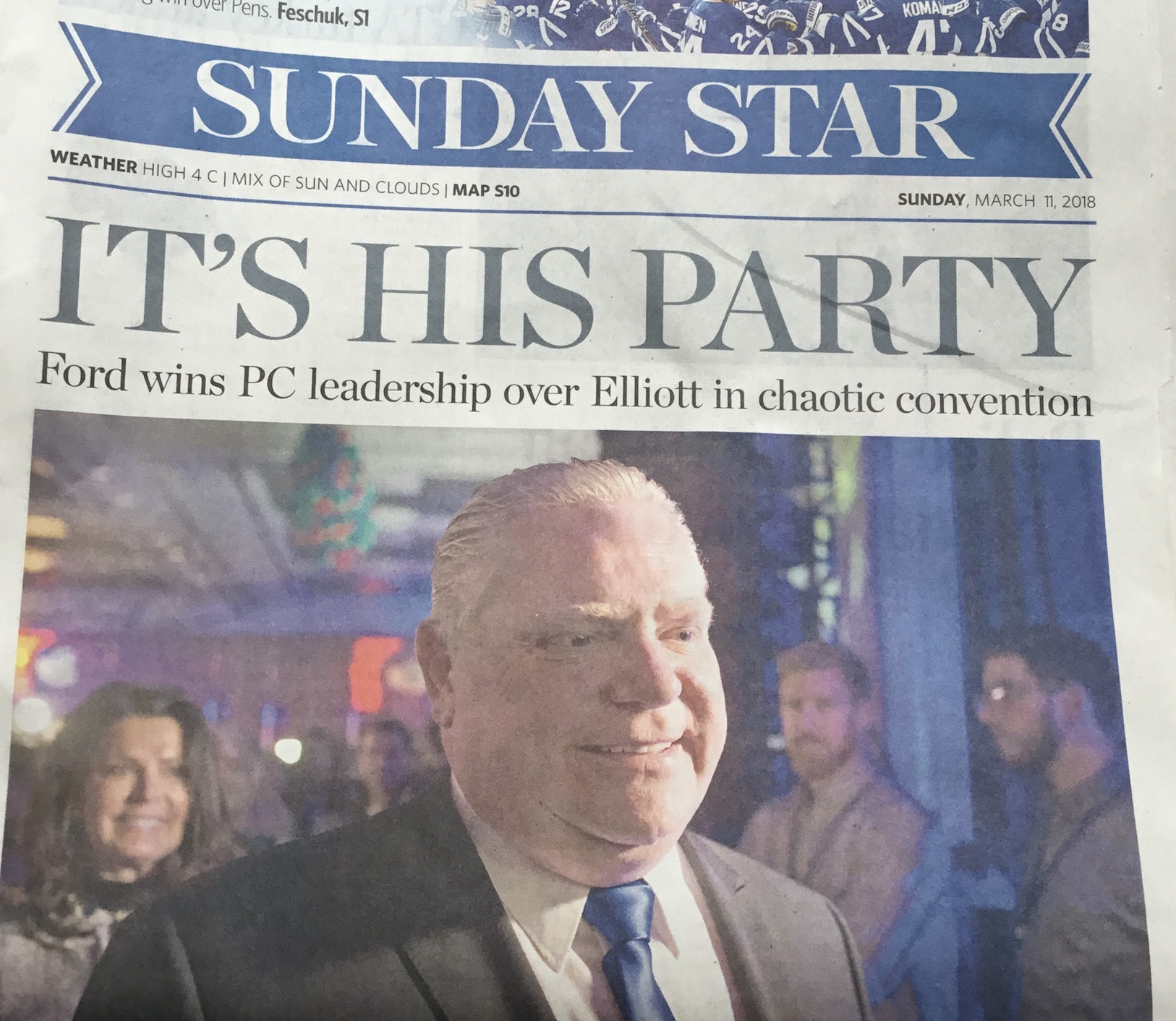 The Ford Government has now ruled out any consultations with the public on Bill 5 (the Better Local Government Act).
At Queen's Park this morning (Thursday 9 August 2018) the Government introduced a so-called "timetable motion" or "guillotine" which severely restricts the time available to consider the proposed legislation. (See the text below.)
The Official Opposition in response tabled an amendment to the Government's motion which was accepted by the Chair. This means it will go to a vote.
The NDP amendment seeks to commit the Bill to the Standing Committee on General Government which would hold public hearings on August 20thand 22nd from 2pm-8pm. Those appearing before the Committee would be selected on a first-come first-served basis. Under the terms of the NDP amendment the Committee would have to complete its consideration of the Bill by 30 August when it would have to report to the House.
Clearly, the amendment will be voted down by the PC Government – despite what its leading members have said about timetable or guillotine motions in the past.
In an entertaining speech this morning, the NDP Member for Timiskaming-Cochrane, John Vanthof, drew attention to the hypocrisy of PC Ministers Steve Clark, Todd Smith and John Yakabuski who have all said critical things about timetable motions in the recent past.
In their own words they have all condemned timetable motions as undemocratic. But now they are dancing to their Master's tune and will be voting to curtail debate.
Update on 10 August 2018: Toronto Mayor John Tory urges Ford to think again about cutting the Council in half.
This email address is being protected from spambots. You need JavaScript enabled to view it.
"Time after time, we've had negotiations where all of a sudden the government stops talking to us and presents bills that will either choke off debate or move bills through quickly without hearing from constituents".
Steve Clark MPP (now Minister of Municipal Affairs and Housing) 28 May 2015
"Sometimes what happens here—my friend from Renfrew–Nipissing–Pembroke describes it as the guillotine coming down and slicing off debate. He makes a very effective sound effect every time the House leader or deputy House leader moves a closure motion. We've seen that time and time again. They should not be using a blunt instrument—and a guillotine is not a blunt instrument—to pass legislation in this House."
Todd Smith MPP (now House Leader) 13 April 2016
"Well, how can something be duly considered if you haven't even had the opportunity to debate it? How can you say that something has been duly considered if you haven't even allowed the public, the stakeholders—those people who will be most affected by it, those people who will be responsible for carrying it out—the opportunity to offer opinion or views as to how that legislation might be changed, altered, improved, or have some parts of it swept away altogether, because they're not in the best interests of the people who will be most affected?
… But if you are not considering the views of others, if you're not considering the right of the opposition to bring a different view that might make that legislation stronger, then you are not acting in the best interests of democracy."
John Yakabuski (now Minister of Transportation) 7 May 2018
Government Notice of Motion Number 4 (Timetable motion) tabled this morning:
Mr. Smith (Bay of Quinte) — That, pursuant to Standing Order 47 and notwithstanding any other Standing Order or Special Order of the House relating to Bill 5, An Act to amend the City of Toronto Act, 2006, the Municipal Act, 2001 and the Municipal Elections Act, 1996, when Bill 5 is next called as a Government Order, the Speaker shall put every question necessary to dispose of the Second Reading stage of the Bill, without further debate or amendment, and at such time the Bill shall be ordered for Third Reading, which order may be called that same day; and
That, when the Order for Third Reading of the Bill is called, 1 hour shall be allotted to the Third Reading stage of the Bill, with 30 minutes apportioned to the government, 10 minutes to Her Majesty's Loyal Opposition, 10 minutes to the Liberal party independent members and 10 minutes apportioned to the Green party independent member. At the end of this time, the Speaker shall interrupt the proceedings and shall put every question necessary to dispose of this stage of the Bill without further debate or amendment; and
That, except in the case of a recorded division arising from morning Orders of the Day, pursuant to Standing Order 9(c), no deferral of the Second Reading or Third Reading vote shall be permitted; and
That, in the case of any division relating to any proceedings on the Bill, the division bell shall be limited to five minutes, except that the division bell for the vote on the motion for Third Reading shall be 15 minutes.
Details

Written by

Gordon Prentice
Newmarket's retiring Mayor, Tony Van Trappist, has for years dined out on our dollar.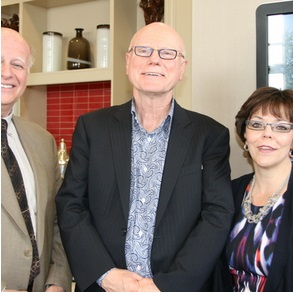 I don't begrudge him his tasty lunches and his delicious butter tarts when he is conducting Town business. But shouldn't we know who the Mayor is meeting and for what purpose?
At the moment it's a complete mystery. He just bills the Town.
The routine reporting of Mayoral expenses in February each year gives a long list of local restaurants where Town business is carried out but there is no indication of the nature of the business transacted nor who initiated the invitation. I was curious to learn more.
This goes beyond mere nosiness. It is good public administration for this information to be out in the open. The sums involved are tiny but there's a big principle at stake. Transparency is a good thing.
One-to-one
Back in 2016 I asked Van Trappist and all other elected officials if they had any meetings with the Clock Tower developer Bob Forrest when staff had not been present. I also asked about any other one-to-one interactions. In his written reply the Mayor said there were no discussions with the developer but later, in front of a packed Council Chamber, he offered a different version of events.
"There may have been one or two conversations but they've been general in nature. They were about the project overview, the planning process and community issues."
This begs the question… Why wouldn't a developer want to meet the Mayor and other elected officials?
Bob Forrest has never made any secret of the fact that the Forrest Group gets results:
"by leveraging our strong reputation and existing relationships with municipal staff and politicians".
Millions of dollars can turn on a planning decision. In the case of the Clock Tower Forrest told his colleagues the project (now mercifully rejected by the Town) would deliver a profit of $10 million.
It makes sense for developers to work on building a good relationship with elected officials and I don't have a problem with this - so long as the rest of us aren't treated like mushrooms and kept in the dark.
Newmarket is slated to grow rapidly especially along the Yonge and Davis corridors. The Town is designated as a Place to Grow yet it does not have a Lobbying Register. It should have. So it is good to see Regional Council candidate, Chris Emanuel, calling for one.
Why is it so difficult to find out who the Mayor is taking to lunch?
I picked a year at random (2015), put in my Freedom of Information request and paid my $75 to find out who the Mayor was having lunch with and for what reason. (It costs $75 because this basic information is not routinely collected and special arrangements have to be made to sift through receipts).
I notice there are lunches with local residents and community volunteers. In Newmarket this goes with the job of Mayor. And there are occasional lunches with elected officials. I am not so sure about this. I am left wondering why they can't discuss Town business at the Town Hall - or at least pay for their own lunches. Van Trappist had lunch with Councillor Persechini from East Gwillimbury and a developer in July 2015 for the purpose of "introductions" and another with Redwood Properties. And that's pretty much it.
Van Trappist likes developers. He has a very black and white approach to development. You are either for it or against it. There are no shades of grey.
"In nature, there are two processes, growth and decay. If development stopped all together, the burden on the average taxpayer would increase significantly."
Lobbying Register needed
As it happens, I didn't see any lunches with developers in 2015 other than the one with Councillor Persechini from East Gwillimbury and one with people from Redwood Properties (who now have planning permission to build on the former Slessor Square site opposite Upper Canada Mall). And these are only on the list because the Town picked up the tab - or the Mayor's share. Of course, if the developer paid there would be no record of the meeting whatsoever and what, if anything, transpired. That's where the Lobbying Register fits in, coupled with a robust Freedom of Information regime.
I had always assumed that replies to Freedom of Information requests were automatically posted on the Town's website but I now find that is not the case. If the material is "voluminous" it is not posted. Or there may be privacy considerations where information lawfully supplied to a private individual is withheld and not posted on the grounds it becomes searchable by Google.
For some reason the reply to my Freedom of Information request about the Mayor's lunches is not posted – or wasn't the last time I looked. So I am posting it here.
Hopefully this information will be routinely collected in future and will be posted on the Town's website as part of the annual statement on the Mayor's remuneration.
This email address is being protected from spambots. You need JavaScript enabled to view it.
Here is Toronto's Lobbyist Registry. There are many other municipal examples.
And here (below) is my Freedom of Information request covering the year 2015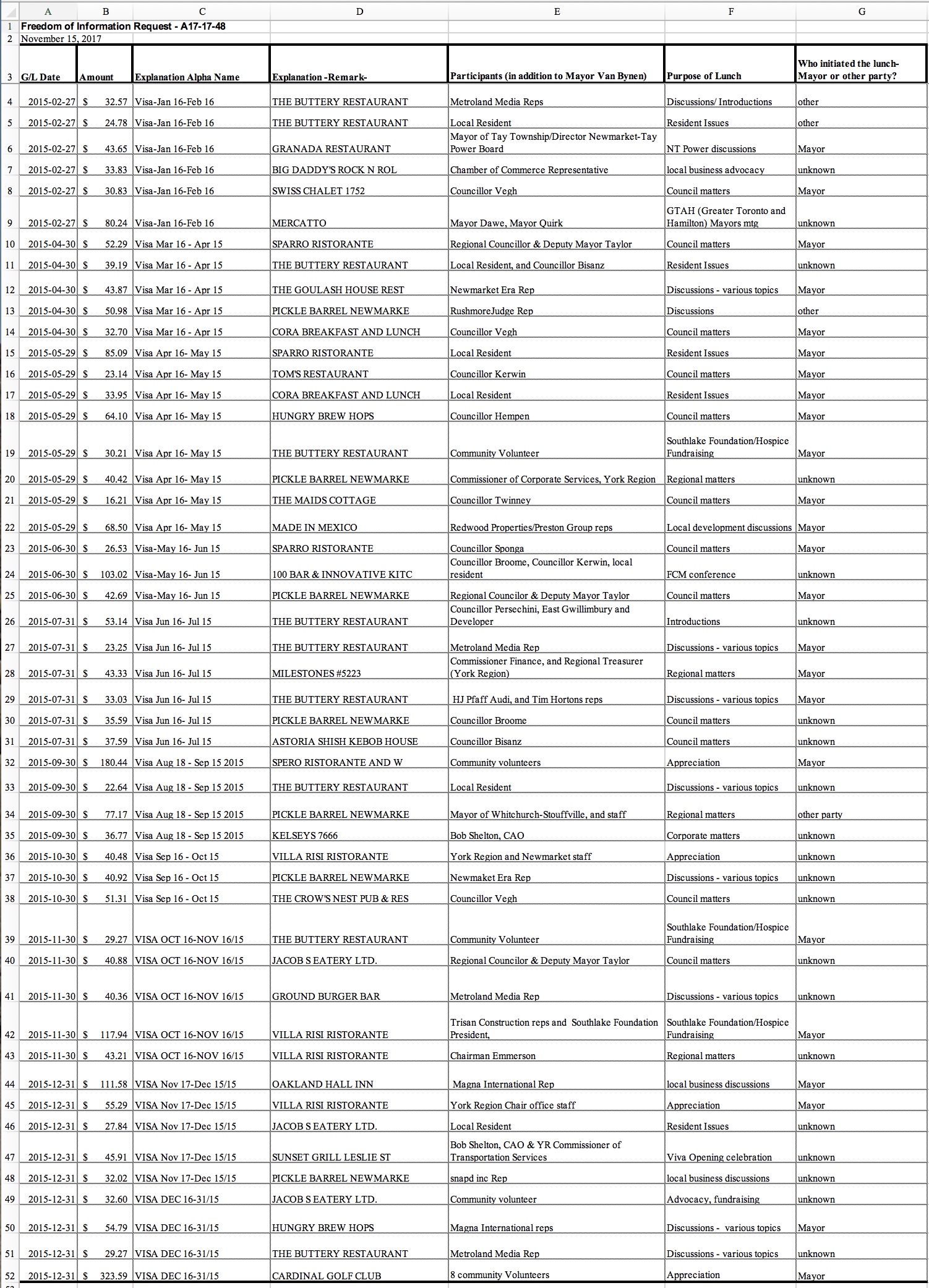 Details

Written by

Gordon Prentice
PC MPP Paul Calandra says those "elected" to York Regional Council were opposed to the direct election of the Regional Chair.
In the resumed second reading debate on Bill 5 on 7 August 2018 he told MPPs: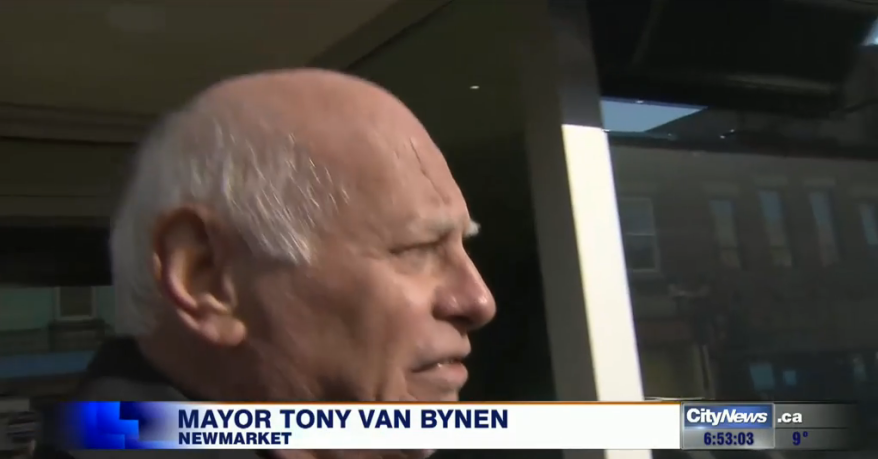 "Part of what we had decided to do with Bill 5 was to put an end to regional council chair elections that were supposed to be scheduled for this year. Now, at the outset, obviously a lot of people have suggested on both sides of the House that direct election of a regional chair would be a good thing. But in this particular instance, the people of York region, in particular those who were elected to the regional council, were very, very clear on the fact that they were not in support of the changes to the council that had been proposed by the previous government. It, of course, was a bill that I think was put in as part of an economic statement by the previous government. All of the mayors who serve on regional council voted against that. In fact, I think only four members of the entire regional council had voted in favour of direct election of the chair."
In fact, in backing the status quo many Mayors voted against the express wishes of their own municipalities.
Newmarket Mayor, Tony Van Trappist, shamefully voted in favour of appointing the Regional Chair when his own council voted 7-1 in favour of direct election.
The municipalities of East Gwillimbury, Markham and Aurora also voted for direct election with their Mayors voting against at York Regional Council.
Whitchurch Stouffville voted in favour of direct election with the Mayor voting at the Regional Council in line with that mandate.
The Mayor of Georgina voted against direct election but her council had not taken a view.
I don't immediately recall how the municipalities of King, Vaughan and Richmond Hill voted but their Mayors all voted against direct election when the matter came up at York Regional Council.
And, to correct Paul Calandra's statement, five members of York Regional Council voted in favour of direct election – not four.
This email address is being protected from spambots. You need JavaScript enabled to view it.
See also: Paul Calandra appointed to the new Ministry of Truth.
Details

Written by

Gordon Prentice
Over three years ago at the Glenway Lessons Learned meeting, Regional Councillor wannabe Chris Emanuel told me too much is kept secret at the Town Hall and that should change.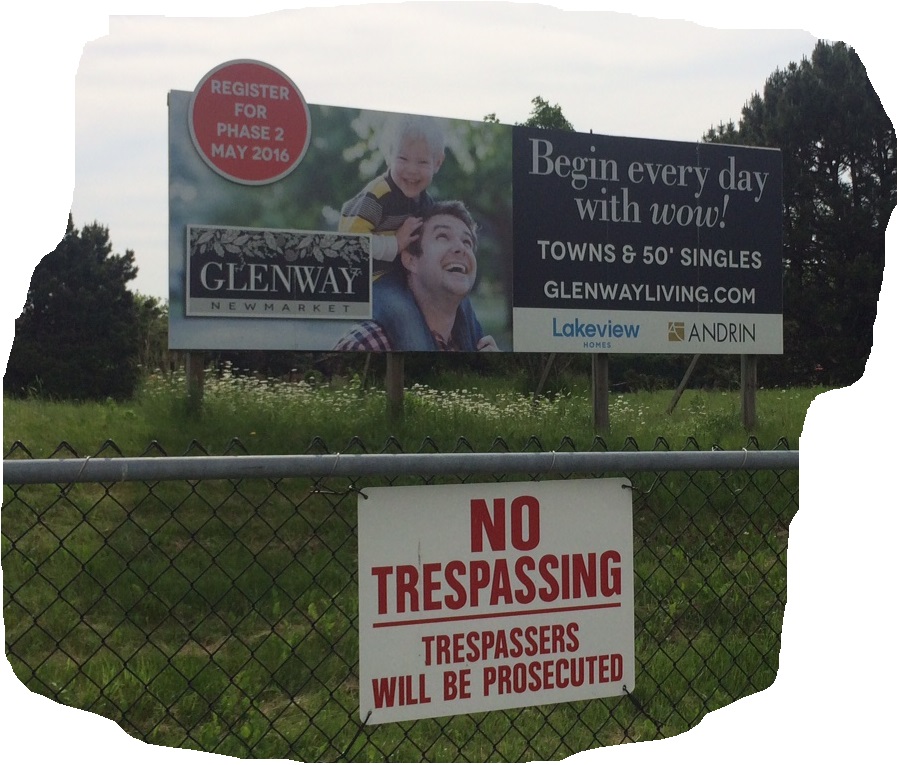 Chris is running for Regional Councillor, having previously been Newmarket's Ward 7 councillor for three terms. In 2014 he left to get a taste of work in the private sector but now aims to return to Newmarket politics – this time as Regional Councillor and Deputy Mayor.
I think it would do his campaign a world of good if he were to lift the lid on the Town's secrets. What examples would he cite? And what would he do about them?
The first Robocall of the season
In his Robocall to voters last week he talks sonorously about his big, bold and positive platform. But there is nothing about opening up the Town Hall.
Chris was councillor for Glenway when a golf course threaded its way through the neighbourhood. Now the fairways and putting greens are being built over. The Town's decision made in 2008 in closed session not to acquire the Glenway lands has had a profound effect on the lives and personal finances of hundreds of families in Ward 7. The public found out about that 2008 decision in 2015 – years after the die was cast.
In June 2015 I was musing about the Glenway "Lessons Learned" meeting:
What happens to people when they become councillors? They are sucked into a system where information is hoarded. This distorts public policy and stunts the conversation we should all be having about the future of our Town.
When councillors told Glenway people on 25 November 2013 they were backing them at the OMB – and they felt their pain – they had already considered buying the Glenway lands - and decided not to - but no-one knew.
John Taylor, Tom Hempen, Christina Bisanz and Dave Kerwin kept their thoughts to themselves. Former councillor Chris Emanuel is present and speaks often. He tells me too much is kept secret and that should change.
Secrecy allows the Town's senior staff to control the narrative. Few elected officials have the time or inclination to burrow deep into policy areas and stay there, checking up on the details.
When senior elected officials like John Taylor tell us that almost all confidential material discussed in closed session eventually comes out of camera I simply don't believe it. Statements like that are contradicted by the evidence.
Councillors need space
Of course, councillors have got to be given space to consider policy options and kick ideas around but once matters are decided there is no reason to keep decisions locked away for ever. "Embarrassment" or "poor judgement" are not good reasons to keep information sealed indefinitely.
I have been trying for years to get sight of the reports and minutes of the confidential report on the so-called "agreement in principle" on the proposed Clock Tower development that went to councillors over five years ago on 24 June 2013. Despite my best endeavours it is still off limits.
The then Town Solicitor and now Commissioner for Corporate Affairs, Esther Armchuk, told me on 23 February 2016:
"The details of the proposed land exchange are confidential at this point as they involve the potential acquisition disposition of Town lands.
If or when the developer's development application comes before Council, the details of the requested land exchange will likely become public information."
The Clock Tower's New Development Concept
The Town and Bob Forrest have now come to an agreement. Forrest would withdraw his plan for the Clock Tower in favour of a "New Development Concept" that we have yet to see. We know the new development will not involve the demolition of historic commercial properties but, other than that, things are opaque.
There are agreed Minutes of Settlement and the transfer of lands and easements was completed by the 30 July 2018 deadline. The only matters outstanding concern the formal registration of the land titles.
Once that happens there is no reason why the documentation from 24 June 2013 should not be made available.
Last week I put in yet another Freedom of Information request for this material. My earlier ones had all been turned down.
For years, a central part of the historic downtown has been blighted with shuttered stores and dereliction. Traders were evicted to make way for a redevelopment that was stopped in its tracks by the pressure of public opinion.
I think it's time for us all to see what form that "agreement-in-principle" took in June 2013 and what we can now learn from the process.
This email address is being protected from spambots. You need JavaScript enabled to view it.
Subcategories