Details

Written by

Gordon Prentice
This morning I learn that accountant Talib Ansari wants to be Mayor of Newmarket.

I've never heard of him but maybe that's because we move in different circles.
To become a candidate for Mayor 25 people must have endorsed him so I am intrigued to find out more.
He has appeared – at least to me – from absolutely nowhere.
The Town's website (at 10am) gives no qualifying address. But I'm sure this will be posted in due course.
Mr Ansari is a partner in Trivana Tax and Accounting Services which is based either in Newmarket or East Gwillimbury - depending on which source you rely on.
I've left messages for him to call me back today so we can talk about his program and what he wants to do for the Town in the next four years.
This guy has a profile that boasts of towering achievements. So why does this mover-and-shaker want to be our Mayor?
His LinkedIn profile tells me:
"Talib Ansari is a highly accomplished, pro-active, customer focussed and results-driven professional with over 18 years of experience in investment finance, accounting and technology with top-notch pensions funds, IT company and real estate firms in the US and Canada. He has consistently demonstrated strategic/tactical leadership, relationship building/management, and innovative problem solving skills across cross-functional/matrix organisations."
Phew!
"He effectively leverages his distinct combination of business & technology to successfully deliver/manage mission-critical, time-sensitive & highly complex financial and hi-tech projects/solutions that include business intelligence, database management, systems implementation, risk management, compliance and internal control."
Wow!
"Talib Ansari earned his MBA in Strategy and Entrepreneurial Finance from Wilfred Laurier University in Ontario, Canada, to solidify his business acumen, and BBA in Investment Finance from City University of New York, New York, USA, to strengthen his capital market comprehension. He is a Chartered Professional Accountant & Certified General Accountant of Ontario. In his spare time he enjoys photography and loves playing the guitar."
I want to meet him face to face and find out where he is coming from.
I hope I've tracked down the right Talib Ansari. If not, I am in big trouble.
This email address is being protected from spambots. You need JavaScript enabled to view it.
Update at 11.55am: Talib Ansari tells me he has never been involved in politics before. This is his first outing. He says he has worked for the best companies, knows about real estate and is a qualified accountant. He tells me he wants to take Newmarket "to the next level". He lives in Copper Hills.
Details

Written by

Gordon Prentice

Mayoral hopeful, John Taylor, last night launched his election campaign to a crowd of happy-clappy supporters in the Royal Canadian Legion Hall on Srigley Street.
I wander along to see what all the fuss is about.
I walk past a bunch of ten year olds prancing about outside, waving giant "John Taylor for Mayor" signs above their heads.
Before he goes up on stage to deliver his tour d'horizon I casually ask how long he is going to speak. Seven minutes he says. Any longer and people lose interest.
I ask him how much he paid the kids outside. He laughs.
The place is packed and there is a sense of expectation in the air. I see Chris Emanuel, the wannabe Regional Councillor, and lots of familiar faces but, unfortunately, no Tony Van Trappist. I was in the mood to kiss and make up.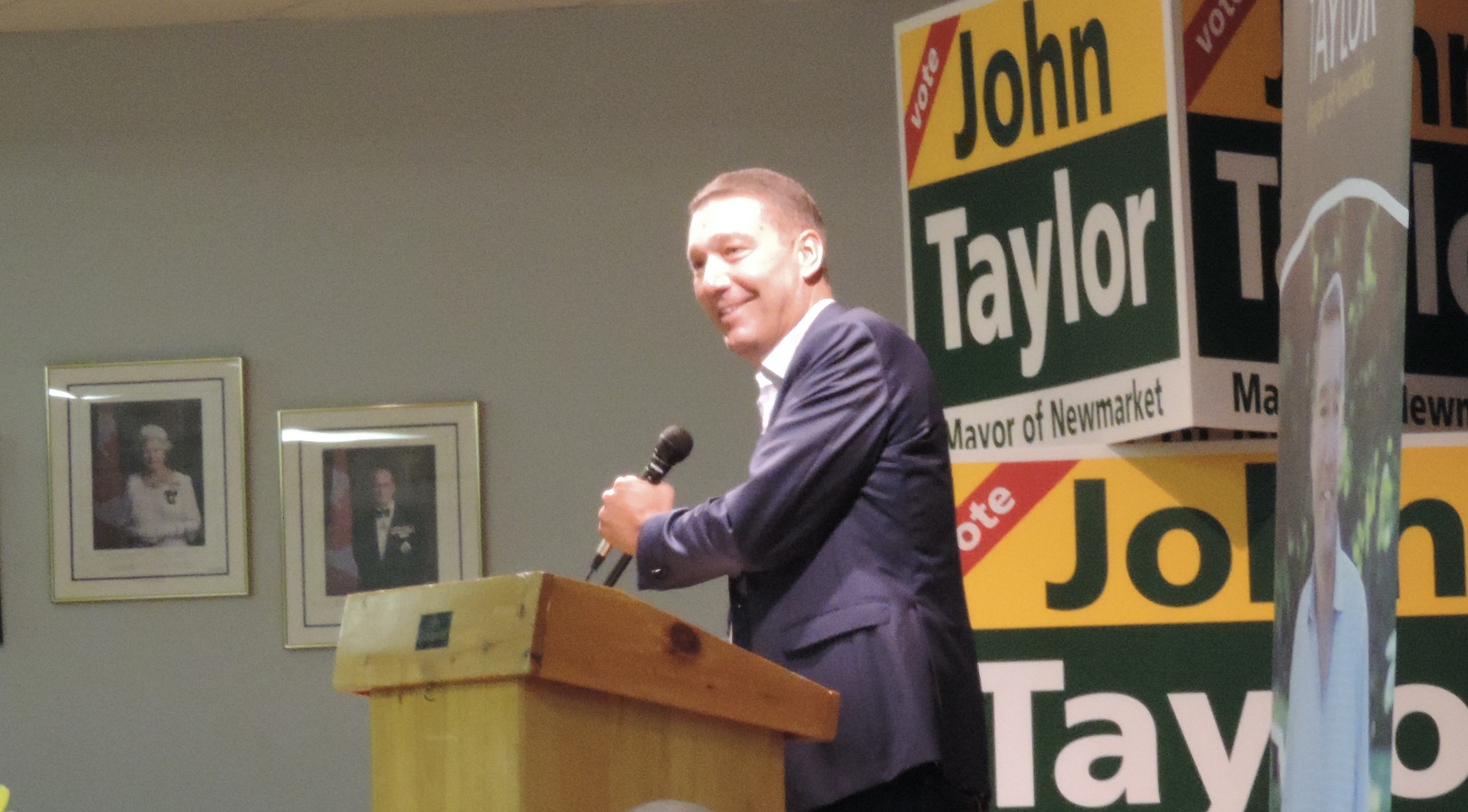 The Mayor has blocked me for years from reading his tweets so I have to rely on reports from my network of spies to tell me what he is up to. The last I heard he was up in Tobermory enjoying cottage life. Anyway…
Taylor Senior introduces Taylor Junior
Taylor Junior is introduced by his Dad, Tom, the founder of the dynasty.
John Taylor has been around for a long time and served a lengthy apprenticeship as Deputy Mayor under the old banker.
Now John Junior is talking about his experience and how he is qualified for the job. He tells us about his passion for the Town and his plans for the future. It is an animated performance with lots of pace. He manages to sound hungry for the job.
Taylor packs a lot into his seven minutes, ticking all the boxes. The Historic Downtown gets a special mention. He paints a picture of the Newmarket he wants to see and makes it sound quite compelling.
Now he addresses the controversial purchase of Mulock Farm head-on.
Personally, I don't have a problem with the Town investing for the future. I thought the $10m it took to renovate the Old Town Hall was money well spent. In any event, the Town routinely borrows piles of cash to finance major projects and life continues as before. It's not as if the Town is panhandling.
Four years ago, a firm of consultants (Hemson) brought in to review the Council's asset replacement strategy said the Town's practice of using debt to finance big projects was reasonable and appropriate.
The cost of Mulock Farm is out in the open, not buried in the budget.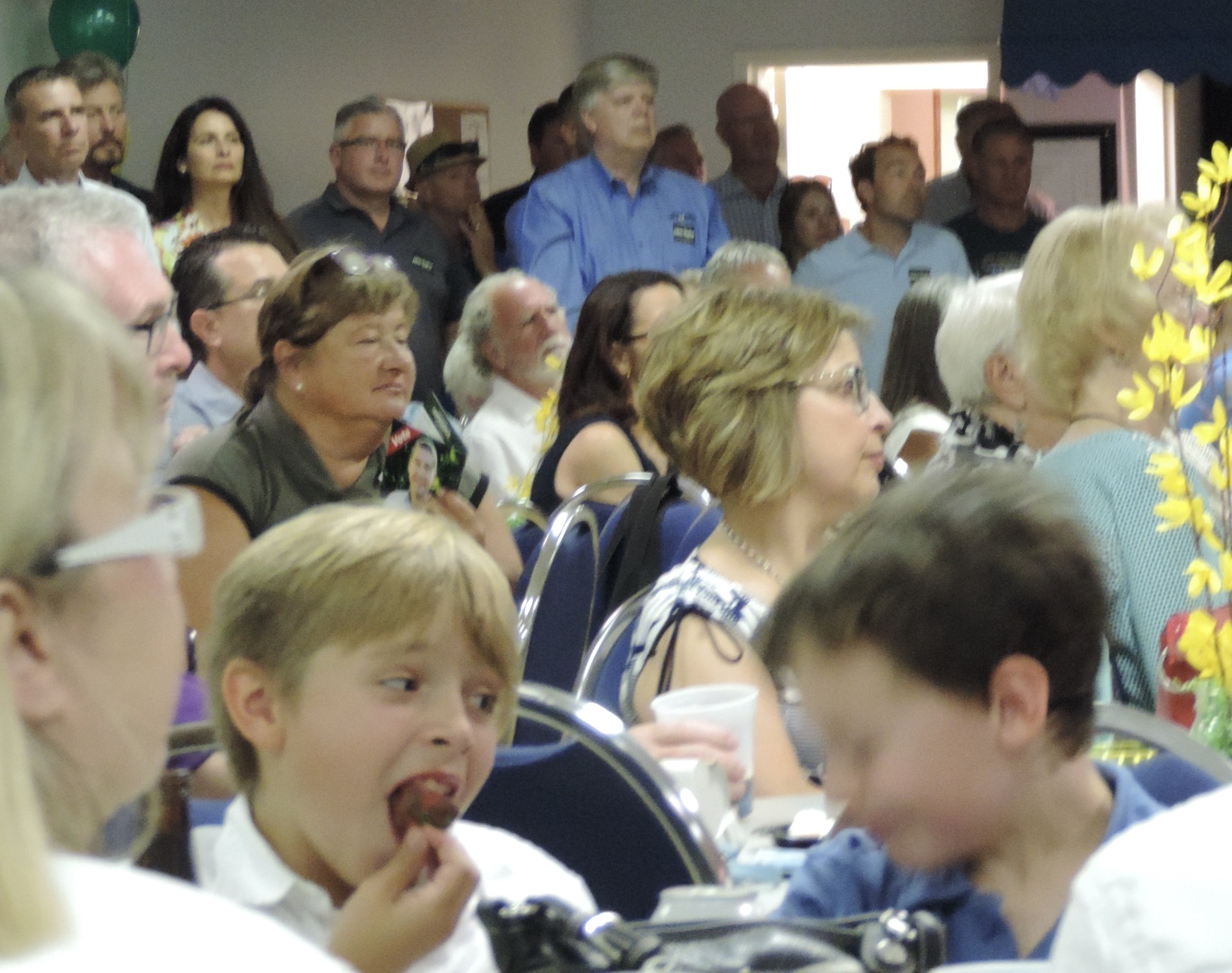 Fuddy-duddy old house
Yet some Conservatives say it is a complete folly to spend money on a fuddy-duddy old house and park that was home to one of the Town's most celebrated residents, Sir William Mulock.
Here is what the outraged and irrepressible Darryl Wolk tweeted on 3 May 2018:
I am surprised the proposed "Mulock Central Park" has not gotten more attention in @townofnewmarket. Taxpayers misled on the biggest proposed tax increase in our history. Residents can expect to be hit with costs of at least $100 per year for the next 30 years. Sell the land!
When I spoke to Mayoral candidate Joe Wamback about Mulock Farm later that month he was still sitting on the fence. His website now tells me:
"Council and the Mayor must have crystal-clear clarity on their vision for the future of this town… The residents and taxpayers of Newmarket will always know exactly where I stand."
So, Joe, spit it out. Are you for or against Mulock Farm?
Taylor is a shoo-in.
Lots of people I meet seem to think Taylor is a shoo-in and it is all over bar the shouting.
Don't bank on it.
After the election of Doug Ford - whose "costed" program could be scribbled down on the back of a bubble gum wrapper - I take nothing for granted. People are waiting for their Beer for a Buck and cheap gas and they want it now!
Newmarket voted overwhelmingly for FordNation. Even low income neighbourhoods bought that "man of the people" stuff.
By election time people could be whipped into a frenzy by Darryl and his friends in the People's Party!
For the cost of a patch of green grass and a tumble-down old house you could buy 24 million beers.
Hmmm.
No contest.
This email address is being protected from spambots. You need JavaScript enabled to view it.
Details

Written by

Gordon Prentice
Doug Ford tells us the former CEO of Hydro One, Mayo Schmidt, got "zero" severance. He says he was proud to make the announcement.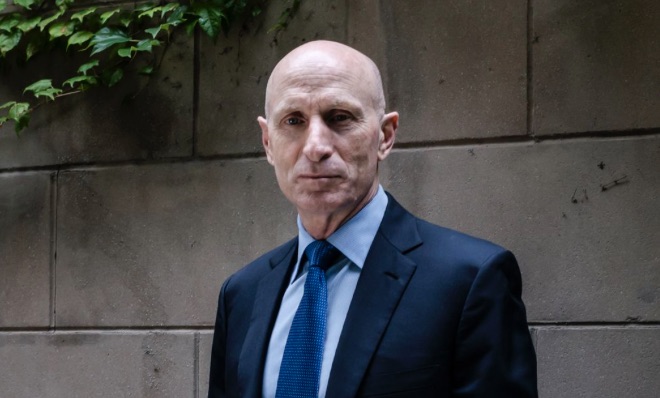 But now the Globe and Mail tells its readers Mr Schmidt is sitting on Hydro shares worth over $8 million and he could cash them in.
Does Ford have a view on this or on executive pay packages more generally?
The backgrounder put out by the Province's newsroom yesterday makes no mention of Mr Schmidt's shares in Hydro One.
We are told:
"Mr Schmidt and the Company have agreed to the payment of a $400,000 lump sum amount on the effective date of his retirement in lieu of all post-retirement benefits and allowances.
Mr Schmidt will not receive severance payment, requirement allowance or change of control payment."
The Globe and Mail says
"Mr Schmidt, like other company executives, has participated in a range of long-term stock plans during his time at Hydro One. As is typical, the company awards the shares, but the executives cannot turn around and sell them in the open market. Instead they "vest" or become fully owned and saleable, when the executives continue their employment, or hit certain performance requirements."
We learn that "only" 50,000 of Mr Schmid's stock awards have vested. The rest – the hundreds of thousands of unvested shares - could be retained with Schmidt eventually owning them outright on their original schedule and terms.
However, the Globe and Mail reveals that under the terms of the agreement between the Province and Hydro One Schmidt could cash in hundreds of thousands of "unvested stock awards"
"at a specified (and undisclosed) price"
and these could be worth $8.2 million.
This begs a series of questions. Is Schmidt going to sit on his shares and cash them in later when the heat is off or is he going to take the cash now? And if it is the latter, how much is he going to get?
Ford made a big deal about Schmidt being the "Six million dollar man".
But as we now know, his salary was $1.2m with the bulk of the compensation package coming in the shape of Hydro stock.
Schmidt will of course be paying the CRA every cent that is due to them but it is a sad fact of life that people with stratospheric earnings can be slippery customers.
They have a million ways to keep their cash out of the clutches of the Canada Revenue Agency.
During the election campaign former MPP Chris Ballard reminded us:
"People on $14 an hour are not parking their money offshore."
It was a nice line.
When high earners are not paying their fair share the rest of us pay more than we should.
This email address is being protected from spambots. You need JavaScript enabled to view it.
Details

Written by

Gordon Prentice
Things are stirring down at tomvegh.com.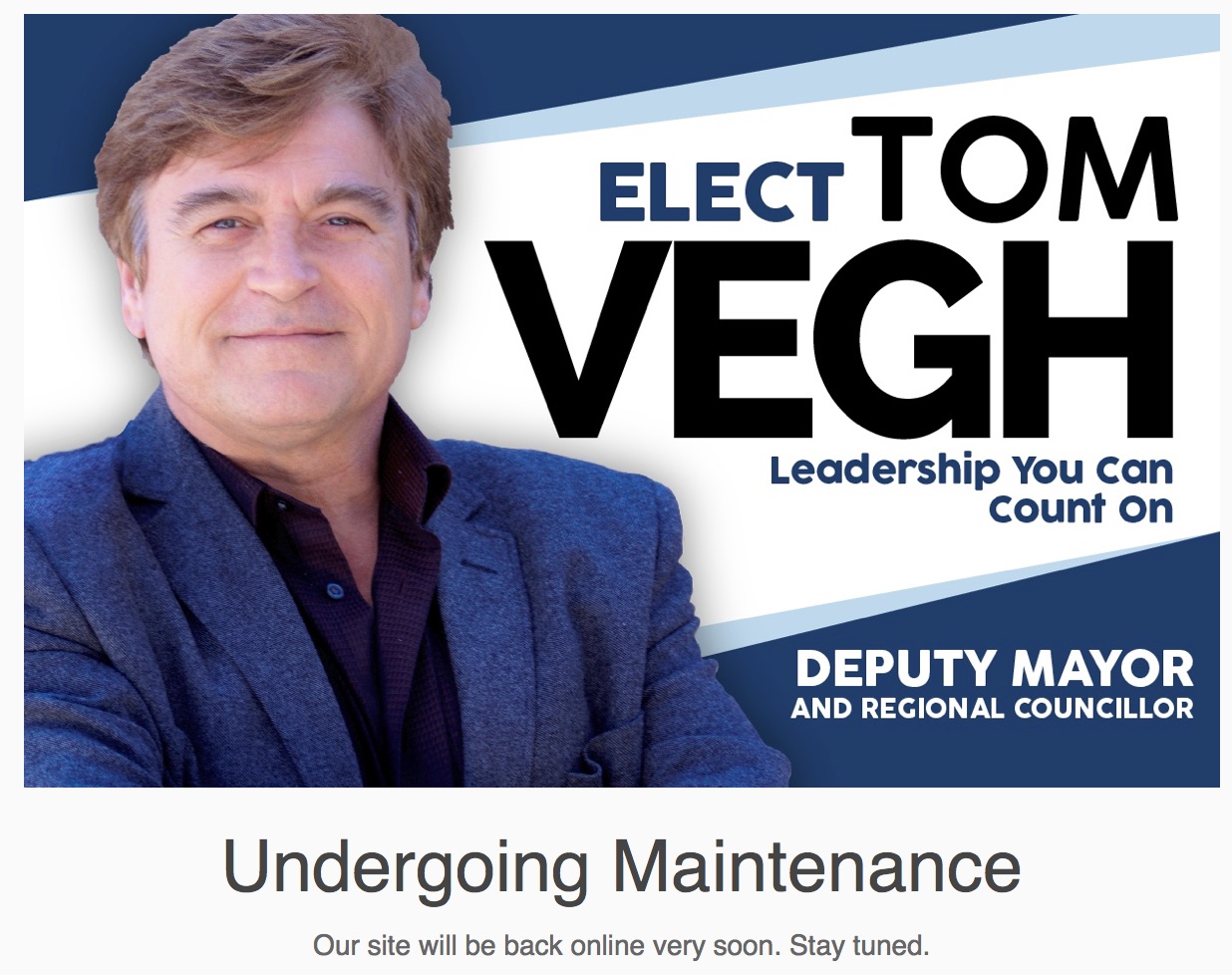 The wannabe Newmarket Deputy Mayor and Regional Councillor has finally visited his own website and given it a bit of a tweak.
Tom has posted a photograph of himself above the text: Undergoing Maintenance.
But he has revealed his campaign slogan:
"Leadership you can count on."
Can we?
In what way can we count on you Tom?
Please be as specific as you can. But no need to rush.
Joan Stonehocker, the chair of Newmarket's Library Board, has also declared, joining the Leader you can count on and Chris Emanuel in what could be a fascinating three-way race.
More will follow.
This email address is being protected from spambots. You need JavaScript enabled to view it.
Details

Written by

Gordon Prentice
Figures released by the Province's Ministry of Finance show the Non-Resident Speculation Tax (NRST) – brought in by the Liberal Government last year to cool the housing market – collected $53m in York Region compared with $82.8m in the whole of Toronto.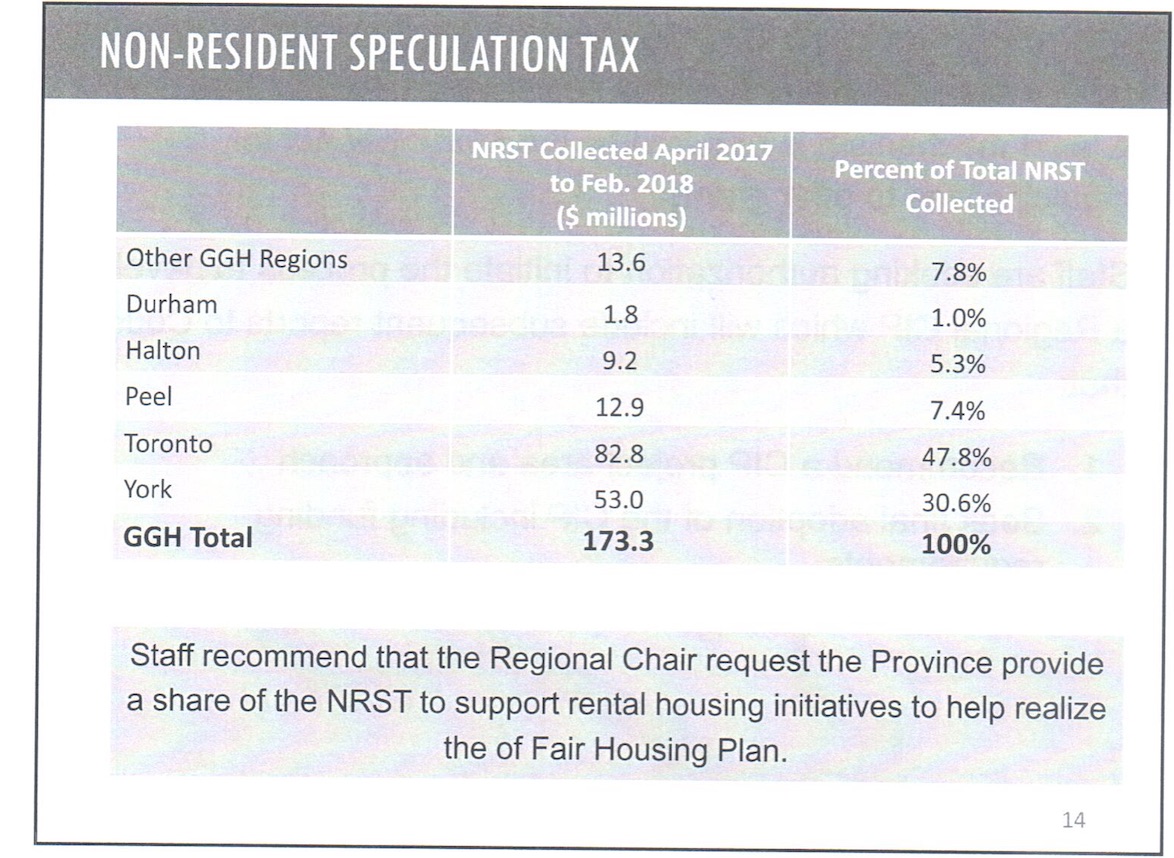 The table alongside shows that tax collected from speculators operating in Toronto and York Region dwarfs the tax-take from elsewhere in the GTHA (Greater Toronto and Hamilton).
The tax figures cover the period from April 2017 to February 2018. They show that 682 speculation tax payments were made in Toronto over this period.
But, astonishingly, 339 speculation tax payments were made in York Region – almost exactly half as much as the whole of Toronto.
Plague of Locusts
No wonder house prices in Newmarket and in surrounding areas have been going through the roof. The speculators have descended on our neighbourhoods like a plague of locusts.
The Premier Designate, Doug Ford, has himself been speculating about what he might do with the tax on speculators. He is toying with the idea of abolishing it saying housing supply and demand should be left to the market.
Expecting profound insights from Doug Ford on the operation of the housing market (or indeed anything else) is asking for more than he is capable of delivering.
We don't know what he is going to do yet. More worryingly, he doesn't know either.
We shall see what, if anything, the new Government has to say after Ministers are sworn in on 29 June 2018.
Yesterday members of York Regional Council asked the Province for a chunk of the Non-Resident Speculation Tax to help it take initiatives promoting more rental housing. You can read the report here.
Housing crisis in York Region
There is a housing crisis in York Region where even people with a household income of between $80,000 and $120,000 are finding it difficult to buy - or to rent.
There was much talk of increasing rental supply and giving incentives to developers to construct purpose-built rental.
Aurora's Mayor, Geoffrey Dawe, the resident clown on York Regional Council, wondered what was to prevent
"the fabulously wealthy Mayor of Newmarket"
getting one of these units?
Answer from the Region's Chief Planner: There would be specified criteria the applicants would have to meet on income and such-like.
Van Trappist, true to form, made no contribution to the debate. But John Taylor, the man who is determined to succeed him as Mayor of Newmarket, had plenty to say.
In an animated little speech, Taylor tells us that 80% of people in Zurich, Switzerland, rent.
Hmmm.
I find myself wondering if that's because speculators have been buying up everything in Town that isn't nailed down.
This email address is being protected from spambots. You need JavaScript enabled to view it.
Subcategories