Details

Written by

Gordon Prentice
The Town deserves a big round of applause for acquiring Mulock Farm, the Newmarket home of the politician, lawyer and polymath Sir William Mulock.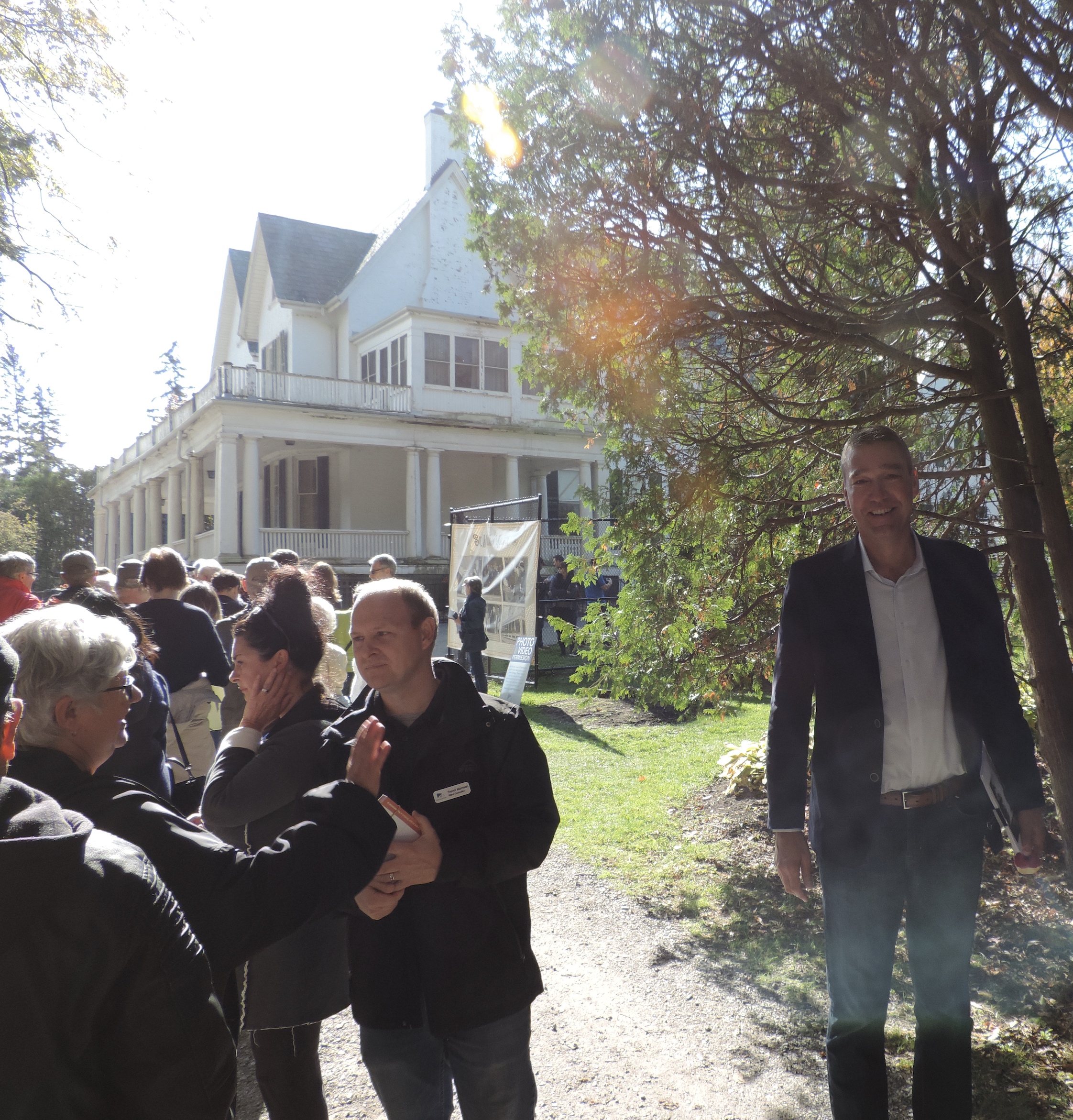 Yesterday, in bright Fall sunshine, there was an open-house where members of the public could see the impressive old house up close for the first time.
Mayor John Taylor and his councillor colleagues are out in force eager to tell us all about the history of the house and what it may become in future. We are given postcards to fill in with our thoughts. (Photo right shows the Mayor and Ward 4 councillor, Trevor Morrison)
The house will be closed now for a few years while it is repaired, restored and brought up to code. It looks impressive - even when empty and dowdy.
Old houses have stories to tell
There was, of course, a huge debate last year on whether the Town should acquire the property for $24M.
This tweet from local political commentator, Darryl Wolk, on 3 May 2018 probably summed up the views of many.
I am surprised the proposed "Mulock Central Park" has not gotten more attention in @townofnewmarket. Taxpayers misled on the biggest proposed tax increase in our history. Residents can expect to be hit with costs of at least $100 per year for the next 30 years. Sell the land!
To his credit, the then candidate for Mayor, John Taylor, made the acquisition of Mulock Farm an election issue – and won hands down.
Last year I wrote a short piece for the Architectural Conservancy of Ontario's magazine, Acorn, on Newmarket's Ghost Canal and Sir William Mulock's role in the controversial (and ultimately doomed) project. You can read it here at page 22.
This email address is being protected from spambots. You need JavaScript enabled to view it.
Update: And this is how Newmarket Today covered the Open Day.
Below: The sitting room at Mulock House.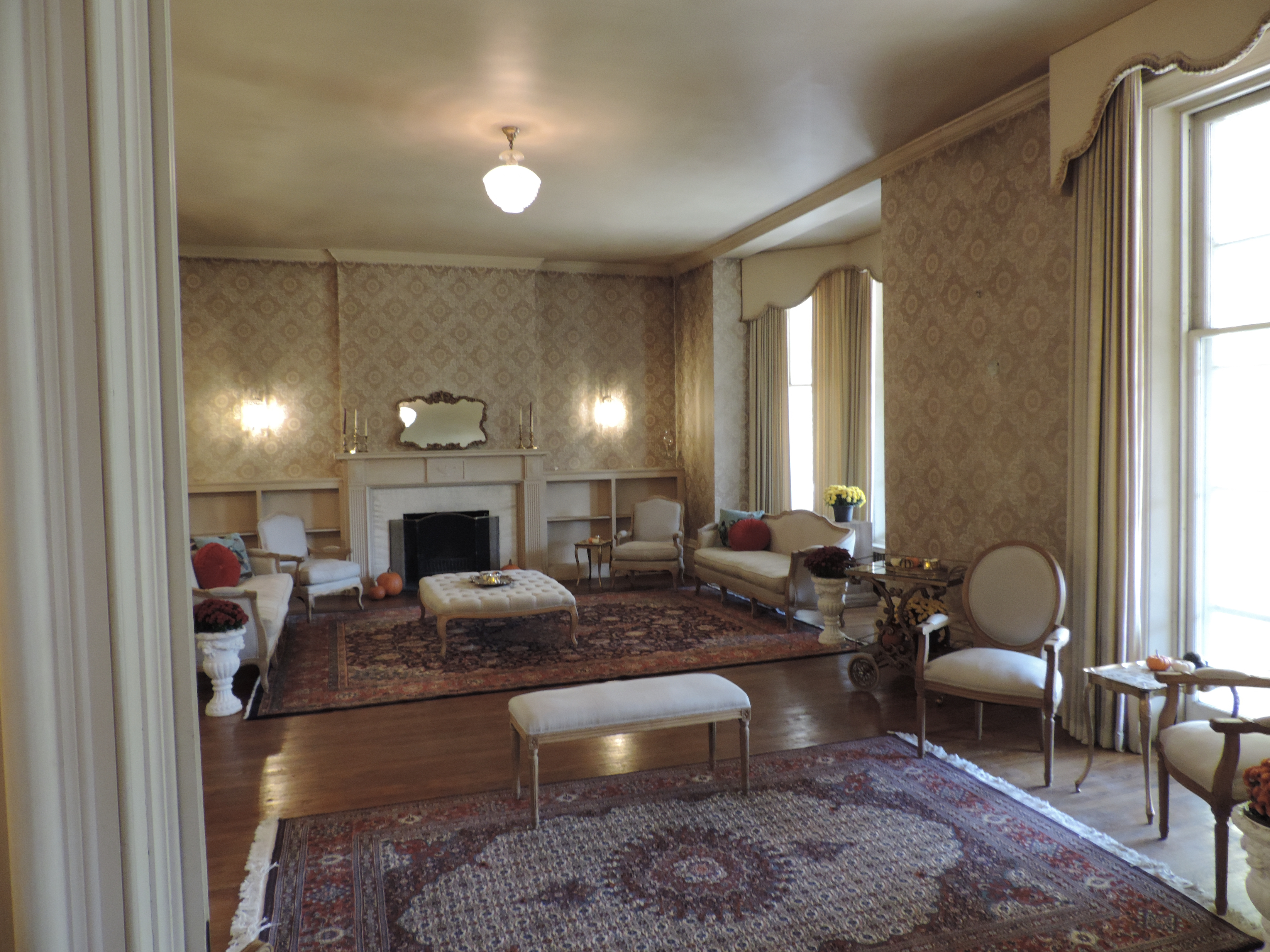 Details

Written by

Gordon Prentice
The latest projection from 338canada.com shows a dramatic narrowing of the election race in Newmarket-Aurora.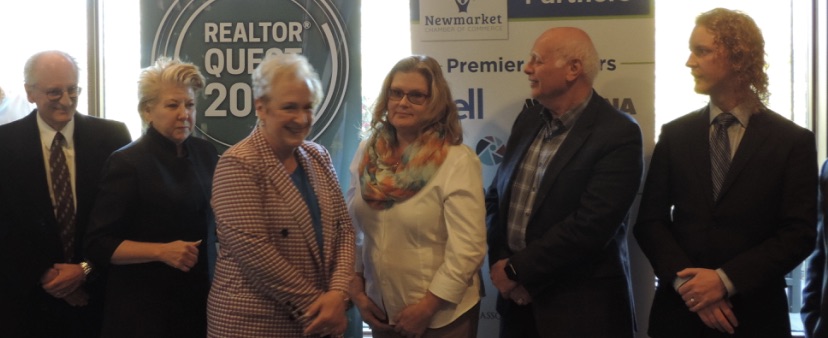 The Liberals coming from behind have now overtaken the Conservatives as likely winners The odds of winning are 51% to 49%.
I find this fanciful for the following reasons:
1. A dramatic increase in the Liberal vote could only happen if the Green and NDP vote collapses and migrates to Van Bynen.
2. There are no signs of a collapse in the NDP vote. On the contrary, support seems to be hardening. The projected Green vote is barely eroding. Both the NDP and the Greens have excellent, knowledgeable candidates who more than held their own against the others from the two main parties.
3. Today's CBC Poll Tracker tells us what we already know. The chances of a Conservative majority in the new House of Commons are negligible. The CBC puts the probability at a vanishingly slim 1%.
4. It follows that here in Newmarket-Aurora there is no need to vote Liberal "to keep the Conservatives out".
Hung Parliament
The Conservatives are not going to get a majority of seats in the House of Commons - barring the most extraordinary turn of events unforeseen by any of the polling organizations.
My advice is to vote for the candidate who is aligned most closely with your own views.
If Tony Van Bynen - a Liberal of only a few month's standing - ticks all your boxes then vote for him.
Likewise, if Lois Brown is your idea of the future then vote for her.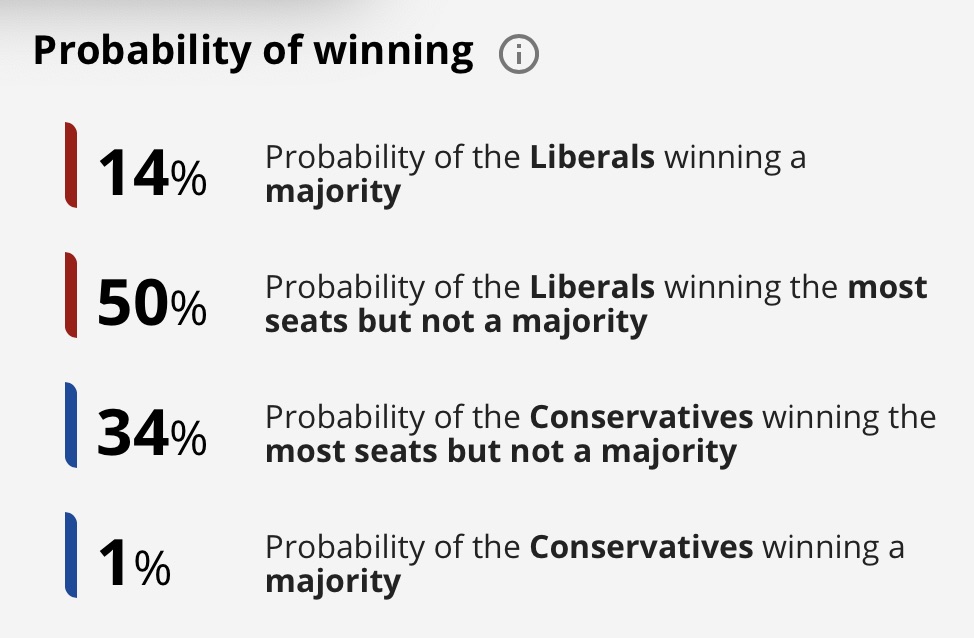 Neither the NDP nor the Greens are going to win here but the election is your chance to make your voice heard by registering your firm preference. A strong showing for a Party which doesn't come top of the poll can, paradoxically, still make the weather.
Of course, if the old banker wins - against all my expectations - then we must bend the knee before the will of the people.
We live to fight another day.
As it happens, late last night an email comes winging in from a long-standing Newmarket resident whose views I respect (though generally disagree with).
Grass roots
He tells me Van Bynen will win Monday's election because of his "grass roots" and:
"he knows how to campaign and is better organized than Lois"
Personally, I think that is a load of old tosh. In my day, candidates for Parliament never went out canvassing on their own. The optics are not good. Better to be surrounded by a happy and enthusiastic team of people than be seen shuffling along the road like a lost soul.
A few days ago I spotted the old banker out on his own and without supervision in Lorne Avenue, draped in his new favourite colour red, looking forlornly at his clip-board, wishing it were a balance sheet.
Tony Van Bynen MP
Anyway, the email made me think about having Tony as my MP. Until earlier today I never considered it a remote possibility.
It would certainly make a difference to my life - and to his.
I would be following his contributions in the Chamber of the House of Commons and in Committee, eager to hear his views on the big issues of the day. For most people that would be worse than a dose of anthrax but I like that kind of stuff.
Value for money
I'd also be interested in what else he gets up to in Ottawa, keen to know if we are getting value for money from our new MP or whether he will spend the next four years just gliding into his third retirement.
Will he still block me from viewing his Tweets when he is my MP?
Will I be able to get an appointment to meet him to discuss whatever may be on my mind?
But all that is for the future.
Main Street Demolition
For the moment I have more pressing things to think about. I don't know if Tony has expressed a view on the unlawful demolition of the protected heritage building at 184-186 Main Street South by his friend Bob Forrest. I hope so. Before he became a Liberal he told us repeatedly that Newmarket's Main Street was voted the best in Canada.
And now he is just silent. Like the old days.
Van Trappist redux.
This email address is being protected from spambots. You need JavaScript enabled to view it.
Update on 20 October 2019: in its latest projection today 338canada.com puts the Conservatives back in front in Newmarket-Aurora with a 58% chance of winning against the Liberals 42%.
Photo above right shows the candidates at the Newmarket Chamber of Commerce breakfast debate on 8 October 2019. From left to right: Walter Bauer (Green); Lois Brown (Conservative); Debate Moderator; Yvonne Kelly (NDP); Tony Van Bynen (Liberals) and Andrew McCaughtrie (People's Party of Canada).
What happened last time:

Photo below: From the Comic Store, Main Street South, Newmarket.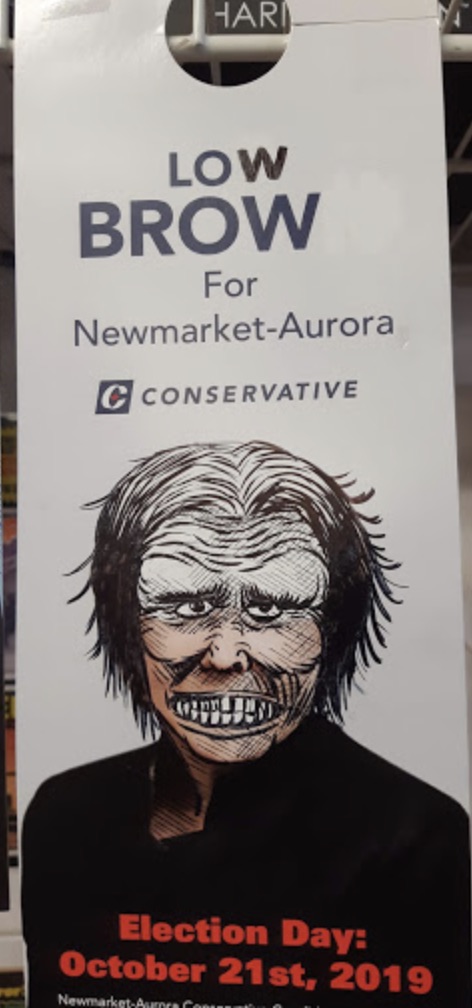 Details

Written by

Gordon Prentice
Earlier this year Liberal candidate Tony Van Bynen received $162,739 of taxpayers' money to cushion his voluntary retirement from municipal politics in November 2018.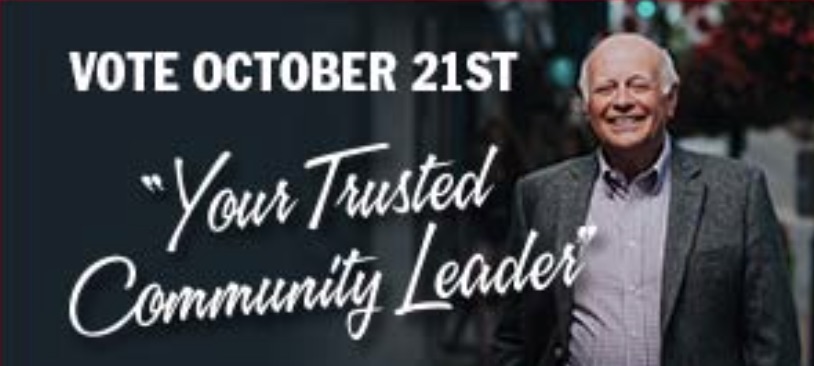 The $95,671 he received from the Town of Newmarket was publicly reported in March 2019 but the $67,068 from York Region was not reported as he asked for the payment to be deferred from 2018 into 2019 "for tax planning purposes".
Both payments were in fact made in 2019.
York Region will publish details of the cash payout on 18 November 2019. But this date for disclosure could be pushed back if Van Bynen appeals, citing personal privacy.
My Freedom of Information requests lodged six weeks ago asked for:
1. A copy of the letter and application form for severance sent to Tony Van Bynen by the Regional Treasurer on 29 October 2018, redacted where appropriate and
2. A copy of the severance application sent by Tony Van Bynen to the Regional Treasurer and received on November 13, 2018, redacted where appropriate.
The Region proposes to make full disclosure of the material from the Regional Treasurer. The Region also tells me Van Bynen's letter of 12 November 2018 will be redacted in part on personal privacy grounds as will his formal application for severance.
The $67,068 will be formally reported in March 2020 as part of the Region's annual statement on remuneration and expenses, as required by law.
This email address is being protected from spambots. You need JavaScript enabled to view it.
and this is how the Comic Store in Newmarket's Main Street South sees it....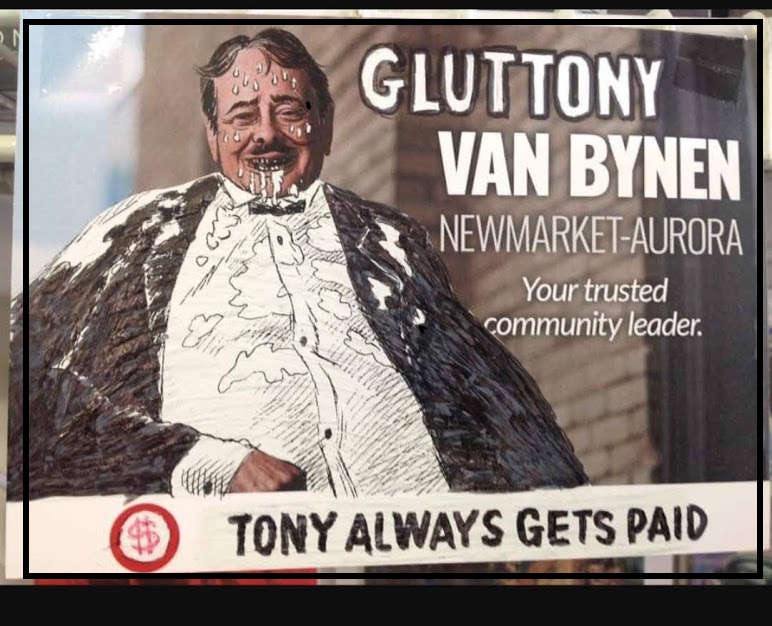 Details

Written by

Gordon Prentice
The unlawful demolition of the protected historic building at 184-186 Main Street South in the heart of the Town's Heritage Conservation District by the developer Bob Forrest was an avoidable tragedy.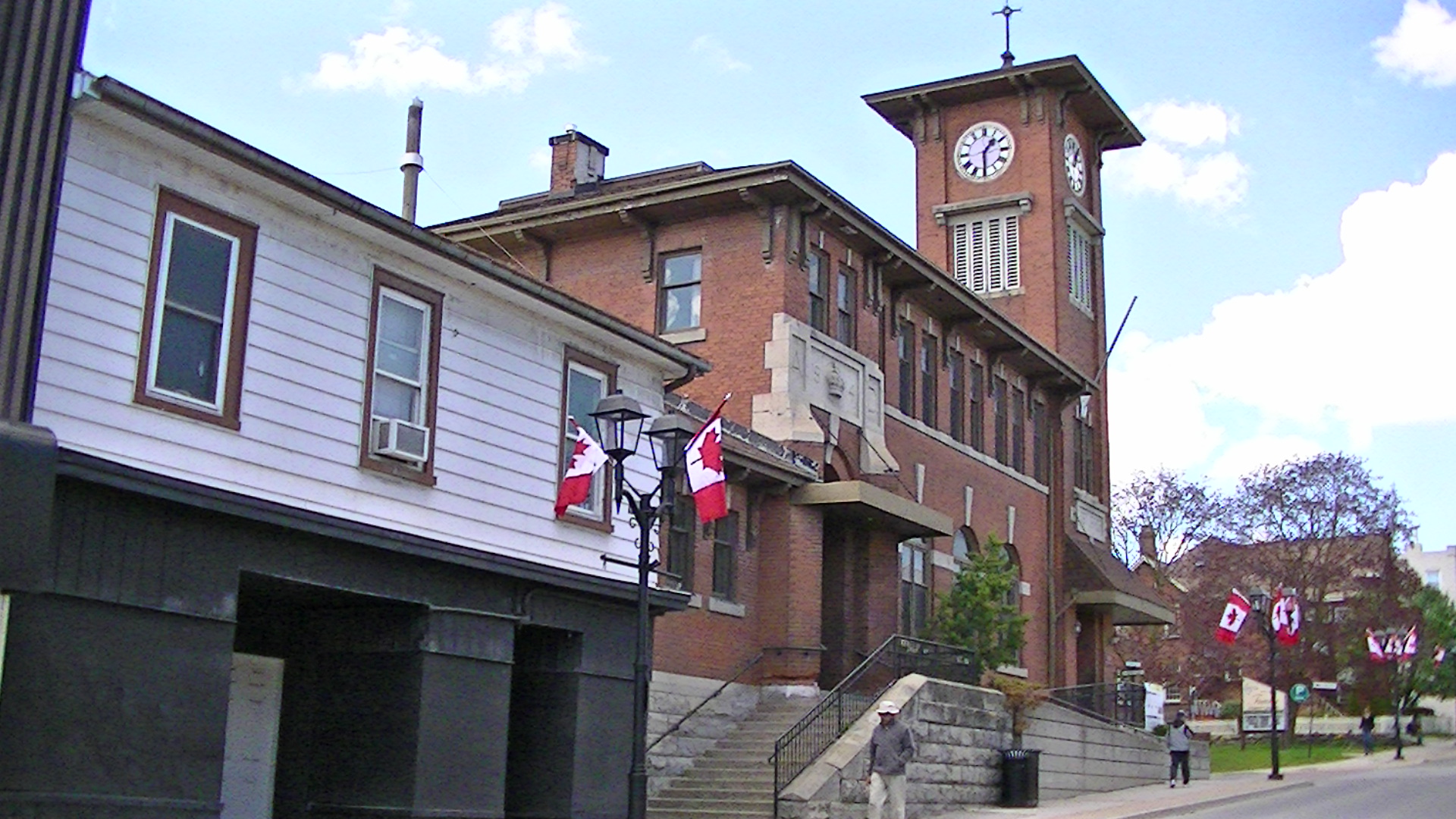 The building did not fall down of its own accord.
Bob Forrest ordered the demolition.
The Town hopes to wrap up its investigation into the circumstances in two weeks. And it has ordered all work on the site to stop. It is not clear when this Stop Work notice will be lifted.
After last week's overnight demolition the public will want to know that the remaining buildings are still safe.
What did Forrest know?
Clearly, the Town must demand an immediate statement from the owner, Bob Forrest. This is no time to dilly dally.
What did Forrest know? What was he told? What did he do? When did he do it and why?
The Town's Commissioner of Development and Infrastructure, Peter Noehammer, will be leading the investigation but does he have all the resources he needs to get to the truth of what happened?
Bring in the Police
How many people are working on the investigation? Who is being interviewed? Are lawyers present? Has anyone declined to be interviewed? Are the Police being involved? If not, why not?
We need to know about the modalities of the investigation. We are not being told. The Chief Administrative Office, Jag Sharma, stonewalled at Tuesday's Committee of the Whole when asked a few limp questions from Ward 5 councillor, Bob Kwapis.
On Tuesday Sharma said he couldn't give a time-line on the investigation. On Wednesday evening the Mayor told us he hoped to see it concluded in two weeks.
Prosecution
Clearly, Bob Forrest should be prosecuted for his cavalier decision to demolish a protected building in the heart of the Heritage Conservation District. But we need to understand what was in his mind when he ordered the demolition of the building.
Personally, I believe 184-186 Main Street South should be rebuilt at the owner's expense.
But that is something for another day.
This email address is being protected from spambots. You need JavaScript enabled to view it.
Note: The Minutes of Settlement agreed last year between the Town and Bob Forrest's Main Street Clock Inc had this to say at paragragh 43:
"The parties agree to act reasonably and in good faith in respect of all dealings between the parties pursuant to these Minutes of Settlement."
Details

Written by

Gordon Prentice
Demolition on Main – update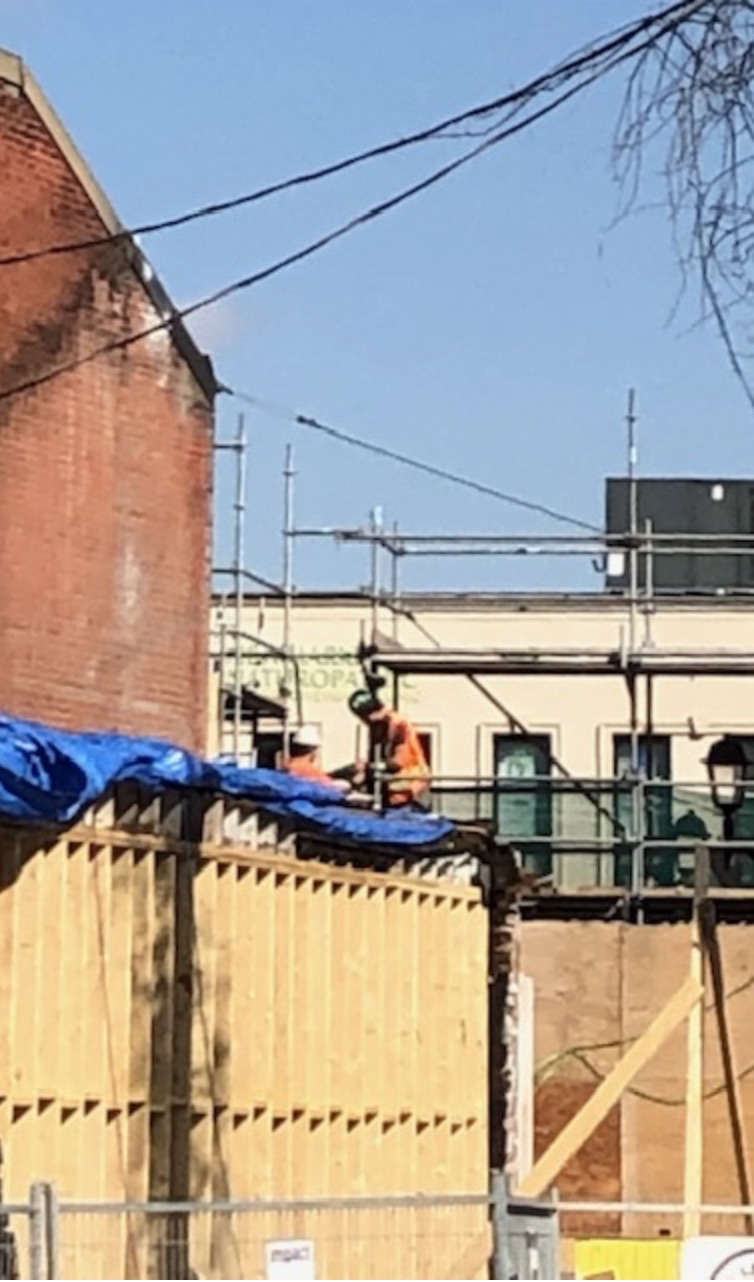 News reaches me that workers are seen on the building site on Main – despite the Stop Work Order that was slapped on the work following the unlawful demolition of 184-186 Main Street South on the evening of 9-10 October 2019.
I go to Main Street and I am now talking to a worker who is securing the scaffolding at 184-186 Main Street. He tells me the scaffolding was attached to the building that was demolished and that it has to be made safe. I ask what would have happened if the scaffolding had collapsed on to Main Street, injuring someone.
He says the Site Supervisor is about.
I wander round the block and see a man in a white hard hat and another guy in day-glo construction gear.
I introduce myself and discover I am talking to Jim, the site supervisor, from Prime Design Build. He wasn't around last week but he tells me the scaffolding was secured before the building was knocked down.
He hopes the Stop Work Order can be lifted in a couple of days.
Safety issues
Predictably, I am told there was a safety issue. The man in the day-glo is Jacques Carrier from CFCW Construction Inc. He tells me the building had to come down because it was unsafe. And he had 10 people on site. He says the old building was being held up by the Clock Tower.
It is still unclear who authorised the demolition.
Now Mr Carrier is telling me that the building next door to the demolished one is also unsafe. (This is the building painted light blue in the photo right.) I ask him to explain.
He says the front wall is just sitting on earth. I ask if there is a rubble stone foundation but the answer is unclear.
I know there was a concrete foundation to 184-186 Main Street and also at 194 which shares the same concrete foundation plinth as the pub, the Olde Village Free House.
As I am talking to the Site Supervisor and the construction man, Craig arrives.
Craig is wearing a jacket with a Newmarket logo. He says he has to check if he gets reports of anyone on site. Jim tells him he has been in 194 Main Street South but no work was going on.
188 Main Street is also unsafe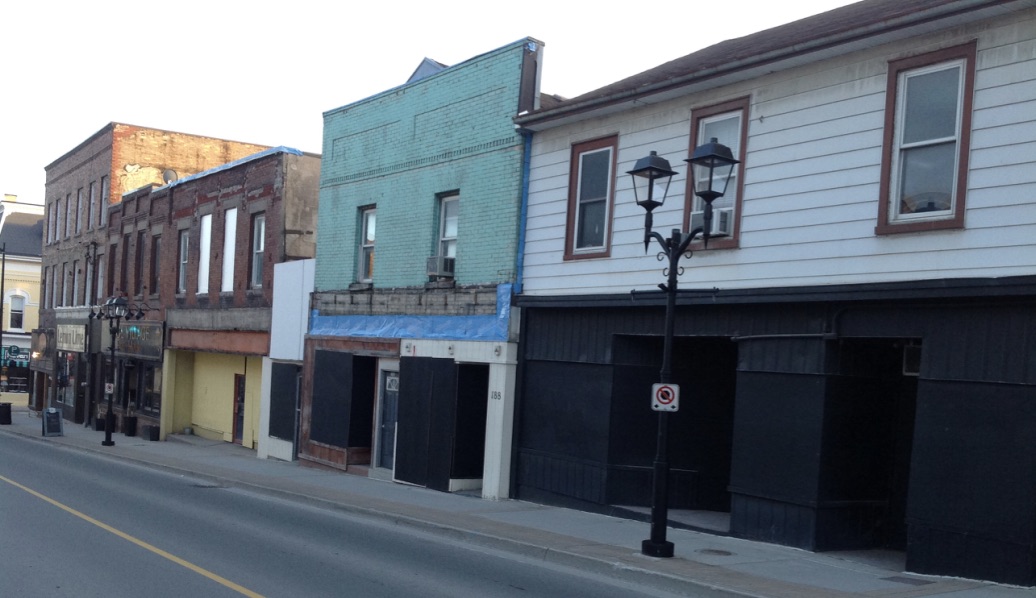 Is the historic commercial building adjacent to the one that was demolished unsafe as Mr Carrier alleges?
Are any of the remaining buildings at risk of collapse?
How on earth did it come to this? We urgently need answers.
Moments ago the Mayor tells me that the only people on site are structural engineers and scaffolding staff and both are allowed on site to check on the current status of the buildings and to ensure the buildings are safe.
"Nothing is being done that contravenes the Stop Work Order".
This is reassuring.
But let's be honest. What we have witnessed is a classic case of demolition by neglect.
Rotting buildings left empty and neglected for years while our naïve and trusting Municipality chooses to believe that the owner, Bob Forrest, will do the right thing.
There was never any chance of that happening.
This email address is being protected from spambots. You need JavaScript enabled to view it.
Update at 22.00 on 15 October 2019: This exchange took place at the Committee of the Whole today at 2hours 16 minutes in to the meeting.
"A little bit of an unfortunate situation"
Mayor John Taylor: New business?
Councillor Bob Kwapis: Thank you Mr Mayor. We had a little bit of an unfortunate situation just before the long weekend on Main Street during the construction within the Clock Tower developements. And (I) just wanted to ask staff if the developer in any way received any kind of demolition permit or any indication that that one house would be levelled.
Chief Administrative Officer Jag Sharma: Through you Mayor Taylor. I am working with Commissioner Noehammer. No there was no demolition permit issued for that property and what we can say is that we are investigating and that there have been Stop Work orders; orders to conform put in place so two of the properties have a Stop Work order and one has an order of conformity applied to it - essentially a Stop Work order and we continue to investigate and we will provide more details when we can.
Bob Kwapis: Do we have any kind of timeline about when some of the details might be coming up throughout this investigation that we are doing?
Chief Administrative Officer Jag Sharma: I don't know that I could give you a specific timeline at this point in time. What I can say is that we are actively investigating at this point.
Bob Kwapis: Thank you. I look forward to the findings.
CHECK AGAINST DELIVERY
Update at 23.00 on 16 October 2019: The Mayor, John Taylor, is giving a lecture this evening to the Newmarket Historical Society on the purchase by the Town of Mulock Farm - the former home of Sir William Mulock. He gets a question afterwards on the unlawful demolition of 184-186 Main Street South. He tells us he is upset. The investigation into the circumstances surrounding the demolition could take two weeks. He says the Town did not issue a permit authorizing the demolition of the protected historic building. The issue goes beyond Newmarket. If rules and regulations are ignored by developers who demolish and then try to justify their actions after the deed is done then we have problems. (My words not his.)