Details

Written by

Gordon Prentice

Newmarket Today is asking all candidates if they will accept campaign donations from developers.
The paper deserves a round of applause for asking a simple, straightforward question which candidates cannot dodge. Even slippery Tom Vegh.
The on-line newspaper circulated its questionnaire to candidates yesterday. The paper says:
"Your response will be posted in Newmarket Today's election section when it is received - there is no deadline, we will continue to post the profiles until election day on Oct. 24."
Getting Regional Councillor Tom Vegh to admit that he takes money from developers is like pulling teeth.
It is a long drawn out process.
Tom may find it painful initially but it is better to get it over and done with, sooner rather than later. If he hesitates it's just prolonging the agony.
He can apologise for what happened in 2018.
Tom can say it was a mistake and he won't do it again. He won't take tainted money this time.
This will put the story to bed and we can start talking about the big issues facing the Town and York Region.
This email address is being protected from spambots. You need JavaScript enabled to view it.
Details

Written by

Gordon Prentice
"I am not corrupt."
"You know, $1,200 or whatever someone is giving me, I don't think that's nearly enough to influence anyone in any corrupt way."
Tom Vegh, 22 April 2019
The silence from Tom Vegh is deafening.
Over one month ago I asked him if he was taking money from people intimately connected with the development industry to fund his 2022 campaign.
Poisoned well
Is he returning to the the same poisoned well from which he drank so deeply in 2018?
Or is he going to reject money from development industry people?
And is he going to return any money from them which is unsolicited?
He says he refused to accept some money from some donors in 2018. He says he wasn't comfortable taking it. Will he tell us the reasons he rejected the cash?
Does he intend to go into overdraft to fund his 2022 campaign as he did in 2018?
Vegh can run but he can't hide
Vegh cannot avoid answering these questions. The press and media and the voters will not allow him to sail through this election campaign, unwilling to comment, saying nothing.
Once Vegh tells us how he is funding his 2022 campaign we can move on to debate the big, substantive issues facing the Town and the Region.
But, until he comes clean, I am sitting on his shoulder.
This email address is being protected from spambots. You need JavaScript enabled to view it.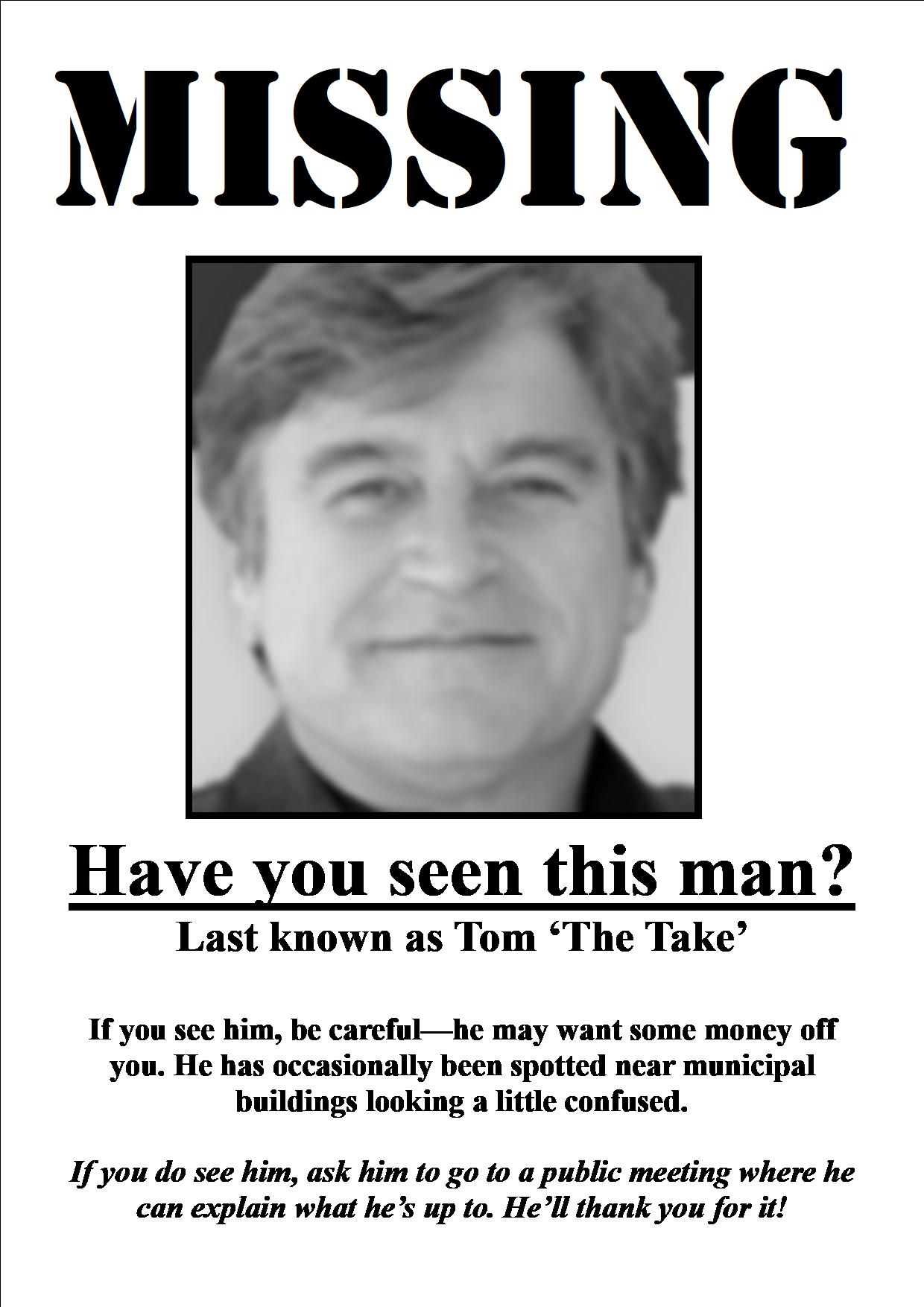 Details

Written by

Gordon Prentice
My opponent for Regional Councillor, Tom Vegh, refuses to tell me if he will solicit campaign donations from people intimately connected with the development industry as he did in 2018 or whether he will return money from development industry people that is unsolicited.
I asked for this information over a month ago.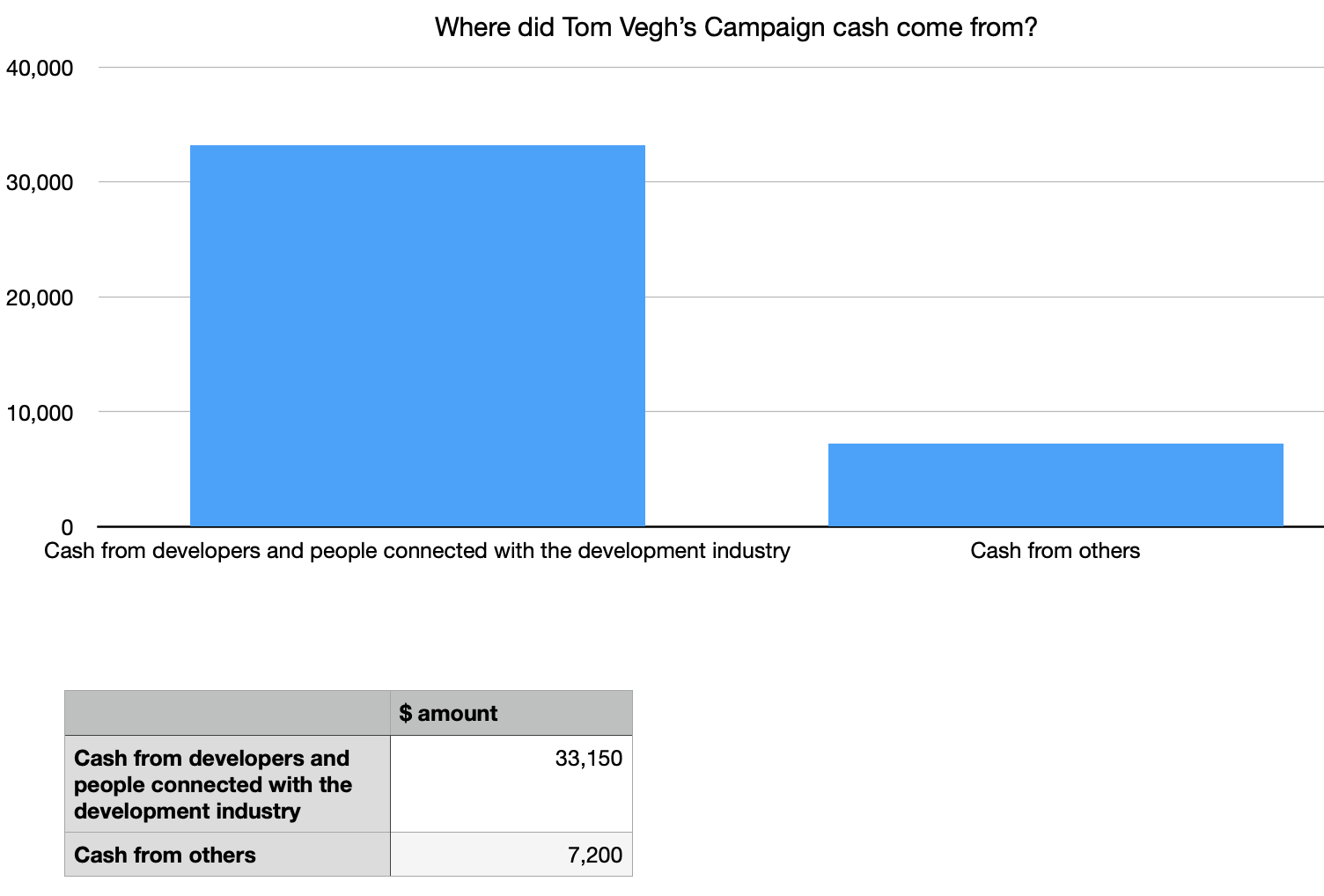 His lips are buttoned up.
I have told Tom Vegh that he will not be able to get through this campaign without telling the voters where his money is coming from.
I would not dream of taking money from people in the development industry.
To be clear, the law prohibits corporate and trade union donations to municipal candidates. But there is nothing to prevent them donating as individuals - which is what they do.
Cascades of cash
In total, Vegh received 39 cash donations in the last campaign in 2018.
$33,150 (or 78%) came from development industry people or those in the eco-system that supports it.
$7,200 (22%) came from non-development industry people or from donors whose status was uncertain. I therefore included them with the non-development industry people.
Only 7 out of 39 donations (18%) came from donors located in Newmarket. And of these only four were from people in his own Ward 1 which he had represented for many years.
Vegh told Newmarket Today on 3 September 2022 that he had received donations from other professions as well:
"whether from those associated with grocery stores or fitness studios".
I can identify one donation from each of those categories.
From Bridal Path to Vaughan
The other 32 development industry donations came from a variety of places - from the wealthy Bridal Path in Toronto to Woodbridge to Vaughan.
The full list of donors is set out below.
Those with links to the development industry and the eco-system that supports it (such as consultancies) are highlighted in yellow.
It is a roll-call of the movers and shakers in Ontario's development industry.
The Financial Statement is a public document which must, by law, be submitted by candidates to the Town after every election. It is posted on the Town of Newmarket website.
Nothing wrong with taking the money
Vegh says the money poured in from development industry people after he was elected in 2018.
He did not see anything wrong with this even though he had a $30,000 deficit to clear.
He told Newmarket Today he was not corrupt.
Vegh says he refused money from (unspecified) donors but doesn't say why.
"After the election I started receiving a lot of cheques and some of those I sent back for one reason or another, if I wasn't comfortable accepting it.
But there's a few that I said, "Yeah, OK"."
We don't need the names of the people whose cheques he returned.
Just the reasons he sent them back.
This email address is being protected from spambots. You need JavaScript enabled to view it.
Below: Extract from Tom Vegh's Financial Statement submitted to the Town of Newmarket on 27 March 2019 as required by the Municipal Elections Act 1996 (Section 88.25)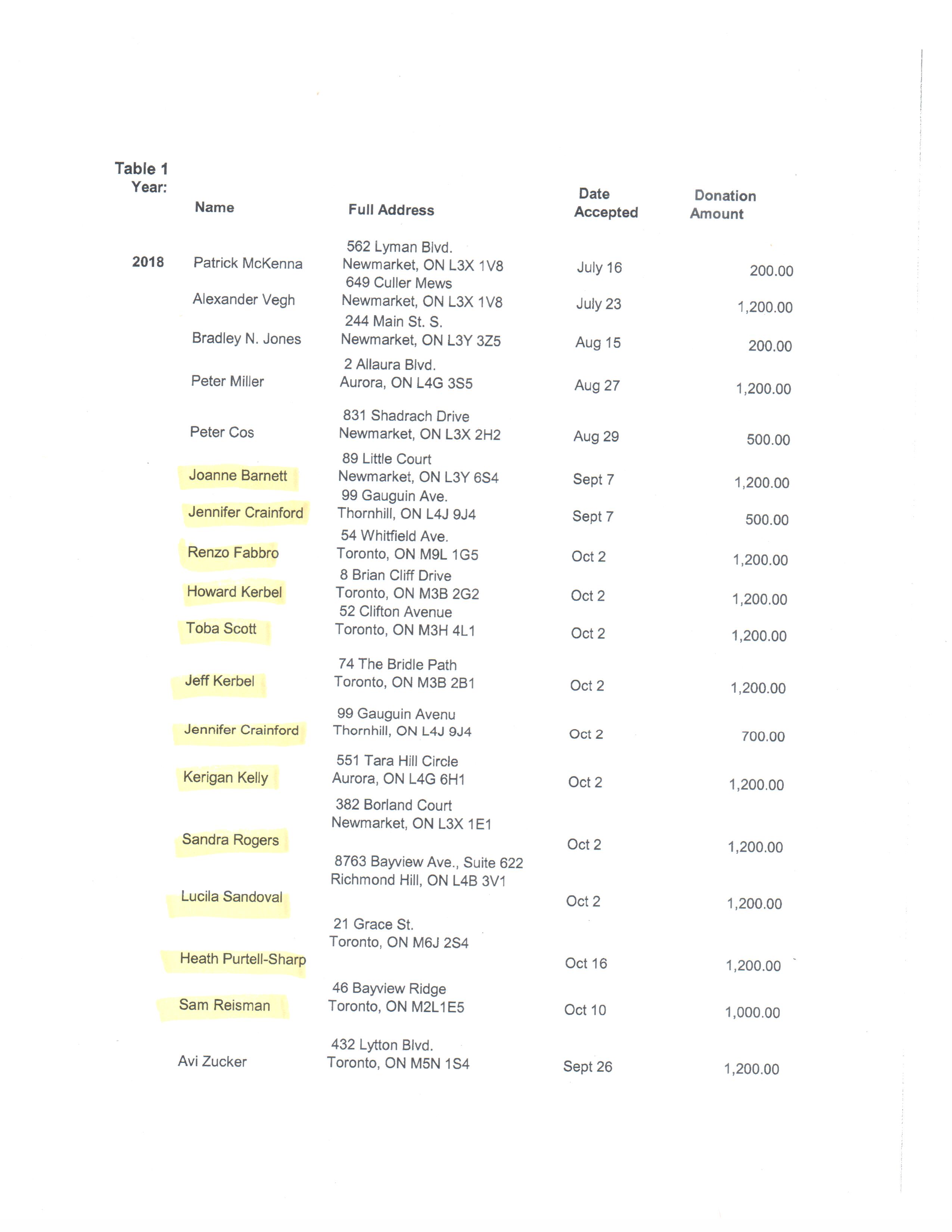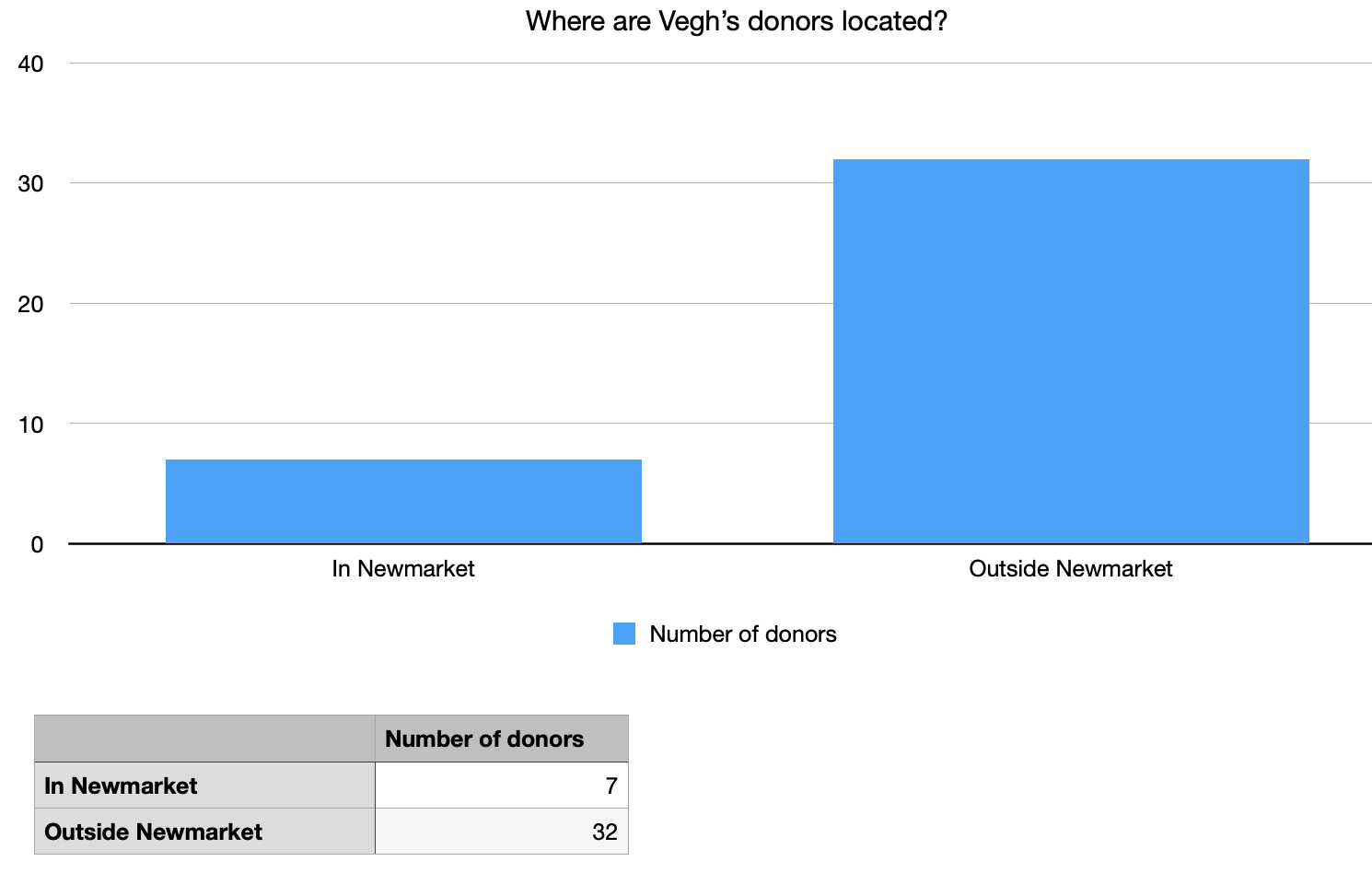 Details

Written by

Gordon Prentice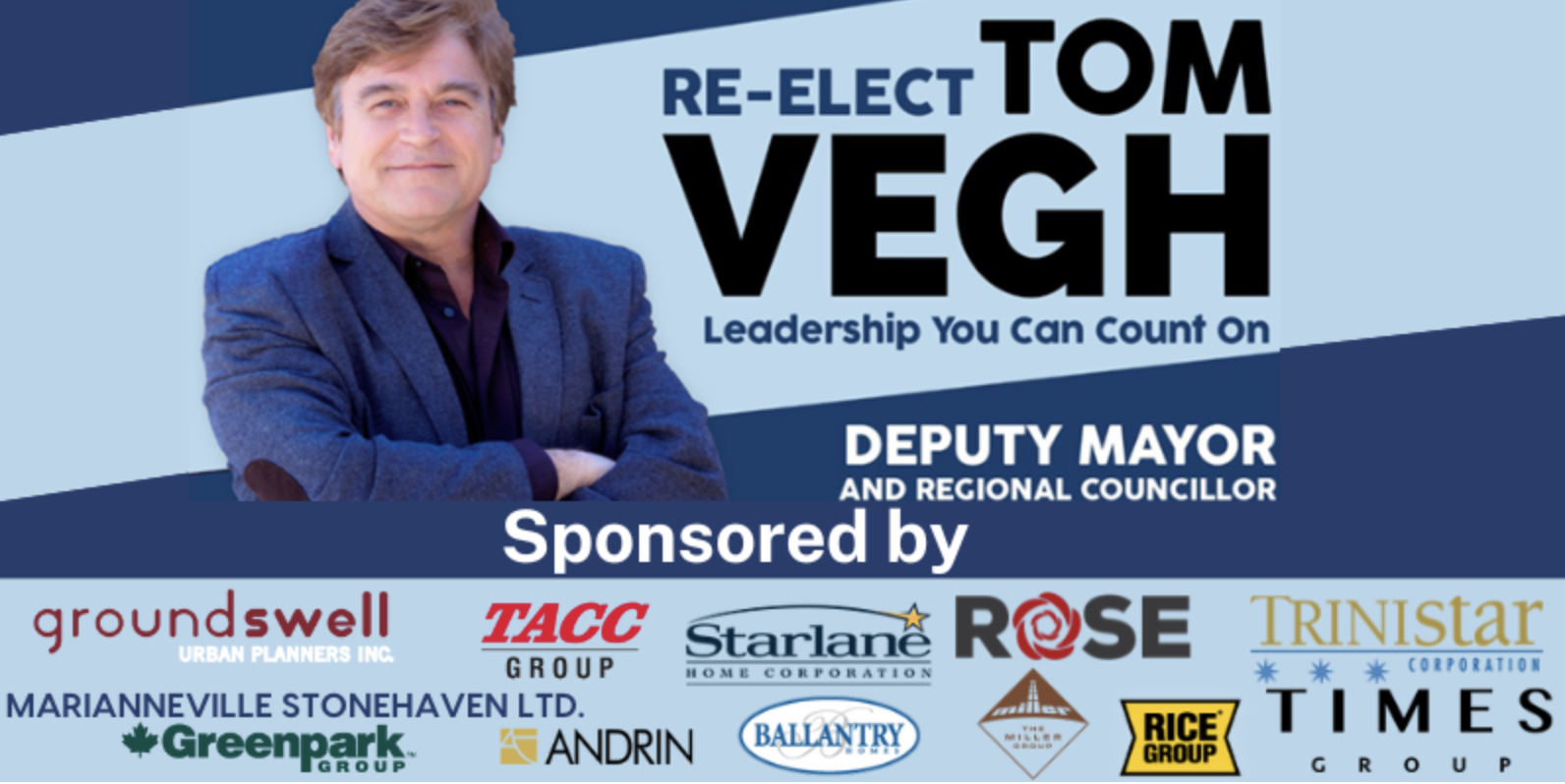 Yesterday I called on Tom Vegh to meet me on a public platform to debate the election issues.
This is what I said:
Good morning Tom

I hope you are well.

I am writing to ask if you would be prepared to debate the election issues with me at a public meeting to be held at Newmarket Public Library in October.

I have provisionally booked the multi-purpose room from 7pm - 8pm on Tuesday 4 October; Thursday 6 October and Tuesday 11 October 2022.

Can you please let me know which date suits you best and I shall firm up the booking with the Library.

I am only taking this step because no-one else seems to be organising a debate - neither the Chamber of Commerce nor the local media. And I have never before run for significant public office without there being a public debate between the candidates. This would be a first.
It is not in the public interest to have content-free elections where the winner spends more than his or her opponents, carpet-bombing the Town with expensive election signs while refusing to engage face-to-face with their opponents.
The clash of ideas and opinions is healthy. It enlivens and energises our democracy. I want to focus on how you raise money for your election campaigns. I am also keen to get a progress report on your plans for a new Library and Seniors' Centre. Both signature promises from your successful 2018 campaign.
Apart from your record in office, I also have my own views on a range of local issues.

I would be happy for you to choose the name of an independent moderator. Ted McFadden of Metroland immediately springs to mind but obviously there are others.

I am copying this to Joseph Quigley, Lisa Queen and Ted McFadden.

I hope to hear from you within the next week.

Best wishes

Gordon
Details

Written by

Gordon Prentice
The death of Queen Elizabeth II marks the passing of an era.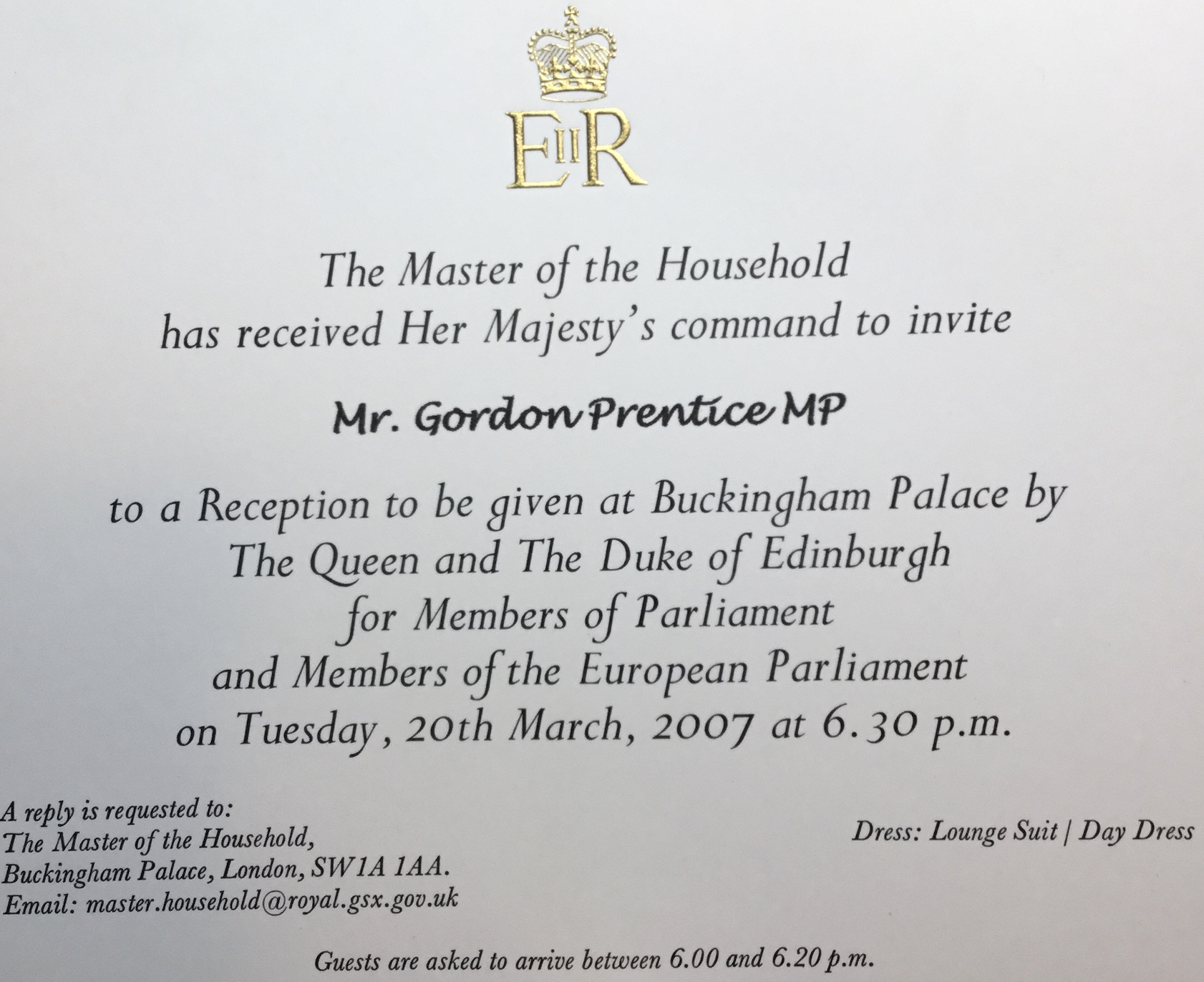 Like the overwhelming majority of people I have never known anyone else on the Throne.
In a rapidly changing world the Queen was a constant, always there.
Even those who are ambivalent about the monarchy will pay tribute to her decades of public service, always studiously neutral on the great issues of the day.
Of course, I regularly saw her from a distance at the great State occasions such as the opening of Parliament.
And, over the years, when I have seen the Queen at close quarters, she was always engaging and unfailingly courteous. I recall our conversation at Buckingham Palace when she and Prince Phillip had open house for Members of Parliament.
She knew 12 Canadian and 15 UK Prime Ministers, from Louis St. Laurent to Justin Trudeau and from Winston Churchill to Liz Truss.
Her long life was remarkable in so many ways. The longest serving British monarch ever.
In times of crisis and controversy and political flux she was a fixed point of reference. But always above the fray.
When Covid struck - and no-one knew where it was going - she offered calm reassurance.
All across the world, here in Canada and in the wider Commonwealth, people are mourning the passing of an exceptional woman who was more than just a figurehead.
She dedicated herself to public service.
History will remember her with warm affection.
This email address is being protected from spambots. You need JavaScript enabled to view it.