Details

Written by

Gordon Prentice
The by-election on 26 June 2023 to replace John Tory as Toronto's Mayor promises to be an election like no other.

As of today, there are 49 candidates but this astonishing number could yet increase before nominations close on 12 May. Registration costs a mere $200 and candidates must be nominated by only 25 supporters. The Globe and Mail today describes this as a ludicrously low bar. Basically, anyone who fancies the job can throw their hat into the ring.
The Mayor's salary is $202,948 a year.
Veteran councillors, provincial politicians and former Mayoral hopefuls
The confirmed and potential candidates include "a slew of veteran councillors, provincial politicians and former mayoral hopefuls".
The candidates include the useless former Toronto police chief Mark Saunders, the former MP Olivia Chow, current councillors Brad Bradford, Josh Matlow, and Anthony Perruzza, former councillor Ana Bailao and Ontario Liberal MPP Mitzie Hunter.
I don't know how the voters will winnow out the field in the absence of political parties whose primary function, it seems to me, is to flag up where the candidates stand in the political spectrum, from left to right.
But the voters will make their choice. Probably by name recognition.
Strong Mayor: Important Powers
Thanks to Doug Ford the Mayor will have important new powers. The Globe and Mail reminds us the next Toronto Mayor:
"will be able to veto bylaws related to the housing crisis or to the building of infrastructure, and introduce budgets and veto proposed amendments to them. The veto can only be overturned by a two-thirds majority on council.
As well, the mayor will be able to create or dissolve council committees, and hire or dismiss city department heads (excluding the chief of police and auditor-general)."
First-Past-the-Post with a Vengeance
Yet the new Mayor could be elected on 20% of the vote on a low turnout. This is First-Past-the-Post with a vengeance. All thanks to Doug Ford who vetoed the ranked ballot in municipal elections.
Only 28 of the 49 candidates so far declared have websites. They range from the mainstream to the exotic to the complete joke (Giorgio Mammoliti).
Toronto, take your pick:
Bahira Abdulsalam, Ana Bailao, Brad Bradford, Chloe Brown, Roland Chan, Sarah Climenhaga, Frank D'Angelo, Philip D'Cruze, Rob Davis, Cory Deville, Anthony Furey, Isabella Gamk, Hua Xiao Gong, Brian Graff, Mitzie Hunter, Syed Jaffery, Kris Langenfeld, John Letonja, Giorgio Mammoliti, Josh Matlow, Mark Saunders, Knia Singh, Erwin Sniedzins, Meir Straus, Reginald Tull, Jeffrey Tunney, Kiri Vadivelu and Jody Williams.
This email address is being protected from spambots. You need JavaScript enabled to view it.
Update on 15 May 2023: From the UK's Guardian: 100 candidates and a dog. And the Toronto Star editorial: A Bloated Ballot. Is it time to set a higher bar to run for office?
Globe and Mail ediitorial 24 April 2023
The Solution to Toronto's Electoral Dysfunction? Political Parties
Voters in Toronto will be going to the polls in two months for a mayoral by-election that will be, in typical Toronto fashion, an underwhelming event.
Made necessary by the inglorious departure of ex-mayor John Tory in February, the June 26 by-election will feature all that is wrong with the way Toronto elects its mayors.
It could, though, also be the moment when the flaws in the system become so apparent that Canada's most populous city gets the electoral makeover that it needs. Which is to say, the creation of political parties at the municipal level.
The problem starts with the ludicrously low bar for becoming a mayoral candidate. All that's required is a $200 fee and 25 signatures. There is something quaint about making it so easy to run for mayor, but the result is not optimal.
Voters in June will once again be faced with a phone book-like ballot with at least 50 candidates on it organized alphabetically by last name. This undifferentiated list includes candidates that range from runners-up in previous mayoral contests, a few sitting and former councillors and provincial legislators, a former Liberal MP, a former Toronto police chief, dozens of grassroots activists, a gaggle of perennial no-hopers who've never received more than 0.5 per cent of the vote, and a man who once advocated for the colonization of the ozone layer.
Turnout will likely be atrocious. It was less than 30 per cent in the city's general municipal election last fall. By-elections generally produce lower turnouts, so it's not unreasonable to assume that fewer than one in four Torontonians will bother to have a say in who their next mayor is.
Given that the vote will likely be divided among four or five leading candidates, the winner could be someone that only one in 10 eligible voters actually chooses.
The new wrinkle is that this person will be endowed with the "strong mayor" powers that the Ontario government granted the mayors of Toronto and Ottawa last year.
Which means the next Toronto mayor will be able to veto bylaws related to the housing crisis or to the building of infrastructure, and introduce budgets and veto proposed amendments to them. The veto can only be overturned by a two-thirds majority on council.
As well, the mayor will be able to create or dissolve council committees, and hire or dismiss city department heads (excluding the chief of police and auditor-general).
In other words, the next mayor, who may well have one of the weakest mandates in recent history, will also have unprecedented powers that are grossly undemocratic. It's quite something to imagine that a person who only one in 10 Torontonians voted for could hold so much unilateral sway over their lives.
Creating political parties in Toronto could change all of this. It would be far from unprecedented: Municipal parties have long existed in Montreal and Vancouver. And their benefits are many, especially in the context of Toronto's electoral lethargy.
Adding partisan colours to municipal campaigns would raise turnout. Parties have an interest in getting out the vote, and in getting people to pay attention to the issues.
They also serve to differentiate between candidates, whether for council or the mayor's seat, by aligning them with competing ideologies and visions. The name of a candidate on a list of 50 might be vaguely recognizable to a voter; their affiliation to a registered party with a published platform could fill in the blanks.
Perhaps above all, parties could create a counterweight to the province's strong-mayor boondoggle. It would likely be harder for a mayor to act unilaterally. More likely, they wouldn't have to, because they would already have the support of council, and a broad mandate from voters.
This is a debate Toronto needs to have. The city is coming out of decades of inaction on the key issues of housing and transit. Long-overdue transit lines are getting built, and the provincial government has put an emphasis on increasing housing density along those corridors.
As well, just last week, Toronto's chief planner recommended allowing multiplex dwellings in the vast swaths of the city that are anachronistically zoned for single-family homes only.
Positive things are happening. This is the moment to revitalize Toronto's moribund elections. A city of its size and complexity deserves a higher grade of politics.
Details

Written by

Gordon Prentice
The Mayor of King Township, Steve Pellegrini, spoke to the Globe and Mail on 1 February 2023 about the key meeting on 1 November 2022 when developer and landowner, Michael Rice, offered Greenbelt land to Southlake hospital for a nominal fee. (photo Michael Rice right bottom)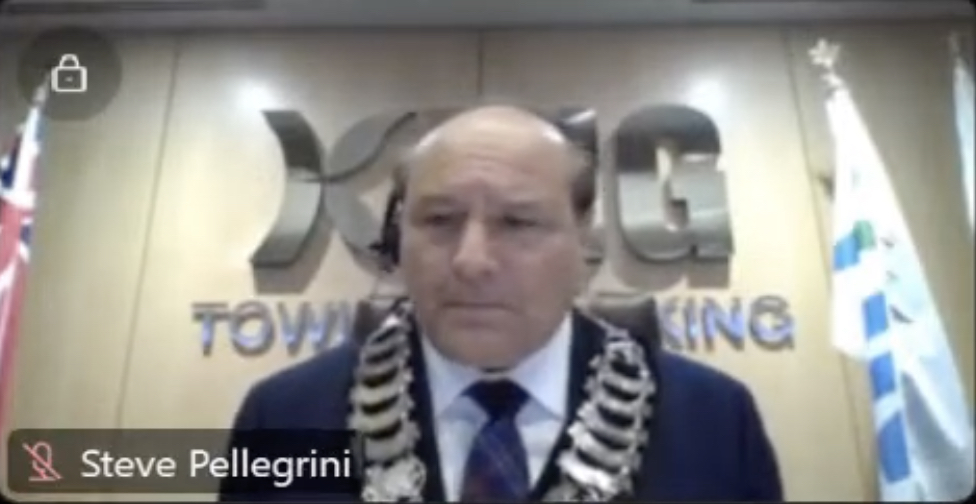 Mayor Pellegrini told the Globe and Mail:
I asked Mike Rice, this is the whole thing, I asked him, would you donate land if we could get a hospital? And he said yes… That's the only time I talked to him." (My underlining)
Untrue
That statement about Pellegrini talking only once to Michael Rice is untrue. But I am intrigued. Why would Mayor Pellegrini dissemble?
I knew the Mayor had a leisurely lunch with Michael Rice and John McGovern (Senior Vice President Policy and Planning at the Rice Group) at the Terra Restaurant in Thornhill on 10 August 2022. And they met again for a "pre-meeting on hospital expansion" at the King Municipal Centre on 17 October 2022.
Pellegrini couldn't possibly have forgotten about these meetings.
Indignant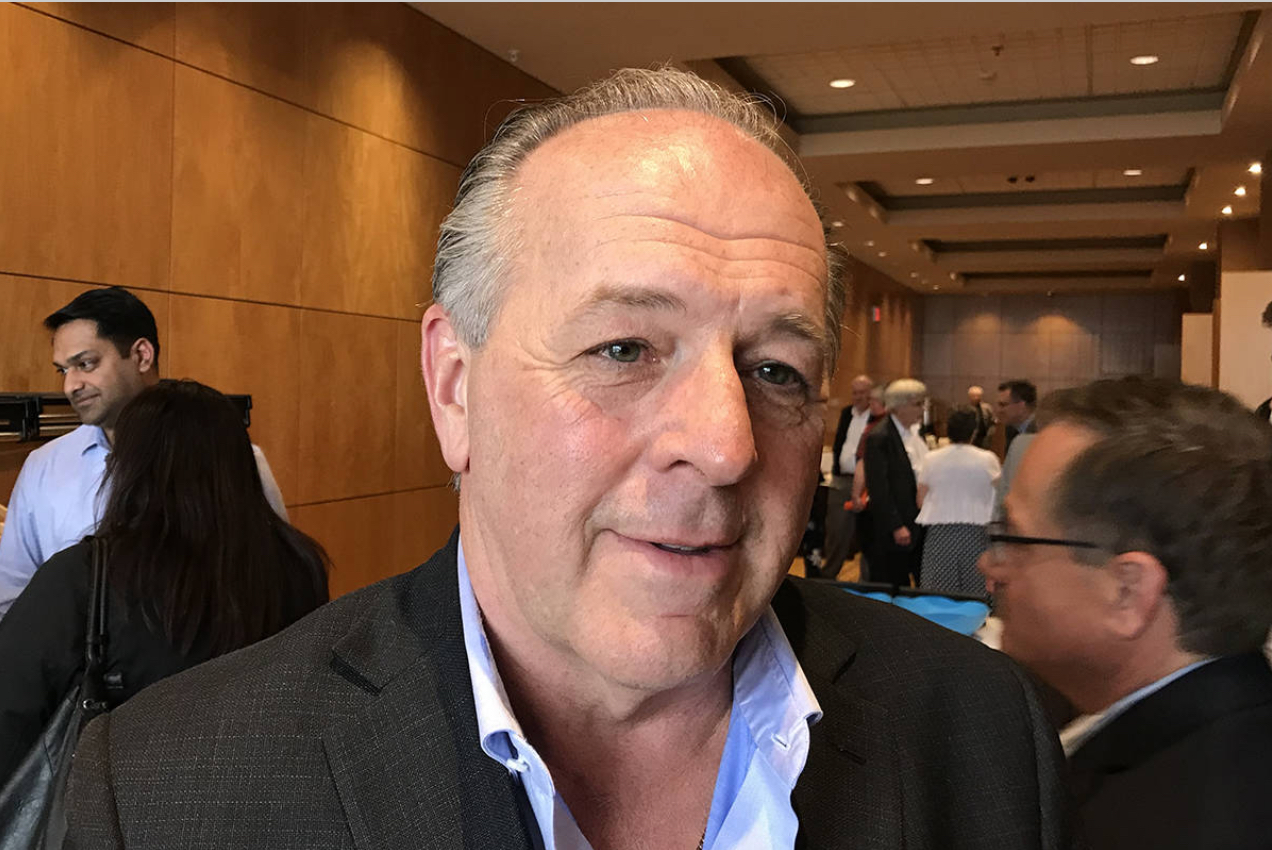 Yet the day after the piece appeared in the Globe and Mail an indignant Mayor Pellegrini issued a statement castigating the new NDP Leader Marit Stiles for allegedly peddling false information and not reaching out to King to check the facts.
So, earlier today, I asked him if he had been misquoted. He dodges the question and simply tells me:
"I ask Mr. Rice at our lunch if he would be interested in donating land for the proposed 2nd Southlake. The follow-up meeting was to deal with this matter."
Multiple meetings
So the meeting on 1 November 2022 was not the only time Pellegrini talked to Rice. In fact, contact between King Township and the Rice Group can be traced back to a meeting at the Lake Simcoe Region Conservation Authority annual dinner on 22 June 2022 where King's Chief Administrative Officer, Daniel Kostopolous, talked to Michael Rice about the Greenbelt lands south of Miller's Side Road which were, even then, under contract to Rice. The sale didn't go through until 15 September 2022.
The pieces in this complex jigsaw are slowly being put in place.
But it helps if the key players tell the truth.
This email address is being protected from spambots. You need JavaScript enabled to view it.
I have filed a Freedom of Information request for sight of records held by the Township – and specifically by the Mayor's Office – of that pre-meeting on hospital expansion on 17 October 2022.
Details

Written by

Gordon Prentice
I see that Dawn "Corn Roast" Gallagher Murphy will be hosting a "Coronation Viewing" at the Royal Canadian Legion in Aurora from 6am – 11am on Saturday 6 May 2023 and that light refreshments will be provided.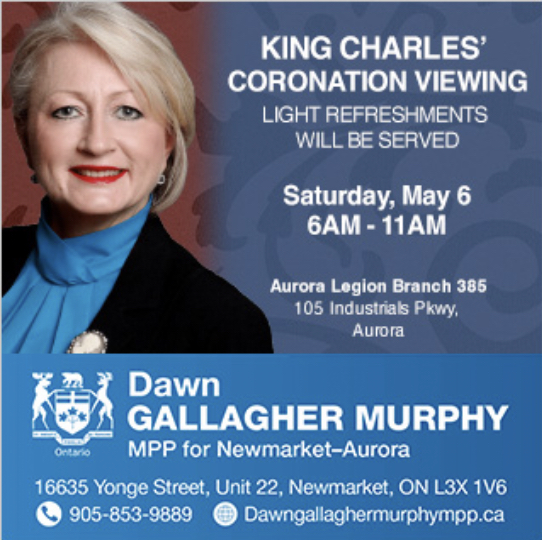 If past practice is any guide, this will be billed to the taxpayers.
The rules do not allow public money to be spent on alcohol. So no celebratory champagne. "Light foods" are permitted such as sandwiches, muffins, doughnuts, cakes and fruit but no suckling pigs or venison.
Dawn likes her food.
Dawn claimed over $11,000 of taxpayers' money for a BBQ and Corn Fest last October. It was advertised as being open to all. She asked for members of the public to register with her office first – presumably to give her some idea how much food to get in. But she will also know who attended. They can expect an invitation to the next one.
Astonishingly, this largesse is within the rules. But when Newmarket Today approached her:
"Gallagher Murphy declined to be interviewed or provide a comment."
Why the reticence? Dawn has promised to make this an annual event.
$11,000 BBQ charged to taxpayers
When I expressed concerns to the people at Queen's Park who deal with these things I was told MPPs could expense events up until the dropping of the writ for an election. This would allow Dawn, if she were so inclined, to host a $11,000 BBQ, at our expense, a month before the next Provincial election.
Rules unavailable
I ask to see the rules and I am told they are not available. Why not?
Who decides the rules? When were they last changed? What is the mechanism for changing the rules? Is there a committee that reviews the rules? Can I address it? Who should I contact?
I am waiting for the answers to these simple questions. This is work-in-progress.
Food Expenses miscategorised
Elsewhere… the auditors who signed off Dawn Gallagher Murphy's Financial Statement (CR1) for last June's Provincial election, Impact CPA LLP of Richmond Hill, now admit some food expenses – running into many thousands of dollars - were miscategorised.
So... what's the big deal? Who cares?
It's only an election audit.
This email address is being protected from spambots. You need JavaScript enabled to view it.
Details

Written by

Gordon Prentice
On 1 February 2023 Blair McArthur, the Senior Vice President of Miller Paving Ltd, part of the Miller Group, gave $1,200 to Tom Vegh to help fund his campaign for re-election. (photo right)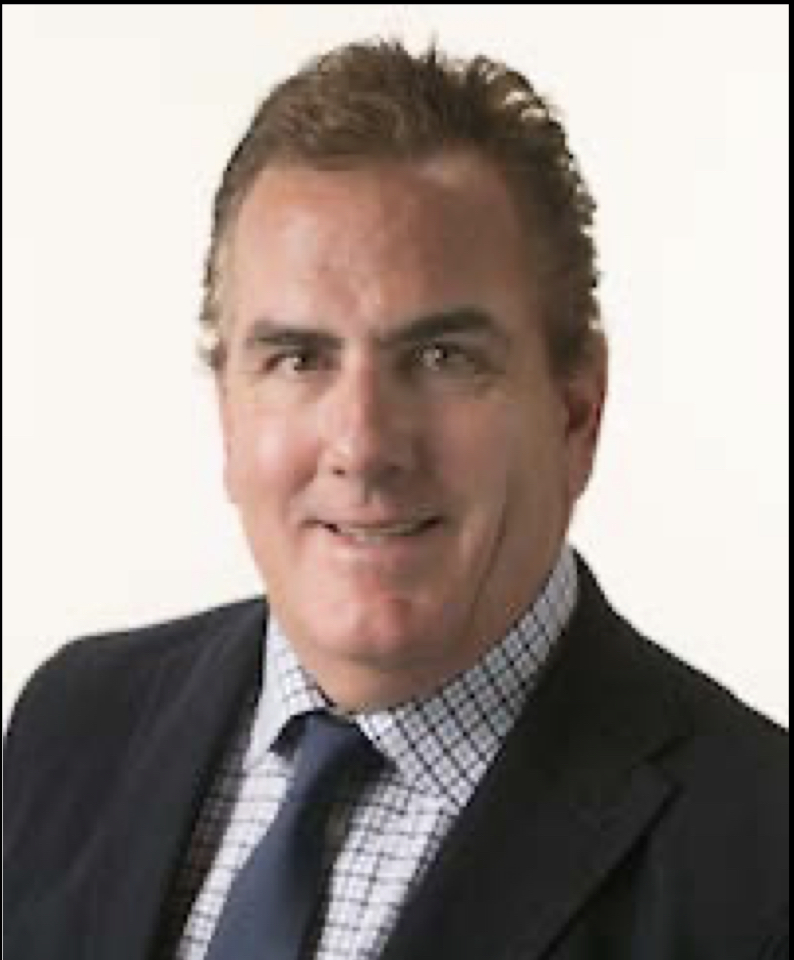 I am left wondering if Vegh asked for a donation – more than three months after the election. Or did McArthur volunteer the money without Vegh asking? I don't know.
In any event, during the election last year Vegh promised voters he would not take money from people doing business with the Town. He made it perfectly clear:
"... donations from anyone who may do business with the Town will not be accepted."
The Miller Group website tells us they provide products and services through a number of owned and affiliated companies including Brennan Paving & Construction Ltd.
Construction Contract
Brennan Paving & Construction Ltd is currently bidding for a contract to reconstruct and resurface Pony Drive here in Newmarket.
The law now prohibits corporate and trade union donations so Blair McArthur was donating as a private individual.
However, in Vegh's financial statement McArthur's address is given as:
180 Renfrew, Suite 120, Markham, Ontario,L3R 9Z2
This is the business address of White Owl.
Unaware
Vegh told Newmarket Today that he was unaware of the alleged connection McArthur had with White Owl before filing his documents (on Wednesday 29 March 2023). He said White Owl is not doing any business with the Town of Newmarket.
Blair McArthur also contributed to Vegh's 2018 election campaign on 11 January 2019, again after the campaign period had officially ended.
Back then McArthur gave his address as:
PO Box 4080, Markham, L3R 9R8
This is the business address – or one of them – of Miller Paving Ltd.
$350M contract with York region
The Miller Group is a vast agglomeration of entities (Click "read more" below).
Miller Paving has a huge $350M contract with York Region to extend the Yonge Street Rapidway north to Green Lane.
I don't know if Miller Group companies have done business with the Town of Newmarket but I am in the process of finding out.
The question that continues to intrigue me is this. Why would a full-time politician like Vegh take money from people who may be doing business with the Town without checking it out beforehand? When he took money from McArthur in 2019 he must have realised then that McArthur was one of the big names in paving and construction.
In so many ways, Tom Vegh is a man of mystery. A politician who is happiest when keeping his thoughts to himself, saying very little to shape events.
This email address is being protected from spambots. You need JavaScript enabled to view it.
Update on 16 April 2023: On 12 April 2023 the Town of Newmarket confirmed that neither the Miller Goup nor White Owl had contracted with the Town throughout the last Council Term:
I asked for sight of all Requests for Proposals issued from 23 October 2018 to 31 March 2023 showing the bid price as well as the name and address of the successful bidder for each where the address of the successful bidder included:
505 Miller Avenue, Markham, L6G 1B2 or
P.O. Box 4080, Markham, L3R 9R8 or
180 Renfrew Drive, Markham, L3R 9Z2
I am told:
"The Procurement Department has conducted a search of their records and found nothing responsive to your request."

Read more: Why did Blair McArthur help fund Tom Vegh's campaign for re-election?
Details

Written by

Gordon Prentice
I was too hasty in giving Tom Vegh a clean bill of health.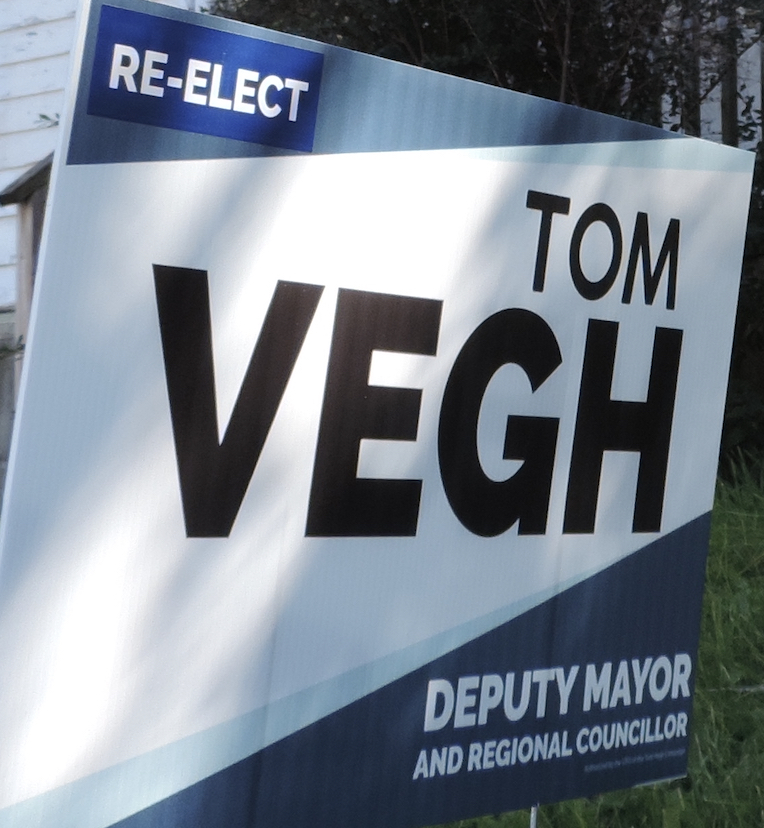 On 1 February 2023, more than three months after the election, Vegh took $1,200 from Blair McArthur, the Chairman of White Owl. Vegh had also taken money from McArthur in 2018.
Real Estate
The Markham based investment company describes itself as focussing on real estate. It has a property arm.
White Owl is one of the companies who wish to develop land in the Greenbelt. They have asked for 160 acres of land in Richmond Hill, currently designated Countryside Area in the Oak Ridges Moraine Conservation Plan (ORMCP), to be redesignated as a Settlement Area.
Building on the Greenbelt
On 21 February 2023 Narwhal reported:
At least four landowners have asked to build on the Greenbelt since the province opened up 7,400 acres of the protected area for development last year, according to postings on Ontario's environmental registry. Municipal Affairs and Housing Minister Steve Clark is staying mum on whether he will grant these requests.
Three of those landowners are developers — Marshall Homes, White Owl Properties and 1628755 Ontario Limited, which is run by the Durham-based Lysyk family — while the fourth is a church in Markham.
Wedding Reception
White Owl's lobbyist, Nico Fidani-Diker, was a guest at Doug Ford's daughter's wedding reception.
In the light of this I am calling on Vegh to return the $1,200 to Blair McArthur without delay or prevarication.
This email address is being protected from spambots. You need JavaScript enabled to view it.
Update on 1 April 2023: Note that Blair McArthur contributed $1,200 on 1 February 2023 as an individual. Nevertheless he gave his White Owl business address: 180 Renfrew, Suite 120, Markham, On L3R 9Z2. Corporations and trade unions are not permitted to make contributions to candidates.
Update on 1 April 2023: From Newmarket Today: What candidates spent on their election campaigns