Details

Written by

Gordon Prentice
I have been blogging about sewage for years.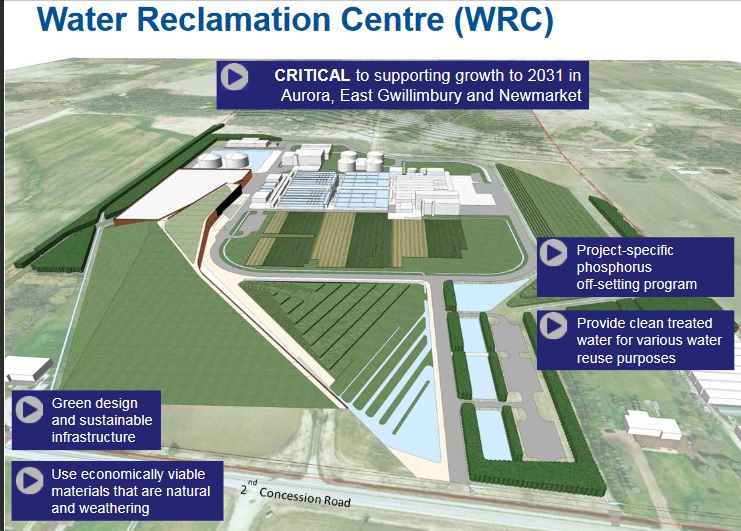 It's an important topic but, understandably, few of us want to talk about it.
Last year, with a Provincial election around the corner, the Ford Government paused York Region's plans for a new wastewater treatment facility in East Gwillimbury. The Environment Minister, David Piccini, told the Legislative Assembly the Region's plans were stale. He wanted a team of experts to look at the issue afresh and come up with recommendations. (Graphic: the project as described by York Region)
On 7 October 2021, he told MPPs:
"The proposal provided by York region in 2014 calls for a new waste-water treatment facility to be built in the town of East Gwillimbury. It would treat about 40 million litres of sewage per day. York region refers to this facility as a water reclamation centre and its process would involve four levels of treatment for waste-water, including microfiltration and reverse-osmosis waste-water treatment technology. This is leading-edge technology and its use in the Upper York Sewage Solutions project would be a first for Canada. The project also involves off-setting programs for phosphorus to reduce phosphorus through a variety of stormwater measures, such as retrofitting existing stormwater management ponds through the Lake Simcoe watershed."
"If passed, this bill will lay the framework, and this government will establish an expert advisory panel to dig into the options and their associated bodies of water and advise on the best possible solutions. I look forward to the expertise they will bring in a variety of areas, including land use planning and waste water infrastructure."
So, we wait to see what they come up with.
The treated wastewater either goes up to Lake Simcoe or down to Lake Ontario. It could also be used for irrigation.
Gotta go
But its gotta go somewhere.
As it happens, at an event a few weeks ago I found myself at the same lunch table as my new MPP, Dawn Gallagher-Murphy.
I delicately ask her what her views are on the North York Sewage Solutions project.
She says she will follow the recommendations of the "expert panel".
I tell her:
"No! No! No! You cannot sub-contract your judgement to a so-called panel of experts when you haven't read their report or their recommendations."
Surely, being an MPP means more than organising Corn Roasts and BBQs and cheering from the sidelines.
She should have a view on this critically important policy issue. Even if it is only provisional.
A blank stare is not really good enough.
Gordon Prentice 20 October 2022
Details

Written by

Gordon Prentice
The British Prime Minister resigns after 44 days.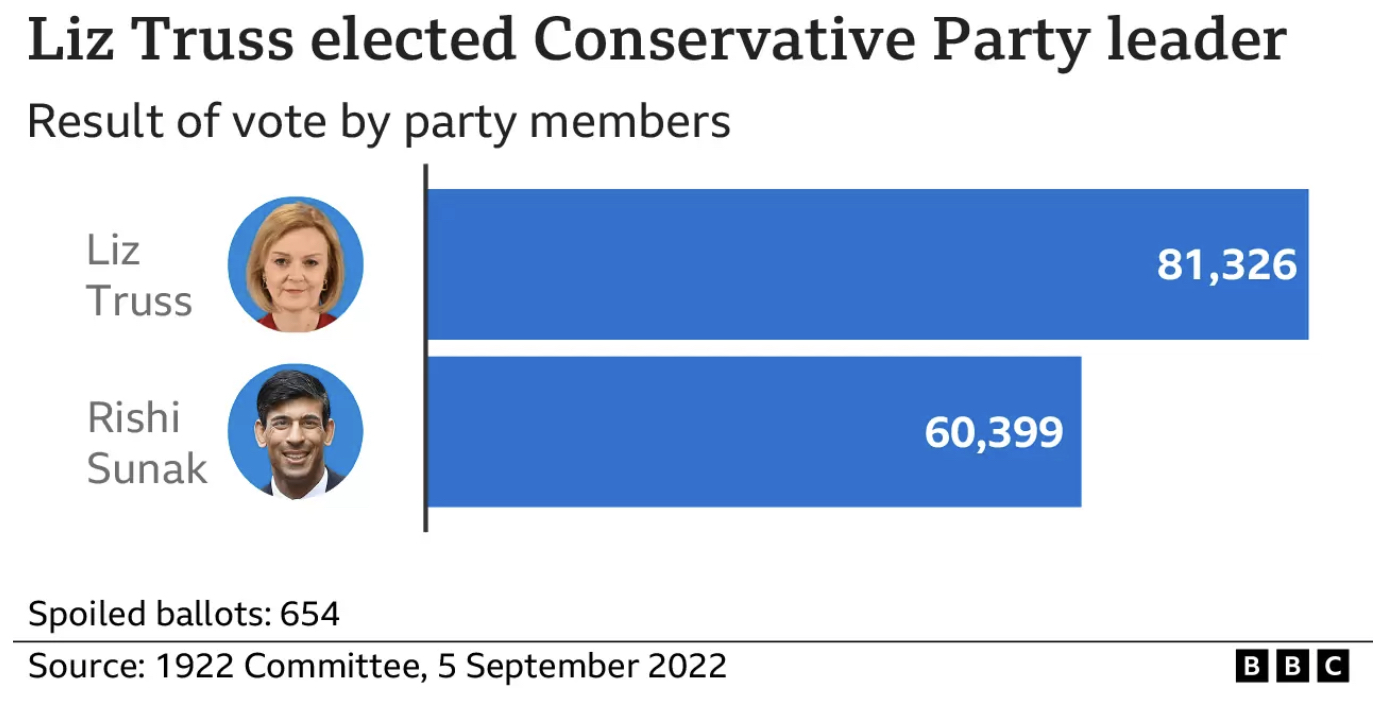 Good grief!
What on earth is happening to the UK?
The previous shortest serving PM was Sir Alec Douglas-Home who lasted for 366 days in the early 1960s.
This is how the Guardian's Simon Jenkins describes the chaos.
In her short resignation speech Truss says she has spoken to the King to notify him of her resignation as Leader of the Conservative Party. She goes on to say that a leadership election will be:
"completed in the next week".
A tiny sub-set of the UK population gave Britain Liz Truss
142,000 Party members voted in the leadership election that gave Liz Truss the keys to 10 Downing Street.
The Conservative Party in the country is older, whiter, wealthier that the nation as a whole. The membership is concentrated in London and South of England.
In the absence of a General Election (which doesn't have to be held until January 2025) Britain's next PM will be decided by Conservative Members of Parliament and a minuscule, unrepresentative Conservative Party in the country.
The former Chancellor of the Exchequer, Rishi Sunak, led in every round of voting by Conservative MPs.
In the last round of voting among MPs, Rishi Sunak received 137 votes and Liz Truss 113 votes. The two names then went on to the ballot for the wider Party's decision.
If Rishi Sunak decides to run he will be Britain's next Prime Minister.
Gordon Prentice 20 October 2022 9.50am
Update from the Guardian at 10.26 pm eastern. Note: Party members are to be given a say - not just Conservative MPs.
Nominations for the next PM opened tonight and will close at 2pm on Monday. Candidates will need a minimum of 100 nominations to proceed to the ballot. There will be an indicative vote of MPs once there are two candidates.

The first ballot of MPs will then be held between 3.30pm and 5.30pm on Monday. If there are three candidates, the candidate with the fewest number of votes will be eliminated.

The result will be announced at 6pm on Monday. If a second vote is needed (indicative), this will be held between 6.30-8.30pm on Monday. The result will be announced at 9pm.

If there are two candidates, the Tory membership will get to vote again and a winner will be picked by Friday.

Labour leader Keir Starmer said his party has a manifesto "ready to go" if there is an early election. He told the BBC if the Tories were to replace Liz Truss with Boris Johnson, that would make the case for an early election even stronger. The Liberal Democrats say the Conservative party should block Boris Johnson from standing again.

A senior MP in Rishi Sunak's previous leadership campaign said they expect him to stand again, according to the Guardian's Jessica Elgot.

Kemi Badenoch, Suella Braverman are also expected to stand as leadership candidates.

Michael Gove and Jeremy Hunt, the chancellor, have been ruled out of the leadership race.
Details

Written by

Gordon Prentice
When I arrive at Stonehaven Avenue – just by Stonehaven Elementary School - Vegh lawn signs are everywhere.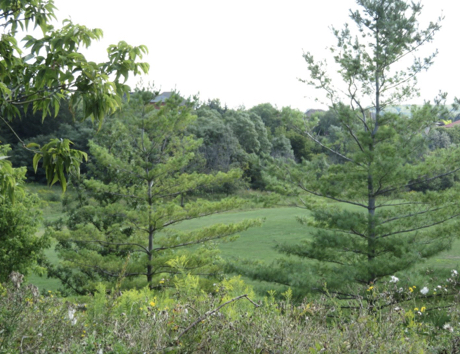 Take a look now.
My canvassing falls into the usual pattern. I knock on doors with a Vegh lawn sign outside.
I look for people who will actively defend Vegh and his record. There are none.
I want to hear what people see in Tom Vegh.
I am happy to spend as long as it takes to talk about Tom Vegh's record – how he took money from the very people who want to redevelop the old Police recreation lands at Stonehaven. I can name names. And I do.
Joanne Barnett of Marianneville gave money to Tom Vegh in 2018. Along with lots of other developers.
People are concerned about what may happen to their neighbourhood. And the views that will be lost forever. (photo: right)
Vegh's support is flakey to non-existent.
As I am walking back to my car I see a couple gazing at my lawn sign on the other side of the street.
She has her phone out, taking a photo of my QR code. This is the first time in the campaign that I have actually witnessed someone doing this.
I cross over the road and get talking to them.
We talk about things.
And I don't ask them for their vote.
There's no need.
Gordon Prentice 19 October 2022
Details

Written by

Gordon Prentice
Tom Vegh's Signature Promise in the 2018 election was a new Library and Seniors' Centre. (see Tweet right)

It all turned to dust.
If Vegh had argued the case with his council colleagues in early 2019 and lost, I would have forgiven him. That is the way the world turns.
Instead, he chose not to make the case for a new library - as he had promised the voters only a few months earlier. He stayed silent. It was monumental cowardice.
I suppose he has learnt his lesson. In this election he is promising nothing.
He says he wants to finish projects started by others.
Gordon Prentice 19 October 2022
Details

Written by

Gordon Prentice
Tom Vegh's latest post on Facebook is inaccurate and misleading. (see right and below)

Vegh says:
"York Region Official Plan protects 71% of all York Region from residential, industrial or commercial development and does not allow these types of developments on environmentally-sensitive lands."
The York Region Official Plan says:
"York Region contains some of the most significant and environmentally sensitive geological landforms in Ontario, of which the most predominant is the Oak Ridges Moraine."
Vegh voted for the development of Oak Ridges Moraine land in Whitchurch and Stouffville.
He says:
"The York Region official plan allows municipalities to build parks, playgrounds, sports field and trails on environmentally sensitive lands."
But only because he voted to change the official plan - which has now been submitted to the Province for approval.
Newmarket's Mayor, John Taylor voted to reject amendments which would allow prime agricultural land to be converted to other uses such as tennis courts and soccer pitches. Vegh voted in favour.
Vegh voted to open up over 12 square miles of open countryside for development. Taylor voted against.
Gordon Prentice 19 October 2022