Details

Written by

Gordon Prentice
Friday at 2pm.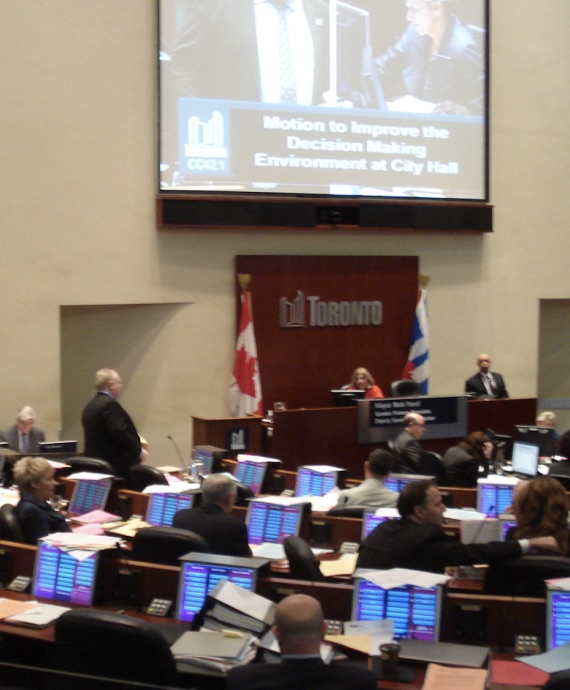 We learned earlier this week about the "absolutely huge task" facing staff at Toronto City Hall as they struggle to prepare for the October 22 election.
The challenges include numbering new voting subdivisions, recalculating spending limits for candidates, creating a new plan for communicating boundary changes and preparing new preliminary voter's lists.
The Minister of Municipal Affairs, Steve Clark, told MPPs yesterday in the first day of the Second Reading debate on Bill 5:
"Candidates for council would now have until September 14 to decide in which of the new wards they wish to run. This would be done in time for the October 22 municipal election."
Advance voting starts on October 6.
Last week, the city clerk Ulli Watkiss told Toronto councillors:
"I can't even print ballots in three weeks."
So is it doable? What if the risks of something going wrong are very real?
Would the Province still press ahead?
Council staff are making decisions now in anticipation of the legislation being passed. But what if it isn't?
Toronto "a Creature of the Province"
We hear constantly that the City of Toronto is a creature of the Province and that it (the Province) can basically do what it likes. We are told precedent favours this interpretation.
But this morning I read Professor Craig Scott – a former MP – pronouncing that the current City of Toronto Act has a provision whose express purpose is
"to prevent amending council composition in the same year as an election".
He says Bill 5 can't override this.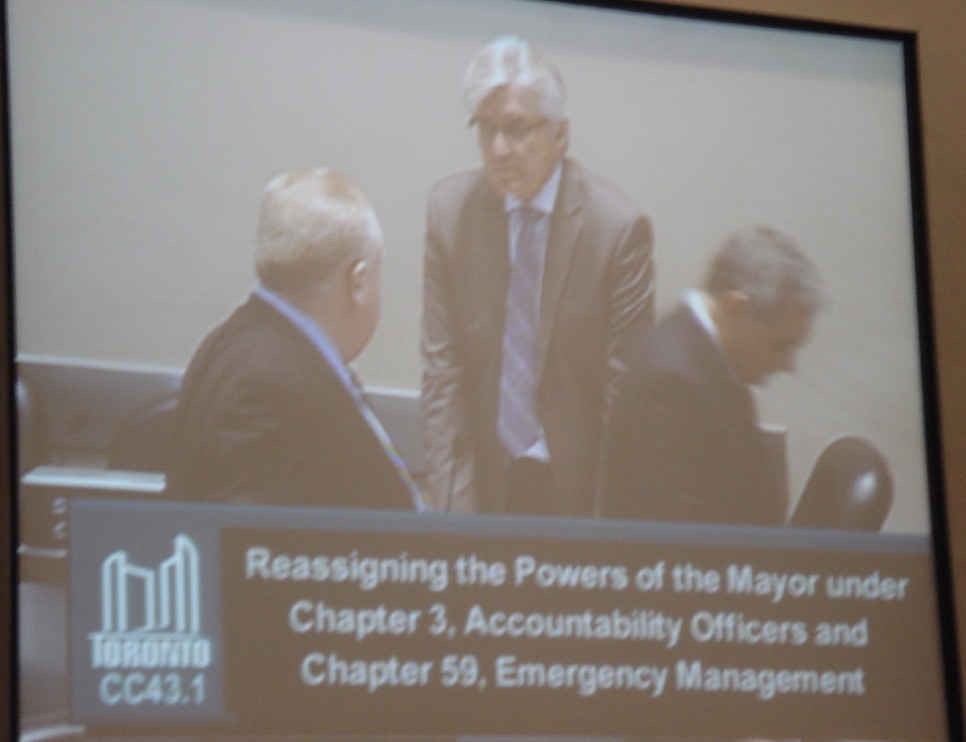 Under our system one Parliament cannot bind its successor but Professor Scott argues that the "manner and form" of the City of Toronto Act would, in some way, tie the hands of the Ford Government. Clearly, this is something for the constitutional scholars to wrestle with - and I assume the Government's legislative counsel would have drafted Ford's Better Local Government Bill with Professor Scott's arguments in mind.
In any event, it is clear fast track legislation like Bill 5 will pose problems for the normal Parliamentary procedures at Queen's Park. As a single Chamber legislature there is no Second Chamber to apply a brake or delay things. And the Courts cannot intervene to question an Act of Parliament on procedural grounds. If it is rushed through the Legislature it has the same weight and standing as any other Act of Parliament.
No opportunity for comment
Indeed, Bill 5 could zoom through Queen's Park without any opportunity for expert outside bodies or interested members of the public to express a considered view. MPPs opposing the Bill would be at a huge disadvantage, unable to call on expert evidence from outside, making it harder for them to critique the legislation and its consequences.
In yesterday's Second Reading debate, the Minister responsible for bringing in the Bill, Steve Clark, told MPPs:
"The current size of Toronto city council hinders decision-making. Debates are time-consuming, inefficient and costly. Forty-four independent councillors, each with their own agenda and outlook, hamstring the city's decision-making on so many, many issues the city is facing."
Lots of PC MPPs branded Toronto City Council as "dysfunctional".
But surely it cannot just be about the size of the Council?
Toronto City Council is, of course, not organised on Party lines. Political Parties have many well documented imperfections and failings but, at their best, they provide coherence and discipline in a way that is impossible with a bunch of free-thinking, independently minded and sometimes awkward councillors. Whether the number is 47, 44 or 25.
But that's the way Queen's Park wants it.
Yesterday's Opposition Motion calling for the withdrawal of Bill 5 was lost 35-68.
Bill 5 returns to the floor of the Legislature next Tuesday when the Second Reading debate resumes.
This email address is being protected from spambots. You need JavaScript enabled to view it.
Update on Tuesday 7 August 2018: Globe and Mail editorial: Doug Ford's rant about "more politicians" is wrong.
Details

Written by

Gordon Prentice
Wednesday at 2.30pm
This morning's Toronto Star tells me the NDP will delay Ford's plan to cut Toronto city council and axe the elections for Regional Chairs by using "legislative procedural tactics".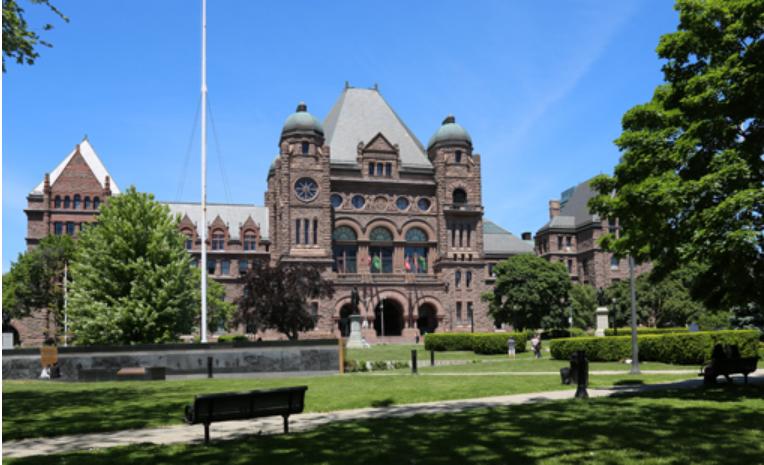 I approve.
However, the excellent Queen's Park reporter, Robert Benzie, who originally broke the story, does not tell us what impact this procedural fancy-dancing will have beyond delaying the passage of the Bill by two days.
Tomorrow afternoon (2 August) the Leader of the Opposition will have 12 minutes to speak to the following Private Members' Motion
Ms. Horwath — That, in the opinion of this House, the Government of Ontario should not meddle in municipal or regional elections and should withdraw Bill 5 as the government did not campaign on interfering in elections in Toronto, Muskoka, Peel, York and Niagara and changing the rules of a democratic election in the middle of a campaign period is undemocratic, un-Ontarian, and un-Canadian; and fails to reflect widely held beliefs that decisions about our democracy should engage citizens so they have their say about any changes to the electoral processes.
After a mini-debate she will have a further two minutes to sum up. Rather than bellowing at the Government benches, complaining yet again about Ford's bullying, I hope she will try to find out how the Government intends to proceed. I take it as a given Ford is not going to pull the Bill just because she asks nicely.
Tight timetable
The Government is up against the clock. The elections are on 22 October and we are already into August and MPPs haven't had a summer break. It will be a huge rush to get the Bill enacted without in some way truncating the legislative process.
Which brings me to the question: Which procedural devices are going to be used to get the Bill through in double quick time and what can be done to frustrate this?
What about the Bill's Committee Stage? How many sessions will there be? Presumably Toronto City Council will be invited to give evidence. What about the candidates for the Regional Chair elections in York, Peel, Niagara and Muskoka? Will they be recompensed for the sums they have already spent on their campaigns?
Retroactive
The Better Local Government Act allows for retroactivity. The nomination day as set out in Section 31 of the Municipal Elections Act 1996 (the fourth Friday of July in the year of the election) "is deemed not to have occurred".
And the Bill allows the Minister to make Regulations "varying the operation of any provision of this Act".
I can already see the Minister walking behind the cart horse cleaning up the mess of unforeseen and unintended consequences.
It seems to me it will be quite impossible for the Government to get this Bill through in time if it goes to a Standing Committee for scrutiny in the usual way.
More likely, after the Bill gets its Second Reading, it will go straight to a Committee of the Whole House (that is, the entire legislature sitting as a committee) which will consider amendments. I can already hear the yelling and ya-booing and accusations of dirty tricks.
As I tap this out, we neither know the timetable nor the plan to get this hugely contentious Bill onto the Statute Book.
For the moment, I am in the dark.
This email address is being protected from spambots. You need JavaScript enabled to view it.
Details

Written by

Gordon Prentice
We meet in a Tim Hortons to talk about Ansari's bid to become the next Mayor of Newmarket. (He likes to be known by his surname.) To my shame I know next to nothing about the man. He agrees to talk about his vision for Newmarket.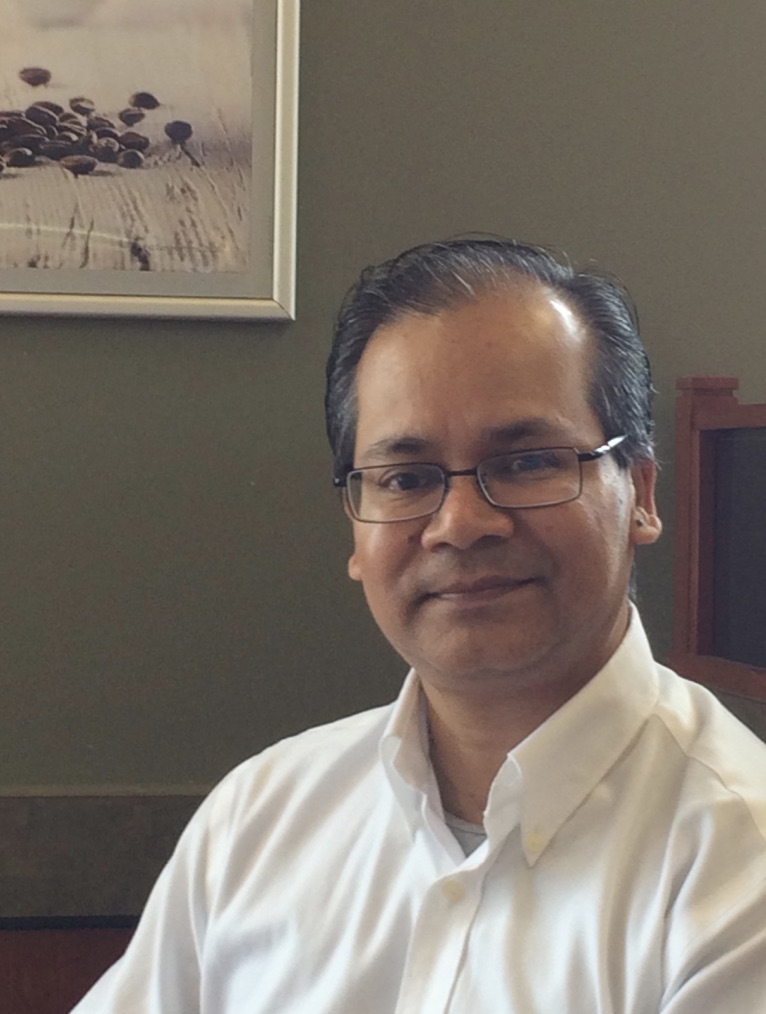 He likes the blog I wrote about him earlier and wants me to stick with the label "Man of Mystery". Fair enough, I say.
I ask him to outline his platform and he hesitates. He is going to be putting it on his new website in a week's time and he doesn't want to give the game away. His rivals may steal his ideas.
Hang on! I say. I am here to talk about your ideas. Just give me the main bullet points.
Reluctantly he gives me the headline:
"A New Vision for Newmarket"
Hmmm.
To get the ball rolling I ask when he decided he wanted to be Mayor. The idea apparently came to him at the candidates' orientation meeting run by the Town. Before then he says he didn't know the Mayor's name.
Ansari says he hasn't paid much attention to municipal politics preferring to concentrate on Federal and International. Hmmm.
Ansari tells me he lives in Copper Hills with his wife and two daughters. He is 50 and describes himself as a number-cruncher. For relaxation he reads financial statements in bed. You've gotta be kidding! He spent five years in New York, seven in Los Angeles before coming to Canada – five years in East Gwillimbury and four in Newmarket.
He runs his own one-man business and says he will off-load it to one of his accountant colleagues so he can do the Mayor's job full time.
Entry level job
I ask if being Mayor is an entry level job. What about all the glad-handing and speechifying? Does Ansari have the skill-set to chair meetings and get through the business? Is there anything about the job that gives him the terrors? No.
In his previous jobs he regularly gave power-point presentations to groups of 80-100 people and "running meetings is no problem".
I ask if he is confident in handling the job with absolutely zero experience in municipal politics. He tells me he has
"confidence with modesty but not to the point of grandiosity or arrogance."
He says he likes the idea of municipal politics being free of political parties – though that makes it more difficult for your average voter to place candidates on the political spectrum.
Ansari confesses he became a member of the Progressive Conservatives about six months ago but became disenchanted after being "swamped by phone calls asking for donations". He tells me:
"I don't want to be labelled a PC"
and says he has voted Liberal in the past.
I say that's fair enough.
Man with the Money
Now Ansari is talking about his time working for OMERS and the Ontario Teachers. On the financial reporting "everything went through me."
He says he knows how to raise money for major capital projects and he knows where to go. The Town's Treasurer, Mike Mayes, may soon be quaking in his boots.
Now Ansari is talking about Newmarket property taxes (they're too high) and Mulock Farm (which he says is a good environmental project but he has questions about its financing). I ask if he has heard about the Clock Tower controversy. Yes he has.
But Ansari insists the October election is about the future. It is not about race nor Party. It is about uniting the community not dividing it. There is a special place for our elderly. Looking at me intently he declares:
"We must not forget them!"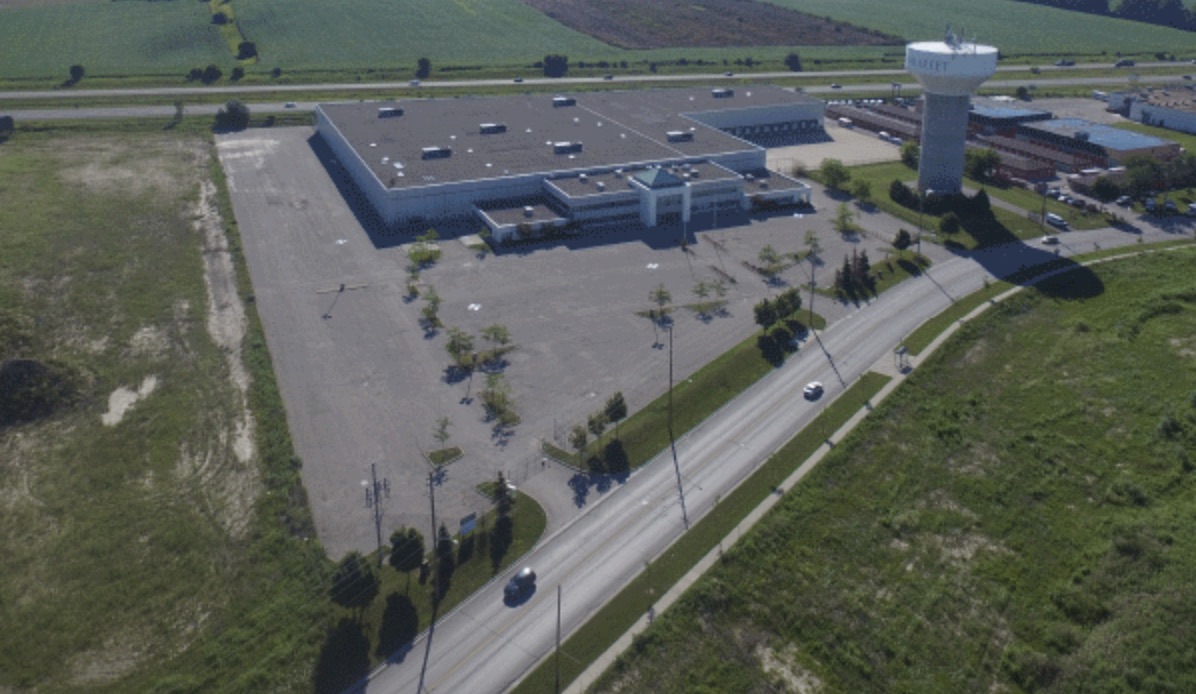 He is already effortlessly slipping into the oily lexicon familiar to all practising politicians.
Now he shocks me by stating bluntly that people vote on ethnic lines:
"They have a natural bias."
My face gives the game away. Did I really hear that? Surely it is not quite that simple?
Now he is telling me he is not a big fan of dynastic politics, citing Justin Trudeau. What about John Taylor?
He frowns. He doesn't know his Mayoral rival, John Taylor, is the son of Tom Taylor, a previous Mayor of Newmarket.
Flextronics? Celestica? What's the difference?
Now Ansari is mocking John Taylor for claiming the arrival of Celestica in Newmarket is a great victory. He tells me the company is a contract manufacturer that is occupying the same old factory in Harry Walker Parkway that was home to Flextronics – before it pulled up sticks in 2014 and went to Mexico.
Now I hear him going on about the costs of doing up the former Flextronics building at 213 Harry Walker Parkway South to accommodate Celestica.
Now it is my turn for my eyes to glaze over.
Ansari wants to bring new industries to Town.
"Something brand new."
Just like our latest Mayoral candidate.
This email address is being protected from spambots. You need JavaScript enabled to view it.
Ansari emails me after our meeting with his view on cutting the size of Toronto City Council by half (he is opposed) and asylum seekers arriving in Canada. He says "the current approach to accepting large numbers of refugees does not make sense". He adds:
"The province elected Doug Ford for his family name without digging deeper into his educational accomplishments. A quality decision comes from quality leadership, not from family name or dynastic politics. I hope the residents of Newmarket will elect their next Mayor based on merit with objective and subjective understanding of numbers."
Details

Written by

Gordon Prentice
The Deputy Leader of Ford's Progressive Conservatives, Christine Elliott, yesterday voted in favour of the Better Local Government Act which will cut the size of Toronto City Council and axe the upcoming elections for the Chairs of four Regional Councils.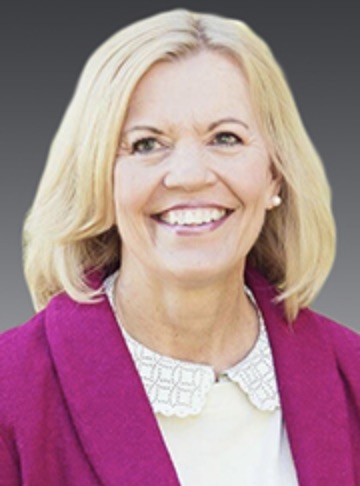 But how did she vote in 2010 when voters in Durham Region were asked if they wanted a directly elected Chair of the Regional Council?
At that time Elliott was MPP for Whitby-Oshawa in the Region of Durham and lived there.
Voters in the eight municipalities that make up Durham Region were asked:
"Are you in favour of the Council of the Regional Municipality of Durham passing the necessary resolutions and by-laws to change the method of selecting its Chair from appointment by the members of Regional Council to election by general vote of all electors in the Region?"
79.7% of those voting in the election voted in favour. 20.3% voted against.
A report to Durham's Finance and Administration Committee on 8 May 2012 sets out the history of the campaign to get the chair of Durham Region elected by the voters at large.
"In 2010, the total number of eligible electors Region-wide was 432,256. The total number of votes cast was 119,666, representing a voter turnout of 27.68%. Since less than 50 per cent of all eligible electors voted on the question, the results of the vote were not binding and there was no legislative requirement for Council to implement the results."
A clear majority of voters in each of the eight Durham Region lower tier municipalities were in favour of direct election.
The Region went on to secure the backing of the Minister for Municipal Affairs for a change from indirect election of the Regional Chair to direct election by the voters at large. The first direct election took place in 2014.
I have today written to Christine who is my MPP asking if she was in favour of the direct election of the Chair of Durham Region and if she voted in the 2010 Referendum.
I shall post her reply as soon as I get it.
This email address is being protected from spambots. You need JavaScript enabled to view it.
Details

Written by

Gordon Prentice
30 July at 5.30pm.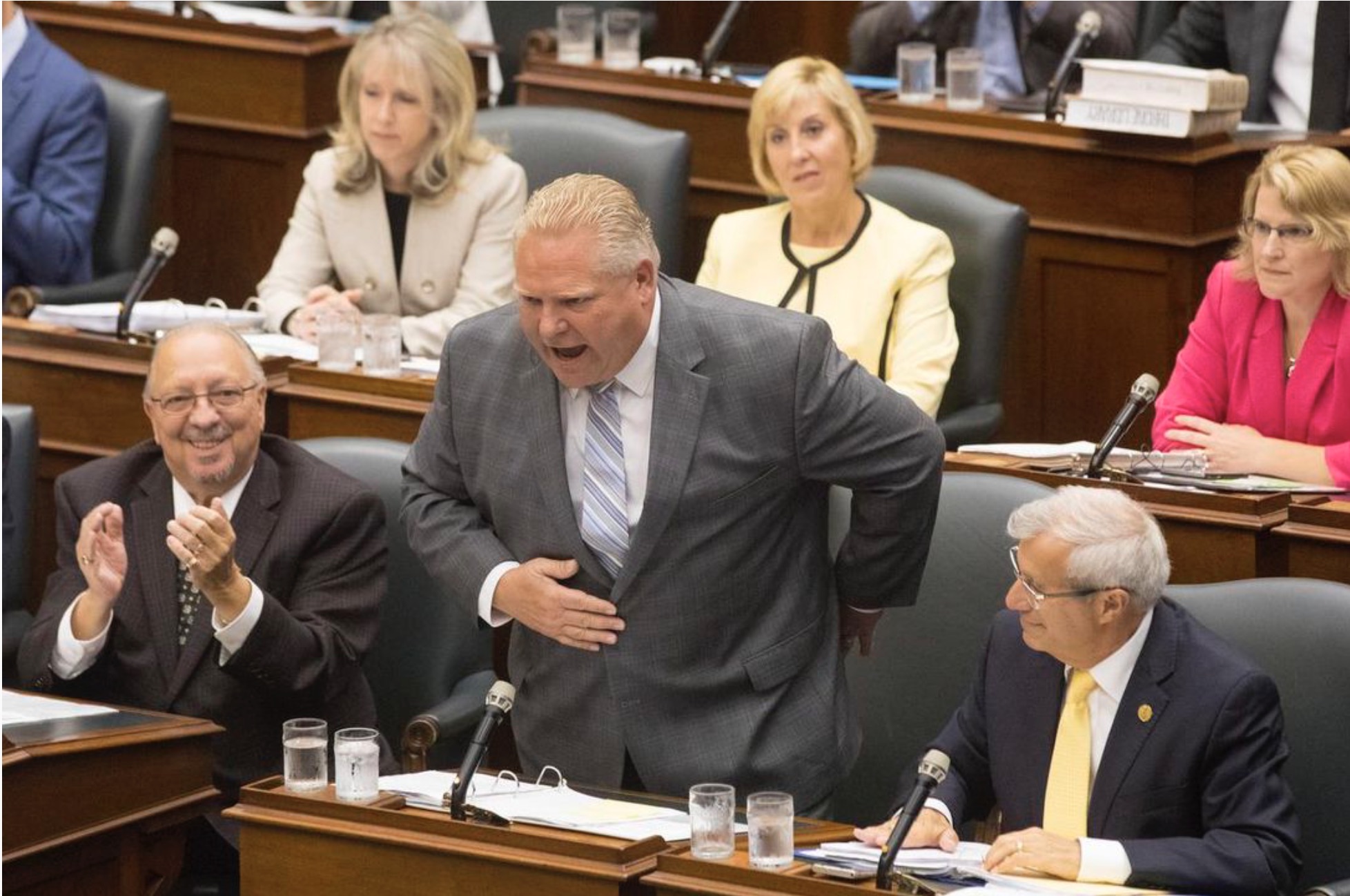 Andrea Horwath was not on her best form today.
Instead of a scalpel, forensically dissecting Ford's policies - on Toronto Council and the abolition of direct election for Regional Chairs - she used a mallet to whack him over the head. It was never going to work.
Horwath yelled he was a bully. Ford lapped it up, laughing.
The Leader of the Opposition has got to raise her game. Staged indignation doesn't cut it anymore. We need laser-like, focussed questions. Not vaudeville.
She had the material.
Horwath could have asked Ford why the Minister bringing in the legislation to abolish direct elections for Regional Chairs (Steve Clark) previously supported them.
She could have pointed to Ernie Hardeman, the Minister of Agriculture, Food and Rural Affair, who likewise was "100% in support" of direct elections for the Chair of York Regional Council. Has he had a change of heart? And if so, what prompted him to turn turtle?
A foot in both camps: Christine Elliott
The Better Local Government Act was given its first reading on a division in the Ontario Legislature today. And as I tap this out I am wondering if my own MPP, PC Deputy Leader Christine Elliott, had the gall to vote to abolish the direct election of chair of York Region – which includes her new riding Newmarket-Aurora. (I haven't seen the division list.)
In Durham, where she comes from and still lives, they have elected their Regional chair since 2014.
If Ford's legislation goes through there is nothing in the Better Local Government Act, published today, that would stop Regions - after the 2018 election - from seeking to change the way they elect their Regional Chair.
It can be done but it is not easy. Members of Regional Councils have got to support the change when many of them have a vested interest in the status quo.
Following a referendum in the municipal election of 2010, Durham Region asked the Minister of Municipal Affairs to enact a regulation authorising it to change the method of selecting the Regional Chair. And the Province complied.
In Waterloo Region the Regional Chair has been elected by Region-wide vote since 1997. And in Halton Region Council since 2000.
48 years
By contrast, York Region has now been saddled with an appointed Regional Chair for 48 years. And once they are in place they are almost impossible to shift.
If we had a direct election for Regional Chair in York it would involve 750,000 voters making it the fourth largest municipal election in Canada.
I'd like Christine Elliott (who happens to be my own MPP in Newmarket-Aurora) to explain why Durham with a population of 672,000 can have a directly elected Regional Chair but York Region, with a population of 1,109,000 is, apparently, too "immature" to have one.
This email address is being protected from spambots. You need JavaScript enabled to view it.
Update on 31 July 2018: Deputy Leader Christine Elliott, Ernie Hardeman and, of course, Steve Clark, voted yesterday to abolish the planned elections for Regional Chairs in York, Peel, Niagara and Muskoka. Here is the full Division List for the Ayes:
Anand, Deepak; Baber, Roman; Babikian, Aris; Bailey, Robert; Barrett, Toby; Bouma, Will; Clark, Steve; Coe, Lorne; Crawford, Stephen; Cuzzetto, Rudy; Downey, Doug; Dunlop, Jill; Elliott, Christine; Fedeli, Victor; Fee, Amy; Fullerton, Merrilee; Ghamari, Goldie; Gill, Parm; Hardeman, Ernie; Harris, Mike; Hogarth, Christine; Jones, Sylvia; Karahalios, Belinda; Ke, Vincent; Khanjin, Andrea; Kramp, Daryl; Kusendova, Natalia; Lecce, Stephen; MacLeod, Lisa; Martin, Robin; Martow, Gila; McDonell, Jim; McKenna, Jane; McNaughton, Monte; Miller, Norman; Mulroney, Caroline; Nicholls, Rick; Oosterhoff, Sam; Pang, Billy; Park, Lindsey; Parsa, Michael; Pettapiece, Randy; Phillips, Rod; Rasheed, Kaleed; Rickford, Greg; Roberts, Jeremy; Romano, Ross; Sabawy, Sheref; Sandhu, Amarjot; Simard, Amanda; Smith, Dave; Smith, Todd; Tangri, Nina; Thanigasalam, Vijay; Triantafilopoulos, Effie J.; Wai, Daisy; Walker, Bill; Wilson, Jim; Yakabuski, John; Yurek, Jeff;
(MPPs Doug Downey and Mike Harris Jr were amongst those PC candidates personally appointed by Doug Ford to run as PC candidates in the June 7 election.)
Subcategories