In her winter newsletter PC Deputy Leader Christine Elliott told her constituents in Newmarket-Aurora there would be no cuts to front-line services and no job losses.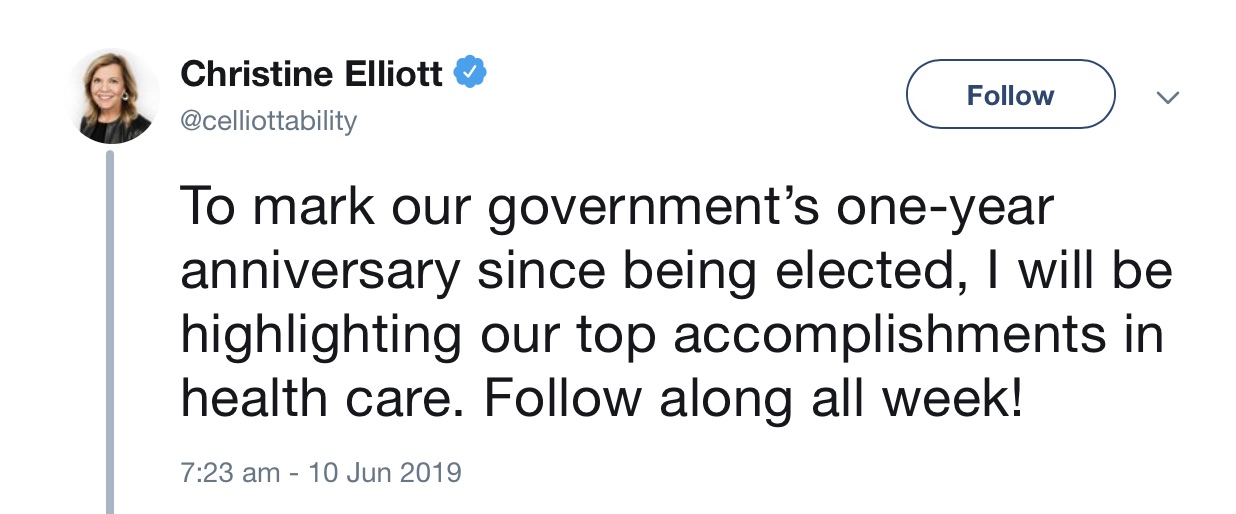 That promise may be difficult to sustain.
On Thursday (20 June 2019) York Regional Council will be considering a report from the Regional Treasurer, Laura Mirabella, who says the provincial funding reduction this year is estimated to be $10.86 million with the largest direct impact on Community and Health Services.
Child care and paramedics will see significant cuts in the years up to 2022.
Christine Elliott's achievements
Elliott has been hard at work tweeting about her Government's Olympian achievements. Hardly a day goes by without a new announcement about a milestone reached.
The Government House Leader Todd Smith (who is responsible for managing the business at Queen's Park) breathlessly tweets on 7 June:
"Our Government has accomplished more in 12 months than any other Government in Ontario's history."
This reminds me of the old Soviet Union which regularly boasted about increased tractor production when harvests were failing.
The Toronto Star has a different take on the first anniversary of the Ford Government giving us a list of the casualties during a year of slash and burn.
Elliott has also been championing Bill 108 (More Homes, More Choice Act 2019) which has been roundly condemned by Aurora's energetic Mayor, Tom Mrakas.
The Government introduced Bill 108 on 2 May 2019 and it got Royal Assent on 6 June 2019. The consultation period ran for less than one month. That's the way Ford likes it. Laws should be made fast with no messing about! He doesn't want people to bother with the small print.
Developers don't like development charges
The Bill was supposed to promote new home ownership and rental housing but it also makes big changes to how municipalities determine and collect development charges.
Development charges are paid by developers to municipalities theoretically to offset the costs of growth – the new roads, lighting and infrastructure that new communities need.
Like Mrakas, Newmarket's Mayor John Taylor has expressed major concerns about Bill 108's likely impact. A staff report going up to today's Committee of the Whole (17 June 2019) says this at page 253 onwards: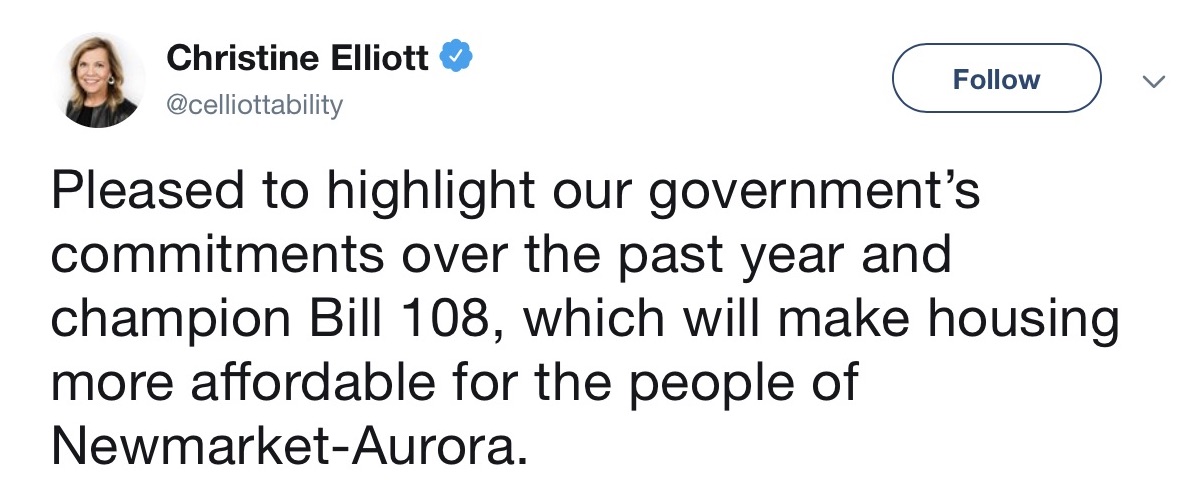 "The proposed changes in Bill 108 represent a dramatic change from the planning and development financing landscape that has been consistent in Ontario since 2007."
The report goes on:
"Bill 108 contains limited evidence that its central objectives, making it easier to bring housing to market and accelerating local planning decision, will be achieved. The proposed changes could have significant impacts on how the Town attempts to achieve its strategic goals…"
"From the evidence provided, proposed changes will dramatically change the development financing landscape. The changes will create additional administrative costs, increase price uncertainty for developers, and may reduce municipalities' ability to continue to provide the same level of service in the face of growth without finding additional sources of funding."
$300 million
York Region estimates Bill 108 could cost the Region $300 million over the next five years.
Why so much?
The Region says Bill 108 further limits a municipality's ability to recover growth-related costs through development charges.
Municipalities across Ontario are fearing the worst. But until the Regulations are published we don't know how big the hit is going to be to municipal budgets.
The developers will, of course, be laughing all the way to the bank.
They like Buck-a-Beer and he likes them.
This email address is being protected from spambots. You need JavaScript enabled to view it.
Update on 19 June 2019: More than 400 administrative health sector workers to be laid off in Ontario.
Update on 20 June 2019: Doug Ford: Year one. (From the Globe and Mail.)