Last night Common Ground spokesperson Jon Aston took a deputation to Newmarket Council to talk about Doug Ford's cuts to municipal and health services.
Jon Aston and a growing number of like-minded people have also been taking the argument to Health Minister Christine Elliott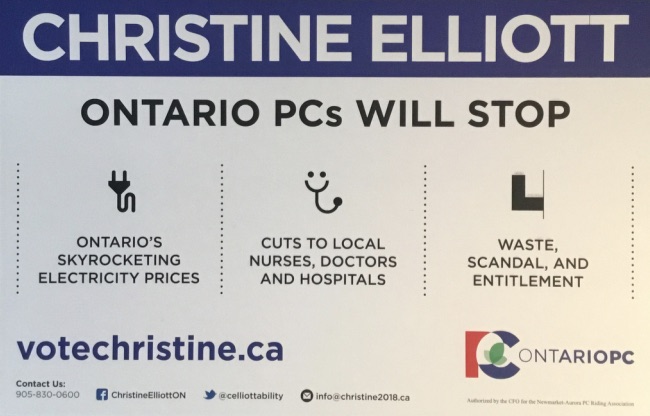 who is the local MPP. But, like McCavity's cat, she disappears whenever they turn up at her constituency office at 16635 Yonge Street (in the Nature's Emporium Plaza) hoping to speak to her. The Common Ground people are there every Friday from 12 noon to 1pm.
Ford climbdown
I don't know if Ford's latest climbdown is going to change things (or Common Ground's strategy) but there's still plenty to protest about. In this morning's Toronto Star Edward Keenan says it is good news that Ford is backing down a bit – but he says the war ain't over. Just a brief respite.
Christine Elliott denies point blank that cuts are happening. She says the process is rather about rationalising health services to make them more efficient and effective.
When she appeared out of nowhere and won Newmarket-Aurora in last year's provincial election she told voters the Progressive Conservatives would stop
"cuts to local nurses, doctors and hospitals"
"Without a single job cut"
Elliott's Winter Update Newsletter tells us the Provincial Government will be saving $3.2 billion in program expenses by finding efficiencies
"without a single job cut, tax hike or reduction in front-line services"
I suppose it all depends on how you define a "front-line service". I'd say paramedics are front-line. And what about those who work on public health programs such as vaccination, school nutrition and infectious disease control? For Elliott cutting stem cell research funding is OK because it is not front-line. But what about the proposed changes to OHIP which could prevent dialysis patients from travelling outside the country. Is that front-line?
Class sizes
The Government is also planning for a big increase in class sizes as the teaching workforce is scaled back. Going from an average class size of 22 up to 28 - is that front-line?
People in Newmarket-Aurora voted overwhelmingly for Ford Nation in the Provincial election – as did most ridings.
Ford's prospectus was sketchy to non-existent but the lack of detail didn't seem to matter back then. Ford was for the little guy and not for the elites. He was going to cut taxes and cut out waste and put more money in people's pockets (unless they were on the minimum wage). But as the cuts begin to bite there will be buyer's remorse. Ford has no coherent plan. People didn't sign up for this.
But the developers did.
Ford says there is no alternative to cuts. He says he inherited a bankrupt province. But that doesn't stop him giving plum jobs on fat salaries to his army of cronies. Or setting up his own news operations unit funded by taxpayers.
Is this a front-line service?
Christine Elliott clearly thinks so.
This email address is being protected from spambots. You need JavaScript enabled to view it.
Update 30 May 2019: Is Ontario really open for health care business? (from the Toronto Star)