York Regional Council is calling on the Ford Government to put a hold on Bill 108 (More Homes, More Choices Act) and pause its progress through the legislature to allow for more consultation with municipalities.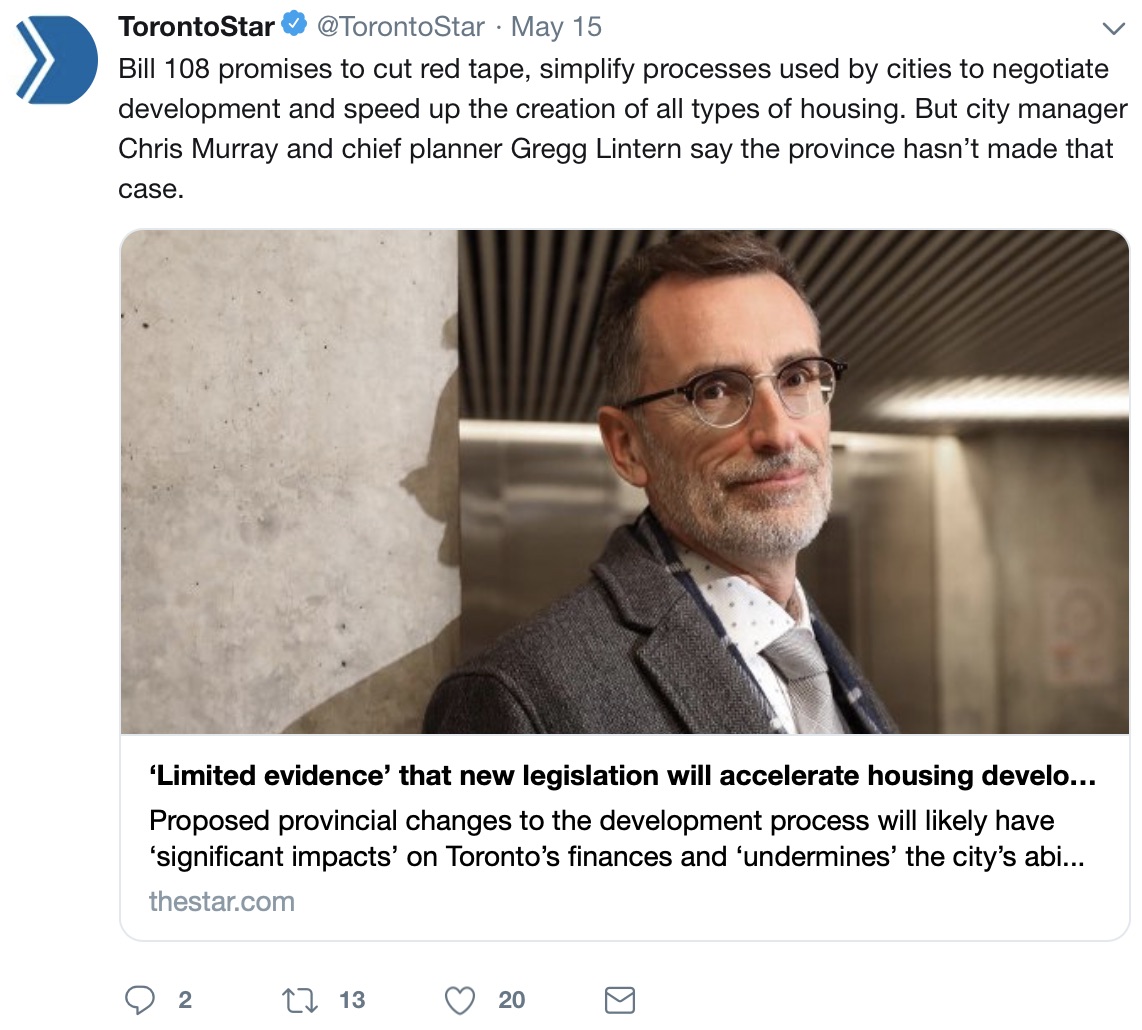 The Bill was published on 2 May 2019 and consultation runs for 30 days, closing on 1 June 2019. The AMO – the voice of municipalities in Ontario – says the Bill contains numerous amendments to many pieces of legislation. As I tap this out the AMO has still not completed its analysis of the Bill and has published only a provisional briefing.
On 8 May, during the first day of the second reading debate, the Municipal Affairs and Housing Minister, Steve Clark, told MPPs the legislative changes he was proposing would
"help bring more housing, more quickly, to our province. They include changes to the Planning Act and the Development Charges Act, along with an impressive suite of legislative policy and regulatory changes that will support our robust plan to address development challenges in Ontario."
The Minister did not explain how people could realistically be expected to comment on such a wide-ranging compendium of legislative and regulatory changes within a matter of weeks.
Insufficient scrutiny
Omnibus Bills like this one cover a large number of distinct topics and are often too big to be scrutinised effectively. And when the consultation period is very short – as is the case with Bill 108 – the dangers are compounded.
For example, the Bill is supposedly about bringing more housing more quickly to the Province yet, as a by-product, it proposes changes to the Heritage Act which will make municipal decisions on matters such as heritage designations appealable to the Local Planning Appeal Tribunal which will have the final say. The Architectural Conservancy of Ontario – the built heritage watchdog - says Bill 108 is flawed.
Yesterday York Region's CAO, Bruce McGregor, told Council members:
"Bill 108 is indeed a complicated Bill. It is what would be referred to as omnibus legislation. The title I think is a little bit misleading. There are 13 schedules to the Bill. It amends 15 different Provincial Statutes…. This is somewhat a framework legislation because of the regulations that are promised and will flesh out to a greater extent the details that we'll need."
Don't bring back the OMB say Mrakas
Aurora's Mayor, Tom Mrakas, in a short but very effective speech calls on the Regional Council to oppose Bill 108 which he says in its current state will have negative consequences on community building and proper planning. He is upset that Ford is, to all intents and purposes, bringing back the old OMB.
He wants Ford to put the brakes on Bill 108 and talk to municipalities about how best to get housing growth that is affordable. He said no-one wanted to go back to the old OMB except the developers.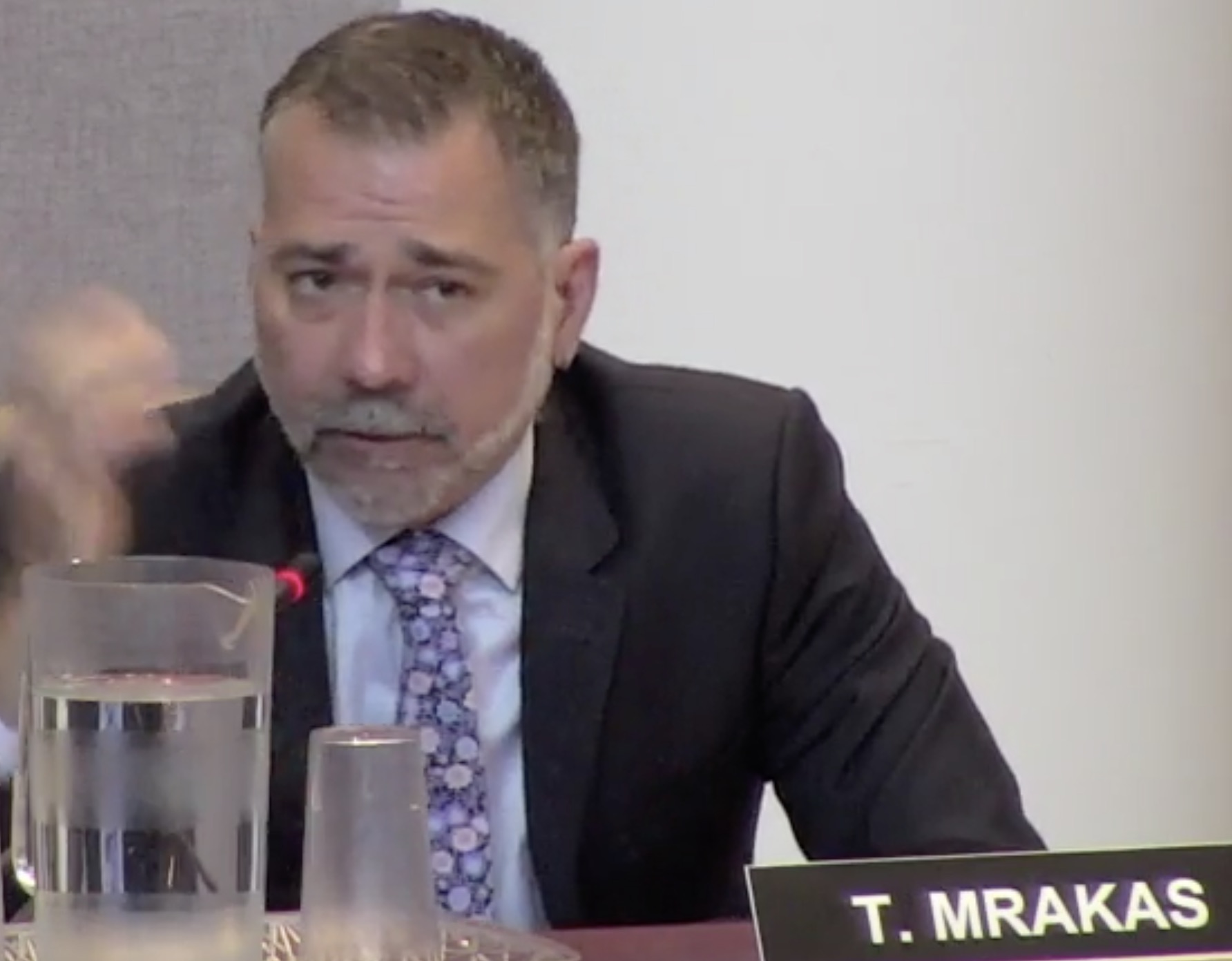 "The problem is we have a for-profit driven industry that's lobbying to increase their profit margins… This (Bill) is not going to solve the affordability crisis within Ontario and especially within this Region. All this will do is once again allow for an unelected unaccountable body to reverse decisions that our local municipalities want to see how our communities grow."
That's fightin' talk.
Now it's open to other Council members to comment. First up is Richmond Hill's new Regional Councillor, Joe DiPaolo, the developer's friend. He says he has problems supporting Mrakas' motion and takes issue with his contention that everyone agreed the old OMB system was flawed. But he goes further:
"It is not necessary for us to debate it… to tell the Provincial Government (what to do) after they've done all their consultation."
Seriously?
Markham's Mayor, Frank Scarpitti, who has a few friendly amendments, says he will support Mrakas. But he wants an extension to the consultation period and he wants to be consulted on the subsequent regulations made under the Bill. This surely makes sense given the nature of this trojan horse Bill.
DiPaolo slapped down
Vaughan's thought provoking Mayor, Maurizio Bevilacqua, always worth listening to, slaps down DiPaolo.
"We need to state our opinions. That's why we are here."
Now he is talking darkly about the liquidity crunch and shadow banking. He says developers think it is all about land supply but it is a lot more than that. Mortgages are increasingly being taken out in the unregulated financial sector. Now he takes head-on Mrakas' question about why people would want to turn back the clock to the old OMB days:
"I think when you look at the Government and what it stands for and who the supporters are and the segment of the population that they want to deal with, to me it is pretty self-evident."
Richmond Hill's David Barrow wants consultation but doesn't want to go so far as to say he opposes the Bill. For him and for lots of others that's going too far.
Newmarket's John Taylor doesn't like the word "oppose" even though Mrakas makes it clear he opposes the Bill in its current state. Instead Taylor wants the Council to "express significant concerns" about Bill 108 while calling for more consultation. Taylor's amendment is seconded by Barrow.
Mrakas, absolutely convinced of his position, doesn't flinch and calls for a recorded vote.
Leadership
He talks about giving leadership. Good for him. There is no point in fancy dancing at this stage - and with this Premier.
A recorded vote by its very nature lays divisions bare and, because of this, it doesn't happen very often. This time, even Emmerson votes.
Those voting for Taylor's amendment: Margaret Quirk (Georgina); Gino Rosati (Vaughan); John Taylor (Newmarket); Tom Vegh (Newmarket); David Barrow (Richmond Hill); Wayne Emmerson (Regional Chair); Mario Ferri (Vaughan); Robert Grossi (Georgina); Virginia Hackson (East Gwillimbury); Jack Heath (Markham); Jim Jones (Markham); Joe Li (Markham); Iain Lovatt (Whitchurch-Stouffville).
And those voting against: Tom Mrakas (Aurora); Frank Scarpitti (Markham); Maurizio Bevilacqua (Vaughan); Joe DiPaolo (Richmond Hill); Don Hamiltion (Markham).

Taylor's amendment carries by 13 votes to 5. A subsequent vote on the motion as amended is carried 17-1 with Richmond Hill's Joe DiPaolo (partner of former Newmarket-Aurora PC candidate Charity McGrath) voting against.
What is wrong with opposing?
Next Tuesday (21 May 2019) Newmarket Councillor Christina Bisanz will be asking the Town's Committee of the Whole to oppose Bill 108.
I hope she will resist any attempt by the Mayor, John Taylor, to water it down by deleting the word "oppose" on the grounds it may cause offence to Doug Ford.
Doug Ford is not someone who understands subtleties.
This email address is being protected from spambots. You need JavaScript enabled to view it.
Yesterday (16 May 2019) Aurora Mayor, Tom Mrakas, told York Regional Council:
"Back in 2016, seventeen elected officials came together and formed the OMB Reform Working Group. We came together because, at the time, we had an unelected, unaccountable body that at the end of the day would overturn decisions by our local municipalities when it came to land use planning... And a majority of elected officials right across this Province (believed) that we should have the authority to uphold our official plans that are Provincially approved.
And so the Committee worked hard. We held a summit which Markham had graciously hosted – and Mayor Scarpitti you spoke at the summit – and we formed recommendations that we presented to the previous Provincial government that helped form a Bill that was put forward, Bill 139, that looked at abolishing the OMB and making significant changes that would give authority back to the local councils to be able to decide how we grow and evolve in our own communities and how we uphold our official plans.
That Bill was passed unanimously in the House at that time. All Parties, all MPPs spoke to the fact that the OMB was a flawed system and needed to be changed. So, first up, my question is if it is a flawed system and you all believe that then why are we going back? Why is the current Government looking at returning back to a system that everyone agrees is flawed? There's no-one asking for any changes. The people aren't asking for these changes so who are asking for these changes? You know, we do have a housing crisis and its affordability. We all know that. But its supply is not going to change the fact that affordability is a problem. But the Government right now speaks about the missing middle, town homes, bungalows, low-rise, mid-rise. You know what, these can be built right now…
The problem is we have a for-profit driven industry that's lobbying to increase their profit margins. That's all that this will do. This is not going to solve the affordability crisis within Ontario and especially within this Region. All this will do is once again allow for an unelected unaccountable body to reverse decisions that our local municipalities want to see how our communities grow.
When you look at what they are proposing 15 different Acts are going to be changed. And I'll speak to some of them specifically, Endangered Species Act, Environmental Protection Act, Heritage Act. How do those changes within those Acts provide more affordable housing? They don't. There is nothing in this Bill that I see that will provide affordable housing – (which is) what we have been trying to achieve in this Region and within our local communities.
So I think we need to send a strong message to the Province: this Bill is wrong. We cannot go back to a system that was flawed, that everyone agreed was flawed… When they were discussing Bill 139 the Honourable Minister Ernie Hardman specifically said:
"We need to ensure that we have a system that works and that respects municipal decision making."
So I respectfully ask the Minister: What's changed? And why is this Bill (being brought) forward?"