Background: Last Thursday's meeting of York Regional Council (20 April 2017) was important. I knew it the moment I walked into the Council Chamber and saw the Men in Suits with their expensive looking briefcases. The "Development Community" is in attendance!
The meeting is all about development charges. I learn that a total of 58 projects with a gross capital cost of $1.5 billion are to be added to the Region's "contingency schedule". They are not paid for. The paperwork tells me the contingency schedule has two types of projects:
* Assets the Region doesn't currently own/have responsibility for. These projects require the Region to enter into an agreement with another party. An example is the GO rail grade separation at Davis Drive.
* Additional roads projects in the Region's Transportation Master Plan that are needed to support new development.
These projects are subject to financial triggers. You can view the slides here. (Scroll to bottom of page and open.) Now read on. 
Developers are unhappy
The Regional Council is meeting to discuss the latest proposed revisions to the Development Charges By-law. DCs are big bucks. They are extracted from developers to help pay for things like roads, water and sewage that new subdivisions rely on if they are not going to be stranded in the middle of nowhere, hooked up to nothing.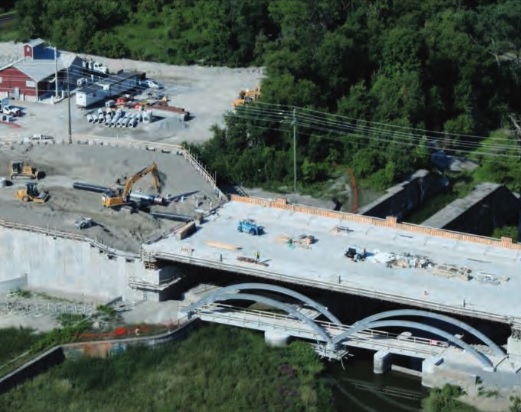 A trio of aggrieved developers and consultants make their way to the microphone.  They are, to varying degrees, unhappy.
First up is Randy Grimes (real name not an alias) from the IBI Group but speaking for BILD's "York Chapter" which sounds kinda threatening. Then there's the eloquent Maria Gatzios from Gatzios Planning. And, bringing up the rear, the flamboyant Marco Filice from the Liberty Development Corporation. He speaks on behalf of nine development project owners in York Region.
I notice his smart leather briefcase is sitting on top of a banker's box which, in turn, sits on a little trolley with a telescopic handle. He has a heavy caseload. When he is not giving his presentation he is gazing intently at his cell phone, one ear cocked towards the podium.
Important new roads deferred and delayed
The Region's new Revised Background Study is a huge document, intimidating in its thickness. The developers - made corporeal by Randy Grimes - complain that too many roads projects have been shuffled into a "contingent list". The money is not there to pay for them. The developers are upset and feel short-changed.
Now it is the turn of planning consultant Maria Gatzios who speaks clearly in well formed sentences. She says there is a mismatch between big infrastructure projects which are, apparently, 100% funded and roads which are 50% funded. She points to a long list of unfunded projects in Appendix G of the fat tome. I go to page 473 and, true enough, I see pages and pages of roads projects that appear to be parked, going nowhere soon.
Ms Gatzios says the Region's own Transportation Master Plan is a work of fiction when some of its key projects are not funded. I made that up but you get the idea.
Now Mr Felice is at the microphone talking us through his slideshow. He points to ancient policies and pronouncements from York Region, drawn from their own documentation, that have never been acted on. They don't follow through. He thinks this will help his case.
Higher Development Charges. Is that what the developers want?
Frank Scarpitti from Markham wants to know if developers are prepared to see higher DCs if the contingency projects are put in the main list. Ms Gatzios says she's just a consultant planner but the "necessary projects" have got to be in the list.
Newmarket's John Taylor cunningly asks if she has the support of the entire development community for DCs to go up - even if it doesn't affect them personally as their projects don't need new infrastructure to go ahead.
Ms Gatzios is getting a lot of questions - I suppose because her presentation was interesting and easy to follow and she invited them. She says it is, inevitably, a balancing act. But there is real alarm out there that there are so many gaps in transportation spending.
"You are hearing from the development community that significant things are missing."
Van Trappist's question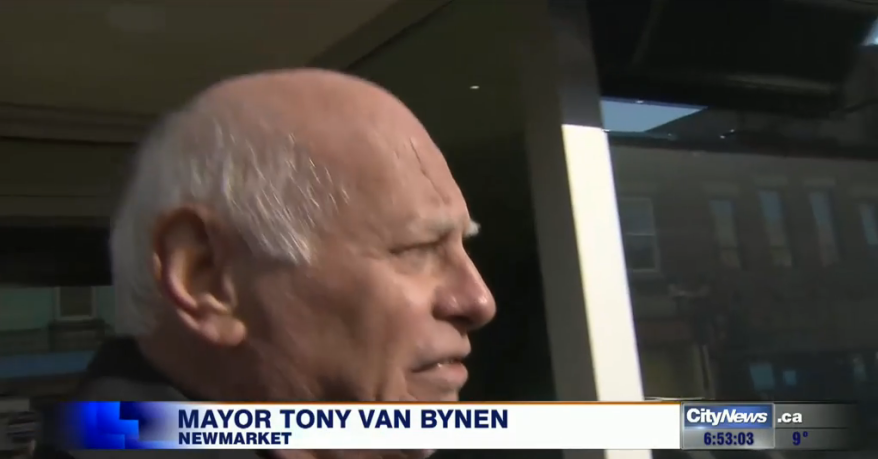 Now the Trumpets blast! The cymbals clash! A hush descends and the Chamber falls silent. It is time for Van Trappist to ask his annual question, justifying his York Region "stipend" of $54,337.92 a year.
"What about site specific development charges?"
A decent enough question but is it worth $9,056 per word?
Now the Region's affable Bill Hughes - the man in charge of the money - moves to the microphone. He affects a gentle professorial air. Looking at his students, seated around the hemicycle, he says he is going to present a structured argument on "Financial Sustainability". They wait to hear what the great man is going to say.
He starts by telling them:
"When you bring a problem to politicians you (must) also bring a solution."
Hmmm. We all wonder what's coming next.
He says Southern Ontario is growing but the distribution of that growth is uneven. Toronto is growing faster than expected with 20,000 new people moving into the city every year since 2009. By contrast, the GTA is growing more slowly than expected.
Closing the fiscal gap
This means there is a "fiscal gap" which sounds painful. The development charges coming in are lower than predicted. But the Region still has to build the infrastructure to accommodate the newcomers - even if there are fewer than expected.
He says development charges do not cover growth. This used to be unsayable but now it is the received wisdom. I learn that York Region has the highest debt per capita in Ontario - or is it the Western Hemisphere? Anyway it is three times Peel's and nine times Durham's.
Infrastructure is expensive but it supports growth. Water comes up. Sewage goes down. Hughes quotes his excellent colleague, the head of engineering, Erin Mahoney.
"We do not have a straw to the lake."
But building this infrastructure is not pain free. Debt servicing costs are significant. And if the projects in the contingency list became live then those costs would be "significantly higher".
Food for Thought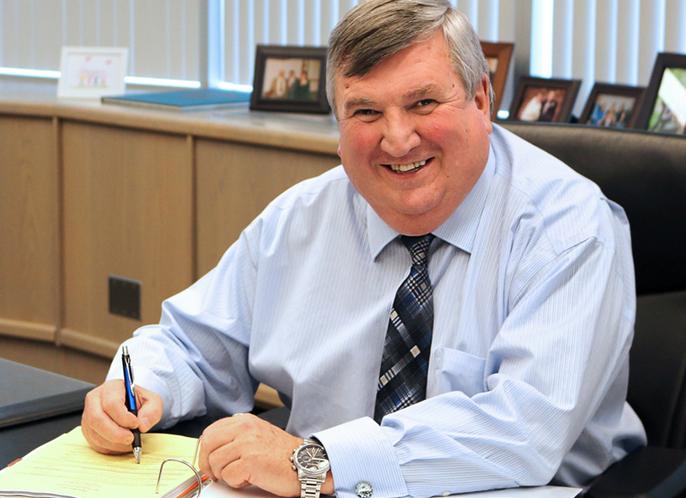 Now I see the Regional Chair, the Great Potentate, Wayne Emmerson, shuffling in his big chair. This usually signals he is about to say something profound. True enough. He looks at Bill Hughes and says:
"You've given us food for thought. We have to live within our means, just like everyone else."
Now Markham's Jim Jones wants to know why Hughes is so surprised by Toronto's turbocharged growth and what effect the proposed foreign buyers tax will have.
Now Hughes is talking again about closing the fiscal gap which is not going to happen:
"Unless the Council is prepared to do very terrible things."
By this I assume he means putting up taxes.
Vaughan's Gino Rosati squeaks:
"This is a reality check!"
We don't have enough money
Now Hughes adds, darkly:
"The bottom line is we don't have enough money."
He says the best path is to find new sources of revenue such as those available to the City of Toronto. Land Transfer Tax. Vehicle Licensing and so on.
Now it is the turn of Markham's Frank Scarpitti, il capo di tutti capi.
He says our needs are as great as Toronto's and the DCs will have to be paid.
"We are gonna get that money."
He smiles but, as always, there is a hint of menace.
"We are gonna get that money even if we have to build a wall to keep people in. It may take longer to get the money but we'll get the money."
The temperature in the Council Chamber drops a few degrees. The developers feel a chill in the air.
New tax powers needed
Now he is talking about pushing a rope up a mountain, getting the cash they need for all their projects. He wants new tax powers from the Province.
The school swat, Markham's Jack Heath says we've heard realism we haven't heard before.
Now Newmarket's John Taylor is wondering if and when all the development charges will be collected. He talks about a future full of "precariousnesses"
"What if growth doesn't happen as projected?"
Taylor has been sitting next to the old banker for too long. He is worried about being saddled with debt we can't pay off.
Now Vaughan's Maurizio Bevilacqua, York Region's resident philosopher, pronounces:
"When there is confusion, you seize the moment!"
He wants to ask people how much they are prepared to pay in taxes! I think I know the answer he will get.
He says his colleagues can try to finesse the debate but facts are facts - there's not enough cash.
On that we can all agree.
This email address is being protected from spambots. You need JavaScript enabled to view it.
---