Tom Vegh is a flip flopper.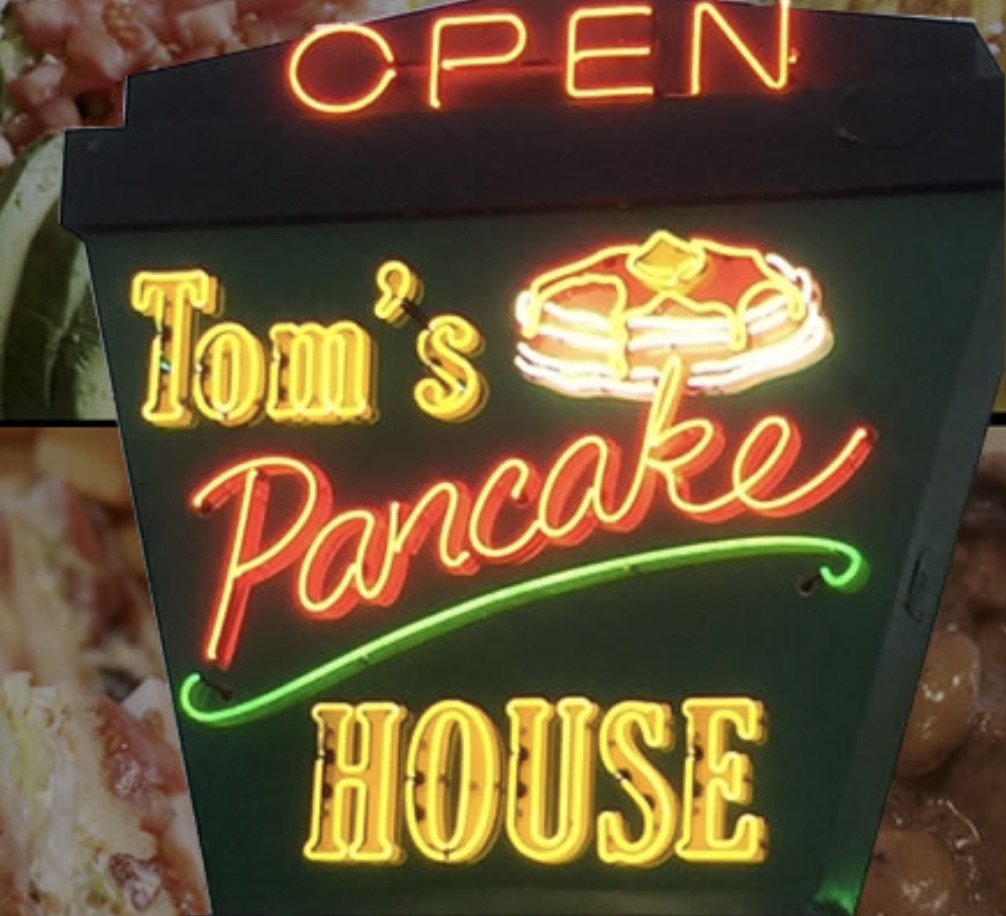 He has all the qualifications required to get a top job in a Pancake House.
At the drop of a hat, he brazenly changes his position on important matters of policy, confidently expecting no-one to notice.
On 22 October 2018 Vegh won election as Newmarket's Deputy Mayor and York Regional Councillor promising (a) to build a new library and seniors' centre on the Hollingsworth Arena site and (b) to oppose the sale of the Hollingsworth Arena site to developers.
Yet last Tuesday (21 May 2019) he voted to support the so-called "Scenario 2" for the redevelopment of the Hollingsworth Arena site which would involve selling this Town-owned land to the developer, Briarwood, and leasing back at a market rent any land it might need for the community facility.
What about the new library?
In Vegh's brisk one-and-a-half minute speech to councillors he complains:
"We haven't really had any discussion regarding the size or purpose of that space. It is undefined. That's a discussion for another time."
But whose fault is that?
Since the election, Vegh has been totally silent on his plans for a new library and seniors' centre. He made no mention of them at the meeting on 21 May. The most he is prepared to concede is that he has been working "diligently" on the proposal. There is no evidence that he has done any kind of thinking at all on how he would deliver on his election pledges.
Promising the earth, delivering dust.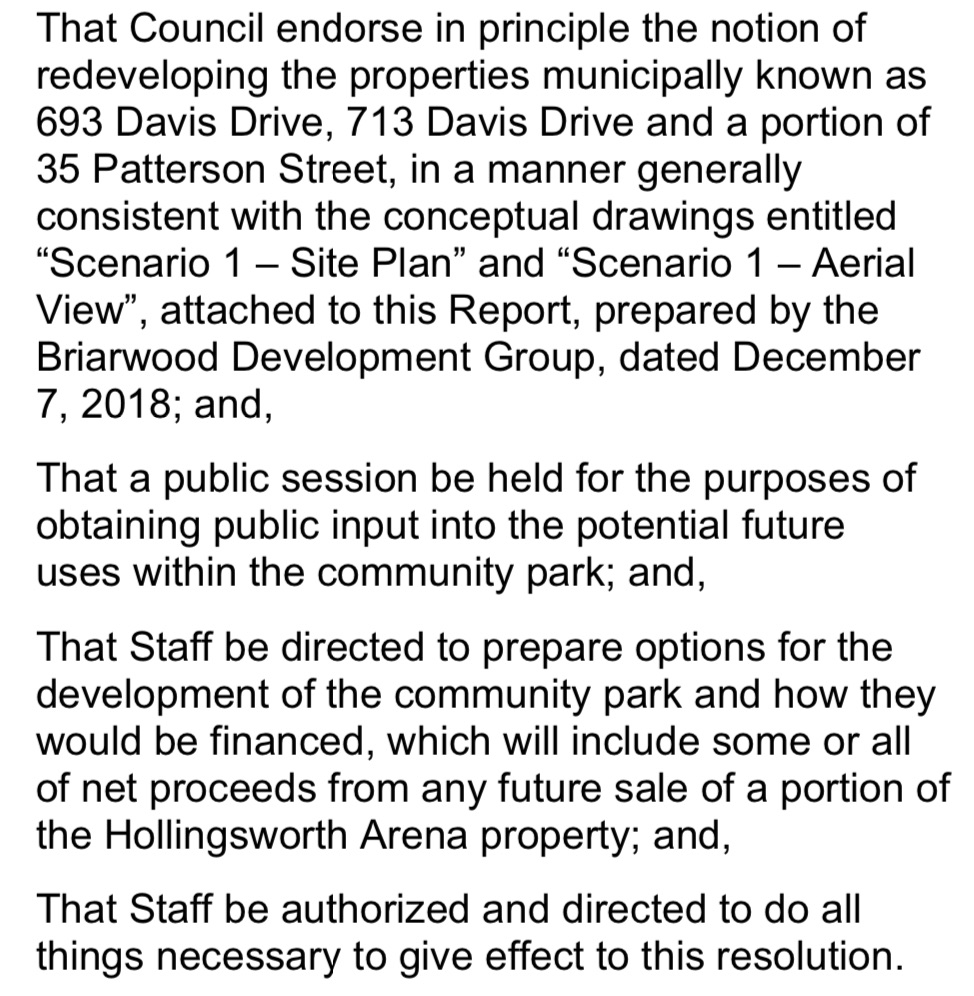 Vegh is the worst kind of politician imaginable - promising the earth in an election and delivering dust as soon as the votes are counted. This feeds cynicism and distrust in our politics. But for flip-flopper Vegh it's water off a duck's back.
On 21 May the Committee of the Whole decides to support in principle the redevelopment of land at Davis Drive and Patterson by the developer, Briarwood, described as "Scenario 1" in the staff report. (Agenda item 5.2. Page 69)
Councillors are not attracted to option 2 which involves the sale of the Hollingsworth Arena land to Briarwood and the construction of a six storey seniors' residence and some kind of community facility whose ultimate use has never been specified.
After a presentation from senior planner Adrian Cammaert, councillors line up to argue the case for more parkland on the Hollingsworth Arena site citing the density of the adjacent condo development and the proximity of Southlake Hospital whose staff and visitors might, they suggest, enjoy spending time there, out in the open air.
More open space
Ward councillor, Jane Twinney, makes it clear from the outset she will not be supporting option 2 and calls for green space on the Hollingsworth site. She wants a "useable park" telling us we are going to need more green space in future. She is worried about the impact of increased traffic and parking. Victor Woodhouse, Christina Bisanz, Kelly Broome and Bob Kwapis echo her concerns.
Grace Simon confesses she is "leaning to Scenario 2" and votes with Vegh.
The committee goes on to vote 7- 2 for option 1.
TOM TALKS mendaciously
In TOM TALKS Vegh predictably makes no mention of the debate about parkland. He simply reports that councillors were presented with two options, suggesting they were obliged to choose between them.
It was, of course, always open to the Pancake to move an amendment to make the staff recommendation more to his liking.
That is precisely what Jane Twinney did, successfully.
I don't know if Vegh is misinforming his readers deliberately or if he just can't keep up with the rest of the class. But people who rely on TOM TALKS to find out what's happening on Newmarket Council are getting useless information.
Fake news.
This email address is being protected from spambots. You need JavaScript enabled to view it.
During the debate on 21 May 2019 on the future development of the land at Davis and Patterson and the Town-owned land at Hollingsworth Arena, Tom Vegh says:
"So, just a couple of comments... We've already gone into the planning justification and we went through quite a process to get there. We are viewing this through the lens of that Secondary Plan. So we are not going to talk too much about that. I think Scenario 2 is a real opportunity and that's what I support. It speaks to seniors' housing and we do definitely have a tremendous need. It is likely to be condos. It also speaks to… includes a community space. We haven't really had any discussion regarding the size or purpose of that space. It is undefined. That's a discussion for another time."
"Davis Drive is really where we are looking to have our increased density and this location and the built-form we are talking about there – six storeys. It's going to have a limited impact on the existing residents. To the north it is Huron Heights. It is not a highly developed area so it is not in the middle of an existing community. It is right up there close to Davis Drive. I will speak more of this project as it goes along but I am in favour of Scenario 2 now because I think it is needed and it is a real opportunity and it is consistent with our Secondary Plan."
Note: Option 1 also involves selling a small strip of Town-owned land to the developer. Jane Twinney argued for the proceeds of this sale to be applied to the proposed new park at Hollingsworth.