Christine Elliott's constituency office in Newmarket was again closed to visitors at 12 noon today as protesters gathered outside to draw attention to the scale and ferocity of the planned cuts to services. A sign on the door said the Office was closed until 12.30pm as there was a meeting going on inside. The place looked deserted.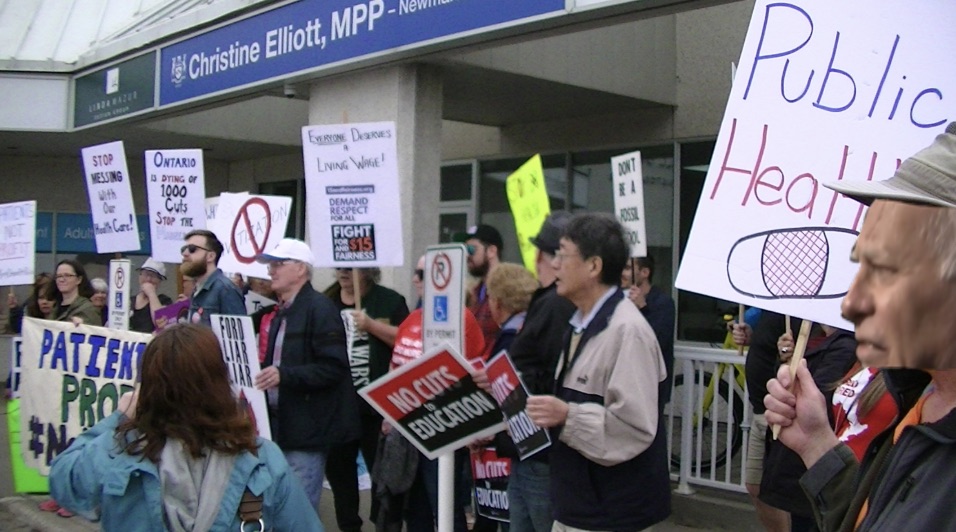 A good-natured crowd of concerned citizens - under the banner of "Common Ground" - is determined to get their message across and draw attention to Ford's savage cuts to health, education and other key services.
No answer
On the radio this morning Elliott tells Matt Galloway that cutbacks are required to cut the deficit. And when Galloway asks why the Government didn't consult first before announcing cuts to services she doesn't have a convincing answer.
In fact, information from the Financial Accountability Office of Ontario (dated 14 February 2019) tells us Ontario Healthcare Spending per capita is the lowest in Canada and its spending on debt interest is lower than most provinces.
I speak to a paramedic concerned about the forthcoming reorganisation of services. She doesn't know what is in store – or whether she will still have a job in a year's time.
Stepping up to the plate: Tony Van Trappist MP
Newmarket's citizen of the year (2017) Jackie Playter is again in the thick of it, waving a placard. She seems to be the unofficial campaign manager for former Newmarket Mayor Tony Van Trappist who is, of course, seeking the Liberal Party nomination for the Federal election in October.
I ask Jackie when we can expect to see Van Trappist demonstrating outside Elliott's office, holding a placard aloft and chanting slogans just like the rest of us.
Try as I might, I just can't see the old banker doing that kind of stuff. But I have no difficulty picturing him sitting comfortably in a nice restaurant dining out on our dollar as he did for many years while Mayor.
His campaign promises to be delicious.
If I write to him seeking his views on the climate crisis, human rights, China, free trade, income inequality, Conrad Black and his immigration status or any one of a million other issues will he get back to me? I doubt it. That's not the way the old banker does his politics. For Van Trappist politics is about being "neighbourly". No more no less.
But will he still block me?
Anyway… Jackie promises to ask him if he will be coming along next Friday between 12 noon and 1pm. I'll be there to chat with him. I want to know – if and when he is elected as our new MP – if he will still be blocking me on Twitter. When he was Mayor he told people he had every right to block them from reading his Tweets. He sent complainers away with a flea in their ear. Instead of bothering him they could send out their own Tweets!
I am sure it is all going to be terrific fun.
The current MP, Kyle Peterson, got the Liberal nomination without a contest. No-one else threw their hat into the ring. It remains to be seen if anyone will have the temerity to challenge the great man.
This email address is being protected from spambots. You need JavaScript enabled to view it.