On 25 February 2019 Regional Councillor Tom Vegh felt fit enough to tell his Facebook readers that for the first time since his knee surgery he was able to spend time at the office. This is excellent news.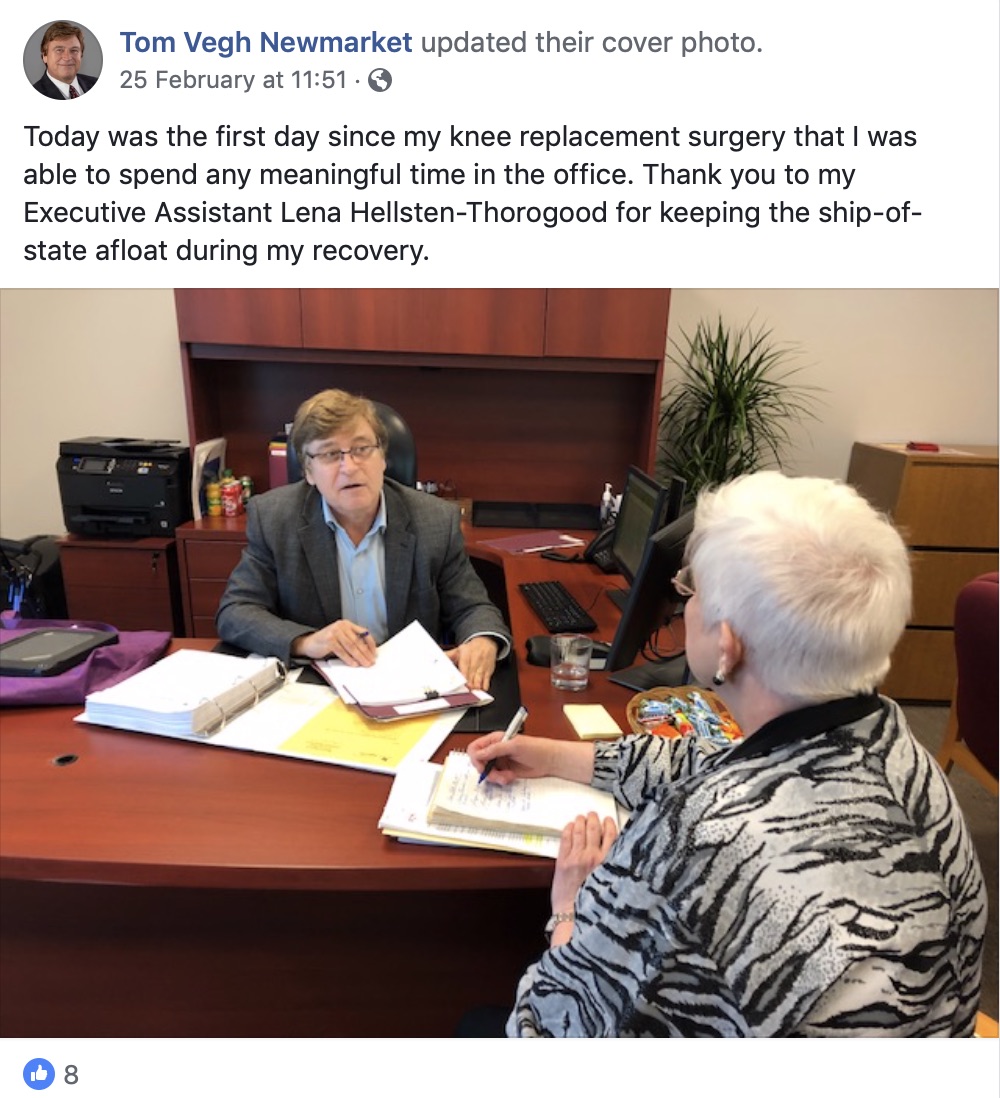 Unfortunately he wasn't at the crucially important meeting of York Regional Council on 28 February 2019 when the Budget was up for debate. But this trifling detail didn't stop him from formally reporting back to Newmarket Council meeting last night (4 March 2019) on what happened at the Regional meeting he didn't attend.
As it happens, I wrote to Tom last December to ask how he intended to deliver on his promise of a new library and seniors' centre on the Hollingsworth site:
I thought your election pledges of a new library and seniors' centre were among the boldest on offer and I am keen to follow their progress through the coming Council term.

Can you let me know what initiatives you are planning and when?
Tom tells me he is diligently working on it.
Characteristically, he is playing his cards close to his chest.
I think it's probably time for Tom to let us into his thinking.
As the old song goes... If not now then when?
The Town is currently in the middle of a three-month long exercise to set its key strategic priorities for the 2018-2022 council term and the Library, once again, looks like it's being left out.
In the 2014-2018 Council term the Library didn't even rate a mention. The endless cascade of Information Reports and plans show the Council purports to take its strategic priorities seriously – once they are decided. How they get to be selected in the first place seems to be a much more hit and miss affair.
The next workshop to consider strategic priorities is pencilled in for Tuesday 26 March 2019 which doesn't leave Tom much time to get his ducks in a row.
Last June, the Council in closed session asked the developer to work up two options for developing the land at Davis and Patterson. One option would restrict development to the land already owned by the developer. The second option would include the Town-owned land at Hollingsworth Arena where Tom wants to build his new Library and Seniors' Centre.
If Tom is even remotely serious he needs to get his ambitious plans for a new Library and Seniors' Centre into the Town's Strategic Priorities document for 2018-2022. Otherwise he is a busted flush, politically.
But he must know that.
This email address is being protected from spambots. You need JavaScript enabled to view it.