In the Municipal Election last October Tom Vegh was elected as Newmarket's new Regional Councillor after promising a new Library and Seniors' Centre on the Hollingsworth Arena site, a stone's throw from Southlake.

This bold and unequivocal pledge made Vegh stand out as a candidate who thinks big.
It paid off.
Vegh won with 8,750 votes with former Newmarket councillor Chris Emanuel trailing with 7,952 votes. Newmarket Public Library Chair, Joan Stonehocker, a first time candidate, got a creditable 2,688 votes.
Tom is now a full-time politician with a salary to match, able to concentrate laser-like on his policy agenda.
At the tail end of last year I tell Tom I want to track his promise through to fruition. I am interested in how policy is made in municipalities in Ontario where political parties are entirely absent and our elected officials at local level are all independents.
Tom can't rely on Party loyalty and whipped votes to get his library and seniors' centre plans through the Council. He's got to win a majority by skill, persuasion and force of argument. But can he deliver?
I've always believed politicians of all stripes - whether Party affiliated or independent – should say what they mean and mean what they say. That's the way to counter the deep cynicism about politicians that infects so many voters. So I tell Tom I have all the time in the world to follow his efforts to get a new Library and Seniors' Centre up-and-running.
I had no idea things would come to the boil so rapidly.
Pick your concept.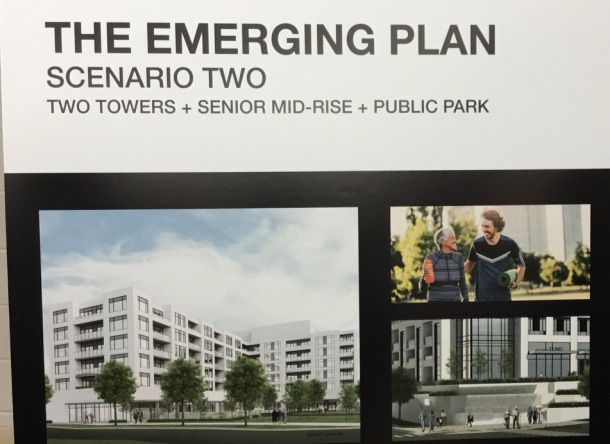 Last week Briarwood Homes, the developer that owns a big chunk of land at Davis and Patterson hosted an open house to unveil their concepts for the site. Residents from the immediate vicinity were invited to come along and tell the developer what they thought about the two concepts on offer. The first showed residential towers and commercial on the developer's own land. The second concept took in the land behind (the Hollingsworth Arena and open space) that is owned by the Town.
There was no specific mention of a Library or Seniors' Centre in the plans. Though there is mention of a community facility on the Town-owned part of the site.
Councillors have been thinking about the future of Hollingsworth Arena for years. The old ice rink is reaching the end of its design life. But what, if anything, should replace the hockey facility? Another one? An open-air rink? What?
The last developer to bring forward plans to redevelop the site, Sandro Sementilli, promised the earth and delivered dust. The Town's senior staff have absolutely no wish to see history repeat itself. So they turn out in great numbers for the Briarwood meeting. I see Rick Nethery and his deputy, Jason Ungar. And there is Adrian Cammaert, the Department's Stakhanovite planner who is involved in absolutely everything. I see Peter Noehammer from Development and Infrastructure standing in the middle of the room, surveying everything. And I see Ian McDougall, the man in charge of Community Services.
Clearly, after the previous fiasco, the Town's senior staff are heavily invested in the future development of this key site fronting Davis Drive. They all want everything to go according to plan.
Directing the Direction
Indeed, the Director of Planning, Rick Nethery, at last month's Committee of the Whole (14 January 2019 at 2.40 on video) recommends that:
"staff be directed to arrange a non-statutory, developer-led Public Information Centre to share the details of the two redevelopment concepts prepared by Briarwood Homes…"
and to report back to a subsequent Committee of the Whole meeting detailing the redevelopment options and feedback received at the developer-led Public Information Centre."
Clearly, Town staff are willing to act as party organisers for some developers.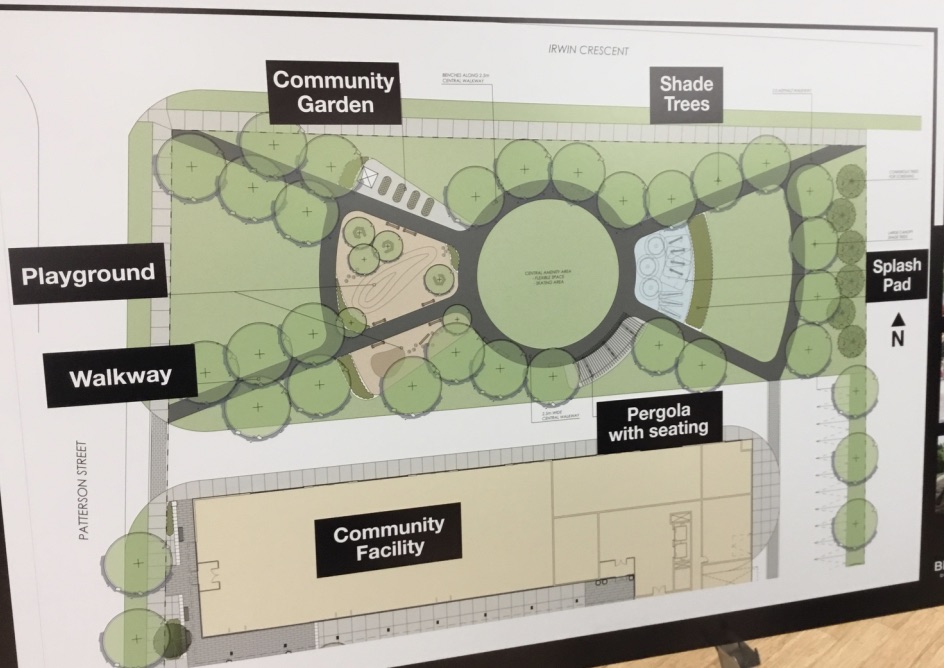 In the event, councillors go on to reject the Planning Director's recommendations to have staff facilitate the developer's meeting.
Ward 2 councillor, Victor Woodhouse, a re-tread, is curious why staff should offer to arrange a non-statutory meeting hosted by a developer. He can't recall that happening before when he was on Council.
Rick Nethery, offers an explanation:
"You are right. It is not something we do routinely. And more often than not a developer will hold their own entirely. I think it was any assistance the Town was going to be giving was simply, you know, (to) make sure you capture these people (attending) by way of a list or something like that. But I think it sounds like they've got that covered now."
"That said though, we are referencing that back in June 2018, we did have a report which spoke to this matter and Council had directed that this property owner (Briarwood) go away and come up with a couple of options that could be referred to that kind of a meeting. It was largely just to help facilitate that Council direction. I don't know that much hangs on it."
Of course, there is a precedent for Town staff facilitating developer meetings. I recall Bob Forrest's Clock Tower meeting at the Community Centre in Doug Duncan Drive in April 2013 when Town staff were wearing name badges! (Forrest was trying to get a sense of which way the wind was blowing before he put in his planning application – which he did years later. The Clock Tower is still unfinished business.)
Developer-led meetings "a new phenomenon"
Now the Mayor, John Taylor, offers his opinion. He tells us that the whole phenomenon of developer led planning meetings – prior to an application being submitted – had emerged in the last five years. He says they are not that common but they are an emerging trend. And this development could involve Town-owned land. He acknowledges the proposed development sits in an area covered by a Secondary Plan but is nevertheless concerned about the proprieties of staff offering comments on a concept – before an application is even received by the Town. He wants a clear process.
"What would be the protocol going forward?"
Nethery, a gifted master of the opaque, responds: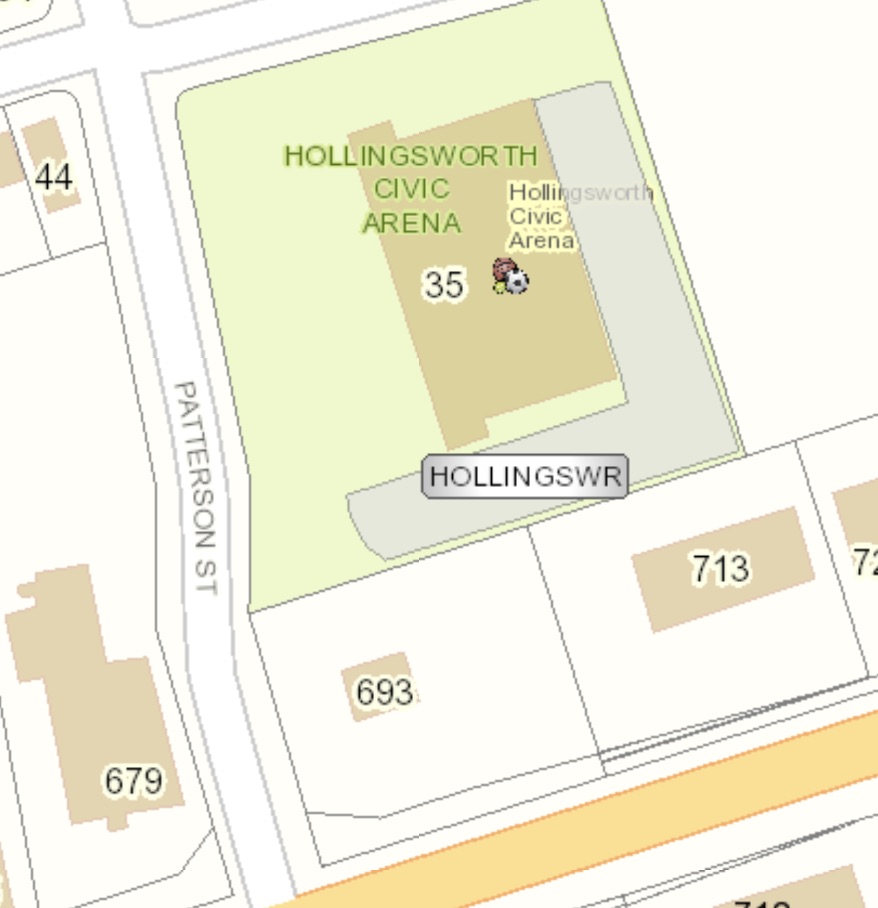 "I'll address the idea of reporting back first. And that's simply along the lines of creating a record so it doesn't become a he-said, she-said kind of thing… If you are there or some sub-set of you are there you hear it with your own ears so you will have the benefit of that too and any notes you might take. We shall probably be taking our own notes and we can make those available to sort of establish the record."
Sounds like a load of old cobblers to me.
"In terms of the second point that you raise (on the Secondary Plan)… We are commenting generally on the compliance and conformity with the Secondary Plan only… if and when an application were to come in, it is likely to evolve…we understand it may come forward in February. That's their aspiration. It may not be the one that staff can support…"
"So I think there is still a lot of evolution there but we do have the strength of Council having adopted the Secondary Plan in giving us direction to use that as a basis of the things we evaluate. The report does indicate that it does in varying levels because of the two different options they are proposing."
Full Rigour
Taylor is now asking about developer initiated non-statutory meetings. He wants a consistent approach to these meetings. How will they be handled? Will reports go to Council? Nethery clarifies:
"I can confirm that in the past we have had a number of them. Some of the local planning consultants we deal with are getting in the habit – or have been in the habit of doing these. And it is a worthwhile exercise from their perspective. We usually attend but there is no record of that. All that it does from the applicant's perspective (it) gives rise to their decision of whether or not to make an application. And then once that has happened we've got the full rigour of the normal planning process."
(The "full rigour of the planning process" in the Clock Tower meant the Director of Planning knowingly misleading councillors on a key metric of the proposed development – the Floor Space Index.)
"The circumstances are unusual in that there is some municipal property that may or may not be in play on it. I think that's why there was that conversation happening. It is not normal under the typical kind of scenario so I think we are fine with that direction."
Tom Vegh sits there staring blankly ahead, saying nothing. Why?
Tom was present at the meeting in June last year when the developer was asked to go away and come up with a couple of options. When Tom made his explicit promise to the electors he knew then what the rest of us have just learned. That the developer was being asked to come up with a second concept which would include an area of Town-owned land.
For the Town to do a deal with Briarwood it would have to declare the Hollingsworth Arena land surplus to requirements and follow its sale of land policy to the letter. Briarwood would presumably buy it. But I suppose there could be some sort of fancy dancing leasing arrangement or other device that would deliver a development which makes both Briarwood and the Town happy.
But we don't know, as yet, what the Town wants. So to have Briarwood come up with a second development concept involving Town lands is putting the proverbial cart before the horse.
Evolution expected
Nethery told the 14 January meeting that the developer hoped to put in a planning application this month but he went on to suggest that was a bit premature. After all, the concepts are expected to evolve.
It seems to me this gives Tom the ideal opportunity to make the case for his new Library and Seniors' Centre.
We all know what the developer is thinking. But what about our councillors?
Has Tom briefed them on his plans? If not, why not?
What does the Library Board and the management of the Seniors' Centre think about his proposal? Has he made a formal presentation to either?
What about the views of the Library Chief Executive, Todd Kyle. He has been making the case for a new library sotto voce but what does he think of the Hollingsworth Arena as a possible site?
My advice to Tom is to make the case as best he can. He can't hang around waiting for the ideal time to explain in detail how he plans to take us from A to B.
The train is about to leave the station.
This email address is being protected from spambots. You need JavaScript enabled to view it.