The story so far: Last week (Thursday 28 February) York Regional Council agreed a Budget for 2019 that raises taxes by 2.96% excluding an additional 1% tax levy specifically dedicated to speeding up the program of road construction giving a total increase of 3.96%.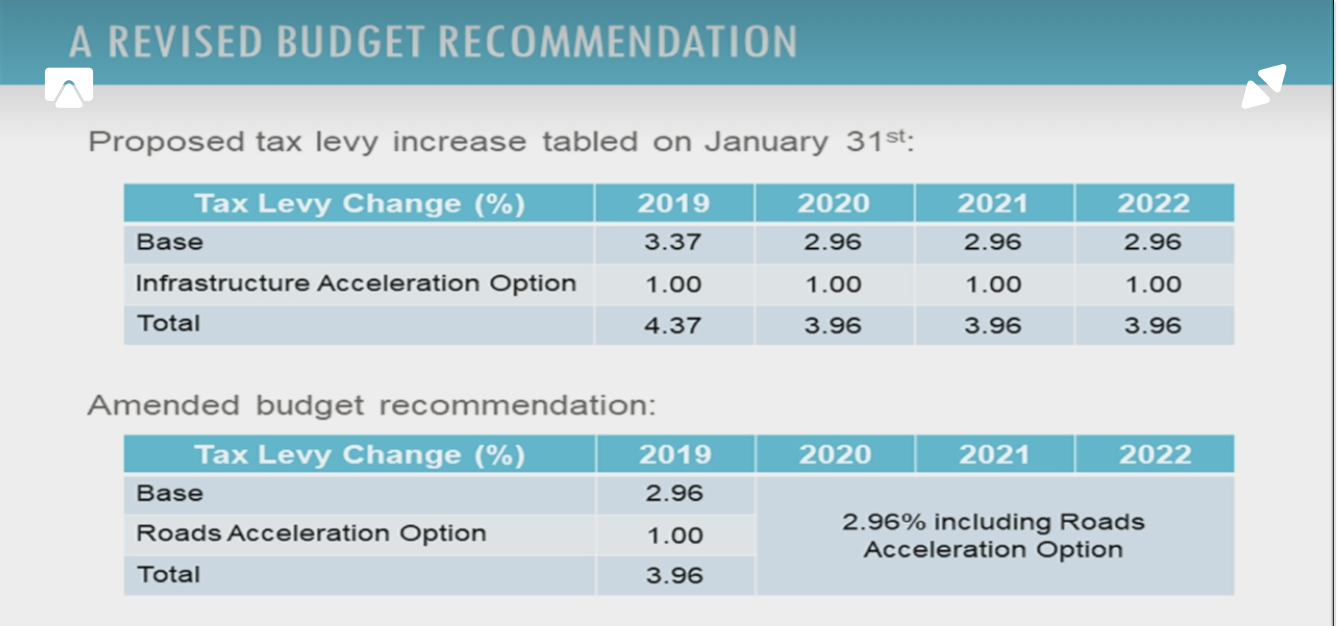 This year's Budget is "multi-year" in that it looks over the horizon to the end of the Council term. For 2020 through to 2022 the Council endorsed a tax levy increase of 2.96% which incorporates a projected 1% annual tax increase for the so-called "roads acceleration".
The Budget increase for all other services excluding roads would therefore be capped at 1.96%. This is likely to be far below the prevailing rate of inflation. Here in Newmarket the base budget assumed a 2.95% inflationary increase (the 2.7% October 2018 annual increase in the Toronto CPI and another 0.25% to reflect costs which bear on municipalities.)
Is this 1.9% increase feasible without taking the axe to a swath of York Region services and those provided by other organisations that the Region funds?
And how did the Regional Council get there?
Getting roads built faster
At the Committee of the Whole on 21 February 2019 the members have a report in front of them from the Regional Treasurer (who comes to York Region from the City of Vaughan) explaining how the "Infrastructure Acceleration Reserve Option" might work.
The highest paid Mayor in Ontario, Markham's bald baritone, Frank Scarpitti, wants to approve an additional 1% tax levy in 2019 earmarked for roads.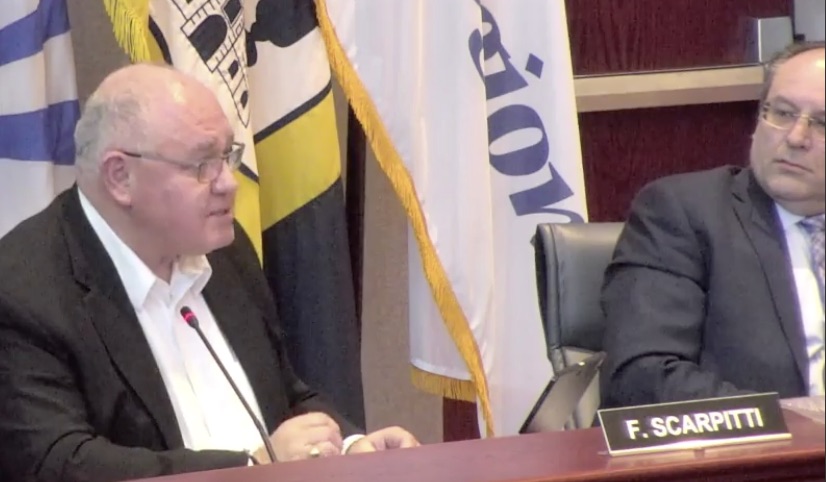 Newmarket's John Taylor says there is another way of doing this without landing people with a big, unnecessary tax hike. He wants the money taken from the Region's Asset Replacement Fund for 2019 and repaid in due course from development charges as they roll in. His amendment would have a workshop look at all the options for the following years
Georgina's Robert Grossi likes the idea of looking at the options in a workshop. He can't support the full 1%. He tells Frank he could do half a per cent.
Emmerson sounds exasperated. He is wondering why they are tying themselves in knots.
"None of this (the new roads) is gonna happen for four years!"
"Absolutely nuts!"
King's Mayor, the rotund Steve Pellegrini, says he wants the 1% "baked in to the 3.37% tax levy". Pellegrini is a man of few words, preferring to suck candies and listen. He usually appears as a backdrop to Scarpitti who talks a lot. Pellegrini, now finding himself centre stage, says his proposal would mean a 2.37% increase for everything else. He wants staff to come back and show them how to find that 1% in either operating or capital efficiencies.
Incredulous, Vaughan's Mayor and former Liberal MP, Maurizio Bevilacqua, doubts Pellegrini's sanity:
"The motion is crazy! It's absolutely nuts… I can't believe we are doing budgeting (in this way). What priorities are you going to get rid of? From a governance point of view this is a spectacle. There is no seriousness here. Absolutely zero."
"I am unimpressed. I'll be honest with you. To just say that you want to bake in 1%... You understand the impact of that? What is the impact?
Steve Pellegrini protests saying he is only trying to align the Budget within a respectful increase.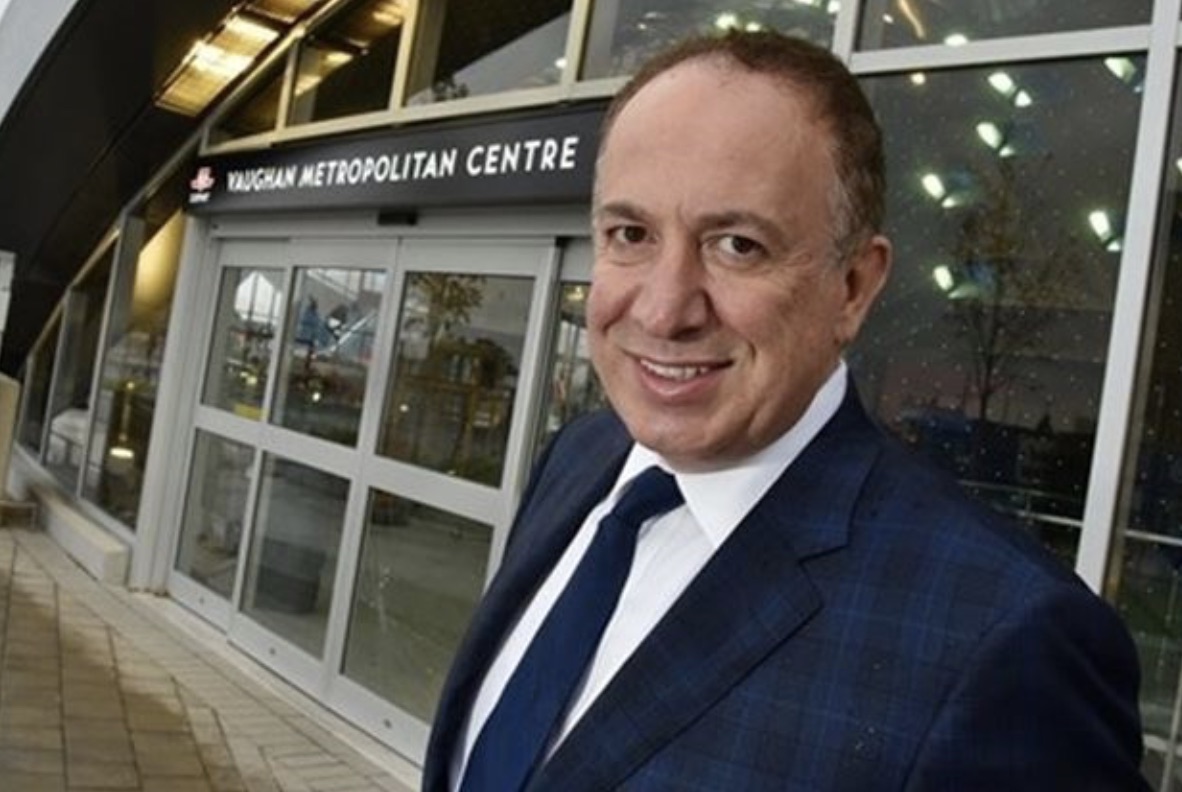 "I've heard loud and clear the priorities – we've all heard the priorities – it's transportation. I am trying to align the budget within a respectful increase to acknowledge that we need to increase transportation and move people in this Region… I am asking staff to come back with a list – how they can find a 1% reduction.
Scarpitti's Lapdog
Bevilacqua is now getting into his stride. He suggests Pellegrini is Scarpitti's lapdog:
"The point I am making is this. You have to accept this. You would not have moved that motion had Mayor Scarpitti not moved his. You did not come here today with (the idea of) baking anything inside anything… I know that for a fact. It is a reaction to the Scarpitti motion (interruption)
"This is serious, right? If you (the Regional Chair Wayne Emmerson) are not going to say it then I am going to say it. The reality is this. You cannot proceed and make budgets in the manner in which you are doing it now. It is laughable. It just doesn't make any sense… This is absolutely crazy…How can we say we can make a decision on the 1% on the spot? That's serious."
Now Markham's new Regional Councillor, Don Hamilton, a man always on the hunt for efficiencies, tells us Bevilacqua wants members to rubber stamp whatever the staff comes up with.
John Taylor, a stickler for procedure, says members can of course reduce the Budget but it has to be done through a reasonable process. He says they should not be reducing the Budget by one per cent in one week.
Richmond Hill's Carmine Perrelli agrees it is too late in the day for a change of this magnitude. Markham's Joe Li is wringing his hands. His Markham colleague Jim Jones backs Pellegrini.
Now Pellegrini says he wants to extend the Budget process by one month. He concedes a 3.37% increase is "hefty". Now, unusually, the centre of attention, he affects indignation.
"I take great offence about what was said about my sanity!"
Cuts to come from across the board
Emmerson says that 1% would have to come from across the organisation.
Scarpitti says a tax increase cannot be avoided and that if the Region is going to find this money then all the external bodies (that get cash from the Region) will have to be part of the solution.
Taylor says:
"I'm not opposed to looking at (a lower tax rate). But if we want to do it let's aim for next Budget. Let's look at all the options for bringing it down to 2%-2.5%. Make sure we make wise decisions informed by public input."
He says he wants a report and a workshop for achieving the 1% and, importantly, a proper process - that will take months - for the next Budget. The workshop is agreed. But when the Minutes of the meeting go up to Council on 28 February 2019 there is no mention of any workshop. It has been airbrushed out of the record.
Fast Forward to Thursday 28 February 2019. The Regional Council agrees the Budget.
Taylor, visibly exasperated, demands to know what has happened to his workshop. It has disappeared into the ether.
The Region's Chief Administrative Officer, the smooth, unflappable Bruce McGregor says:
"We bring back what we think are your expectations."
Taylor says the recommendations in front of Council do not reflect what they talked about and agreed last week.
Emmerson says he thought there was an appetite to put something in the roads budget. Taylor insists the motion that was agreed was to take options to a workshop.
Markham's Jim Jones tells McGregor he did exactly what they were expecting. Richmond Hill's Joe Di Paola agrees. Markham's Jack Heath compliments the staff and the Chair for coming up with something they can all agree on.
Now Steve Pellegrini gives a "huge, heartfelt thank you to staff" for accommodating his revised budget.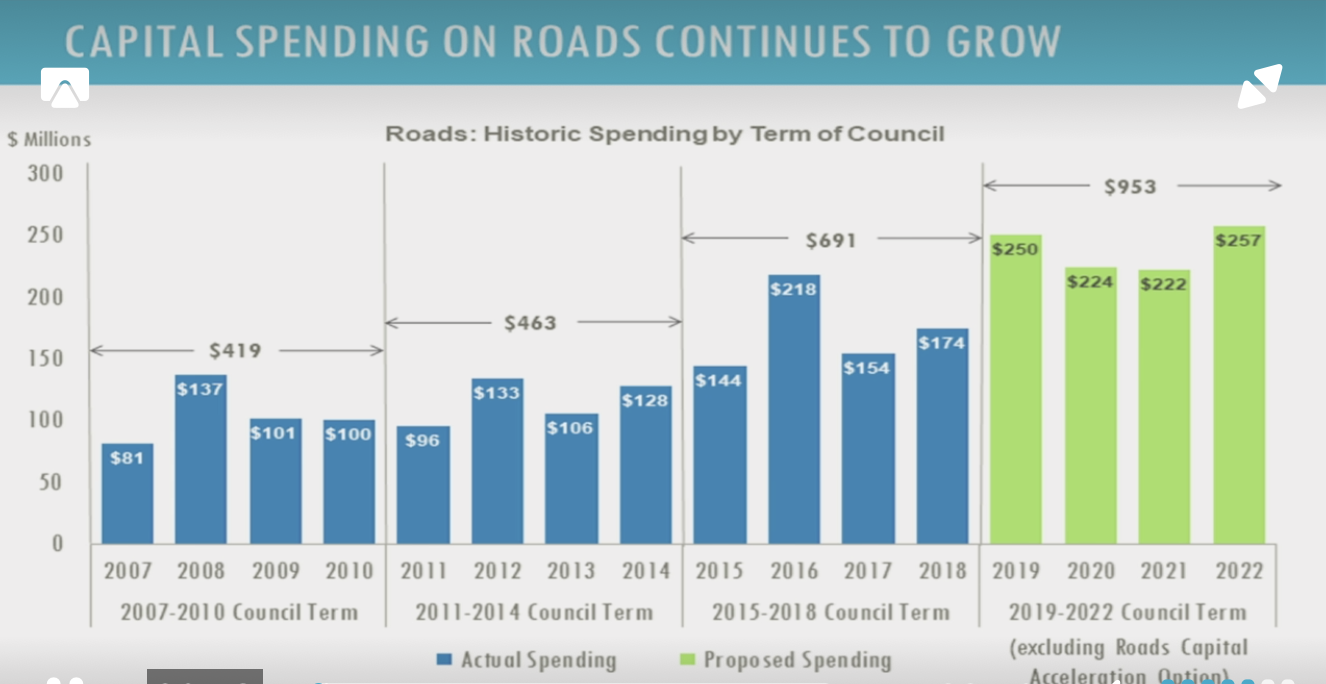 Inscrutable
McGregor can be inscrutable when the occasion demands. He isn't asked to comment on the shape of the likely service reductions implied by Pellegrini's 1.96%
Scarpitti thanks staff and Pellegrini. Everyone is now thanking and congratulating everyone else.
Georgina's Roberto Grossi slaps Emmerson on the back for the leadership he has shown. East Gwillimbury's Virginia Hackson agrees with Scarpitti and Pellegrini and says she is pleased the increase is below 3%.
Aurora's Tom Mrakas says it's a great job keeping the increase below 3%. He supports 2.96%. But he agrees with Taylor that clear direction to staff comes with a motion.
Markham's Don Hamilton says he can't support 2.96% - it's far too much. But he will support 2.5%. The increase should stay "within" the rate of inflation.
Markham's Joe Li agrees that 2.96% is still too high. He complains that no-one takes any notice of his opinion and, for that reason, he will vote against the Budget.
Richmond Hill's Carmine Perrelli and Vaughan's Gino Rosati say they will support the Budget. As does Georgina's Mayor, Margaret Quirk who smacks down Joe Li for threatening to vote against the Budget. She says he should put forward something that is more to his liking.
Don Hamilton says it is not a "solid" budget. For him, there's always more fat to be trimmed:
"In a week we've found some efficiencies."
John Taylor supports the 2.96%. Taylor tells Markham's Joe Li it is not irresponsible to vote against the Budget if he is unhappy with it.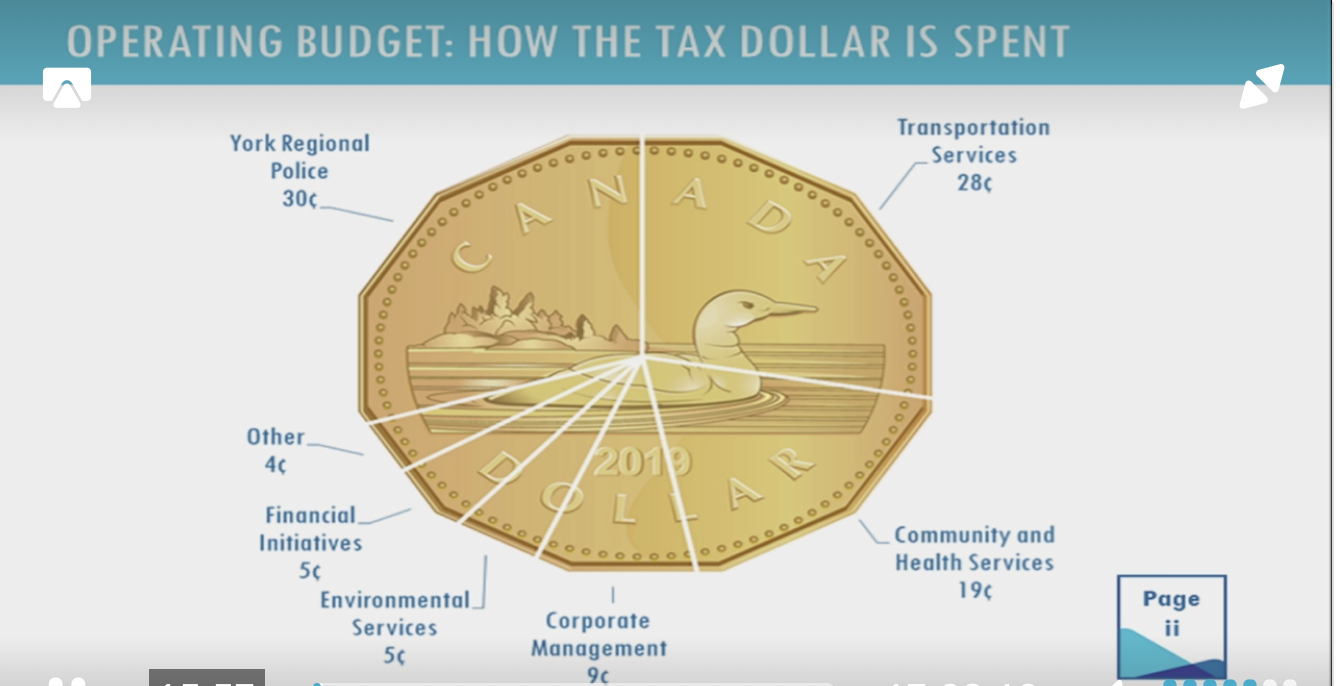 Disgusted!
Now the pressure cooker that is Joe Li explodes. At Markham we learn he can sit down with senior staff who will listen and try to accommodate his concerns. But here at York Region he complains no senior staff person has called him in 8 years! He says he is disgusted! (But why doesn't he just call them? He isn't a wallflower. He doesn't need to sit by his phone, waiting for a call.)
Jack Heath says there is no need for an additional 1% tax levy right now, in the first year. He says there is no urgency and would prefer an "incremental approach".
Emmerson says now is not the time to nickel and dime. You go for the 1% or not. Emmerson likes to give members two clear alternatives. That way no one gets confused. He is black and white with no shades ofd grey.
Now the Regional Clerk tells us staff upstairs have been checking the tapes of last week's meeting (on 21 February) and confirms what Taylor said. There was a decision to hold a workshop on non-tax levy options for raising the 1% but this is not reflected in the minutes - nor in McGregor's presentation.
Now Gino Rosati is calling for more road building and road widening oblivious to the fact his roads will fill up as soon as they are finished. Pellegrini's 1% is not enough for him. He wants it to be topped up with other revenues and transfers.
Taylor warns: The public won't support this
Taylor reminds his colleagues about the burden they are about to impose on the taxpayer. He says a 4% (2.96% + 1%) tax increase won't wash. The public will not support it. He says they don't know what kind of service level reductions are implied by the proposed tax levy. He stresses again the way forward is to look at all the options in a workshop.
Frank Scarpitti is clearly upset having to listen to this.
"The public is frustrated as hell about our ability to accelerate the roads program. Transportation is a major issue in the southern municipalities. It far outpaces all other issues. It is mission critical the 1%."
Whitchurch-Stouffville's new Mayor, Iain Lovatt, backs the additional 1% tax levy as does Markham's Jim Jones, who is a rail enthusiast. He says it could be used for grade separations. East Gwillimbury's Virginia Hackson will support the 1% on the grounds that lots of people in her patch work in Markham and other areas down south.
Jack Heath says it is important to get the ball rolling even if he does think the 1% in 2019 is too much. Perrelli and Quirk will back the 1% as will the conflicted Joe Li with all his public agonising and hand-wringing. He wails:
"4% is a dilemma"
and then votes for it.
Mrakas backs Taylor
Aurora's Tom Mrakas is siding with Taylor. He wants to look at the options in a workshop setting and take the 1% from the Asset Management Reserve rather than impose an additional 1% tax levy.
Markham's Don Hamilton, always on the quest for efficiencies, says he cannot support a tax increase of 3.96%. The process they are all following is putting the cart before the horse. He is in Taylor's camp – three of 18 voting against the additional 1% tax levy.
Taylor explains for the nth time that the money can be drawn from the Asset Management Reserve and repaid in due course rather than take it from the taxpayers. He says we borrow it from ourselves and repay it from DCs (development charges) as they come in. (Taylor's Newmarket is of course billing its residents for the cost of the newly purchased Mulock Farm Park through a separate tax levy but that's another story.)
Now attention turns to future years – 2020 to 2022 – when the projected tax levy is capped at 2.96% which will include the 1% for roads. Is this even remotely realistic?
Scarpitti wants to leave it as is for the moment "and see what comes out of the workshop".
I learn it is to be held on 25 April 2019.
But I don't know if that will show up in the minutes.
Probably not.
And the discussion on the Council's proposed Code of Conduct is put off until next time.
This email address is being protected from spambots. You need JavaScript enabled to view it.