11pm. With one third of the polls reporting in Burnaby South NDP leader Jasmeet Singh has a clear lead over his Liberal challenger.
In York-Simcoe the Conservatives, as expected, have held the seat, squashing Maxime Bernier's People's Party.
The Liberals have taken Outremont from the NDP.
Voter turnout is lamentable in all three ridings.
This email address is being protected from spambots. You need JavaScript enabled to view it.
Update on the by-election results (posted 26 February 2019)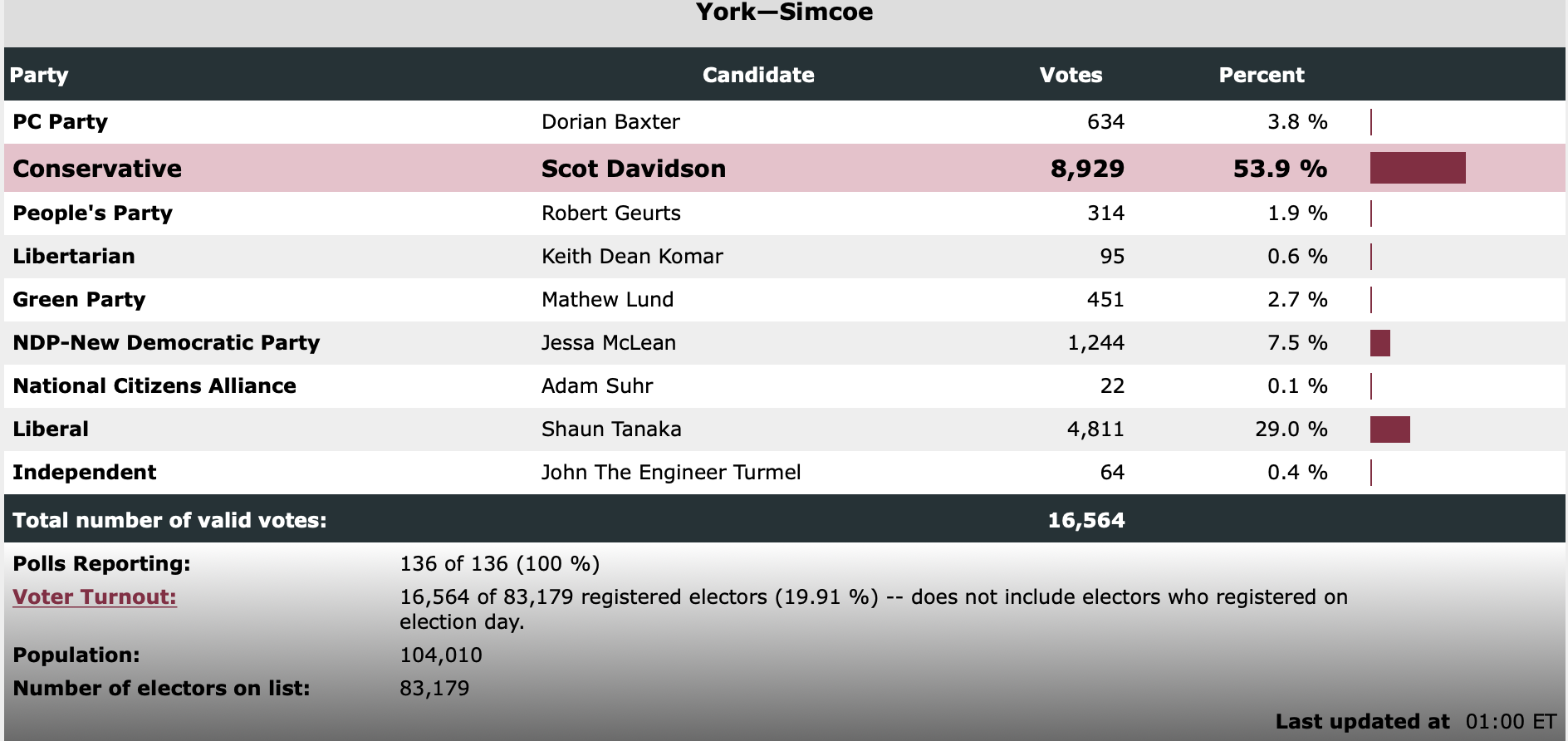 What can we learn from the results of yesterday's by-elections? Personally, I think we should be cautious in reading too much into the runes.
But the Globe and Mail's John Ibbotson takes a stab at it.
"Conservative Scot Davidson held the vote at 54 per cent, while the Liberal vote slumped from 38 per cent in 2015 to 29 per cent Monday night. Even more encouraging for Mr. Scheer, the People's Party sat at only 2 per cent, suggesting Mr. Bernier won't be a factor in the fight for the 905, the large belt of suburban ridings surrounding the city of Toronto, named after its area code. The 905 almost always votes for the party that forms the government…
For the NDP, the news is both bitter and sweet. Sweet: Mr. Singh will finally be in the House of Commons. He will arrive with Justin Trudeau's government staggering over the SNC-Lavalin affair, giving him a perfect opportunity to reboot his troubled leadership, only eight months before the next election.
Bitter: The New Democrats are no longer in the game in Quebec. The NDP appears destined to become again what it was before: a rump, a third place-place party in English Canada, and soon to be only a memory in Quebec."
Can Vote. Won't Vote
The majority of voters in the three by-elections didn't vote. Lots of factors could be in play. The weather, perhaps. Or maybe a sense the result was a foregone conclusion. That may have been the case with York-Simcoe but surely not in Outremont and Burnaby South?
Turnout in York-Simcoe was down from 63.66% in the general election in 2015 to a woeful 19.91% yesterday.
In Outrement, turnout collapsed from 62.42% to 21.38%.
In Burnaby South things were better. 60.78% in 2015 down to a still miserable 29.89%.
Turnout in elections is highly variable but the long-term trend points to falling participation rates. In the federal general election of 20 June 1882 a mere 32% of the electorate in Manitoba voted. The highest voter turnouts in a federal general election were in Yukon on 31 March 1958 and in PEI in 18 June 1962 when in both cases 90% of the electorate voted.
The highest voter turnout nationally in a federal general election was on 31 March 1958 when 79.4% of the electorate voted.
This email address is being protected from spambots. You need JavaScript enabled to view it.
And Chantal Hébert's take on the results in the Toronto Star (27 February 2019)