The Toronto Star has welcomed Patrick Brown into the PC leadership contest. The paper says keeping him out would do more harm than good.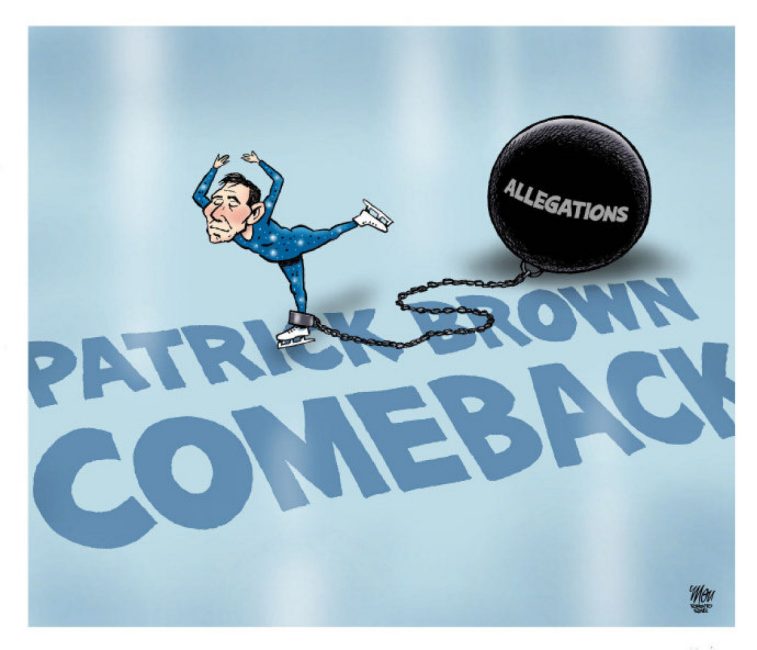 The Liberals and the NDP are mostly keeping their powder dry and with good reason. Their time will come after 10 March when PC "members" elect their new leader. If Brown wins he will be blown clean out of the water.
For the moment, the PCs themselves are doing huge irreparable damage to the brand. What is said today cannot be unsaid tomorrow. It is in the can. 
Dirty and crooked
Progressive Conservative MPP Randy Hillier, who is taking the former leader to the Province's Integrity Commissioner, says Brown is engaged in "dirty and crooked politics". Brown now accuses Hillier of smearing him with "imaginary gifts and make-believe transactions". 
The interim leader, Vic Fedeli, sees rot in the Party, laying the blame full-square at Brown's door. Fedeli had no confidence in Brown as a PC candidate in the June 7 election – never mind Party leader. 
Political commentators are dismissive of Brown. In today's Toronto Star Martin Regg Cohn brands Brown a "man-child". I think this barb will stick. 
Brown's closest staff desert him
In the miasma of half-truths, outright lies and deceit which envelops Brown one thing is crystal clear. He was unable to persuade his own staff - those closest to him – to stand by him. That speaks volumes.
In his letter to the Integrity Commissioner today, Brown says, so far as his finances are concerned, he has nothing to hide. 
"When I purchased my home, like many Ontarians, I had to come up with a down payment. I received an offer to purchase my ownership interest in a local restaurant, and initially considered accepting it. An affidavit was prepared outlining the proposed transaction. However, a few days later I decided not to proceed with the transaction, as I was simply not ready to give up my shares in the restaurant. The transaction never happened, and a further affidavit was sworn in 2016 to confirm the change in writing…". 
The Globe and Mail reported that an affidavit was shown to the paper in which Jass Johal, a Brampton para-legal who went on to become a PC candidate, agreed to purchase Brown's stake in the restaurant and a fistful of Aeroplan miles for $375,000. It was dated June 11, 2016. 
$375,000 deposited - but where did the money come from?
On the very same day Brown deposited $375,000 into his account at the CIBC. 
After the Globe and Mail published the story, Brown produced another affidavit dated 16 June, 2016 which he claims "proved" there was no deal and no exchange of money. 
Both affidavits were notarised by Satinder Johal, a lawyer, who just happens to be Jass Johal's daughter. 
Brown says his take home pay was $120,000 and $90,000 went on his mortgage leaving him $30,000 for everything else, including the monster property taxes. Brown maintains he got help from his family to buy his $2.3m house on the shores of Lake Simcoe. 
No. I don't believe it either.
This email address is being protected from spambots. You need JavaScript enabled to view it.
Update at 8.55pm: watchdog asks for more information on financing of lakeside property.
---