104 Belfry Drive, Newmarket, has just sold for $1,240,000. It was on the market for seven days. It is a modest bungalow with three bedrooms and two bathrooms.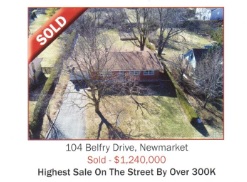 The flyer that dropped into my mailbox from real estate brokers Jay Miller tells me it sold for a staggering $240,000 over the list price. And, more breathtaking still, a jaw dropping $380,000 above the previous highest sale of any house on the street.
Jay Miller cautiously adds - "to date of sale".
Housing hysteria

House prices are spinning wildly out of control. And it cannot go on. This madness is infecting the entire GTA. The prices in Toronto are insane.
According to statistics from the Toronto Real Estate Board the average price of all homes in the Toronto area (condos, townhouses, semi-detached and detached)  was $916,567 last month - up $228,556 from a year ago. That is an unbelievable 33% year-over-year increase.
A long piece in this morning's Toronto Star says this:
"Earlier this week, Bank of Canada Governor Stephen Poloz warned that the Toronto-area housing market isn't sustainable. Moody's Investment Services suggested that the Canadian housing market invites comparisons to the US housing crisis of a decade ago."
Which brings me back to 104 Belfry Drive. What is it about this address that makes it so special? 
Warning Bells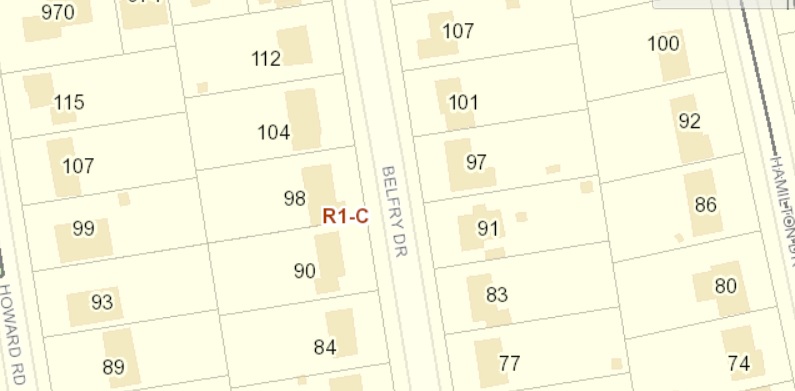 The house looks nice enough but appears unexceptional. No better and no worse than lots of houses in Town. But it sits on a big lot and is zoned R1-C - detached residential. The warning bells should start ringing.
I don't know if the buyer is going to (a) live in the house (b) leave it empty or (c) tear it down and build a monster home, towering over its neighbours.
Useless Zoning By-laws

But if it is the latter the new owner won't need any permissions from the Town providing the submitted site plan indicates the house satisfies the Town's useless zoning by laws.
But, of course, this is just speculation on my part. We shall soon see if the curtains go up or the house comes down to make way for another
Just like 1011 Elgin Street, 104 Belfry Drive is in Jane Twinney's Ward 3.
She is concerned about the rash of monster homes which are beginning to disfigure so many neighbourhoods.
Twinney calls for a review and debate

At the last Council meeting on  27 March 2017 Councillor Twinney, supported by the old warhorse Dave Kerwin, called for a staff review of Zoning By-law 2010-40 and By-law 2013-30:
"to address best practices related to infill development standards across the town as a whole and provide a report to Council".
She tells me she doesn't have a date yet for the debate.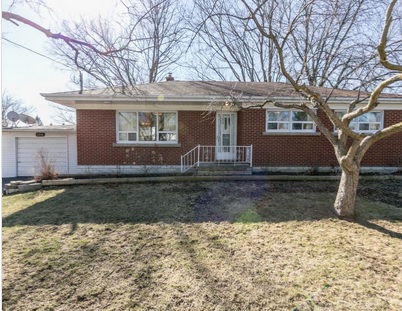 I hope the Planning Department is not going to drag its feet, complaining of too much work.
The analysis has already been done.
What is missing is the will to implement measures to protect the Town's older neighbourhoods from massively inappropriate development.
As Newmarket's very own Dorian Baxter has been known to say:
it's time for a little less conversation and a little more action.
A new zoning by-law is needed now.
This email address is being protected from spambots. You need JavaScript enabled to view it.
---