The Globe and Mail is providing a running commentary on the Stronach family feud each disclosure more jawdropping than the last.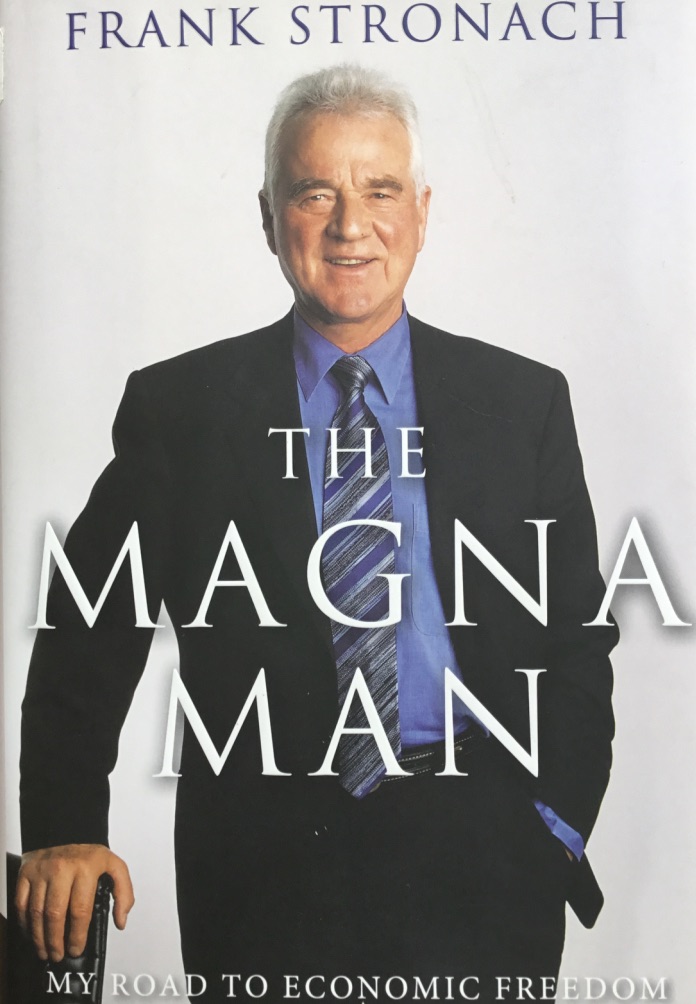 Frank Stronach's granddaughter, 18-year old Selena, is the latest to go to Court, filing a lawsuit against her aunt, Belinda. A month earlier, Selena's mother, Kathleen, who is divorcing Frank's son Andrew, filed a claim for financial support:
"focused on maintaining a lifestyle that includes a 15,000 square-foot home in Aurora, Ont., with five staff, including a chef, two luxury cars, and vacation homes in Palm Beach, Fla., and Muskoka. She and her daughter receive $15,000 a month in direct transfers from the family's private holding company, The Stronach Group, plus unrestricted use of credit cards, and private jet flights for monthly vacations at five- and six-star hotels. In the divorce claim, Kathleen Stronach said her daughter owns a ranch with one full-time employee, where she raises cattle that are shown in country fairs, and 'the operation is expensive to run.' "
Frank Stronach set the litigation ball rolling last October when he sued his daughter for over $520M
"alleging mismanagement of the family's various private business ventures, which include U.S. horse-racing tracks and real estate".
She counter-sued and it has been a Punch and Judy show since then.
"I've never sued anybody in my life."
In Frank's 2012 autobiography "The Magna Man" he tells us forthrightly how he made his millions. In the early days, after a merger between his company and another he fell out with business partners on the direction the new company should take. They were focussed on aerospace. He saw big profits in the automotive sector. He said he was going to resign, sell his shares and start all over again.
"I told my fellow Board members my intentions and a number of them asked if I would sell my shares to them. We drew up a contract and they issued a promissory note. But when the note came due, they didn't have the money. I could have tried to collect the money by launching legal action but I have never sued anybody in my life."
That paragraph will have to be re-written for the second edition.
Anyway… he tells them to forget the money if they resign from the Board (which they do) leaving him in control.
Like most people I never gave the Stronachs a second thought before the family feud erupted.
That said, the Stronachs have always been on the edge of our consciousness. You see the name all over the place, on the side of big buildings in Aurora and Newmarket, but that's the way it has always been. Aurora, in particular, is the archetypal company town.
Development and Real Estate
People close to Frank Stronach are powers in the land in their own right. His "good friend and partner" Tony Czapka was responsible for real estate acquisitions in the 1970s. His son Peter now runs Tricap, a "family-owned, operated and financed company" which is a major landowner and land banker in Newmarket. Tricap owns land at Davis Drive and George Street that has been sitting empty for years despite getting planning approval in 2009 for a 280 unit 20 storey condo.
For her part, Belinda Stronach is developing one of the last big chunks of open space left in Aurora – the so-called Stronach surplus lands.
Next to the new development, Adena Views, but separated by a landscaped pond, sits the high-end gated development at Adena Meadows with its unusual street names. I see Awesome Again Lane and Glorious Song Lane.
And then it occurs to me. It's not about the glorious streetscape and the awesome houses. It's about Frank's thoroughbreds. Glorious Song and Awesome Again who won million-dollar purses for him.
I don't know where it will all end up for the Stronachs.
After a brief skirmish in the Courts will Frank call it a day and gallop off into the sunset? Or is it a fight to the death with his daughter Belinda?
But whatever happens, things will never be quite the same again.
This email address is being protected from spambots. You need JavaScript enabled to view it.