Over three years ago at the Glenway Lessons Learned meeting, Regional Councillor wannabe Chris Emanuel told me too much is kept secret at the Town Hall and that should change.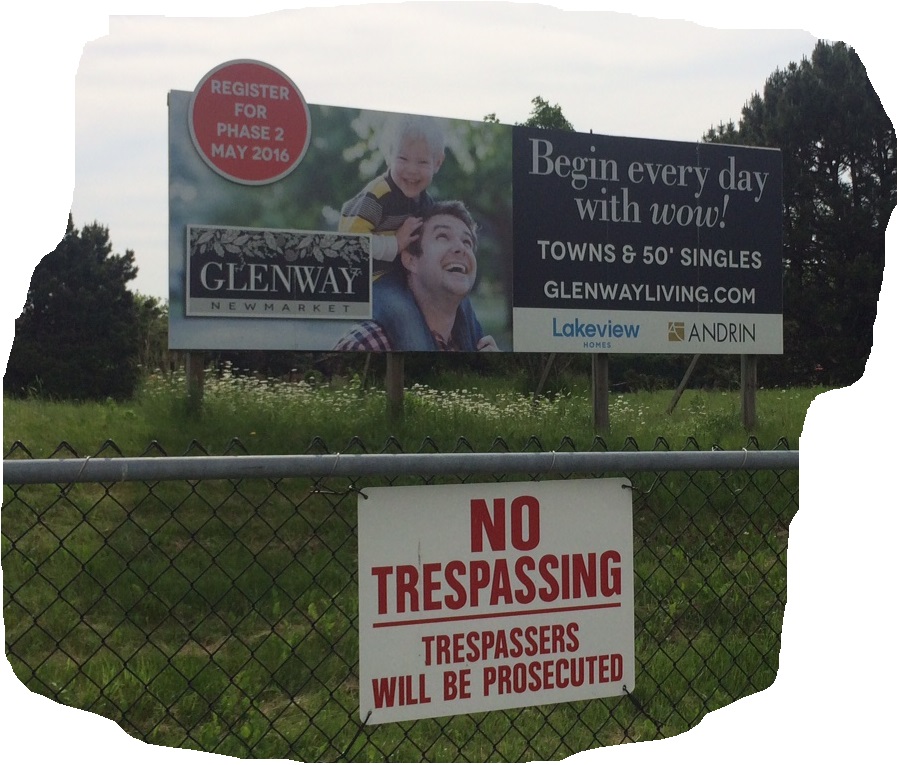 Chris is running for Regional Councillor, having previously been Newmarket's Ward 7 councillor for three terms. In 2014 he left to get a taste of work in the private sector but now aims to return to Newmarket politics – this time as Regional Councillor and Deputy Mayor.
I think it would do his campaign a world of good if he were to lift the lid on the Town's secrets. What examples would he cite? And what would he do about them?
The first Robocall of the season
In his Robocall to voters last week he talks sonorously about his big, bold and positive platform. But there is nothing about opening up the Town Hall.
Chris was councillor for Glenway when a golf course threaded its way through the neighbourhood. Now the fairways and putting greens are being built over. The Town's decision made in 2008 in closed session not to acquire the Glenway lands has had a profound effect on the lives and personal finances of hundreds of families in Ward 7. The public found out about that 2008 decision in 2015 – years after the die was cast.
In June 2015 I was musing about the Glenway "Lessons Learned" meeting:
What happens to people when they become councillors? They are sucked into a system where information is hoarded. This distorts public policy and stunts the conversation we should all be having about the future of our Town.
When councillors told Glenway people on 25 November 2013 they were backing them at the OMB – and they felt their pain – they had already considered buying the Glenway lands - and decided not to - but no-one knew.
John Taylor, Tom Hempen, Christina Bisanz and Dave Kerwin kept their thoughts to themselves. Former councillor Chris Emanuel is present and speaks often. He tells me too much is kept secret and that should change.
Secrecy allows the Town's senior staff to control the narrative. Few elected officials have the time or inclination to burrow deep into policy areas and stay there, checking up on the details.
When senior elected officials like John Taylor tell us that almost all confidential material discussed in closed session eventually comes out of camera I simply don't believe it. Statements like that are contradicted by the evidence.
Councillors need space
Of course, councillors have got to be given space to consider policy options and kick ideas around but once matters are decided there is no reason to keep decisions locked away for ever. "Embarrassment" or "poor judgement" are not good reasons to keep information sealed indefinitely.
I have been trying for years to get sight of the reports and minutes of the confidential report on the so-called "agreement in principle" on the proposed Clock Tower development that went to councillors over five years ago on 24 June 2013. Despite my best endeavours it is still off limits.
The then Town Solicitor and now Commissioner for Corporate Affairs, Esther Armchuk, told me on 23 February 2016:
"The details of the proposed land exchange are confidential at this point as they involve the potential acquisition disposition of Town lands.
If or when the developer's development application comes before Council, the details of the requested land exchange will likely become public information."
The Clock Tower's New Development Concept
The Town and Bob Forrest have now come to an agreement. Forrest would withdraw his plan for the Clock Tower in favour of a "New Development Concept" that we have yet to see. We know the new development will not involve the demolition of historic commercial properties but, other than that, things are opaque.
There are agreed Minutes of Settlement and the transfer of lands and easements was completed by the 30 July 2018 deadline. The only matters outstanding concern the formal registration of the land titles.
Once that happens there is no reason why the documentation from 24 June 2013 should not be made available.
Last week I put in yet another Freedom of Information request for this material. My earlier ones had all been turned down.
For years, a central part of the historic downtown has been blighted with shuttered stores and dereliction. Traders were evicted to make way for a redevelopment that was stopped in its tracks by the pressure of public opinion.
I think it's time for us all to see what form that "agreement-in-principle" took in June 2013 and what we can now learn from the process.
This email address is being protected from spambots. You need JavaScript enabled to view it.