The Progressive Conservative Party of Ontario is deeply corrupt.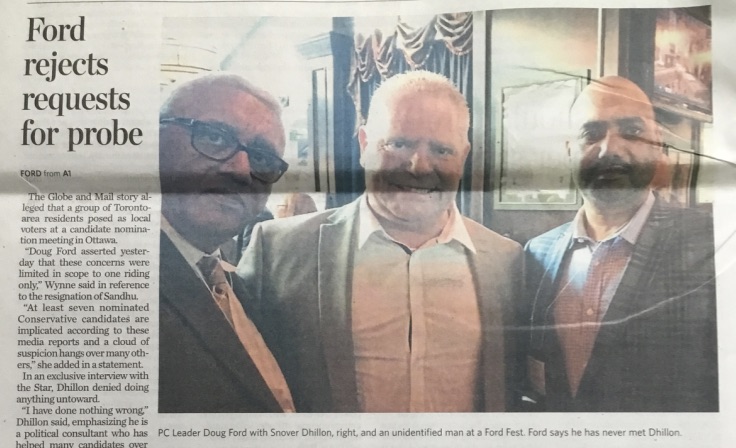 Under Patrick Brown's leadership there was cheating, ballot stuffing and voter fraud on an Olympian scale. The rights of ordinary PC members were casually ignored as the then Leader smoothed the path for his favourites. The National Post told us on 13 March 2018 that Brown:
"appointed candidates himself in about 60 constituencies and refused to hear appeals of those that were clouded by controversy."
As newly elected leader, Doug Ford, told the National Post:
"There were a lot of indiscretions in a lot of nominations. I spoke to people who were disqualified the day before (the nomination election) and that's not being transparent."
Now we have the jaw-dropping revelations from yesterday's Globe and Mail which chronicles the disgraceful actions of the convicted fraudster Snover Dhillon who, by all accounts, hired himself out to people seeking PC nominations.
"Dhillon played a controversial role in a number of the candidate-nomination votes that have resulted in accusations of voter fraud, ballot stuffing and other irregularities."
Now both the Liberals and the NDP are calling for a police investigation into PC nominations.
On top of all this we now have the scandal of Simmer Sandhu and the theft of identities from the privately-owned Highway 407 ETR. It is alleged 60,000 names, addresses and phone numbers were stolen from the company's internal systems with the thief then distributing or selling the data to candidates in GTA PC nomination races.
Until last Wednesday Simmer Sandhu – who was employed by Highway 407 ETR - was the PC candidate for Brampton East. He protests his innocence.
Sandhu has now been replaced by another Ford appointee, Sudeep Verma.
Ford refuses to back calls for a police probe.
Clearly Vic Fedeli didn't root out all the rot.
Ford has now appointed 13 PC candidates including the notorious Meredith Cartwright who is running in Toronto Centre. She took the rap for hiring actors to masquerade as Ford supporters outside the TV studio where the Party leaders debated.
And he's dumped nine candidates.
And six days away from the start of advanced polling on 26 May 2018, the official PC website still doesn't show a photograph of its candidate for Brampton North, Ripudaman Dhillon.
This email address is being protected from spambots. You need JavaScript enabled to view it.
Update on 22 May 2018: Snover Dhillon says PC candidates paid for memberships, breaking Party rules.