There are nine candidates in the race to be the next MPP for Newmarket-Aurora.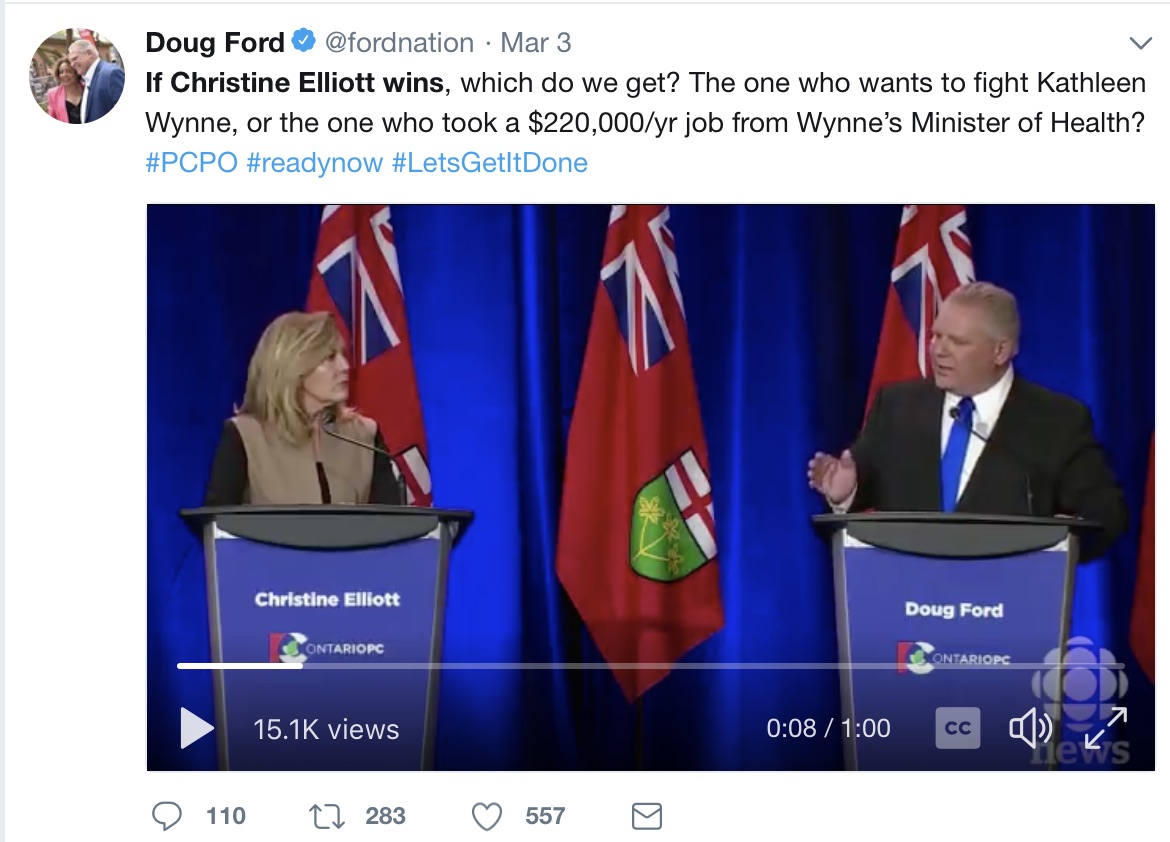 Chris Ballard, the MPP since 2014, has a fight on his hands to retain the seat given the reported surge in support for Doug Ford who, in the space of two months, has rebranded the PCs in the image of Ford Nation. Shallow sloganizing.
Ford is always ready to label his opponents as being in some way phoney when compared with him, the genuine article.
The PC standard-bearer in Newmarket-Aurora is the parachutist, Christine Elliott, who ran three times for the PC leadership and lost on each occasion. During the PC leadership debate on 1 March 2018 we heard this barb from Ford as he stares directly at her:
"If Christine Elliott wins, which do we get? The one who wants to fight Kathleen Wynne, or the one who took a $220,000 a year job from Wynne's Minister of Health."
Chris Ballard is an effective politician, capable and well-liked with deep roots in the area. Unlike Christine Elliott, he doesn't need to consult Google Maps to find his way around the riding.
Melissa Williams is running for the NDP which has historically come a poor third in Newmarket-Aurora. She is hoping for an orange wave.
Bob Yaciuk, the leader of the fledgling Trillium Party, hopes to make an impact with his jolly vaudeville style but has zero chance of success.
Dorian Baxter, the legendary cleric/politician is running as an Independent this time. He, too, stands no chance of being elected but could pick up one or two per cent of the vote based on his previous showings.
We also have a Green candidate, Michelle Bourdeau.
Then there is Denis Gorlynskiy from the Ontario Moderate Party who can be expected to say nothing that would frighten the horses.
The Libertarians are putting forward Lori Robbins and, bringing up the rear, we see Denis Van Decker representing the None of the Above Direct Democracy Party. These minor parties provide colour and add to the gaiety of the nation but will not pick up more than a handful of votes between them.
Format useless
As it happens, I wandered along to the Aurora Chamber of Commerce "candidates' luncheon discussion" at the Royal Venetian Mansion on Wednesday to hear what the candidates had to say.
The format was totally useless. The platform was top-heavy with eight candidates from two ridings (Newmarket-Aurora and Aurora-Oak Ridges-Richmond Hill) fielding soft-ball questions. The whole thing was overly-scripted with no zip or pizzazz. I don't blame the candidates who were not allowed to interact or disagree with each other. Instead they recited chunks from their Party program (except for the PCs who don't have one) making the whole event feel very stilted.
At least Elliott was there. PC candidates have been skipping debates all over Ontario.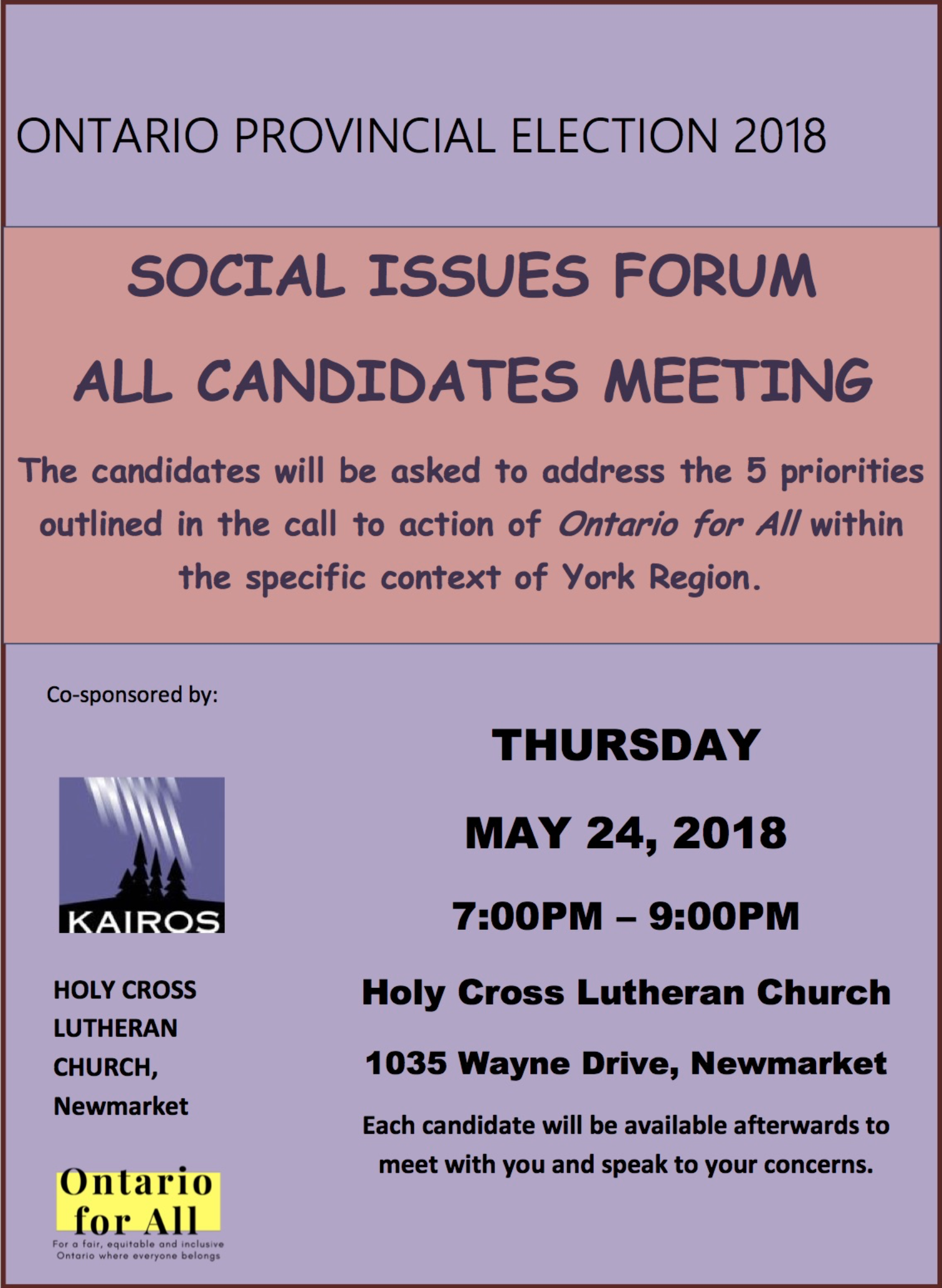 Chris Ballard lives here
How did they do? Chris Ballard plays a strong hand, reminding everyone that Newmarket-Aurora is his home – where he ran a business for 27 years and where he raised his family. He acknowledges that affordable housing is a big issue while, at the same time, recognising that many people have seen their biggest investment (their home) surge in value. He lists the actions taken by the Provincial Government but says more needs to be done. He talks about the problems facing renters.
The NDP's Melissa Williams says an NDP Government will back buy Hydro One and spend $180 billion on infrastructure over the next decade. She moves on to talk about precarious employment. It is a shopping list tailored to be attractive to the traditional left-leaning voter.
On cue, Christine Elliott complains about high taxes and "astronomical" hydro rates. She talks about meeting an Aurora business person who says things are so bad here that she is thinking about moving to the United States. Yep. They don't have any problems down there.
Fiscal Prudence
Elliott's eyes light up as she talks about "fiscal prudence" without a hint of irony. She repeats Ford's promise that there will be a Commission to find out the true state of the Province's finances. During the campaign the incontinent Doug Ford has sprayed billions of dollars of extra spending into every corner of the Province without bothering to explain how he is going to pay for it all.
Ballard says there is good debt and bad debt. We all borrow to buy a house and lots of us borrow to buy a car to get to work. He says the Government is "investing" in the future, spending $190 billion in infrastructure, doing things – citing GO Rail – that should have been done decades ago. Spending to invest and not, I suppose, to splurge.
Get out of our way!
The leader of the Trillium Party, Bob Yaciuk, is the Court Jester, telling us that all our problems would be solved if the Government would just "get out of our way!"
He says this to gales of laughter. He promises to get rid of 30% of regulations and, after pausing for effect, tells us 50% or 60% or even 70% is possible.
Why stop there?
The Newmarket Chamber of Commerce breakfast with the candidates at the Cardinal Golf Club on 24 May will follow a different format. It also excludes Bob Yaciuk who is hopping mad about it all.
Hopefully the candidates will be allowed to debate with each other under the light-touch guidance of a moderator who knows her or his business.
There is another opportunity to hear the candidates in a "Social Issues Forum" hosted by the Holy Cross Lutheran Church from 7pm – 9pm on the 24th.
This email address is being protected from spambots. You need JavaScript enabled to view it.