It is standing room only in the Council Chamber last Thursday (5 April) as a team of people from Metrolinx unveil their plans for the proposed new GO Rail Station at Mulock Drive.
Grade separation has been abandoned. That is a humungous change from the original concept when road and rail on Mulock Drive would be separated.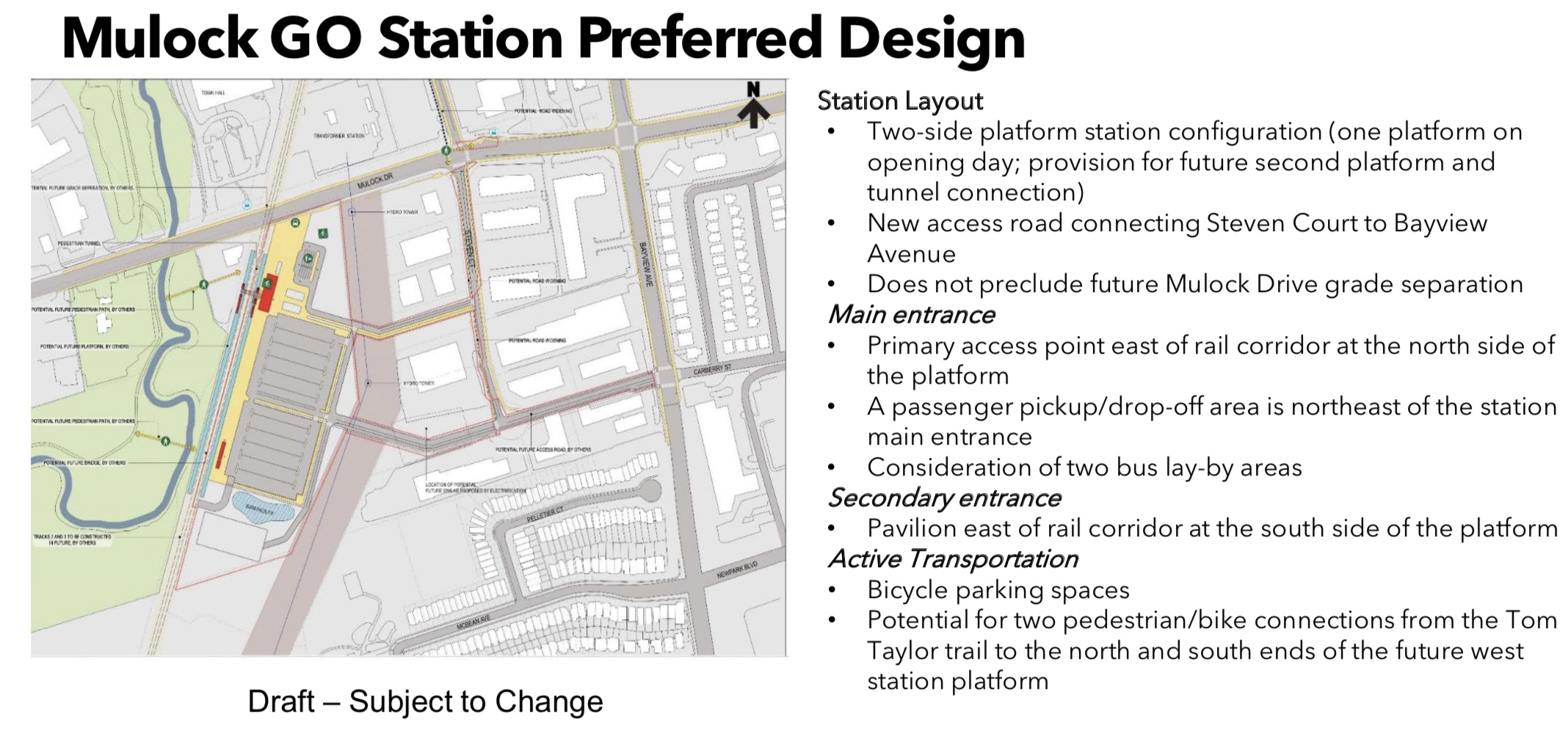 There are also plans for more parking. Up from the original 550 spaces.
The evening starts with the Town's senior planner Adrian Cammaert conversationally setting the scene and introducing the Mayor and councillors to the audience. He gets to Dave Kerwin who is perched at the back of the public gallery, leaning forward on the edge of his seat like an ancient gargoyle. And Adrian blanks!
How is this possible? Kerwin is unforgettable.
Those of us who have been victims of his trademark cloying flattery shout out.
"That's Dave Kerwin!"
It's not about trains. It's about parking.
Now the Metrolinx people are introducing the station plans to the crowd drawn largely from the immediate locality. They broadly divide into two categories. Those who want more parking and those who are concerned about all the traffic at peak times clogging up the roads and infiltrating residential streets looking for short cuts.
The questions come thick and fast. I need a map on my lap to keep up. What about the proposed new access road to Steven Court? What about the business owners who currently park there? The man who is gonna lose his parking is exasperated:
"This whole thing to me is ridiculous!"
Now someone wants to widen Mulock and Bayview to accommodate the increased traffic making for the station's 700 parking spaces.
Now we are on to a question about parking at East Gwillimbury. No-one seems to know how many new parking spaces are being created there. An assertive John Taylor rises to his feet, making sweeping gestures with his outstretched arm, demanding figures by the end of the meeting! Whatever happened to Mr Reasonable? The man who bends over backwards to be accommodating. Is he back on the double espressos?
Now someone is ridiculing walking and cycling as a means to get to the station. (The professionals call walking and cycling "active transportation".)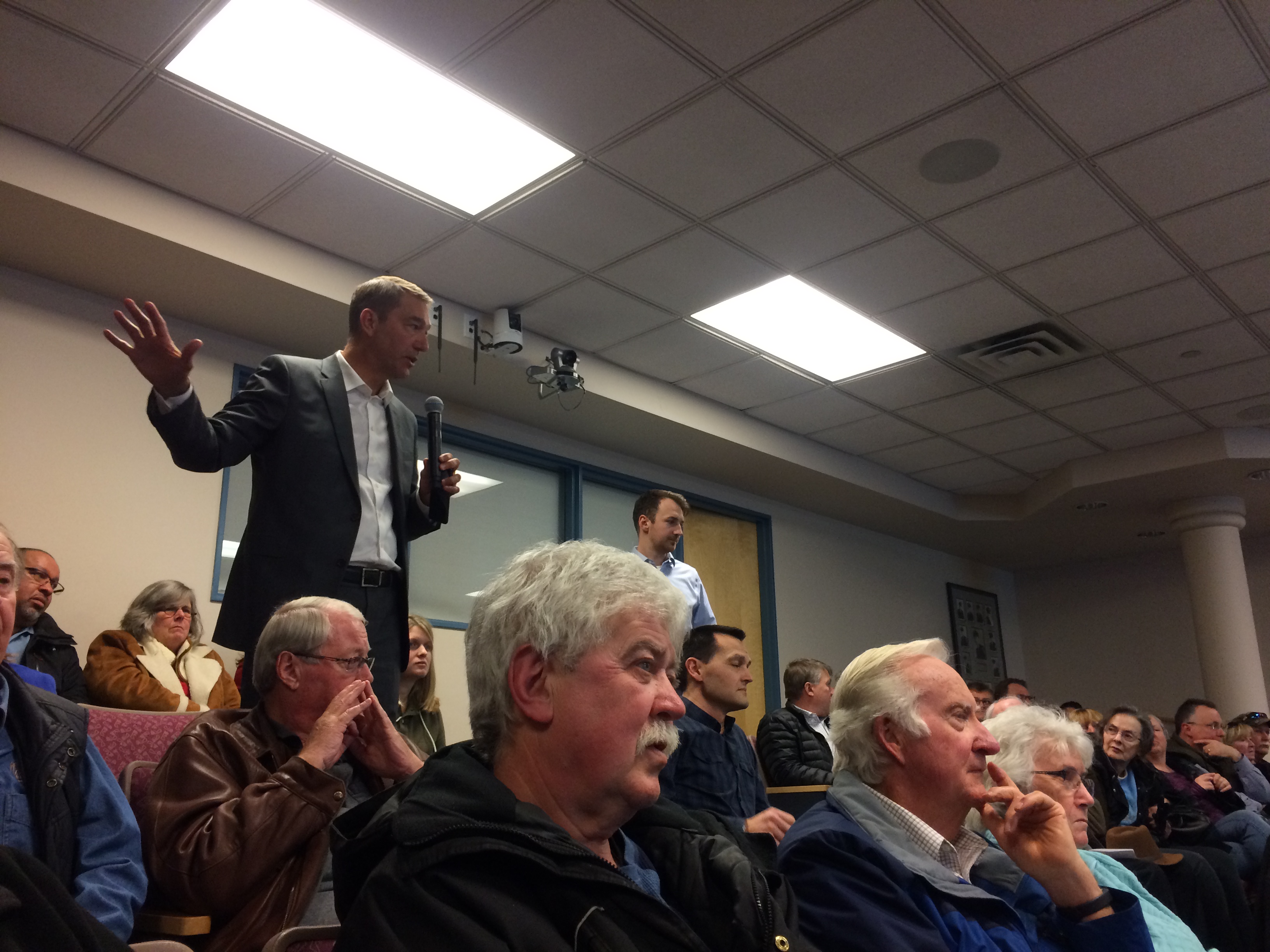 He says
"This is Newmarket!"
and gets gales of laughter.
Soon we are hearing about "sweaty joggers". And suggestions that shuttle buses could take comfortably crisp and dry commuters from parking at the Magna Centre (where there are lots of empty parking spaces during the day) to the new station.
Now we are back to Silken Laumann where people are worried about train whistles. Metrolinx has been asked this question about whistles a million times and the response, endlessly rehearsed, is polished. Federal regulations etc etc. Toronto has gotten rid of whistles but, as a quid pro quo, takes over liability for whatever tragedy may happen as a result of their absence.
The Wind and the Whistles
I learn the prevailing north-west winds carry noise into Silken Laumann. There are calls for a sound barrier but it is not on offer.
The audience throws questions at the Metrolinx people about journey times, double tracking and express trains and much else. We are told the answer is to be found in some other study which is not on the table for discussion this evening or the Metrolinx people present don't know the answer. Traffic management, for example, is a matter for the Town.
Adrian Cammaert, memory back and sharp as a blade, says everything's covered. Traffic studies are part of the new Secondary Plan for Mulock Drive.
Nothing to worry about then.
gordon.prentice@shrinkslessorsquare
Metrolinx calls time on free parking at GO Rail stations.