The Statutory Public Meeting for the "Redwood on Yonge" development on the old Slessor Square site, opposite Upper Canada Mall, will take place at 7pm on Monday 6 November 2017 in the Council Chamber at 395 Mulock Drive.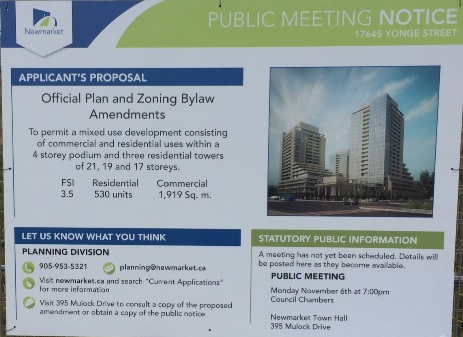 The developers are also holding a second Open House on 26 October 2017 at 6pm in the Seniors' Centre on Davis Drive to brief the public and to let people into their thinking.
The Council gave Slessor Square approval in principle in February 2013 but, even at the time, this was seen by many of us as either insanely optimistic or premature. Or both.
The proposed development will be exclusively rental but the rents will be higher than York Region's affordability threshold of $1,496 per month (in 2016).
The Province's new growth plan will require the Region to work with lower tier municipalities to set targets for both affordable ownership housing and rental housing.

This email address is being protected from spambots. You need JavaScript enabled to view it.
---