Tom Vegh won the 2018 regional council election on the back of barrow-loads of money from people in the development industry.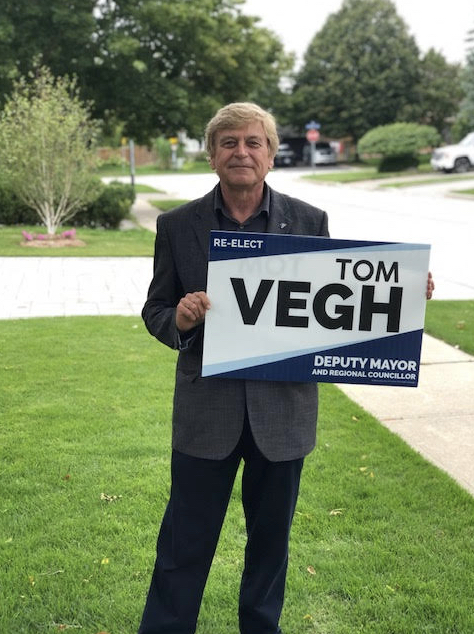 They gave him tens of thousands of dollars.
And he paid them back handsomely by voting for development which will eat up green fields and pave them over.
That's a big deal.
Vegh voted for York Region's flawed Official Plan and Newmarket's Mayor, John Taylor, voted against.
Leadership you can count on
Vegh posts a photo on Facebook holding his new lawn sign.
No mention of his fatuous and misleading 2018 slogan:
Leadership you can count on
Nothing this time about focussing on your priorities.
A new Library and Seniors' Centre
What happened to his signature election promise to deliver a new Library and Seniors' Centre?
In 2018 he told the voters the time for talking was over.
Both promises were abandoned the day after the election. He was unwilling and unable to argue the case with his council colleagues. He folded without even fighting his corner.
In 40 ordinary meetings of York Regional Council in the 2018-2022 term Vegh did not table a single motion in his name, bringing it forward for debate.
Getting Results
He says he has been on the Council for 20 years and has a "demonstrated track record of getting results".
What precisely is he claiming credit for?
One week ago I challenged Vegh to a public debate at Newmarket Public Library with a moderator (or umpire) of his own choosing in the Chair. I gave him three dates, asking him to pick the one that was most convenient for him.
Nothing. Not even the courtesy of a reply.
Just radio silence.
Timid Tom Vegh.
Afraid to debate the issues.
This email address is being protected from spambots. You need JavaScript enabled to view it.
Vegh tells his Facebook readers:
"As a 20-year sitting member on Newmarket Council, I have a solid understanding of your issues and needs, and a demonstrated track record of getting results. I will continue working on your behalf, to build on Newmarket's success and enhance the quality of life in our neighbourhoods. I will ensure we continue to receive value for our tax dollars and that high-quality services are delivered in a professional and cost-efficient manner."

"I was raised in Newmarket and raised my family here. I love Newmarket and the responsibility that comes with planning the future of our great town. I know the job and I am ready to keep working hard for you and with you to ensure Newmarket remains the best place to live, work and raise families."