Details

Written by

Gordon Prentice
The Metrolinx Board has removed the requirement for grade separation at Mulock Drive, home to the proposed new GO Rail Station.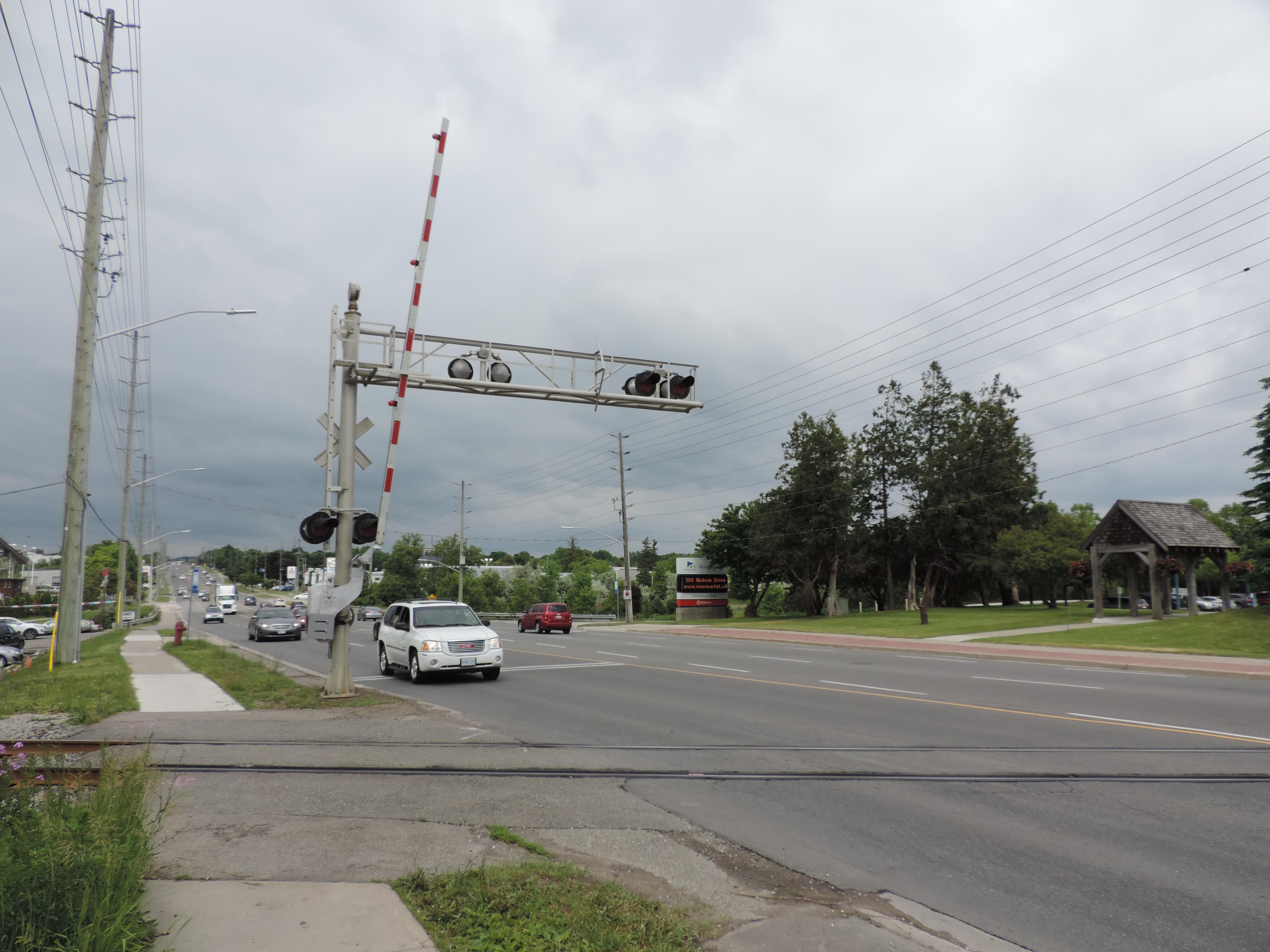 The Preliminary Design Business case, presented today, argued the Mulock Station could go ahead without grade separation – something that was earlier held to be essential to the viability of the new station.
Instead, Mulock will be considered separately as part of a "system-wide rail crossing analysis". I have no idea when this gigantic piece of work is due to report.
To avoid this fate Newmarket will now have 6 months to argue for the reinstatement of grade separation before the Metrolinx Board considers the full (and final) business case for each new station in October 2018. This is the so-called "decision gate" before Regional Express Rail goes to market and procurement begins.
Although the Town debated Mulock Drive and the proposed new station at its Council meeting on Monday (5 March 2018) its position on grade separation was not reported to the Metrolinx Board today (at least not in the public session). I don't know if this was just lethargy or a failure to get their act together in time.
Status Quo Ante
The Town has asked for a meeting with Metrolinx and MPP Chris Ballard so maybe they are pinning all their hopes on that. But, in so doing, they will be asking for today's decision to be reversed and for a return to the status quo ante.
Joshua Engel-Yan who reported to the Board on the methodology of new station selection said there were still unknowns about Mulock. He said he needed more information on land use around the proposed station. Whether he will get anything useful before October 2018 is debatable. The Town has only just gone out to tender for outside consultants to work on the Mulock Drive Secondary Plan.
Urgency
I suspect all is not yet lost though the Town's Director of Planning needs to inject a sense of urgency into things. 
Joshua Engel-Yan told the Board that Aurora is quite constrained for station access. And Board Chair, Rob Prichard, said moving the 15 minute service north to Mulock would change all the statistics.
He was just thinking aloud. Don't take this to mean he is sold on the idea.
The Board also agreed the 2041 Regional Transportation Plan. After lots of mutual back slapping and congratulations on a job well done Chief Planner, Leslie Woo, tells the Board:
"This is a moment in history."
The life of the Plan is 10 years after which it will, no doubt, be reviewed.
This email address is being protected from spambots. You need JavaScript enabled to view it.
The Board agreed:
"That staff continue the delivery of all the 12 new stations identified at the Metrolinx Board Meeting of June 28, 2016 subject to further policy, infrastructure and operating refinements."
The Preliminary Business Case agreed today says of Mulock: 
"The design does not preclude a future grade separation at Mulock Drive, which will be considered separately as part of a system-wide rail crossing analysis."
---
Details

Written by

Gordon Prentice
A report commissioned by the developer Forest Green Homes which recommends the demolition of the oldest house in Newmarket (Bogart House, 1811) is flawed according to ERA Architects, brought in by the Town to give a second opinion.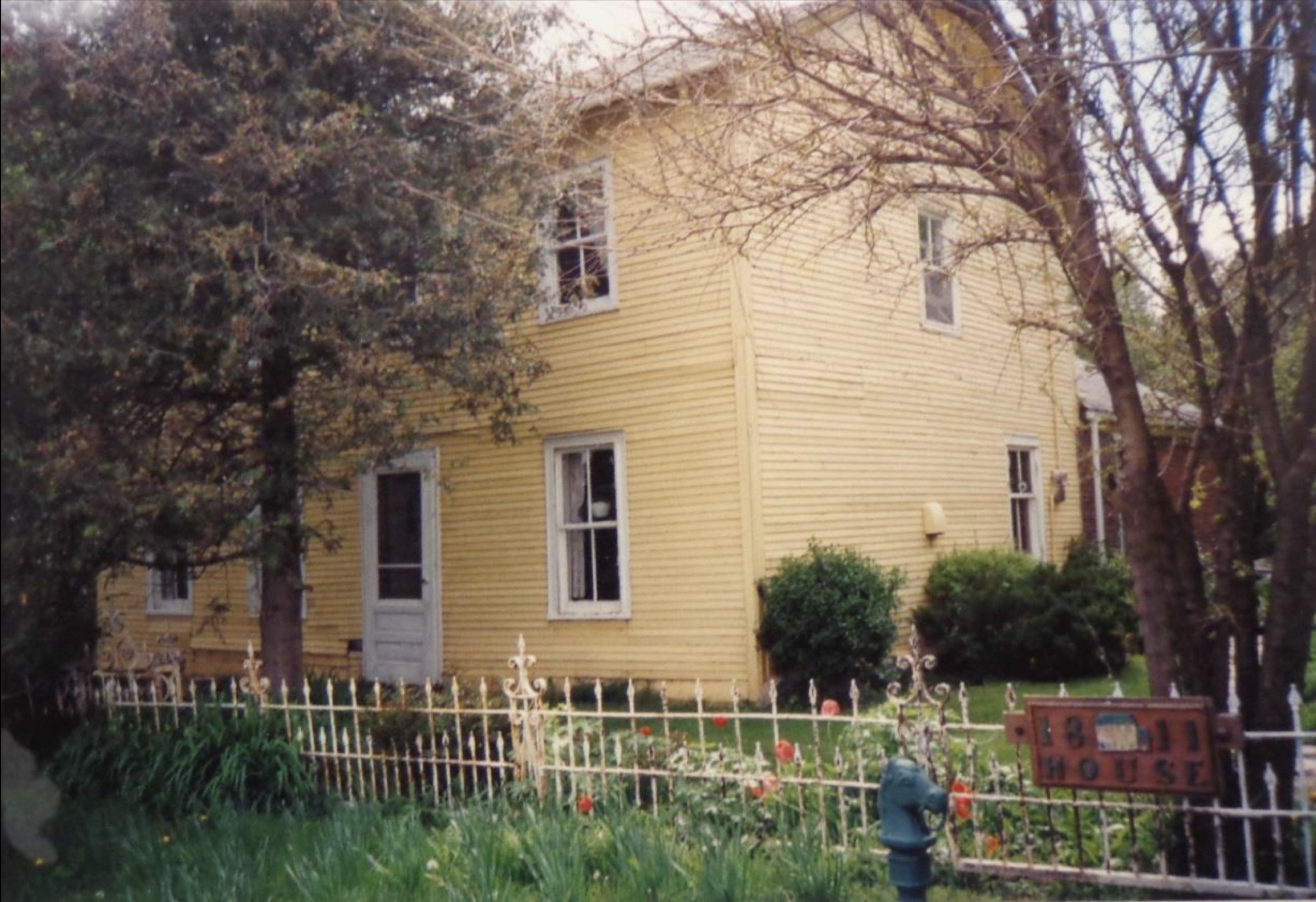 The developer's Heritage Impact Assessment – written by Wayne Morgan – says the old house is beyond saving and should be knocked down and replaced with a memorial plaque.
Morgan served on the Town's Heritage Advisory Committee for twenty years from 1980-2000 and describes himself as a Heritage Planner. Bogart House was designated in 1987 while he served on the Advisory Committee.
In their so-called "peer review" to the Town, ERA Architects say:
"The conservation option recommended by Wayne Morgan relies on two assumptions that are not backed by sufficient evidence in the HIA.
1. That the construction date/age of the Bogart/Johnston House cannot be verified.
2. That the building's condition is past the point of reasonable repair."
ERA say that if the date of construction is confirmed this would make the house both rare for its early full two-storey construction in Ontario and age as one of the oldest surviving houses in Newmarket. They say further investigations are required by a conservation architect.
Internal contradictions
In fact there are many internal contradictions in the Morgan Report. Morgan asserts at various points in his report that the Bogart House does indeed date from 1811 while, at the same time, pointing to the alleged absence of documentary evidence. He says:
"The House is designated because it is an early (1811) structure and a representative example of vernacular architecture. It­ is a rare example of an early structure." (Morgan's underlining for emphasis.)
The great mystery is why Morgan took the developer's shilling and risked his reputation when he was centrally involved in the designation of Bogart House 30 years ago and had intimate knowledge of the property, its history and unique heritage value.
Heritage Committee gets fired up
The issue came before the Town's Heritage Advisory Committee last night and I drop in to hear what they have to say.
The Chair, Athol Hart, is unusually animated making it very clear he wants to see the old house preserved in situ. He tells us it has the same foundation, doors and windows that it had in 1987 when it was designated. The only difference is that it has been allowed to decay into its present condition.
Quite so.
But who was responsible for allowing this to happen?
Dave Ruggle, the Town's senior heritage planner, says the development application from Forest Homes – initially submitted in 2013 – will "not be going further" until the Bogart House issue is resolved.
Trenchant
My own Ward Councillor, Tom Hempen, is trenchant telling us Bogart House is a significant part of our heritage and when Forest Green purchased the land at Leslie Street for development they knew the old house was designated. He is uncompromising:
"Regardless of what the peer reviewer says, the owners need to honour their agreement to preserve the building."
Committee member Malcolm Watts wonders aloud why Wayne Morgan was asked by the developer to do the HIA given he was involved in the original designation. He also questions Morgan's qualifications. He is a heritage planner not a conservation architect. Malcolm says there must be a timeline for work to be done on the old house.
Now everyone is talking about water penetration and the damage that is being done. Tom Hempen wants the Town's By-law people to get in there without delay.
I am nodding in agreement. The Heritage Committee nails its colours to the mast and makes its position absolutely clear. And that's good. We now wait to see the form of the follow up.
But the wider question of how the Town allowed the iconic Bogart House to get into its present lamentable state remains to be answered.
This email address is being protected from spambots. You need JavaScript enabled to view it.
---
Details

Written by

Gordon Prentice
The Metrolinx Board at its meeting next week (Thursday 8 March 2018) is expected to approve plans to abandon grade separation at Mulock Drive, home to the proposed new GO Rail Station.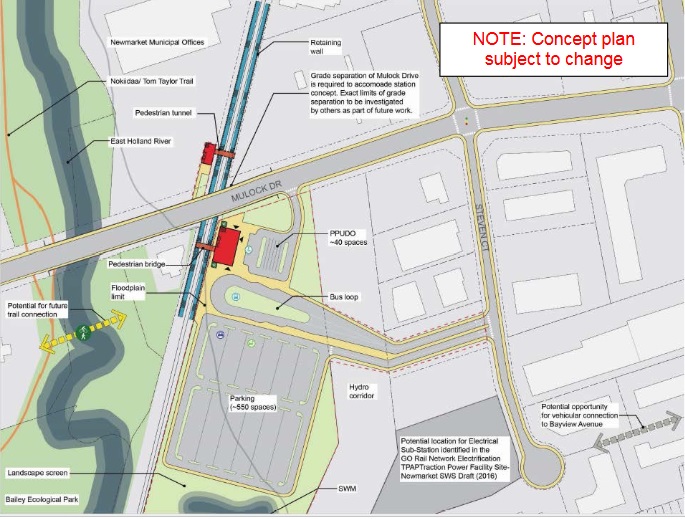 An earlier report in July 2016, setting out the initial business case, stated bluntly
"Mulock not feasible without grade separation."
Now, buried in the background papers for next week's meeting, the New Stations Business Cases Technical Report 9, says:
"The grade separation will not be developed as part of this project, but will not be precluded from future consideration."
The aim is to

"identify a design solution that does not require the grade separation. The design does not preclude a future grade separation at Mulock Drive, which will be considered separately as part of a system-wide rail crossing analysis."
Mulock Drive is, of course, one of the busiest roads in Newmarket and it is truly astonishing that the grade separation which, less than two years ago, was deemed a prerequisite can now be so casually dropped.
The report talks of "deliverability and operational challenges with grade separation":
"The model shows that the performance of Mulock station is impacted by its proximity to Aurora station. Aurora station, which is immediately downstream, is the proposed terminus end point for more frequent electrified service on the Barrie corridor. Significant ridership growth is expected at upstream stations, including Newmarket and East Gwillimbury stations; therefore Mulock station would delay additional riders that travel through the station to points further south.
Travel time savings are expected to be limited for users of Mulock station, since many users would save wait time by driving to Aurora station. Exploration of possible alternate GO Expansion RER service pattern (e.g., extension of 15-minute service further north) is underway and would impact Mulock station's performance. Corridor-level changes are being examined as part of a broader study of the service patterns on the Barrie corridor."
Jam tomorrow
This is yet another example of jam tomorrow. If grade separation is abandoned now then an all-day two-way 15 minute service (mirroring Aurora's) recedes into the distant future.
The report says the revised approach should not preclude grade separation in future but, if so, that surely means safeguarding land now that will be needed later.
Will the new Secondary Plan for Mulock Drive do this? What do Newmarket's planners think about the loss of grade separation? Were they consulted? How did they respond?
Charrette.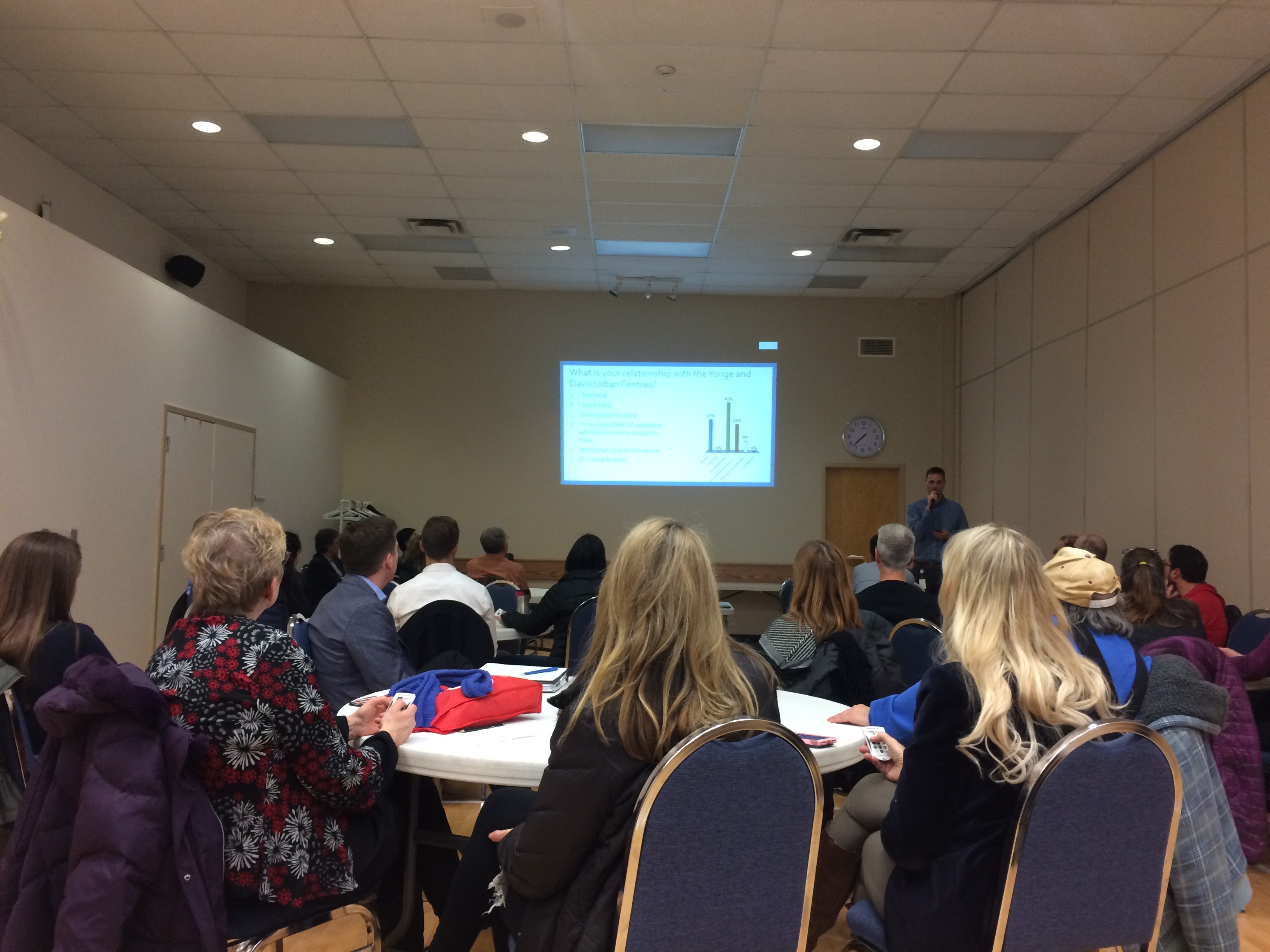 As it happens, last night the Town's planners were hosting a presentation on the new Zoning By Law for the Davis/Yonge corridors. It is billed as a "charrette" which is:
"a public meeting or workshop devoted to a concerted effort to solve a problem or plan the design of something."
I see Jane Twinney and Christina Bisanz. And Tony Van Trappist whose beaming smile disappears when our eyes meet. And then there is jolly Bob Kwapis whose table I join. I ask if he knows what a charrette is. He asks if I am running for Council.
Looking at the signing-in book, I'd say over a third of people here are from the so-called "development industry".
After a short introduction from the Town's senior planner, Adrian Cammaert, we hear from a firm of Consultant Planners, R. E. Millward and Associates, brought in for the purpose, probably at great expense. The Town wants a new Urban Centres Zoning By-law which will have designs and illustrations complementing the text, making it easier for the great unwashed to understand - and to speed up development.
Now Millward's Director, Ian Graham, is painting the big picture.   

Soon we are pressing buttons on hand held devices. We are asked to respond to various propositions put up on the big screen in front of us. This is to be our role in the charrette.
Alas, the survey is complete garbage, allowing for multiple answers where one is required. There are other design failures.
Develop around transit hubs.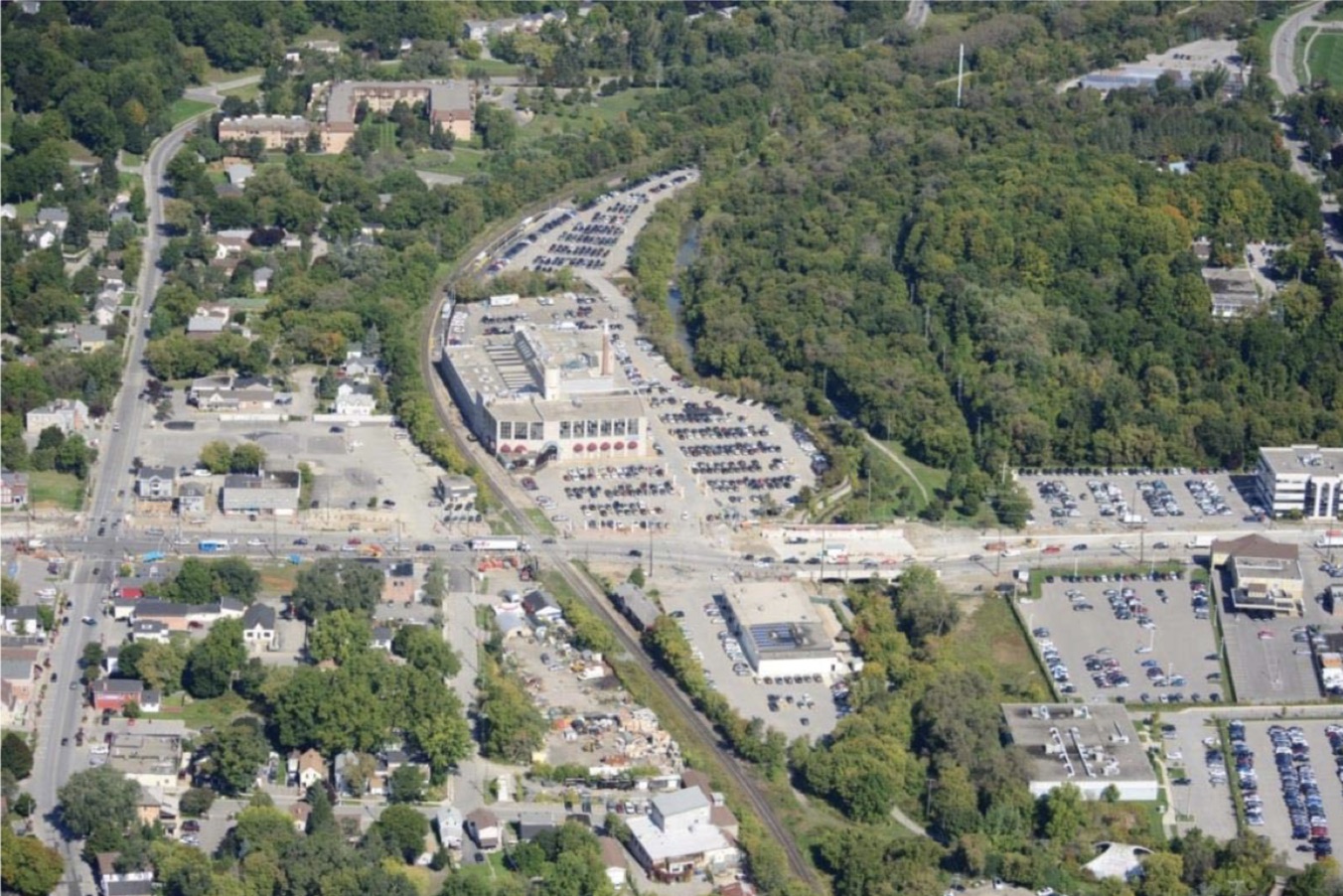 Despite its imperfections I see that over 90% of us agree that the most intensive development should occur around transit hubs. Viva Next. Go Stations and so on.
Yet at the Tannery in Davis Drive there are obvious constraints (see right). The GO Rail station is sitting on a flood plain. And, at some point, there will have to be grade separation to get rid of the Victorian era level crossing with its flashing red lights and clanging bells.
Afterwards I ask Ian about safeguarding land that will be needed. He asks me what the Secondary Plan says. I tell him it is out of date. It was completed before grade separation became an issue. He tells me it is not necessary to identify these lands in the proposed zoning by law. People will know. Won't they?
The penny drops
Ah! The penny drops! Developers won't need colour coding on a zoning by law map to tell them the areas where it would be inadvisable to build. They'll just know!
Ian smiles and says:
"Well, we got there in the end."
The Town's planners are currently working on the new Secondary Plan for Mulock Drive. Perhaps colour coding will show the land needed for future grade separation.
But maybe not.
Developers and the rest of us will just know.
This email address is being protected from spambots. You need JavaScript enabled to view it.
Update on 2 March 2018: Town seeks outside help to prepare the Mulock Drive Secondary Plan. 
On 4 March 2018: Newmarket's Mayor, Tony Van Trappist, tweets:
"Lots of community interest and a good turnout for the Zoning By-Law Public Meeting / Charrette this week. Community feedback is important to initiatives like this. Key to developing plans that shape the way our neighbourhoods will look."
Update on 6 March 2018: Newmarket Council last night debates the grade separation issue and calls for an early meeting with Metrolinx and MPP Chris Ballard. (See video 1hr 10 mins in)
---
Details

Written by

Gordon Prentice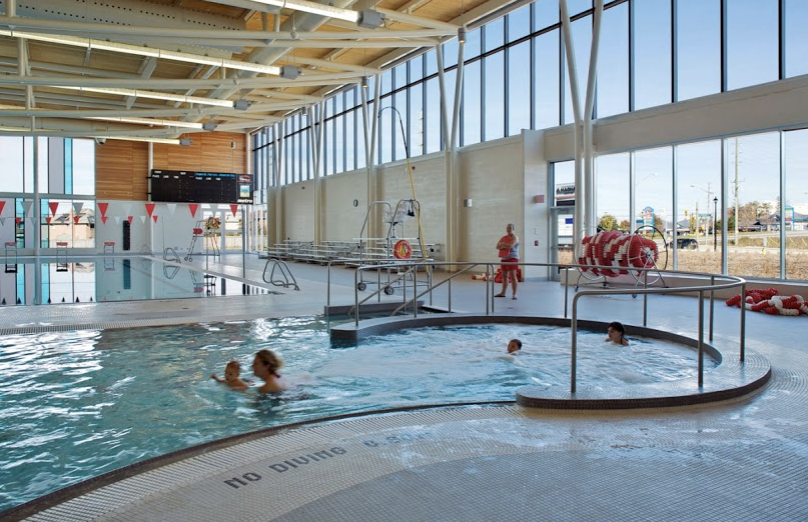 There may be people in Town who believe the 12 acre Mulock Farm should be paved over and developed.
However, I have a different view of the world. I like the idea of keeping the land as public open space in perpetuity with the old Mulock House, its splendid heritage features restored, open to the public.
Indignation and Outrage
I notice there is quite a flurry of activity on Twitter with my old friend, former Newmarket Mayoral candidate Chris Campbell, foaming at the mouth. Not far behind is an indignant and outraged Darryl Wolk who complains he will be 67 when Mulock Farm is paid off. I like to think I get along with them both.
Earlier today (28 February) I ask the Town's Treasurer, Mike Mayes, why the closure on the purchase had been delayed until October 2018. He tells me the date would have been part of the negotiations to purchase the property and this would be confidential. Hmmm.
It seems to me that Mulock Farm could become a red hot issue in the forthcoming municipal elections and I welcome that. After all, politics is for a purpose. Let's get the issues and the arguments out in the open and let the voters form a view on the kind of Town they want to live in. That didn't happen with Glenway where a secret decision was taken by Council in closed session in 2008 precluding the purchase of the Glenway lands. In my view, that was a huge mistake. We don't want history to repeat itself.
Borrow to invest - we all do it
Back to Mulock Farm… the Town regularly borrows money to finance major purchases. Other towns do it. Cities do it. Provinces do it. And Governments do it. As private individuals, we all do it.
I ask the Treasurer about the Magna Centre (see image right) which he mentioned in passing at Monday's Committee of the Whole. He says it will be paid off in 2024. He tells me:
"There are three relevant 20 year debentures:
Stickwood/Walker property with annual payments of $1,040,000 which will be fully repaid in 2024.  
Magna Centre Phase 1 with annual payments of $976,000 which will be fully repaid in 2024 and
Magna Centre Phase 2 with annual repayments of $1,125,000 which will be fully repaid in 2026."
In a few years there will be extra cash to play with as these payments reach the end of the term.  

I know people at NTAG (the Newmarket Taxpayers Advocacy Group) have issues with the Stickwood/Walker property but that was before my time and I don't know all the details. We shall hear more from them and, for me at least, that's OK.
Impact on taxpayers
I ask about the impact of the Mulock purchase on taxpayers:  
The $47 a year is the average payment. Can you show the range of payments in deciles? That is, the 10% who pay the most property tax would pay "x" and the 10% who pay the least would pay "y".
I am told:
"To clarify, the $47 is the amount applicable to the average residential property. Keeping in mind that this is a 2.6% tax increase which applies to all properties and not just residential, the lowest impact would be $0 (ie for a property that is tax exempt) and the highest would be $180,000 for the property that pays the highest taxes.
Calculating the deciles is not feasible at this time."
Clearly someone has to pay for Mulock Farm and, as a general rule of thumb, people with more money will pay more. (Of course, there are people of modest means living in properties that carry a big tax bill.) 
Most people do not like paying taxes but, given they are necessary, they should at least be transparent and fair between income groups.
Tax is not a four letter word.
This email address is being protected from spambots. You need JavaScript enabled to view it. 
Update on 1 March 2018: The Town has released further information on the financing of Mulock Farm. You can read the details here.
---
Details

Written by

Gordon Prentice
I support the Town's acquisition of the historic home once owned and occupied by Sir William Mulock – a larger than life figure whose name still resonates.  

In one sense, the Town's decision to buy the house and the 12 acres of open space around it comes as no surprise. Marion Plaunt, the Town's former Senior Planner responsible for developing the Urban Centres Secondary Plan, earmarked it for public open space years ago. 

The concept plans published in October 2012 (right) clearly show the Mulock property as a neighbourhood park.
I recall the focus group meetings in April – June 2012 when the public was asked to help shape the Secondary Plan for the Yonge/Davis corridors. The report told us
 "…residents felt that the existing heritage site (Mulock House property) should remain or become an enhanced green space (public garden, arboretum, adaptive reuse of heritage site to a conference centre)"
We heard young people say they wanted to see Mulock Farm become a park. (They also wanted Glenway to stay as open space but that is another story and I don't want to drift off-point.).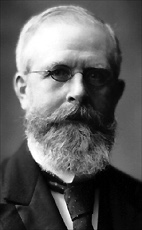 Mulock Estate wanted development not parkland 
The Mulock Estate resisted plans to designate the Mulock lands on the North West corner of Yonge and Mulock for parkland and challenged the Secondary Plan at the OMB. They wanted the land to be available for development, presumably on the grounds that it would be worth a lot more than the $24m they are getting from the Town. 

The details of the purchase (which will close in October 2018) are set out in the Supplementary Budget on page 247 of yesterday's Committee of the Whole.
Members also heard from Adrian Cammaert, the resourceful senior planner responsible for arguing the case at the OMB and for getting the project to where it is now. You can see an aerial video of how the property and the landscape might look in future.
We are promised lots of public consultation with the first open house today from 4-8pm at 395 Mulock Drive.
Taylor's Restaurant
Regional Councillor John Taylor thinks the renovated Mulock House can perhaps be used – at least in the short term – as a restaurant. (No doubt a bit like Cachet which is owned by the Town and leased.) But there will be a thousand other ideas coming forward.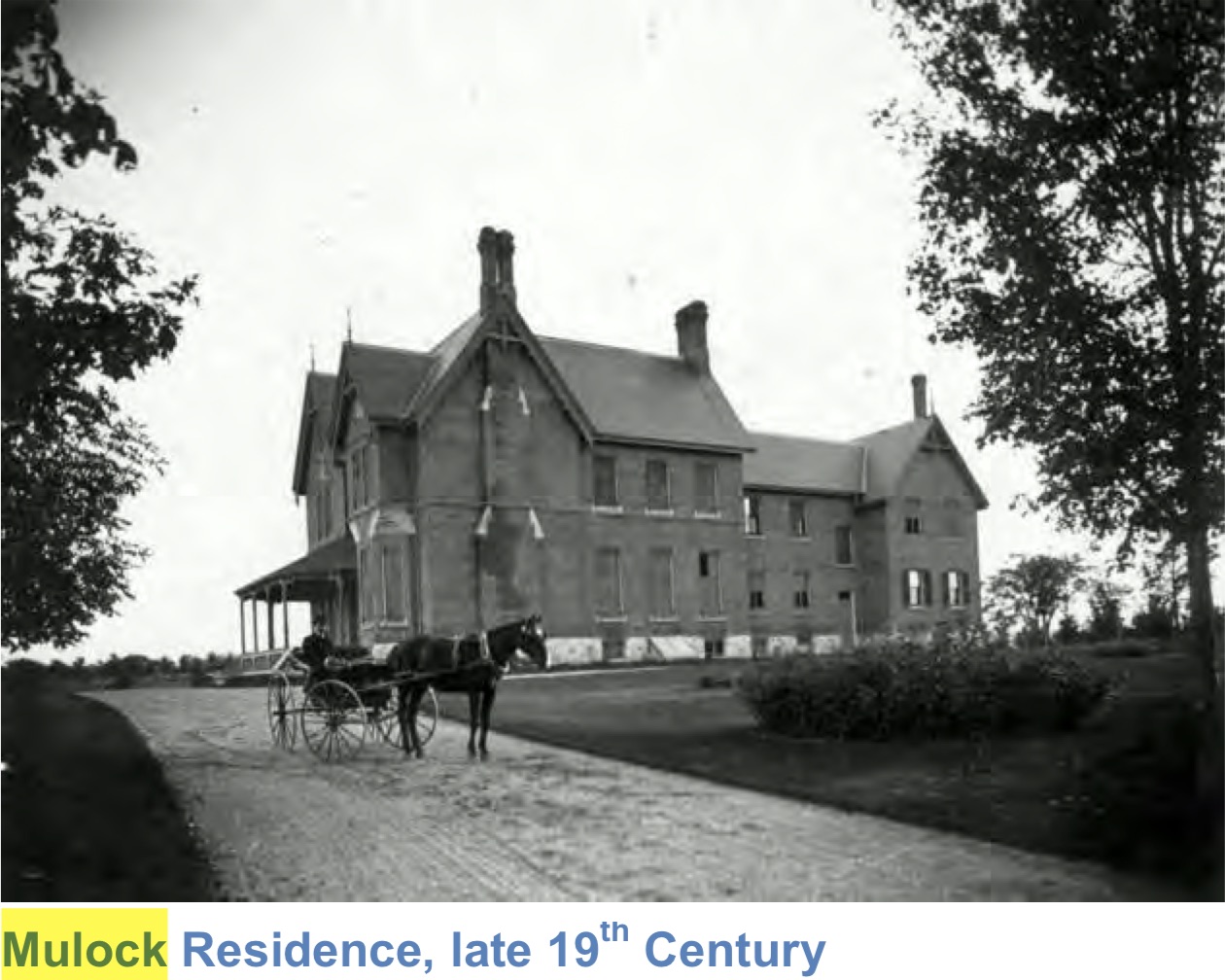 The cost to the Town is around $24m (with taxes and related costs extra) which will be borrowed and paid off over 30 years. Just like a standard mortgage. We were told yesterday the interest costs are close to $30m but the Town's Treasurer, Mike Mayes, has corrected this figure and tells me the borrowing costs are closer to $18m.  

This amounts to an annual fixed $47 additional tax for the average Newmarket household for 30 years.
The $47 will not rise with inflation and will therefore erode over time. (I found the Town's earlier press release a bit confusing in that it seemed to suggest the cost to the taxpayer could be a "one-time $50 per household tax increase". Not so.)
The Town's decision to buy was unanimous. Even the departing old banker, Tony Van Trappist, considers it a good investment.
And who am I to disagree with him?
This email address is being protected from spambots. You need JavaScript enabled to view it.
Update at 11pm: People in NTAG (the Newmarket Taxpayers Advocacy Group) tell me the Town's Treasurer has confirmed the $47 per average household is for illustrative proposes: it is a 2.6% tax increase. Some residential properties may pay more than $47, some less. Businesses, commercial and industrial properties, will also pay, and they pay at a higher tax rate. (Main text updated to make this clear).
---
Subcategories