Details

Written by

Gordon Prentice
The lack of affordable housing in Newmarket and elsewhere in York Region is a big issue that is not going to disappear any time soon.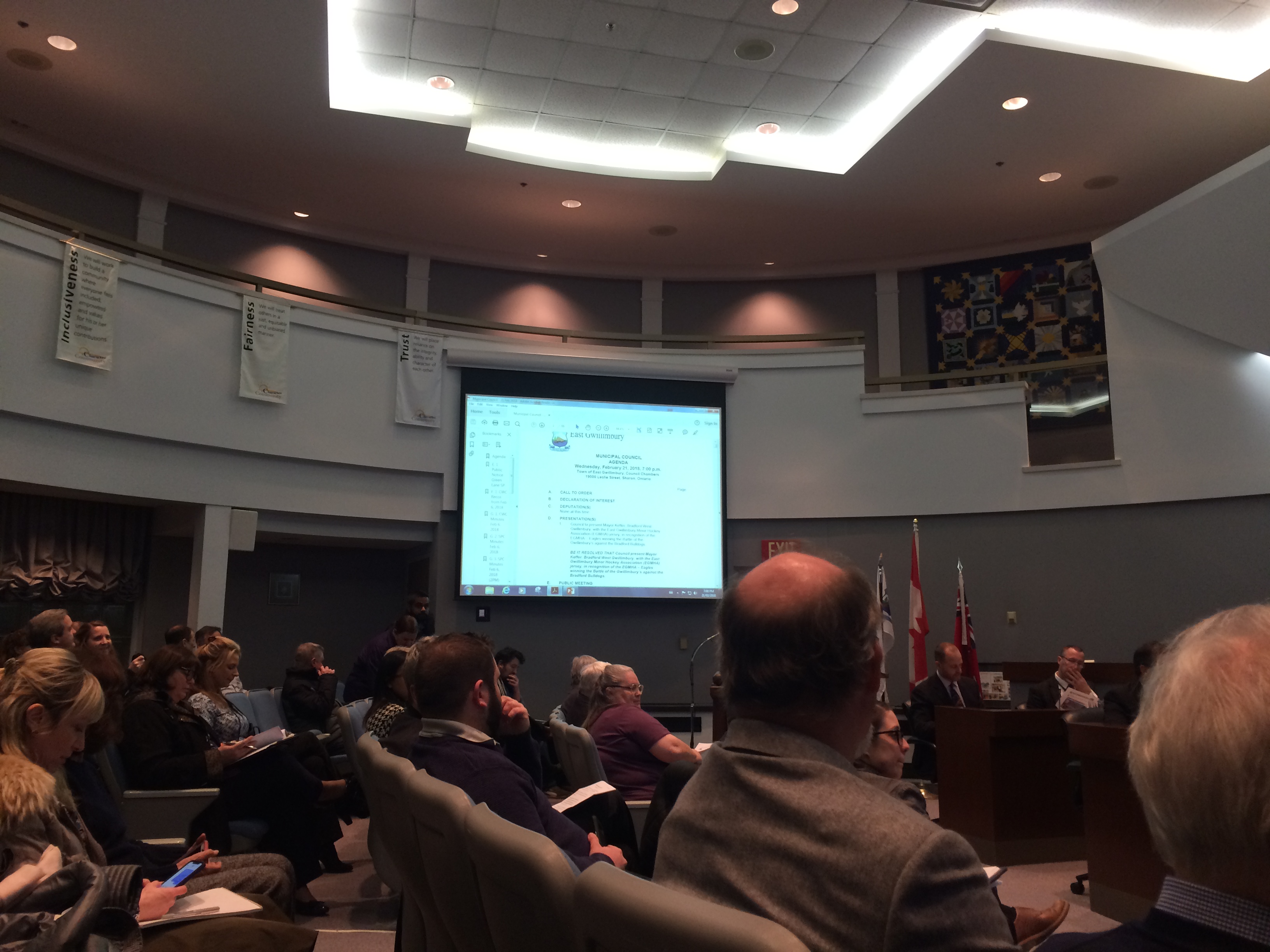 Newmarket's planners say the 35% affordable target set by the Region for the Yonge/Davis corridors ­cannot be specified or mandated for individual developments but should apply across the whole urban centre area. This means that developers such as Redwood Properties (who want to build on the old Slessor Square site but with no affordable housing component) place huge pressure on later developments to increase the amount of affordable housing they offer.
Next door in East Gwillimbury they are trying a different approach. Their draft Secondary Plan for Green Lane says: 
"A minimum of 35% of the units developed in the Green Lane and 2nd Concession Major Local Centre will meet the definition of affordable. The 35% affordability criteria shall be applied on a per property basis, except where multiple properties are being considered for development concurrently."  (My underlining).
The Major Local Centre referred to above is the area around the East Gwillimbury GO Rail Station.
I am not entirely sure what is meant by the reference to "multiple properties" and "concurrent development". I rely on ordinary English usage but developers and their planning consultants have their own lexicon so it may mean the opposite of what I think it means.
Anyway… East Gwillimbury's draft Secondary Plan for Green Lane was up for discussion last Wednesday (21 February 2018) and I wander along to hear what they have to say. For people like me who live in the north of Newmarket what happens in Green Lane arguably matters as much if not more than what happens with the Mulock Drive Secondary Plan in the Town's south.
Lois Brown is back but what does she think?
The Council Chamber is packed. In front of me sit Newmarket councillors, Jane Twinney and Tom Vegh. Former PC MP Lois Brown sashays into the meeting as it is about to begin, smiling broadly. She wants her old job back.
Maybe she will say something? I've seen her at various events but she always seems strangely quiet, rarely offering a view but contenting herself with platitudes.
Before the meeting proper gets under way, the Mayor, Virginia Hackson, points to a colossal 50lb bag of carrots that someone has donated and will be going to a food bank. Now a councillor steps forward, announcing proudly:
"We grow more carrots in my ward than the rest of Canada!"
I am now reflecting on this and conclude it is indeed a mighty achievement.
Anyway… East Gwillimbury's Planning consultants kick off with a presentation on the thinking behind the Secondary Plan and how it has evolved. Tom Vegh stands up and takes photos of various slides.
The Developers grab the microphone
In the Q&A session the developers and a lawyer elbow their way to the front of the (admittedly modest) queue to make their partisan points while stressing they will be working closely with the Town to get the kind of plan everyone is happy with. Although the Mayor handles things confidently and repeatedly invites the public to come to the microphone, there seems to be reluctance. Only a handful take up the offer. Maybe people were involved in the earlier workshops and are broadly satisfied. Even so, what about the loose ends?
Perhaps a professional facilitator could have made a difference in encouraging people to step forward. The presentation could have focussed on aspects of the draft plan that gave the planners most difficulty. What about the affordability issue? What about the possibility of Green Lane grade separation? Roads affect land use patterns. How realistic are the population projections for the Secondary Plan area in 2031 given the problems in getting the North York Sewage Solutions plant and infrastructure up and running?
Is the Town's population really expected to quadruple by 2031?
This email address is being protected from spambots. You need JavaScript enabled to view it.
---
Details

Written by

Gordon Prentice
The Toronto Star has welcomed Patrick Brown into the PC leadership contest. The paper says keeping him out would do more harm than good.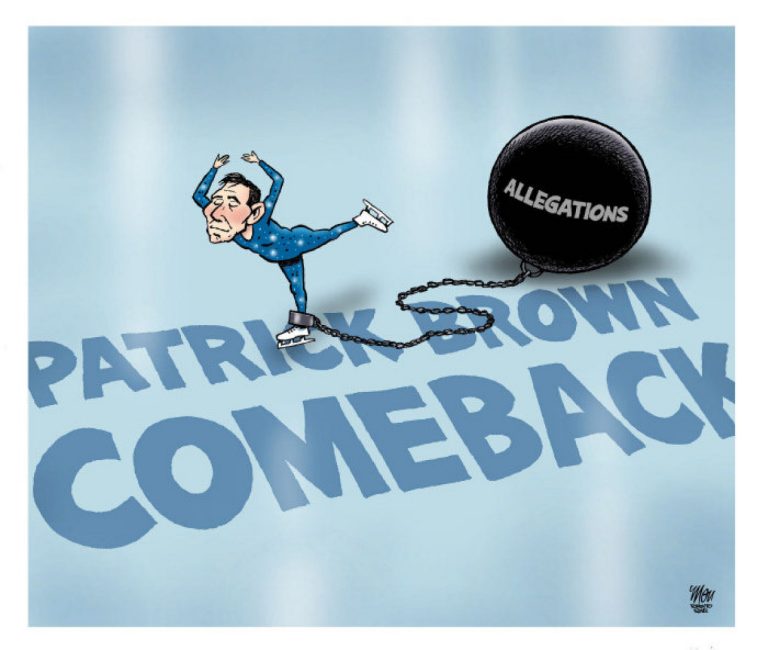 The Liberals and the NDP are mostly keeping their powder dry and with good reason. Their time will come after 10 March when PC "members" elect their new leader. If Brown wins he will be blown clean out of the water.
For the moment, the PCs themselves are doing huge irreparable damage to the brand. What is said today cannot be unsaid tomorrow. It is in the can. 
Dirty and crooked
Progressive Conservative MPP Randy Hillier, who is taking the former leader to the Province's Integrity Commissioner, says Brown is engaged in "dirty and crooked politics". Brown now accuses Hillier of smearing him with "imaginary gifts and make-believe transactions". 
The interim leader, Vic Fedeli, sees rot in the Party, laying the blame full-square at Brown's door. Fedeli had no confidence in Brown as a PC candidate in the June 7 election – never mind Party leader. 
Political commentators are dismissive of Brown. In today's Toronto Star Martin Regg Cohn brands Brown a "man-child". I think this barb will stick. 
Brown's closest staff desert him
In the miasma of half-truths, outright lies and deceit which envelops Brown one thing is crystal clear. He was unable to persuade his own staff - those closest to him – to stand by him. That speaks volumes.
In his letter to the Integrity Commissioner today, Brown says, so far as his finances are concerned, he has nothing to hide. 
"When I purchased my home, like many Ontarians, I had to come up with a down payment. I received an offer to purchase my ownership interest in a local restaurant, and initially considered accepting it. An affidavit was prepared outlining the proposed transaction. However, a few days later I decided not to proceed with the transaction, as I was simply not ready to give up my shares in the restaurant. The transaction never happened, and a further affidavit was sworn in 2016 to confirm the change in writing…". 
The Globe and Mail reported that an affidavit was shown to the paper in which Jass Johal, a Brampton para-legal who went on to become a PC candidate, agreed to purchase Brown's stake in the restaurant and a fistful of Aeroplan miles for $375,000. It was dated June 11, 2016. 
$375,000 deposited - but where did the money come from?
On the very same day Brown deposited $375,000 into his account at the CIBC. 
After the Globe and Mail published the story, Brown produced another affidavit dated 16 June, 2016 which he claims "proved" there was no deal and no exchange of money. 
Both affidavits were notarised by Satinder Johal, a lawyer, who just happens to be Jass Johal's daughter. 
Brown says his take home pay was $120,000 and $90,000 went on his mortgage leaving him $30,000 for everything else, including the monster property taxes. Brown maintains he got help from his family to buy his $2.3m house on the shores of Lake Simcoe. 
No. I don't believe it either.
This email address is being protected from spambots. You need JavaScript enabled to view it.
Update at 8.55pm: watchdog asks for more information on financing of lakeside property.
---
Details

Written by

Gordon Prentice
The Ontario PC's Provincial Nominations Committee is to meet tonight (Friday 9 February 2018) to review "certain disputed candidate nomination contests" according to reports this afternoon from the Canadian Press.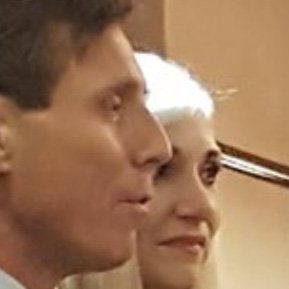 Charity McGrath is the PC candidate for my own riding of Newmarket-Aurora so I like to follow what is going on.
The Canadian Press has learned the party's Provincial Nominations Committee will meet tonight to examine the allegations and could overturn the results of the contests or maintain the status quo.
Tory candidates in three ridings where nominations have been disputed — Scarborough Centre, Ottawa West-Nepean, and Newmarket Aurora — have released a statement asking for the party's review to be halted.
Thenusha Parani, Karma Macgregor and Charity McGrath say the allegations are based on "rumours and innuendos."
I haven't been able to track down a copy of the elusive statement yet. But maybe the reference to "rumours and innuendos" is the totality of it.
According to the Party rule-book, the voting members of the Provincial Nominations Committee (PNC) comprise:
the Party President (Jag Badwal) as Chair;

 

two members designated by the Party President, who shall serve as Vice-Chairs;

two members designated by the Leader;

the Campaign Chair; and

the Executive Director of the Party.
Clearly, if the Interim Leader, Vic Fedeli, wants to have a second look at the way in which Charity McGrath "won" the nomination in Newmarket-Aurora he has the votes on the PNC to do it.
You simply can't have candidates running for elected office who secure their Party nomination by cheating.
No. Not allowed. Ever.
This email address is being protected from spambots. You need JavaScript enabled to view it.
Key dates on PC Leadership vote:
February 15th – Leadership Debate

February 16th – Membership cut-off

February 20th (approximately) – Unique verification number mailed to Ontario PC members

March 2nd – March 8th – Voting period

March 10th – Leadership Convention
---
Update at 22.20 on Friday 9 February 2018: Charity McGrath confirmed as the official PC candidate in Newmarket-Aurora. She's good to go say PC chiefs.
The Globe and Mail (Saturday 10 September) reports: 
'Ms. McGrath declined to comment when reached by The Globe, saying, "enough is enough." She also said she did not authorize the release of a joint statement, which includes her name. The statement, released Friday afternoon, said the review launched by Mr. Fedeli is based on "rumours and innuendo" and should be halted."
Charity McGrath now denies authorising the release of this statement:
"We have learned today that there are actions being taken against a number of candidates by certain individuals based on rumours and innuendos. 
What's more, we have not been asked for or provided an opportunity to provide our perspective. Yet, sadly, today, we find more women are being targeted unfairly.
We call on the leadership candidates Caroline Mulroney, Christine Elliot and Doug Ford, and interim leader Vic Fedeli, to put an end to this, so we can move forward collectively and focus on defeating the...Liberals in June as a team."
---
Details

Written by

Gordon Prentice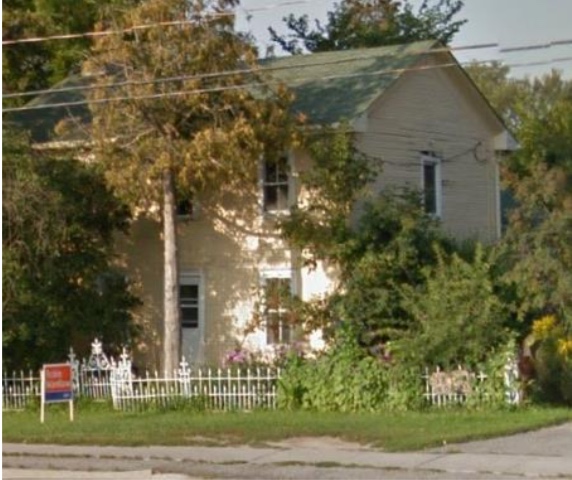 I've asked the Town to clarify the meaning of the word "removal".  

Sometimes I am not quite as au fait with Canadian English as I should be.
An Information Report posted on the Town's website last week tells us we could see the "removal" of the oldest house in Newmarket from the site on which it has stood for the past 206 years.
Does "removal" in this context mean re-location or demolition?
For years, the old house had been allowed to gently rot away (see below right) but, more recently, we were encouraged by talk of restoration.
Information Report 2018/9 now updates councillors on the progress of the planning application by Forest Green to redevelop the old cemetery lands at 16920 and 16860 Leslie Street. The proposed development has been in the works for years, morphing along the way. We are told:
"The current proposal includes 321 Townhouse dwellings on both public and private roads, parkland, stormwater management pond, protected forested area and various buffers and walkways.
"Some major changes to the current plan from previous submissions are the removal of the proposed 4 storey apartments, enlargement and relocation of the public parkland including a visual and physical link to the woodlot, enlargement of the stormwater facility and the removal of the Historic Bogart House proposed to be replaced with a memorial along Leslie Street." (My underlining.)
We read the developer is proposing "major changes".
Demolition can safely be viewed as a major change.
On the other hand, relocation, flagged up years ago, would not necessarily fall into the same category.
Now, ominously, I read that the historic Bogart House is proposed to be replaced with a "memorial". Hmmm. Don't like the sound of that at all. It's a bit final.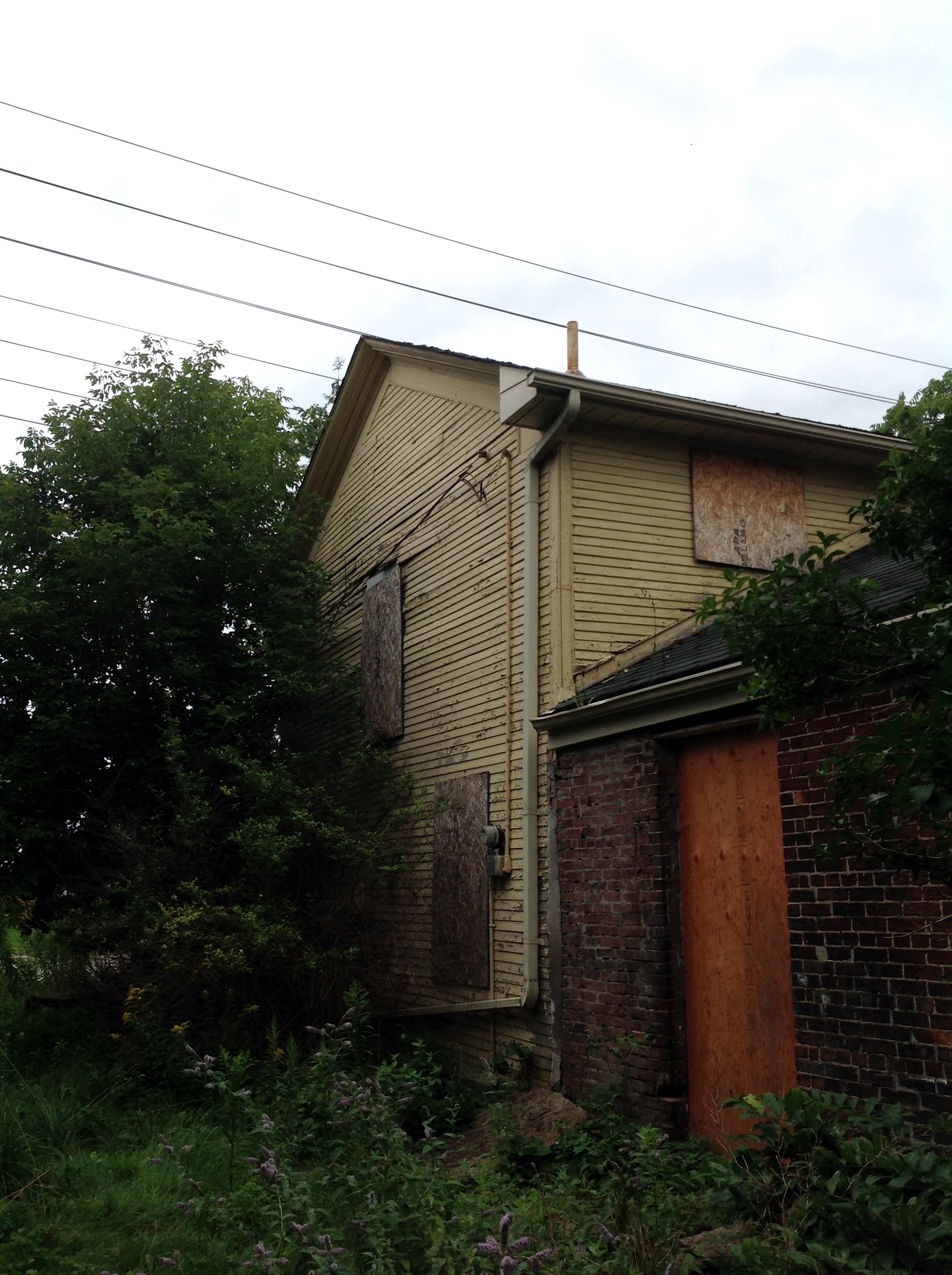 In August 2015 councillors were told this historic home would be preserved and restored and physically moved "southerly to the corner of Leslie Street and Bogart Mill Trail".
John Bogart House
Constructed in 1811 for John Bogart, a Quaker pioneer from Pennsylvania who operated a saw mill and grist mill on the creek near the house. One of the earliest dwellings extant in the Newmarket area and is an example of the second dwelling constructed by pioneers having been preceded by a log structure. Two-storey frame dwelling, clad in narrow clapboard, which rests on a stone rubble foundation. Simple vernacular dwelling constructed only nine years after the area was settled, is one of the few reminders that Bogarttown was a significant centre in the early nineteenth century. The John Bogart House is designated under the Ontario Heritage Act by By-law 1987-40.
It is the intent of the developer to preserve and restore this important heritage home and retain as residential dwelling accessed from a road internal to the plan. The house would be moved southerly to the corner of Leslie Street and Bogart Mill Trail.
So, is the old house to be moved or removed?
Is there a difference in meaning? Or am I being ridiculously pedantic?
Is the developer seriously proposing to demolish an historic house dating from 1811 – one of the first two storey residential buildings constructed north of Toronto.
If so...
Words fail me.
This email address is being protected from spambots. You need JavaScript enabled to view it.
Note: Demolition of a designated building requires the approval of the Council.
Update at 9.30am on 7 February 2018. The Town has confirmed the developer wants to demolish the Bogart House. The Town will be posting further details on its website later today.
Update on 11 February 2018: In 2016 a 200 year old brick house was demolished in Whitchurch Stouffville - a few miles from Bogart House - on the grounds it was unsafe.
---
Details

Written by

Gordon Prentice
Tomorrow (5 February) Newmarket councillors will agree the process for engaging an outside consultant to craft a secondary plan for the area around the proposed new GO Rail station at Mulock Drive. The Town has allocated $250,000 for this work in its 2018 Budget.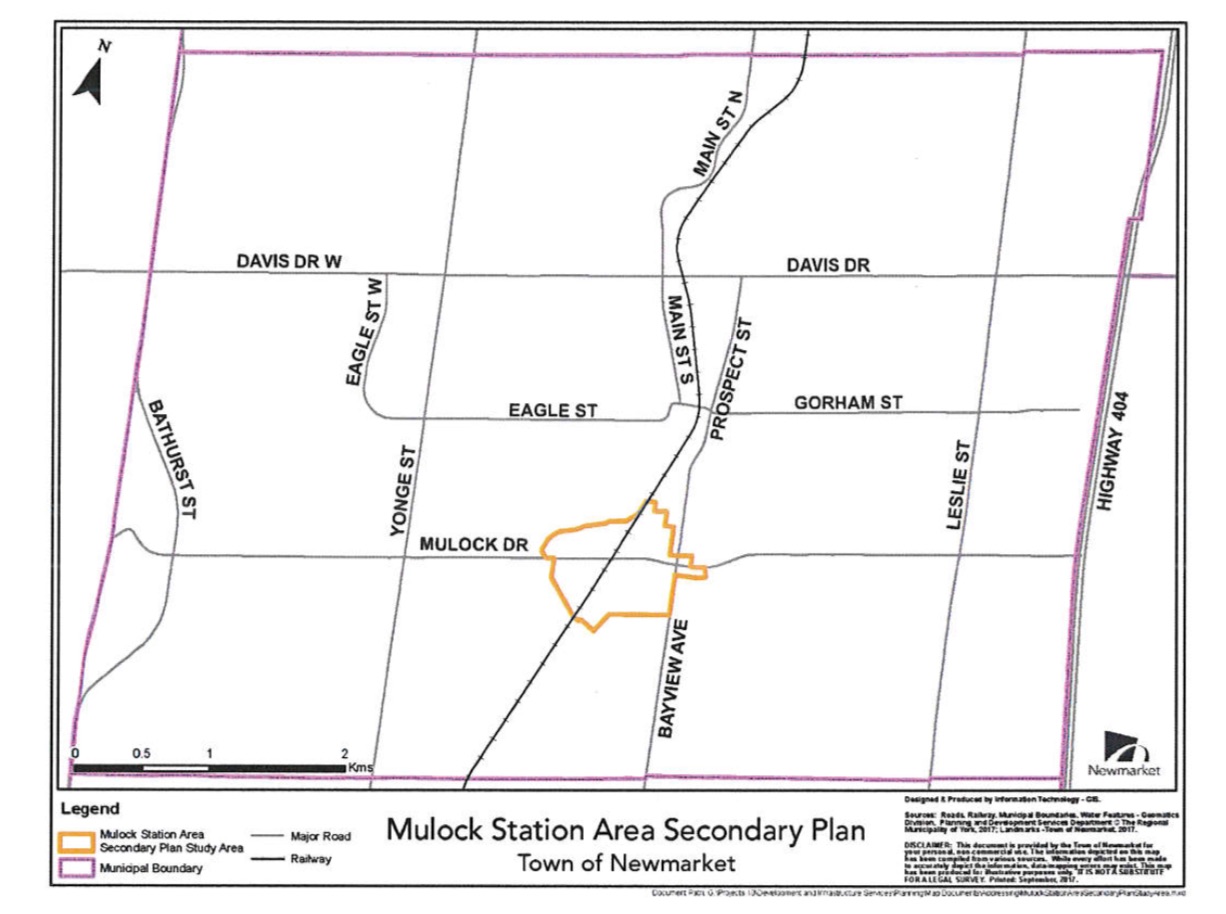 We are told Metrolinx has prepared a draft Concept Plan for the station site which
"will be available for public review in early 2018"
Unfortunately, it will show a single rail track running through the proposed station. Twin tracking stops at Aurora.
I presume that when the consultant unveils his/her "Draft Secondary Plan Concept Plan" to Councillors in February 2019 - with recommendations on future road networks, and long-term land uses, parking and transit integration - it too will assume a single lonely rail track meandering northwards through the Town.
Sticking with a single track is a terrible missed opportunity.
Last November at the Metrolinx consultation on its Draft 2041 Regional Transportation Plan at Doug Duncan Drive, the Town's Mayor, Tony Van Trappist, stunned me by suggesting to our little table that he believed twin tracking should be extended northwards from Aurora to Mulock.
Of course, this was said sotto voce as if he didn't really quite mean what he was saying. He never says anything with gusto.
There was a senior Metrolinx person at our table who plainly understood what was being said but Van Trappist's words never made it back to the Metrolinx Board when it was being briefed on the results of the consultation. It was as if Van Trappist's words didn't really matter.
Many municipalities follow up these consultation meetings with detailed comments of their own. Newmarket is not on the list. York Region sends in its views but I don't see anything supporting the extension of twin tracking to Mulock. Maybe because no-one from Newmarket asked them to. I don't know.
If Van Trappist really believed in twin tracking to Mulock he should have been shouting it from the rooftops, not whispering his views behind cupped hands.
Elsewhere, the December Metrolinx Board is being told by its staff that:
"The Newmarket Mobility Hub study is reaching conclusion, following a second public meeting in September 2017, and ongoing collaboration with the Town of Newmarket and York Region. Recommendations include station improvements and public realm enhancements, including pedestrian and cyclist circulation, formal pick-up and drop-off facilities, and establishing a greater visual station presence."
Well, fancy that.
The concept plans for the Tannery show two tracks. But there is nothing in the Draft 2041 Regional Transportation Plan that commits to two tracks before 2041. Another example of artistic license.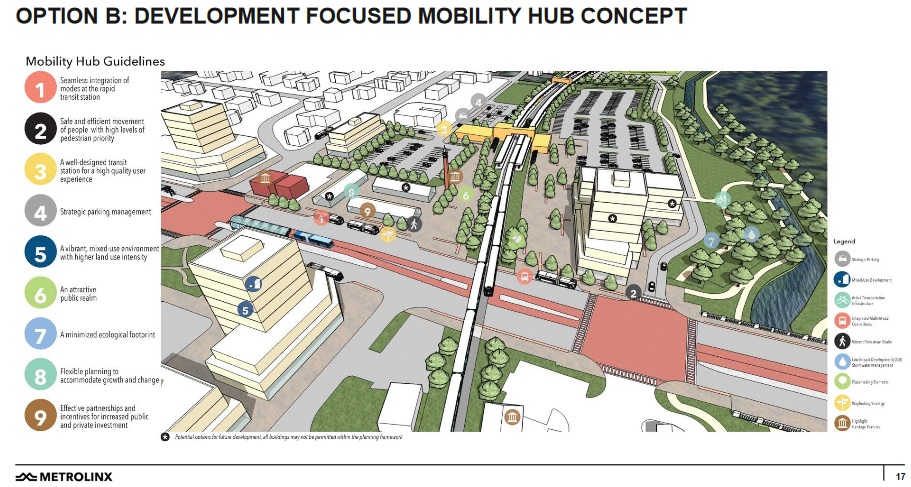 Back on 16 October 2017 Councillors decided they wanted a report on the key unresolved issues of grade separation and transit integration at the GO Rail Station at the Tannery. They are absolutely right to insist on this. The report is supposed to be in their laps by the end of March 2018.
Councillors want Metrolinx to: 
"thoroughly examine all grade separation options for implementation over the medium and long-term, including road over/under rail and rail over/under road scenarios."
The lunacy of having a level crossing cutting across a bus "Rapidway" is self-evident.
They also want the Tannery Mobility Hub Study to address:
"the future Viva usage, GO Bus usage and York Region Transit usage of the existing bus facility on Eagle Street given the transit improvements that are envisioned, including additional GO Train service, the new Mulock Station and the Yonge Street Viva Rapidway."
Van Trappist will go through the motions, nodding through a $250,000 spend on consultants to work on the Mulock GO Station Secondary Plan but he has no real interest in the outcome. There is no evidence that he has ever been seriously engaged with this major policy issue.
The rest of the Council is absolutely right to press for answers to questions which Metrolinx and the Town's own Planning Department find difficult or inconvenient to answer.
This email address is being protected from spambots. You need JavaScript enabled to view it.
---
Subcategories