Details

Created on Friday, 27 May 2016 10:45
Written by Gordon Prentice
In November 2015 Bob told Newmarket Mayor, Tony Van Bynen, he was thinking about putting a seven storey rental apartment building at the Clock Tower instead of a condo.
In fact, months earlier, Bob was spelling out the advantages of rental to his business associates. Bob crunched the numbers and concluded rental would be more profitable. He had already worked out the condo option would deliver a profit of over $10m. The profit with rental would be even greater.
How come?
Bob believes he can negotiate downwards the amount of development charges payable. Development charges do not vary by tenure (rental vs condo) but Bob-the-magician is convinced he can pay less.
Apartments are defined in the Town's Development Charges By-law as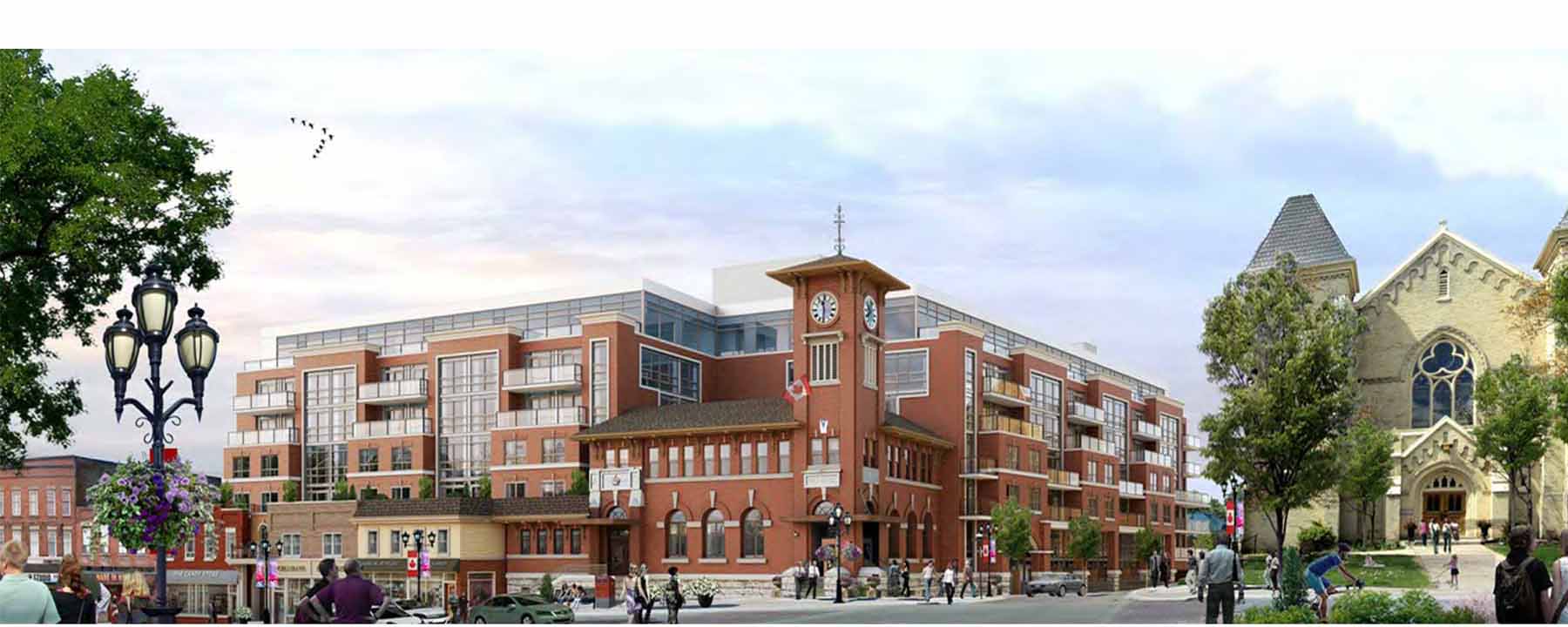 "a residential building or the residential portion of a mixed use building, other than a townhouse or stacked townhouse, consisting of more than three dwelling units, which dwelling units have a common entrance to grade"
The Town's development charges are based on the size of the apartment with 650 sq ft as the dividing line between large and small apartments. The development charge for large apartments is $12,617 and for small apartments $10,242.
Bob's Clock Tower development has lots of apartments under 650 sq ft.
He believes past practice shows the Town may be amenable to deferring Development Charges for five years without interest. This means that money can be freed up and used for construction. He says this could amount to $5m
Bob believes substantial savings can be achieved by negotiating with the Town for fewer parking spaces than the current by-law would require. He says he could save up to $40,000 per parking space. The Town's engineers say he should provide 290 spaces for a development the size of the Clock Tower. Bob says he can get away with 199 spaces.
That means a potential saving of 91 x $40,000 = $3,640,000.
Bob says rental can deliver a permanent tax reduction. Ownership is indeed a factor when it comes to property taxes payable to the Town. Property tax assessments are based on the market value of the property at the time of assessment.
Rental properties are assessed on net income, meaning rent less expenses, and this can vary dramatically depending on factors such as condition of the property, its location and occupancy rates. People who know about these things tell me the difference in tax take from a condo and rental building is huge.
Bob is convinced he can get approval for a seventh storey so long as the building is rental. I have no idea who gave him that impression. However, it is certainly true that Bob raised the rental issue in his meetings with various councillors in 2015.
Bob says rental provides a quicker turn around as there is no need for a sales test.
So that's why Bob is going for rental.
This email address is being protected from spambots. You need JavaScript enabled to view it.
---
Details

Created on Thursday, 26 May 2016 16:00
Written by Gordon Prentice
Oops!
Bob Forrest has forgotten he put the Clock Tower up for sale. 
On 12 May 2015, a local business person emailed Bob to ask if the Clock Tower was still for sale.
On 13 May 2015, without missing a beat, Bob told him:
"The building is not for sale, nor has it been".
Bob continued:
"We are redeveloping the site in conjunction with an adjoining land assembly."
Excuse me?
It is an incontestable fact that on 19 June 2014 an advertisement appeared in the business section of the Globe and Mail offering for sale "the historic Clock Tower building and four commercial storefront buildings".
FOR SALE
180-194 Main Street South – intersection of Park Avenue and Main Street South in Downtown Newmarket.
(Site includes historic Clock Tower building and four commercial storefront buildings)
0.656 acres
Present Zoning: UC-D1 OP
Historic Downtown Centre
Contact us at
905-752-6776 ext 229
or This email address is being protected from spambots. You need JavaScript enabled to view it.
Why did Bob say the Clock Tower had never been up for sale?
Incredible as it may seem, can it possibly be the case that the great entrepreneur and developer simply forgot?
Bob's business ethics are summed up in the four points below which appear on Forrest Group stationery. I've taken the liberty of adding a fifth.
Simple Operating Instructions – No Special Tools Required
1/ Treat others as you would wish to be treated
2/ Make no promises you cannot deliver, then deliver on your promises
3/ Never make a deal you would not yourself accept
4/ Acknowledge your errors
5/ Don't re-write history and stick to the facts.
This email address is being protected from spambots. You need JavaScript enabled to view it.
---
Details

Created on Wednesday, 25 May 2016 16:13
Written by Gordon Prentice
Bob Forrest wants to demolish three historic commercial properties in his ownership to make way for his seven storey apartment building at the Clock Tower. But he cannot knock them down without getting the agreement of the Town first which may, or may not be, forthcoming.
An alternative option - and one that is attractive to developers - is simply to allow old buildings to fall down so there is nothing left to save. This is commonly known as demolition by neglect. The Town is presented with a fait accompli.
Bob Forrest's slide presentation to the Statutory Public Meeting on 9 May 2016 on his Clock Tower application was posted on the Town's website. At some point, a second version was substituted replacing the earlier one.
Forrest inadvertently gave the game away.
Slide 24 on the original version was headed:
"Fact vs Fiction – Previous Tenants"
Forrest's slide states as fact:
"The roofs leak. The roofs and floors sag."
So if the roofs leak why doesn't Bob fix them? And if the roofs and floors are sagging why doesn't he do something about it?
This slide no longer appears in the version posted on the Town's website.
The Town's By-law enforcement people are now on to the case and, I am told, will "review, inspect and take action as necessary".
Watch this space.
(Bob does)
This email address is being protected from spambots. You need JavaScript enabled to view it.
---
Details

Created on Tuesday, 24 May 2016 18:24
Written by Gordon Prentice
Clock Tower developer, Bob Forrest, has doctored the record of his deputation to the Town's Committee of the Whole on 9 May 2016.
In the version posted on the Town's website before the 9 May meeting, Forrest's presentation had 28 slides.
Today, the record of the presentation has 26 slides with two pages saying these were intentionally left blank.
The original page 23 has been doctored and a new version appears on the Town's website.
The original page 24 has also been doctored.
The original page 25 disappears and some points are folded into other slides.
And the original page 28 in which Forrest proclaims he is the "Barbarian at the gate" has gone, no doubt after sober second thought. Forrest was alluding to a reference made in one of my earlier blogs.
A number of questions arise from this sleight of hand.
Which version is the official record?
This could be important if the Town approves Forrest's rental building and, in so doing, votes against its own Zoning By-law and Heritage Conservation District By-law, and residents are forced to seek a remedy at the OMB.
So, when was the doctored version submitted to the Town?
And by whom?
Were reasons given for the substitution?
Who gave permission for the doctored version to appear on the Town's website?
When was it posted?
Is it usual for documentation lodged with the Town to be subsequently amended?
At what point does the documentation become part of the official record?
Has this happened before at a Statutory Public meeting? If so, when?
I am in touch with the Town Clerk to seek answers to these questions and others.
In the doctored version, a slide appears saying this page has been "intentionally left blank".
This is completely dishonest. The slide should say:
"The original slide has been removed because we had second thoughts."
At the meeting on 9 May, Forrest said he had been asked to cut short his presentation to save time and, as a result, not all his slides were projected on to the big screen in the Council Chamber.
On the right is the original version, page 23. And below is the doctored version of page 23.
On the right is the original version of slide 24. And below is the doctored version of slide 24.
Why the deception?
It's time for answers.
This email address is being protected from spambots. You need JavaScript enabled to view it.
---