Details

Created on Thursday, 19 January 2017 15:25
Written by Gordon Prentice
PC wannabe MPP Maddie Di Muccio "likes" tweets that claim I am a paedophile.
Twitter tells us
'Likes are represented by a small heart. They are commonly used to show appreciation for a Tweet.'
Not long after I posted my piece on Maddie Di Muccio and her unsuccessful bid to extract $25,000 from Canada Post, the dark, fetid, unsavoury underbelly of the internet began to stir.
TruckMafk TMTM @TruckMafd sets the hare running yesterday with this tweet:
@gordon_prentice Is that pedophilia charge against you cleared up yet or is that trial still on? 

then this one
@gordon_prentice is it true that you're currently in court defending #Pedophilia charges?
followed by
@gordon_prentice can u address the rumours of #Pedophilia charges against u? Are u innocent? Did you ever mollest #children?

followed by
@gordon_prentice on these alleged #Pedophilia allegations, do u got any comments? If true, is there anything u'd say 2 their families?
followed by
@gordon_prentice r the rumours true that the judge may throw out your case of u raping a kid? R u still advised 2 stay away from schools?
followed by
in reply to Johnny D
TruckMafk TMTM @ TruckMafk
@horsesandbeer I also hear rumours of this sick man's pedophilia. Keep yr kids away from @Gordon_Prentice until these rumours are addressed!
Engaging with trolls
Instead of ignoring this tripe, Di Muccio chooses to engage with this troll - more than once. Her appreciation of tweets alleging paedophilia by me plumbs new depths, even for her.
And to be clear, M'Lud, I do not have a criminal record either here in Canada or in the UK. Furthermore, I have never been charged with any crime nor have I ever been investigated by the police in connection with any crime whatsoever, anywhere, in any jurisdiction. I am, M'Lud, a model citizen.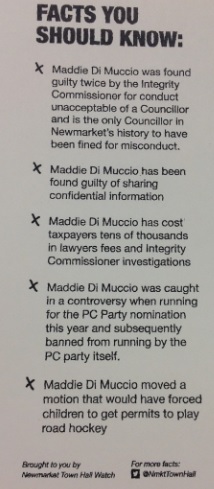 For her part, Di Muccio has chosen to engage on social media with someone who posts baseless allegations of paedophilia and who makes crude sexist and pejorative comments about people.
If the Newmarket-Aurora Riding Association abandons all sense of decency and selects Di Muccio as their candidate in the Provincial Election in 2018 they will be telling the rest of us a great deal about the standards they have set themselves.
Fake news
They will be saying it is OK to coarsen and debase political discourse locally and it is OK to promote "fake news".
The leaflet on the right was circulated by Canada Post on behalf of its client, the newspaper Snap'd, in the run up to the October 2014 Newmarket municipal election which saw Di Muccio losing her Ward 6 seat to Kelly Broome. We do not yet know who was responsible for the text.
But we do know Maddie Di Muccio believes it contains
"vile and disgusting smears".
As it happens, Matilde Barbara Di Muccio will be returning to the Newmarket Small Claims Court on Friday 10 February 2017. This time, she is seeking $5,000 in damages from Regional Councillor John Taylor who is accused of causing her
"reputational damage".
In the extensive list of things she claims Taylor has allegedly done to her I see the words
"injurious falsehoods"
I am left wondering if the promotion of unfounded allegations of paedophilia by Di Muccio against me counts as an injurious falsehood?
If it doesn't, M'Lud, then perhaps it should.
This email address is being protected from spambots. You need JavaScript enabled to view it.
---
Details

Created on Wednesday, 18 January 2017 12:35
Written by Gordon Prentice
The oldest house in Newmarket, dating from 1811, is in a truly dire state.
So it is fortunate we have a heritage watchdog to act as our eyes and ears when old buildings are in danger of falling down. At its meeting last November, the Town's Heritage Newmarket Advisory Committee discussed the derelict state of Bogart House and decided photos should be taken of the decaying structure. These would then be passed to planning staff
"in order to commence a formal legal process to require remediation of the house."
This is excellent news. But why has it take so long to act? What has the Ward Councillor been doing other than twiddling his thumbs?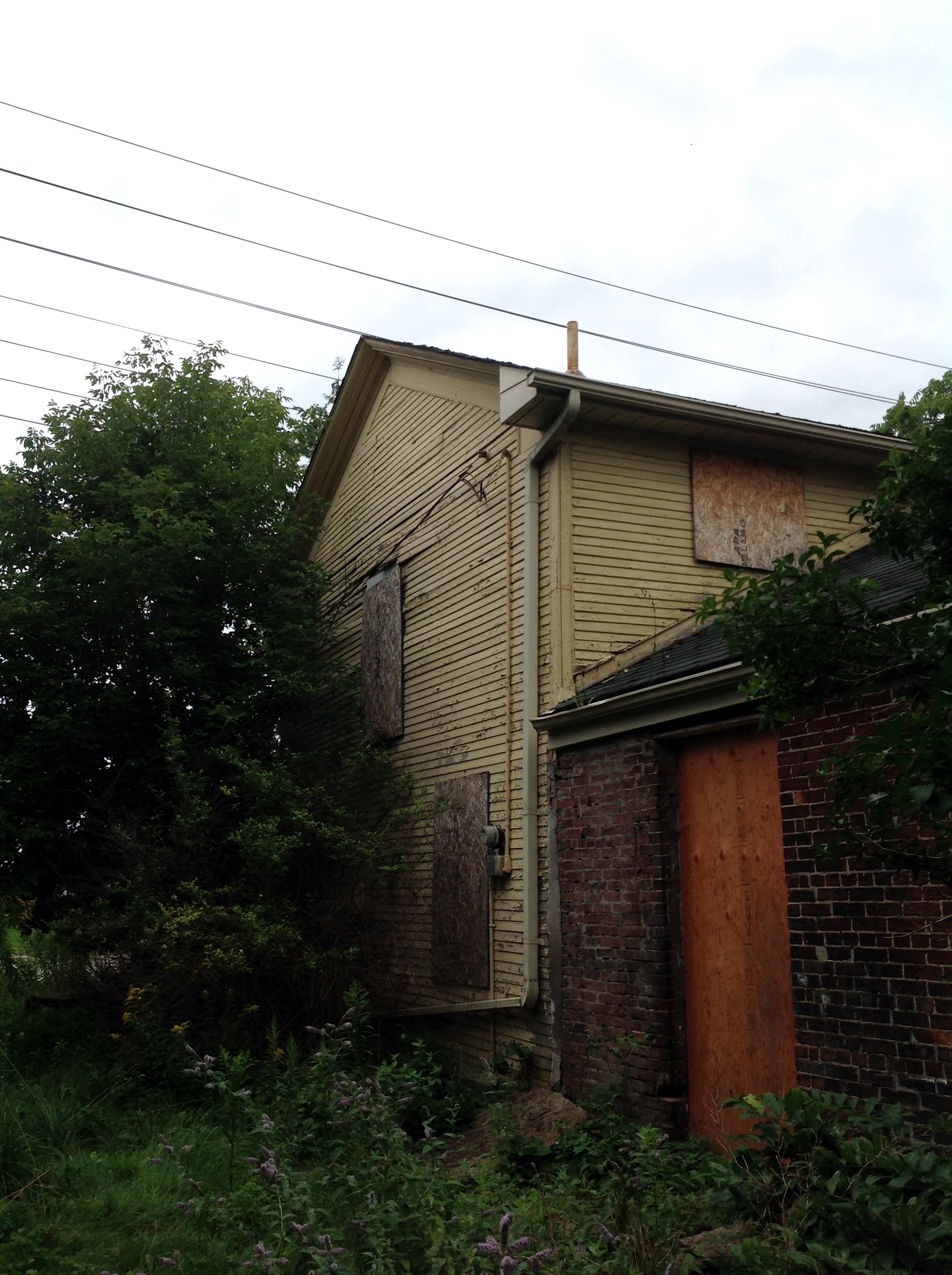 I took this photograph on 27 August 2015 but, even so, it doesn't tell the whole story. The back of the house was completely open to the elements.
A few days later (on 1 September 2015) in a
wide-ranging blog
about the venerable Dave Kerwin I mentioned the calamitous condition of Bogart House and urged action.
Its future was tied to a major development in Kerwin's ward. I wrote:
"The proposed development is next door to the wooded Bogart Trail with its attractive private lake. John Bogart House, the oldest house in Newmarket, is inconveniently situated on land the developer wants for other uses. So it is to be moved to a new location a short distance away.
The clapperboard house was constructed in 1811 and has been designated for its historical and architectural significance. John Bogart was a Quaker pioneer from Pennsylvania, who had a saw mill on the nearby creek. It is one of the first two storey residential buildings constructed north of Toronto. To me, this is quite a big deal.
Dave Kerwin might have told us the old house is open to the elements at the back with a non existent window letting in rain, snow and goodness knows what else. This bit of Newmarket history needs a quick repair job asap."
Earlier, on 15 June 2015, I had written to the Town expressing concern about "demolition by neglect". I was told the Town was looking at preparing a Heritage Building Standards By-law
"that will prescribe a minimum standard for the maintenance of the heritage attributes for the property both in a Heritage District or individually designated".
A year later, I followed this up asking what progress had been made. I was told Legislative Services had scheduled an update to the Town Wide Property Standards By-law on their work plan but due to other priorities work had not started (that was on 9 August 2016).
I am told many issues can be addressed under the current property standards by-law.
But, self evidently, some issues cannot be addressed.
Otherwise why was Bogart House allowed to deteriorate into its present lamentable condition?
If our by-laws aren't working we need to change them and instill new vigour into those charged with enforcing them.
This email address is being protected from spambots. You need JavaScript enabled to view it.
---
Details

Created on Tuesday, 17 January 2017 19:42
Written by Gordon Prentice
A claim by Maddie Di Muccio and her husband John Blommestyn for $25,000 in damages from Canada Post was last week thrown out by Newmarket Small Claims Court Judge Elliott Goldstein.
The litigious pair demanded the cash from Canada Post because of its role in distributing election flyers in 2014, penned by a spoof Newmarket Town Hall Watch, which they say are defamatory.
Di Muccio and Blommestyn both filed separate claims concerning the distribution of flyers in Ward 6 (where she was the candidate) and Ward 7 (where he was standing).
They allege wrongdoing by Snap'd Chief Executive, Paul Dutton, and Snap'd employee and current Ward 6 councillor, Kelly Broome.  (Photo shows Paul Dutton on right collecting his "entrepreneur of the year award 2012". Also shown Steve Hinder.)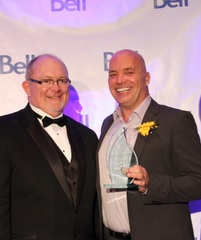 Conspiracy
Di Muccio and her husband John Blommestyn suggest there was a conspiracy between Broome and Dutton to circulate flyers that would damage them both in the eyes of the voters.
As is generally the case with their endless bouts of litigation, Di Muccio and Blommestyn represented themselves. They always paint themselves as victims - of the system, of circumstances and of the malevolent.
After hearing all the facts, on 11 January 2017, Deputy Judge Goldstein made an order
"dismissing the claim (on consent)".
This simply means the Judge found in favour of the Defendant (Canada Post) and is to be taken as a final judgement. Di Muccio and Blommestyn cannot resurrect the issue later.
Unredacted
But, in the course of the hearings, Di Muccio and Blommestyn got what they wanted. The Court ordered Canada Post to produce a partially unredacted invoice to the Plaintiff (Blommestyn) showing the name of the customer; the name of the person/entity the mailing was done on behalf of and the method of payment.
This revealed the subterfuge.
Di Muccio and Blommestyn believe they have nailed Snap'd which, they say, is culpable for arranging the distribution of anonymous material during the 2014 municipal election campaign which was explicitly designed to damage them.
So, what should happen next?
Paul Dutton and Kelly Broome will, at some stage, have to respond to Di Muccio's allegations.
I don't think it is possible for them to pretend that nothing has happened.
Cloak and Dagger
Personally, I have never done my politics in a cloak and dagger way. It is wholly counter-productive. Much better to be up-front. I've never played both sides as is so often the case with politicians here in Newmarket.
If you think someone is a useless candidate (and I think Maddie Di Muccio would be a dose of anthrax to the PCs locally) then why not say so?
But some people prefer to operate in the shadows. The real Newmarket Town Hall Watch, who revels in her notoriety and anonymity, told us in February 2014:
"By remaining unnamed I give more focus to my words."
That sounds like a defence Paul Dutton could use.
This email address is being protected from spambots. You need JavaScript enabled to view it.
---
Details

Created on Tuesday, 17 January 2017 12:25
Written by Gordon Prentice
Read this first: Maddie Di Muccio refers to the anonymous blog NmktTownHall. This Nwmarket Town Hall Watch was a spoof and existed for a short period in 2014 in the run up to the October Municipal election. It had no connection with the similarly anonymous NwktTownHall which is alive and well and still publishing. (Nmkt = spoof. Nwkt = real)
Drama Queen
The tortured drama queen and wannabe PC MPP for Newmarket-Aurora, Maddie Di Muccio, is at it again.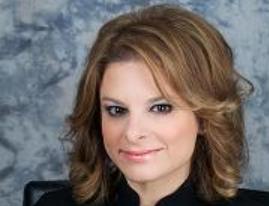 She claims the woman who was elected in her place as councillor for Newmarket's Ward 6 – Kelly Broome - only succeeded because of
"her despicable tactics".
Di Muccio says Broome's employer, Snap'd newspaper, was responsible for sending out "vile and disgusting smears" about her and her family in the run up to the Newmarket municipal election in October 2014.
So what does Di Muccio specifically allege?
She says that on 17 October 2014 Snap'd Newspaper Group was responsible for circulating via Canada Post 9,291 flyers from "Newmarket Town Hall Watch" which Di Muccio describes as "hate mail" which "smeared my family's reputation".
She says
(1) Kelly Broome is employed/contracted with Snap'd
(2) Snap'd Chief Executive, Paul Dutton, sent out "defamatory" flyers
(3) Dutton made a generous cash contribution to Kelly Broome's campaign for Ward 6 (the Ward Maddie Di Muccio represented at the time).
(4) A Snap'd owner, Steve Hinder, "helped chair her campaign".
Di Muccio alleges Kelly Broome "cheated, manipulated and lied her way into political office" without specifically itemising what Broome is alleged to have done.
Di Muccio must set out the facts that she relies on - not assertions or speculations. It is not enough to spray around allegations of wrongdoing. People who are named by her must know precisely what she is accusing them of.
Paul Dutton: the name in the frame
She says Snap'd Chief Executive Paul Dutton
- contributed to several political campaigns
- used Snap'd as an organiser for the PC Party of Ontario.
These are lawful activities.
Corruption
But, importantly, Di Muccio claims politicians close to Snap'd
"benefitted from generous donations of Snap'd Newspaper Group and their CEO Paul Dutton"
and that
"Snap'd benefitted too because so much of their ad revenue now comes from those same shady politicians who won their seats in 2014".
The inference is they (the politicians) are corrupt. If she believes this, she must name names and explain the corrupt actions in detail. It is not enough to smear or suggest guilt by association.    

Di Muccio goes on to assert:
"considering the copious donations Snap'd Newspaper Group/ Paul Dutton doled out to winning Newmarket council candidates, such as their employee Kelly Broome, one speculates if Municipal Act rules were violated, since there are limits on spending".
Here she is, speculating again. Di Muccio says
"we believe Snap'd Newspaper Group may have violated election spending rules, we will be investigating it further".  

Election expenses validated by audit
Kelly Broome's Financial Statement detailing her expenses for the October 2014 election was professionally audited. The spending limit issued by the Town Clerk was $12,661.05. Broome spent $12,043.25.
So far as the Snap'd connection is concerned, Broome received a donation of $500 from its Chief Executive, Paul Dutton. She also benefitted from a half page ad in Snap'd with a declared value of $725.46
This story, in various forms, has been around for a long time. The real Nwkt Town Hall Watch tweeted in October 2014
Nwkt Town Hall Watch
@NwktTownHall
.@maddiedimuccio my sources have linked @nmkttownhall to @tonyvanbynen and various local Masons. Will have concrete evidence to reveal soon.
2014-10-25, 4:17PM
I, for one, am still waiting for concrete evidence that the Municipal Act has been broken.
And if Snap'd did circulate a flyer, as alleged, Paul Dutton will, no doubt, wish to explain why.
This email address is being protected from spambots. You need JavaScript enabled to view it.
Note: Di Muccio talks of the flyer containing vile and disgusting smears. Seems pretty standard stuff to me given the nature of local politics at the time. Here (above right) is the related flyer that circulated in Ward 7 where Di Muccio's husband, John Blommesteyn, was seeking election.
---