It is high noon in Room 2002 - the broom cupboard that serves as Newmarket's Small Claims Court. It is Friday 10 February 2017.
At long last, the defamation action by former Newmarket Councillor Maddie Di Muccio against her nemesis, John Taylor, comes to trial. Di Muccio is demanding $5,000 in damages from Taylor who, she says, damaged her reputation, making her a target of ridicule, contempt and hatred of others.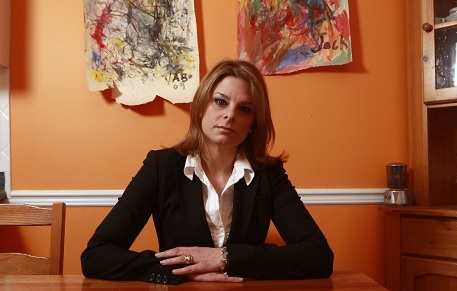 On 2 March 2015 - after she had been defeated in the 2014 election and had left office - he moved a motion in Council (see below) asking staff to advise if the
"use of her expense account for obtaining personal legal advice and for payment of advertisements while seeking the provincial nomination are permitted by Town policy."
She says Taylor's motion affected her mental health and made her life hell.
I am sitting at the back, one of two members of the public. In front of me I see Deputy Judge Paul Kupferstein wearing the obligatory black gown with red sash. He has a white moustache and smiles a lot.
No apologies
The Judge gets the show on the road. He announces that we are now on the record and starts by reminding Di Muccio about the limited jurisdiction of the Small Claims Court.
"The only thing we can order is money. We can't order an apology. We can't order Mr Taylor to do anything."
He wants to know why she is claiming the specific sum of  $5,000. She says that will all become clear later. Case law guides the quantum of damages sought.
Now Di Muccio's husband, John Blommesteyn, is explaining that libel was dropped from the action at an earlier stage. All the other stuff about malice, malfeasance and misfeasance, injurious falsehoods and Taylor making Di Muccio an object of hatred and ridicule remain.
The Judge is now leafing through the file in front of him, sighing heavily. She tells him she needs at least three hours to present her case because there is a lot of case law she wants to refer to. She impertinently asks the Judge if he has read the file in front of him and the case law. The Judge says:
"Let's leave the case law for now."
We are gonna hear the evidence first.
Di Muccio explains that neither she nor her husband are lawyers but they have been reading up on it.
"We know we are supposed to know the law."
The Judge tells her
"I want you to prove to me your entire case."
She has in front of her three impressively thick bundles of paper held together by giant blue bulldog clips. And there are other smaller bundles. She and John4Newmarket must have spent months putting all this stuff together. I can see in my mind's eye all those endless discussions over the dinner table to identify relevant case law which will box Taylor into a corner.
She slides one monster file across the table towards the Judge. He says:
"This is Plaintiff Exhibit 1."
(The Judge in Perry Mason would have said: "Let this be Plaintiff Exhibit 1" which, personally, I prefer.)
Di Muccio is now reading from the dense text, occasionally tripping over herself to get the words out.
Tell me your story
No. No. says the Judge. He doesn't want her to read stuff verbatim.
"You've got to get back to basics for me. I want you to tell me your story."
Now Di Muccio is gabbling, reminding everyone of her mighty achievements, "since I left politics". There's the President of the York Taxpayers' Coalition. And she's a media commentator and used to write for the Toronto Sun. She has shared platforms with important people and been honoured for her work on various things.
She is now submerging the Court in detail and I see Judge Kupferstein holding his head in his right hand. He is no longer smiling. He is sighing again.
Di Muccio is seated directly in front of me. She seems poised but slightly tense. Under the desk I see her heels constantly clicking together like castanets as she makes her case.
Di Muccio is now telling the Judge she made a claim against York Region Media Group for their alleged misreporting of something she said and it was
"settled successfully and to my satisfaction without going to trial".
She has ticked that particular box and moves on.
The Tim Hudak advertisment
Now she is getting to the nub of it all. She spent public money on a half page ad in the Newmarket Era criticising the then Leader of the Progressive Conservatives, Tim Hudak. She says she did this to "correct the record". He had described her earlier as someone who didn't meet the high standards required to become a PC candidate.
Taylor, in a motion that was carried unanimously by Newmarket Council, says the advertisement went in "when she was seeking the provincial nomination". She says this is untrue because by the time the ad went in, Hudak had already banned her from standing as a candidate for the PC nomination.
Di Muccio is now deep in the undergrowth wielding her machete. The Judge rubs his forehead and closes his eyes. Now he tells her:
"You are alleging it is the fault of the councillor (Taylor) who is bringing an improper motion. Why is it up to him? Isn't it up to the Council? What is the Chair's liability?"
Di Muccio says Taylor is responsible for his own comments. She refers to Tab 19, page 9 of her bundle declaring the Council must hold a meeting about something or other. The Judge corrects her without referring the bundle: "It says may".
WooHoo! He is on top of it all. All that rubbing his forehead was just a ruse.
Improper motions
Now he is thinking aloud. He wants to know if the Council has an obligation in law to advise a councillor who may be attempting to put forward an improper motion.
"You are asking me to impose an obligation on Mr Taylor rather than the Council as a whole. How the meeting is conducted is a concern. Does a councillor have to dot every i and cross every t? Are you telling me every time a councillor brings forward a motion to Council there is liability?"
Di Muccio tells the Judge she can't sue the Corporation of the Town of Newmarket - only the people. Doesn't sound quite right to me but that's what she says.
Now Di Muccio is telling us Taylor claimed she had "violated" the Town's expenses policy and when he tabled his motion to Council it was designed to publically humiliate her. Now she is on auto-pilot. Taylor had a history of saying abusive things towards her. It was an intentional infliction of mental suffering. It was a persecution. And it had terrible consequences. She had to seek protection from the police against people who had been fired-up by Taylor's wild accusations. Then there was Snapd who paid Canada Post to deliver leaflets that defamed her. All this made it difficult for her to find future employment when she lost her Council seat.
She is laying it on slightly too thick for my taste.
"He wasn't telling me what to say!"
Now Taylor has the chance to cross-examine Di Muccio. As Taylor is saying something or other about procedural by-laws I see John4Newmarket lean across and whisper something in his wife's ear.
The Judge pulls him up.
"I am not admonishing you but don't tell her what to say."
This infuriates her. She yelps:
"He wasn't telling me what to say!"
John4Newmarket is in deep trouble now! He'll get it in the neck when they get home.
Now Taylor is asking Di Muccio if she had ever brought forward a motion without giving the usual notice. Taylor says there are numerous occasions when motions are made on the spur of the moment, so to speak.
Di Muccio says
"I do not recall that."
Now Taylor is asking her to point out where in the Ontario Councillors Manual 2014 it says that councillors should take outside legal advice? She is relying on this as part of her defence. I learn it says councillors may wish to contact a legal adviser. She gives an example. What if she has an issue with a member of staff? Taylor advises her to go see the Town's Chief Administrative Officer with her concerns.
Now she links his actions with being Deputy Mayor. But Taylor wasn't Deputy Mayor at the time when she infers he was. (All these things have a significance which I needn't dive into here.) Now we are on to the role of the Integrity Commissioner. The Judge wants to know if Taylor hired the Integrity Commissioner or if Council did. Di Muccio suggests it was all Taylor's doing. Now we are into the realm of the surreal.
Taylor:
"Are you suggesting I personally paid for the Integrity Commissioner?"
Di Muccio:
"I suppose anything is possible."
Have you ever defamed a councillor?
Now Taylor is asking her about the Council's Code of Conduct. He wants to know if she has ever defamed any councillor on social media. Now he recites a string of acidic  comments Di Muccio has made about him. He says she has been at the centre of many controversies. He wants to know if her mental health issues and all the other negative impacts she spoke about can be directly linked to his motion. Yes, she says.
Now Taylor is reciting a long list of controversies involving Di Muccio. What about your rejection as a PC candidate by Tim Hudak? What about your comments about Jane Twinney? (who got the PC nomination in 2014) He is now reminding everyone of the very long list of people with whom she has crossed swords.
Now the Judge wants to know why this is relevant.
Because, says Taylor, she claims she suffered mentally because of the motion I put before Council and for no other reason. He goes on:
"Did the Integrity Commissioner find that you improperly disclosed confidential information?'
Now Di Muccio is furiously protesting. She doesn't like the way this is going.
"His motion has affected me! I was called a fraud!"
She says he is raising things that happened when she was a councillor between 2010-2014. Her action against Taylor is specifically about his motion in March 2015 - after she had left Newmarket Council.
Now the Judge is telling her Taylor's line of questioning is relevant to damages. Once reputation is introduced then it is open to questions.
"I tend to agree with Mr Taylor. It (the impact on reputation) does go to damages. All the things that happened could have affected your mental state. They are relevant."
Social Media
Now Taylor is reminding us of the Integrity Commissioner's finding on her misogyny jibe against the Mayor, Tony Van Bynen. Now he is reciting the long list of people she has taken to Court. Now he mentions Canada Post and the Snapd controversy. He asks her if she commented on the Snapd thing.
Di Muccio concedes that she "probably engaged" in the controversy on social media.
Probably engaged! She is driving it! Her brass neck is breathtaking. It astonishes me.
In her postings, Di Muccio makes a direct link between Snapd intervention in the 2014 municipal election and Taylor.
Taylor:
"Isn't it the case that the only link I have with Snapd is that I advertise in it?" (along with lots of other people)
Taylor is now gently but skilfully eviscerating her.
"You are telling us that your difficulties in finding work (after you ceased to be a councillor) can all be attributed to my one motion?" (in March 2015)
Di Muccio:
"It was extremely difficult for me to face people. I did feel I was looked upon in a very bad way. I was chased (by a person) in an SUV and told "You're a fraudster!" I had people on social media saying I stole public money."
She says that, by his actions, Taylor
"brought negativity back that I thought I had escaped from".
Mental Health
Now Taylor wants to know how she can be certain her mental state was not affected primarily by the controversy over her own advertisement attacking Tim Hudak and not his motion to Council. Di Muccio spits back:
"My mental health was challenged because of what you wrote in your motion. Mr Taylor, I know myself. I put myself over the edge. You purposely wrote those words to make my life hell!"
Now Taylor is telling the Judge he regularly moves motions without notice at Newmarket Council and York Region. Sometimes, but not always, they are time sensitive. And that can be a reason. He tells the Judge his defence against the defamation claim and the allegations of malice, injurious falsehoods, mental suffering, malfeasance and misfeasance in public office and everything else rests on (1) truth, (2) fair comment and (3) qualified privilege.
Now Taylor is taking us to the motion that lies at the centre of Di Muccio's case against him. He says the wording is not inflammatory but Parliamentary. He wanted clarification on Maddie Di Muccio's spending. His comments were made without malice. He says he was seeking a staff review of her expenses - nothing more, nothing less.
Di Muccio counters by saying the motion refers to advertisements in the plural. There was only one advertisement (the Hudak one). She says the motion claims the ad went in when she was seeking the PC nomination to become the PC candidate for Newmarket Aurora. The motion also referred to "personal" legal expenses which people would assume were improper in some way.
Were expenses allowable?
Taylor tells the Judge that he simply wanted to know if the expenses were allowable or not. There was a half page advertisement, paid for by public money, overtly criticising the then Leader of the Progressive Conservatives, Tim Hudak. In no way did it relate to Town business. It was election related. He now quotes Town policy which states that any election related expenses is deemed to be an "ineligible expense".
Di Muccio counters by saying Taylor puts ads in the newspaper.
Taylor says:
"I put an ad in for Remembrance Day."
Now Taylor is speaking to the staff report which arose from his motion saying the staff believed they were not in a position to judge whether former councillor Di Muccio's expenses were allowable or not. Now he is focussing on Di Muccio's decision to engage outside lawyers to provide advice to her. Why? If it was a Town-related matter why could she not seek advice from the Town's own lawyers?
He says his motion did not break any procedural by-laws. It was not malicious. It was intended to clarify policy.
Now Taylor is reminding the Judge that his motion was carried unanimously.
"A decision of Council not just myself. My comments were restrained and professional."
Cross-examination
Now it is Di Muccio's turn to cross examine Taylor. Every bite is more delicious than the last!
By now, I am well aware of her "legal method". Ask simple, straightforward questions which lead to zee trap and Zap! Gotcha! But it is all so obvious. She asks Taylor:
"Why do municipalities keep minutes of Council meetings?"
Taylor: "So there is a record of proceedings."
She wants to know if there is a responsibility to ensure minutes are accurate. She then takes Taylor to the article in the Era newspaper on Taylor's motion to Council which refers to Di Muccio by name. She says his motion, as he presented it, did not refer to her by name* but here he is talking to the newspaper and making it clear the motion was all about Maddie Di Muccio!  (*The minutes of the meeting on 3 March 2015 clearly refer to her by name.)
Taylor says politicians have to engage with the media. And the Era knew who it was all about.
Now Di Muccio is asking Taylor if the clerks called him to ask if he was referring to Maddie Di Muccio. If so, who was the staff member?
This is getting way off-point.
Taylor says he has no idea. He tells us the clerks do their best to capture what was said.
Di Muccio: "You have had two years to correct the record."

Taylor: "There is nothing to correct."
Now Di Muccio is asking a series of questions on her expense claims, getting ever more obtuse.
Expenses posted on-line
Taylor says he relied on the expenses figures posted on-line by the Town on its website.
Now Di Muccio is trying to distinguish between a "report" and an "on-line posting". She wants to know if Taylor believes the Treasurer, Mike Mayes, completed his "report" carelessly and inaccurately.
Taylor says staff felt they were being put in a very difficult position.
Now, going round in ever decreasing circles, an increasingly exasperated Di Muccio says:
"I think we are making this a little complicated!"
Judge Kupferstein smiles:
"Not me!"
"Mr Taylor relied on the Town's own website which called up not the report itself but the information attached to it."
Now the Judge is cautioning Di Muccio against repetition - bringing up the same issues multiple times.
Now Di Muccio accuses Taylor:
"You were doing some digging into my expenses."
Taylor concedes the $4,000+ at the end of the Council term caught his eye from someone who made a virtue out of not claiming anything. Not even taking coffee during meetings.
Now she is back repeating an earlier question. Taylor responds:
"If you ask a question over and over I am not going to change my answer."
Di Muccio scolds Judge
Now Di Muccio is focussing on other councillors' expenses such as swim passes and donations to charities. The Judge warns her about going off at a tangent.
She scolds him: "I am not on a tangent and I take exception to that!"

Now she is listing the alleged delinquents.
Dave Kerwin, pool pass. Claimed $143. Chris Emanuel, pool pass $151.62. Custom Christmas cards. Events photo. Dave Kerwin again, Cambodian Flood Relief.
Taylor says councillors have a certain latitude. Perhaps the pool passes were donated to a silent auction. Perhaps councillor Kerwin was speaking to Cambodian Canadians here in Newmarket.
Di Muccio:"How do you know these expenses were not personal?"
Taylor: "Wow! I've never seen someone expensing personal legal services before!"
Now Di Muccio is spraying the allegations around like a mad thing.
Di Muccio: "You know that in 2014 Councillor Vegh was a committed activist in Provincial politics?"
Taylor: "No."

Di Muccio: "He was working on Jane Twinney's campaign. So why did you focus exclusively on my ads and not those put out by Twinney and Vegh?"
Taylor explains that Tom Vegh had advertised on bus stop benches (or some such thing) for years and this was well known. But Di Muccio was always against "slush funds" and her expenditures "leapt out at me".
Hypocrisy
Di Muccio: "You wanted to show that I was a hypocrite!"
Taylor: "No."

Now the Judge is cautioning Di Muccio against repetition.
Di Muccio: "Can I have a five minute break?"
Judge: "No. We've just had a break."

Now Di Muccio regains her composure and takes her black framed glasses off, waving them about in front of her. Looking directly at Taylor she asks:
"Did you ever reach out to me?"  (As if!!!)
Taylor: "No."
 Di Muccio: "Did you ever seek to have an in camera special Committee of the Whole meeting to consider expenses?"
Taylor: "No."
Di Muccio: "Mr Taylor, I am not trying to give you a hard time."
(Oh yes you are. But you are failing dismally.)
Taylor: "My motion was seeking information."
Now Di Muccio says that when, following Taylor's motion, the Era newspaper carried letters critical of her, did Taylor ever think he should retract and apologise. 
Taylor "No."
Now Di Muccio wants to know if elected officials are responsible for their own spending.
Di Muccio: "I will just ask questions. I will not debate. Who adjudicates?"
Taylor: "The Council collectively."
Di Muccio: "It is the Integrity Commissioner."
Taylor: "The Council."
Di Muccio to the Judge:  "I am trying to school Mr Taylor in his own policies."
The Judge smiles.
And with that the curtain falls.
Day 2 of the trial on 3 May
The evidence on both sides has now been presented to the Court and at 9.30am on 3 May 2017 Di Muccio and Taylor will be back in Room 2002 to present relevant case law to the Judge.
John4Newmarket says he has five cases and twenty pages to get through and will need at least an hour. Taylor says he needs half and hour.
Taylor says he is happy to give his notes to the Judge but John4Newmarket objects.
He wants to link case law with the evidence the Court has just heard.
The Judge is once again cradling his head in his hand. Smiling.
This email address is being protected from spambots. You need JavaScript enabled to view it.
---
Council Minutes.  Monday March 2, 2015
New Business
Regional Councillor Taylor advised that Council expenses for the last quarter of 2015 have been posted online. He indicated that a former Member of Council used their expense account to solicit personal legal advice and to place advertisements in local media and requested a report from staff on whether these are permitted expenses.
Moved by: Regional Councillor Taylor
Seconded by: Councillor Twinney
THAT staff prepare an Information Report advising whether former Councillor Maddie Di Muccio's use of her expense account for obtaining personal legal advice and for payment of advertisements while seeking the provincial nomination are permitted by Town policy.
In Favour: Mayor Van Bynen, Regional Councillor John Taylor, Councillor Vegh, Councillor Kerwin, Councillor Twinney, Councillor Hempen, Councillor Sponga, Councillor Broome
Opposed: (None)
(8 in favour, 0 opposed)
Carried