Increasingly my thoughts are turning to religion.  
Yesterday, the ERA newspaper unusually delivered a bombshell straight to my front door.
We are told the Christian Baptist Church on Main Street South is up for sale. With its magnificent steeple pointing heavenwards, the Church is a Newmarket landmark.  
Former Newmarket councillor, Joe Sponga, now described as a "special projects" sales representative, says it is listed for $3.1m
This news comes like a bolt from the blue - at least to me.
I am sure there are good reasons why the congregation feels it may have to move out of this delightfully bright and airy historic Church but I pray they have second thoughts.
But if they do decide to sell up and go - and I hope it doesn't come to that - the building itself will survive. It is protected under the Heritage Act.
There is a very extensive literature available on-line from all corners of the globe on the re-use and adaptation of redundant churches. Just Google "redundant churches".
In my home town of Edinburgh, for example, there used to be churches absolutely everywhere - sometimes one on each of the four corners of an intersection. But, over the years, congregations have dwindled and church buildings have found a new life, perhaps as a restaurant or nightclub or converted into apartments.
For me, this is very much a second best. If a Church - or indeed any building - can fulfil its original purpose then we should stick with it.
But if that purpose disappears, for example with armouries and drill halls, they morph into something else.
In a booklet published a decade ago, the Scottish Civic Trust, asked the question: Why save a Church building?
There are a zillion compelling reasons but I pick out one or two. There is the historic importance of the Church and the continuity this represents. The cornerstone of the Christian Baptist Church was laid by a former Governor General of Canada, the Earl of Dufferin, in 1874.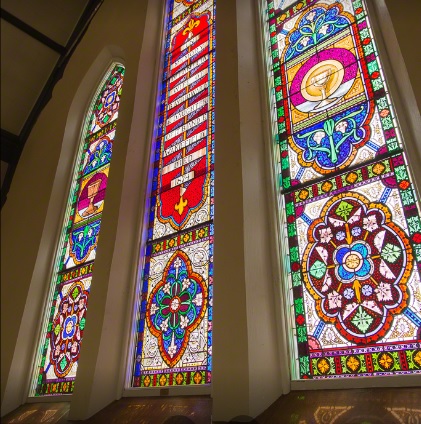 There is its aesthetic and architectural merit. Many church buildings
"express a wealth of architectural detail and decoration both externally and internally. Church buildings are often valued as works of art in themselves".
This is certainly true of the Christian Baptist Church. The stained glass windows are superb. How, I wonder, would these survive adaptation and re-use?
"And Church buildings make a key contribution to the sense of place... the social and cultural importance of a church building's connection to past events cannot be underestimated."
But who knows what is going to happen?
Joe imagines an art gallery, convention centre or banquet hall.
Maybe Joe will find a buyer who makes an offer the Church can't refuse.
We'll take it from there.
This email address is being protected from spambots. You need JavaScript enabled to view it.
---