Details

Written by

Gordon Prentice
Bob Forrest's plans to build a seven story condo on Main Street South, demolishing historic commercial properties in the process, could be stopped dead in its tracks if the Town refuses to make land available for an underground car park which is an integral part of the development.
The Town's chief planner, Richard Nethery, submitted a report to yesterday's Committee of the Whole (25 November) correcting an earlier report that suggested the developer, Bob Forrest, would have to secure an easement to allow his proposed underground garage to extend onto Town owned property.
We are now told
The applicant is proposing that the underground parking arrangement be by way of stratified title and hence would be a conveyance, not an easement.
The report was noted. No questions. No comment. What does it all mean?
The councillors just receive the report.
I suppose this is all part of the Mayor's "due process" that he goes on about all the time. 
Personally, I don't want the Town to allow any part of Forrest's proposed development to encroach on to Town owned land. Not if the consequence will be the destruction of irreplaceable panoramas and vistas and the blighting of our historic downtown.
Ward 5 councillor, Joe Sponga, asks about the proposed public meeting to discuss the Forrest development. Why is it needed?
Sponga says we know everyone is against the development because of its mass and scale. Heritage Newmarket doesn't like it and that is not going to change.
Richard Nethery says a public meeting gives agencies and others an opportunity to make considered comments on what is being proposed.
The Mayor says this is due process. Property owners have rights.
I say that is a load of old cobblers!
The condo development is in complete discordance with the Downtown Heritage Conservation By Law just adopted by the Town.
Why is it so difficult for councillors to say so?
It would be stating the obvious.
Elsewhere... Newmarket Public Library is running an IdeaMarket this evening on Development vs Heritage. Is Newmarket Growing Too Fast?  It is from 7pm - 9pm in the Library's multi-purpose room 
---
Details

Written by

Gordon Prentice
Newmarket councillors tonight (Monday 25 November) unanimously backed residents against a predatory move by Marianneville Developments to build 730 dwellings in the heart of the Glenway neighbourhood.
Ward 7 councillor, Chris Emanuel, tells hundreds of supporters in a packed Newmarket Theatre that the issue is all about excessive development. "It shouldn't be about navigating the technical issues and saving money at the Ontario Municipal Board."
He says to loud cheers that if the Town doesn't fight the developers "we are sending a signal the Town's Official Plan is not worth the paper it is written on."
"It is not a Glenway issue it is a Town of Newmarket issue."
The developers and their sidekick, Brad Rogers of Groundswell, and their calculating lawyer, Ira Kagan, sit silently brooding throughout the meeting while residents and others queue up at the microphone to denounce them and their "divide and conquer" tactics.
Glenway's lead spokesperson, Dave Sovran, speaks of the frustration he feels that the Town's Planning Department had not felt able to accept the argument articulated by the GPA on the so-called principle of development. Should there be any development at all? A long line of speakers follow him to the microphone, savaging the tactics of the developers. The atmosphere is tense.
Ruth Victor, the outside consultant brought in by the Town to handle the Glenway file speaks to her report. Though she speaks confidently, she is clearly nervous. Soon she descends into planning babble. I hear the (clued up and intelligent) people directly in front of me ask each other what she is talking about. Like them, I have no idea.
Now Regional Councillor John Taylor is about to give his view. He seems to be reading from a pre-prepared script. He tells us Marianneville gave no ground. "Not once did the developers reduce the unit count by one." He empathises with those who would lose their back yards to housing. If it were happening to him, he tells us he would be outraged. He is backing Glenway.
The Mayor upholds the integrity of the Official Plan. He won't be supporting Marianneville either.
Now it is the turn of a confused Joe Sponga. He is all over the place. He tells us that when he arrived this evening he still hadn't made up his mind what he was going to do. Oh dear!
He says he is a very pragmatic sort of person. He recognises the passion that the Glenway people have shown. And he is concerned about the OMB and what is going to happen there if we throw the Town's beleaguered Planning consultant, Ruth Victor, overboard.
Jane Twinney makes one of her better speeches though it too is scripted. What is the point of having councillors? What is the point of having an official plan if developers call the shots? A good point. I am warming to her.
Tom Vegh will support the Glenway residents. He tells us the proposed development would fundamentally alter the nature of the Glenway community.
Now it is the turn of an animated Maddie Di Muccio who, like Sponga, is here, there and everywhere. She is by temprament the developers' friend but she senses the atmosphere and how highly charged it is.
She reminds us she was the only councillor who voted against the appointment of Ruth Victor as Glenway Consultant. She wanted a "task force" from the Glenway community to oversee the developer's proposals. Her message is: the Town screwed up in its choice of consultant but she is not to blame. She now asks a series of process questions about what happens next if the Town tells Marianneville to get lost.
She asks how much the OMB hearing will cost. Rick Nethery, the planning chief, blinking incessantly, says up to $800,000 for an 8 week hearing.
She tells us she is practical and thinks the Town will lose. But, despite this, she votes to back the Glenway residents. She gets a round of applause.
Dave Kerwin backs the residents. He says he has swamp land behind his house and he has to fight off mosquitos, not developers. This gets a laugh.
Tom Hempen closes by telling us he finds it all very difficult. He says elliptically, that when he supports Glenway "it is a cost to my ward".
Why can't people think about the Town as a whole and not just their little corner of it? I live in Tom's ward and I don't have a problem supporting the Glenway people.
There is a palpable feeling that the whole system is rotten.
And that the planners are running the show, marginalising our elected officials.
This may be about to change. I hope so.
But, all in all, a good night's work.
Details

Written by

Gordon Prentice
On Monday 25 November at 7pm the Town's councillors will meet at Newmarket Theatre to consider a report by planning staff recommending they reject Marianneville's plans to build over huge swathes of the former golf course at Glenway.
Back in August, the developer made a few tweaks to the original application and submitted a "settlement offer" that, for all the bluff and bluster, amounted to little more than some changes at the margins. It was just as toxic as the original.
Instead of wading through reams of planning reports focussing on the technical shortcomings of the application, the Glenway Preservation Association want councillors to raise their eyes from the small print and planning minutiae and ask the question: should any development at all be permitted? The GPA thinks not – and for compelling reasons.
Now, at the eleventh hour, Marianneville's lawyer, the loud and brash and over-confident Ira Kagan, has submitted a second settlement offer to the Town which, he says replaces the original (and appealed) application.
Surprise! Surprise! There are to be 730 dwellings - exactly the same as before. The revised plan of the sub division is here.
The latest proposal went in to the Town Hall yesterday (20 November) and takes the form of a crude bribe to credulous councillors who fret about the cost of defending Glenway (and the Town's Official Plan) at the OMB.
Kagan tells us with every ounce of lawyerly sincerity he can muster that the revised offer will save everyone mountains of cash and is a
 "sincere effort to avoid the substantial costs and resources of this hearing (about half of which will be borne by the taxpayers)…"
Translated, this means the developers are getting worried. If the Town and GPA team up at the OMB against Marianneville, the developer is toast.
Kagan addresses the doubters saying "many of the staff's technical concerns are in fact entirely resolved by virtue of the revised development". Ah!
The developers are even reserving land for a school next to the GO bus station in case it is needed.
We learn that Marianneville (who bought the Glenway lands for $10 million) will grant a ten year option to the Town to buy 57 acres of land owned by the developer but surplus to requirements for $5,500,000, a price fixed for the decade. During this option period the land would be retained as "passive open space" and maintained as such by Marianneville.
The developer will plant a few trees and fix some fencing. Whoo!
Now I read that Kagan impertinently wants the Town to re-designate Glenway as "emerging residential" from "stable residential" and hook up the water mains and sewer pipes in phases as the development gets built. If the Town sticks with the stable residential designation Kagan says this should not be used to deny the developer the servicing allocation required.
Finally, Kagan warns us that another avalanche of reports is heading our way, addressing various technical concerns.
This begs the question: how long can this process go on? Are we going to get a third settlement offer if councillors reject the second?
Any why on earth should planning staff be expected to devote time and energy on successive variations of an application that deserves to die?
On Monday, councillors should throw out the original application and first settlement offer, team up with the GPA, and take their case to the OMB on 10 December.
---
The Clock Tower
A report on Bob Forrest's Clock Tower development that will blight Newmarket's historic downtown comes up before the Committee of the Whole on Monday 25th November.
If we are going to stop bending the knee to developers, there is no better place to start.
Download the agenda for 25 November and scroll to page 110.
---
Details

Written by

Gordon Prentice
Newmarket's draft Secondary Plan – the blueprint that will guide the Town's future growth – seriously underestimates the number of people who could be living here in 2031 and beyond.
The draft Plan, which is expected to be considered by Councillors in January next year, will amend the Town's 2006 Official Plan, substituting a target population of 107,500 by 2031 for the previous forecast of 98,000 by 2026.
Today, there are around 86,000 people living here. The draft Plan assumes that 21,000 people will be living in the Urban Centre (broadly speaking, the Yonge/Davis corridors) by 2031, up from 1,700 in 2006 (the latest figure available).
So, we are asked to believe that the Town's population – outside the Urban Centres – will grow by a mere 500 over the next 18 years.
Is this even remotely realistic?
Outside the Urban Centre, developments in so-called "emerging residential areas" are springing up like mushrooms. Mosaik Homes wants to build 200 homes at McGregor Farm at Davis Drive West and Bathurst. That's another 700 residents.
On the opposite side of Davis Drive West, and west of Upper Canada Mall, lies the 23 hectare Toth Farm which was bought for development by Sundial Homes in April this year.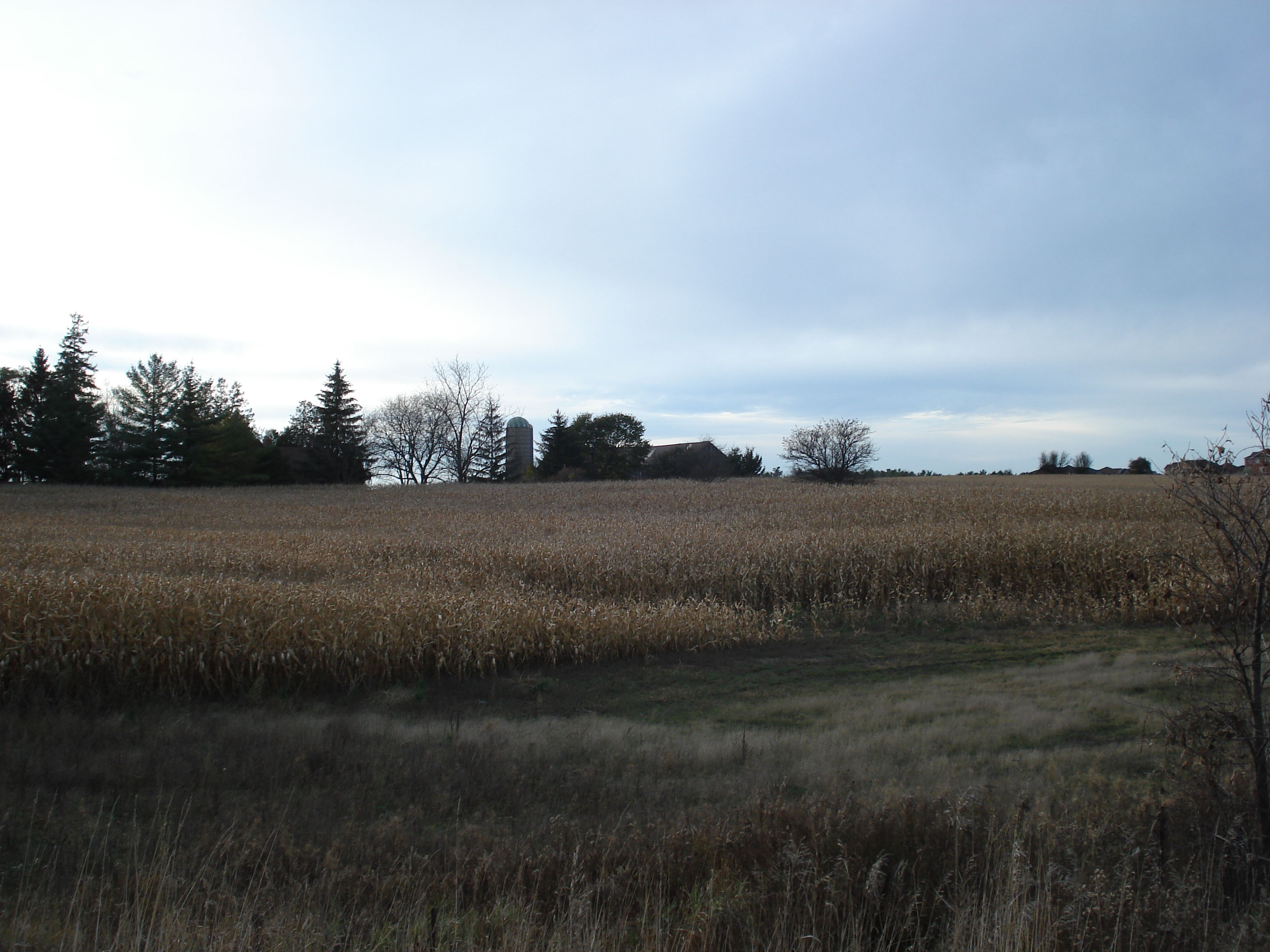 The developers want to build 157 detached and semi-detached houses; 285 on-street and 286 back-to-back Town homes. In total, 728 new dwellings accommodating an estimated 2,160 people.
And if Glenway goes ahead – 730 dwellings, and a couple of thousand people, shoe-horned into a "stable residential" area, the Town's population projections will be worthless. (If nothing else, the draft Secondary Plan makes it abundantly clear that the development of Glenway is not needed to hit the mandated growth targets.)
At build out – where there is no more land left to develop -  we are told that Newmarket will boast a population of 120,000 with 32,000 living in the Urban Centre.
The Town could, of course, undershoot if developers sit on their land and choose not to develop.  22 George Street serves as a warning of what can happen. Planning approval was given for a condo 20 years ago and we are still waiting to see the bricks and mortar. To stop this happening planning approvals must time expire after, say, three years.
More likely, developers will rush to build high rise towers that, with bonusing, could reach 30 storeys at Davis and Yonge; 25 at Yonge and Mulock  and 18 storeys in a ribbon of developments elsewhere along a large part of the Yonge Davis corridors.
As always, there are the imponderables. As sure as night follows day we shall get new "policy directions" from the Province or Region or Metrolinx.
The Town planners assume the Davis Drive Rapidway will complete in 2014  (spot on, I'd say) and Yonge from Davis Drive to Mulock in 2017. But they warn the extension of the Rapidway on Yonge north to Green Lane and south of Mulock depends on funding commitments.
The planners say their "projected rate of intensification" is dependent on the rate at which new developments can be hooked up to the water mains and sewer pipes. It is
"based on a general assumption that servicing allocation continues at the average rate up to and approximately 1,500 people per year Town-wide."
That amounts to additional capacity for 27,000 people from now through to 2031. But if the capacity constraints are eased – or even lifted altogether – the brakes holding back development are well and truly off.
The draft Secondary Plan closes (page 95) with a section on the importance of monitoring
In partnership with York Region, the Town shall monitor and report on the level of development in the Urban Centres every five years as part of the Town's regular review of its Official Plan, including an evaluation of: population and employment generated by both existing and proposed development; pace of development against projections and servicing capacities; traffic volumes on key streets and intersections; metrics on modal split and movement patterns and how these may shift as infrastructure is implemented.
That is sound advice.
But before councillors rubber stamp the draft Secondary Plan they would do well to test to destruction the assumptions made by those who wrote it.
And they should ask themselves the question:
Is this what we want for Newmarket?
---
Details

Written by

Gordon Prentice
Construction work on the VivaNext rapidway has shifted 5, 000 vehicles a day from Davis Drive on to roads in the Town's residential neighbourhoods.
A report to the Town's Committee of the Whole on Monday 4 November says this represents 18% of the 28,000 daily pre-construction volume on Davis Drive.
A Town-wide traffic mitigation study, due to take place next year, could be pushed back to 2015 or even 2016 if councillors accept a staff recommendation declaring it premature.
Arguing for delay, the staff say they can learn lessons from the successes and failures of traffic mitigation on Davis Drive (due for completion in 2014) which can then be used on the next VivaNext project. This second rapidway will run along Yonge Street from Mulock to Davis Drive and is due for completion in 2017.
The report lists local roads that are already under pressure from so-called traffic infiltration, saying they should be the focus of speed management programmes.
Fair enough, speed is an issue but so are traffic volumes.
In an astonishing oversight, no Town-wide traffic survey was carried out prior to construction work starting on Davis Drive. Staff say "the baseline level of existing infiltration is unknown" making it impossible for comparisons of traffic volumes in residential areas to be made, before and after.
The VivaNext projects have been on the cards for years and commonsense tells us traffic was likely to be displaced from congested corridors onto quiet residential streets.
Newmarket's Traffic Management Policy sets a threshold of 20% for traffic infiltration onto suburban roads.  Anything less than this is considered "normal" traffic.
There are lots of residents out there who believe a 20% increase in traffic on their local roads is anything but normal.
The Town has identified the streets "that are most likely to have long-distance and short-distance traffic infiltration".
On the north side of Davis Drive these are: London Road; Main Street North; George Street; Penn Avenue; Bayview Parkway; Lundy's Lane.
And on the south side of Davis Drive: Queen Street; Lorne Avenue; Millard (part); Srigley Street; Gorham Street; Eagle Street.
I suspect the Town has traffic counts for these roads that were taken before construction started on the Davis Drive rapidway.
If so, updated traffic counts for these very same streets should be taken and published at regular intervals from now until the Town-wide survey is put in hand.
There are plenty of other residential streets now used as rat runs where earlier traffic counts could also be updated and published.
People don't need to be told traffic is getting heavier in their residential neighbourhoods but is within the "normal" range.
They want the facts and figures.
And they want measures put in place to keep local roads for local traffic.
The report on Traffic Infiltration in the Committee of the Whole agenda for 4 November 2013 can be found here. Scroll to agenda item 12.
---