The Conservatives are the likely winners of the Federal Election in Newmarket-Aurora whose current MP, Liberal Kyle Peterson, is standing down to spend more time with his family (seriously).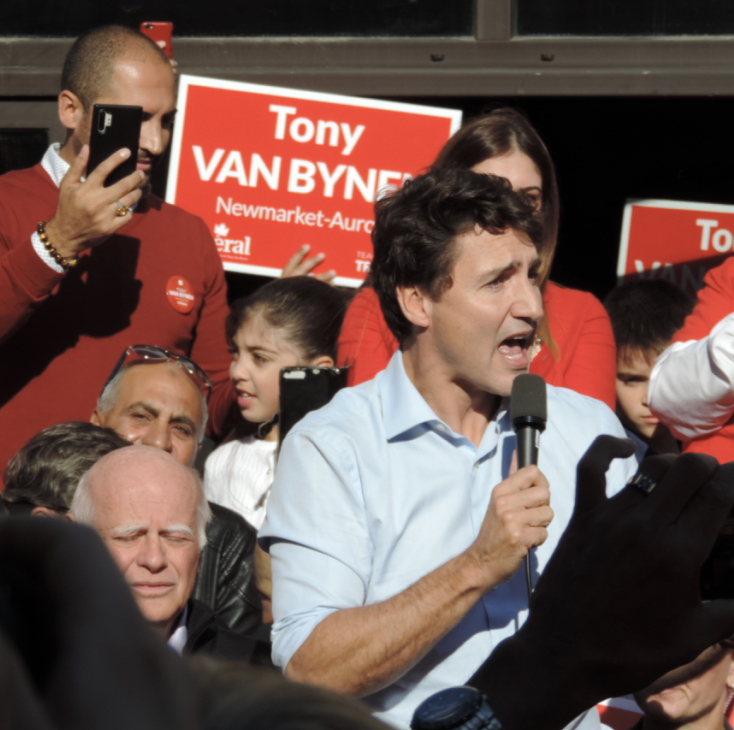 Kyle's replacement, the 69 year old former banker Tony Van Bynen, discovered he was a Liberal a few months ago when the vacancy opened up. He wants us to believe it is a close-run thing:
"This is going to be the closest election we've ever seen in Newmarket-Aurora."
Liberals nominate PPC candidate to get him into the race
Perhaps this is why he and other leading local Liberals signed the nomination papers of the People's Party candidate Andrew McCaughtrie – to shave votes away from the Conservative former MP, the lacklustre Lois Brown. Curiously, this devious manoeuvre has not been picked up by the local press. But if, against all expectations, the old banker wins by a very slim margin his decision to back McCaughtrie will have paid dividends.
In its latest projection 338canada.com gives the People's Party of Canada 2.6% of the vote in Newmarket-Aurora with a 1.7% margin of error either way - but enough to make a difference in a very tight race.
Why do I believe Brown will win?
The Conservatives and Liberals are both within striking distance of each other in the national polls. The CBC Poll Tracker says this today:
"The Liberals and Conservatives remain neck-and-neck in both national support and in the seat projections, but with the two major parties both below 33 per cent support nationwide a majority government looks unlikely. The New Democrats and the Bloc Québécois have momentum following the debates, while the Greens are holding their support."
The Ford Factor: Contaminating the Conservative brand
But in Ontario, the Liberals are ahead of the Conservatives. This could be due to the Doug Ford effect and any number of other factors such as demography.
On the face of it, Newmarket-Aurora should be a Conservative riding given its profile. Household incomes are way above the regional average. The election website 338canada.com now says the riding is "leaning to the Conservatives" and puts the probability of the Conservatives winning at 77% and the Liberals 23%.
For anyone who was downtown yesterday this takes a bit of believing. There were about 300 people hanging around for hours outside the Lil Hungry Brew Hops hoping to see the Prime Minister and hear what he had to say.
For all their razzamatazz and optimism the Liberals are taking nothing for granted. They are warning people not to waste their votes. But is a vote for the NDP or the Greens actually wasted?
NDP and the Liberals
The NDP leader Jagmeet Singh has long said he will not prop up a minority Conservative Government. But he is now saying quite explicitly that he is open to the possibility of making some kind of arrangement with the Liberals if they do not win an overall Parliamentary majority.
Support for the NDP is holding up well in the riding. At the last Federal Election in 2015 the NDP took 8.5% of the vote. Current projections give the Party 10.5% with a margin of error of 3.7% either way.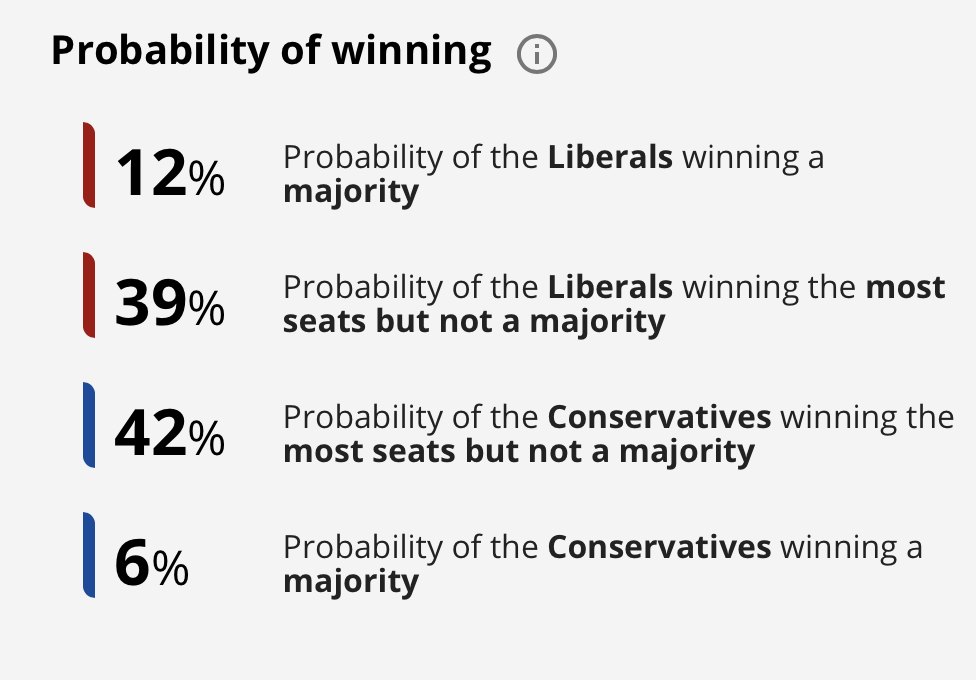 The Greens are in an even stronger position. With a very good candidate in 2015 they took 2.4% of the vote. But now they are projected to get a very significant 9% (with a margin of error of 3.3% either way).
These days the climate emergency is never out of the news and I simply cannot see Green supporters, in large numbers, moving over to the Liberals who have spent $4.5 billion buying the Trans-Mountain Pipeline.
Cross-over voters
But these cross-over voters do exist. When the Prime Minister was visiting Newmarket's Main Street yesterday I got chatting to a leading local environmentalist sporting a Liberal lapel sticker. I was told it was to keep the Conservatives out.
A minority of voters are exercised by constitutional matters such as electoral reform. After Trudeau's volte-face on the issue I cannot see them going Liberal again.
And what about the candidates? Do they really matter?
Most people cast their votes based on the Party and its leadership. Insofar as local candidates matter it works at the margins. But in a close election they can count.
Lois Brown's prior engagement
True, Lois Brown is a well-known name but she hibernates between elections. She says she has knocked on a million doors in the riding but she has been invisible for years – with no presence in the local press and media. She even failed to show up for one of the candidates debates claiming she had a prior engagement that she couldn't tell us about. Oh please!
The secretive old banker Tony Van Bynen has been around for decades but I sense we still really don't know him. He plays his cards close to his chest. When I broke the story of his second severance payment of $67,000 from York Region I got thousands of hits on my modest little website. The Geiger-counter started beeping like mad.
Maybe people from the other side of the globe were interested. Or, perhaps, Conservatives who are never going to vote for him anyway. Who knows? But the needle moved and Van Bynen – who never complains and never explains – was forced to tell us why he kept this second payment a secret for so long.
Do these things matter? To most people, probably not.
Strong candidates
The Green candidate, Walter Bauer, has shown himself to be an astute campaigner, never short of an answer on climate change nor on a host of other issues.
For the sure-footed Yvonne Kelly this is her second time around as the NDP candidate and she has shown a deep knowledge and understanding of the riding and the problems it faces such as housing affordability. Her vote is going to hold up.
So where does that leave the incumbent Liberals?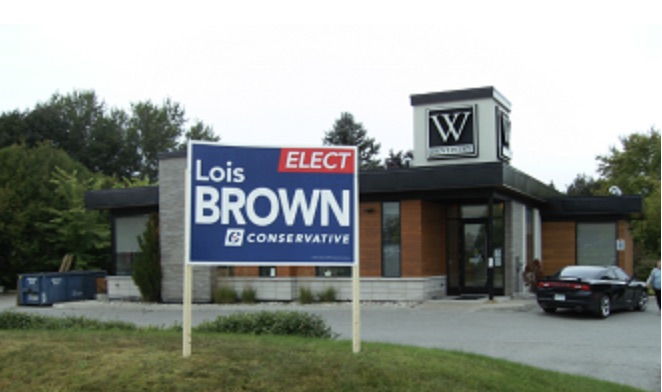 I've always believed lawn signs give a pretty good indication of the way the wind is blowing. Maybe that's why Lois Brown blatantly disregarded the Regional By-law and planted her giant election signs alongside regional roads in defiance of all the rules. (Like this one on the right at Leslie and Srigley)
Do lawn signs make a difference?
But, seriously, dare we rely on something as boringly analogue as a lawn sign in this shiny digital age? Researchers in Calgary tell us there can be a positive correlation between the number of lawn signs on private property (not the big signs on regional roads and public space) and the eventual result. And there is also the subliminal messaging the signs send out to people just going about their day-to-day business.
You can hear all about it in this CBC podcast.
Around my neighbourhood (which is Van Bynen's too) there are plenty of Liberal lawn signs. But Lois Brown is not far behind (if indeed she is). And I see a healthy number of NDP lawn signs with the occasional Green sprouting here and there.
Barring an upset, I am steeling myself for four years with Lois as my MP.
This email address is being protected from spambots. You need JavaScript enabled to view it.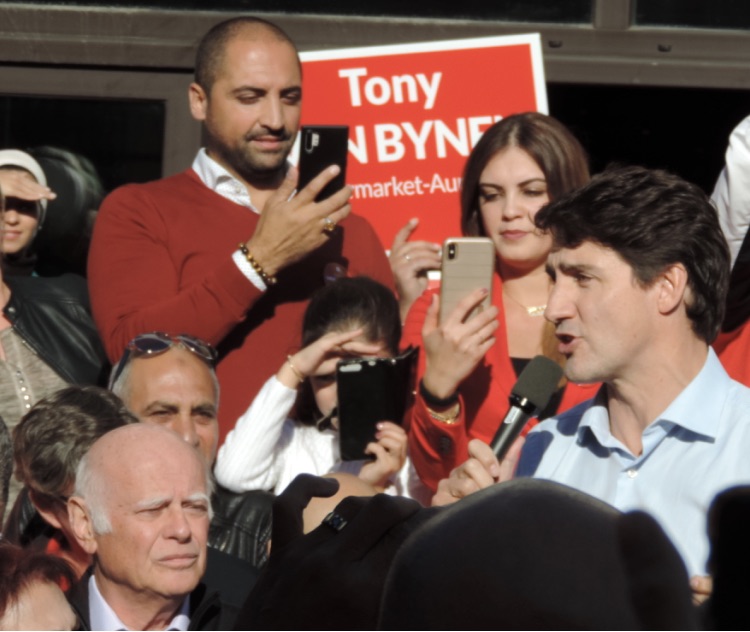 Liberal mover and shaker Wasim Jarrah records it for posterity on his cell phone.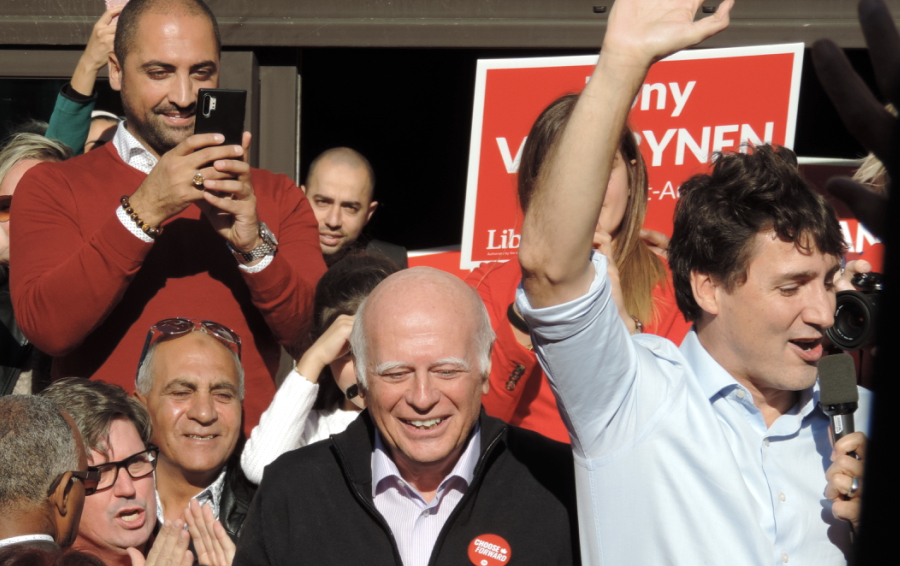 Kyle Peterson ex MP bottom left applauds. Van Bynen smiles. The PM is slightly hoarse after a thousand stump speeches.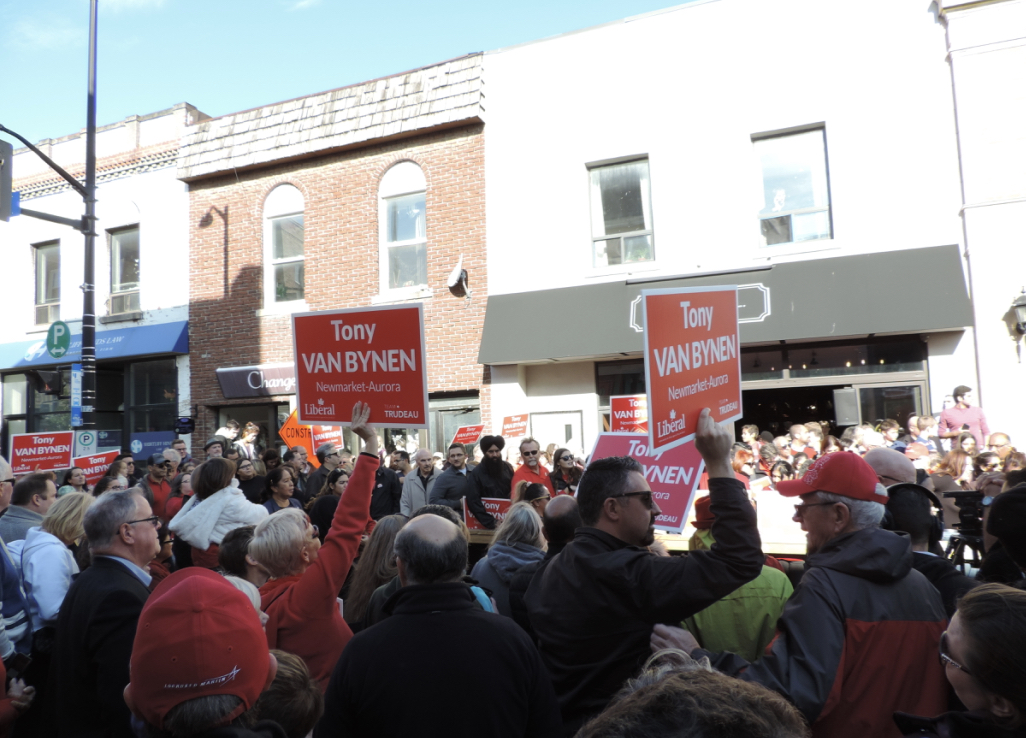 Liberal fervour unleashed - and curious bystanders