Yesterday, I wrote to York Regional Clerk, Christopher Rayner: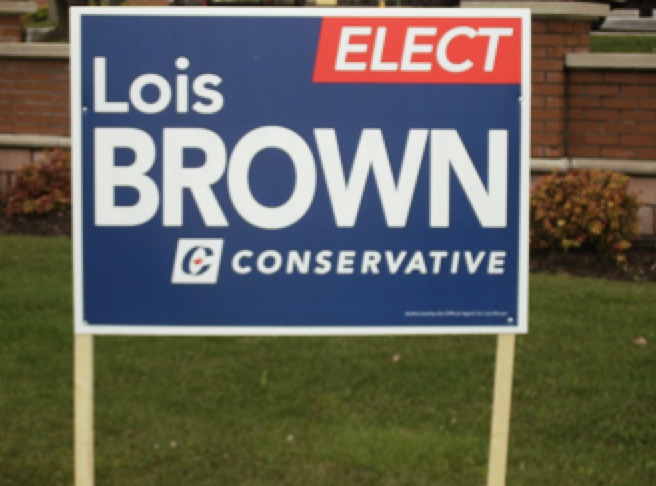 "I am writing to you formally to draw to your attention a breach of York Region Sign By-law 2015-36 which forbids election signs on regional property until "10am on the 28th day prior to the election day". This would mean 23 September 2019.
Lois Brown election signs have been put up at Leslie and Srigley and Leslie and Stackhouse (and elsewhere) in clear contravention of By-law 2015-36. I should be grateful if you could let me know what action, if any, you propose to take."
Just after 5pm today (Wednesday) I received this response:
"Thanks for your email. The Region's immediate concern is addressing signs that are affecting sight lines at intersections and possible safety concerns."
The Region responds
At 15.03 this afternoon Mr Raynor sent the following email to election candidates:
From: Raynor, Christopher;
Sent: 18 September 2019 15:03
To: Raynor, Christopher;
Subject: Federal election signs on Regional roads
Dear Candidate,
The Regional Municipality of York enacted the Signs on Regional Roads Bylaw in 2015 to incorporate provisions for election signs for the purposes of increased public safety and to minimize the Region's costs associated with enforcement.
The bylaw is in accordance with the current state of the law pertaining to the regulation of signs on public highways.
As a reminder, in accordance with the bylaw:
• Any signs installed contrary to the bylaw will be collected by York Region and returned to candidates following election day
• No more than two election signs will be permitted for each candidate per intersection, with a maximum of one sign per intersection corner
• Signs will be prohibited at certain intersections where there is limited space (Schedule A of the bylaw)
• Election signs will be permitted only from 10 a.m. on the 28th day before election day and ending 72 hours following the close of polls; for this fall's Federal election, signs are permitted beginning 10 a.m. on Monday, September 23, 2019
Non-compliance with York Region's Signs on Regional Roads Bylaw may negatively affect public safety. Election signs installed contrary to the bylaw can impede sightlines at intersections and interfere with transit stops, sidewalks and utilities.
Signs which have been removed for non-compliance will be held until after Election Day and will be available for pick up at no cost. Any sign that is not reclaimed after Election Day will be recycled at Regional facilities that accept coroplast (corrugated plastic) election signs.
In the seven days following the October 21, 2019 election, candidates can bring their coroplast election signs to one of the following York Region Waste Depots for recycling:
Elgin Mills Community Environmental Centre
1124 Elgin Mills Road East, City of Richmond Hill
McCleary Court Community Environmental Centre
130 McCleary Court, City of Vaughan
Georgina Waste Transfer Station
23068 Warden Avenue, Town of Georgina
On behalf of The Regional Municipality of York, thank you for complying with the Signs on Regional Roads Bylaw. More information on the Region's Sign Bylaw can be found here.
Regards
Christopher Raynor | Regional Clerk, Regional Clerk's Office, Corporate Services Department
Sightlines
So why is the Lois Brown sign at the northwest corner of Mulock and Bayview still there? It's 6 to 8 inches back from the sidewalk and clearly affects the sight line of a vehicle turning to the right.
This email address is being protected from spambots. You need JavaScript enabled to view it.
Update on 20 September 2019: and this is how Newmarket Today reports the latest developments.