5pm: Developer Bob Forrest is putting Newmarket's iconic Clock Tower and the adjacent historic commercial properties up for sale.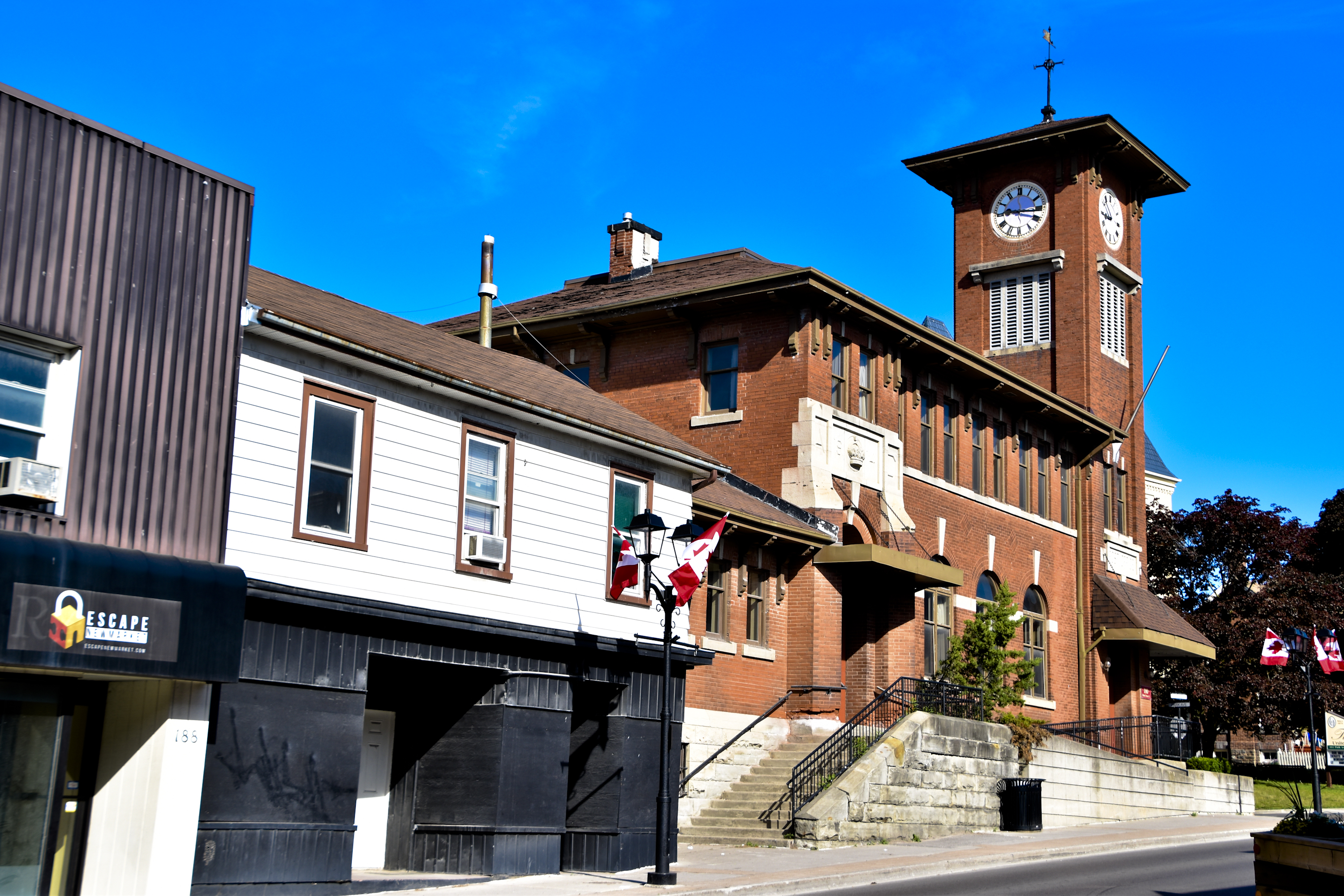 The sale is being handled by realtor Graham Purvis of Royal Le Page but the listing is not expected before June at the very earliest.
The agreement entered into by the Town and Forrest's Main Street Clock Inc last year still stands and Forrest will be getting the properties in a fit state for sale. They have been empty for many years and the buildings have deteriorated markedly.
A report on the Clock Tower is expected to go up to the Town's Committee of the Whole on Monday 29 April 2019.
All Forrest's buildings are within the Downtown Heritage Conservation District and the structures are protected - other than the old telephone exchange dating from 1957 (on the Market Square side of the Clock Tower building) which has no heritage value.
It appears the interiors are being stripped out.
This email address is being protected from spambots. You need JavaScript enabled to view it.
Update on17 April 2019: And this is how Newmarket Today subsequently covered the story.
I've had another look at the agreement entered into by the Town and Forrest's Main Street Clock Inc on 2 May 2018 and have reminded myself that the "New Development Concept" is simply a shorthand way of describing what Forrest can and cannot do with the lands he owns. This is what the Site Plan agreement (attached as Schedule 3 to the minutes of settlement) says:
… AND WHEREAS the Owner proposes to develop the Subject Lands (ie the lands that Forrest owns) within the existing Official Plan land use permissions and zoning by-law regulations, and the development shall be contained entirely within the existing building envelopes and structure, with the exception of the following, all at MSCI's sole option and discretion, (i) a ten stall parking lot (ii) the potential construction of passageway links between the buildings on the Subject Lands and (iii) the potential construction of covered garages at the rear of the Subject Lands, each as described in the minutes of settlement executed between the parties on the same date as this site plan agreement (the "New Development Concept")
On 4 May 2018, Colleen Forrest told us:
"Main Street Clock Inc looks forward to sharing in the near future an exciting new concept for this beautiful heritage space, a concept which will bring economic stimulus to downtown Newmarket."
It never happened. We didn't get an exciting new concept. Just another 12 months of dereliction and decay.
The Mayor, John Taylor, first learned of Bob Forrest's plans to sell the Clock Tower about two weeks ago.