Background: Anthony Pullano, an Aurora businessman steeped in the Town's Progressive Conservative politics, alleges that Magna's community relations chief, ex-cop Steve Hinder, punched him in the chest. It happened on the evening of 20 March 2014 at a meeting called to acclaim Jane Twinney, the PC's candidate for the upcoming Provincial election. Pullano, who suffered a heart attack on 13 June 2013, says the assault damaged his ICD (similar to a pacemaker) and directly led to a chest infection which nearly killed him.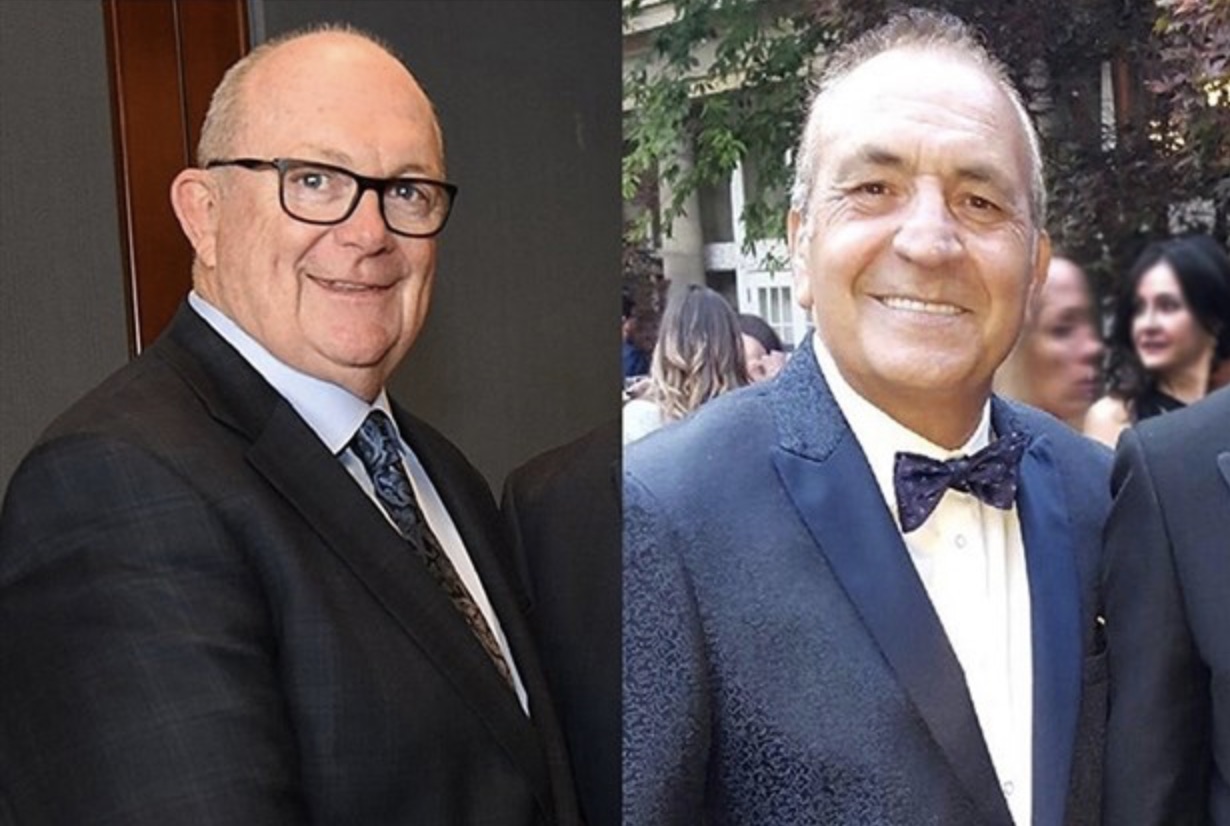 The evening before, on 19 March 2014, Pullano went along to a Liberal Party meeting where Chris Ballard was acclaimed as the Liberal candidate. Pullano, who describes Ballard as a friend, says Hinder took exception to the fact that he (Pullano) was present at both.
Pullano is bringing a civil action against Hinder claiming damages. Hinder is counter-claiming for defamation saying Pullano unleashed a torrent of vitriolic attacks on Twitter which were intended to damage his reputation. The trial in front of a jury of four women and two men began on 19 November 2018 and is expected to run for two weeks. Pullano is represented by William Reid and Hinder, Magna International and the Stronach Group by Deborah Berlach. Her job is to demolish Pullano's credibility in the eyes of the jury.
The story so far: I have been sitting in on the Pullano v Hinder trial for most of the past week – on the bench directly behind Steve Hinder, former Aurora Mayor Tim Jones and some Magna people. The trial is giving me some fascinating insights into the destructive and poisonous politics of the local Progressive Conservative party. And it allows me to learn more about Steve Hinder who, for years, has been an important and influential figure in the life of Aurora. The jury decides on the evidence if an assault actually took place. I believe it did.
As the trial opens Mr Justice McCarthy explains the procedures and the role of the jury. They alone are the judges of the facts. I learn that in law touching someone without consent is an assault.
Anthony Pullano: His own worst enemy
As the trial opens Pullano's lawyer, William Reid, prepares us for what to expect. He tells the jury Pullano is from a modest background with a grade 10 education. He had to leave school to help the family's finances. He is unsophisticated and rough round the edges. He has been involved in politics at the local level for a long time.
Steve Hinder is a different kettle of fish. He retired in 2001 as a staff sergeant in the police and was a councillor for one term. He was the constituency manager for Belinda Stronach and head of campus security at Magna. He was subsequently hired by the Stronach Group as their community relations person. We are told he is a well-educated and sophisticated man.
Almost from the outset, it becomes clear that Anthony Pullano is his own worst enemy. He irritates the Judge with his circumlocutions and off-point answers to questions. He challenges Hinder's Counsel, accusing her of trying to trick him. There are many occasions when I hold my head in my hands, willing him to stop digging deeper but he plows on. He gives long lists of people he actively dislikes. He tells it as he sees it, warts and all. The jury is getting pure unfiltered Pullano, straight from the horse's mouth.
The alleged assault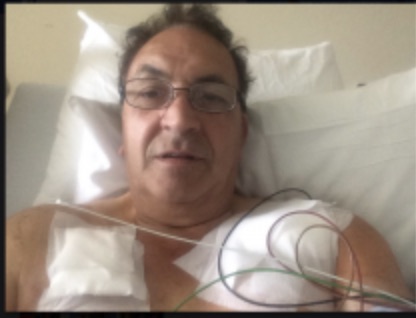 Fast forward to the evening of 20 March 2014 and to the Mansion Banqueting Hall in Aurora. Pullano believes some people in the PCs take exception to the fact that he went along to Chris Ballard's meeting. He has a brief conversation with Jane Twinney. Later Hinder approaches and with a closed fist he punches Pullano directly on the chest saying:
"Who are you supporting tonight?"
The central question in this trial is very simple. Was there an assault?
Hinder's lawyer tells us that Pullano was standing at the bar when Hinder walked in and shook his hand. She says Pullano's subsequent tweets were untrue and they form the basis of the counter claim for defamation.
During the trial we learn about Pullano in excruciatingly microscopic detail. His background, personal life and messy divorce (he says he is now happily re-married). His businesses, friends and finances are all forensically picked over by Hinder's lawyer. What did we learn?
Pullano believes God sent him angels. Friends helped him financially in business and in buying a home in Aurora. Meaning he got a really good deal.
Pullano sees himself as a loyal Conservative. Pullano was a member of the Newmarket Aurora Progressive Conservative Riding Association Board:
"I was never an extremist involved in politics. Always middle of the road. I never wanted to run Provincially or Federally."
He talks about his relationships with Tim Jones, Frank Klees ("a good man and a good MPP") and Belinda and Frank Stronach (described as acquaintances).
Belinda Stronach was elected as Progressive Conservative MP for Newmarket Aurora in 2004 and Hinder was her constituency manager. In May 2005 she crossed the floor to the Liberals.
"I started to get emails from PC guys who scare me. They want to hang her. When Belinda crossed to the Liberals Hinder and his circle crossed… I stayed with the PCs."
He says he quit the Newmarket Aurora PC Board in 2013 when it started to become "extreme".
Pullano loathes Magna. When Belinda Stronach quit politics Hinder became the Community Relations Director for Magna – a company which Pullano describes as
"all pervasive in Aurora. They are in charge. They are the big boys. Hinder came back as an extreme right wing Conservative."
Pullano goes on:
"Mr Hinder was known as the bagman for Magna. He would decide which councillors got donations from Magna. If Hinder didn't like you then 90% of the people around him would dislike you."
The night of the alleged assault. Pullano says he went to the Mansion Banqueting Hall around 6.30pm and met two friends. He has a brief conversation with the PC candidate Jane Twinney
"… I know Jane Twinney. An attractive girl. I'd never seen a frown on her face before. (She says) I hear you went to the Ballard event. I told her I can't vote. I'm not a Liberal. But she was very upset… 80% of the people at the Mansion I didn't recognise. They were extremist PCers."
His friends went to get seats and Pullano asked them to save him one. He wanted to scan the room. He says the place was full of "Hinder's cronies".
"I saw Hinder come in. I thought he would go up to the front of the hall to the VIP section for the big boys. I thought he would go there. Things happened instantaneously."
He says:
"And who are you supporting? And he punched me. Bang!"
"It was unexpected. Hard. Straight. Bang right on my chest. His expression was anger on his face."
"He punched me and walked away. Like I was a piece of dirt."
"He then went into his VIP circle of friends. When he punched me I lost my balance. I didn't fall down but stepped back two or three steps to get my equilibrium… It was like I'm in charge here. I can do whatever I want."
Pullano goes on:
"I started feeling my heart racing. I can't breathe."
"I was afraid something would happen so I better not leave. I sat down quietly."
After half an hour the speeches were over and Pullano summons up the courage to confront Hinder. He thinks to himself: How can Hinder just punch me and walk away? I'm not afraid of him.
"I walked up to him. Listen you fuck I am calling Magna. Tomorrow I am calling. And Hinder says I was just kidding!"
"As I walk away Derek Murray (the President of the PC Riding Association) – an 80 year old extremist hothead – walks up to me. All of a sudden he starts yelling at me… yelling at me while holding in his dentures."
Was there a pre-existing heart condition?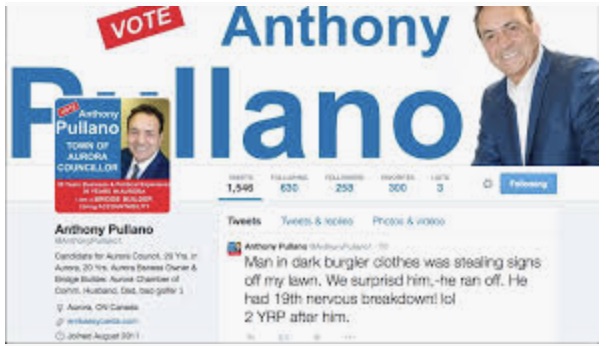 On Thursday (22 November) Pullano is on the stand being cross examined. There are questions about his personal finances. His sources of income before he set up Embassy Cards. Whether Embassy Cards operated at a loss. Whether he consulted medical professionals about his mental health in November 2013, before the alleged assault on 20 March 2014. (He asked for a check up on 13 February 2014 because he was concerned about tingling sensations that would come and go.) This line of questioning is designed to suggest there was a pre-existing condition. We are told Pullano was a smoker.
Pullano tells us Wanda Cena (a witness to be called on Monday) was standing next to him when he was allegedly punched by Hinder. Did he know Ms Cena at the time of the alleged assault?
"I knew her by name only. (I did not meet her until) maybe a year after the 2014 election."
Pullano is asked if Hinder was aware he had an implanted ICD. Pullano says he didn't know. He doesn't say perhaps or probably. I am thinking there is no side to Pullano. He tells it as he sees it – even when his answer manifestly undermines his credibility in the eyes of the jury.
Now she is going through Pullano's acidic comments about Hinder on Facebook.
I was scared
Now she wants to know why he didn't go to the police about the alleged assault before September 2017. Hinder was, of course, a former police officer.
"I didn't go before then because I was scared. I was afraid. Finally I got the nerve to approach them and they did a two month investigation…"
In the event, York Police did not press charges. Pullano brought a private criminal prosecution but it ended earlier this year when the Crown withdrew the charges.
He is asked about other comments he made on social media about Hinder's friends allegedly deserting him. I made that up says Pullano with disarming candour.
Now Ms Berlach wants to know the basis for Pullano's assertion that Magna and Hinder have the town of Aurora in their pocket, deciding which candidates for Council are going to get Magna/Stronach donations. She challenges him to give evidence for his claim that Hinder lobbies for Magna on the Town's Economic Development Advisory Committee. Pullano wrote to the Town about his concerns but his representations were ignored.
Pullano is painted as a loose cannon, firing shots wherever the fancy takes him. Making things up. Oblivious to the consequences.
Pullano doesn't think twice about talking of people he doesn't like in derogatory terms. He refers to Derek Murray, the 80 year old president of the PC Riding Association, as "the walking dead". He says of the newly elected Mayor of Aurora:
"Mr Mrakas is known in Aurora as Hinder's boy."
By his standards, Pullano is neutral about former Mayoral candidate John Abel:
"He is a friend of Hinder's. We don't really like each other but we are civil. The relationship is not toxic but civil."
The evidence of Dr Andrew Morris
Dr Andrew Morris is an expert on infectious diseases. He has an impressive professional CV and is accepted on both sides as the expert's expert. He has been brought in by Pullano's lawyer to give his opinion on causation – whether a blow to the chest is likely to have triggered the infection that had such serious consequences for Pullano.
Did the blow cause the infection? Dr Morris cannot say definitively but
"Clinicians have repeatedly said there was no evidence of infection and then after the blow (there was) clear evidence of infection… blunt trauma is the likely mechanism for the introduction of bacteria."
He is asked if drugs prescribed to Pullano before the alleged assault would mask an underlying infection. No.
"It is impossible to say the blow was causative. Equally, but more likely, the blunt trauma was the inciting event."
He sums up:
There is minimal if any evidence of any infection prior to 21 March 2014.
Even though Mr Pullano received antibiotics (prior to the blow) two of the three drugs wouldn't treat an infection and the third was prescribed at a low, ineffective dose. (Therefore there is no masking of a pre-existing infection by drugs)
It is entirely plausible that blunt trauma could introduce infection.
Hinder's lawyer presses Dr Morris in cross examination. She wants to know if latent infection could arise from the ICD insertion surgery in 2013. Dr Morris says firmly, no.
Pullano has now finished giving his evidence.
The trial continues on Monday with Wanda Cena in the witness box.
This email address is being protected from spambots. You need JavaScript enabled to view it.
Update on 26 November 2018: Dr Andrew Morris is a Professor of Medicine at the University of Toronto and the Medical Director of the Sinai Health System-University Health Network Antimicrobial Stewardship Program. He is not attached to Southlake as I incorrectly stated earlier.