Chris Ballard, fighting for his political life here in Newmarket-Aurora, pledged last night that "by hook or by crook" he would bring a 15 minute GO train service to Newmarket's proposed new rail station at Mulock Drive. For the moment, the service is planned to stop at Aurora.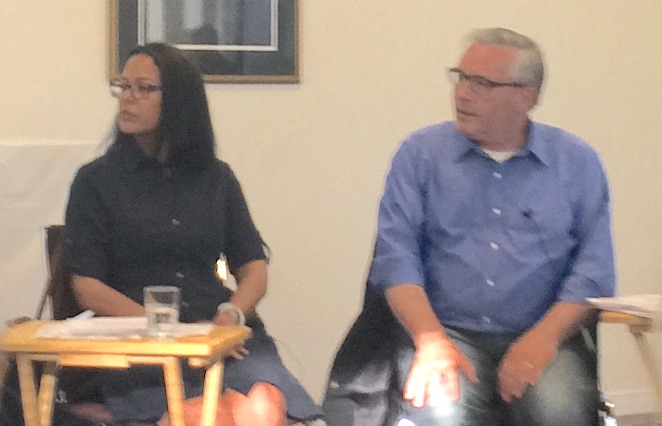 Ballard was speaking to an engaged and well-informed audience at Holy Cross Lutheran Church in Newmarket on a wide range of social issues. He was joined by the NDP's Melissa Williams with the PC's Christine Elliott and the Green's Michelle Bourdeau giving their apologies.
What did I learn that was new and interesting?
Keep Calm and Carry On
Melissa Williams has two businesses. One a marketing consultancy and the other, yoga and meditation. This might explain why she always appears so calm and unruffled.
I know she resents paying so much for her hydro but it comes as news to me that she has had to re-mortgage her house to meet all her expenses. It is, of course, her choice to make these details public but it gives us an idea where she is coming from. She comes across as open (perhaps disarmingly so) and absolutely genuine.
She is not a politician (at least not yet) and has never learned the art of dissembling.

Chris Ballard puts in another strong and confident performance, answering questions directly with no equivocations. I learn he is coming up to 60 and spent 25 of those years in the far north. Clearly, he knows and cares deeply about the issues facing first nations, giving us reams of examples.
Someone from the audience asks why the two candidates – and the two parties – can't get together and everyone laughs.
But there is a difference.
Ford rejects Ballard's briefing
Chris Ballard is blunt. He says an NDP Government would damage the economy. He says a strong economy funds the social programs we all care about. As for the PCs, he is dismissive. He says Ford would destroy the social safety net and roll back key programs on climate change. He reveals he offered Doug Ford a briefing on cap-and-trade but it wasn't taken up. Ford, he says, doesn't know the difference between a carbon tax and cap-and-trade.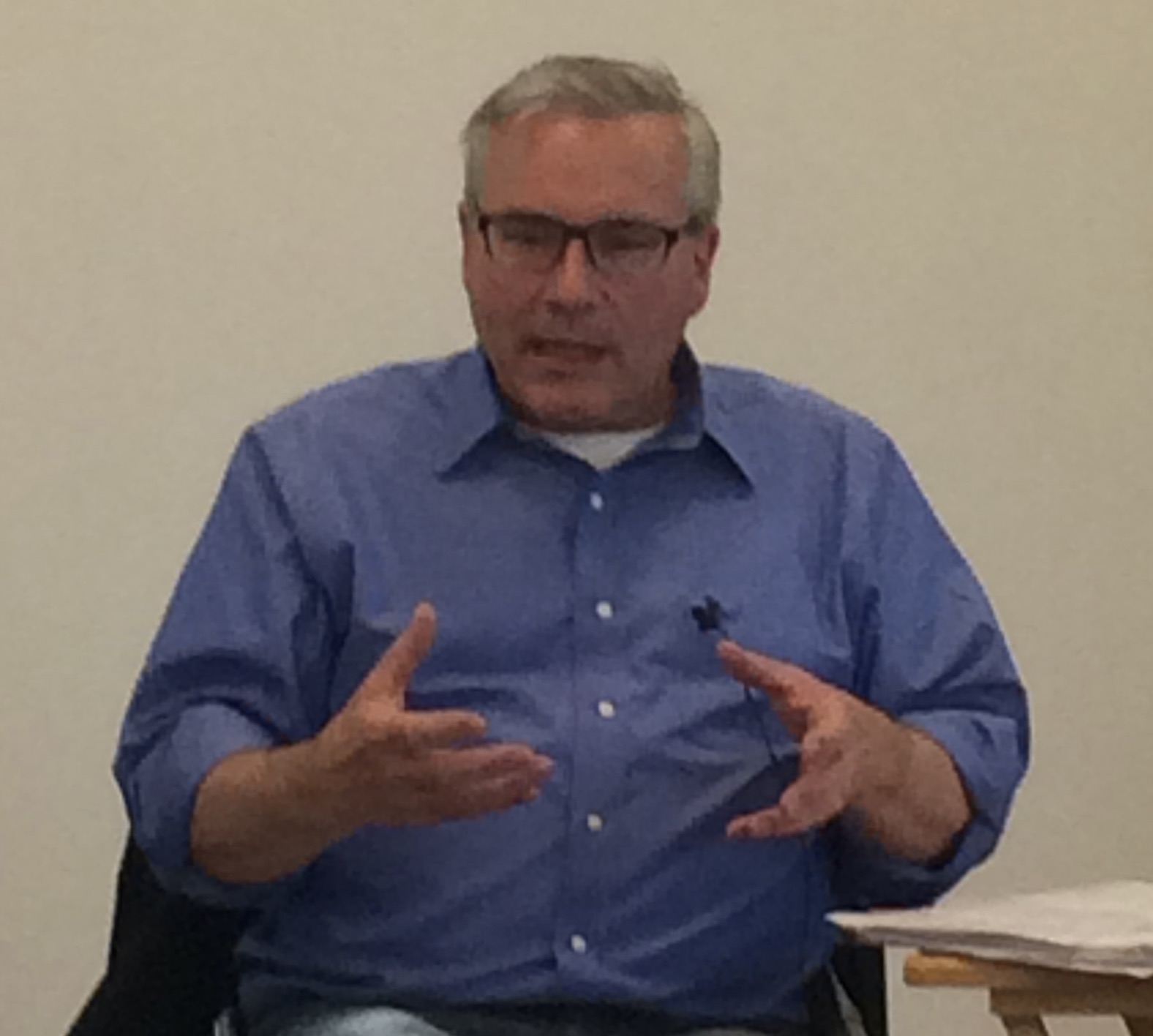 There are questions on precarious employment and both agree that not everyone is benefitting from growth in the Ontario economy. And what about income security? And truth and reconciliation? The questions keep rolling in. And now there is one on how best to promote critical thinking! Terrific! I am in the company of people who are light years away from Doug Ford's bumper-sticker politics. This meeting should have been streamed to a wider audience.
Melissa Williams has touching faith in Andrea Horwath's ability to deliver. That is not a criticism, merely an observation. Melissa sees the NDP platform as a program for Government, fully costed, with no mention of the black hole uncovered by the Liberals. Her list of spending commitments prompts one member of the audience to ask what many people are thinking. How will the NDP pay for it all?
Ticking all the boxes
Chris Ballard reflects on his four years at Queen's Park, comparing his promises to the voters in 2014 and what he has delivered. GO Rail expansion, OMB reform, protection of the Greenbelt and so on. He feels he has ticked all the boxes.
He gets energised about the Jobs and Prosperity Fund which Doug Ford has promised to abolish with the inevitable loss of 650 local jobs. Christine Elliott has been silent on this.
Now I hear someone say she is going to tweet Christine Elliott with the questions she couldn't answer tonight because of her absence.
I shall keep an eye on my Twitter feed.
This email address is being protected from spambots. You need JavaScript enabled to view it.