I don't think I've ever met Steve Hinder but, from time to time, I see his face smiling at me in photographs.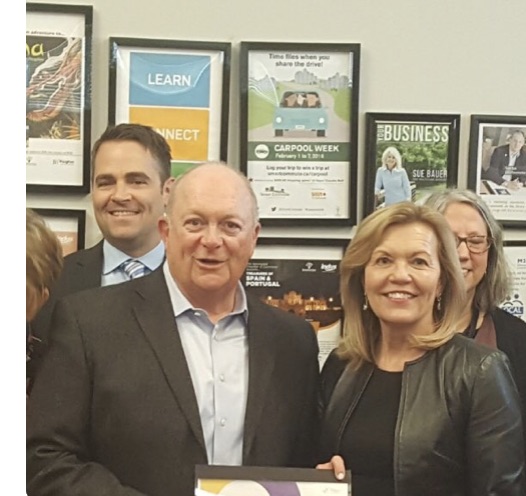 Hinder was a police officer in Toronto for 30 years before joining Magna as some kind of community liaison person and general factotum. A few days ago he presented Christine Elliott with a copy of the Ontario Chamber of Commerce manifesto for the upcoming Provincial Election on 7 June.
Aggravated Assault
Now I see that former Aurora council candidate and businessman, Anthony Pullano, is bringing a private criminal prosecution against Hinder for allegedly assaulting him at the acclamation of Jane Twinney as the PC provincial candidate for Newmarket-Aurora over four years ago, on 20 March 2014. A civil action against Hinder was brought by Pullano on 26 February 2015.
Pullano alleges Hinder punched him in the chest, dislodging his pacemaker and causing him to be hospitalised. The circumstances of the alleged assault are set out in compelling detail by Brock Weir in the Auroran of April 11, 2018. He writes:
As a result of the alleged assault, Pullano claims he suffered injuries… leading to a "deterioration" in health including "loss of heart function, loss of sexual function, a loss of right hand function, and chronic pain and inflammation in his right hand and/or right arm."
Weir continues:
"The initial claims have been working their way through the civil courts since 2015 but jumped to the criminal courts after Pullano filed a pre-enquete motion which brings the matter before a Justice of the Peace to determine whether charges should be laid against an individual following a private complaint."
Criminal Prosecution
I had never heard of this "pre-enquete" business before – I'm not a lawyer - but it intrigues me that a private individual can trigger a criminal prosecution.
I learn that section 504 of the Criminal Code
"allows any person to initiate a private prosecution if he or she believes, on reasonable grounds, that a person has committed an indictable offence."
This "pre-enquete" procedure is very rarely used. Most people who claim they were assaulted would go to the police and let the prosecuting authorities take it from there. But for those bringing their own private prosecution the first step is to persuade a Judge or Justice of the Peace to allow the criminal prosecution to go ahead. Not easy or straightforward but Pullano has cleared the first hurdle.
YorkRegion.com reporter Jeremy Grimaldi quotes Justice of the Peace Chantal Dube saying on 28 February this year:
"I am satisfied that the information before the court is valid and that the informant has presented some evidence on all of the essential elements of the (alleged) offence,"
Grimaldi continues:
Although charges have not been laid, they are expected.
Neither Hinder nor his lawyer chose to comment on Dube's decision.
The Crown responded that the matter was "straight indictable", meaning Hinder is to be charged and face a jury trial, despite York Regional Police investigating the matter and not laying charges.
Four years and counting
Pullano's decision to bring a criminal prosecution so long after the alleged assault has me scratching my head – but, then again, I don't know how long it took for the police to investigate and decide not to bring charges.
Personally, I think it scandalous that serious allegations take so long to resolve. Apart from anything else, memories fade with the passage of time.
Who is to blame for this lamentable state of affairs? Our sclerotic courts where endless delay is built into the system or the aggrieved Anthony Pullano who, apparently, waited years before bringing his unusual criminal prosecution?
The curious case of Pullano v Hinder et al returns to the court in Newmarket on 15 May 2018.
This email address is being protected from spambots. You need JavaScript enabled to view it.