The Information and Privacy Commissioner's Office calls me today to say the Town cannot answer this simple question of mine:
"When did the Director of Planning first realise that the true Floor Space Index (FSI) of the proposed Clock Tower development was greater than the figure (2.9) that was in the documents presented to councillors and the public on 28 November 2016?"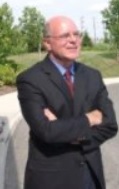 That was when councillors were being asked to decide the fate of Bob Forrest's planning application to redevelop the heart of the Town's Heritage Conservation District. The Mayor, Tony "$212,000" Van Trappist, was very much in favour.
The Town's senior staff say there are no records indicating when the Director of Planning, Rick Nethery, first realised the information being presented to councillors on the Clock Tower was false.
And, in any event, they say the FSI – a measure of the development's density – is less important than height and massing.
Just ask him.
Why doesn't the Chief Administrative Officer, Bob Shelton, simply ask Rick Nethery when he first realised the developer's figure was false? He could jot down the answer, thereby creating a record.
Deputy Mayor and Regional Councillor John Taylor among others now says factors such as height and massing are more important than the FSI.
So, perhaps he can ask Rick Nethery?
Why is this important?
I have taken the Clock Tower issue to the Ombudsman on the basis that information known by senior Town employees to be false should never be put before councillors and the public.
The fact that our elected officials – other than the Mayor – voted against the Clock Tower development on 28 November 2016 is neither here nor there.
The issue at the heart of the matter is whether reports prepared by senior Council staff are truthful and do not seek to mislead or deceive.
This email address is being protected from spambots. You need JavaScript enabled to view it.