Tonight, Redwood Properties will be holding their second open house on the proposed development at 17645 Yonge Street.
The Statutory Public Meeting will be held on Monday 6 November 2017 in the Council Chamber at 395 Mulock Drive. People will be able to raise concerns then about the nature of the development. Three immediately occur to me.
Affordable Housing
The developers do not propose to have any affordable housing. Councillors will have to take a view on this. Do they pay lip service to Provincial plans and York Region's targets and allow the developer to get away with zero affordable apartments, shifting the burden onto other developers in years to come?
The 2016 Census figures for Newmarket show we live in a well-off Town but there are significant numbers of people living on modest and low incomes who struggle to get by.
There are only 1,295 apartments in buildings in Town higher than 5 storeys. Of course, that is going to change but will people be able to afford to live in the new towers?
The Information Report published by the Town earlier this month on the site plan review process says this:
"The Town of Newmarket Official Plan requires that a minimum of 25% of new housing development outside of the Urban Centres and 35% of new housing development inside the Urban Centres will be affordable to low and moderate income households. A portion of these units should be accessible to people with disabilities and include a range of types, unit size, tenures to provide opportunities for all household types, including large families, seniors and persons with special needs. Affordability thresholds are determined annually by the Regional Municipality of York.
Affordable housing may be secured through appropriate agreements as a condition of development approval."
Exceptional Architecture
The height of the three towers - 21, 19 and 17 storeys - is unlikely to change. The Council never really embraced the thinking behind John Taylor's earlier proposed 15 storey height cap and that is now dead and buried.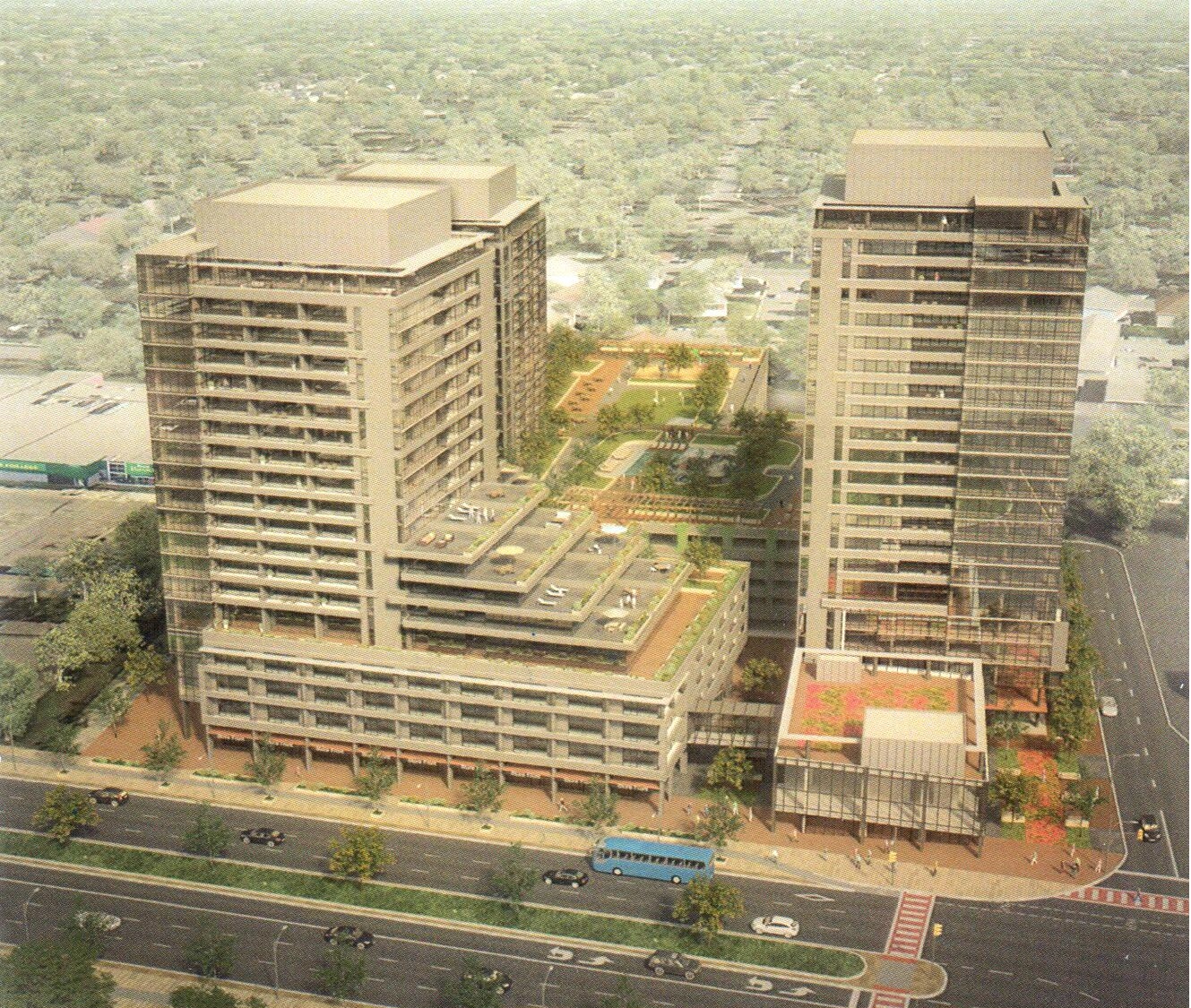 However, in 2013, the Town's planners, guided by Marion Plaunt, produced the Secondary Plan Directions Report. It talked lyrically about "exceptional architecture".
"The Urban Centres are a collection of character areas that will develop into neighbourhoods each with their own unique identity, highlighted by exceptional architecture and design, and signature public spaces and art that create iconic places. A high standard of design will govern the built form within the Urban Centres..." (Urban Centres Direction Report 2013. Page 28)
Whether Redwood on Yonge represents "exceptional architecture" is, I suppose, in the eye of the beholder. It will be for councillors to decide whether the three towers meet the high bar originally set by their own Directions Report and now reflected in the Town's Secondary Plan.

Putting important issues on Hold 
Is the Town going to give approval in principle to Redwood on Yonge and to what extent will the Town rely on so-called "Holds" as it did with Slessor Square?
These Holds are outstanding issues that have not been resolved at the time conditional approval is given. They are lifted as and when they are satisfactorily addressed by the developer. The Slessor holds included traffic impact and parking and source water protection.
We now know that the deep underground parking garage that was central to the earlier  Slessor Square design (and was waived through) could not have been built as envisaged because of the high water table.
And, while we are at it, whatever happened to the Master Plan for the Upper Canada Mall?
This email address is being protected from spambots. You need JavaScript enabled to view it.
---