I have been reflecting on Wasim Jarrah's campaign launch yesterday afternoon upstairs at the Hungry Brew Hops in Main Street South.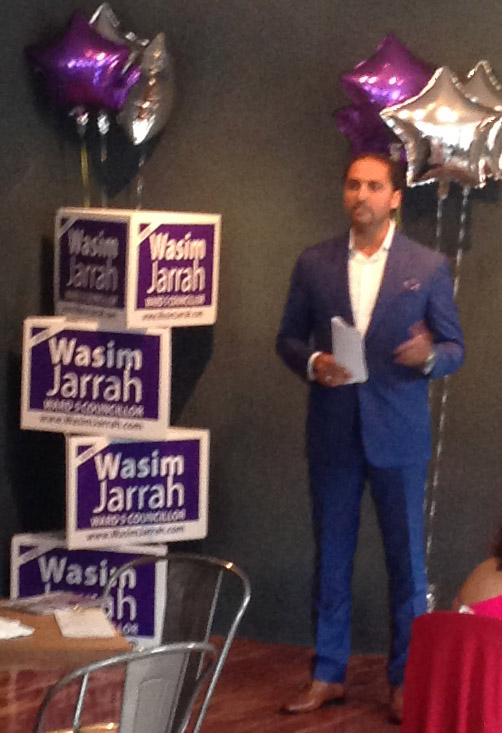 In the spirit of the times I want to be upbeat and positive. After all, Wasim is the candidate who believes in "sensible solutions".
It was a jolly enough affair and everyone was very nice but there was one missing and rather vital ingredient – a platform. 
As I am listening to his speech I hear Wasim wants to cut red tape. There's too much bureaucracy. The Town must become more business friendly. He wants respect for taxpayers. He acknowledges the Town is a decent enough place to live with good services but, he says, we can always do better. He is painting a picture with very broad brush strokes and very little in the way of detail.
The words "Clock Tower" do not pass his lips.
I hear no clarion call.
Instead, Wasim tells us:
"I don't want to set out a platform until I have consulted with people."
Oh dear!
We are getting the dance of the seven veils when everything will presumably be revealed on Tuesday 4 October 2016. This is the day of the candidates' debate hosted by the Chamber of Commerce.
Drip-feeding solutions
He's gotta come up with the answers by then. He can't tell the audience at the Newmarket Theatre he is reserving his position on an issue because he hasn't consulted on it yet.
To be fair, Wasim must have consulted people on traffic and safety problems because he has produced a leaflet setting out his plan of sensible solutions:
Install passive speed deterrents such as painted stone intersection crossings or soft strips.
Install actual speed warning signs
Install digital speed monitors to alert drivers to their speed
Explore radar cameras and reinvest proceeds back into the ward
Investigate bike lanes on arterial routes.
There is rather too much "exploring and investigating" for my taste. But what, if anything, are we going to do about traffic volumes? Should some streets be bus only or bus and auto only? Or, indeed, pedestrian only? How do we keep huge trucks off residential streets?
Is there a sensible solution to the grid-lock that is threatening to throttle our Town?
When Wasim consults on that one, I would like to hear the answer.
This email address is being protected from spambots. You need JavaScript enabled to view it.
---