The Integrity Commisioner, David Wake, is recommending that within 30 days the Ontario Legislature reprimands Municipal Affairs and Housing Minister, Steve Clark, for being asleep on the job, leaving key policy decisions on the Greenbelt to his forgetful and amateurish Chief of Staff, Ryan Amato.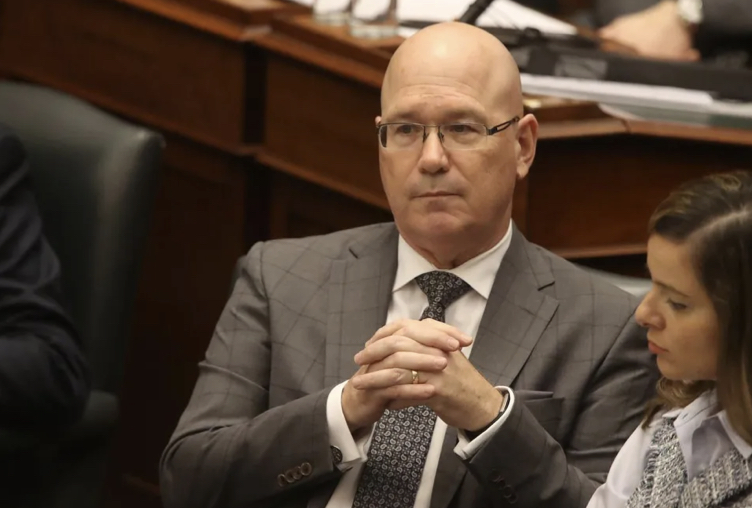 The full report is here. The press release is here.
The picture Wake paints is disturbing. A chaotic slap-dash process. Uninformed and opaque decisions
"which resulted in the creation of an opportunity to further the private interests of some developers improperly".
Wake tells us Amato is the rogue element, acting on his own volition with no steer from his boss, Steve Clark who, even now, expresses no remorse for his role in this affair.
Wake says it may seem incredible that Minister Clark would have chosen to stick his head in the sand.
We are asked to believe the incurious Clark did precisely that when, instead, he should have required Amato to keep him closely informed on such a key policy initiative.
The penalty is a reprimand when it should be, at the very least, a lengthy suspension from the Legislature.
More to follow…
This email address is being protected from spambots. You need JavaScript enabled to view it.
Update on 30 August 2023 from the Toronto Star: Doug Ford stands by Steve Clark despite report the Minister violated Integrity Act in Greenbelt
Update on 31 August 2023: From the Toronto Star: Steve Clark says "I'm sorry" for poor oversight in Greenbelt deals and vows to stay on as Housing Minister (click "read more" below)
Steve Clark says "I'm sorry" for poor oversight in Greenbelt deals and vows to stay on as Housing Minister
A sombre Municipal Affairs and Housing Minister Steve Clark says he's sorry for not keeping a closer eye on a top aide as the Greenbelt land swap scandal developed, but is vowing to stay in his post despite a second damning report into his conduct.
But the minister offered few explanations, evaded questions on why he didn't provide better supervision as properties were selected for removal from Greenbelt protection and abruptly walked out of a news conference Thursday.
"I accept that I should have had greater oversight," a subdued Clark told reporters amid the growing fallout from Wednesday's report by provincial integrity commissioner J. David Wake and increasing pressure on him to resign.
His appearance came hours after Premier Doug Ford signalled Clark would keep his job regardless of the findings of a months-long investigation by the ethics watchdog into the Greenbelt land swap scandal.
"I have confidence in Minister Clark," Ford said at Lakeshore Collegiate Institute. "Minister Clark is part of our team and will continue to be part of our team."
Appearing in the legislature's media studio, Clark acknowledged being "overly reliant" on his staff.
"I'm sorry I didn't do a better job ... I take responsibility and I regret that the process that came under my watch didn't meet expectations."
Wake found Clark contravened the ethics legislation by allowing his chief of staff to personally select 14 of the 15 plots of land removed from the Greenbelt — and noted Clark "has not expressed any remorse for his own role in this affair."
Ford is refusing to fire Clark as minister despite the parliamentary tradition of ministerial accountability and demands from opposition parties the minister resign, something Clark himself frequently demanded of Liberal cabinet ministers in years past.
"I'm not happy with the process," the premier added, referring to how the parcels of land were chosen for developers to build 50,000 homes as part of the government's pledge to build 1.5 million homes by 2031 to ease a housing shortage that has sent prices skyrocketing.
"But I have to build these things or the crisis we're in is just going to get worse," said Ford, repeating his oft-used line "the buck stops with me" that Clark also invoked in a statement Thursday.
Opposition parties scoffed at the talking points from the minister and the premier.
"The buck's not stopping anywhere," interim Liberal Leader John Fraser said. "Nobody's taking responsibility."
NDP Leader Marit Stiles questioned Clark's sincerity given the government's refusal to go back to the drawing board in the selection of properties to be removed from the Greenbelt.
"Ontarians deserve so much better than fake apologies," she said in a statement. "His words are meaningless without any action to back them up."
Green Leader Mike Schreiner said "the premier has failed the accountability test. The minister has failed the accountability test."
Fraser called for a legislative committee to hold special hearings and call witnesses on what happened with the Greenbelt lands — similar to one the Progressive Conservatives and New Democrats forced former premier Dalton McGuinty's minority Liberal government to hold on the gas plants scandal a decade ago.
The ongoing scandal is another major setback for Ford's Progressive Conservative government, which has been mired in Greenbelt controversies for weeks.
Wake noted in his report that Clark "has not expressed any remorse for his own role in this affair" in which Amato bypassed input from civil servants and land use experts in selecting the properties.
The minister "misinterpreted the mandate letter (from the premier's office) in relation to the Greenbelt particularly with respect to what was expected and by when, which led Mr. Amato to embark on a rushed and flawed process."
That meant prominent developers getting 7,400 acres of environmentally sensitive land in the 2-million-acre Greenbelt that surrounds the Greater Toronto and Hamilton Area opened up to build 50,000 homes. It could result in an $8.28 billion bonanza for the well-connected landowners.
"The evidence paints a picture of a process marked by misinterpretation, unnecessary hastiness and deception. It shows that Mr. Amato advised Minister Clark to 'leave it with me' as he embarked on a chaotic and almost reckless process that I find led to an uninformed and opaque decision which resulted in the creation of an opportunity to further the private interests of some developers improperly," the integrity commissioner said of the "untrained and unsupervised" staffer.
"I find that Mr. Amato was the driving force behind a flawed process which provided an advantage to those who approached him. It was unfair to those landowners who had an interest in seeing their lands were removed and who were unaware of the potential change to the government's Greenbelt policy," he wrote.
"At best what we see here is gross incompetence, at worst it's corruption and colluding with developers," said Stiles, whose complaint sparked the integrity commissioner's investigation.
"I don't see how the government can stand by this decision," she added, referring to removing the lands from the Greenbelt. "They need to reverse course immediately."
Wake's report was released one week after the Royal Canadian Mounted Police took over a review of the Greenbelt "irregularities" on request from the Ontario Provincial Police.
Rob Ferguson is a Toronto-based reporter covering Ontario politics for the Star. Follow him on Twitter: @robferguson1